Seared to perfection as the meat is already cooked perfectly!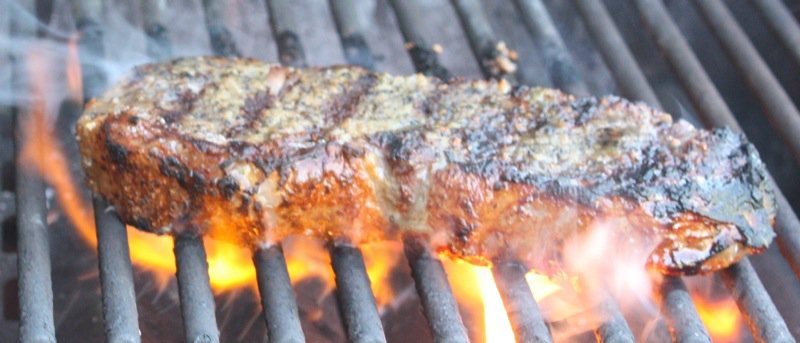 httpv://www.youtube.com/watch?v=c0V2c-t6qL8
After Duck Confit, and Brisket, I had to try steak and pork chops in the Sous Vide Supreme! A beautiful strip loin and a lovely ribeye with two wonderful chops all from Ben's Meats.
Steaks were seasoned with Schwartz's Montreal Steak Spice that we bought when in Montreal with a little Kosher salt and freshly ground black pepper then vacuum sealed with my Foodsaver.
The pork was simply seasoned with salt and pepper. All three went into the water oven at 130°F for 12 hours.

After carefully chilling them in an ice bath (50% of ice, minimum) immediately after the cooking time was up, I placed them in the fridge for a couple of days for Lillian and Dan to taste when they were over to do the scallops and the Key Lime Pie.
When I released them from their pouches, each contained a beautiful jelly that was bursting with flavour. I heated the grill to 700ºF, and seared each side for 30 seconds or less.
We were all camera happy that day! Look at the flame hitting this beauty. The grill was so hot, that it did not take long to get this sear: a little less than 30 seconds per side.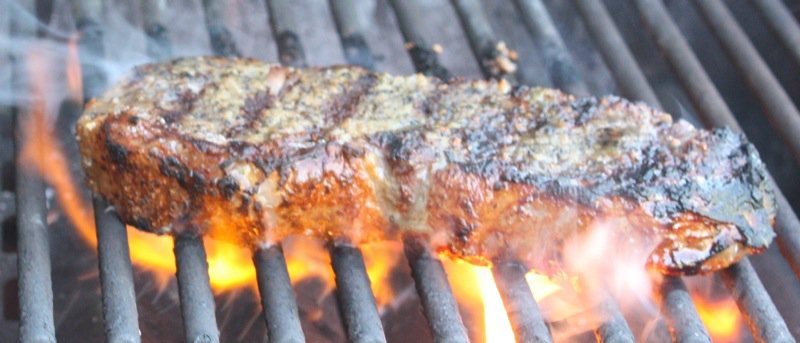 The pork does look a little anemic, but it still had grill marks~
And cutting into each piece of meat was a visual delight, but the pleasure was all in the tasting. For some reason, no one got a cross section of the pork. The strip loin was the favourite of the three of us, but Vanja preferred the ribeye (he just popped home for a few minutes). I cannot even eat meat as I have some digestion issues, but this was so tender I had no problem eating this. I was incredulous. The flavour was like a steak, but in neon colours, flavour-wise. Outstanding. And a very new experience for me.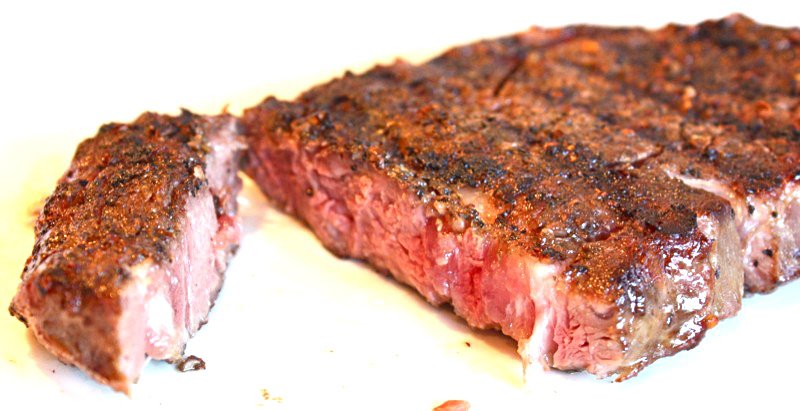 I thought I would get many more steaks through the water oven before its departure, but I did not. The experience was second to none! And Lillian and Dan were great tasting partners!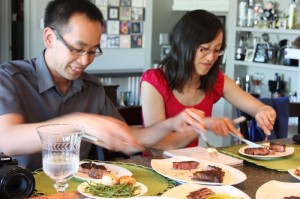 Douglas Baldwin's Pan or Grill Seared Steak Recipe

Ingredients:
10 ounce steak, boneless

Salt and black pepper to taste

High-smoke-point oil, such as grapeseed, peanut, or vegetable
Instructions:
Preheat the water bath to 130°F (55°C) for a medium-rare steak or 140°F (60°C) for a medium steak (we chose 130 to cook the pork with the beef)

Vacuum-seal each seasoned steak in a separate pouch
Put the sealed pouches into the water bath and cook tri-tip steaks for 6″"8 hours or top sirloin steaks for 1″"2 days (24″"48 hours); we had strip loin and ribeye, so I chose a 12 hour time

Freezing: You can freeze the cooked steaks for up to a year.

Put the sealed pouches into an ice water bath that's at least half ice for about 30 minutes

Dry the pouches with a towel and put them into a freezer

To reheat the steaks, put the frozen pouches into a preheated 130°F (55°C) water bath for about 45 minutes

Remove the steaks from their pouches; a slightly greenish-brown color is normal and will disappear after searing (I did not see this on our steaks)
Pat the steaks dry with paper towels and generously season them with salt and pepper
Pour just enough oil into a heavy skillet to cover the bottom; heat the oil over high heat, watching carefully, until it just begins to smoke (I grilled mine as described above)
Sear each side of the steaks until it's a deep mahogany brown, about 15″"25 seconds per side. Work in batches, if necessary, to avoid overcrowding the skillet

Remove the steaks from the skillet and blot them with a paper towel to remove excess oil
Alternative: The steaks can also be finished on the grill

Preheat a gas or charcoal grill until it's very hot; lightly oil the steaks and season them with salt and pepper (woops, missed this part)

Put the steaks on the very hot grill and sear each side until it's mahogany brown, about one minute per side (took only about 30 seconds per side)


Serve immediately
Douglas Baldwin'sFlavored Butter for Pan-Seared Steak Recipe
(I didn't make this because it was about the sous vide experience, and I was doing a tasting, not a meal)

Ingredients:
4 cooked sirloin steaks, seared and warm


8 tablespoons (125 ml/114 g) unsalted butter, softened

1 teaspoon (5 ml/5 g) ketchup

1⁄2 teaspoon (2 ml) prepared Dijon-style mustard

1 clove (3 g) peeled garlic, minced or pressed

1 teaspoon (5 ml) anchovy paste or 1 canned anchovy fillet, rinsed and finely chopped

1 teaspoon (5 ml/3 g) small capers, drained

4 teaspoons (20 ml/14 g) peeled and chopped shallot

2 tablespoons (30 ml/8 g) chopped fresh parsley

1 tablespoon (15 ml/3 g) chopped fresh chives

1⁄2 teaspoon (2 ml) dried dill weed

1⁄2 teaspoon (2 ml) dried ground tarragon

1⁄4 teaspoon (1 ml) ground white pepper

1 teaspoon (15 ml) lemon juice
Instructions:
In a bowl, use a mixer to beat the butter until it's lightened in colour and is creamy

In a separate bowl, stir the ketchup, mustard, garlic, anchovy, capers, shallots, parsley, chives, dill, tarragon, white pepper, and lemon juice until it's well mixed

Stir or beat the herb mixture into the butter until it's smooth

Top each warm, seared steak with a quarter of the flavored butter and serve immediately
Douglas Baldwin'sTraditional Style Pork Chops Recipe

Instructions:
While pork can be safely cooked at 130°F (54.4°C), many people find the slightly pink colour of pork cooked at this temperature to be unsettling; to compensate for cooking to medium (instead of medium rare), I highly recommend brining the pork chops to break down some of the support structure of the muscle fibres and to increase the water holding capacity of the meat; the maximum water uptake occurs when brining in a 7″"10% salt solution, with the chop absorbing 20″"25% of its weight


Brine in a 7% salt, 3% sugar water solution (70 grams salt and 30 grams sugar per 1 litre) in the refrigerator for one to two hour (if tenderizing with a Jaccard, do so before brining)

Rinse, dry with paper towels and season with Kosher salt and coarse ground pepper; vacuum seal pork chops (one per bag)

To cook, place in a 141°F (61°C) water bath for the cooking times, see Douglas Baldwin's table (I used the temperature indicated in number one)


Rapidly cool in ice water and freeze or refrigerate at below 38°F (3.3°C) for up to three to four weeks until needed

Remove chop from vacuum bag, pat dry with a paper towel, then sear quickly with a blowtorch or in a pan with smoking vegetable or nut oil, or on a grill
httpv://www.youtube.com/watch?v=oKdDfunjYio&feature=related