Thermomix TM5®: Why the Best Thermomix® Business OPPORTUNITY Ever?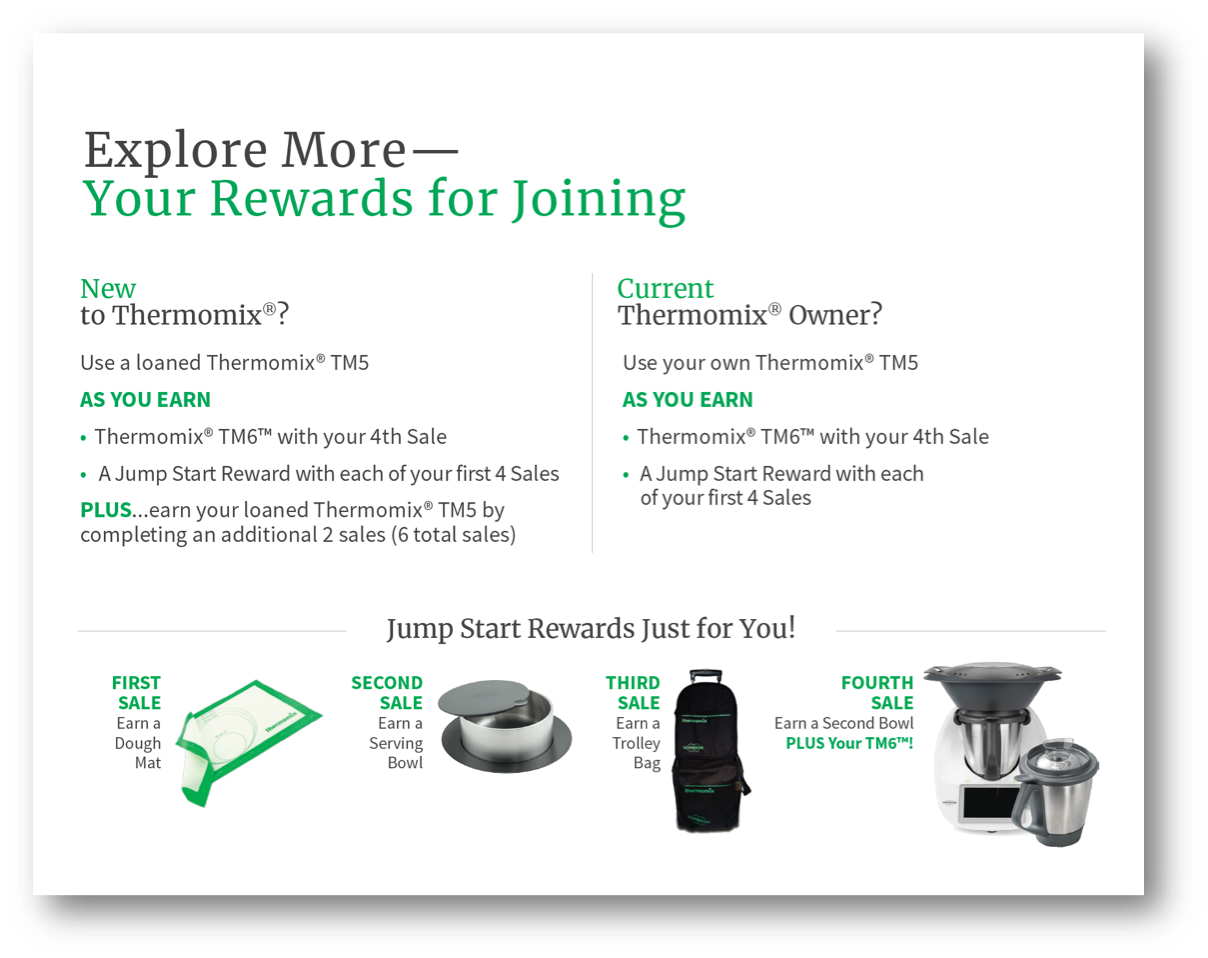 Thermomix TM5®: 6 Reasons Why
For ONE TIME only in Vorwerk Canada Ltd. we will offer anyone who wants to join our company as a Thermomix® Independent Consultant in September 2019 the following:
Join our 60-day Jump Start program and earn a TM6® by selling 4 TM5® in 8 weeks. You heard me right. Earn a TM6®! The TM6® will be coming to Canada in November 2019 and until then, we are offering The Best Bundle Ever to promote the TM5® which we all love and are so passionate about. And that's not all!
If you sell 6 TM5® in 8 weeks you can keep the brand new TM5® that will be issued to you at the onset of your Jump Start period! WHAT? Yes!!! You can earn a TM5® AND a TM6® in 8 weeks by selling 6 machines for the first time in the history of our company, and only now. And that's not all!
After you sell 4 Thermomix® you will also EARN a Professional Cooking Kit that will assist you with your Thermomix® independent business! See the image below. And, that's not all!
You will have the opportunity to earn a trip to New Orleans in April! Yes! Earn 20 points and get a fully paid trip to New Orleans April 3, 4 and 5th! How do you earn the points? 1 point per sale and 2 points for every person you inspire to work with you and join our company as a Thermomix® Independent Consultant! WHAT? Yes! And that's not all!
As you inspire people to join our business during September and October only, you qualify to earn 2 points per person who joins, takes training and sells one machine. And that's not all!!!
If you inspire 2 people, you get a gift from Degrenne. If you inspire 3 people, you get another gift! If you inspire 4 people, you get yet another gift (all three in total) plus your points, plus a sponsorship bonus for each recruit, plus commissions on those sales.
The is over 4 500CA in value!!! Did you read that? TWO Thermomix® brand new AND the Professional Cooking Kit!

If that hasn't motivated you, I don't know what will. Interested? Let me know and I will invite you to a Virtual Business Opportunity Event that is online via Zoom and usually takes 45 minutes, or so! Once you have the information, you will be sent a link to register to JOIN our company, and once you do that, you will begin the training process. Immediately after your training, your Thermomix® will be sent to you and you will begin earning all of these incredible opportunities!
Thermomix TM5®: Support?
Oh, did I mention I am the Training Leader for Vorwerk Canada Ltd? Yup! Lucky me! I am also currently managing and supporting all consultants throughout Canada in British Columbia, Alberta and Ontario that don't live in Vancouver and the Greater Vancouver area of Toronto and the Greater Toronto area. Interested in joining my team? The time is now! Living in Toronto or Vancouver? Let me refer you to the Branch Manager there! The time is now!
Thermomix TM5®: Where do I sign up?
In the comment section below, OR send me an email ASAP titled: Thermomix TM5®: Best OPPORTUNITY Ever September 2019 to valerie AT acanadianfoodie DOT com.
Looking forward to hearing from you soon!