Braciole: tender thins of Alberta beef with
Prosciutto di Parma, a nutty cheesy filling
smothered in Sunday Sauce….mmmm!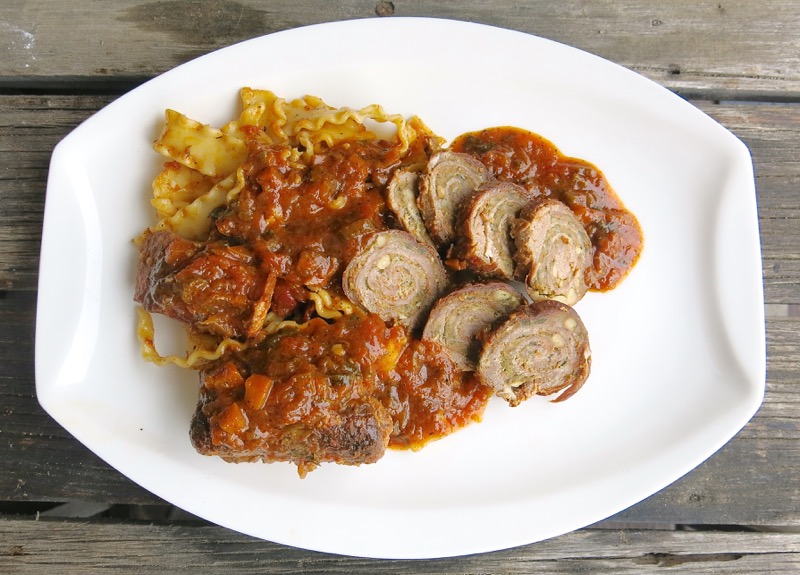 This is the first year we ordered an entire cow from our favourite farmer. Holy cow. Seriously. That is a lot of beef we have in our deep freeze and for a woman who doesn't eat meat married to the uber carnivore, a virtual playground of ingredients from which to create incredible family meals. Time to be creative! How I love to cook and create when entertaining, and how I dread the planning of the weekly evening meal. It is not so easy to come up with new and delicious plates, and that isn't even my husband's desire. He's happy with the same old same old. It is me that gets bored and wants to be inspired and motivated daily when thinking of the preparation of the evening meal.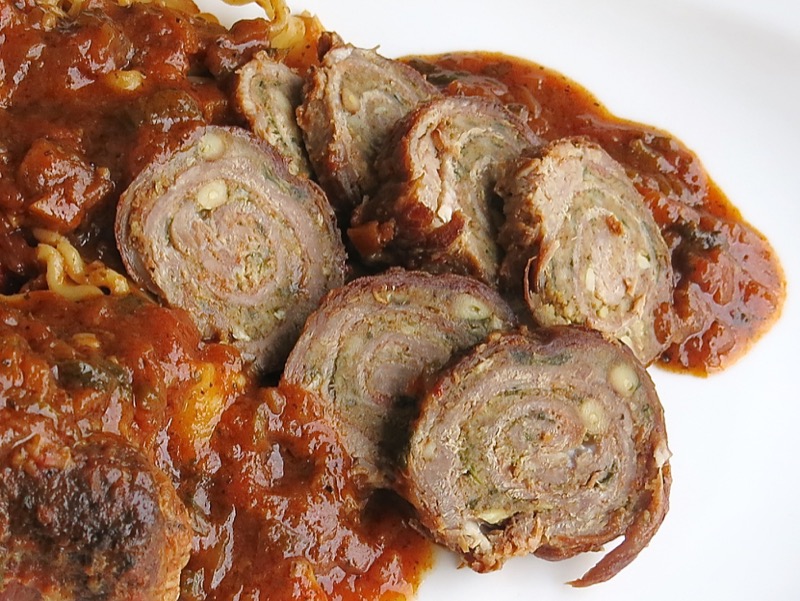 Sunday suppers are a little different. I usually go to the market Saturday morning looking for inspiration. What is in season? What is completely irresistible that I must prepare for the family? Most often, I have a main in mind. Not always. I then come home and begin to continue the following day, depending upon the labour involved, as Sunday is the day I do prepare a dessert. I ordered rouladen from the butcher this time and thought it would be perfect for Braciole. I had made it once before a few years ago to add to our Sunday Sauce, but this time, thought I would make a huge batch for the freezer and feature some freshly made for our Sunday Dinner.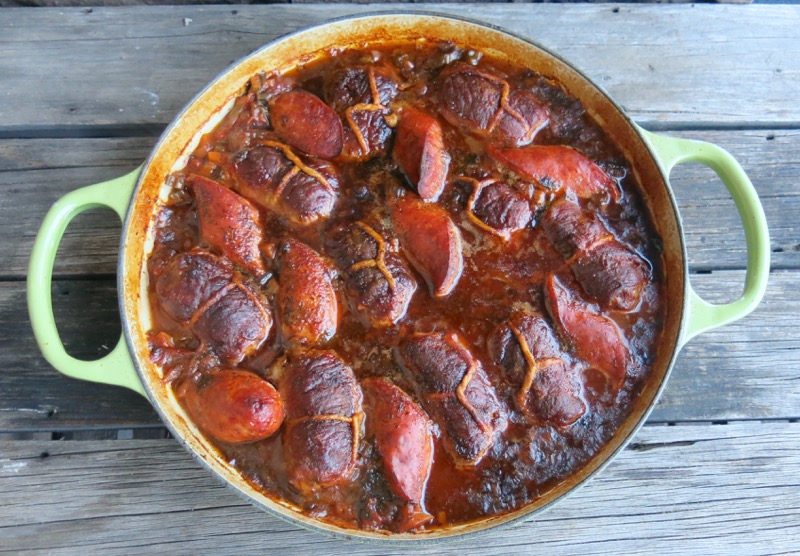 As Sunday Dinner is to be a pleasure and the meal of the week we all look forward to, I was compelled to add sausage. If I had sampled the braciole and knew they were scrumptious in their own right, I would have had the confidence to keep it simple. But, I didn't.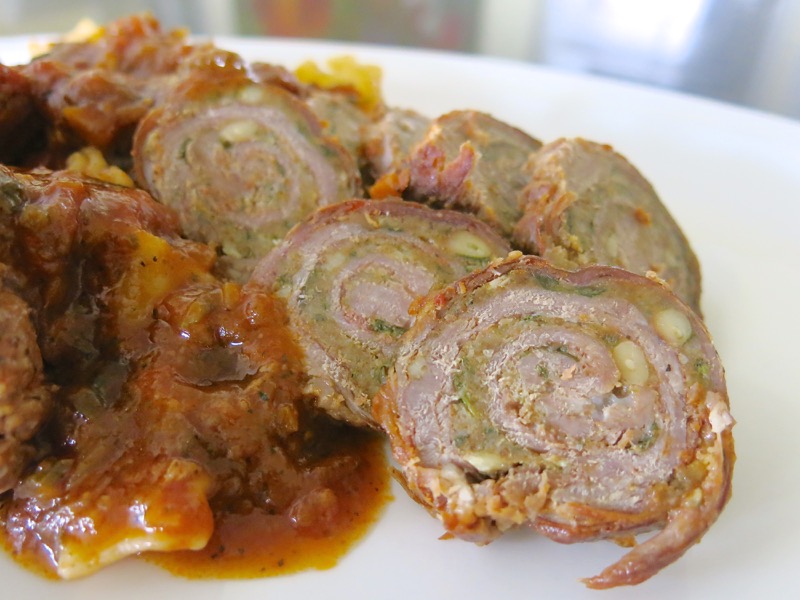 As it happened, it was a good call simply because the prosciutto was paper thin and a vital component of this dish. The texture and flavour or the prosciutto was almost lost in the mix. With the beef also lean and very thin and no fat in the filling, the braciole was very tasty, but dry. Back to the drawing board.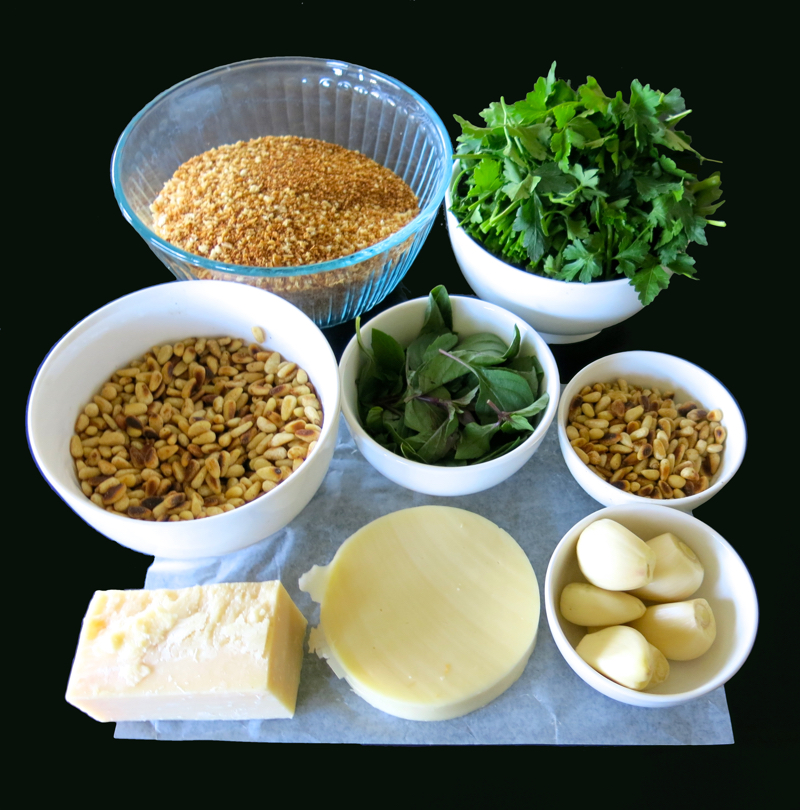 Got it the fat content right next time round (butter and olive oil missing from mis en place photo, above), and toasting the pine nuts and panko crumbs offers up an unexpected depth.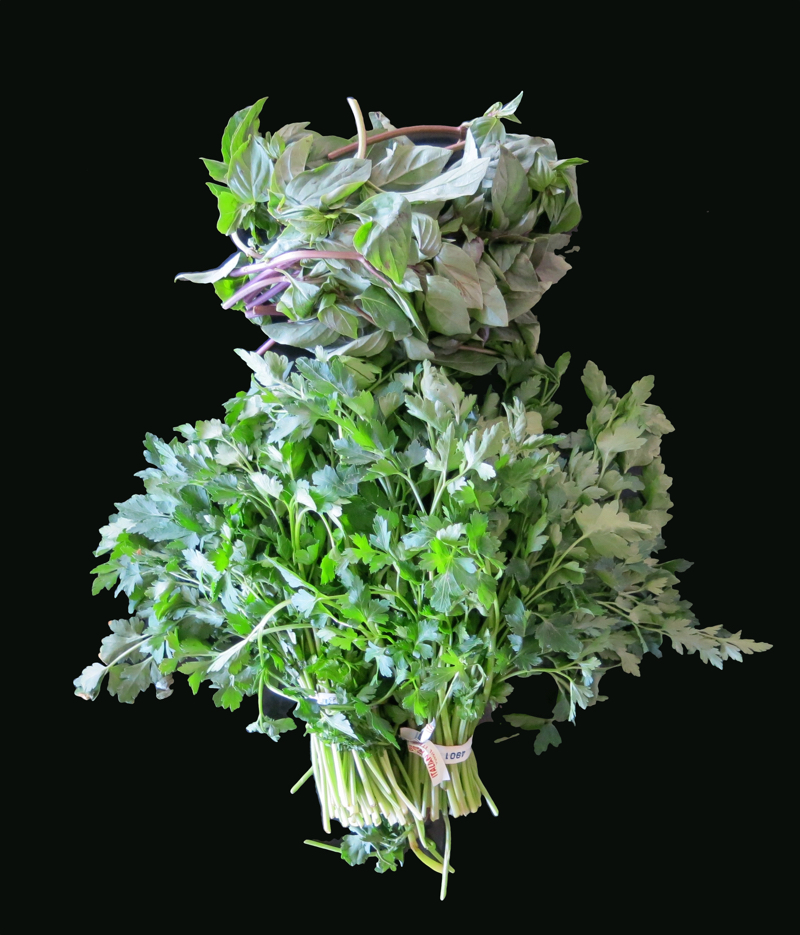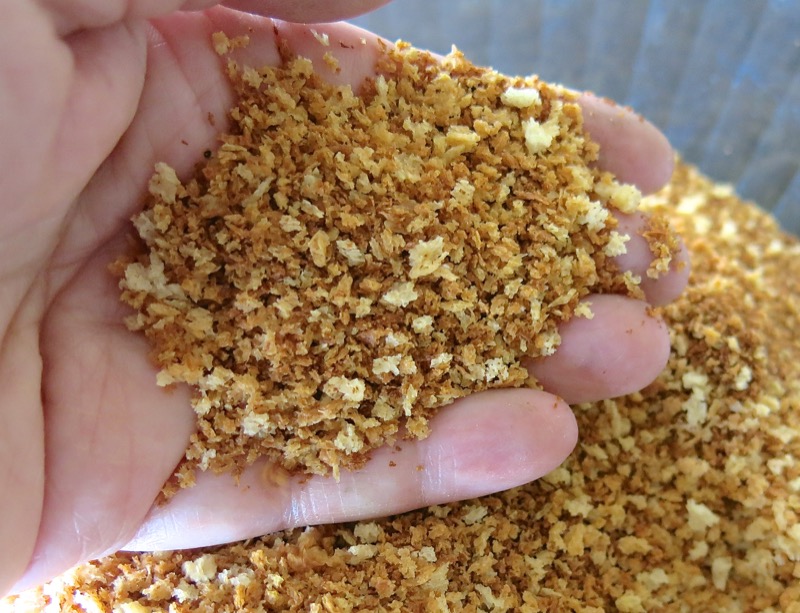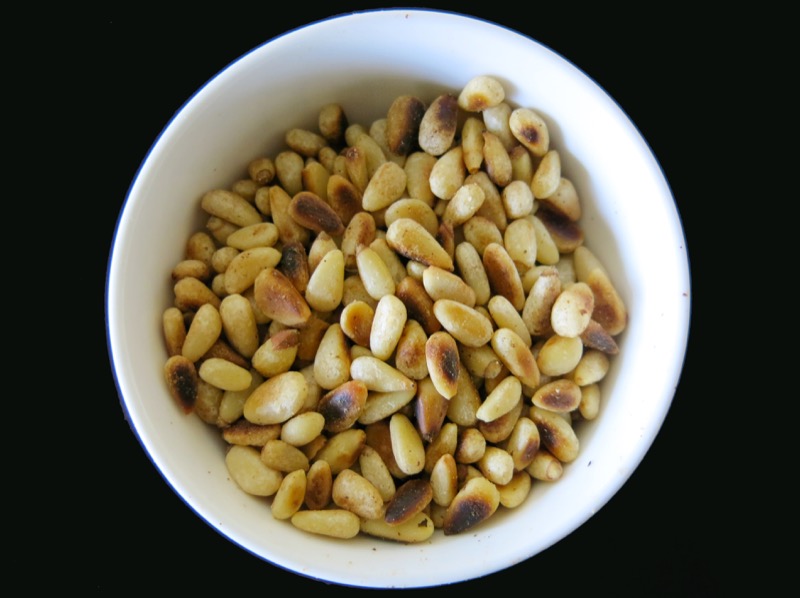 Fresh basil and parsley, toasted panko, toasted pine nuts…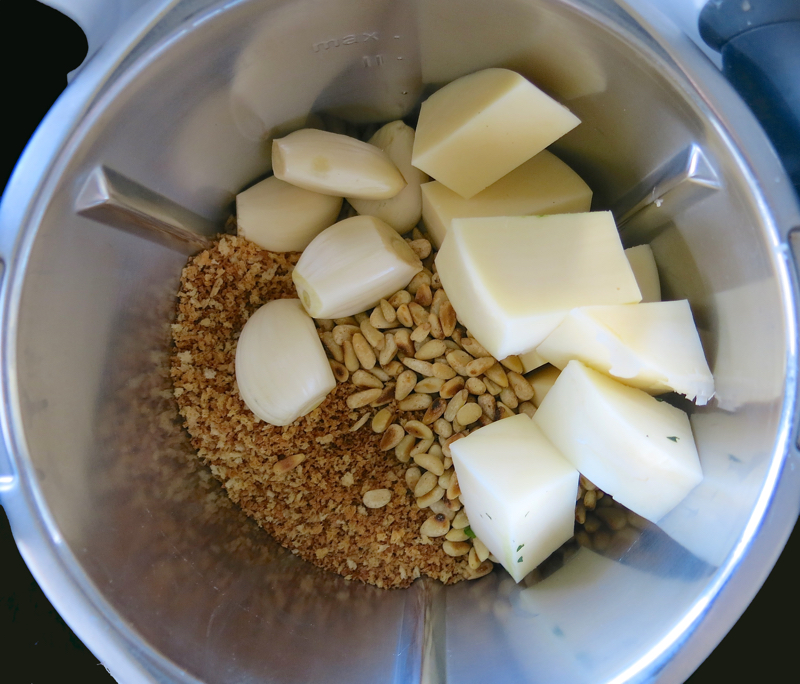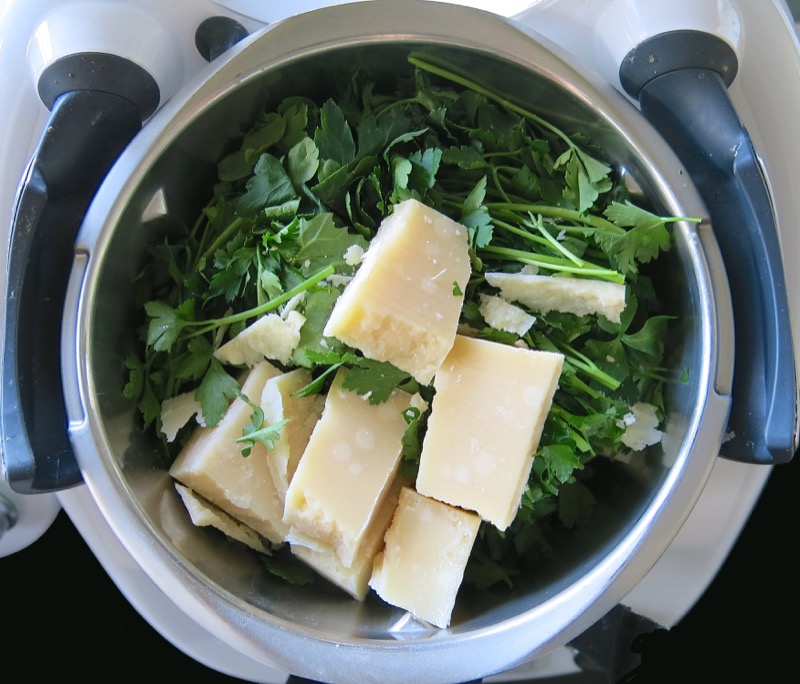 …mozzarella, parsley, parmesan, butter and olive oil …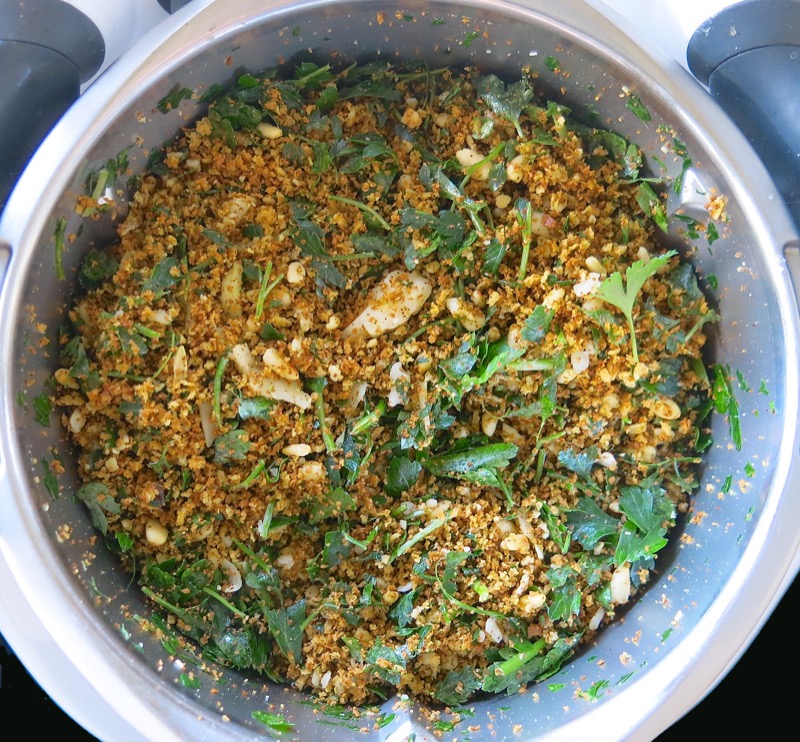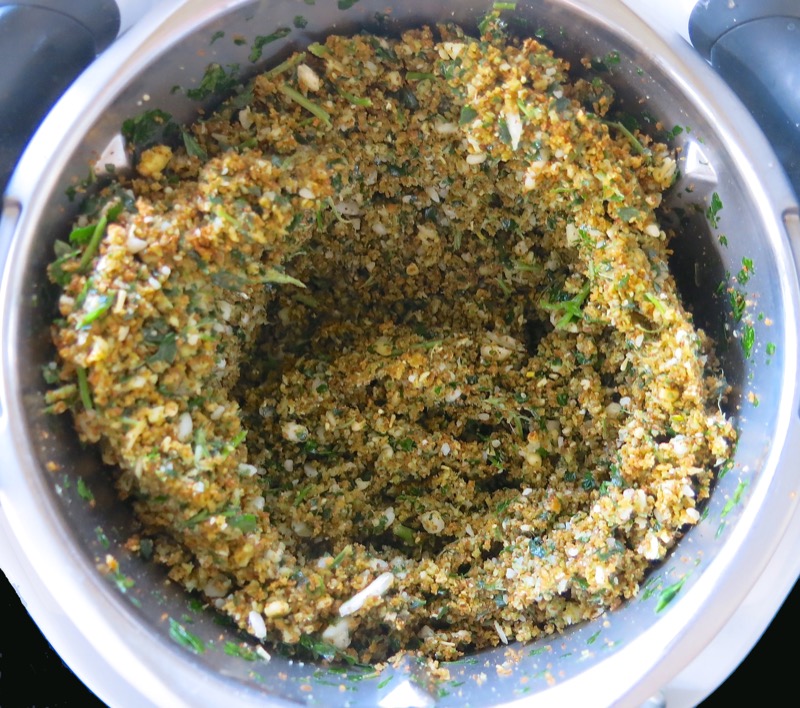 …mix to combine to desired texture.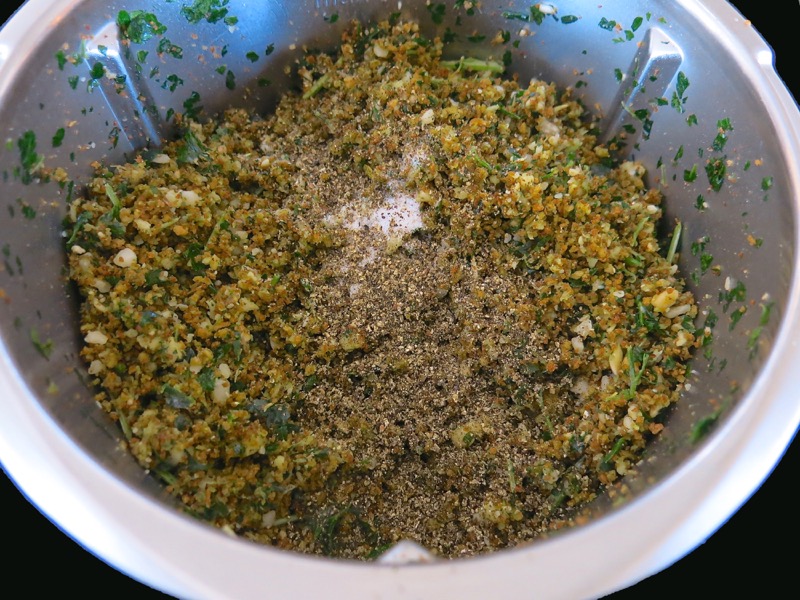 Season with salt and pepper; mixture will hold its shape.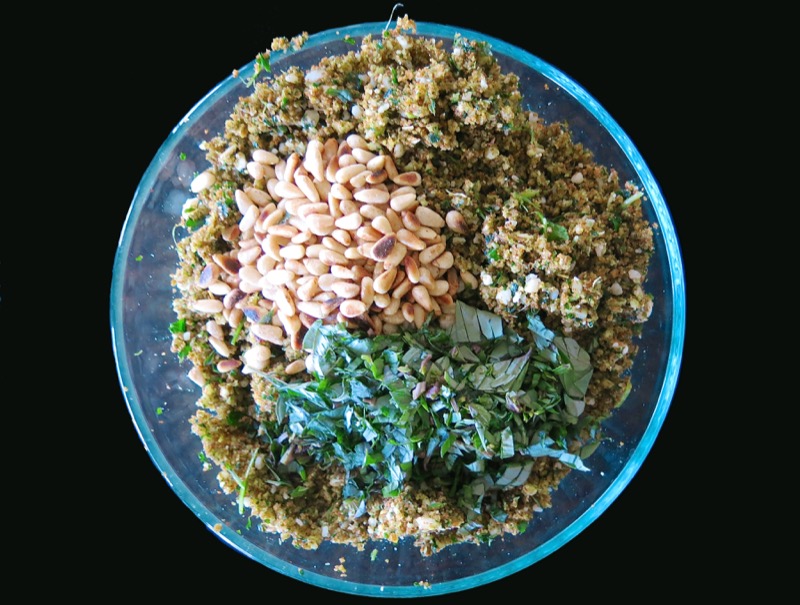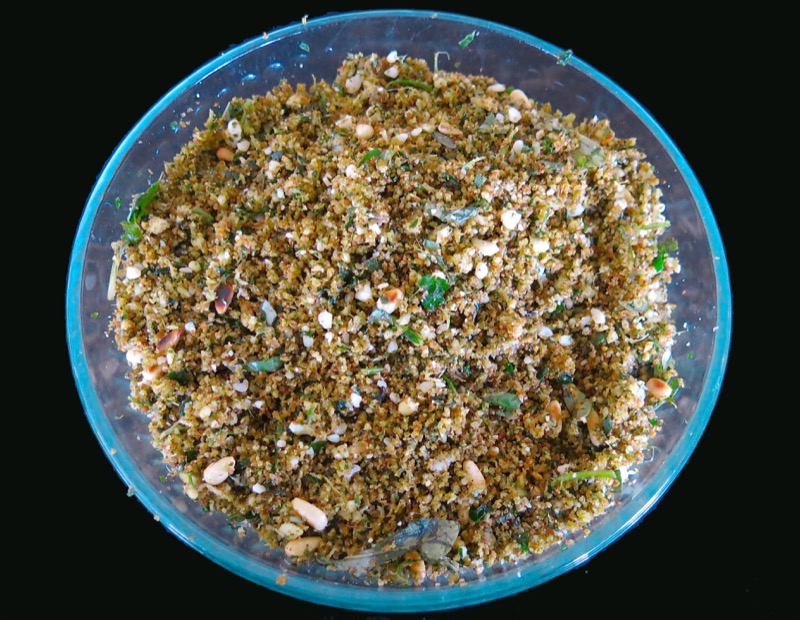 The fresh basil and a few whole pine nuts for added texture stirred into the mix, and voilà!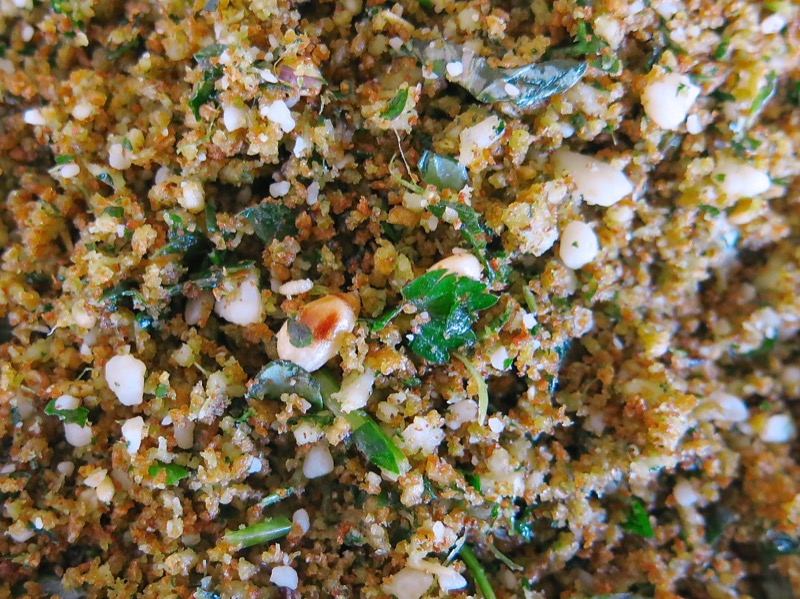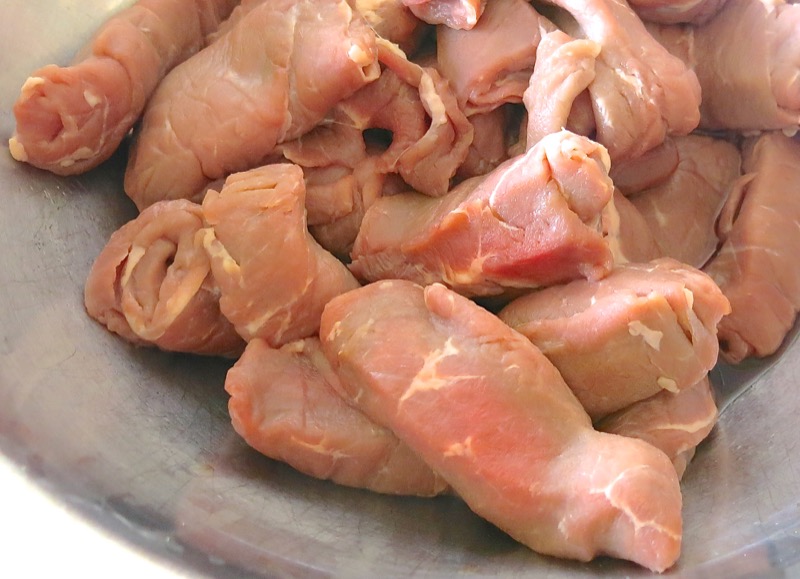 Consistency in size of each piece is not what you get when you buy a cow, but gorgeous flavour and healthy beef is worth the trade off.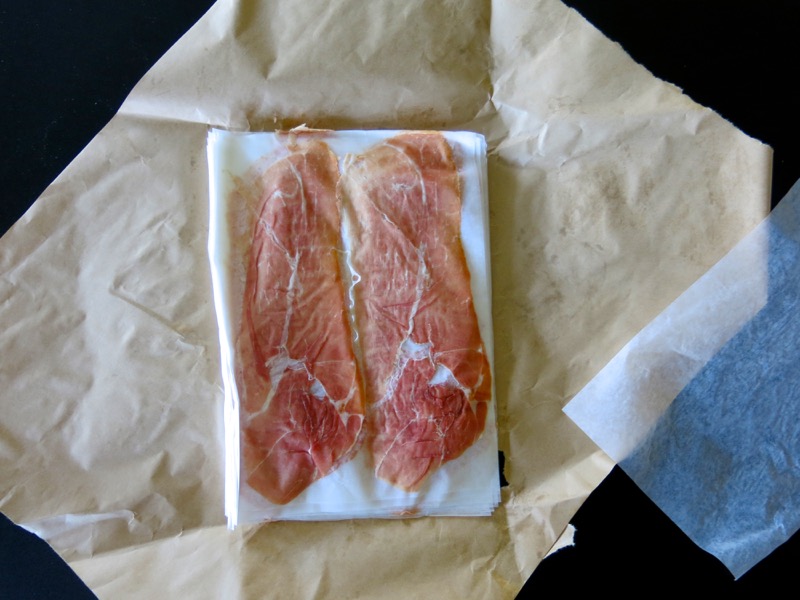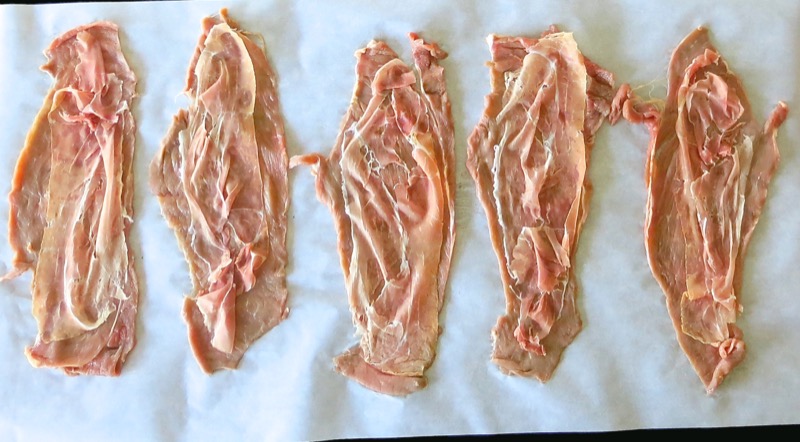 A nice slice, not too thin, of prosciutto, tops each slice of beef: the fattier, the better.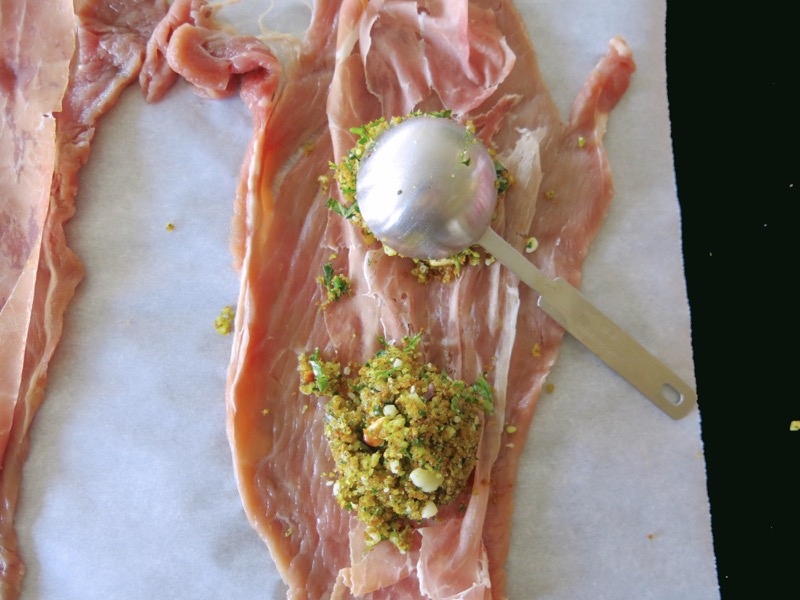 Two tablespoons of lively filling…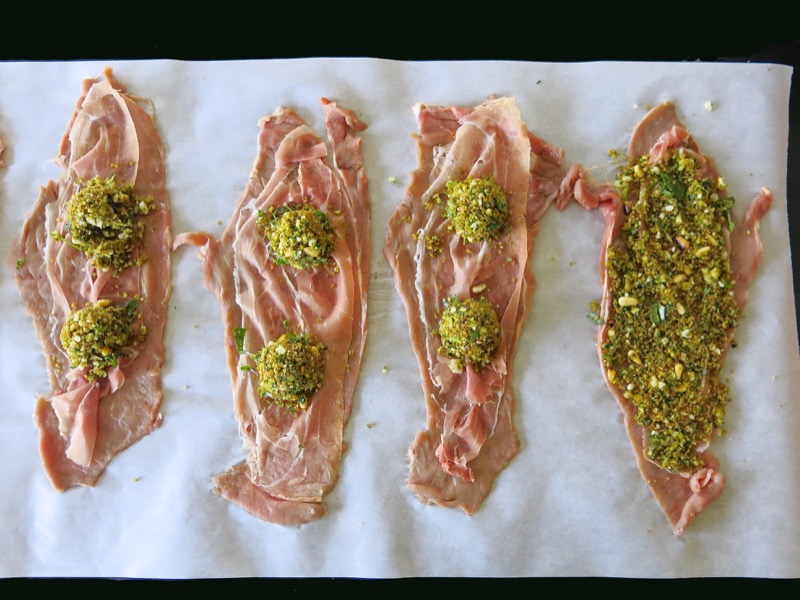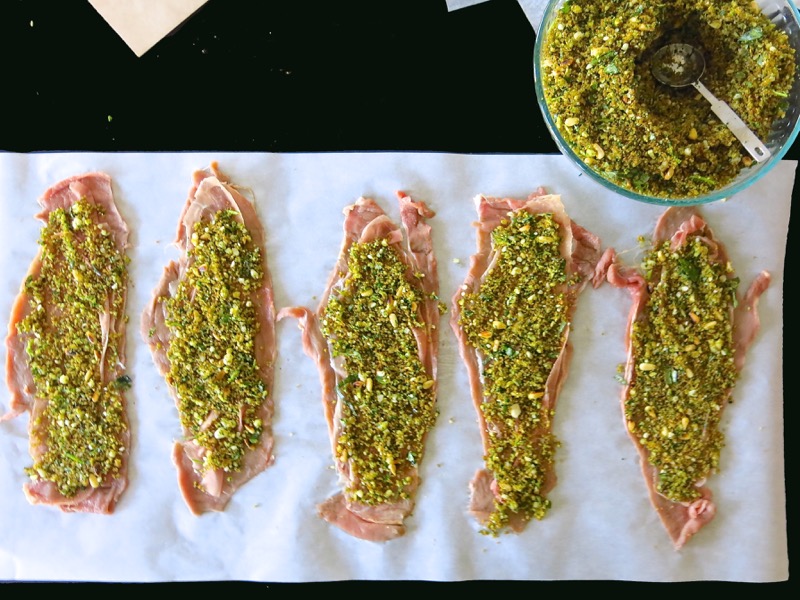 … spread evenly over prosciutto.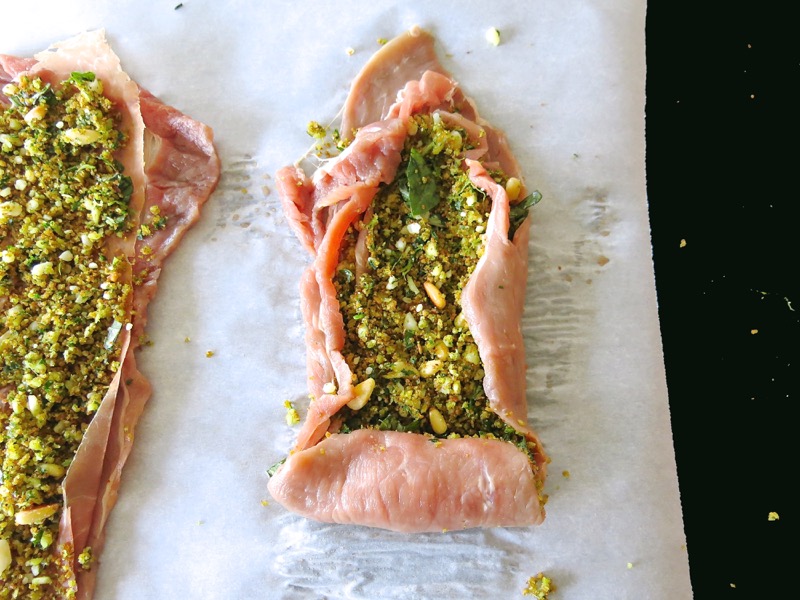 Another good drizzle of olive oil over all for flavour, moisture, good measure and good luck! Then start at the thin end, rolling up half way, fold sides in at that point, continuing to roll with sides folded in.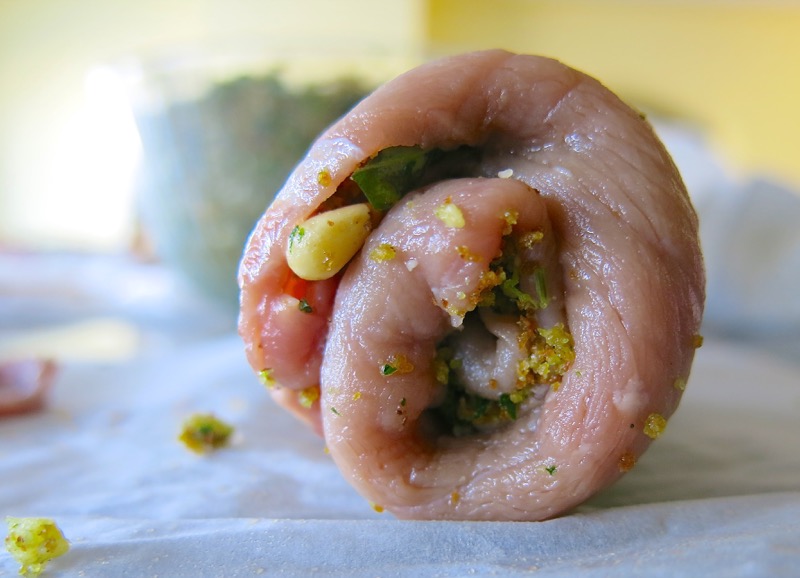 Tuck each end in like you would if making cabbage rolls or sarma. Simply place your middle finger inside one end, you thumb inside the other end, folding the beef into the middle of the roll to tuck filling tidily inside.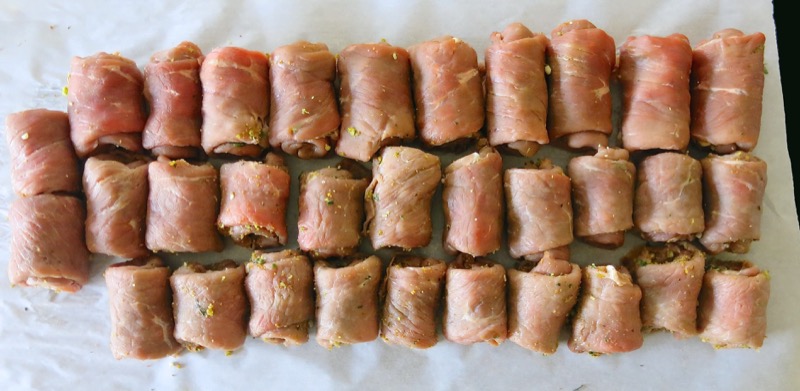 Tie each roll when all are filled. It is important to go under the string before tying, as pictured, above.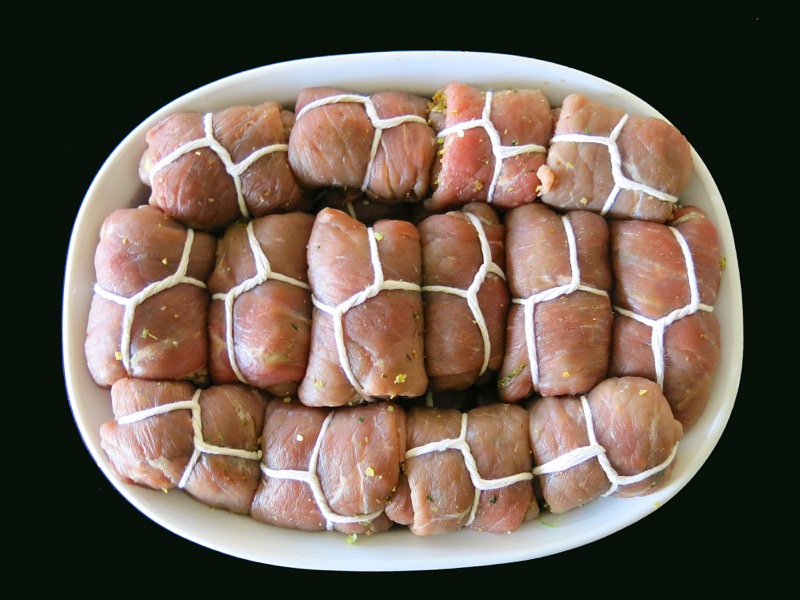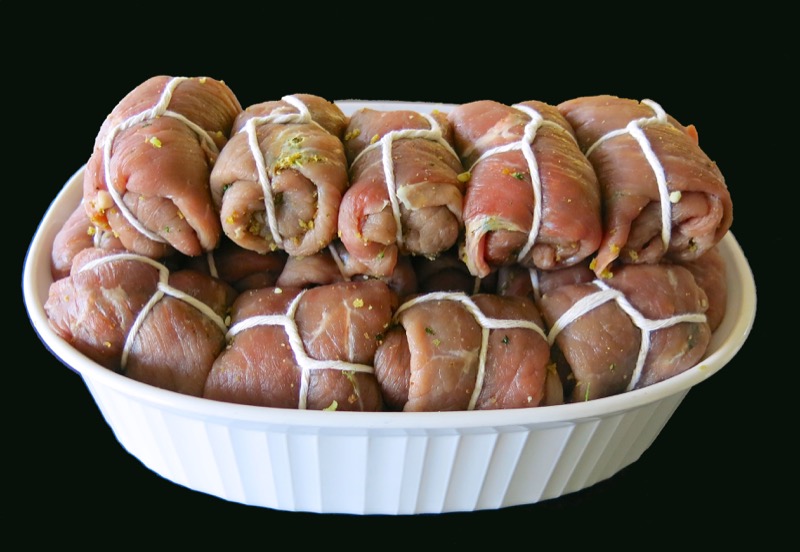 Browning the braciole is the final step before freezing them.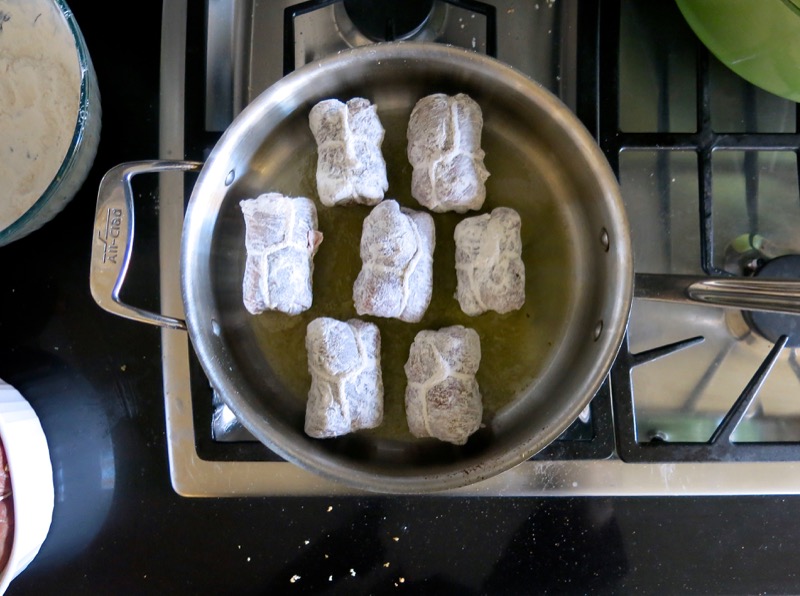 Or, the first step of the Sunday Supper recipe! Dredge in seasoned flour and fry in a combination of olive oil and butter until brown on all sides. As the beef is so thin, the Braciole will be cooked once browned, but to create a tender melt-in-your-mouth flavour experience, must be simmered in sauce for a good couple of hours.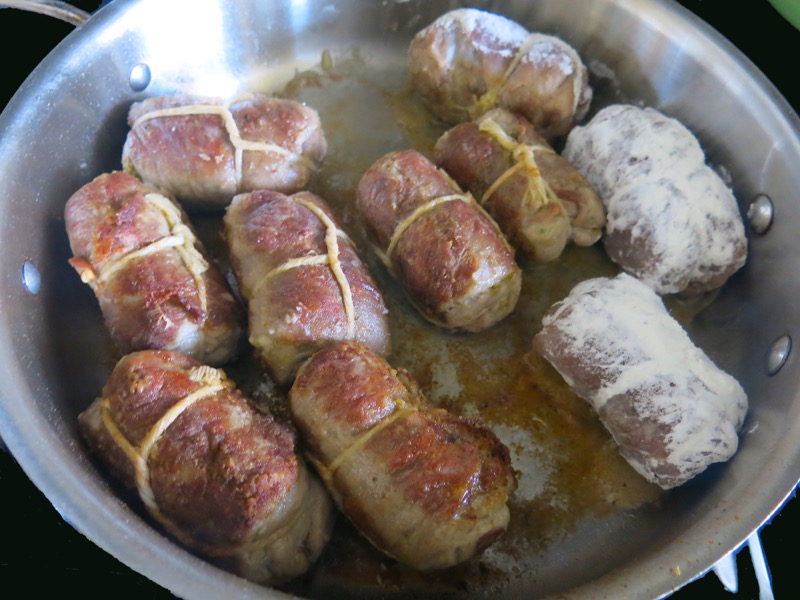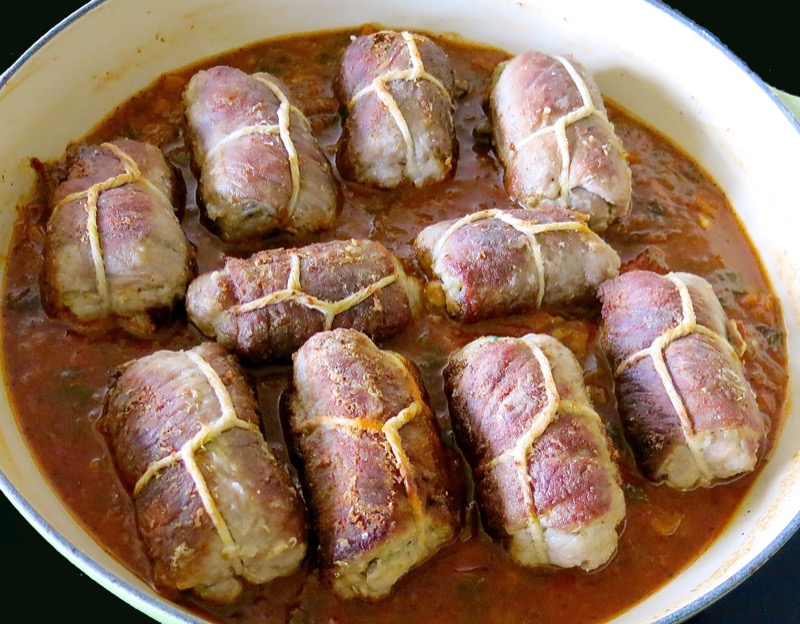 Back to my Best Ever Homemade Tomato Sauce… in the pan it goes, Braciole for Sunday Supper on top, and then water or broth to almost cover the rolls.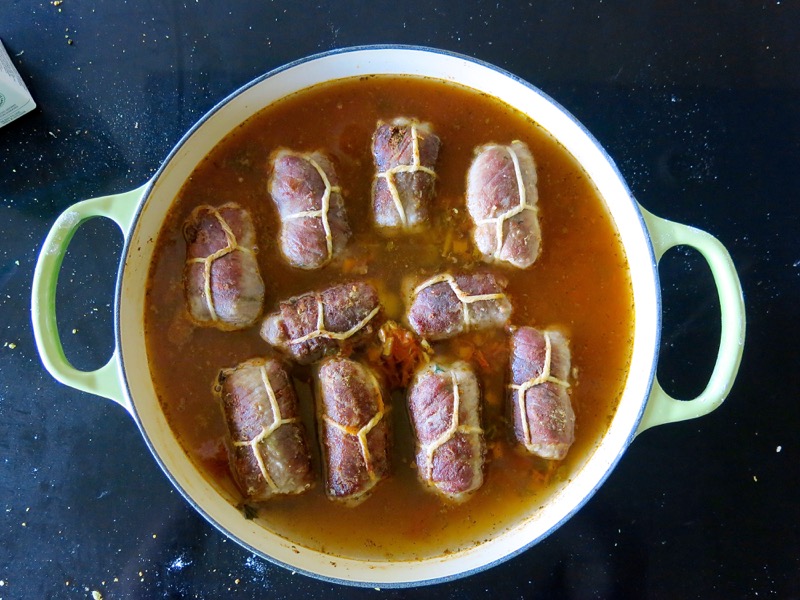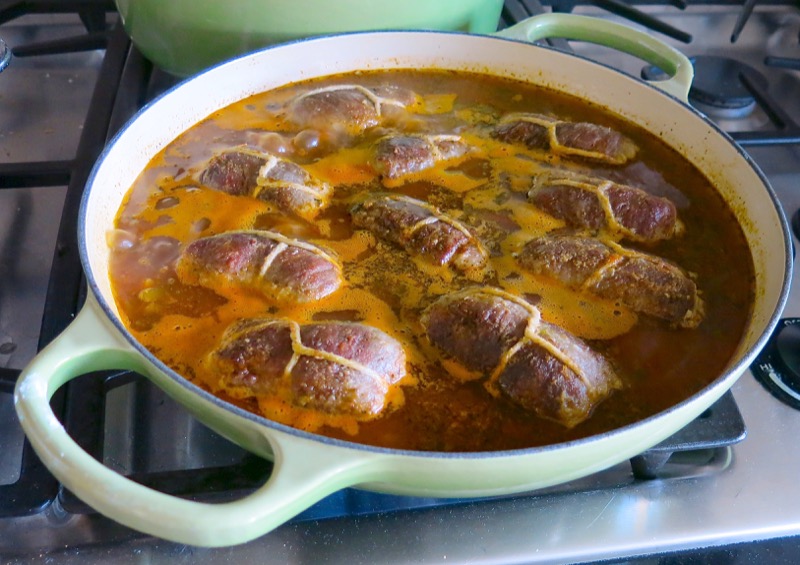 Bring to a boil on stove top before setting into pre-heated oven with lid on for the first hour and off for the second.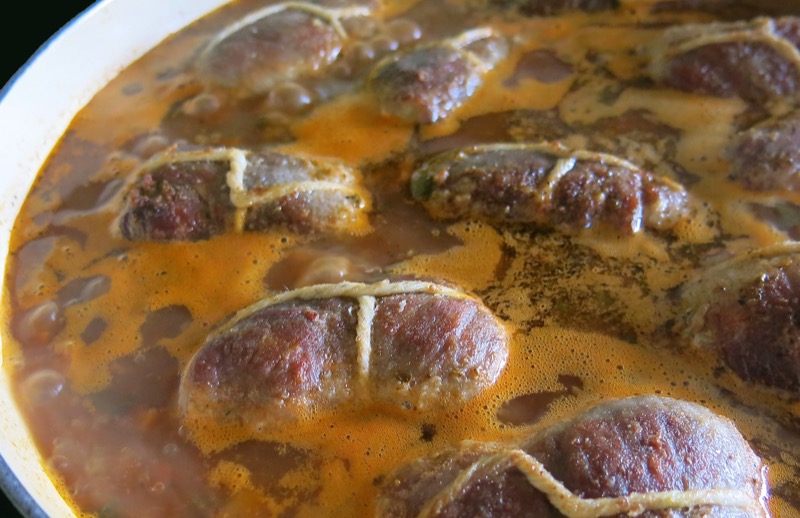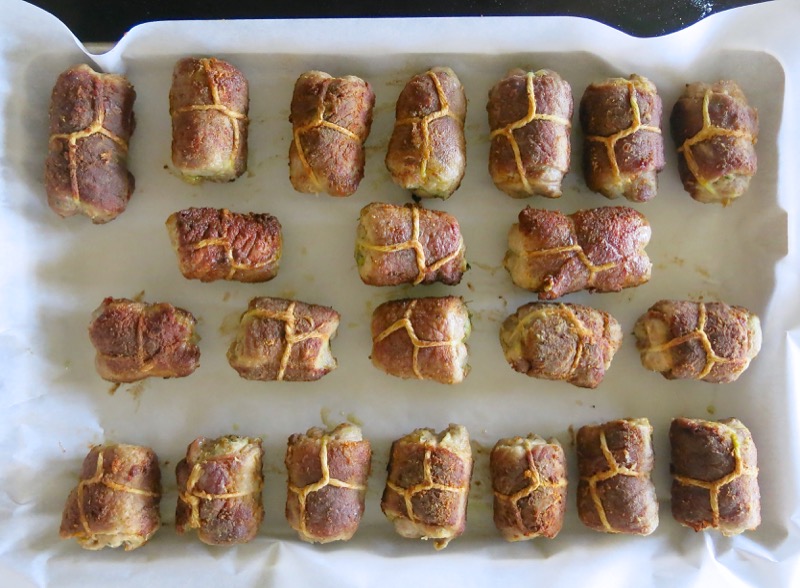 The remaining rolls go into the freezer overnight, and are then bagged, labeled and dated.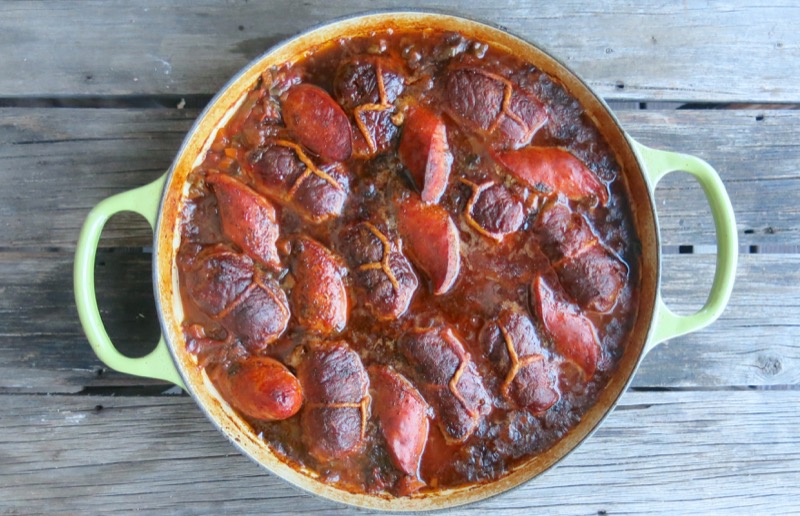 Sausage was added after the first hour when the lid came off to thicken the sauce.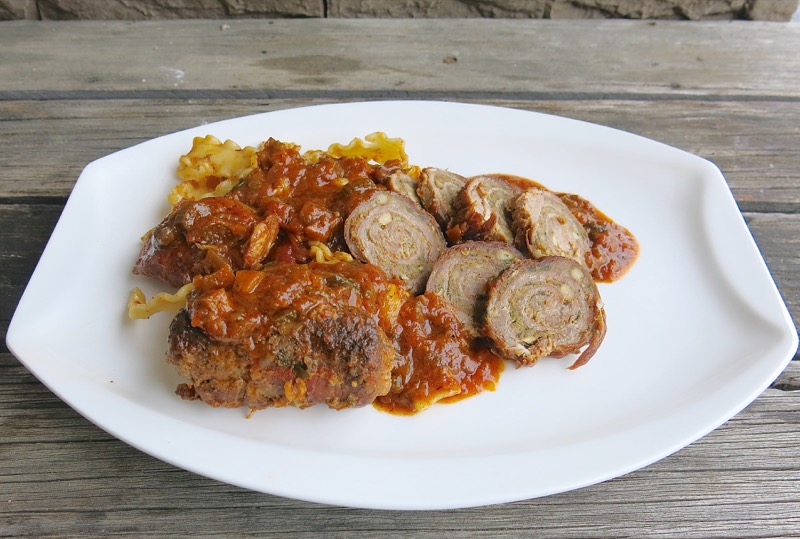 Oh, my!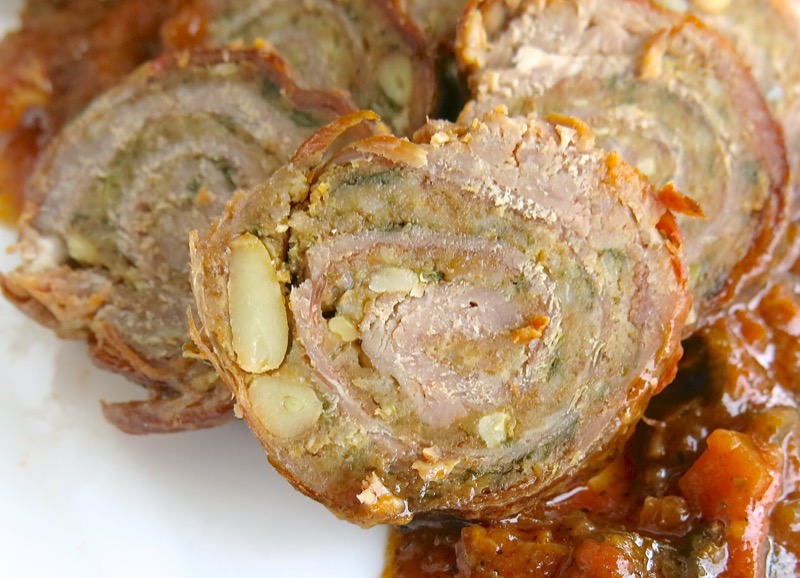 A tasty treat and welcome change from a more common combination of pasta with meatballs or meat sauce. My frozen treasures can be added to a Sunday Sauce with meatballs, sausage and ribs, eaten on their own, or sliced with a couple of coins served as the first course of a lovely meal. Have you made them? What are your favourite tricks and tips? I always want to know.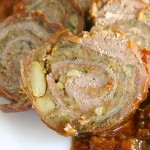 The Best Braciole for Sunday Supper
Total Time
1
hour
15
minutes
Ingredients
50

g

pine nuts

, toasted

50

g

Parmesan

, chunked

50

g

Provolone

, chunked

1

cups

Panko crumbs

, toasted

2

large garlic cloves or 15 grams

1/2

large bunch

(a generous 1/2 cup) flat leafed parsley

25

g

extra virgin olive oil and more for drizzling

25

g

cold butter

1/2

bunch fresh basil leaves

(1/4 cup ), chiffonade

1/4

teaspoon

salt

(to taste), plus more

1/4

teaspoon

freshly ground black pepper

, plus more

16

very thin slices of beef

, or pork (Rouladen cut works nicely)

16

slices

Prosciutto di Parma

flour for dredging

olive oil and butter for browning

kitchen string

300-350

g

Best Ever Homemade Tomato Sauce
Instructions
Scale 35 grams pine nuts into TM bowl with next 7 ingredients; blend to desired consistency (5 seconds, speed 0-10: leave a little texture

Stir in basil and remaining whole pine nuts; season with salt and freshly ground pepper and set aside

Pound thin slices of meat; season each with salt and freshly ground pepper and cover with Prosciutto di Parma

Place approximately 2 tablespoons of filling onto each; spread evenly, not to edges and drizzle generously with extra virgin olive oil before folding

Fold and tie as per instructions above; dredge in seasoned flour and brown on all sides at medium high heat

Freeze on parchment lined cookie sheet overnight; return to freezer bagged in labelled and dated ziplock bags OR

Pre-heat oven to 325F

Place bricole on top of homemade tomato sauce, add water to come up sides; bring to boil on stovetop

Place in oven, tightly sealed for one hour; remove lid second hour to reduce sauce

Serve with favourite pasta
Recipe Notes
I doubled the recipe.