Cocktail Tomatoes from Local Producer: Gull Valley Farms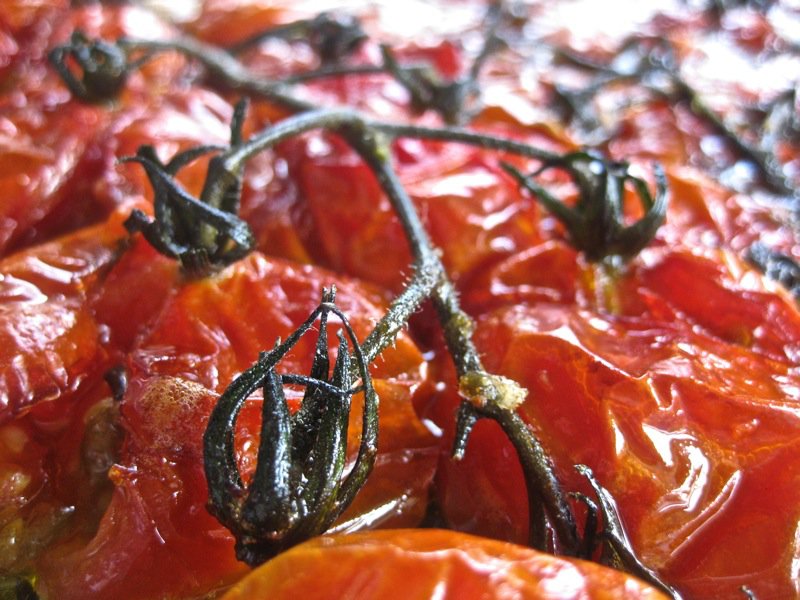 Last fall I wrote a post on oven roasted vine ripened tomatoes which is a must read if you have tomatoes in the garden that you do not know what to do with. I am writing another post about it this late spring, early summer as I also make them and do not preserve them. I use them as I have in this post: a myriad of different ways.
There is nothing better than a fresh, home-grown heirloom tomato. But, a vine-ripened greenhouse tomato can also be incredible if they come from Gull Valley Farms (to be found at City Market, OSFM, and St. Albert market all summer long)! These are their incredible cocktail tomatoes. Now, it is close to blasphemous for me to oven roast these so early in the season, yet, the roasting only distills the essence of their incredible flavour, so how can I go wrong?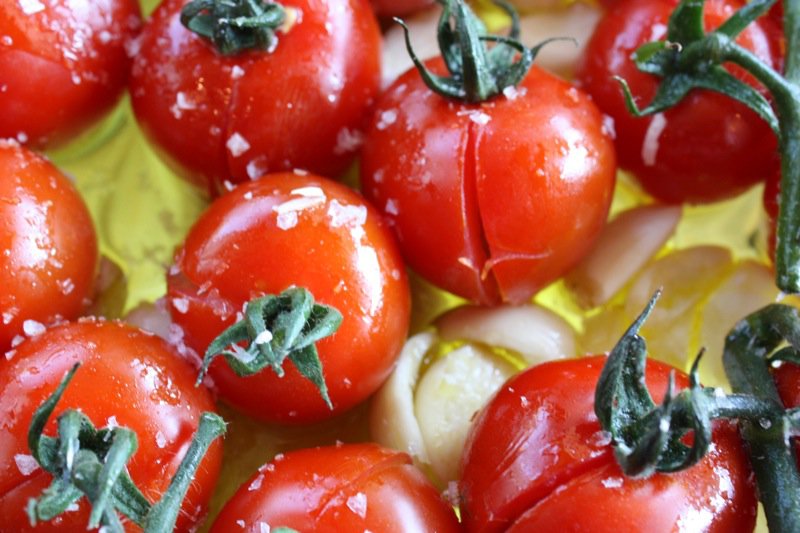 And why the vines? I was watching a program with Heston Blumenthal creating the perfect ketchup and he brewed his tomatoes with their vines as he went into a trance (eyes rolling back in head) after breathing in the incredible aroma of the vine. I did the same, and understand. Thus, the vines are kept on… and, they look great, too.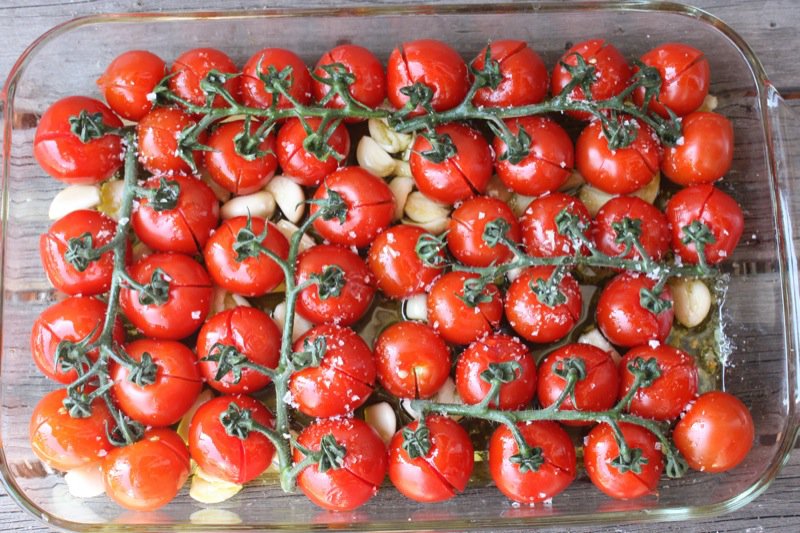 One layer in the pan (if they are large tomatoes, I cut them in half and place the cut side down, turning once when almost done), covered with a really good olive oil, sprinkled with Maldon salt, and a couple of bulbs of garlic cloves, peeled and sliced placed intermittently amongst the tomatoes. I have a convection oven, so I usually roast these at 170ºF overnight. The time depends upon the size of the tomatoes" 12 hours may not be enough. If you don't have a convection oven, experiment a bit. You could roast them at 200ºF for 5-6 hours, again depending upon the size and the amount of moisture you want remaining in them. I like them like this.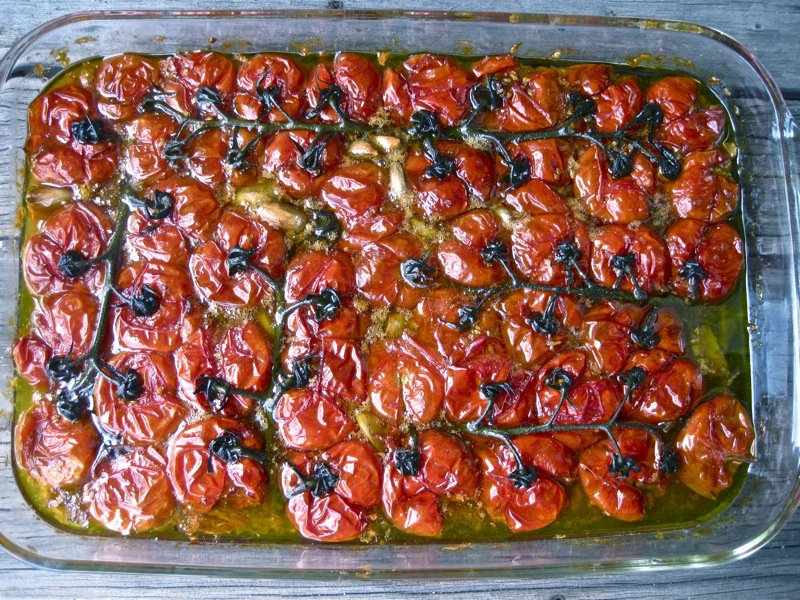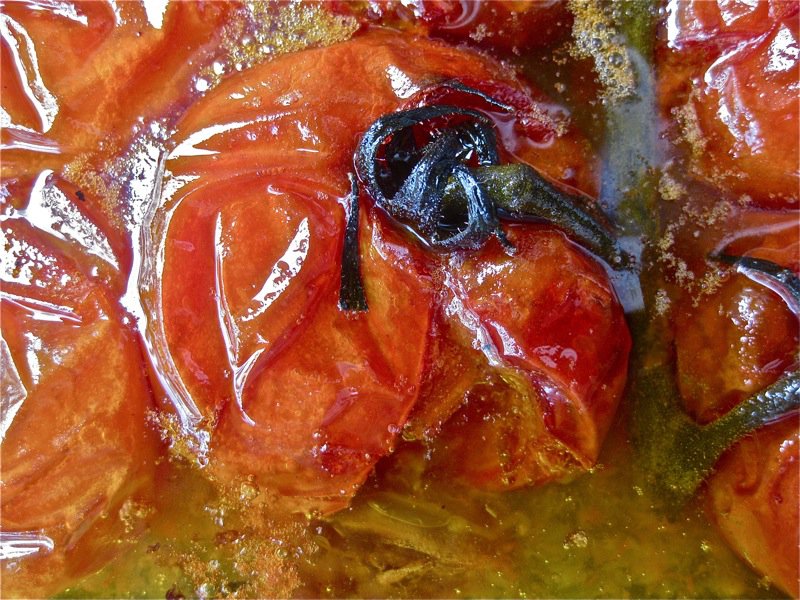 These are perfect for how I am planning on using them. If I was to preserve them in the freezer at the end of the summer, I would want them considerably drier as in this post.
I made these for the pizza at Vince and Colleen's Slow Food Summer Solstice Outdoor Oven Feast! They are gorgeous on a grilled pizza, too. Or, even an oven baked one.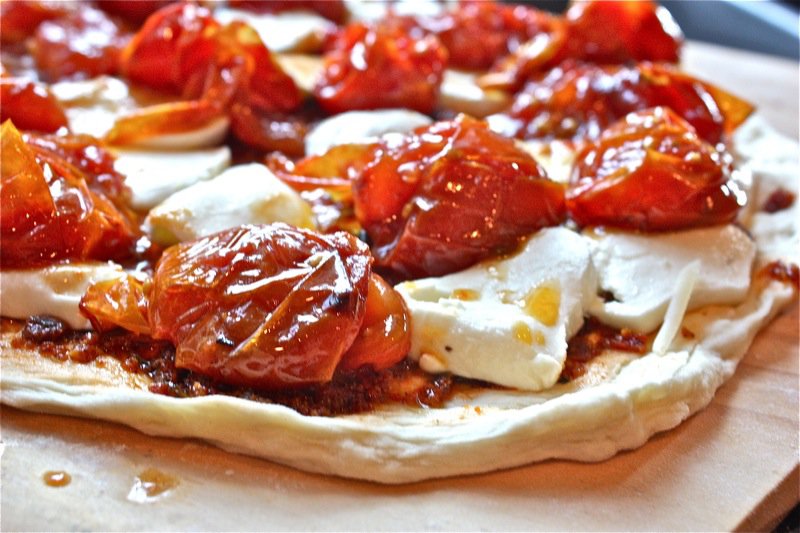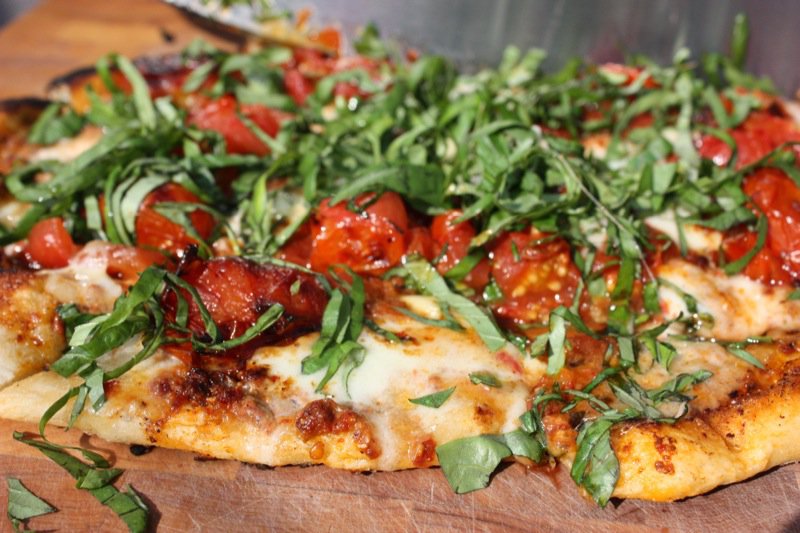 I love them in a grilled salad, too. Below, my extra tomatoes were tossed into the grilled salad brought to the same event. YUM.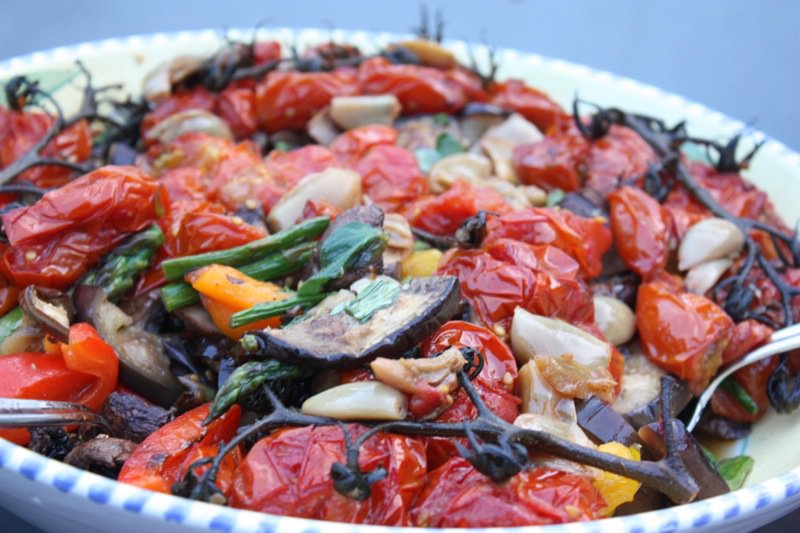 And last year, I had family friends for dinner and prepared my own grilled salad topped with these tomatoes.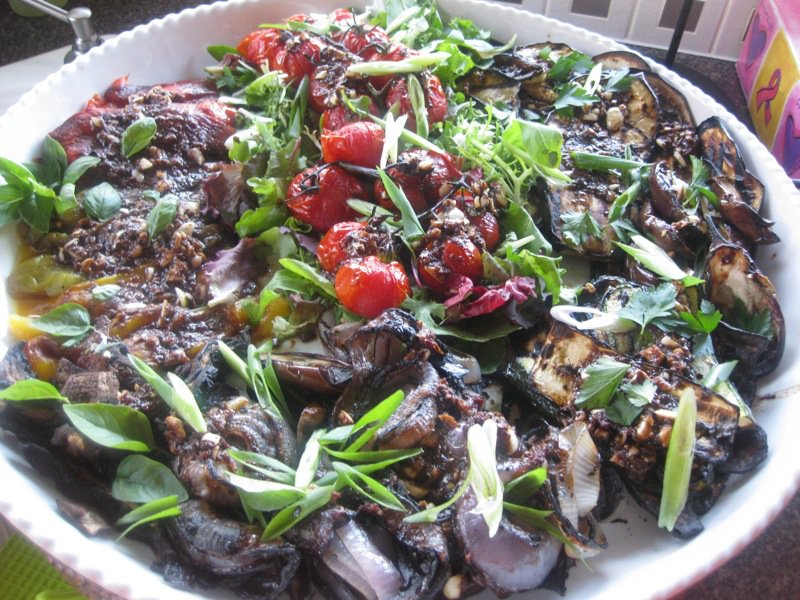 I dressed it with the dressing I used for my Roasted Red Pepper Salad. It was deadly delicious. I love the dressing on roasted vegetables. NUM-YUM!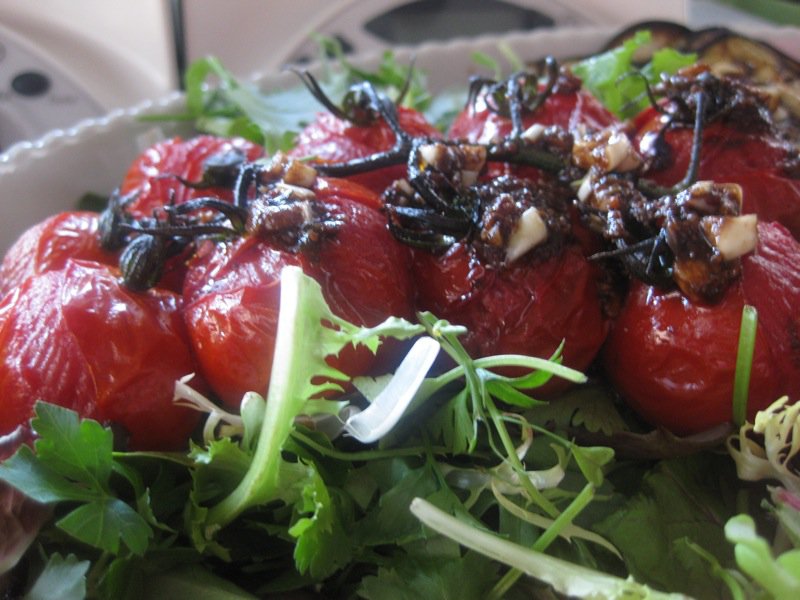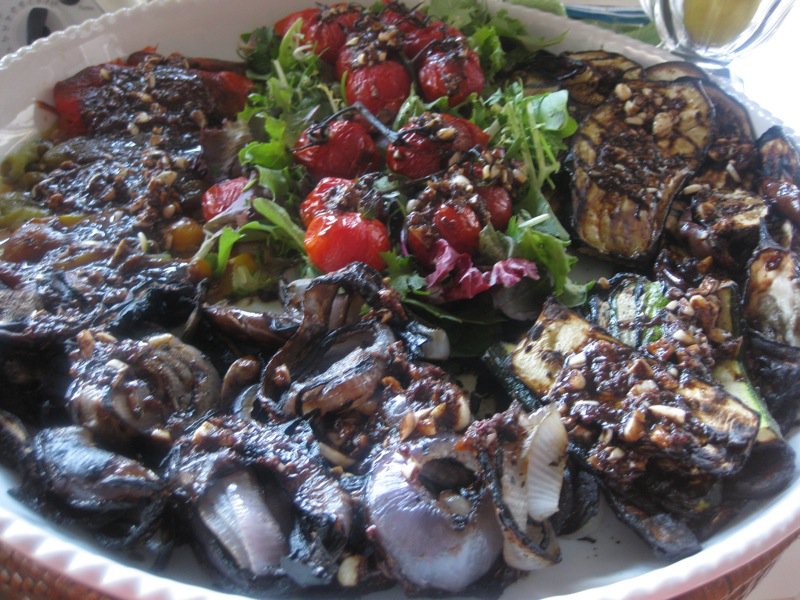 So, Lequan, I think that this is a simple, delicious, nutritious, and economical (if you grow your own) recipe for you! Just for you! And, in the fall, or maybe even earlier, I hope you try it!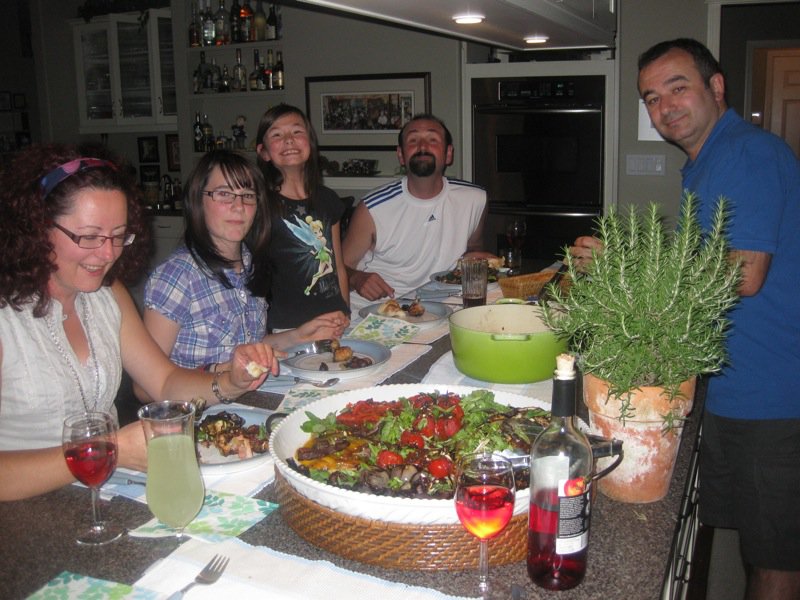 Branka, Sova, Tamara and Jelena LOVED it.
With love,
Valerie