… from our own garden: first one was earlier this week!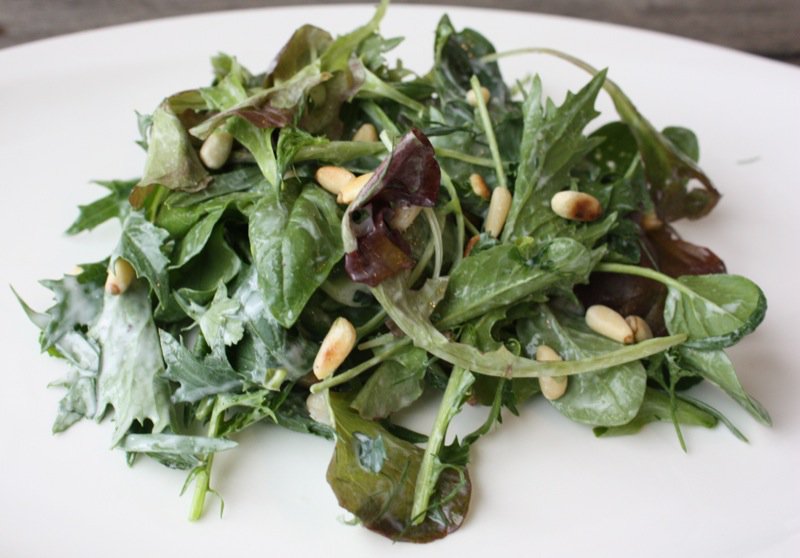 This salad would rival any I have eaten at the top restaurants around the world. I think it might even be better than any I have eaten. The inspiration comes from my maternal grandmother, Maude. The dressing recipe is one that is a very traditional recipe for young lettuce salads in the Central Alberta prairie area. I have found (by asking) that many rural families are as eager to mix their Spring greens with this dressing as our family is. Each of us feels it belongs to our family, yet it appears to belong to our place: the Alberta Prairies.
My only addition today: garlic. The creamy sweet and sour vinegar dressing is the perfect foil for the tender and often bitter little green leaves that rear their heads first in the garden. The cream used to come from that skimmed off of the cows milk in the morning. Oh, the new vegetables in the Spring: creamed peas, creamed carrots, creamed peas and carrots. Oh my. And the salad was very lightly dressed with this same cream, the perfect combination of sugar and salt with the tang of white vinegar. This was (and is) such a treat with thinly slivered onions. This salad must have thinly slivered onions in it. You cannot see any in the above pic, but I used red ones.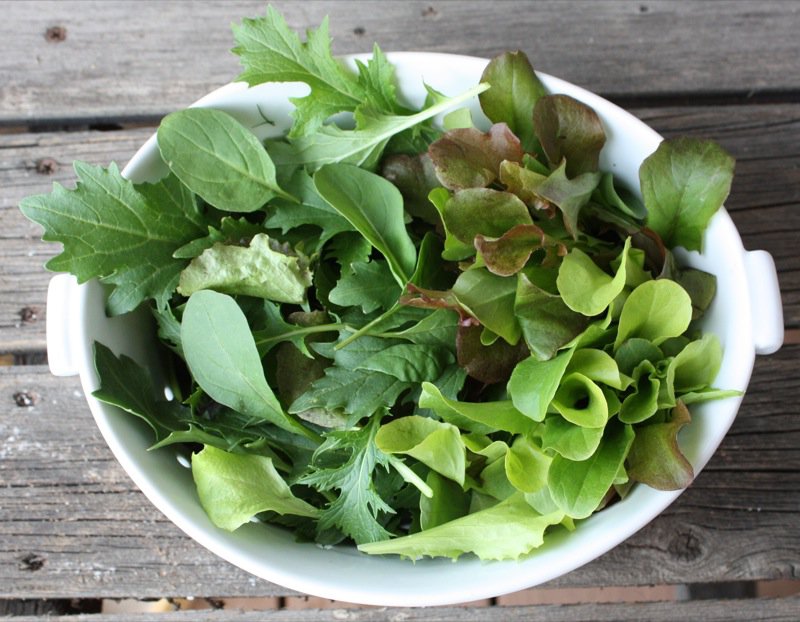 This year I planted my lettuces in tubs a week or a few apart from each other so I would always have fresh greens. Look at this beautiful variety. Lush!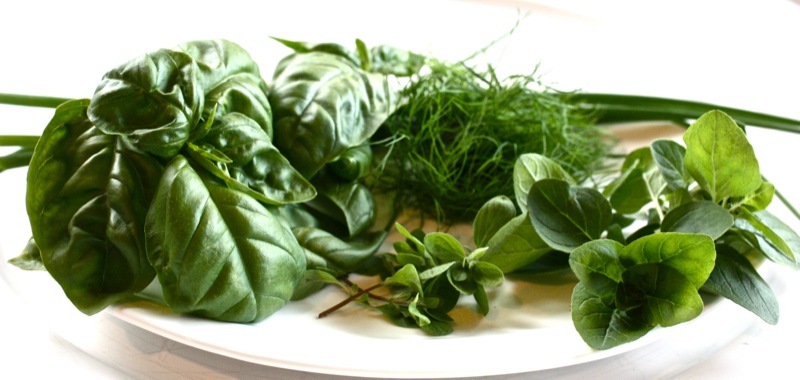 And, my addition to this traditional salad was the herbs. That is hardly a stretch. I added everything I could find that I was growing, except the mint: dill, oregano, basil, tarragon, marjoram, chives, chervil, and flat leafed parsley.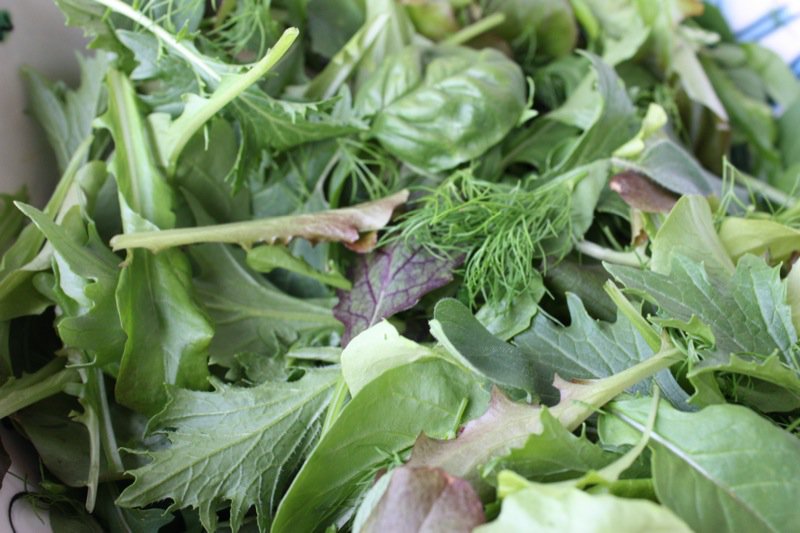 Oh, how I celebrate my kitchen garden. I move through it every morning seeking weeks and new little tender heads to greet and smile at. I spray "Tomato Set" on the stamen of each new (and still golden) tomato flower. I smell the earth and the herbs. And I work to incorporate as much as I can every day somehow. I love picking the fresh and perfect greens to nourish our body and spirit each day.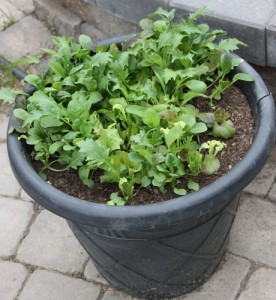 I carefully cut them back and they continue to grow. Below you will see how half has grown so much and the other half is just beginning to appear. These were seeded at the same time, but the germination time is clearly very different.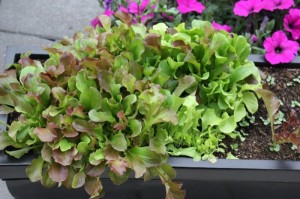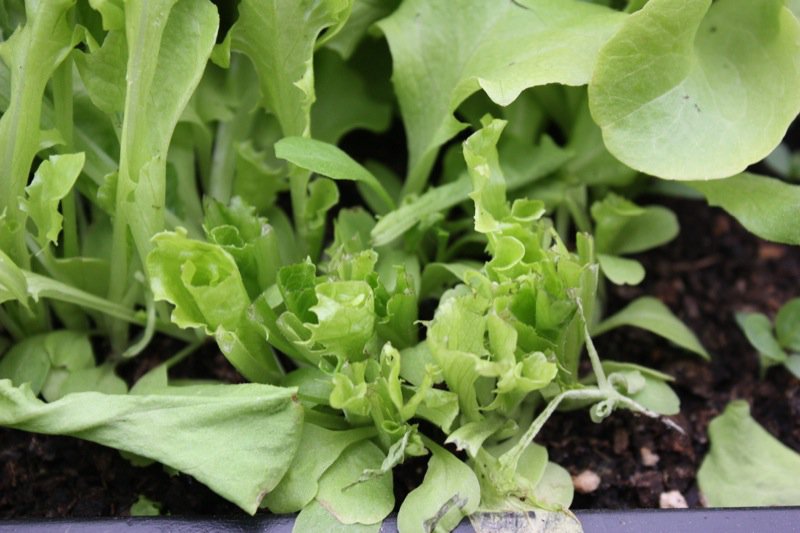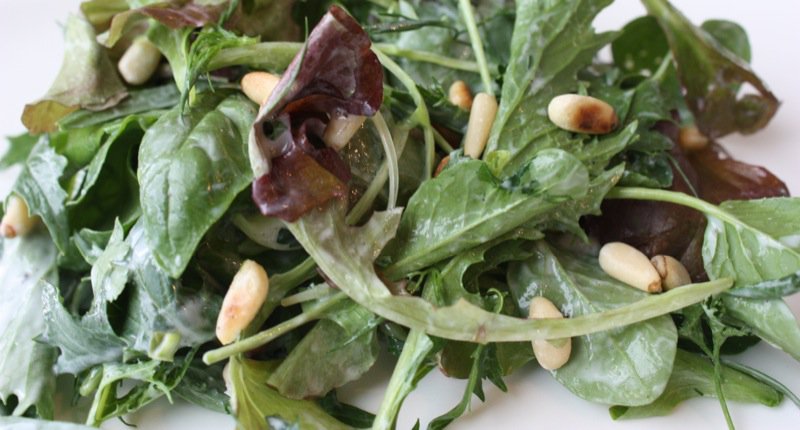 Prairie Spring Salad Dressing Recipe
Ingredients:
2 tablespoons of sugar
3 tablesp0ons of vinegar
1/4 cup of sour cream or heavy cream
1/2 cup (or more) or milk, to thin dressing
1 teaspoon of salt and freshly ground pepper to taste
minced garlic, to taste (not traditional)
Instructions:
Combine all ingredients and taste to adjust seasoning and thin so that it just coats the tender leaves
Additional Notes:
Make sure you have some thinly sliced onion to the leaf and herb mixture
I also added toasted pinenuts
What is your traditional dressing for a Spring lettuce salad? MMMMMMMMMMMMMmmmmmmmm. I would really love to hear yours!