A show stopper that is as delicious as it looks!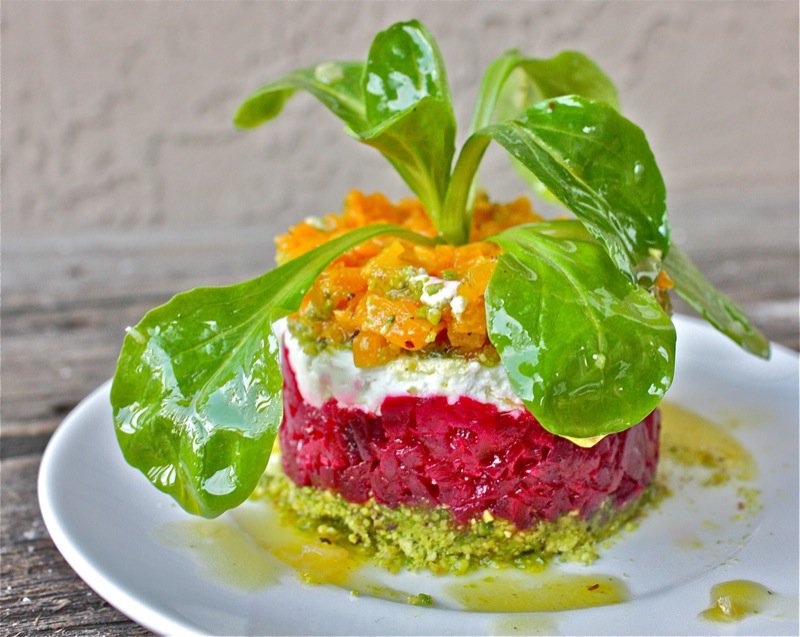 From 1991 to 2002 I had a "Toast to the New Year" Party that started out as a thank you to my wonderful group of friends during the holiday season, and then became 10 years of competition with myself to see how I could out do what I had accomplished each year, with the next. Amazing food; incredible work; wonderful learning experience. I miss my parties. I just cannot do them like that anymore. I don't have that kind of energy. I have had a couple of smaller Christmas dues since 2002 and one of the more memorable ones for me was a dinner party for 50 close friends where I served this salad as one of the courses. I had to order the pistachio oil online and couldn't find mâchéanywhere in this city that would sell it to me. There were a couple of places that grew it, but for restaurant use, only. This summer, I grew my own. And, the Italian Center Shop now carries the pistachio oil as part of their regular stock. It is the best one available, anywhere. It is the same one highly recommended to me by the gentleman who assisted me with my shopping at G. Detou this summer, in Paris.
I am crazy about beets, and roasting them really brings out their earthy-mineral sweetness distilling the essence of the root vegetable as the process tends to dry out the root into a confit-like product which I adore. When they are cool enough to handle, they peel like a charm and your hands to do not get stained at all as they do when beets are boiled. The golden beets are so beautiful this time of year, as well.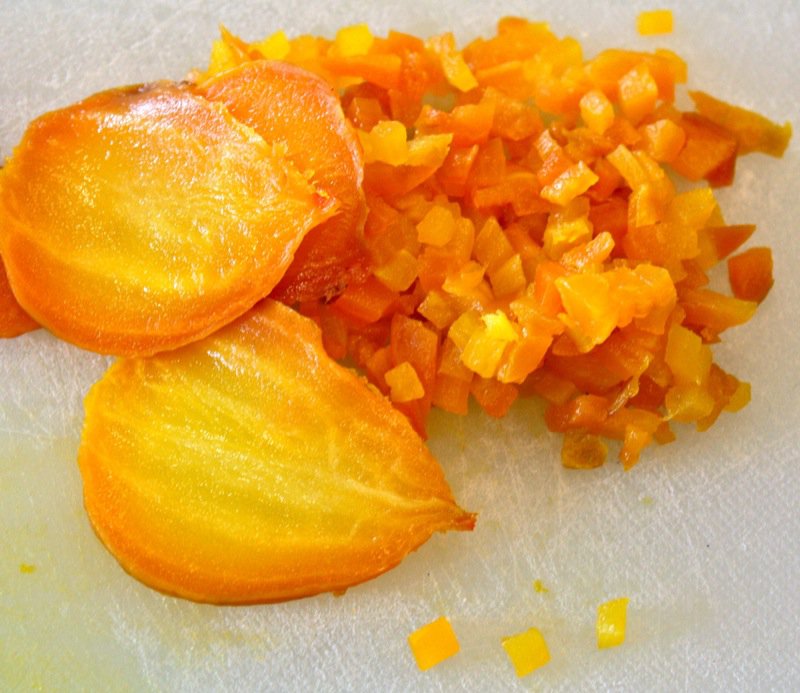 This time I was making a miniature tasting plate, so instead of dicing the beets, I tried to do a mirepoix as the mouthfeel with the mirepoix cut is extraordinary. Obviously, I need to practice. I was just not patient enough or accomplished enough to have each piece perfect which is the entire point. But, I did get a nice tiny dice which worked for my miniature mold.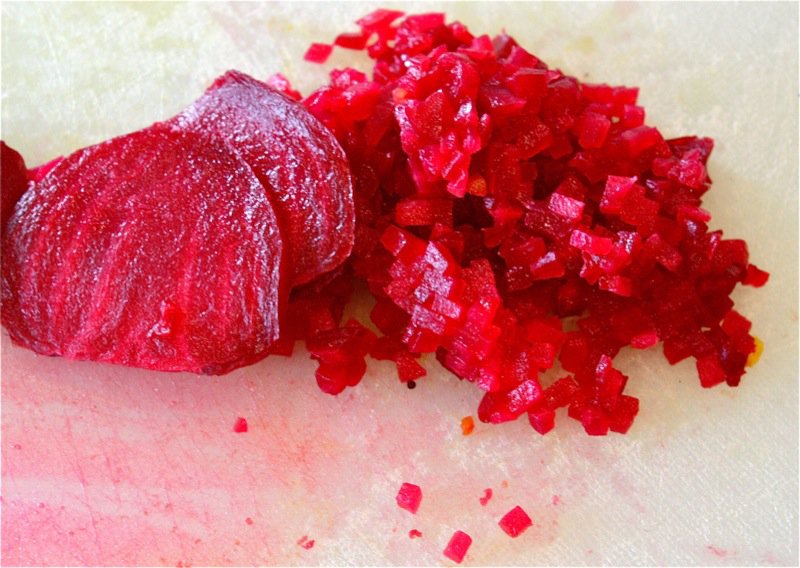 The beets were from Sundog Organic Farms at City Market downtown and I had expected the deep velvet burgandy flesh but got a translucent brighter ruby variety, instead. It was unexpectedly bright, and delicious. I decided to go "all out" on this tasting and do beets four ways. So, I made a little verrine of the Cold Beet Soup Vanja and I had at our Bastille Day Dinner cooking class in Paris. Then, I shaved the beet greens and sautéed them in garlic and planned to top that little spoonful with a beet ship. I "should have" used my mandoline, but didn't want to take the time to get it out as I had so many other things on the go. I sliced the beets, placed them on parchment paper and placed another piece of the paper on top of them.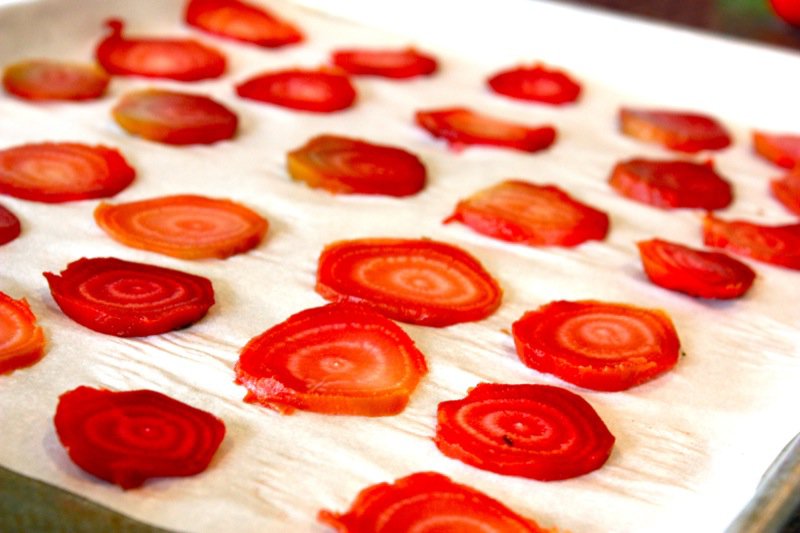 Then I sat a heavy cookie sheet on top (bottom, right) to bake them into a flat shape. I baked them almost like drying them: low and slow, and thought they turned out perfectly. They did need to be thinner, as they were a little chewy, instead of crispy.But, delicious, and even better with a little olive oil and sea salt.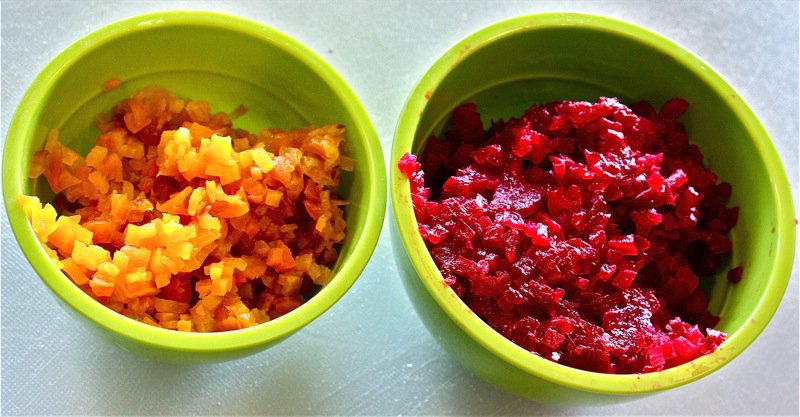 I had more red beets than yellow, so just decided to not divide the salad in half as I molded it. The shallots were gorgeous from Planet Organic.
The dressing is incredible: simple and unforgettable. Shallots, freshly squeezed lemon juice, hand mined fleur de sel, and cold pressed pistachio oil.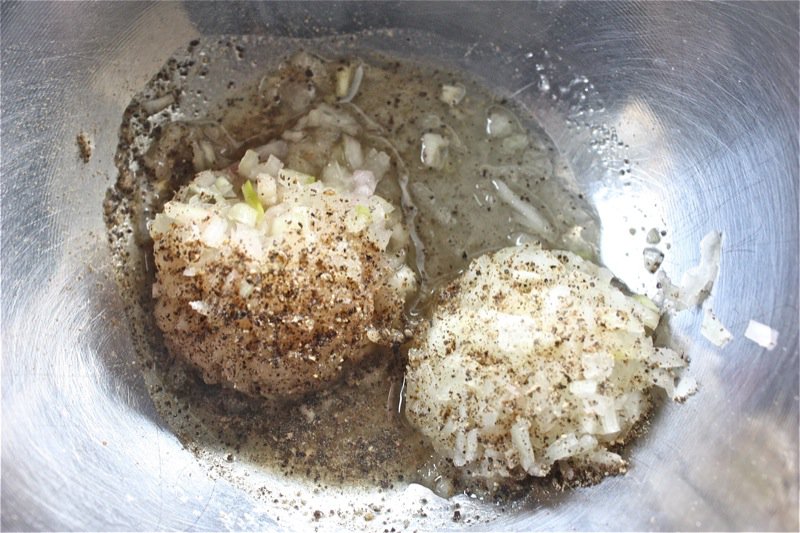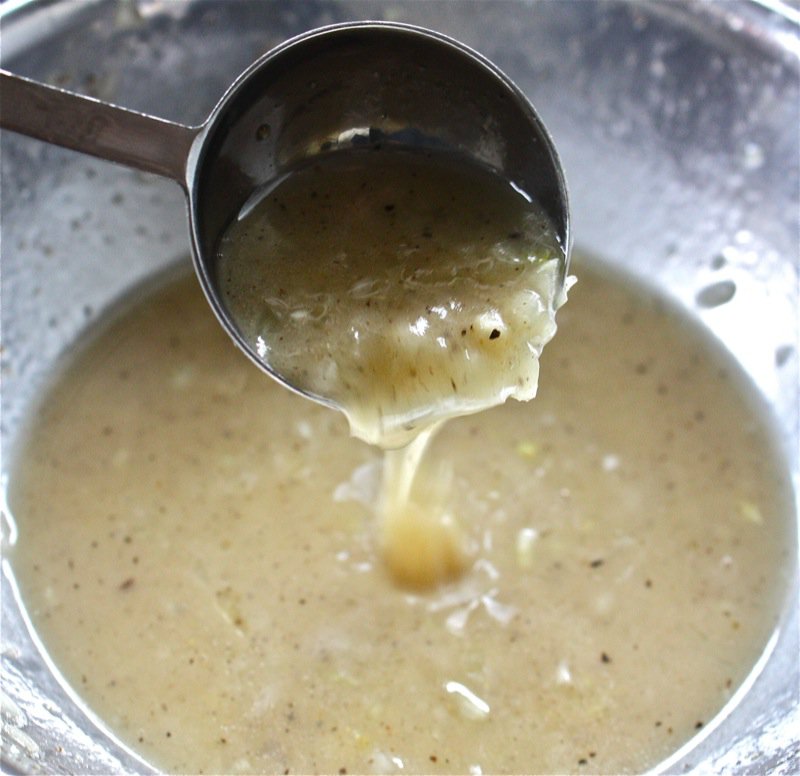 Above, the dressing is whipped by hand; below I used my immersion blender.
Remember the label. It is incredible oil. I found this recipe on epicurious.com and just gound some Iranian pistachios and placed a tablespoon, or so, in the bottom of the ring mold. Then, I spooned in red beets to fill the ring 2/3 full; I added a layer of Smoky Valley chevre from the City Centre Market, then another thin sprinkling of ground pistachios and filled the mold to the top with the golden beets. Use one had to hold the salad down and carefully pull the ring up slowly, so the salad will hold its shape on the plate. This is a bigger one that I made the following week when my daughter, Lauren, came home for her 30th birthday. I grilled some fantastic brick pressed cornish hens from Greens Eggs and Ham for that meal with homage to Alice Waters and Chez Panisse, but will write about that another time.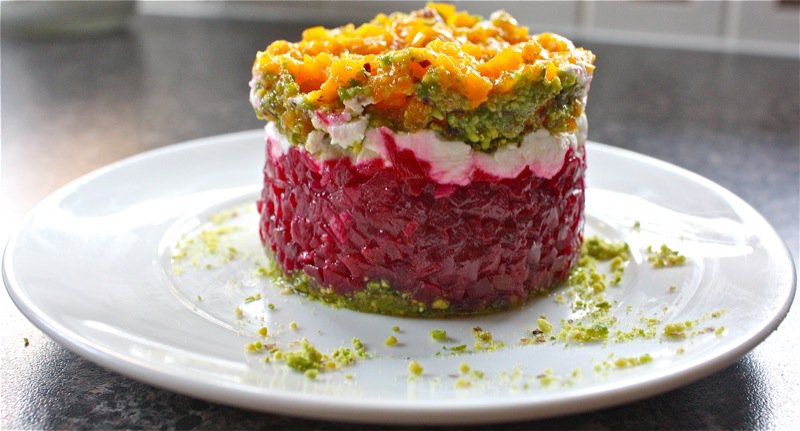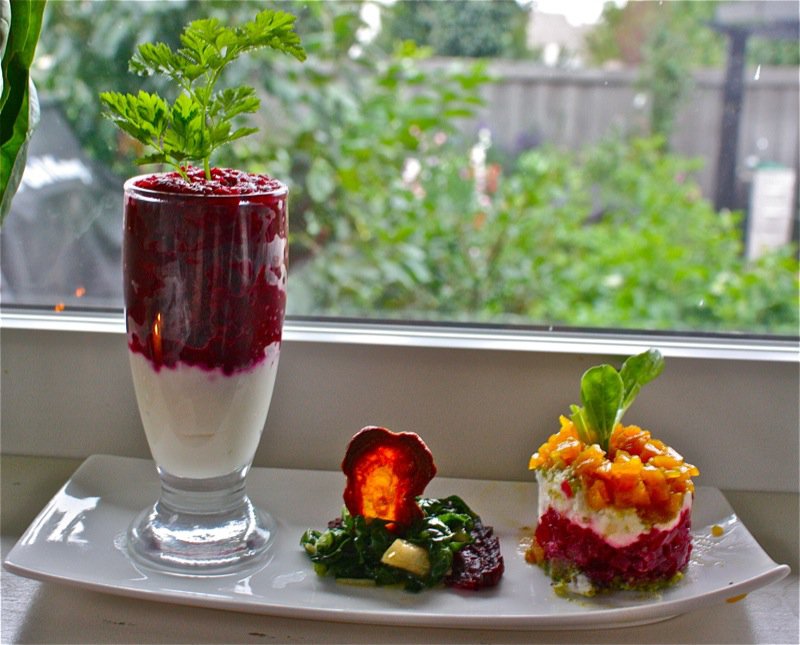 Beets for ways: Cold Beet Soup with Goat Yogurt, Beet Greens with Beet Chips, Pistachio Beet and Goat Cheese Salad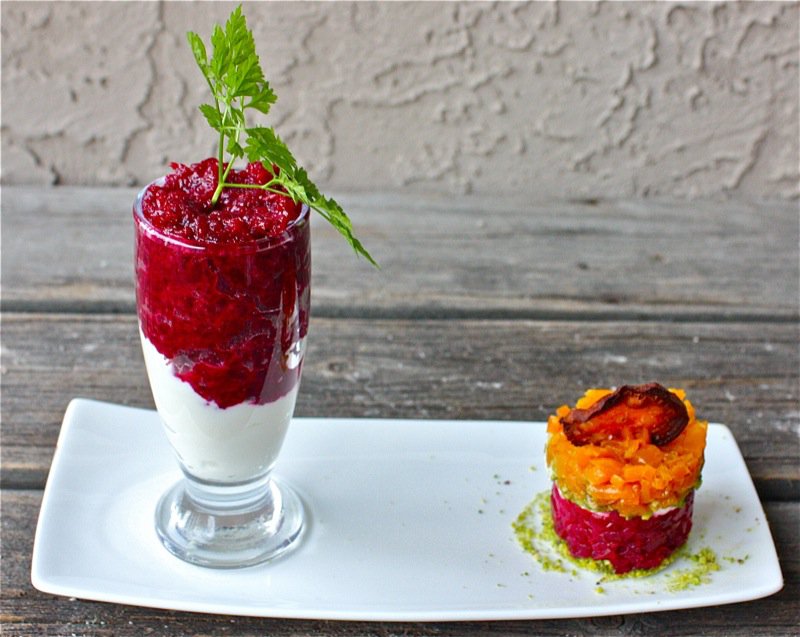 This is the miniature tasting plate without the beet greens that I prepared for our dear friend V for one of his regular Tuesday night dinners at our house. He licked the plate.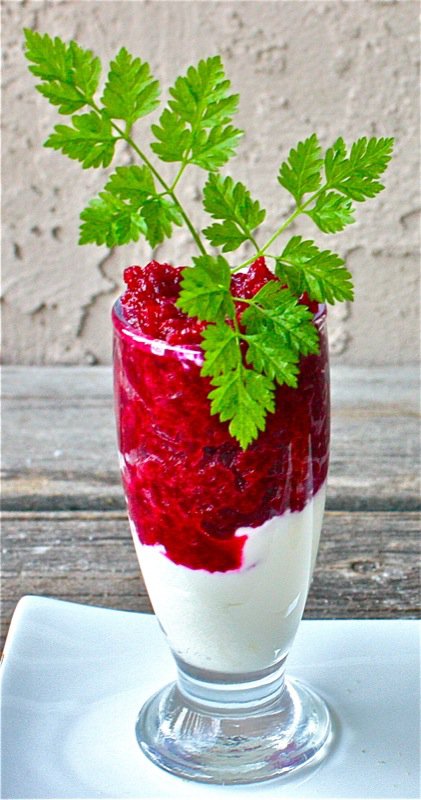 I like the look of this soup and loved the taste of it. The salad is even yummier, and did the beetchip on the mini one for fun. Isn't it cute?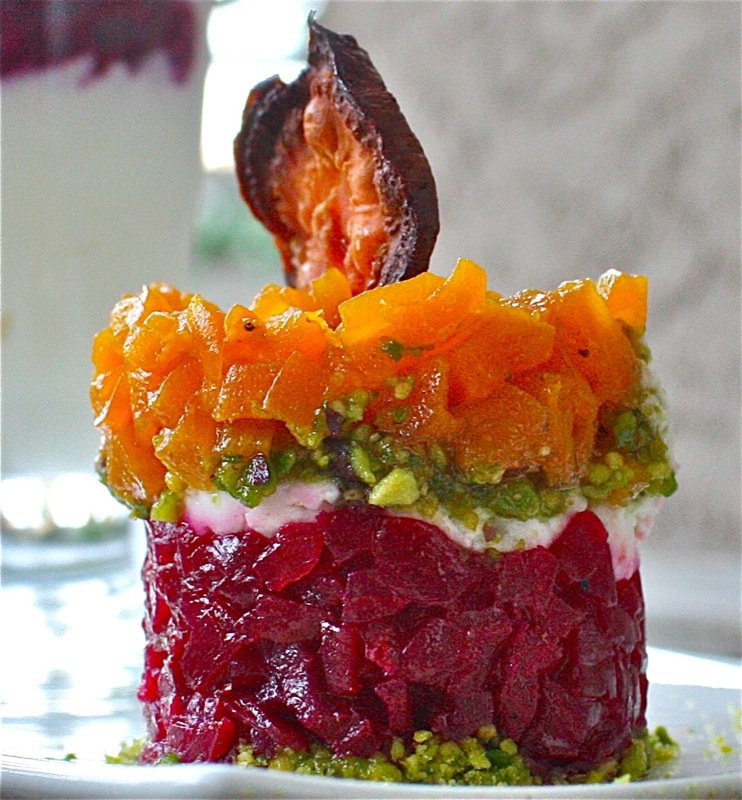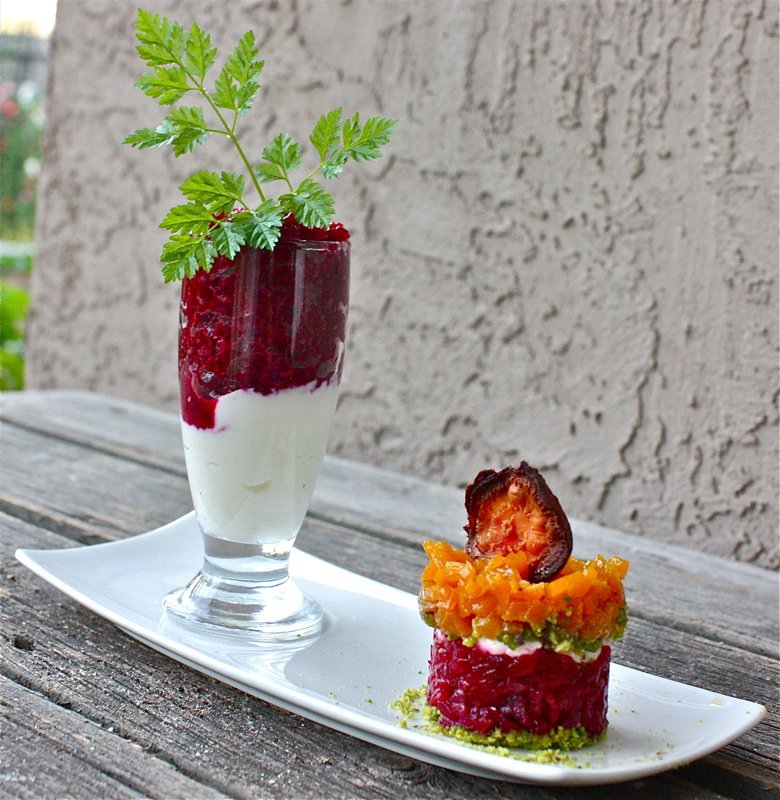 Roasted Beet Salad with Chêvre and Pistachio Oil Dressing Recipe

Ingredients for the Salad:
3 large red beets (1 2/3 lb without greens)
2 large golden beets (1 lb without greens)
1/4 cup minced shallot
2 tablespoons fresh lemon juice
3/4 teaspoon salt
1/4 teaspoon black pepper
1/4 cup pistachio oil
4 oz soft mild chêvre (goat cheese)
3 tablespoons salted shelled pistachios (not dyed red), coarsely chopped
1 oz mâche (also called lamb's lettuce), trimmed (4 cups)
Special equipment: a 2 1/2-inch round cookie cutter (without handle; at least 2 inches high)
Instructions:
Preheat oven to 425°F
Separately wrap red and golden beets tightly in double layers of foil and roast in middle of oven until tender, 1 to 1 1/2 hours; nwrap beets
While beets are cooling slightly, whisk together shallot, lemon juice, salt, and pepper in a small bowl, then add oil in a stream, whisking
When beets are cool enough to handle, slip off and discard skins; separately cut red and golden beets into 1/4-inch dice (for individual salads) and put in separate bowls
Add 2 1/2 tablespoons dressing to each bowl and toss to coat
Place mold or a biscuit cookie cutter in center of 1 of 8 salad plates; place one eighth of the red beets in cutter and pack down with your fingertips
Crumble 2 teaspoons goat cheese on top, then one eighth of golden beets, packing them down
Gently lift cutter up and away from stack; make 7 more servings in same manner
Drizzle each plate with 1 teaspoon dressing and scatter with some pistachios about
Toss mâche with just enough remaining dressing to coat and gently mound on top of beets; serve immediately
NOTE: Beets can be roasted and diced one day ahead, chilled and covered; bring to room temperature before using. The molded beet salad (without mâche) can be assembled 45 ahead and kept, covered, at cool room temperature.