This Colourful Showstopping Roasted Cauliflower Salad is Delicious, Nutritious, and Economical!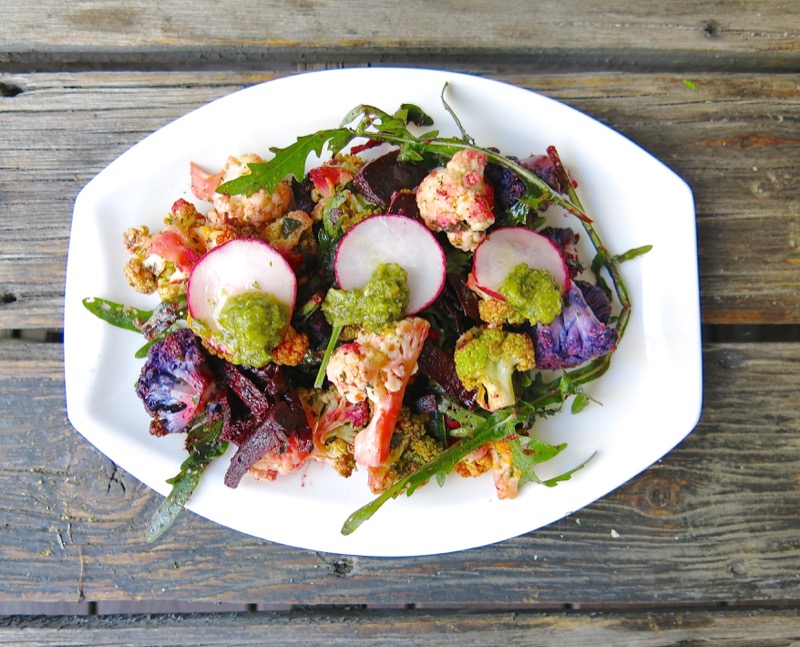 Inspired by this Gordon Ramsay recipe developed specifically for the Philips AirFryer, look what I made: Roasted Cauliflower Salad!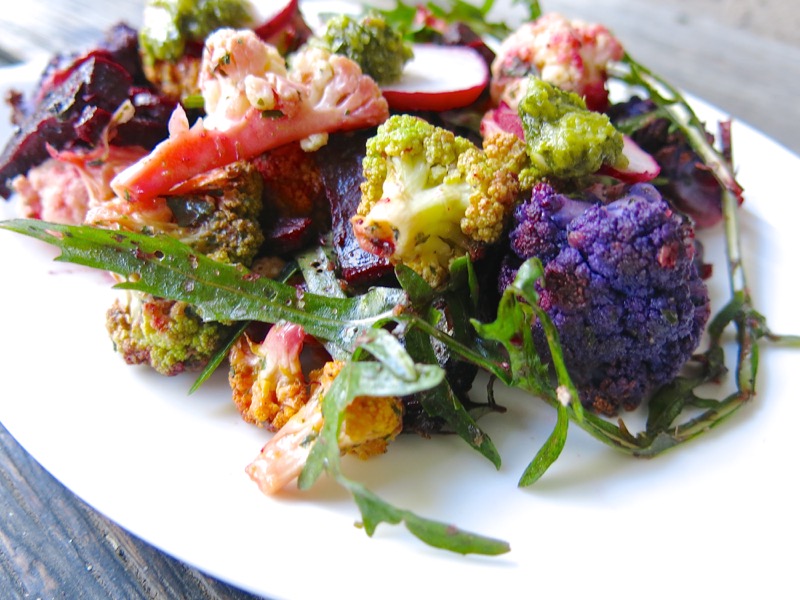 Talk about art on a plate! It is every bit as delicious as it looks.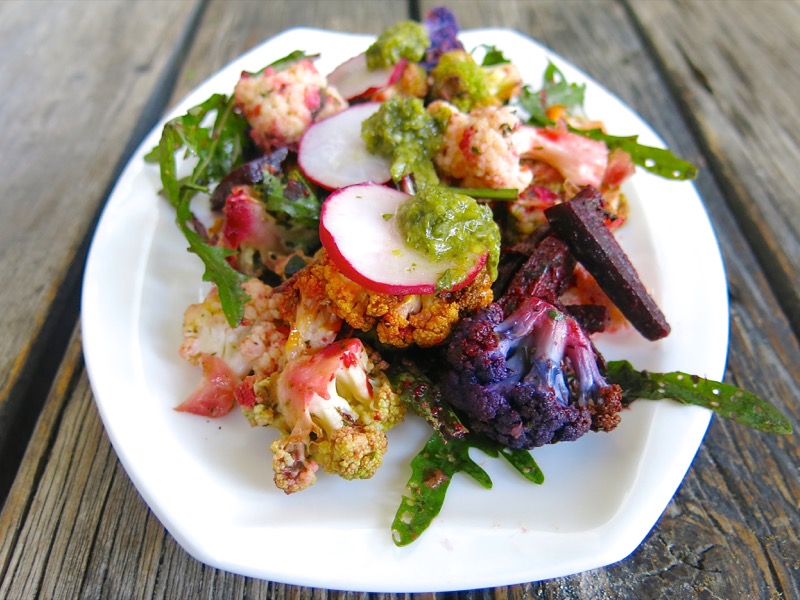 I almost didn't want to eat it as it is such a pretty salad, yet the invitation was completely irresistible.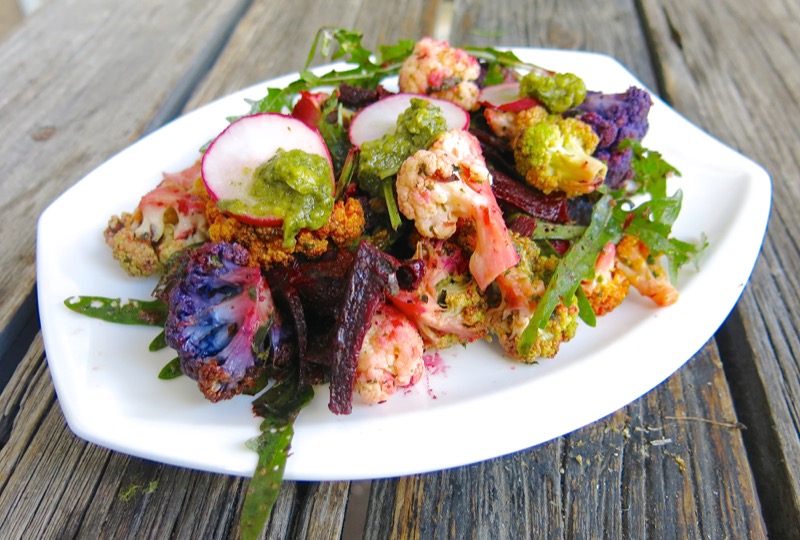 Toothsome caramelized colourful cauliflower bites coupled with the mineral-rich earthy sweetness of the beet with the nutty heat presented by the arugula, when ignited with the chimichurri vinaigrette, created nothing less fireworks on the palate .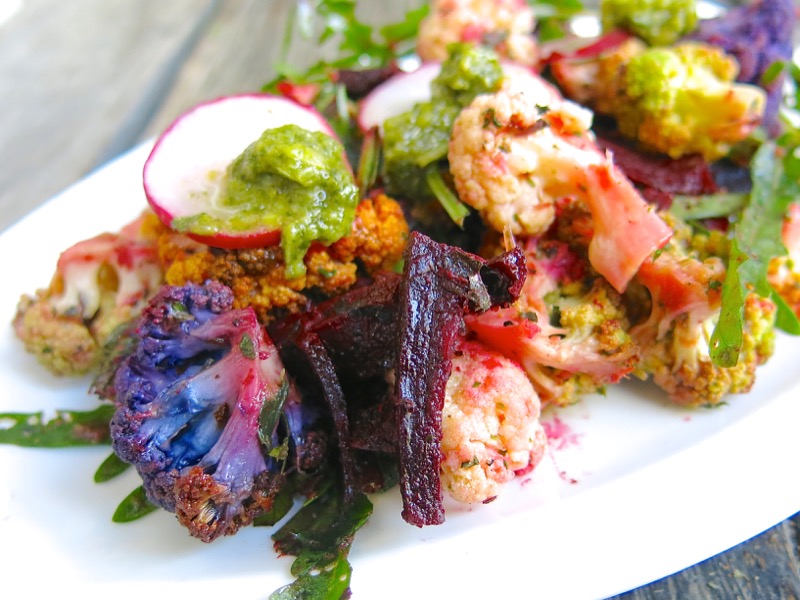 This Roasted Cauliflower Salad? Addictive.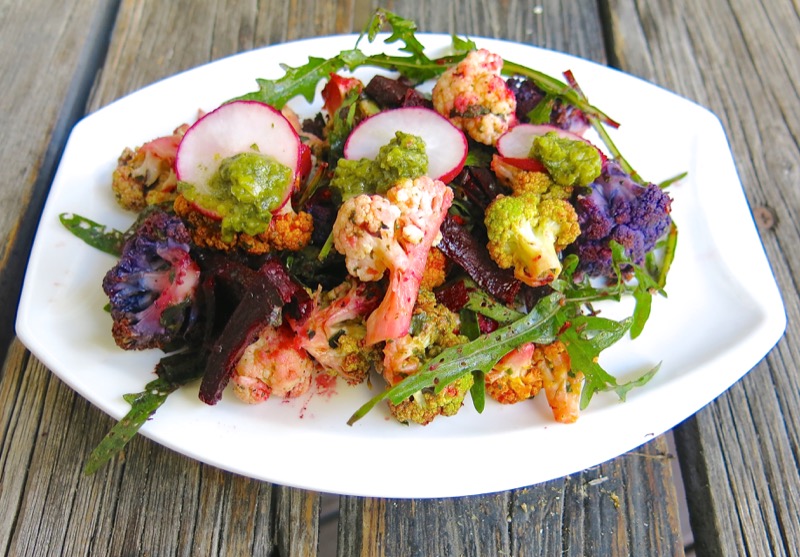 Bite after bite after bite. There was no stopping the compulsion of the fork to the plate to the palate. Until it was gone, gone, gone.
Roasted Cauliflower Salad with Chimichurri: Preparing the Vegetables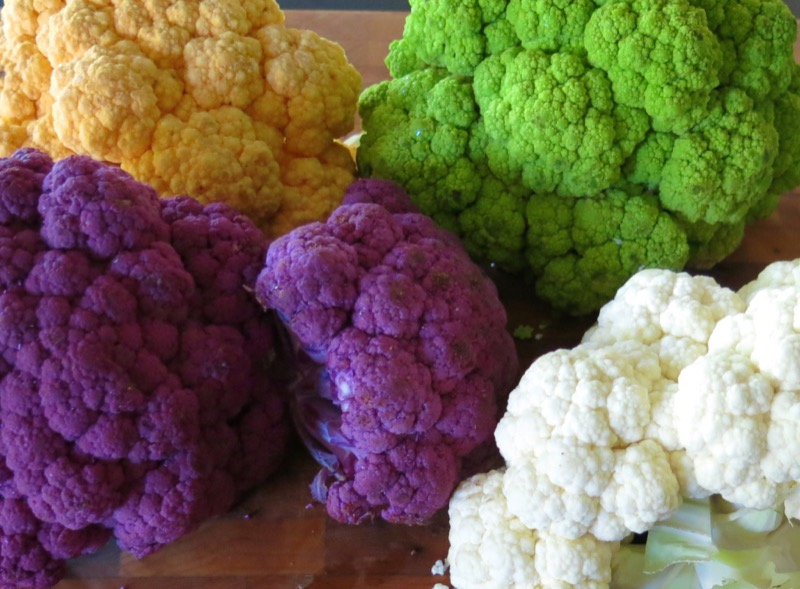 Gordon Ramsay is the famous spokesperson who has taken on the role of creating several videos and recipes for Philips. How cheeky to modify a Ramsay recipe! Yet, I was completely inspired by his recipe, and did start with the intent of creating it to a "T". I should know that is never going to happen in my kitchen. First, how could I resist adding green to the tri-coloured mix of cauliflowers? I simply could not. As it is harvest season on the Canadian prairies, the great green Romanesco was definitely a must. I didn't adjust the amount of the other 3 half heads in the recipe. I simply added one more 1/2 head of Romanesco and changed the title from Vegetable Salad with Chimmicurri Vinaigrette to Roasted Cauliflower Salad.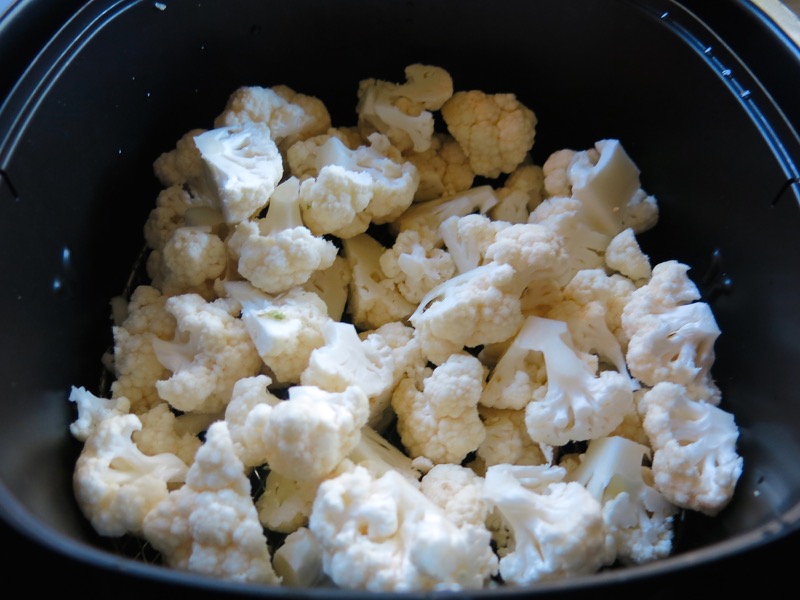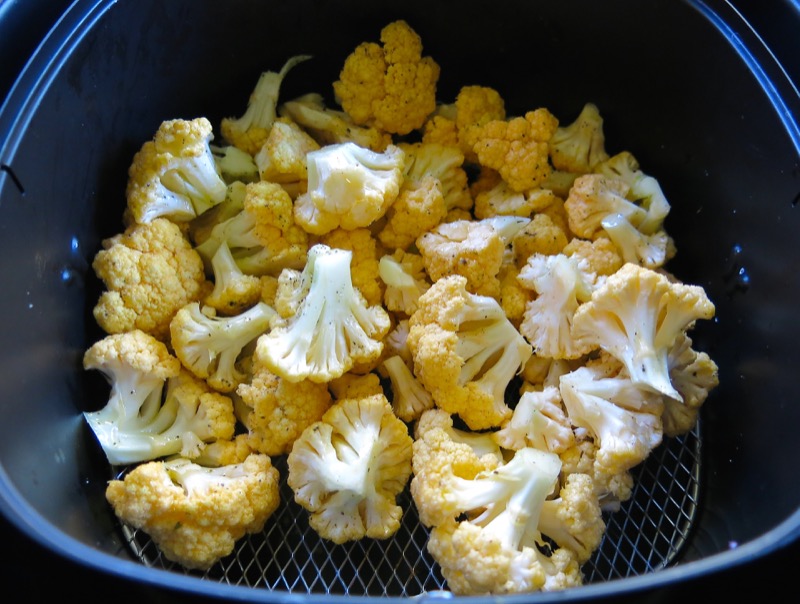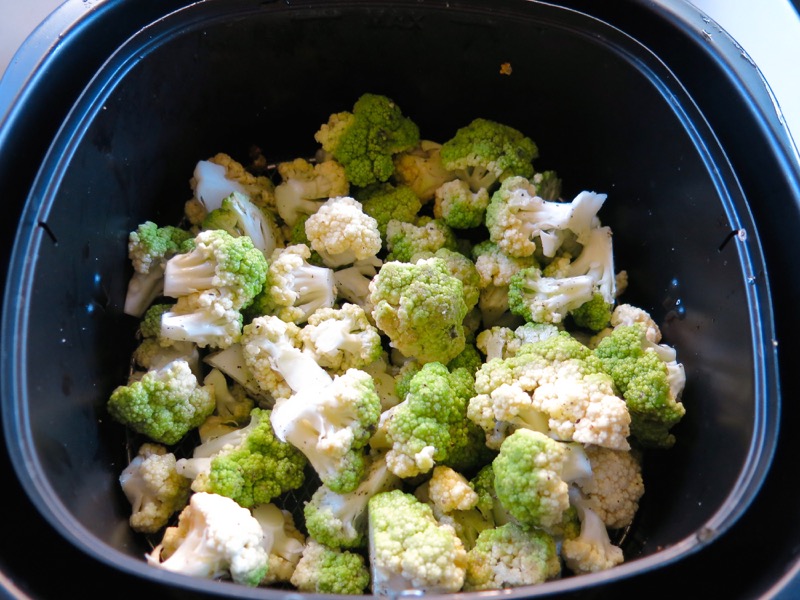 Each was broken into flowerets, seasoned, tossed in a smidgen of oil, and AirFried from lightest in colour to darkest in colour.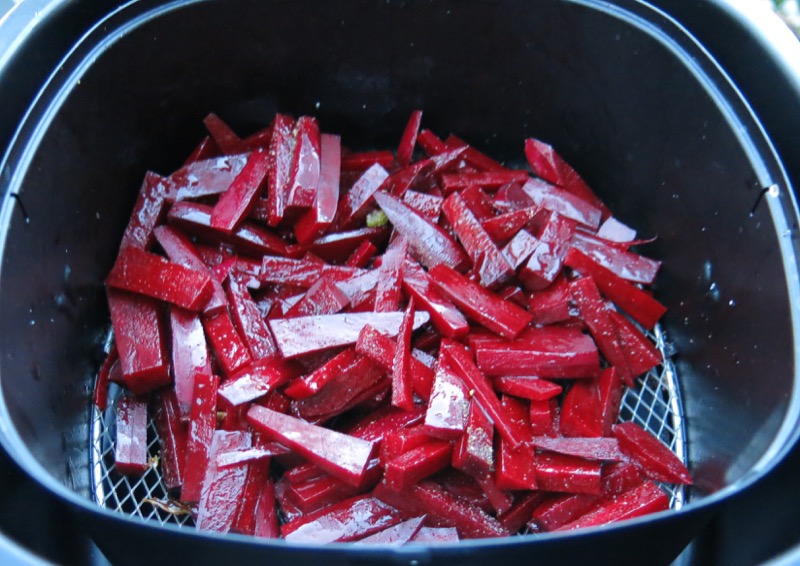 In went the beets. I didn't slice them according to the Ramsay instructions, either.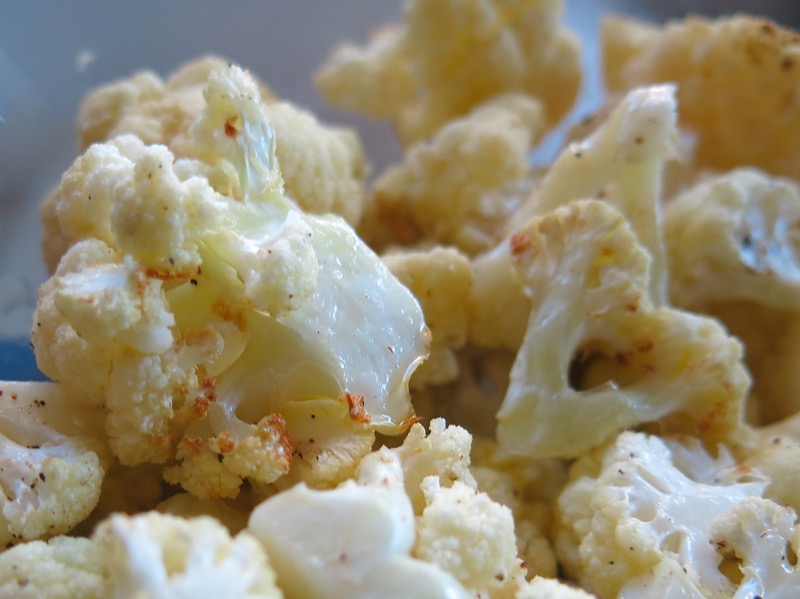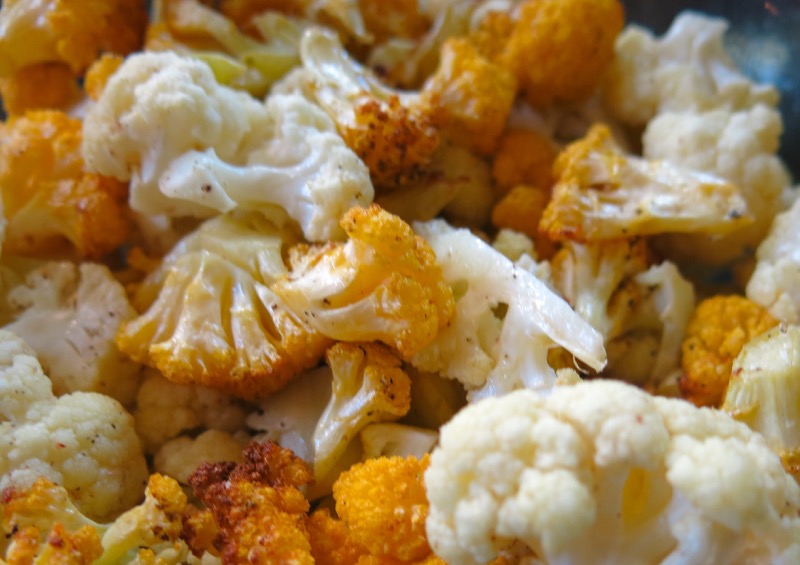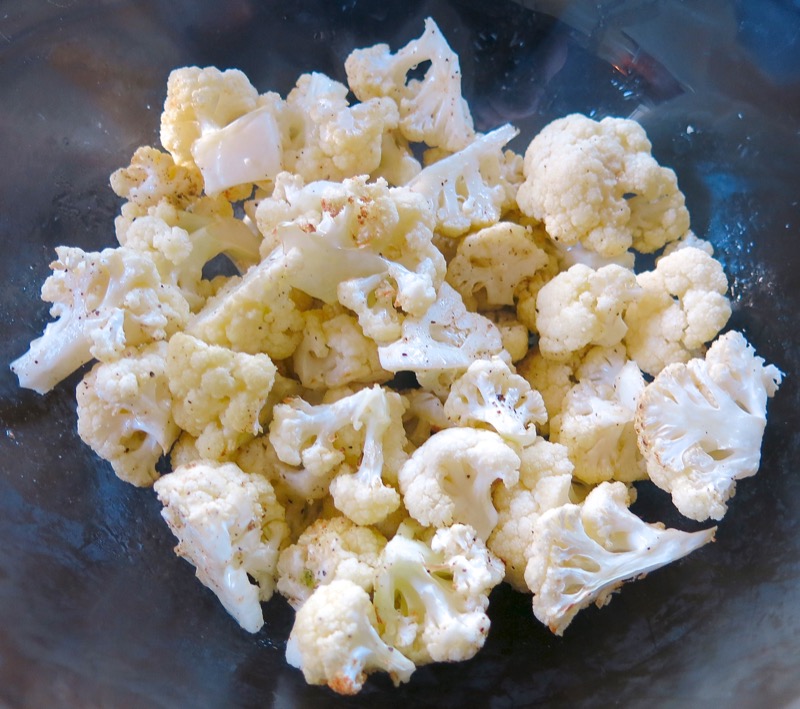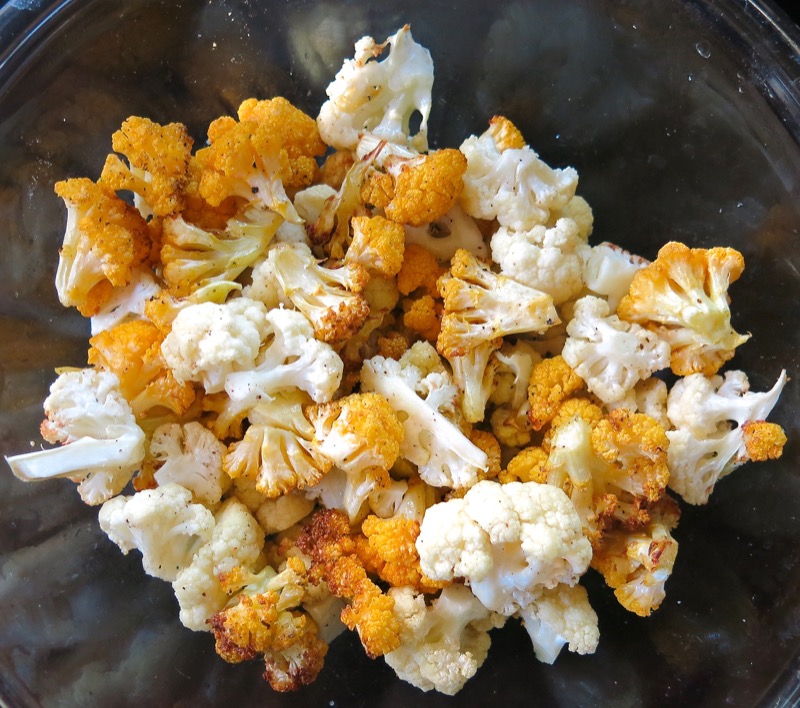 Pre-heat the airfryer? Now, how does one do that? Run it for 5 minutes, 3 minutes, 2 minutes, 1 minute before cooking in it? That is what every one of his instructions say: pre-heat the airfryer. Having used it a bit, I didn't. I am a bit energy conscious, too. His cooking time was way off for my palate. I upped the temperature and extended the cooking time to get a good amount of caramelization for flavour, yet maintain a little crunch and vibrancy with each bite. Oh, me, oh my! Am I not just the cheekiest? Seriously. If he was with me, I am sure I would follow his exact instructions (or risk a huge verbal beating), but he is not, and I cannot make sense of why he would set the temperature so low for such a short bit of time. So, without the master to ask, and with my own palate to guide me, I was off!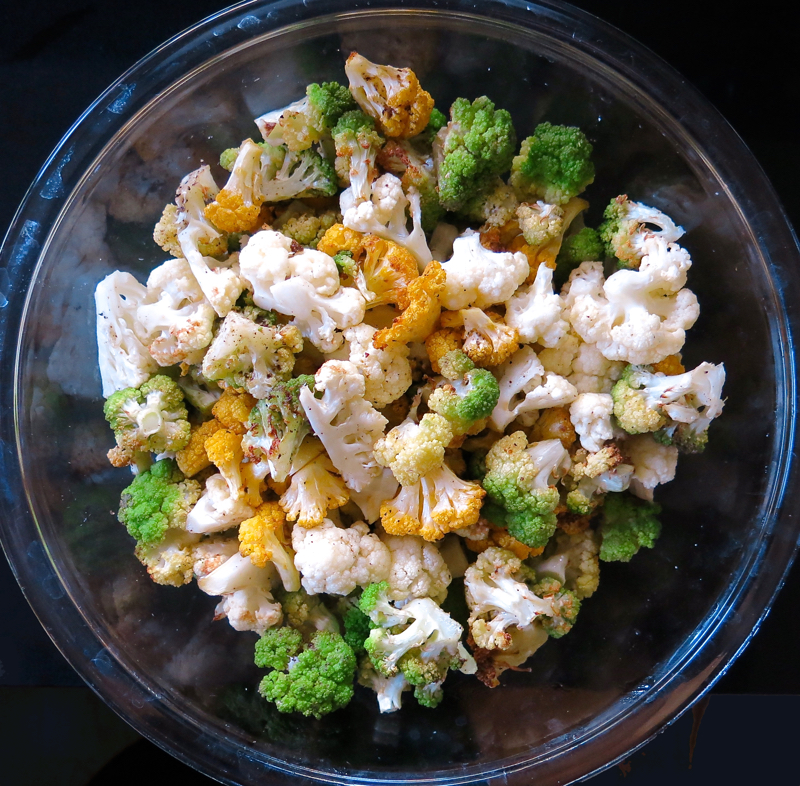 Lovely! The purple is tossed in below, at twilight, just before dinner with the freshly chopped mint from the garden.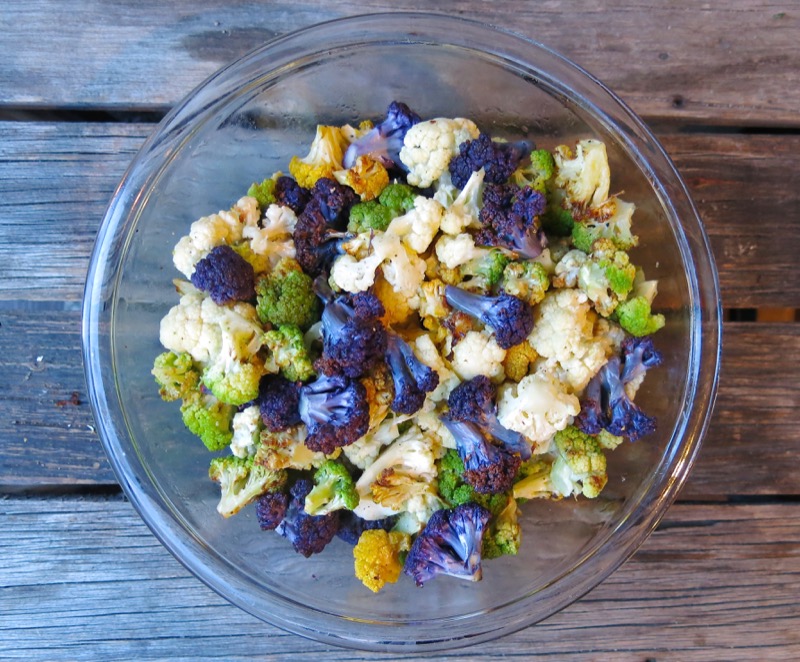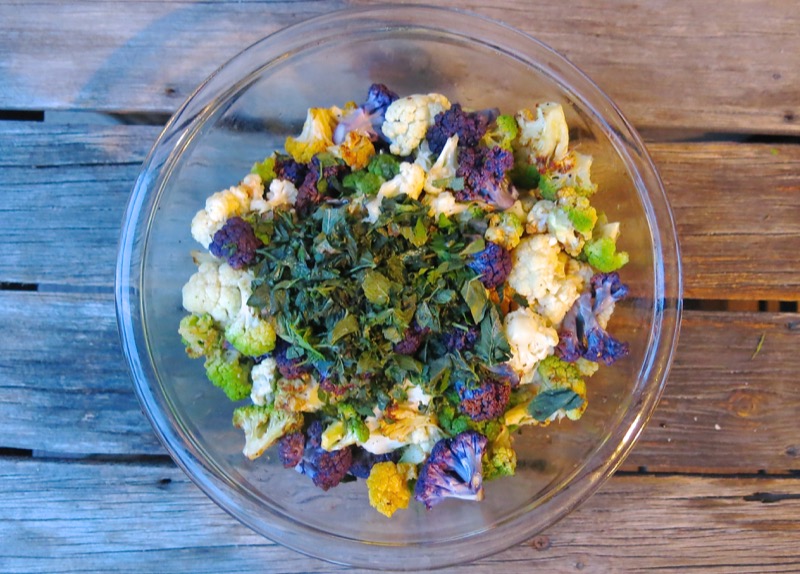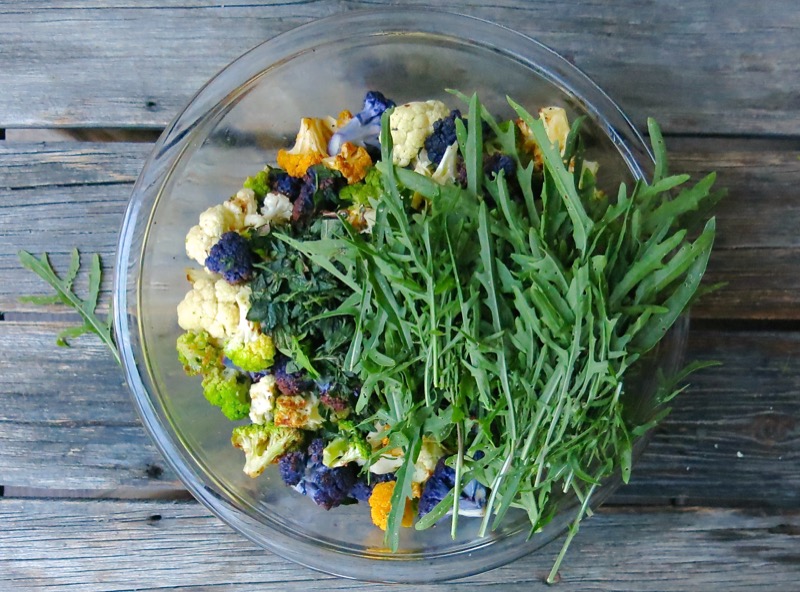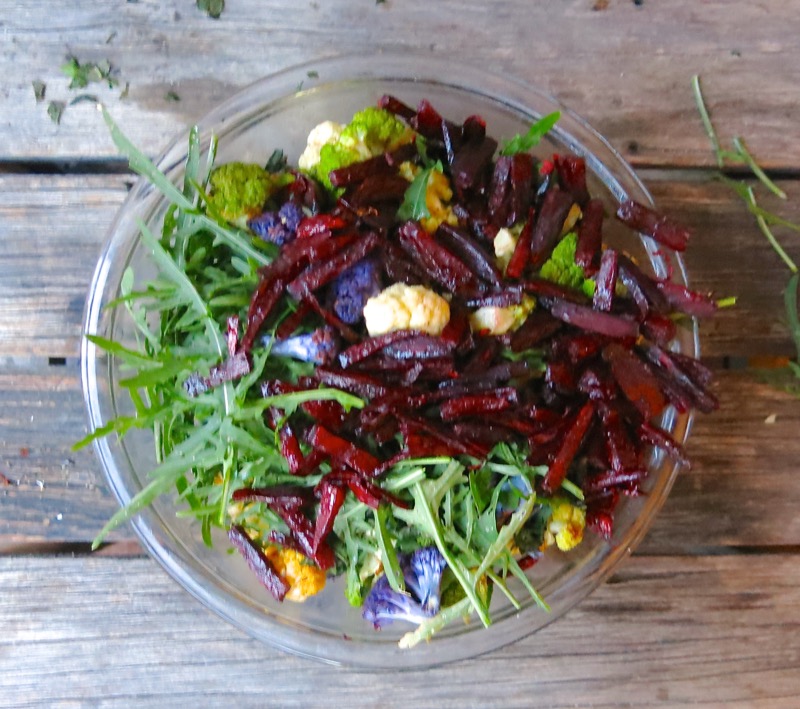 I detest frisee, so did not add it. I have some gorgeous arugula growing in my garden: the traditional Italian hot nutty chewy kind. Perfect. Beets freshly out of the AirFryer, tossed on top. Roasted Cauliflower Salad, here we come!
Roasted Cauliflower Salad with Chimichurri: Preparing the Vinaigrette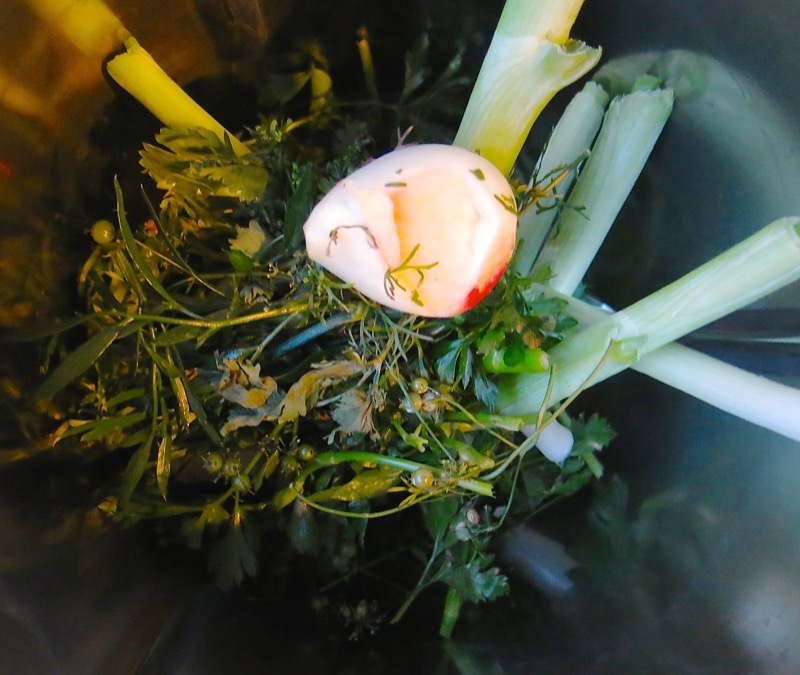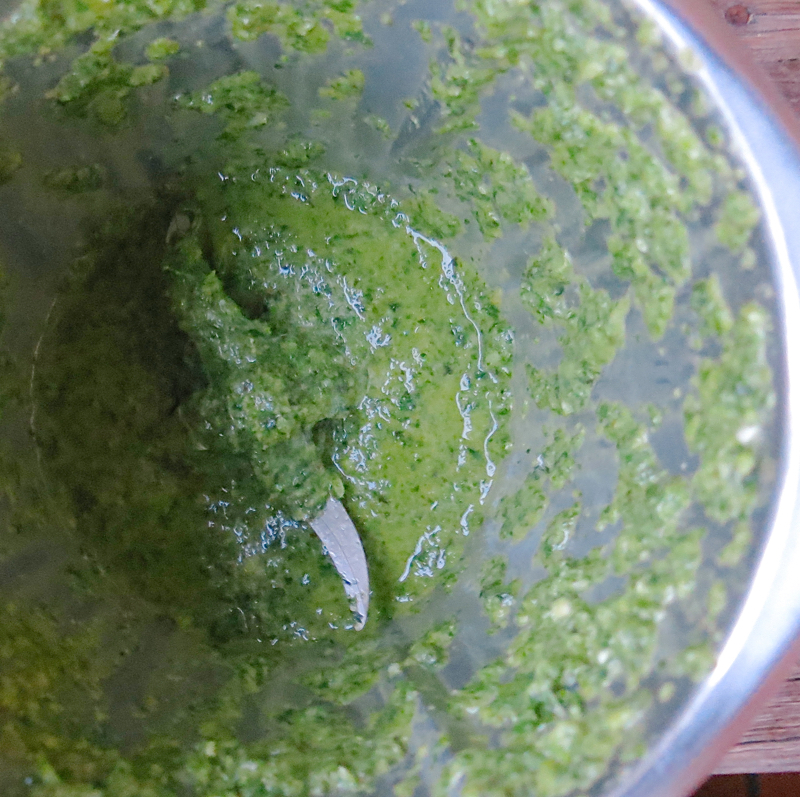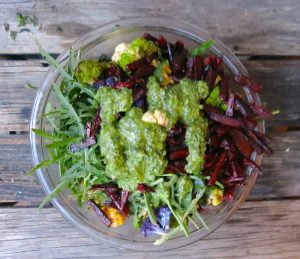 Chimicurri dressing whipped up in my Thermomix dappled over all, then tossed well to combine. Tasted. A little more dress. Again, more dressing. Like that.
Roasted Cauliflower Salad with Chimichurri: Final Presentation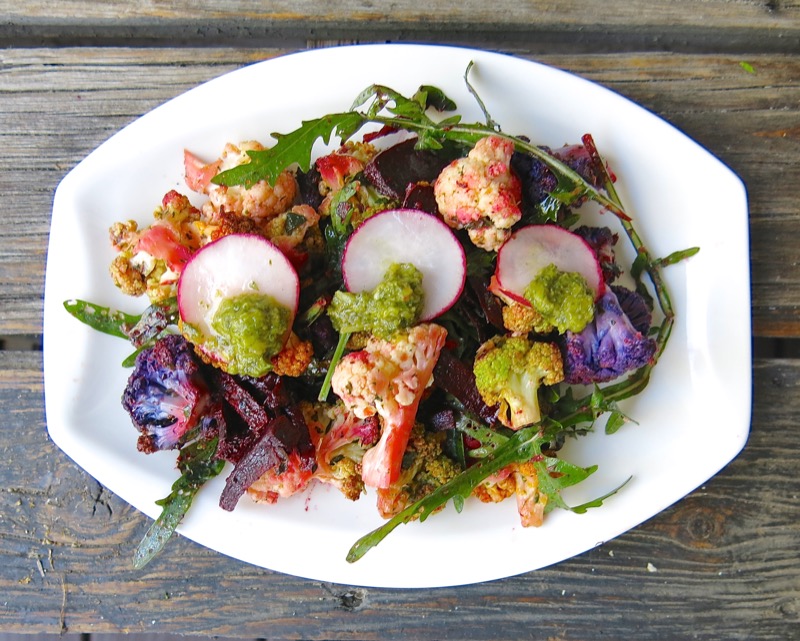 A finishing of hand-mined sea salt, freshly cracked black pepper, thinly sliced radishes and an extra dapple of the vinaigrette: what a masterpiece! I am Monet in my kitchen today!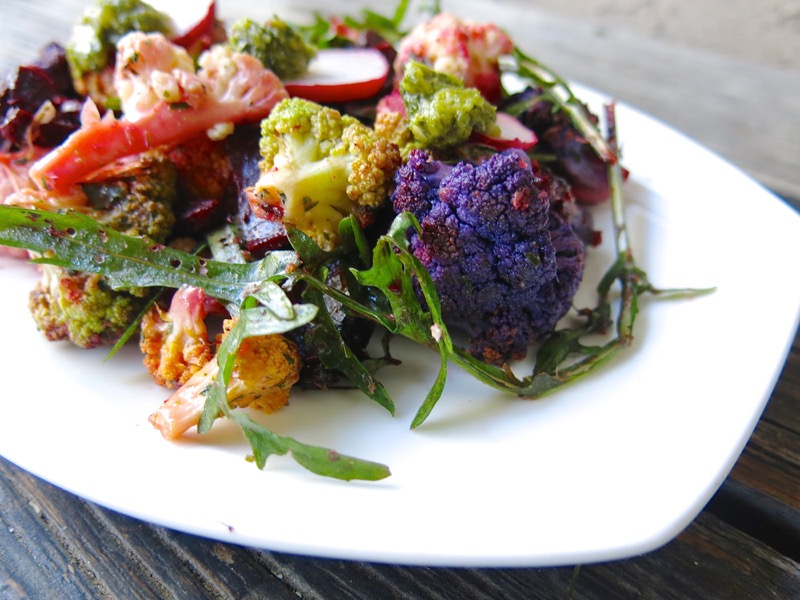 It was effortless. I like that. Nutritious, delicious and beautiful homemade food from scratch without slaving for a day in my kitchen. Of course, you do not need a Philips AirFryer to make this recipe. Seriously. Simply roast each of the vegetables separately and combine as per the recipe instructions. However, the salad is significantly enhanced by making it in the Philips AirFryer as the texture, flavour, and use of so much less fat and energy makes me happy.
Is it as delicious as it looks? Make it, and tell me!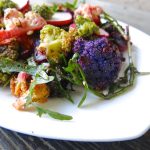 Air-Fried Vegetable Salad with Chimichurri Vinaigrette


Chef Gordon Ramsay's recipe with my personal input. There will be leftover dressing which is excellent as a dip or another salad as it will keep a couple of days.
Total Time
1
hour
20
minutes
Ingredients
Ingredients for salad:
½

head white cauliflower

, cut into small bite-size florets

½

head yellow cauliflower

, cut into small bite-size florets

½

head purple cauliflower

, cut into small bite-size florets

½

head green Romanesc0

(my addition)

3

small red [tube] beets

, peeled and sliced into julienned lengths

Extra-virgin olive oil for drizzling

2

cups

(4 oz./125 g) arugula

6

breakfast radishes

, thinly sliced

1

small bunch mint

, thinly slivered
Ingredients for Chimichurri Vinaigrette:
1

bunch fresh cilantro

1

bunch fresh flat-leaf parsley

½

bunch green onion

1

[large] garlic clove [5 grams]

1

shallot

, minced

¼

cup

(2 fl. oz./60 ml) rice wine vinegar

Juice of 1 lemon

, plus more as needed (a little zest is nice)

Pinch of red pepper flakes

½

cup

(4 fl. oz./125 ml) extra-virgin olive oil

Salt and freshly ground pepper
Instructions
Instructions for frying vegetables:
Turn on Philips Airfryer to 360°F (182°C) for 3 minutes before inserting vegetables to preheat chamber.

Cook cauliflower and Romanesco florets in four separate [batches], one for each color

Season each with salt and pepper and drizzle lightly with 1 teaspoon olive oil; toss to coat

Cook for 8 minutes; stirring once at the 4 minute mark

Transfer to a baking sheet; cool

Repeat with remaining cauliflower and Romanesco

Season beets with salt and pepper; drizzle with ½ teaspoon olive oil and combine

Arrange beets in single layer in fry basket and insert into air fryer; cook, turning once at the 6 minute mark, until fork-tender (12 to 14 minutes total time)

Transfer to a baking sheet; cool
Instructions for Vinaigrette: make while beets cook
Coarsely chop cilantro, parsley and chives; place in blender

Add garlic, shallot, vinegar, lemon juice and red pepper flakes; puree at high speed and slowly add olive oil through hole in lid to emulsify

Puree until smooth and fully emulsified; season to taste with salt and pepper and more lemon juice, as desired
Instructions for salad assembly:
Toss cauliflower, Romanesco and beets together in a large bowl; add vinaigrette to taste and toss to coat

Add frisee and arugula; drizzle with a little more dressing, tossing to coat

Garnish with radishes and mint; serve immediately
The Grand Prize Philips AirFryer Giveaway from Philips Canada!
The giveaway includes the following…. mailed to your home (will take approximately 2 weeks to arrive) after November 25th, 2016!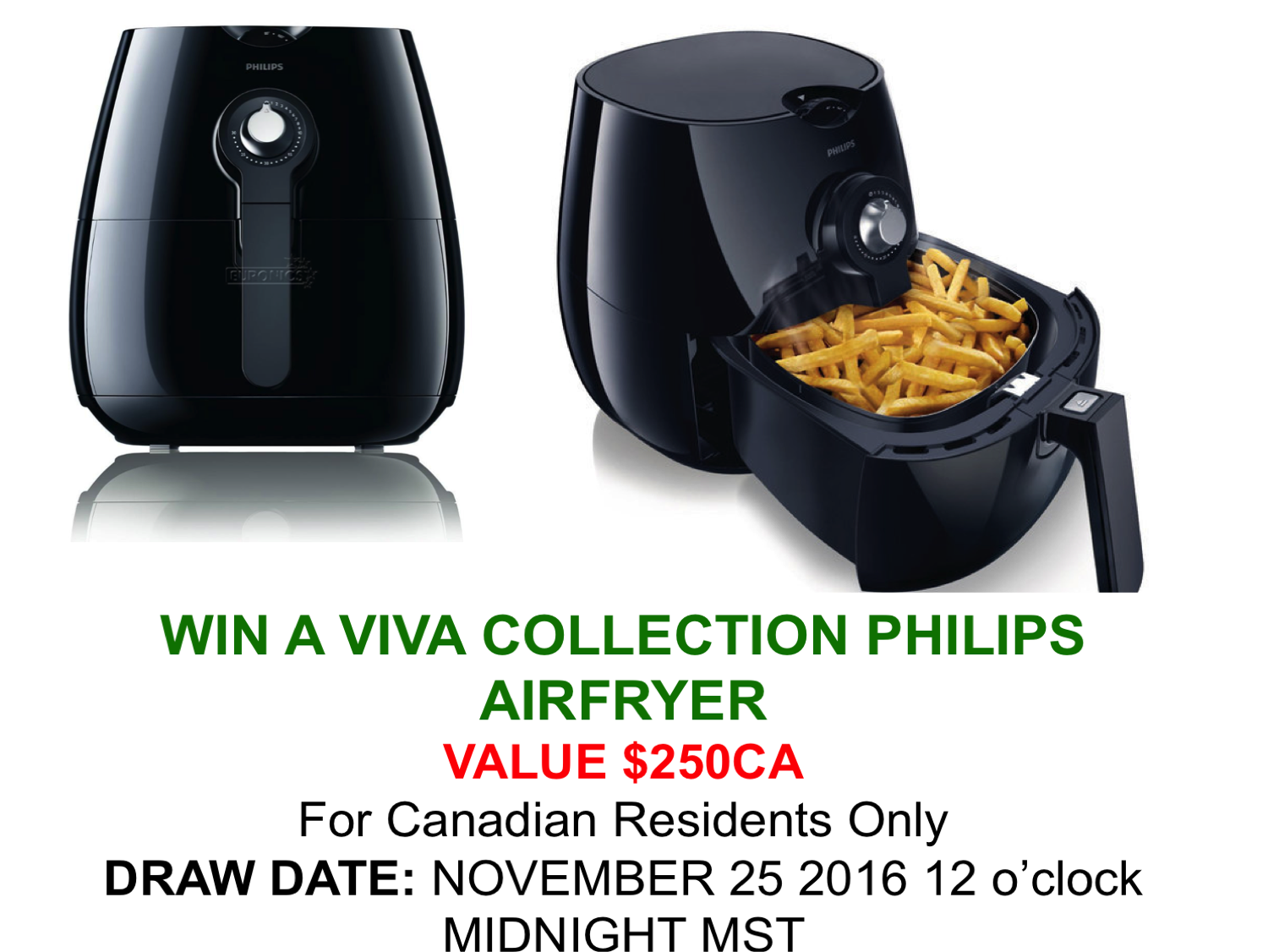 The Deets for the Philips Viva Collection non-digital AirFryer September 16 to November 25 2016!
Contest closes at 12 midnight MST November 25, 2016 and the winner will be announced the next morning via facebook. twitter, instagram, SnapChat and in the last Philips AirFryer post published Friday, November 4, 2016.

The Deets:
arrangements will be made for the prize package to be mailed to your door by Philips
contest will close at 12 midnight November 25 2016
the winner will be announced November 26, 2016 via email and the winner's name will be at announced with CONGRATULATIONS at the bottom of the last Philips AirFryer post published Friday, November 4, 2016
all names will go into a hat (this is the way we do it at our house) and my husband will draw the winner; each name will go in for each entry as outlined below
yes, you can enter your name more than once (read below)
To enter the contest, you must do #1 or #2 or #3; the other ideas are opportunities for extra entries:
Write a comment about your healthy eating plan or regular diet on this post, or either of the other two Philips AirFryer recipes that I will be writing (one in October 7, and one November 4, 2016)
OR write a comment about a great recipe you would like to make from this Philips AirFryer Recipe Book instead. (Check it out; there are some incredibly inspiring recipes there.)
OR write a comment about a great recipe you would like to make from the Philips AirFryer Pinterest Page instead
Follow me on Twitter: has to be a new follow to count, sorry
Follow Philips Canada on Twitter @philips, also has to be a new entry to count
Tweet the contest and include @acanadianfoodie and @philips in the tweet so I can count it as an entry in the draw; you can tweet daily (each tweet counts as an entry into the draw): sample tweet (you can use) here: GIVEAWAY: Philips AirFyer Viva @philips by @acanadianfoodie VALUE 250 CA! #healthyeating #healthyholidays http://wp.me/p2OMxc-hSq ENTER NOW
Like my Facebook page: (and I am talking the page, not this post) has to be a new "like" to count, sorry
Like the Philips Facebook page: has to be new to count
Follow me on Pinterest; has to be new to count OR follow one of my boards on Pinterest
Follow me on Instagram; has to be new to count OR comment on the post about the Giveaway on Instagram by referring it to a friend
BONUS: You can get another entry if you share the link to this post and this contest on your own personal Facebook page and include "Valerie McKinney Rodgers Lugonja" in that post with the link; you can do the same with posts Oct 7 and November 4, as well
BONUS: I am NEW NEW NEW to SnapChat, so if you follow me there, that will be worth 1 entry and a comment on the giveaway snapchat will be worth another
NOTE: please make sure you leave an e-mail with your comment below so that I can reach you to let you know if you are the winner, otherwise, you will not win!
That's an opportunity for A LOT of entries. I hope you take advantage of this opportunity as I KNOW this prize is definitely worth it.
The Short Series of Philips AirFryer Giveaway Posts from A Canadian Foodie Fall 2016
Disclaimer: Have you figured out that this is a sponsored post, yet? It is. Thanks to the Philips Canada for the opportunity to test the AirFryer and introduce my readers to Rapid Air Technology.