Lettuce Wraps: Moroccan Quinoa Salad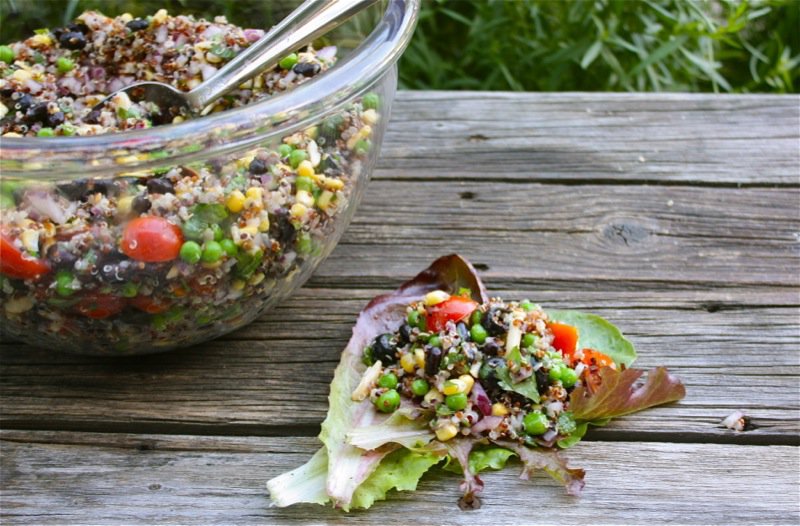 Delicious. Nutritious. Economical. That is my mantra and this salad begs me to put the chant to a rant or add a tune and whistle. It is scrump-dilly-ishous! Yes-sir-ee-bob!
Dad and I have been attending the Breath Easy Program at the General Hospital in Edmonton for improved lung health. We both need it. Me, with my severe asthma (and other "stuff"); he with his COPD. The program runs 2 times a week for 8 weeks: 9:30 to 12:30 and is absolutely excellent. Chronic illness is difficult to live with, especially after years of superb health and exceedingly high energy. Both of us have had a lot of adjusting to do.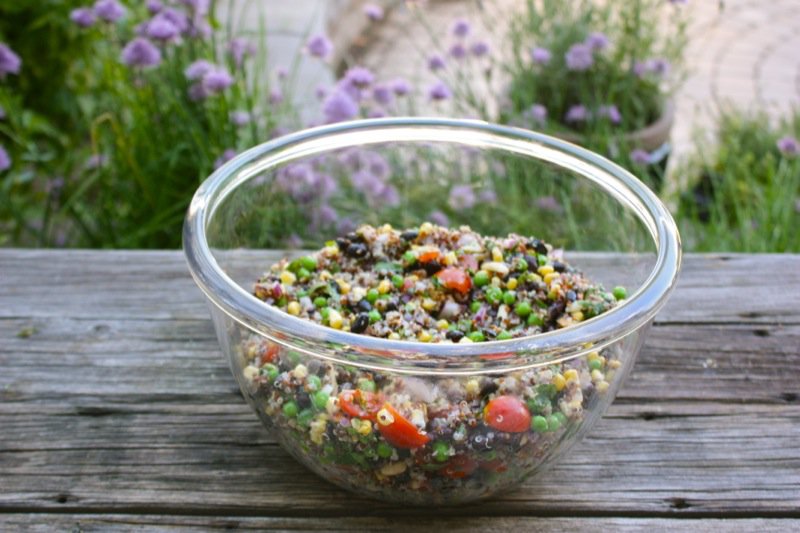 I am proud of myself. Again. 🙂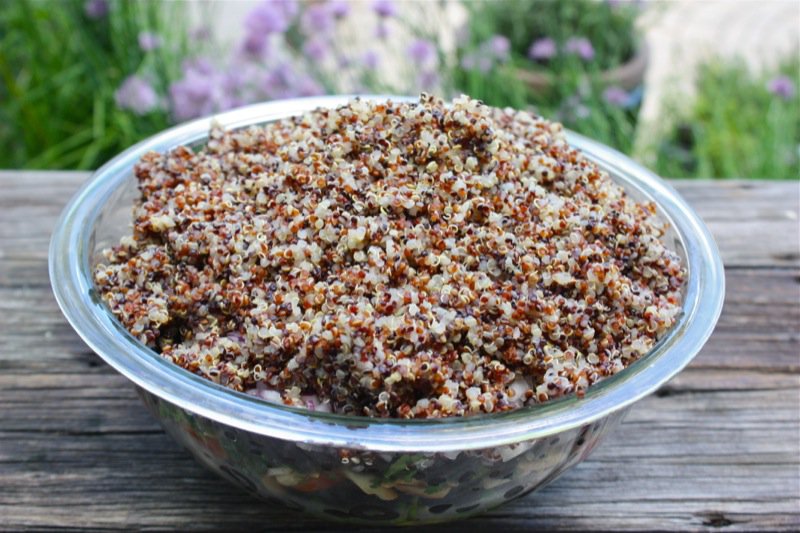 Dad almost died twice last fall. He has been so ill and suffered such a sudden decline in the quality of his life and his ability that it has been very difficult for him to find happiness in much of anything for months. I took him to my pulmonary specialist, Dr. Eric Wong, whom I adore. Eric gave dad a lecture and dad was not impressed. He suggested we both take this program to become more educated with how to manage our disease. Dad had taken it about 10 years prior, and was not interested in going again. "Did absolutely nothing for me the first time."
The doctor and the program made it possible for us to go together and I was excited. Well. I didn't want to go, either. But, I did want to spend more time with my dad, and I believed that this would definitely make a difference in his life. I didn't even think of me. Since I retired, I feel like I have been thrown from one direction to another and have very little control over what is happening in my life. There are just so many demands upon my time and so little time to focus and take care of me. Funny, eh?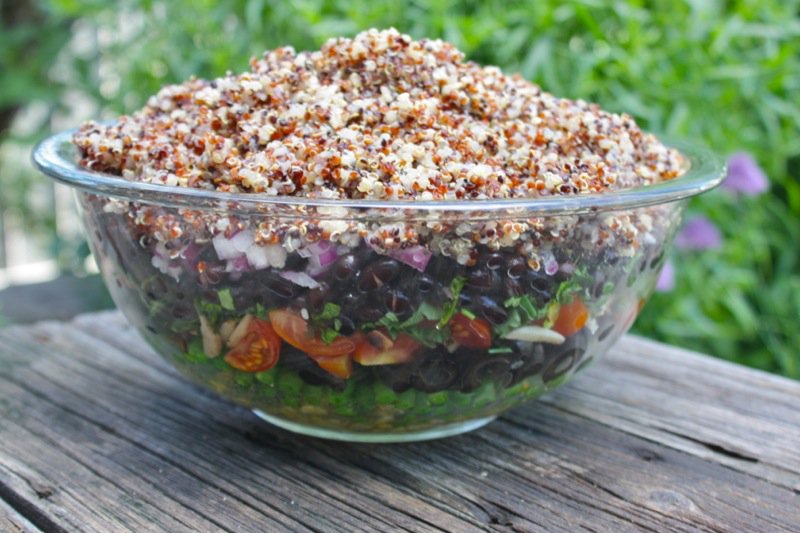 I was nervous at the intake session where the Respiratory Therapists and the Doctor get a baseline for where each of us are at. Sedentary would be an understatement for my physical engagement at that time. I was very impressed with dad's ability on the treadmill… and mine, that day, too.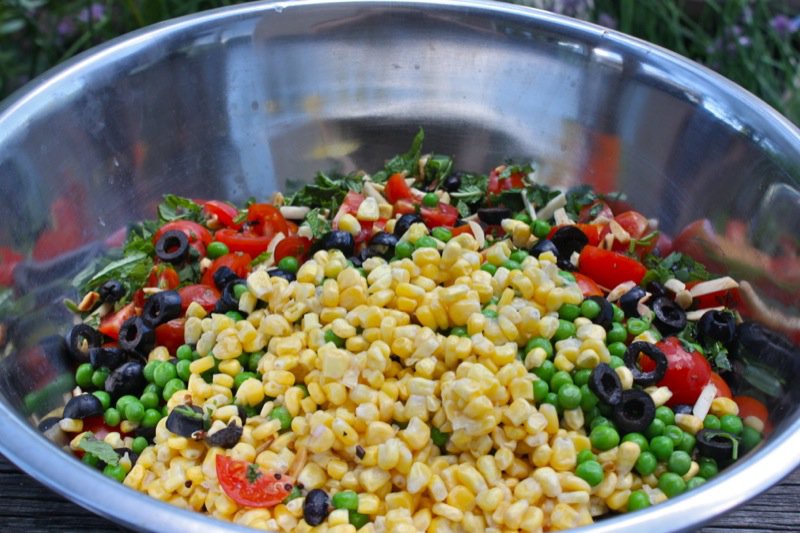 Classes start with muscle warm up and breathing exercises: about 15 to 20 minutes of these. Then we do a walk for 12 minutes and are working to improve distance and endurance: oxygen and heart rate is recorded with the walk each day.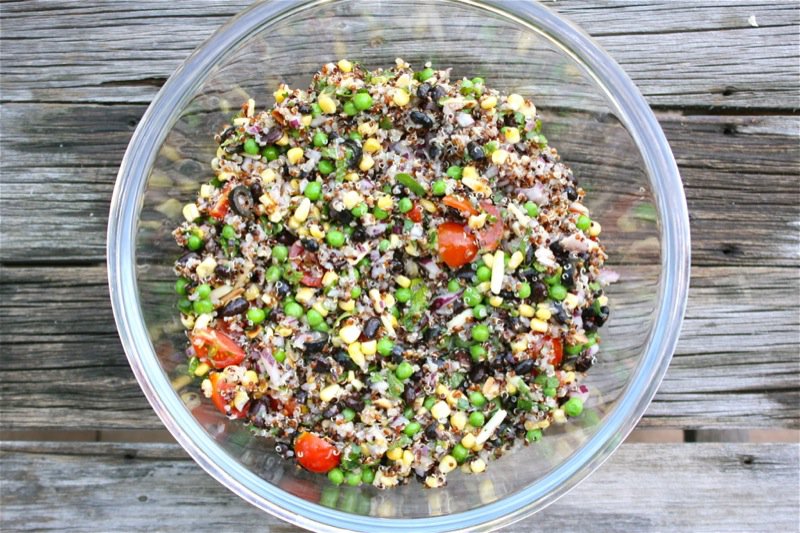 After the warm up and walk, there are flexibility exercises, weight lifting, and aerobics. Everything is recorded with each activity: time, distance, heart rate, oxygen level. Blood pressure is taken once a week. There are 12 to 15 people in the program and anywhere from 4 to 6 staff working with us each day. At 11:20 most of us have finished our exercises and go to the lecture room where, for the last hour, we learn about our disease, our medication, and so much more.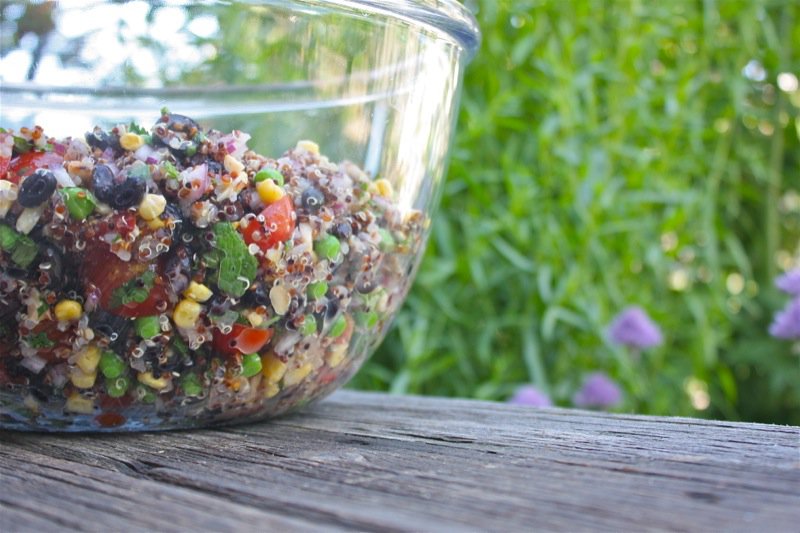 Dad is a different person, now. He has always been determined, disciplined and very careful to adhere to rules. He works out every day, can get out of his chair effortlessly, sleeps better and is so much more confident in his personal ability. We were all so thankful he was with us at Christmas, then at Father's Day. His health has improved tremendously: worries alleviated. That is the ultimate gift.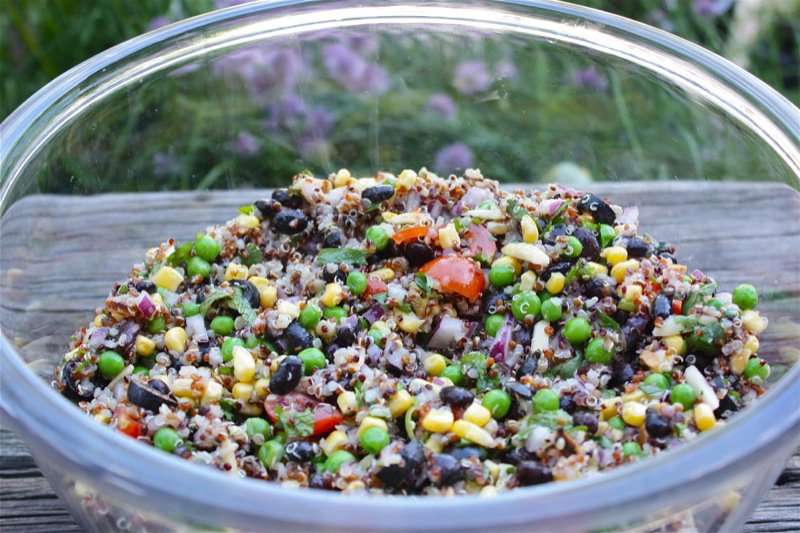 And me? Well, I have regained considerable confidence in my ability to get back into shape. I have missed a 6 of the 18 classes. That is too many. I was sick for three of them. Family issues for the other three. Dad and I plan to work out together once this is over, and I hope he will do it with me… as I need a partner. I need a schedule. I will be there. I am committed, but I do not want to have to do this on my own. I still need a little help with my accountability. Yup.
Today is our last day. The lecture is shorter to provide time for a bit of a social gathering, as we, a once misshapen and limping lot, have witnessed revitalization within each of us. We understand the triumph. We understand the hardship. We now understand our disease and how to better manage it.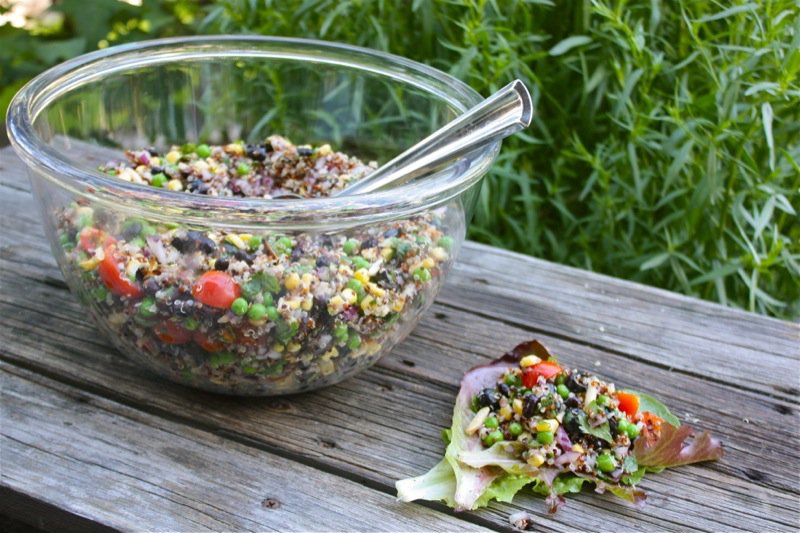 Eating healthy food is an important part of the process, thus the Moroccan Quinoa Salad. And how to serve this in manageable portions at this informal gathering: lettuce wraps seemed to be the perfect solution.
I would definitely serve this salad in wraps again. I recommend it, actually.
Moroccan Quinoa Salad
Ingredients
Ingredients:

3

cups

cooked quinoa

(1 cup dried: I used 1/3 cups of black, red and white quinoa)

1/3

cup

freshly squeezed lemon juice

( or juice of 2 lemons)

3

tablespoons

olive oil

2

teaspoons

ground cumin

(I used only 1 as Vanja doesn't care for cumin and it was delicious)

1

teaspoon

salt

1/2

teaspoon

sugar

1 ½

cups

canned black beans

, rinsed

1 1/2

cup

frozen peas

(another personal addition)

1 ½

cups

fresh corn kernels

(about 2 cobs)

½

small red onion

, finely chopped (about 1/2 cup, minced)

1

pint

cherry tomatoes

, quartered

½

cup

slivered almonds

, toasted

¼

cup

black olives

, sliced

¼

cup

fresh mint

, chopped

¼

cup

fresh cilantro

, chopped
Instructions
Cook quinoa: for each cup of quinoa, boil two cups of water; let it simmer for 12 to 15 minutes or until the germ separates from the seed; remove from heat and let stand for about 3 minutes to become fully fluffy

While quinoa is cooking, in a small bowl whisk together: lemon juice, olive oil, cumin, salt and sugar to make a vinaigrette

In a medium sized bowl, combine quinoa and all remaining ingredients, except fresh herbs

Drizzle with vinaigrette; toss to combine and refrigerate at least one hour to allow flavours to combine

Add fresh herbs just prior to serving
Recipe Notes
Also nice served at room temperature with butter lettuce to wrap salad in