An Homage to Chez Panisse and Alice Waters with (Cornish Game Hens)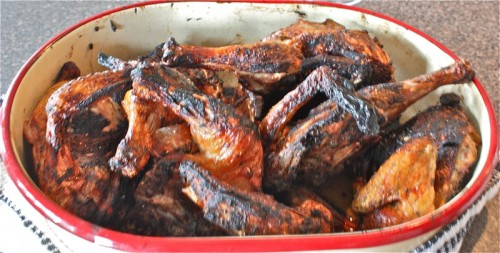 I had to use the out door grill, but would love a wood-fired oven in my kitchen. I guess that's not something I am going to find under the Christmas tree any time soon. Recognize the roaster?
The above is an interview with Lesley Stahl and Alice Walters that I saw on 60 Minutes a couple of years ago. She cooks breakfast for Lesley in her wood-fired open "oven" in her kitchen. How perfect. When Vanja and I took Lauren to Chez Panisse in Berkley last summer, we had a tour of the kitchen and our wonderful waiter explained how it was cooked. I also found a reference to this recipe in her book The Art of Simple Food. The basic recipe was explained there, but it didn't include the herbs and aromatics I saw in her kitchen that day. I was actually really startled just now when I went back to the post and saw how much I had recalled from what I was told during our kitchen tour and how similar my photos of this recipe are to the ones I took there, that day.
I like to support my local farmers, so when Greens Eggs and Ham were selling their beautiful (and mammoth) cornish game hens, I had to stock up. They looked like such happy little hens and they were delicious!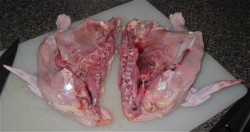 For hundreds of years, people have been roasting their chickens under bricks in Italy to get beautiful, crispy skin. Alice Waters wanted to capture the simplicity and the deliciousness of this ancient tradition and pass it on through her restaurant. Our meal there was second to none, and the chicken so unforgettable, I had to do it myself. I cut each hen in half with my heaviest knife. Primal!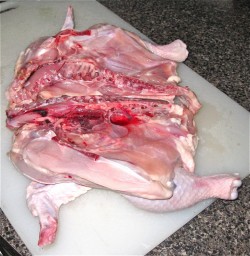 I went to my garden and got a lot of my favourite Scarborough Fair herbs: parsley, sage, rosemary and thyme. A lot of them. I went back and got more a couple of times throughout this process. I even added fresh oregano as I had so much of it, and it could only add another dimension of flavour. I chopped them all up and prepared several heads of garlic by cleaning and chopping them, too. I am a garlic queen. I love it in everything. And, of course, I did add salt (a really good grey salt) and pepper. Enough to bring out the flavours in the marinade, but not enough to over season the hens.
We got a 5 gallon bucket from our garage and I starting piling the chicken into it ensuring that all sides were covered with the marinade as we piled them in. Alice Waters had pressed hers overnight with heavy weights in the marinade and I did the same. I used a brick, and then a heavy soup pot on top filled with books.
Below is the resulting prick Pressed chicken the next day. I dumped the bucket in the kitchen sink and was so excited to see how the meat held that severely pressed shape. It was fragrant and I was pumped!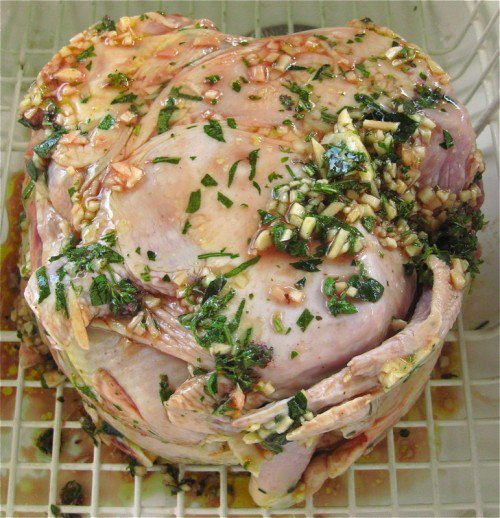 I didn't wash the hens; I simply flattened each piece before setting it on the preheated and sizzling grill.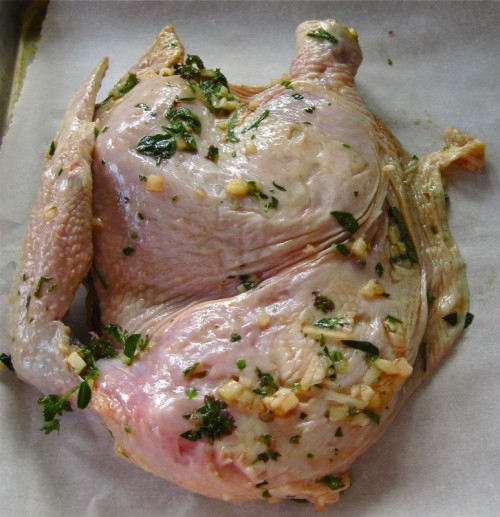 Then took my brick and pressed it one way for a minute, and then the other way to ensure all skin was flat onto the grill. I left the brick on until the hen stayed in the pressed position. I need more bricks. I only did two at a time; the next one came on when this one was almost cooked, so the brick stayed with one piece for almost the entire time.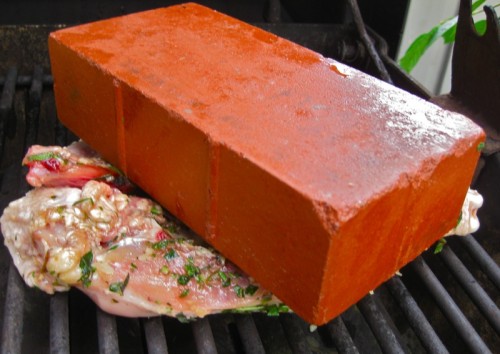 Below is the picture I took of the Brick Pressed Chickens being grilled at Chez Panisse. I hadn't even referred back to it until preparing this post and was surprised how similar mine looks to theirs. Yes, two more bricks would be perfect.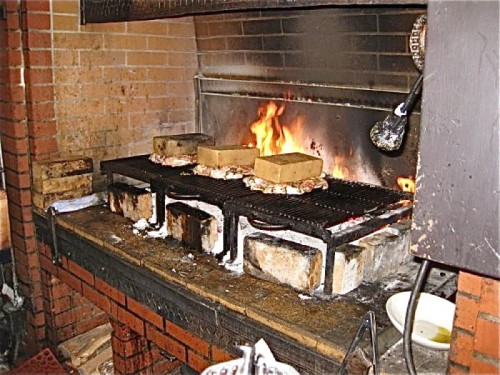 Not to waste the beautiful heat on the sides of the grill and to complement the meal with more rustic notes, the onion was charred to perfection. It was really delicious, and so simple: olive oil and sea salt.
If you look above and below, you will see how I moved the brick around on the half to ensure all gets crispy: phase two of the Brick Pressed Chicken.
Look at the flavour there! As I see it with my eyes, I am salivating. The skin was crisp and smoky, the flesh moist and herby. And, yes, the garlic with the salt provided the foundation for the combination of flavours to rest upon.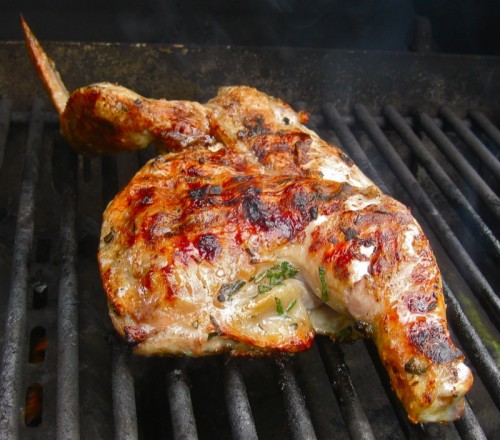 Nummy, yummy, yummy, yum!
Here I am at the end, rushing the last few. I did six cornish hens, so twelve halves. One is just finishing the cooking process. One was just flattened and the other is getting its second press on the turn. This I only did near the end as the family had arrived.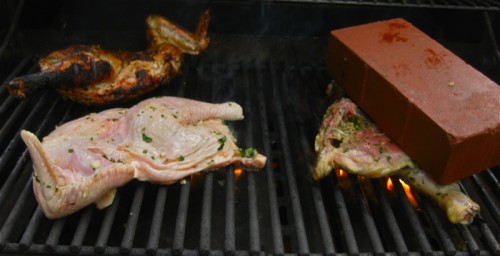 I love the summer. We are only a week into snow here (I love winter, too) and I am missing the luxury of my garden. The salad was plucked moments earlier and waiting for a wash and to be dressed.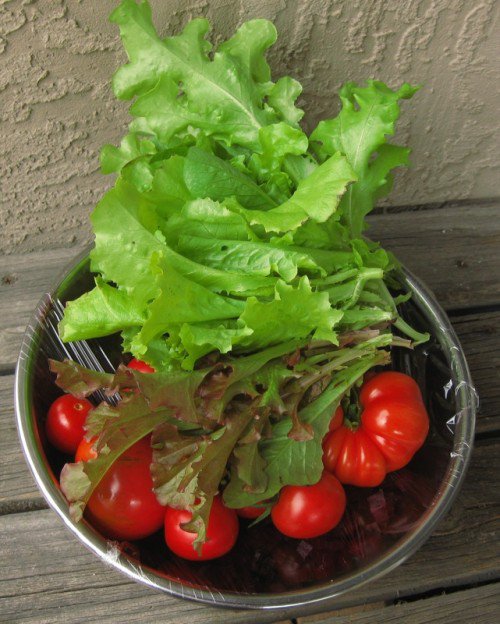 I actually placed the washed leaves in the fridge for an hour to crisp them up. Below, look at those happy little hens!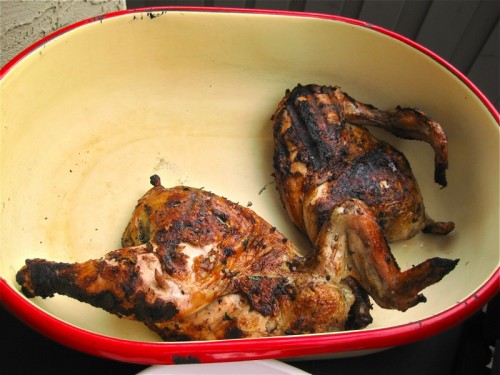 Now, that is flavour: and crispy crunchy texture! Who doesn't eat skin should absolutely make an exception, here!
Poultry is ready, salad is ready, and the table is ready!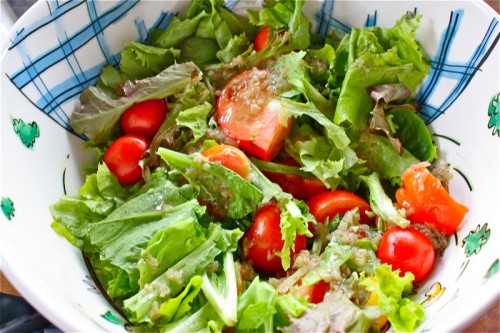 I have the first course plated: oven roasted beet and goat cheese salad with pistachio dressing garnished with chervil. Everyone loves this salad!
I had made some blinis with crème fraiche and salmon roe for a dinner earlier in the week and this was a perfect compliment to this rustic meal: a taste of high end luxury. I normally would have kept the entire meal rustic, but I had it, and it actually worked!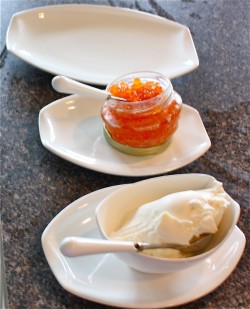 But, all gloves were off when the cornish hens presented themselves! No pretence here!
The food is coming out, above, and the oven roasted almond baby potatoes, also from Greens Eggs and Ham as just done.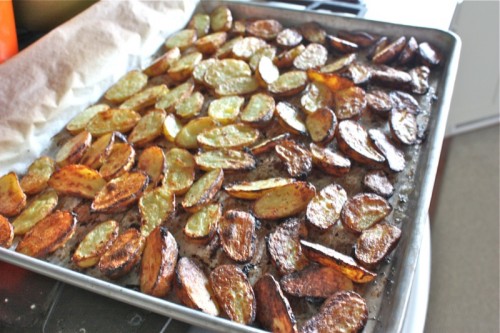 Lauren was home to celebrate her thirtieth birthday. She was looking forward to this meal as she was with us in Berkeley at Chez Panisse, too.
Hamming it up a bit, she is already eager to get into mom's famous homemade angel food cake for her birthday. (We actually went out for her birthday dinner, but let's keep it goingi!)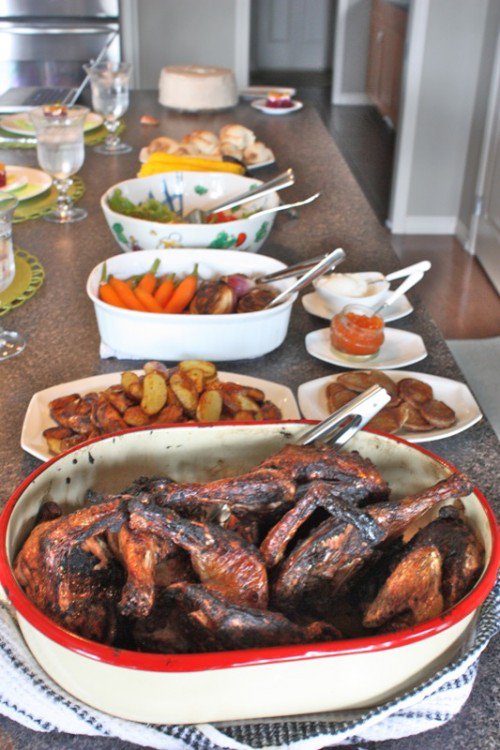 And there you have it, above: the brick pressed hens, oven roasted potatoes, garden carrots and charred onions, garden salad, freshly boiled sweet Peaches and Cream Taber Corn with unsalted cultured butter and homemade buns. Now that's Sunday Supper in the Summer!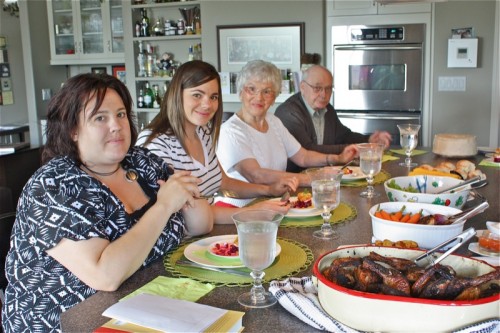 Hopefully, a memorable meal, and at the very least, continuing our family tradition of Sunday Suppers: such an important day to spend time together enjoying each other and the bounty of the land.