The perfect accompaniment to Pork Belly Confit!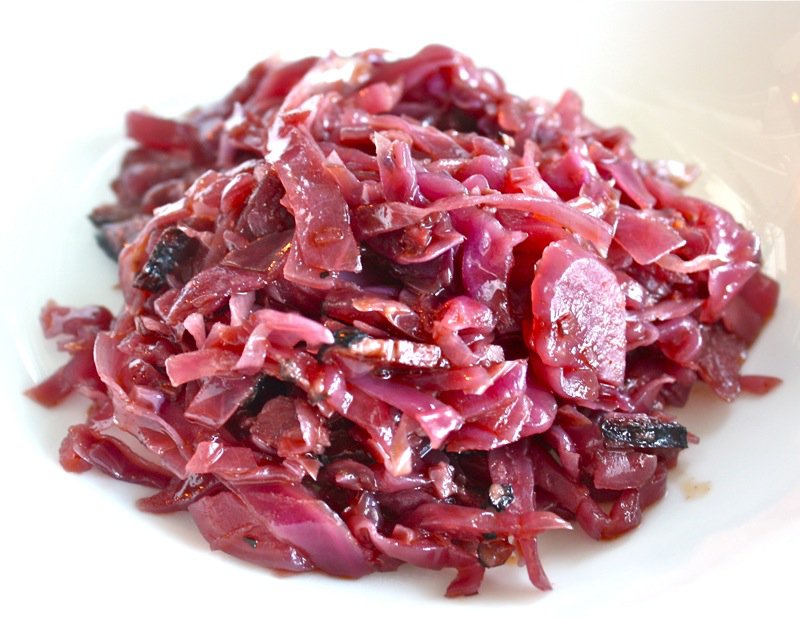 The first time I had braised cabbage was the night I stayed for dinner at Celmainis's house in my grade 11th year of high school. I loved it! (and I loved them!) I had no idea what it was and did not come close to a similar dish for many years, oddly enough. When deciding what to plate with my pork belly confit (coming next: stay tuned) at our Pastry Tasting* dinner, I decided it had to be braised purple cabbage. And, no, I had never made it before. Never. Isn't that unbelievable? It is so delicious, so easy to make, certainly economical and nutritious enough. And a perfect food for our winter climate.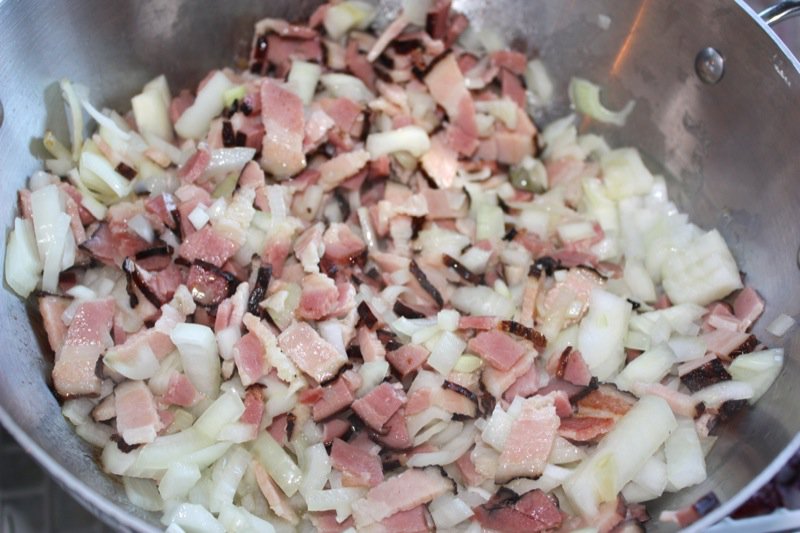 I used the same Austrian bacon I had purchased for the Latvian Bacon Buns I now make every year at Christmas, thanks to that same, dear, sweet Mrs. Celmainis, now almost 95. I had some leftover. I had read a few recipes, and though most included apple, knew right away that mine would not. I was not headed for that delectable mix of sweet and savoury. I was headed for savoury: uber ultra super duper savoury. The pork belly would be the sweet!
And then there is Vanja to consider. Those of you that read ACF regularly know he likes very basic food. And eats no cooked vegetables. Except peppers. And potatoes. I was really going to work at this recipe to get him to buy into it. Bacon should help. He needs to widen his vegetable repertoire, me thinks. Paprika would also help. He loves paprika, as do I, and the wonderful fragrant, fresh, moist batch I brought back with us from his home country this summer would be so yummy. But, I didn't use it. I used Sweet Spanish Paprika instead as its rich smoky flavour is second to none and I thought the dish needed emboldening. (You would never find that in the traditional form of this dish.) Also, Vegeta. God help me, but he is hooked on Vegeta. Most Eastern Europeans are.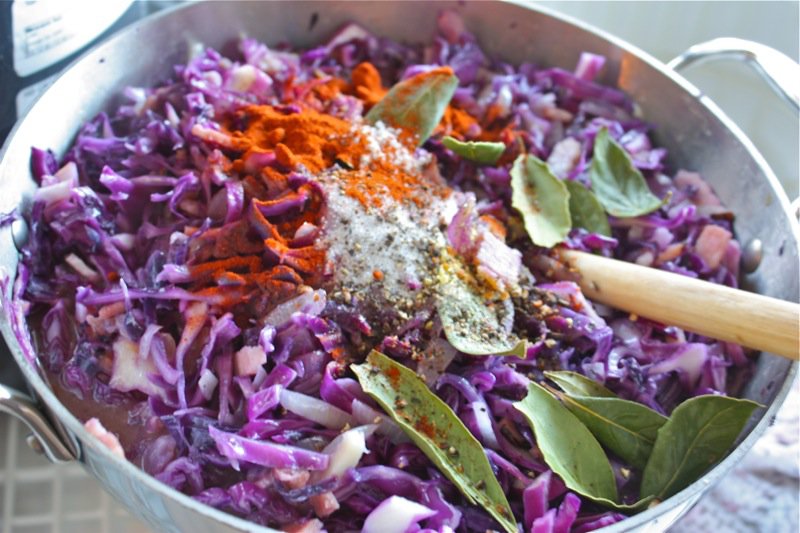 The Bay leaves are from my own tree. I love that I can have an indoor tree growing my herbs. (Yes, outdoor would be nice, but I live in the Canadian prairies!) Look at the difference in the colour of this dish after it has been braised over an hour: tasty translucent tendrils completely transformed into a different vegetable entirely!
Vanja came by, sniffed and wrinkled his nose with disapproval. "Taste it!" More disapproval. So, I tasted, and puttered and re-seasoned. "Please, taste it again, now?"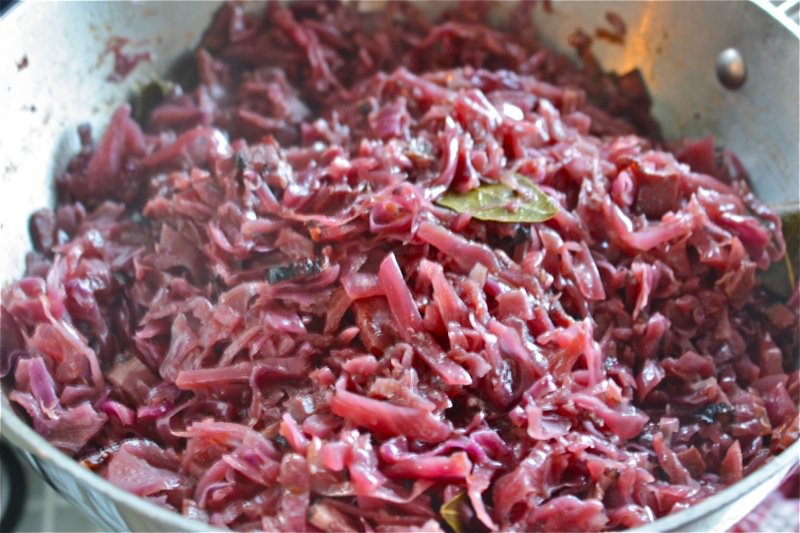 With grave hesitance, he approached the steaming pot and gingerly edged his fork under a couple of strands. "Come on, Vanja!" I pleaded, and he then pushed a decent bite onto his fork and into his mouth. Instant surprise. Instant pleasure. I was so happy. He didn't just "like" it. He "mmm-mmm-mmm-ed" it! "Ooooo! That stuff is good! I hope you wrote down whatever you did to it!"
And, yes, as a matter of fact, I had.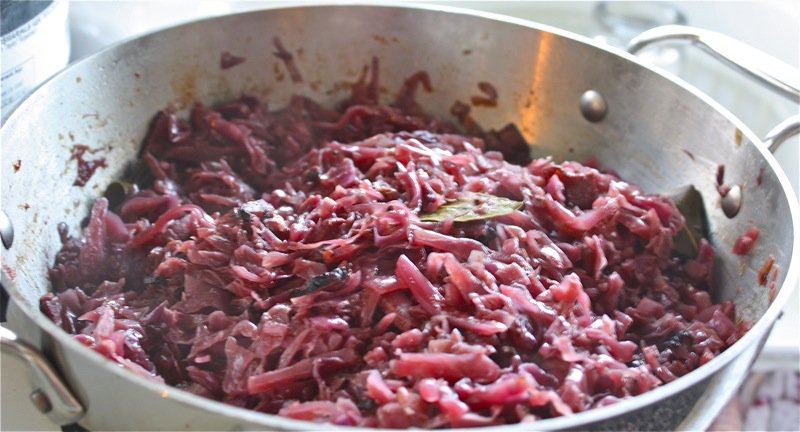 The fragrance was exactly what I was hoping to acquire. Just as I remembered it. And, Vanja liked it. I was so pleased with myself.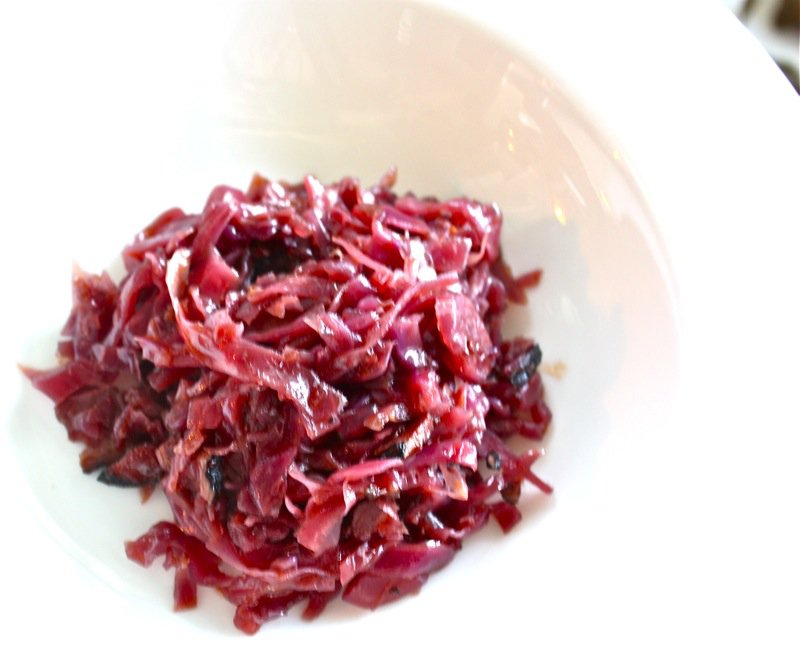 I liked it, too. Hopefully, some of our guests from that evening will chime in with gushingly complimentary comments about how complex the flavour was and how it paired perfectly with the confit! But, if they do not, believe me. It was a tasty partner to that unctuous pork belly we carefully placed on top! (You will have to read my next post to see that!)
Valerie's Braised Red Cabbage Recipe
Chou Rouge Braisé
(Makes 8 servings or more depending on the size of the cabbage)
Ingredients:
½ pound really good bacon, cut into lardons
1 large onion, peeled and quartered, then sliced
1 head of red cabbage, quartered, then sliced
4 tablespoons butter
2 cloves
1/2 cup red wine
1/3 cup apple cider vinegar
1 cup chicken broth
2 tablespoons sugar
a few bay leaves
salt and pepper (lots of freshly ground pepper)
1-2 tablespoons sweet Spanish Paprika
Instructions:
In a large solid pot (the original French recipe says this is best done in a cast iron pot), sautéthe bacon and onion until both are translucent; add the cabbage
Dab butter over cabbage and stir to melt; cook, stirring, for 5 minutes.
Add the two cloves to the pot along with the red wine and broth
Stir in the sugar, Spanish paprika, bay leaves and season with salt and pepper
Cook covered for 1 hour 15 min on low heat, stirring occasionally; adding more broth as needed
Aim for a good equilibrium between the sweet, salty and acidic flavours of this dish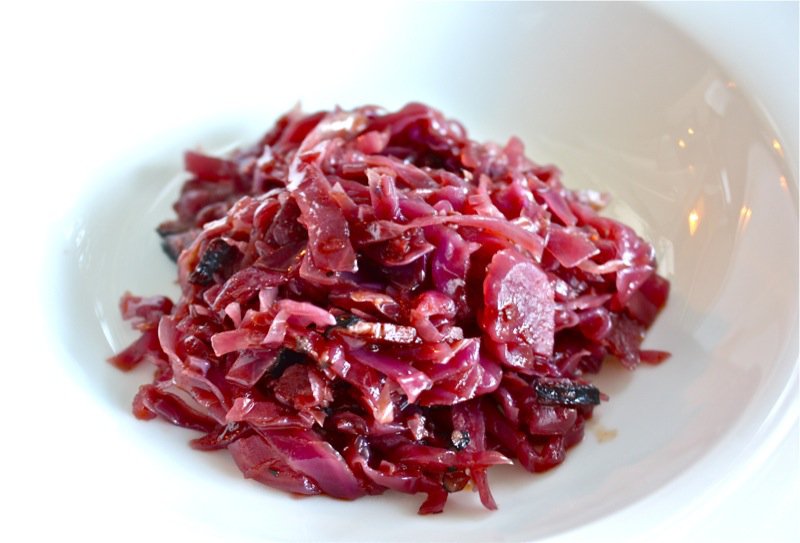 *The Pastry Tasting Dinner did happen and I may one day post the results. If you want information, ask and I will e-mail it to you.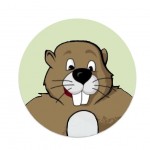 Subscribe to A Canadian Foodie so you don't miss a post! (top right)
There is still one seat left in the Greek Escapes Class January 22
Register for Canadian Food Blog Finalist's Cheryl Arkinson Pyrogie Class January 29th
Register for Allan Suddaby's Sausage Making Class February 12th
Watch for Culinary Tour and Trips in June to Niagara on the Lakes Wine Country and in September to Paris!