This soup boasts the richest broth and the most succulent beef of all soups.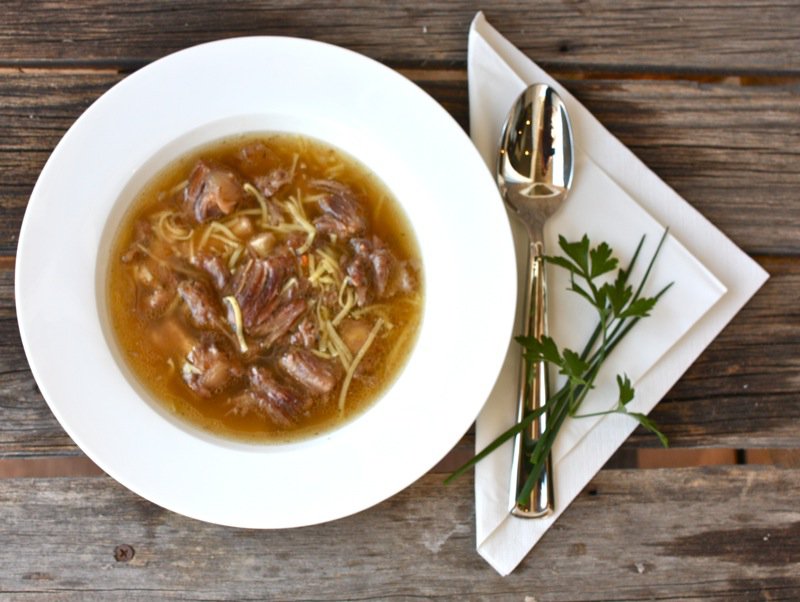 It wasn't until a year ago, maybe two, that I realized how off putting Ox Tail Soup could be to some. I have grown up with it my entire life and it is definitely a family favourite. Above is a way I have learned to serve it to those who might be more squeamish: deboned. You will not attain a richer beef broth or create a soup with more succulent meat. Ox Tail Soup truly is a hidden prairie treasure.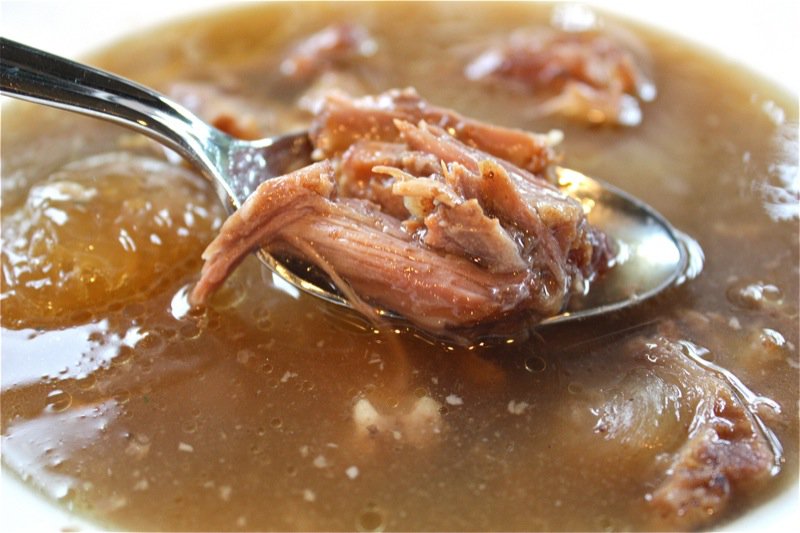 Oxtail is the culinary name for the tail of cattle. It used to refer to only the tail of an ox or steer, a castrated male, but now it can be from any cow. An oxtail typically weighs 2 to 4 lbs. (1-1.8 kg) and is skinned and cut into short lengths for sale. On the farm, nothing ever went to waste. My mother learned how to make oxtail soup from her mother who learned it from her mother and no one remembers how far back the tradition goes: "for as long as we were farming and there were cows" was the answer I got.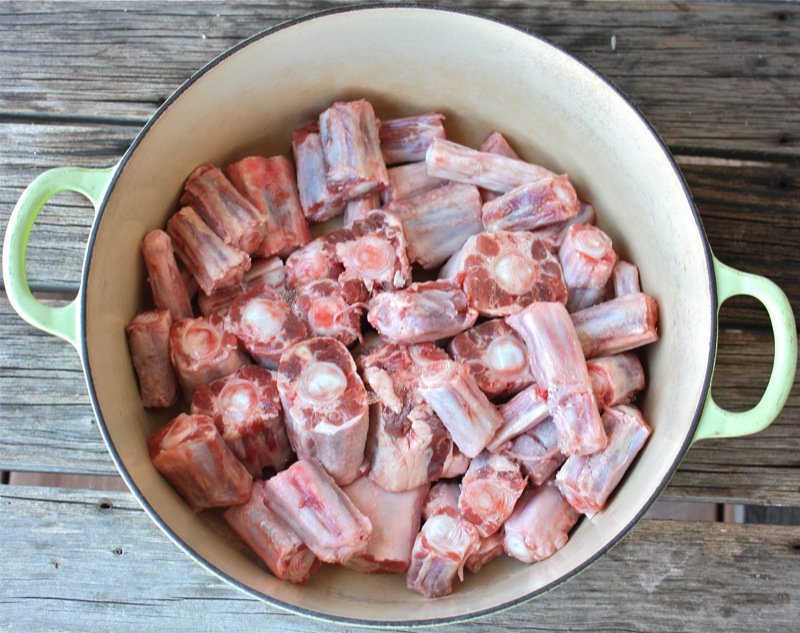 For some reason, I never thought of the bone with the succulent gelatinous meat on it as part of a tail. It was just delicious. The compound word "oxtail" came from a realm that didn't relate to a body part to me, as a child. Or, as an adult. It was simply homefood. Not food you would serve to company, as I was brought up in the era of Campbell's Soup. Homemade soup was definitely peasant food. Those who had money bought their soup in a can. The richer you were, the more varieties in your pantry. That is just how it was.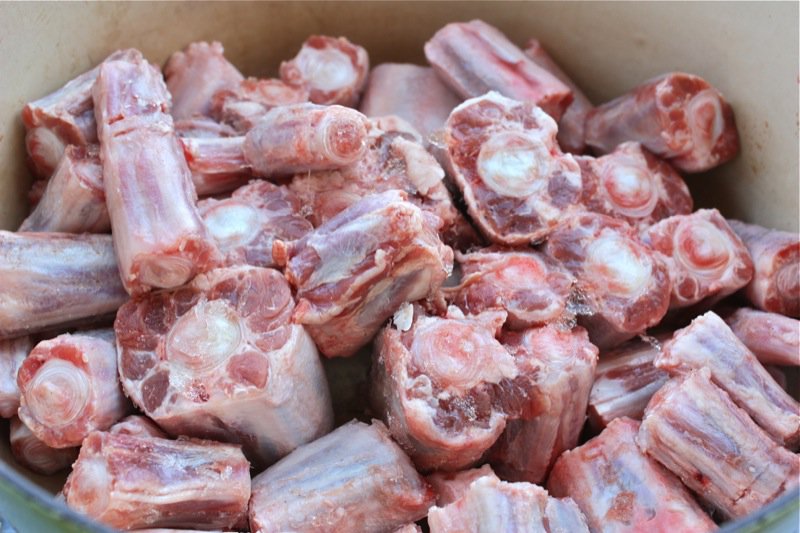 But those of us who had mothers who cooked (and that was just about everyone down the block, in those days) knew that there was nothing as delicious as a homemade soup. An oxtail soup was the King of all soups.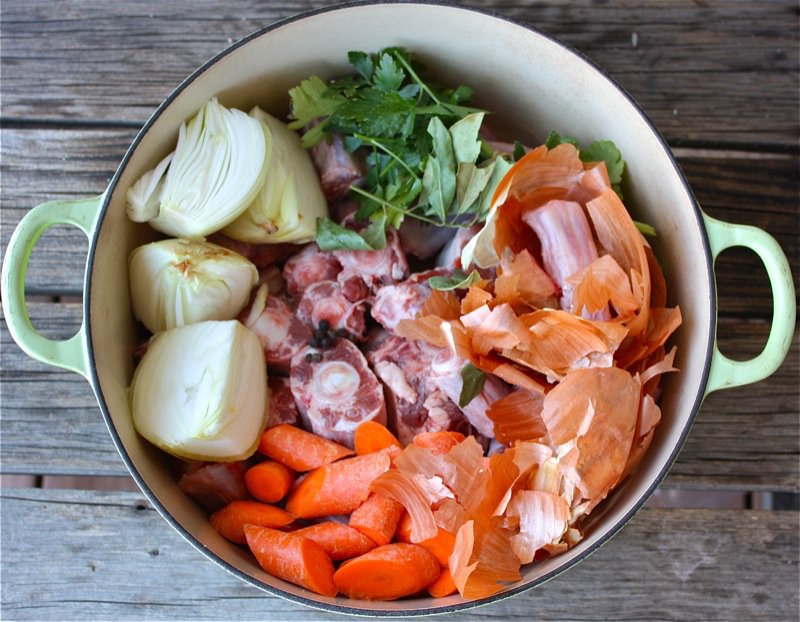 The preparation is the same for all bone in soups: carrots, onion, celery, bay leaf, peppercorn, and a bundle of parsley covered with water. If you want a darker stock, add more onion skins: the more skins, the darker the stock. I keep my extra skins in a ziplock for making stocks.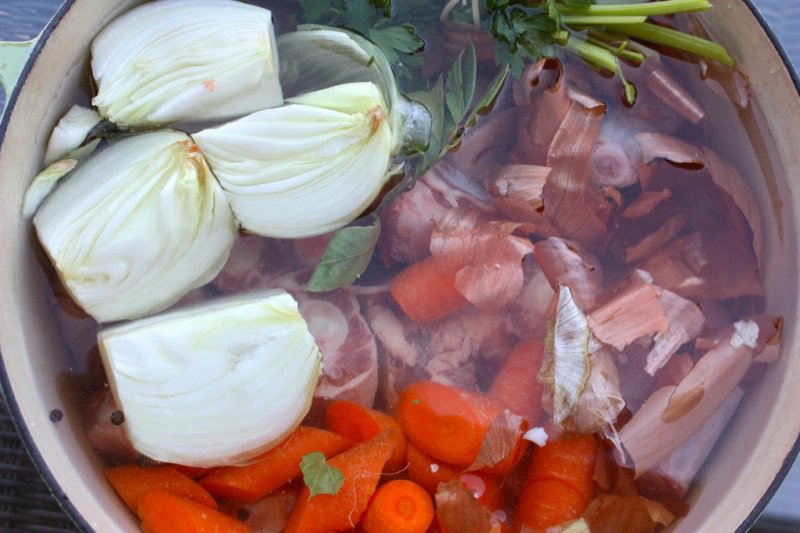 Cover everything with water, and bring to a low boil, or a simmer. Do not ever bring your stock or soup to a rolling boil. Then: skim, skim, skim. I usually simmer my bone in stocks and soups for a minimum of 4 hours. More likely I will have them on the back burner for 6 to 8 hours, then outside overnight to form that layer of fat on the top that I can peel off to reveal the gelatinous goodness underneath.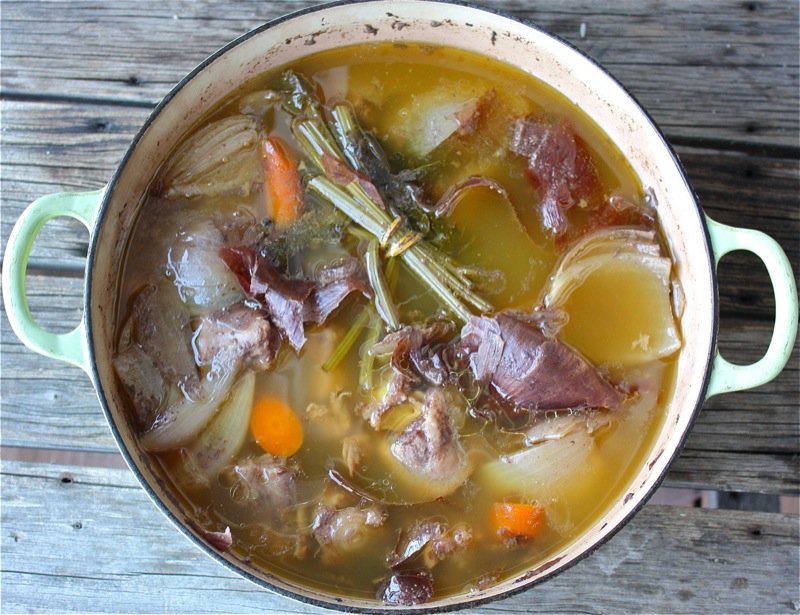 Personally, I prefer serving oxtail soup with the bone in. There is nothing more delicious that slurping the rich morsels of beef off of the very tasty bone. Certainly, not company food served like this, unless you know one another very well!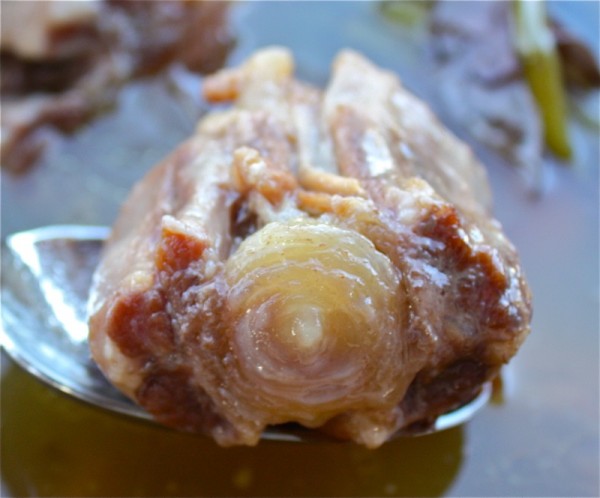 I strain everything out of the soup gently separating all of the bones with meat on them into a bowl and the stock into another bowl. I discard all other vegetables, skins, etc. from the sieve.
In our house, homemade soup must have homemade noodles. This is not a "Valerie" thing, or a Canadian prairie tradition. This is a "Vanja" thing, or a Balkans tradition. In the prairies, the soup would traditionally be made with pot barley.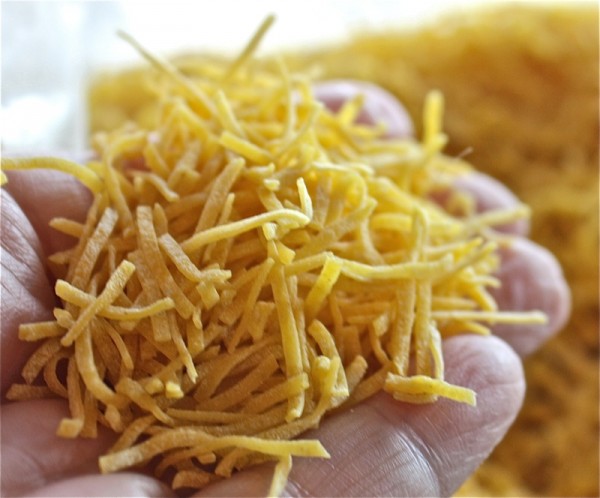 I confess, I did leave a couple of baby bones in the soup below. I could not resist. Discarding them is criminal once you have let the meat fall off one and drawn all of the flavour from it onto your palate.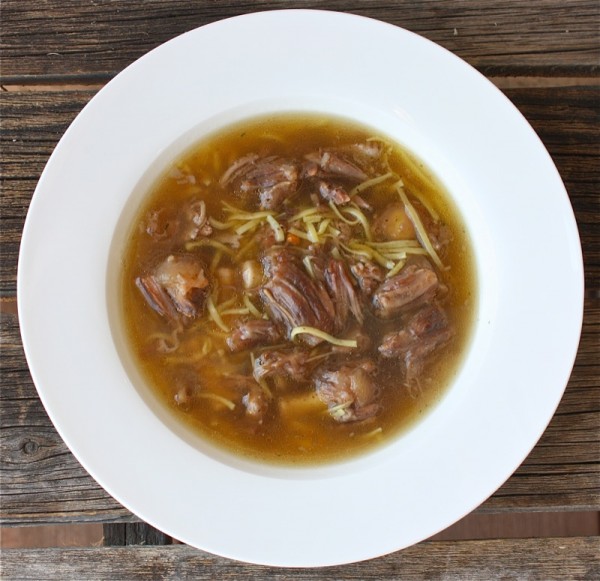 The broth can stand alone. It is a very deeply complex beefy broth that will definitely find you raising your brows in delight.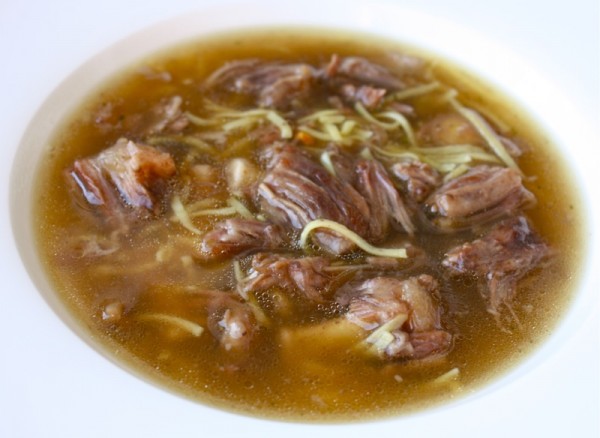 The bone in soup, below, is sans noodles: oxtail soup in its purest form. (I see one noodle snuck into the photo!) This is pure Alberta prairie pleasure.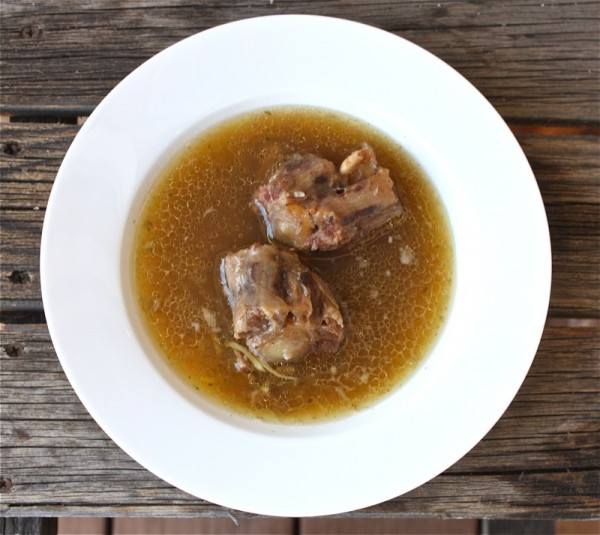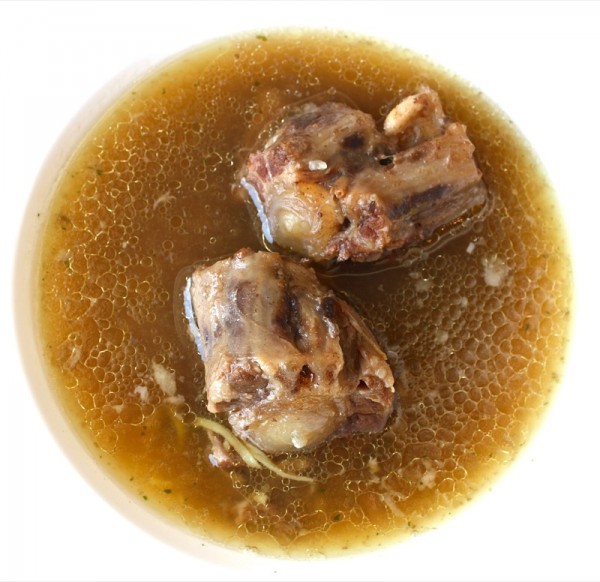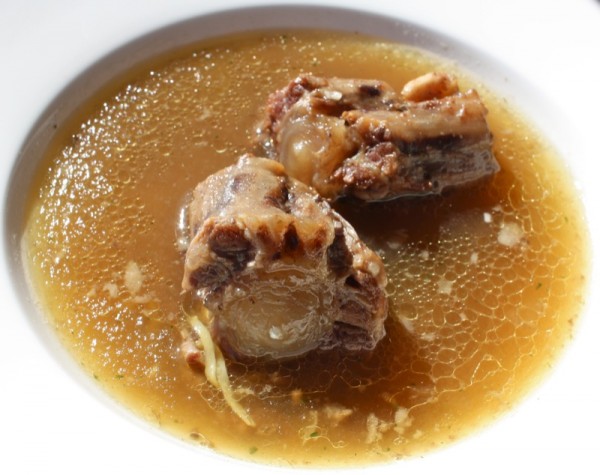 Can you imagine the incredible meat on this tail? Unless you have tried it, you cannot. Oxtail used to be a very cheap cut, but is now quite pricey. More have discovered this find. If you have not, I hope this has motivated you to try it.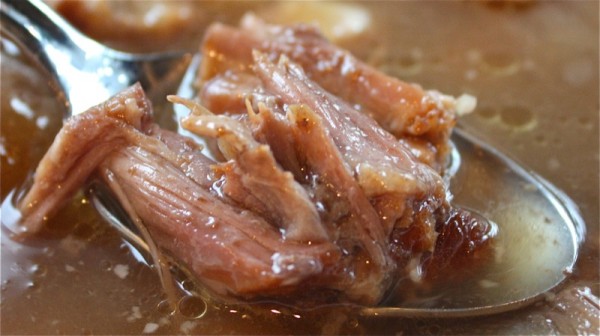 I know I am not alone here. I would love to hear how many of you with a few generations in Alberta and roots from a farm recall this soup!
Oxtail Soup Recipe
Ingredients:
3 pounds or 1.5 k of oxtail
3 carrots, peeled and sliced
1.5 onion, sliced, peeling left on
2 stalks of celery, sliced
small bundle of flat leafed parsley
2 bayleaves
5-6 peppercorn
water
salt and pepper to taste
Instructions:
Place first seven ingredients into a heavy cast iron pot
Cover with water
Bring to a low boil; skim, and simmer for 6 to 8 hours
Refrigerate until cold; remove surface fat
Reheat until gelatinous texture liquefies, but is not hot to touch
Strain; setting meat on bone aside and discarding all else
Simmer more if broth is not intense enough (with lid off)
When desired flavour of broth is achieved, season with salt and freshly ground pepper and add homemade noodles or pot barley, if desired
Return meat to the broth and cook until barley or noodles are done
Serve hot with a dish for discarding the bones, and enjoy!