The best kind of hostess gift!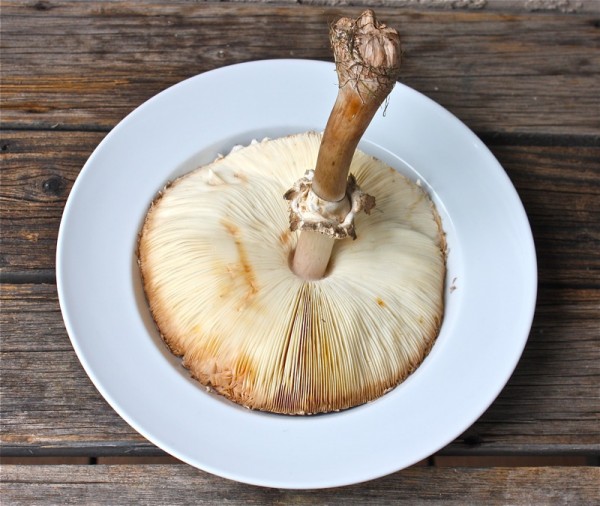 Look at the size of that mushroom! The aroma of the stem is deep and earthy and filled with saliva inducing umami notes. The underside of the cap is very fresh and almost odorless. What a beautiful work of nature. What an incredible gift! The first of this year's crop from Kevin Kossowan's yard. He is so fortunate to have a patch of these that reappear yearly, and that he nurtures, as he knows the value of what others may see as an annoyance and a garden invader.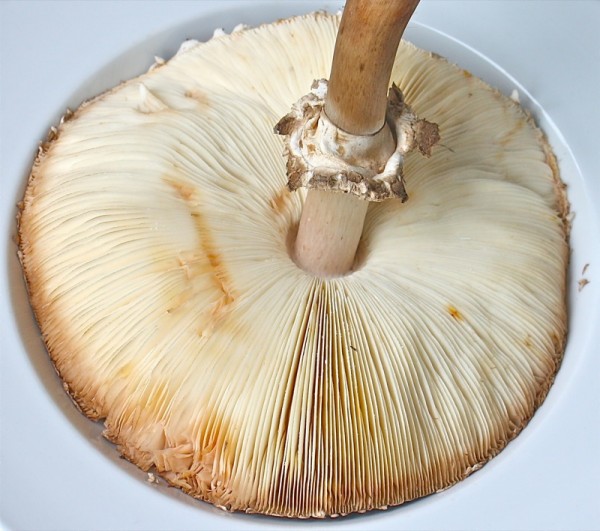 The intricacy of the underside of the cap is fascinating. I know nothing about foraging for mushrooms. Zero. Nothing. I am interested. I started to become interested when I was a Brownie hunting in the urban forest for fungi and looking them up in our little identification manuals… until the instructor consistently pointed out: poison. It is just the past few years that I have come to learn how many of the mushrooms in my own backyard – and sometimes in my own front lawn – are edible. I said to Kevin, "This is a gorgeous mushroom. Why is it that more of us don't know about these kinds of things?" And his insight was acute, "These are growing all over the city. It is simply a lack of knowledge: ignorance."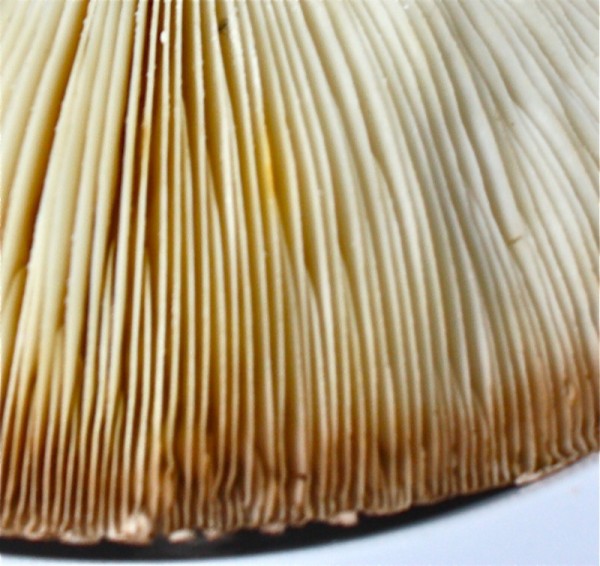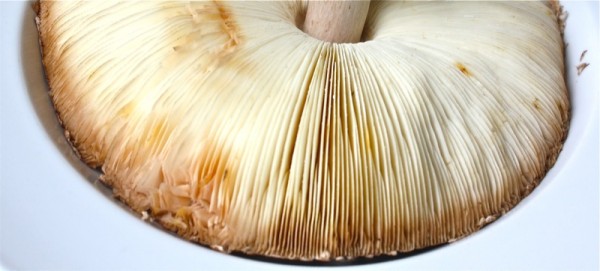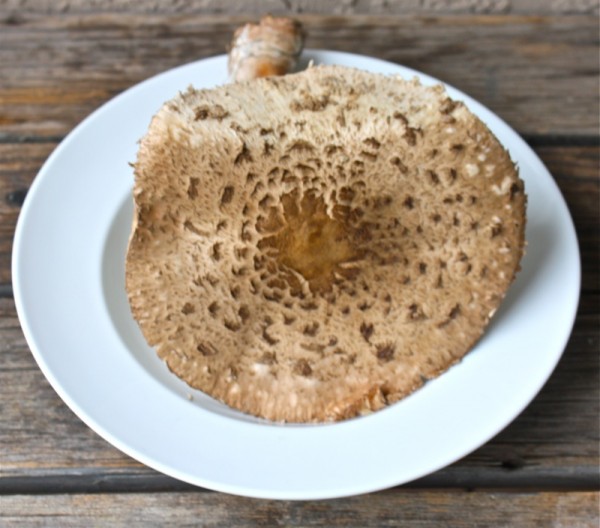 He explained the carmely orange stem and how it looks when it breaks… and then, the aroma. Ignorance. There is absolutely no excuse for this kind of lack of knowledge. We should be teaching this in schools, yearly, as part of our Science program: what are the edible plants living wild within our own neighbourhood?
I had invited Kevin over to see my garden this year as this is the first year I have been home to tend it through an entire season on my own, for several years. (We usually travel for the entire summer.) And, it rained. It poured, so there was no garden tour. But, there was shaggy parasol fried in butter. (Thank you Kevin for taking the three pictures of the sliced mushrooms.)
Where did it go? This little bit in the bottom of the pan is actually the entire mushroom. I was incredulous. They may be gigantic, but they cook down one heck of a lot!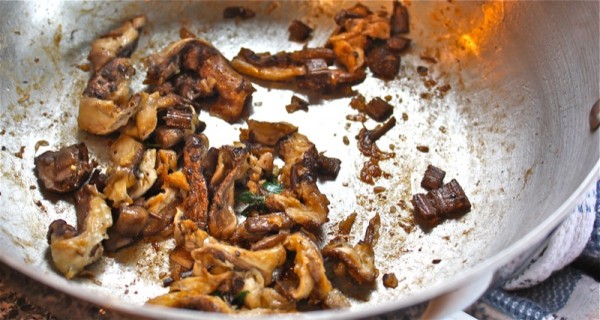 The price of dried porcini started to make a lot more sense to both of us. And the taste?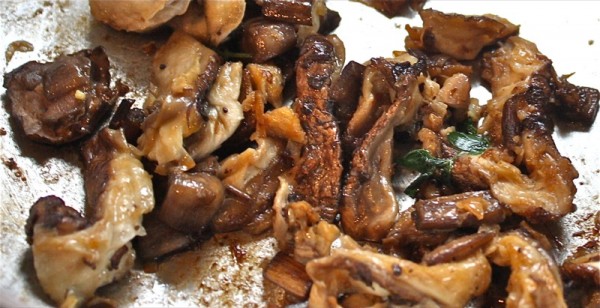 Well, it was so delicious that I actually licked the bowl (after they left). I was really stunned at how special the flavour of this local wild mushroom is. Almost as good as a porcini. Very different, but a similar appeal to me. Would I think that in a blind taste test, I wondered, or was it the local foraged provenance of this shaggy parasol that enhanced the flavour profile for me? I am not sure, and I don't really care. It was delicious.
And then we made grilled pizzas. Everyone. And played. And ate, and laughed, and made a great big mess that took five minutes to clean up and had a wonderful day in spite of the ever present rain.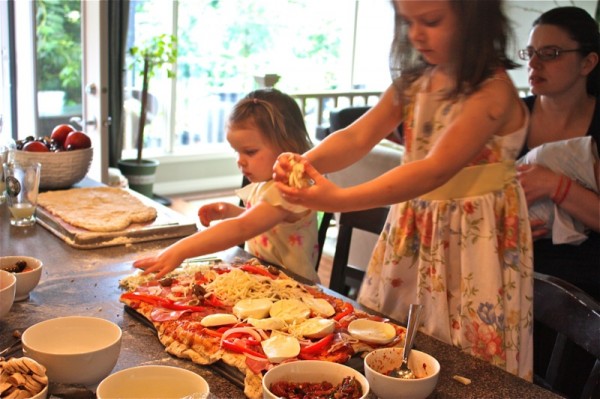 Miss E and Miss L each made their own half of a pizza! YEAH!!!! Baby H was sleeping through it all.
And the stringy cheese was very annoying.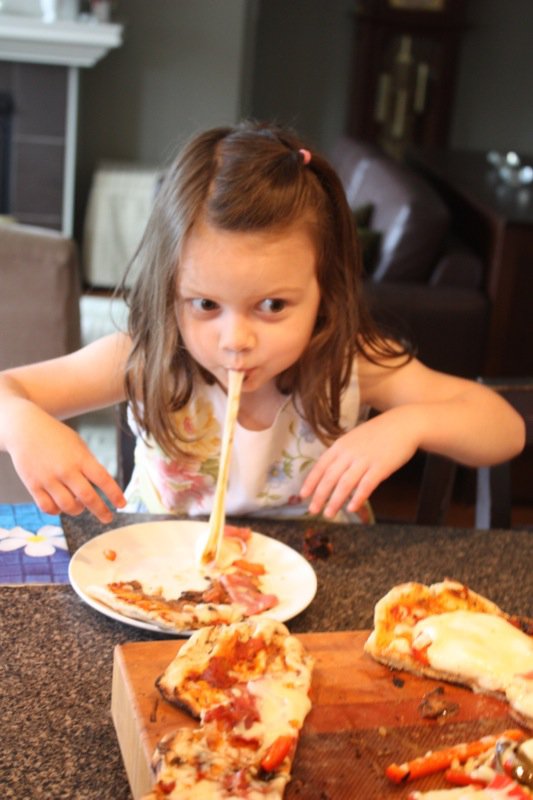 But the shaggy parasol was the star of the meal. I learned so much by tasting, seeing, touching and smelling it. This was what I call mushroom "enlightenment". May you each experience the same some day soon! 😉