So inspired by Chef Blair Lebsack at his Range Road Dinner last weekend!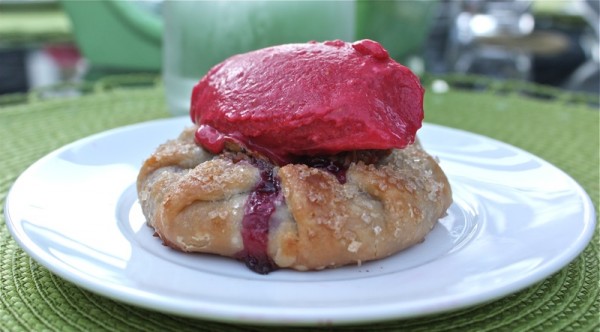 It is Saskatoon Berry season! This is the time we used to take our ice-cream buckets (yes, there were even plastic ice cream buckets when I was a child) and tie them around our waste, spray ourselves liberally with mosquito repellent, pack a picnic and get into the car and go. We would leave from Grandma Maude's house in Clive; she would have the word and know exactly where the best bushes were bearing the most fruit along the side of which road. In those days, foraging for berries was part of the country life: part of the winter preservation plan.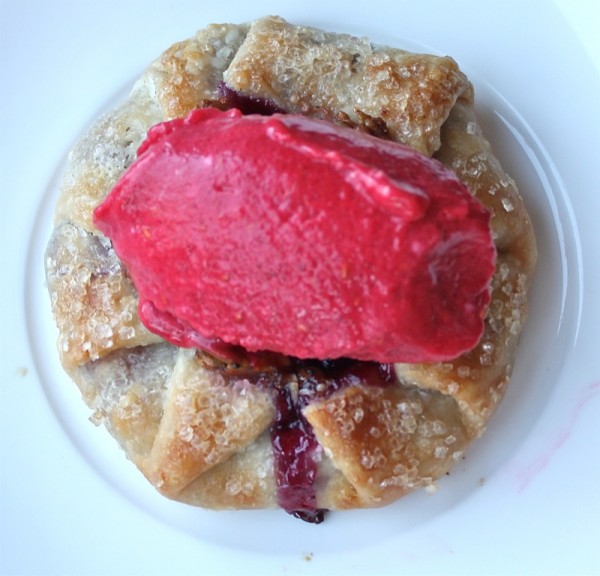 Not any more. Not in the city, at least. I would not know where a row of Saskatoons were growing to save my life. I no longer have any family living in the country. Sometimes I run across a bush or two when on a walk, but certainly nothing like we would plunk ourselves in front of "back in the day" for the entire day, leaving with buckets and buckets and buckets of berries and we would have only picked a portion of the berry row clean. Now, I have planted bushes in my back yard. I am thankful that I have been able to do this as the thought of not being able to pick my own berries would be too much to bear. They are different, though. I have about four varieties. But, in summary, the wild berries are smaller and less juicy. The flavour is fabulous in both kinds. And, I have said this every year, but the flavour or a Saskatoon and a Blueberry is as different as the flavour or a raspberry and a blackberry: completely different.
There is only one berry in the above cluster that is fully ripe; the one below isn't dark enough yet.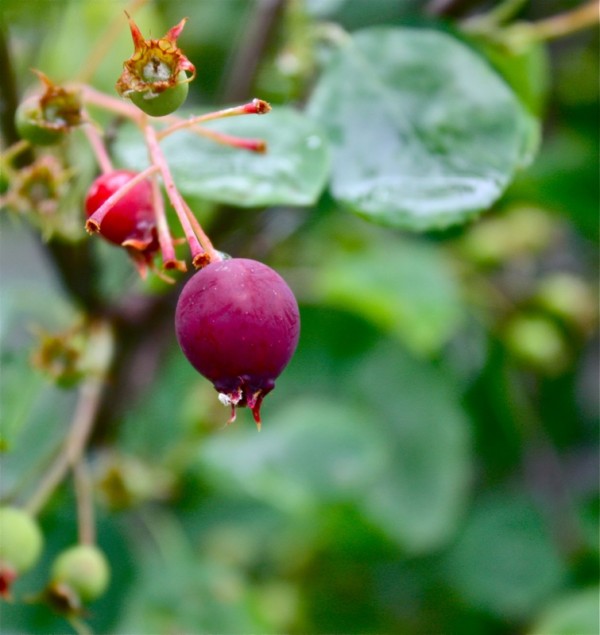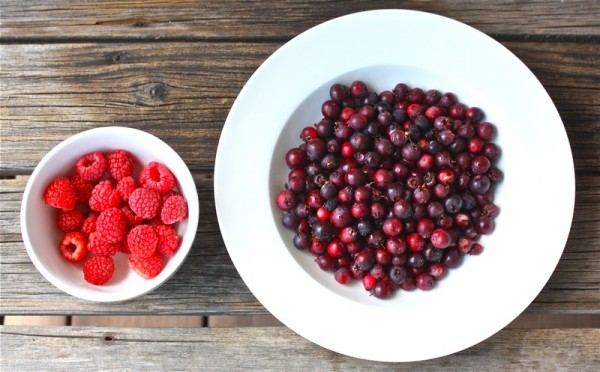 We were having one of Vanja's colleagues and his wife for dinner Saturday, so when I returned from the market, I quickly picked my ripe berries. I thought I might have to use some frozen ones from the day before, but would play it by ear. I had decided to throw myself into attempting to make the Saskatoon Berry Galette Chef Lebsack had made with stinging nettle ice cream at his first Range Road Dinner. I was going to make raspberry ice cream with my own raspberries (frozen). If I don't used what I pick the day I pick them, they go into the freezer on a cookie sheet covered with parchment overnight, and then into a dated zip lock bag.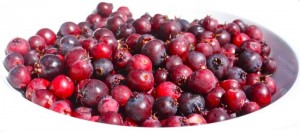 My dad used to love eating these fresh, as a young boy, with cream. "It was a very special treat in those days: like candy." I find them too dense to enjoy fresh, but I still can't resist one or two when picking! I have a long row of raspberries that we planted alongside the driveway, between houses, in the front of the house where most just place decorative rocks. The berries are enormous and gorgeous this year, but much fewer than usual. It was a long winter. I used to get an ice cream bucket a day for almost a month in raspberry season. Below is my daily pick this year: about 3/4 of a cup.
Now, I am winging it. I have made plenty of crisps in my day, so I have faith. Chef Lebsack said his galette topping had fresh raspberries, brown sugar, butter and oatmeal in it. That would work! Of course, I was out of oatmeal. I always have oatmeal. Oh, well. Homemade granola, sans dried fruit (carefully plucked out), will do! It might even be better. Amounts? In the end, I had exactly twice as much as I needed for the 6 individual galattes that I made. So, the photo is the amount for 12 toppings and I will have the recipe written for six.
Blair's dessert was lovely because it was not sweet. Just a little. I have no idea what he put inside of his, but I have made many, many Saskatoon pies, so I was not afraid. I would imagine he didn't use lemon zest as there were no lemons growing on the farm, but I always rasp a little in my Saskatoon pies, and did the same in the crisp.
It was so inspirational to use fresh berries in the crisp: so logical and so delicious, and even when crisp, the raspberry flavour is still very bright! However, I would have never come up with it on my own. Thank you, Blair!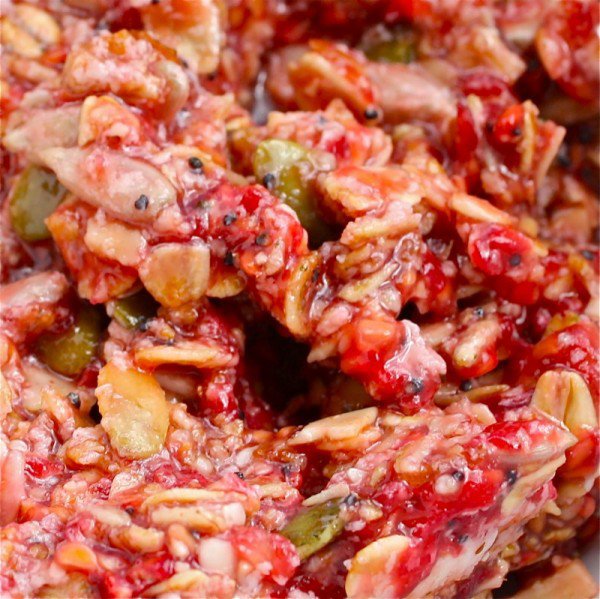 The center of my smallest white plate was about the same size as Chef Lebsack's galettes which I thought were the perfect size for an after dinner dessert. I always have pastry in the freezer as I make it in big batches and freeze it for moments just like this, and this was pastry I had made with self rendered leaf lard. Yum! I portioned out the Saskatoons to see if I needed to get some out of the deep freeze (picked the day before), but I thought I had just enough. I would put in a little more, next time. I had a little sugar, flour, and lemon in with the berries.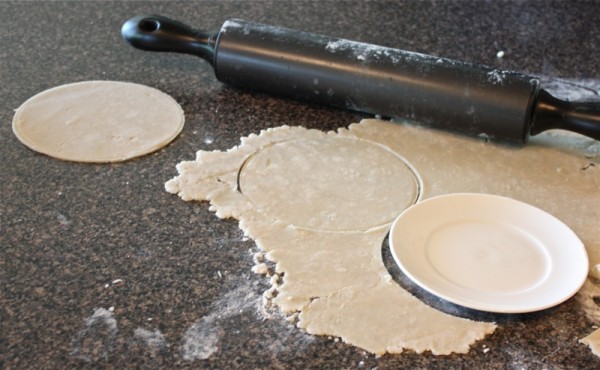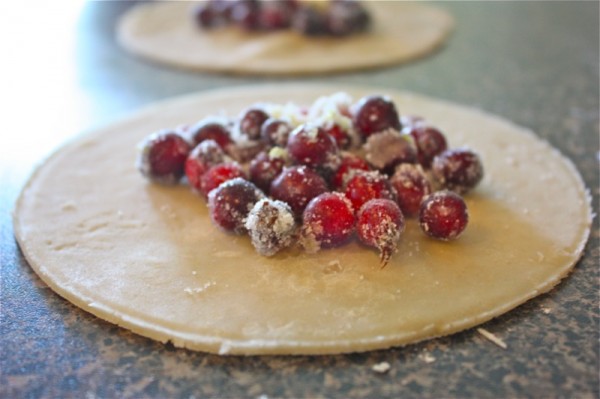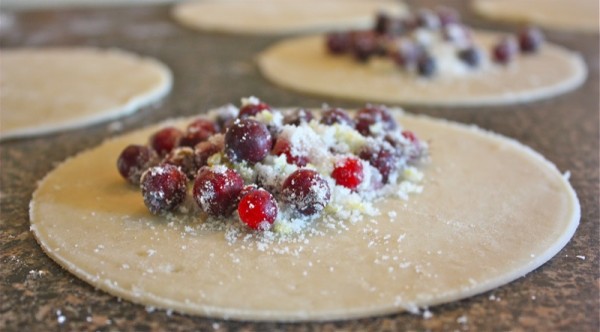 Fold the pastry up over the berries: I impressed myself. Next time, more berries. Picture half as much again as in the above photo.
I would normally add butter in a pie, but there was butter in the crisp, so not necessary. In no time, I had 6 little adorable packages ready. One thing I have come to enjoy on the top crust of my pies is the crunch of the addition of demerara sugar crystals. And they are so pretty, too. I just happened to have a pint of Vital Greens 52% cream in the fridge to wash the pastry with. (Yes, it is that thick! You can buy this artisan Alberta heavy cream it at Planet Organic if you are from Edmonton and it is worth the drive all the way over there just to buy it. It is just that good.)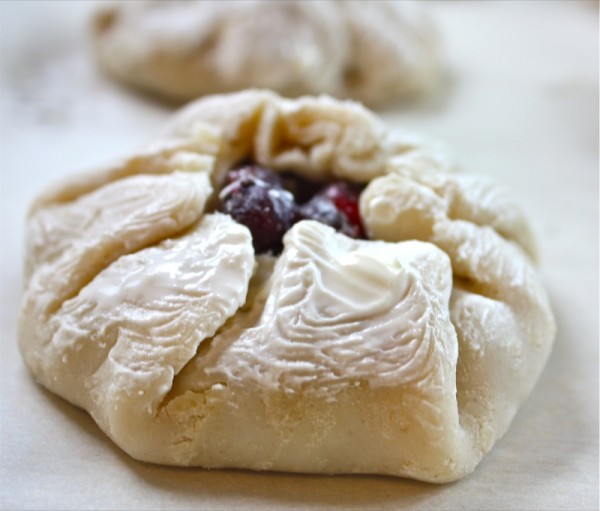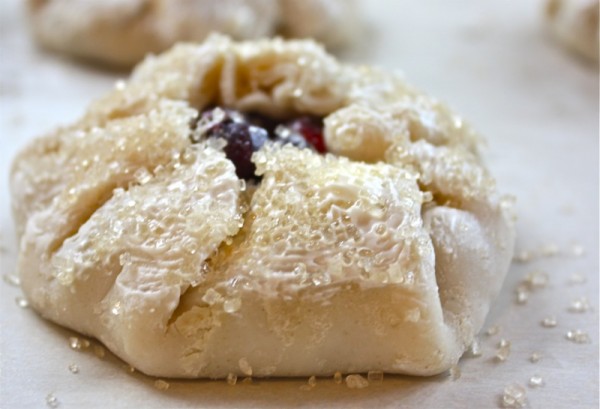 I hoped that the sugar crystals would not make the galette too sweet, and they did not. I would definitely add them again! See below for a photo of the sugar. A dollop of the topping, and the oven is heated and ready for baking! These were so much fun to make, so effortless and so adorable, that I know I will be making them often. Very often!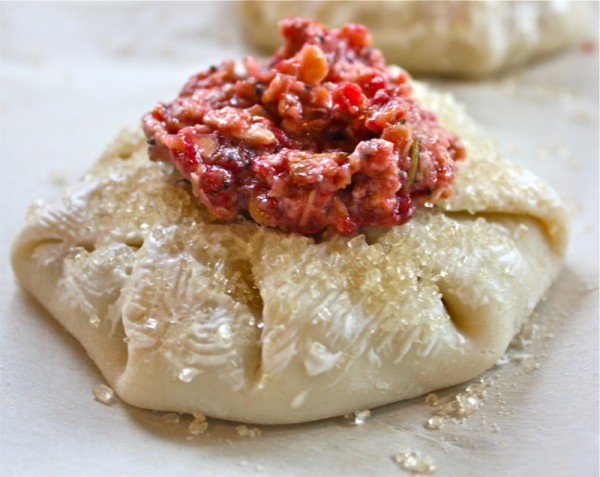 I was delighted when they came out of the oven looking good enough to eat, and just as pretty as the Chef's! (Both legs off the ground in a cheerleader high flip, smug smile on face, giggles in tummy… only in my mind!)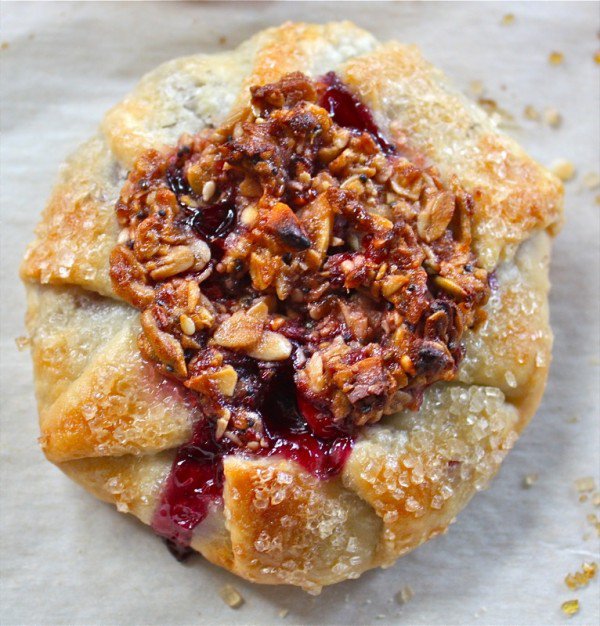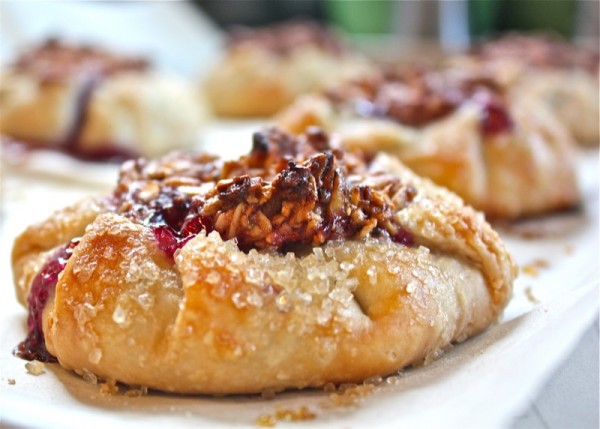 My personal masterpiece: homemade rendered leaf lard pastry, homemade granola crunch topping, homemade raspberry ice cream with both the Saskatoons and raspberries for the topping picked the same day as the dinner. The raspberries in the ice cream were frozen first and from ones I grew and picked last year. Exhilaration! Some people may never understand this kind of personal triumph. Many of you will. "I've got the power! – da-da-da-da-da"!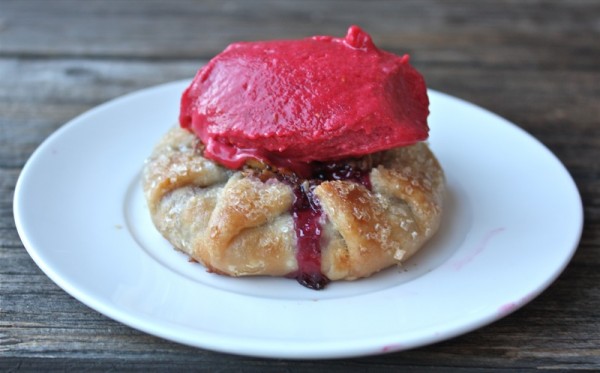 Saskatoon Berry Galette with Raspberry Ice Cream Recipe
(makes 6 galettes)

Ingredients for the Galette:
1 or 2 packages of frozen pastry (when making pastry with one pound of lard, I get 6 discs of pastry; I used one and a half for this and had pastry scraps left over for tarts)
2 cups of fresh Saskatoon berries
2 tablespoons of white sugar
2 tablespoons of flour
fresh lemon zest (a couple of rasps)
egg yolk or heavy cream for bushing pastry
Turbanado sugar for sprinkling over the pastry
Ingredients for the Raspberry Crunch Topping:
1/2 cup of slow cooking rolled oats, or granola
1 tablespoon of butter
1 tablespoon of flour (a little more if you use granola to absorb the raspberry liquid)
1/3 cup of fresh raspberries
Instructions for the Raspberry Crunch Topping:
Mix all ingredients together; consistency should be that of the topping for an apple crisp (If there is a lot of liquid from the raspberries, let it sit a bit for the oats to soak it up, or add a bit of flour to absorb it)
Instructions for the Galette:
Pre-heat the oven to 400°F
Roll out the pastry and cut into 6 discs
Mix all filling ingredients together and divide evenly onto the discs
fold pastry up over the filling and secure by pinching to ensure the berries are enveloped snugly
brush each galette with egg yolk or heavy cream
sprinkle with Turbanado sugar
place a teaspoon of raspberry crunch on top of each
Bake for 25 minutes; cool for 5 minutes and serve warm with ice cream
Note: find the raspberry ice cream recipe here and the pastry recipe here.
Here are the galettes from the dinner last Saturday. Gold star for me!