Freezer Appetizers Mushroom Turnovers are Simple and Simply Divine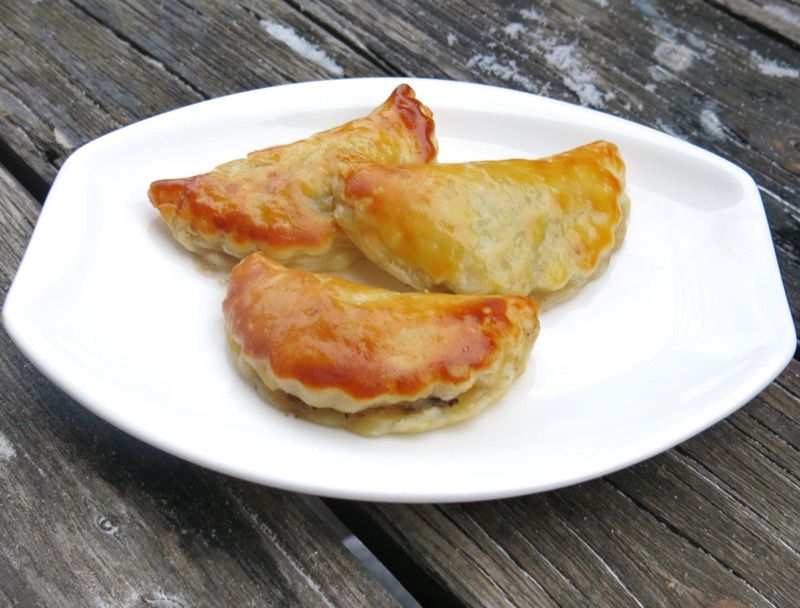 Freezer appetizers? Mushroom Turnovers? Oh, how many years have I worked my dreams of a party, a season or a relationship into these sumptuous packages? Years. Before M&M. Before Costco. Before "unwrap and zap". And though none of the preceding replaced a homemade mushroom turnover at our house, I did stop making them. I stopped having parties.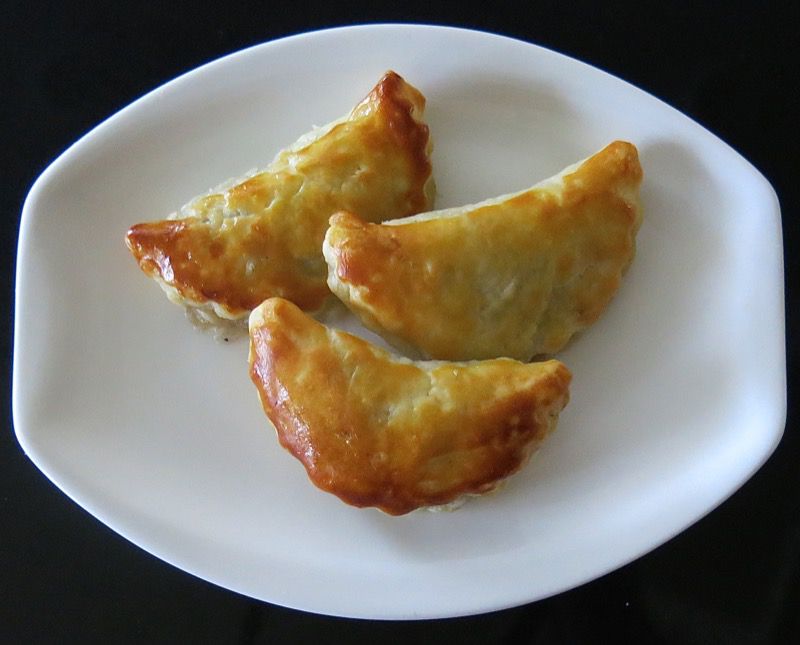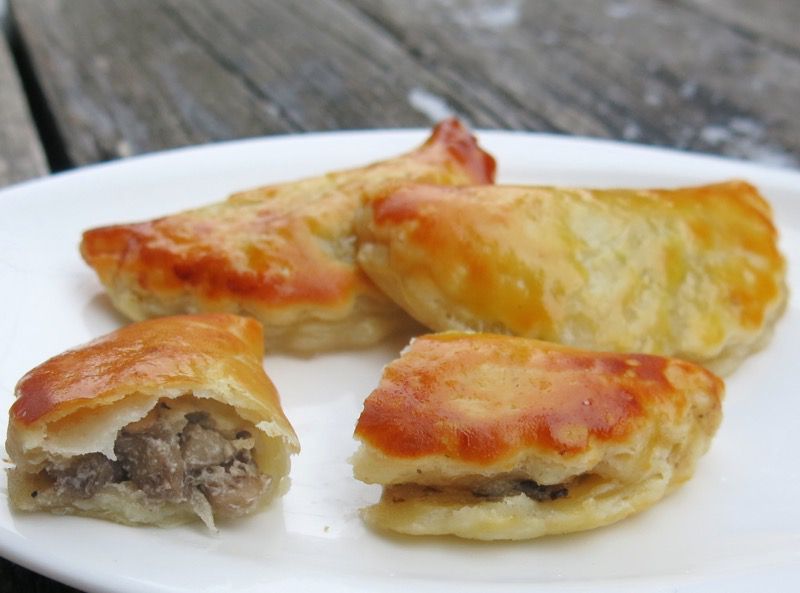 I no longer had the energy or desire I once possessed to make and bake and stash enough food for half the world's population to pull out for a one night feast of festive frivolity, fun and way too much food. But, delicious food. Each and every morsel must rise above that bar. Eyes had to roll. After every single bite. Yup. I was watching. If you wanted more, or an invite to the next one, "pay your respects to the hostess": swoon, please.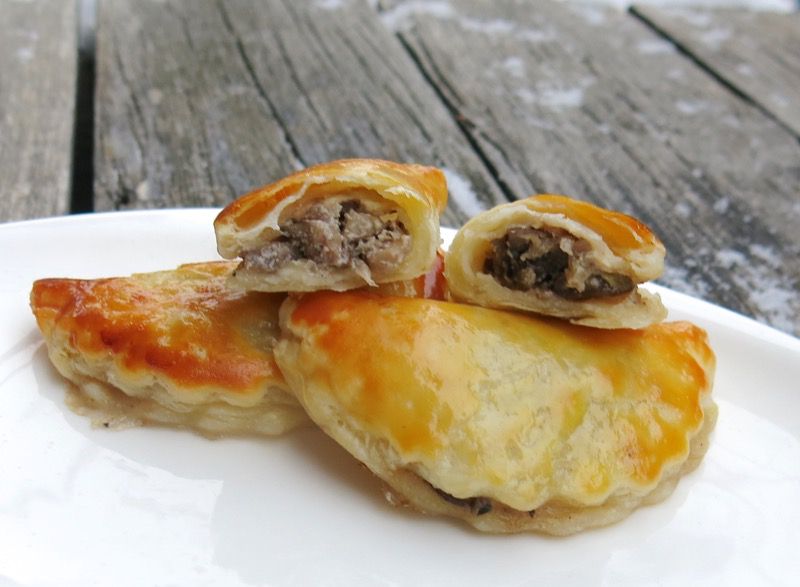 I recalled this Mushroom Turnovers recipe as so labour intensive. I would hunker in and bunker down for a weekend to crank them out. Is it that I have gained experience, or is it that I only made one batch of 80 instead of 2 to three batches? Maybe more. Either way, this time 'round, it was a pleasure to make the filling, the pastry and to fill the pockets perfectly. Yes, perfectly. Another requirement. Few liked to cook with me in those days. No one cooks with me now. We had a lot of laughs, but everyone learned to make their own and not even attempt to help me. I would absolutely pipe in, or pick up a slightly slumping pastry to perk up or redo. Don't bring an ego to my house when you come to help out. You won't go home with it, anyway.
I have a series of favourite freezer appetizers that are traditional in my family. I hope you consider trying some of the others! This recipe was inspired by The Best of Bridge Mushroom Turnover Recipe which is not on their website but in their Green Cookbook titled "Winners".
Freezer Appetizers Mushroom Turnovers: Duxelle Filling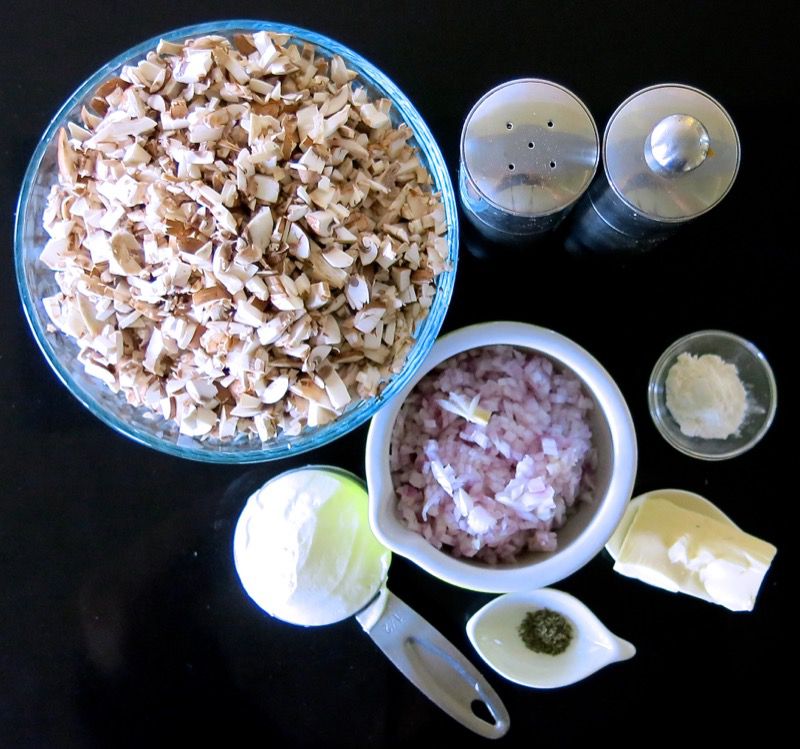 Mise en place for Mushroom Turnovers filling, only, above.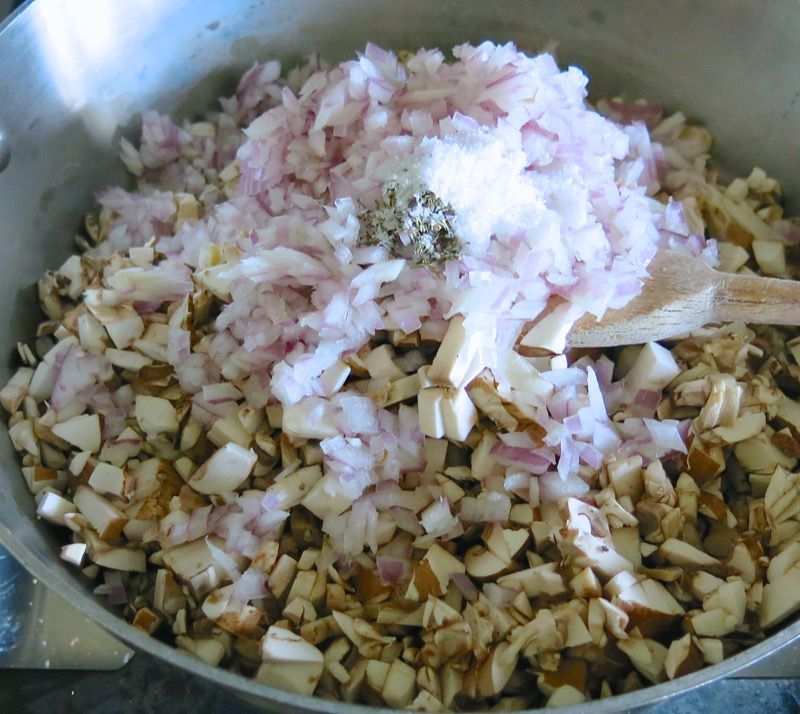 Such a busy year 2014 was. Travelling almost too much. Certainly not enough time to savour the preparation of the holiday season as I usually do. So, to simplify, I cut out the sweets. Yes, I did. No Christmas Cookies this year. None. (Uh-hem… except the Amaretti I learned to make at Christmas in November 2014.) Not one. This would be the year I would revisit my favourite savoury freezer appetizer repertoire from those years gone by. Retro-recipes that are timeless. This is definitely one of those. Don't think for a minute that the taste and texture of these Mushroom Turnovers even remotely resembles one from Costco or M&M of similar appearance. Oh, you may swoon over those unctuous bites hot from the oven simply because you are so critically deprived of really good homemade food. Try one of these. I challenge you.
Most of my closest friends have gone to the dark side. They unwrap and zap like the rest of the world, or they pop into their favourite restaurant and order a couple dozen of this or that to provide something of a higher quality as they "no longer have" or "make" the time to prepare homemade food. What??? Isn't that a basic human right? Shouldn't every adult be required to know how to prepare delicious, nutritious and economical homemade food? That was once a shared belief, young ones. Yes, it was.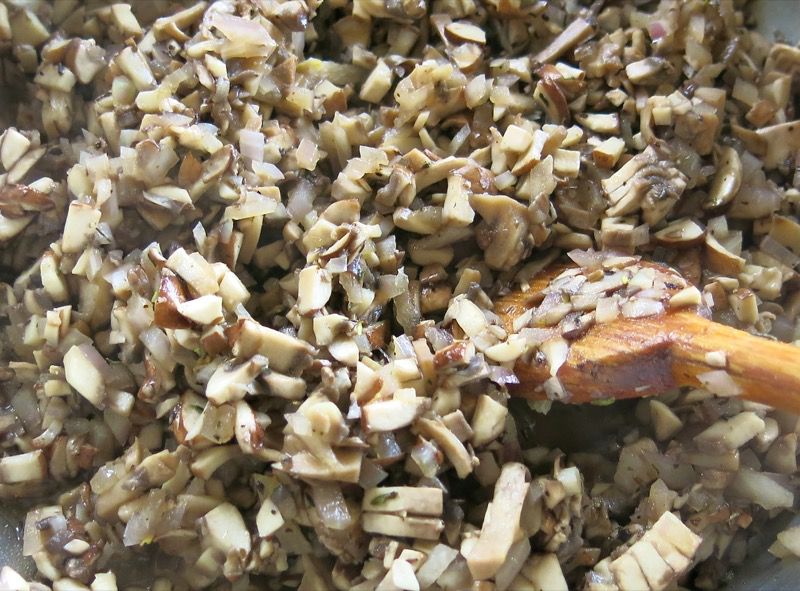 Less than a pound of finely diced mushrooms will take about 20 minutes to carefully chop for the filling. That is the hardest part. I used to think it took hours. That was when 20 minutes took hours. Now I am old, and 20 minutes takes a blink of an eye. And though I am older, I am faster with my knife…. and my mind wanders more easily, so I don't remain focused on the mushroom chopping, thus the chore is not so tedious.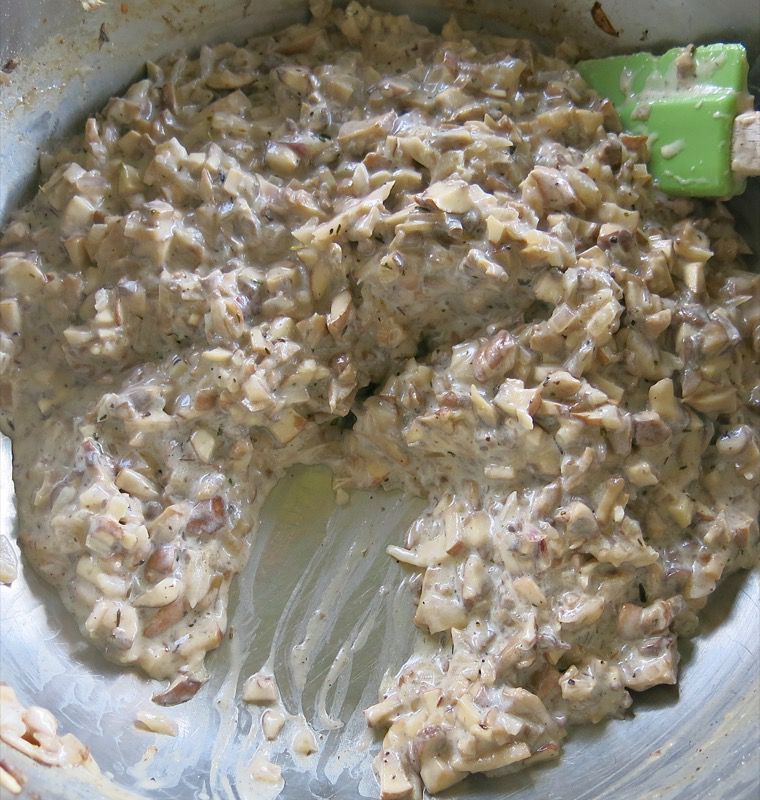 Mushroom duxelles are what you are going for. The little pinch of thyme (and fresh, if possible) makes all the difference. It is the same kind of mushroom mixture you would prepare for a Beef Wellington should you ever be so inclined.
Freezer Appetizers Mushroom Turnovers: Cream Cheese Pastry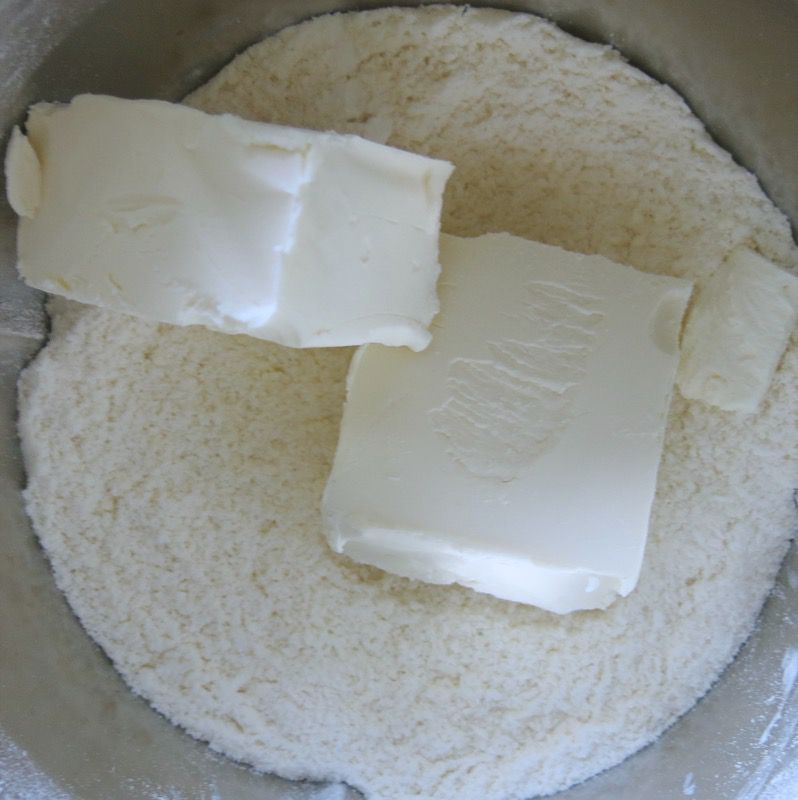 Cream cheese? Seriously? I thought so, too, waaaay back then. In the late 70's when I first made these. Whaat? It is delicious. And the possibilities are endless.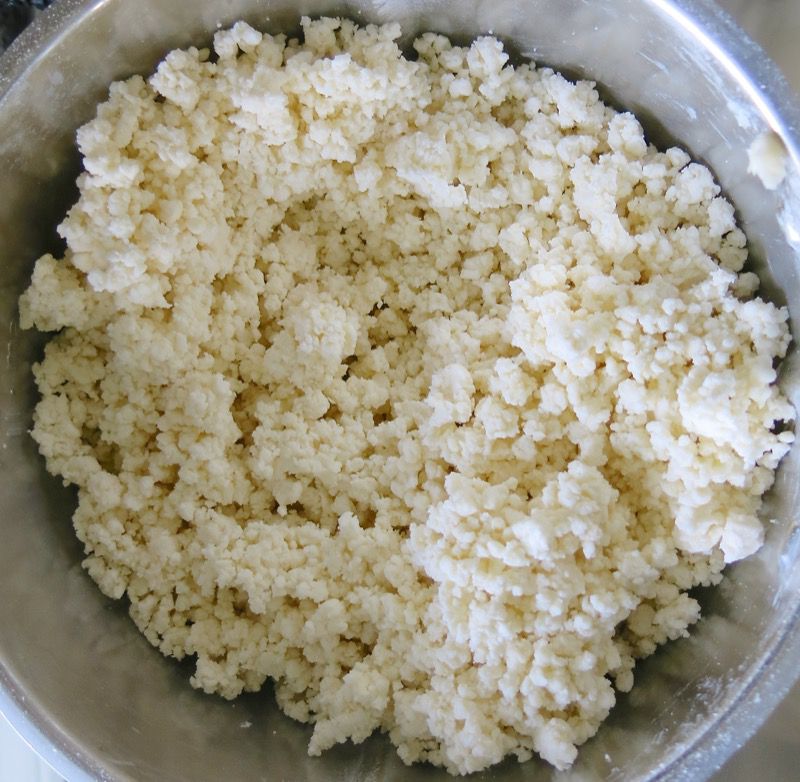 I mixed all of the ingredients for the Mushroom Turnovers pastry in my Thermomix, combined into a ball after removing the dough from the bowl and chilled it briefly before dividing it into 4 portions and cutting out discs with my favourite little cookie or biscuit cutter.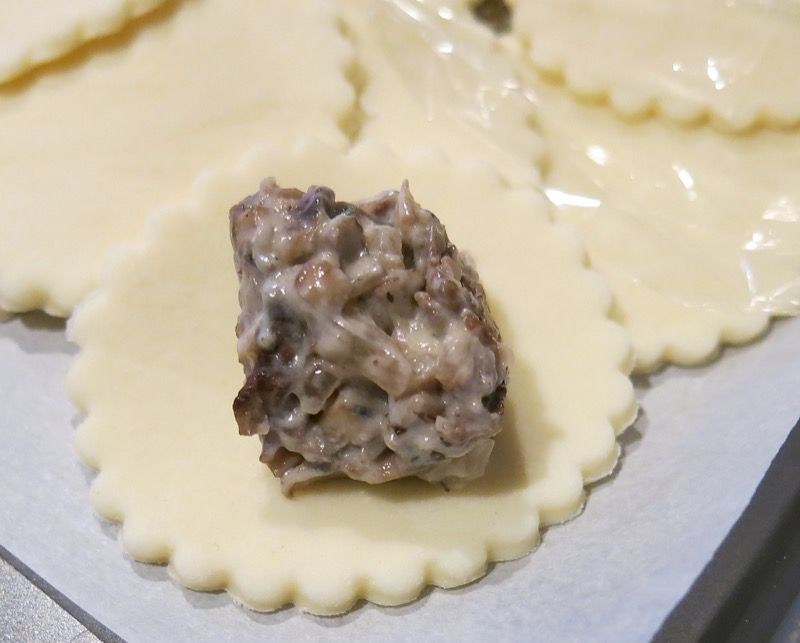 It can be a little tricky to get the filling into the pastry, and I recall struggling with it, for years. Now, a snap. moisten the inside of one half of the disc with water, holding the turnover in your hand, pinch the edges together starting at the middle, then go to both ends at the same time, and continue to close the pastry around the filling. Set on the parchment paper to rest, and continue.
Mushroom Turnovers: Filling the Pastry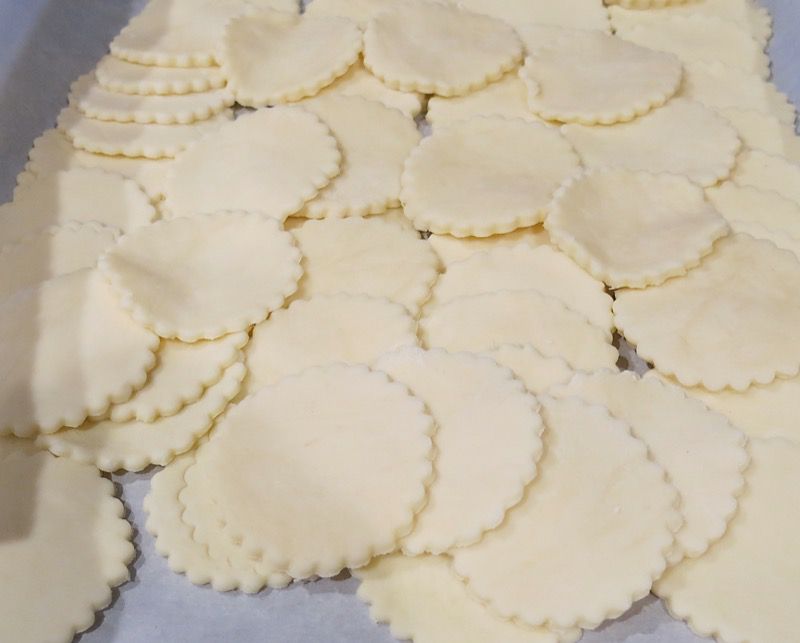 I cut all out in advance, cover with plastic and they don't stick together at all. I sit in front of a table, put on a good movie, and fill 'em up.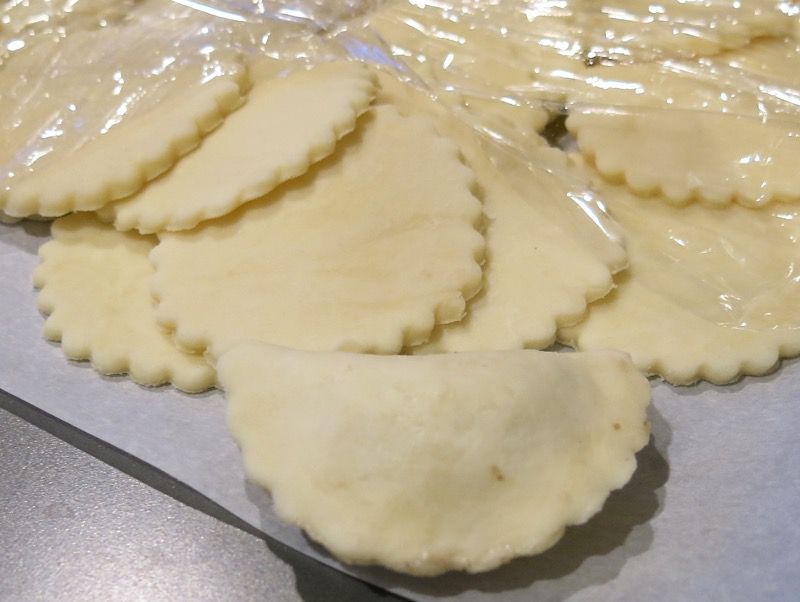 I have not liked the edges finished with the tines of a fork, but the pressure of the steam inside of the pastry can force the pastry to open in the oven, so something needs to be done.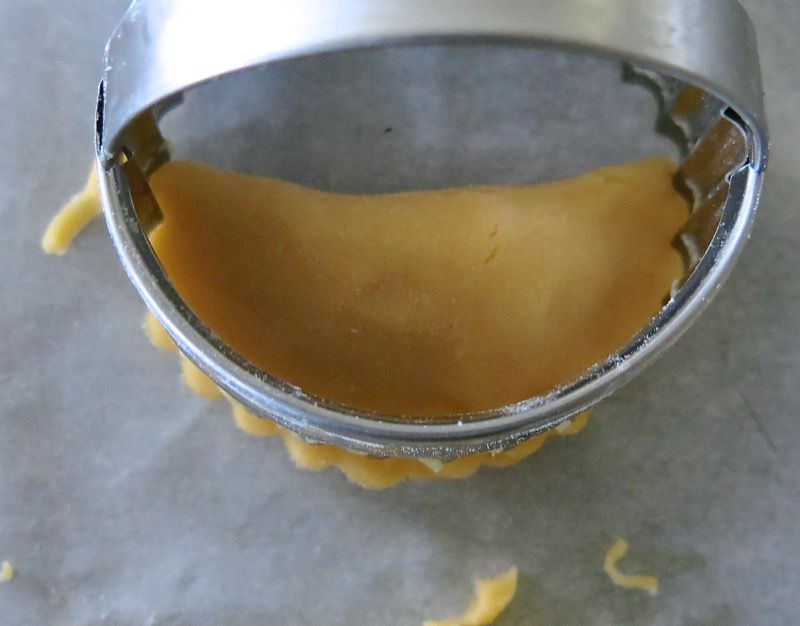 The pastry is orange, above, as I am demonstrating with a jalapeno pepper jelly turnover. After closing the pocket, I go back and use the cutter again, to make the edges crisp and reshape the turnover which also provides that little extra somethin' I was talking about. The turnover should no longer open at the edges due to steam pressure while baking in the oven. Piercing the turnover will help, as well, but filling can then ooze through those holes. See what kinds of big decisions cooks and bakers have to make to provide nutritious delicious homemade food for their families?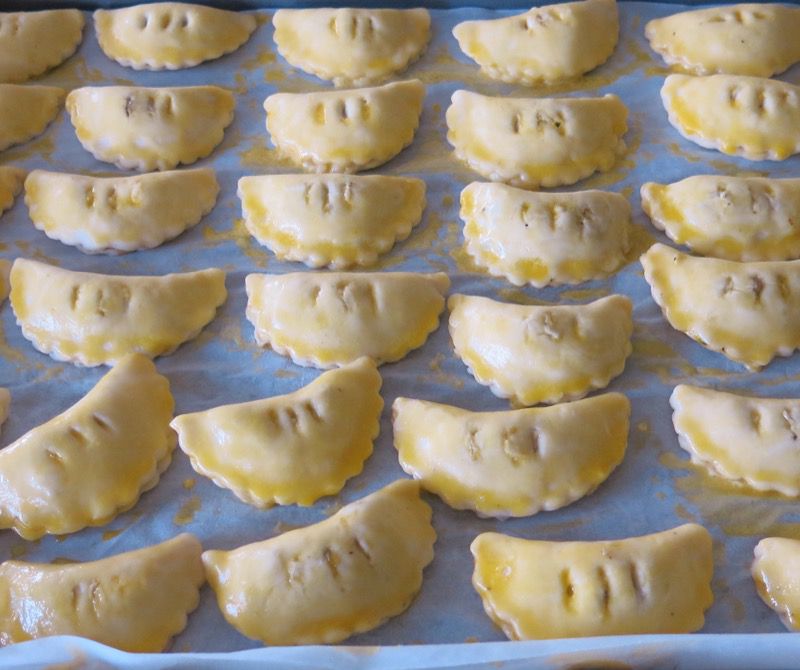 Above, you can see that I did pierce some. Below, I chose not to pierce others. In the future, no piercing for me. After a wash with beaten egg yolk to provide a finished sheen, sheets of the turnovers were fast frozen overnight and repackaged in zip lock freezer bags that were labelled and dated until needed.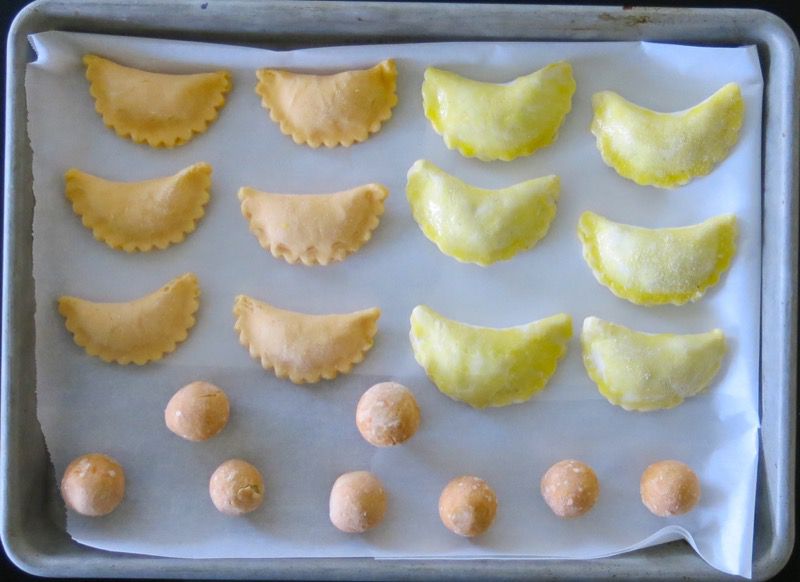 Which would be now. I have a little stash of these this year. In "those days" I had 8-10 freezer appetizers on hand from October through January every year. This year, I had 6. I am working at adding to my favourites to come up with a "traditional set" of 8 that I will make for the next few years. Why? They are scrumptious. I enjoy making them. No one does it anymore and when we have guests for dinner, the appetizer course is already done, homemade, each morsel a celebration of the flavours within and a whole lotta love that may not be visible, yet is the defining ingredient that sets the meal a little into the "unexpected" realm. And, that is always nice, isn't it? To find something quite unexpected when invited to dinner? The frozen freezer appetizers ready to meet the oven, above.
Freezer Appetizers Mushroom Turnovers: Baking and Serving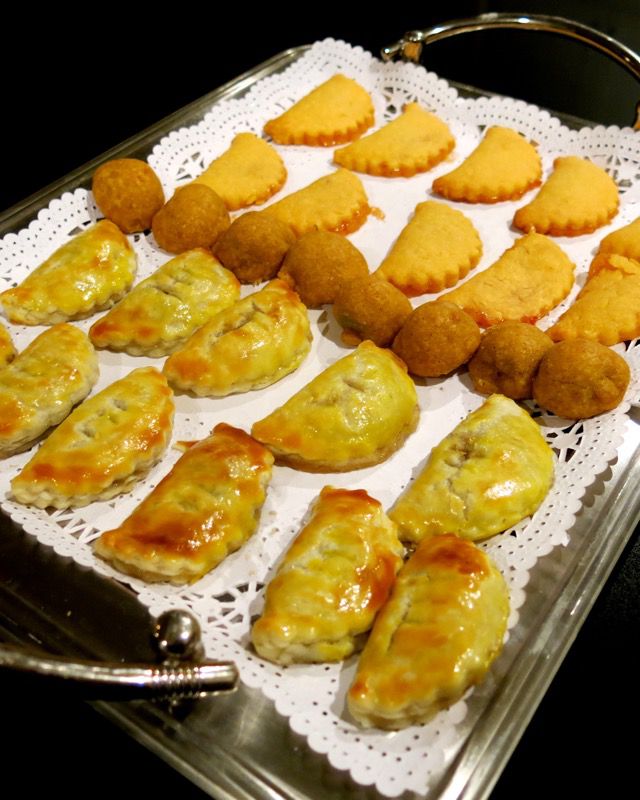 That wasn't meant to be a rhetorical question, but it probably was. No one gets invited to anyone's house for dinner anymore, right? What am I talking about! Thank goodness for a few old fuddy-duddies that I hang with that still issue such rare and precious invitations. Even in my crowd, these invitations are rare, and oh, so precious. Thank you (and hint-hint). I hope I demonstrate the intensity of my gratefulness for your culinary prowess and how dearly I value our friendship to you when I invite you back.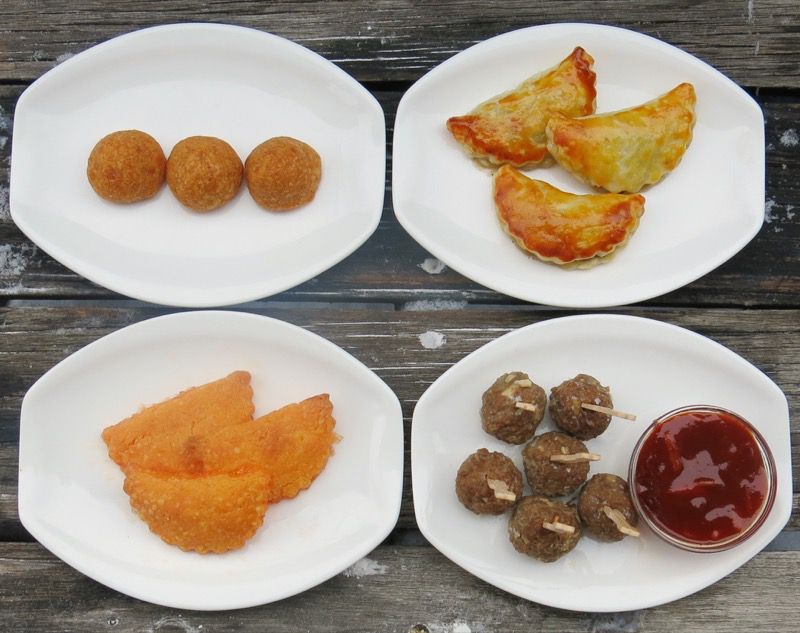 The mushroom turnovers were always Ragan's favourite. I was tickled to make them for her again this year, and I did make them, just for her. And, behold, modern-day miracles still do happen. Vanja loved them, too. I mean, he loved them. I was overjoyed. And, found I do, too. I don't think I ever stopped to really allow myself to indulge in my own baking or cooking in the past. This year was the year of, "Oh, my gosh! That is really good!" Favourites above: Olive Cheese Puffs, Mushroom Turnovers, Jalapeno Pepper Jelly Turnovers in Sharp Cheddar Pastry with Garlic Asian Meatballs dipped in Deviant Cumberland Sauce. And that isn't all.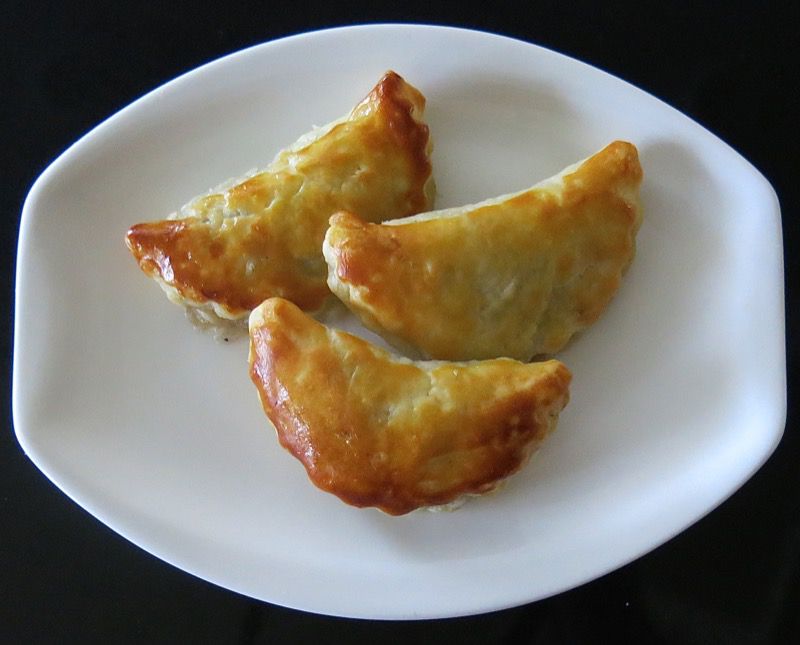 I have now found myself on a meatball kick, or quest. I want to host a meatball appetizer party. I want to make all different kinds of meatball canapes, but I want to taste the recipes first. Got any "to-die-for" favourites you can share with me?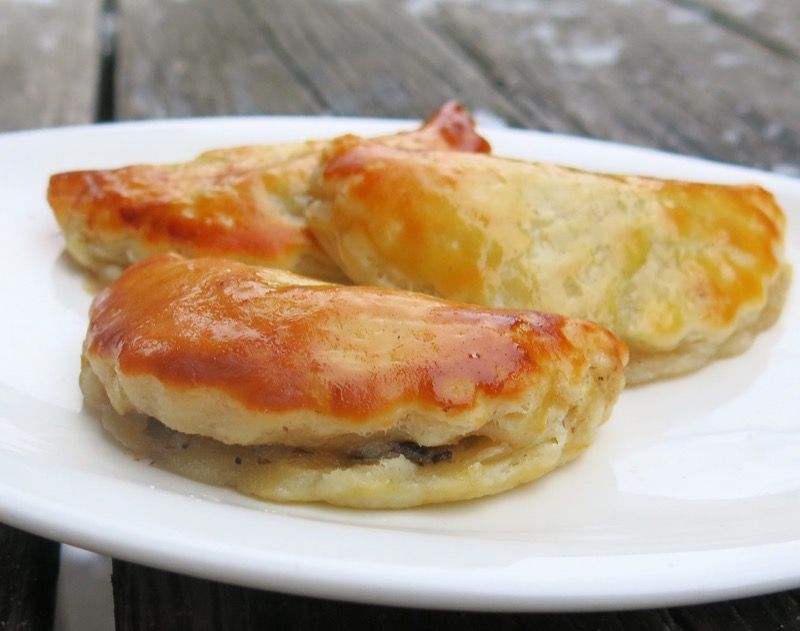 The mouth of one of the Mushroom Turnovers, above, parted only slightly. No filling escaped.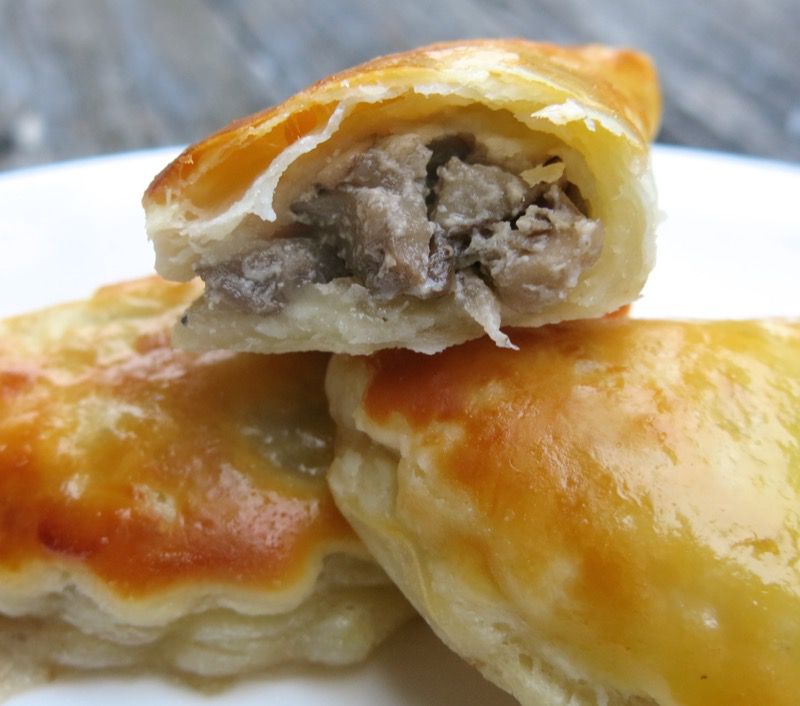 The pastry was flavourful and flaky and the filling? Moist and meaty. All in all: a festive bite fit for the festive season. A bite that I most thoroughly enjoyed this year, like no other before me. A bite that I will be making again, year after year after year as homemade appetizers are becoming extinct and I just cannot let that happen.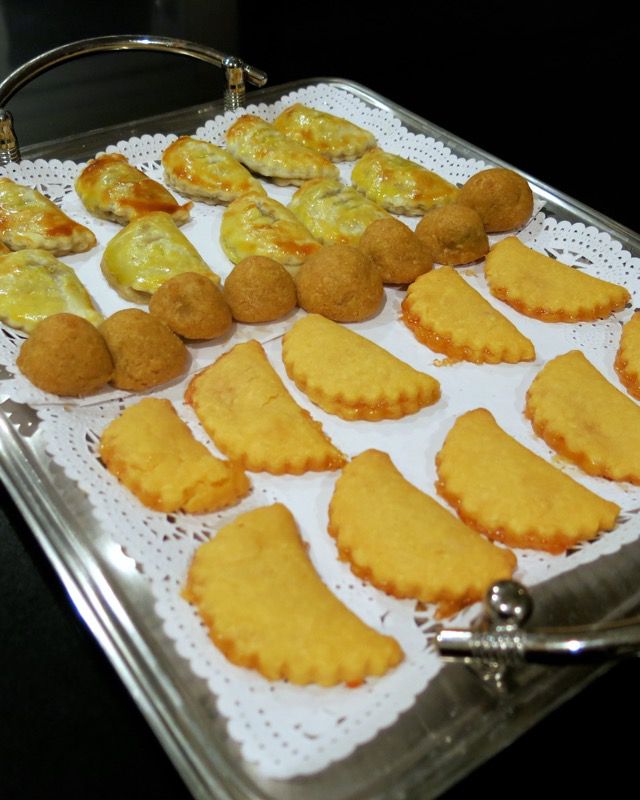 Join me in my cause. Revive party fare in our home kitchens. Bring on the retro recipes. Share them with me! My apron and oven are both on and I am way past ready!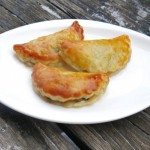 Mushroom Turnovers
These make-ahead freezer turnovers have been a family favourite at our house for well over 30 years. They are a bit finicky to make, so get everything done and form them one evening when watching a great movie.
Total Time
2
hours
15
minutes
Ingredients
Ingredients for the Pastry"
250

gram

package cold cream cheese

, cubed

110

grams

or 1/2 cup ice cold butter

, cubed

180

grams

or 1 1/2 cup all-purpose flour
Ingredients for the Filling:
60

grams

or 2 tablespoons butter

350

grams

or 3/4 pound fresh mushrooms

, minced

100

grams

or 1/2 medium onion

, minced

1/8

teaspoon

dried thyme

¼

teaspoon

salt

½

teaspoon

ground black pepper

1 ½

teaspoons

all-purpose flour

125

grams

or 1/2 cup sour cream

egg yolk for brushing on pastry
Instructions
Instructions for the Pastry:
Mix cream cheese and 1/2 cup butter

Add flour until fully incorporated and form into a ball; divide and set one ball aside, covered lightly at room temperature while making filling and wrap the other in plastic and chill
Instructions for the Pastry in Thermomix:
Place flour and butter into mixing bowl and pulse for 2 seconds on Turbo 2-3 times until mealy

Place cream cheese into mixing bowl and pulse for 2 seconds on Turbo 2-3 times until ingredients begin to form into a ball

Remove ingredients from mixing bowl to another bowl or place on the counter and form into 2 balls by hand; wrap one in plastic and chill and set the other aside, covered lightly at room temperature while making filling
Instructions for the Filling:
Melt 2 tablespoons of butter in a large skillet; add mushrooms, onion, thyme, salt and pepper

Saute, stirring constantly, until tender (about 5 minutes)

Sprinkle flour over ingredients to avoid lumps; stir to thicken

Reduce heat to low; stir in sour cream

Heat just until thickened; remove from heat

Mixture should not be runny: it should sit in a mound on the pastry without spreading
Instructions for Making the Turnovers:
On a lightly floured surface, roll dough to less than 1/4 inch thickness; cut into 2.5 inch rounds with fluted cutter

Place small amount of filling in the middle of each circle (a heaping teaspoon); dot water along inside edge of each pastry circle to seal

Fold dough over filling to form a half-circle; press to seal dampened edges

Place on cookie sheet lined with parchment paper; press edges with a fork and puncture each decoratively to release steam while cooking OR recut sealed edges with the cutter, as illustrated

Pre-heat oven to 375°F if baking immediately

Brush with egg yolk; bake for 12 minutes, at 350°F, or until golden brown OR

Brush with egg yolk and freeze on parchment-lined cookie sheet overnight; then package into labelled and dated zip-lock freezer bags

Remove from freezer, place on parchment-lined cookie sheet and bake frozen at 400°F for 15 – 18 minutes, until golden