Thank you, Johwanna!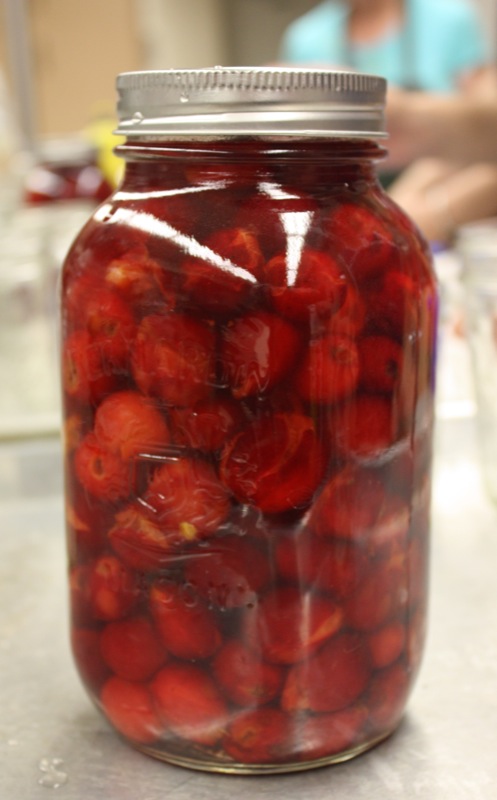 Preserving food used to be essential for every person living in the Canadian prairies. It was part of our way of life. And it was only three to four generations ago in our history that every prairie family knew to preserve their own food. The harvest season was part of the rhythm of a prairie life as predictable as the ebbs and flows of the ocean tide. Entire communities would rally together to gather one another's crops and work with joy in their hearts from dawn to dusk that they had such bounty to store for the long winter ahead.
No more. Instead, one can buy food filled with preservatives that were never intended to be consumed by man, let alone in the vast quantities today's population consumes them. I learned to can and preserve at my grandmother's hand and by her side. She was from the last generation where this was the way of life. I felt her passion, her satisfaction, and her perseverance when we stood side by side day after day, exhausted from the ongoing toil, "putting up" jar after glistening jar. And I shared her enthusiasm and that sense of intrinsic intimate accomplishment that washes over you after accomplishing such a deeply personal goal. The need to feed ones family is definitely a drive stored in the primordial make up of our past.
As we are primarily a winter country, one of the national initiatives that Slow Food Canada chose to focus on throughout the country was the preservation of food. Johwanna is a canner. She is such a creative and reflective thinker. She decided to take this on and worked to prepare a day to teach a new generation how to preserve food through canning.
Operation Fruit Rescue Edmonton, or OFRE, was to supply the fruit. The location was St. Josephat's Parish Hall. Attendees brought their enthusiasm and a box of canning jars. Jojwanna did the rest…Â and life can be serendipitous when one does good work. The Friday before the class, Johwanna received an e-mail from a woman with a giant cherry tree who didn't want the fruit. Johwanna was there on Saturday and picked the entire three: thirty kilos of cherries! Without that amount of fruit, the canning experience would have been much different. Good things happen to good people.
Look at the gorgeous glistening Evan's cherries!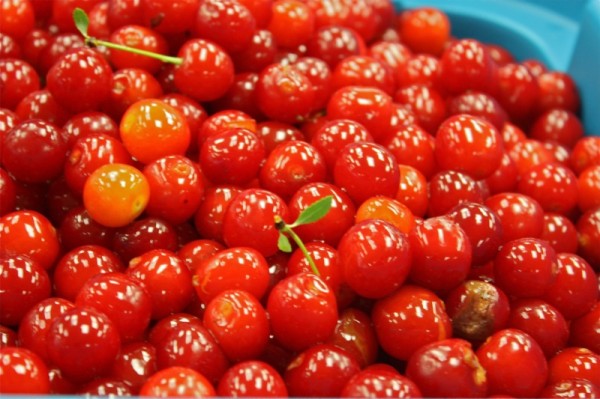 And if you haven't any concept about what thirty kilograms of cherries is, take a look below!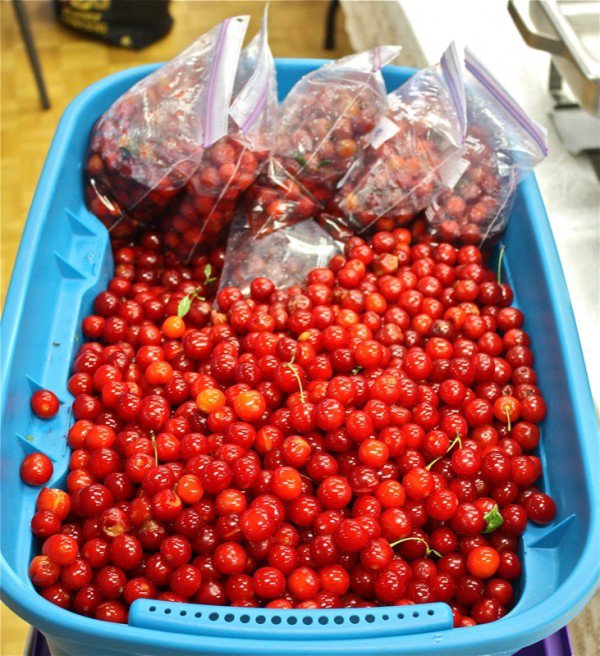 There were fifteen of us: hairnets on and ready to rumble! Kevin Kossowan, an OFRE district manager this year, dropped off some more fruit, and brought along Miss E who stayed to help!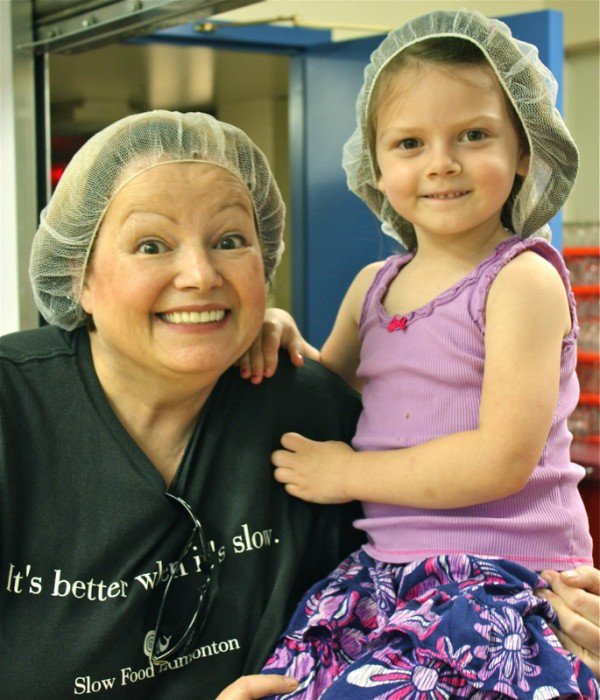 She was not too sure about her hair net.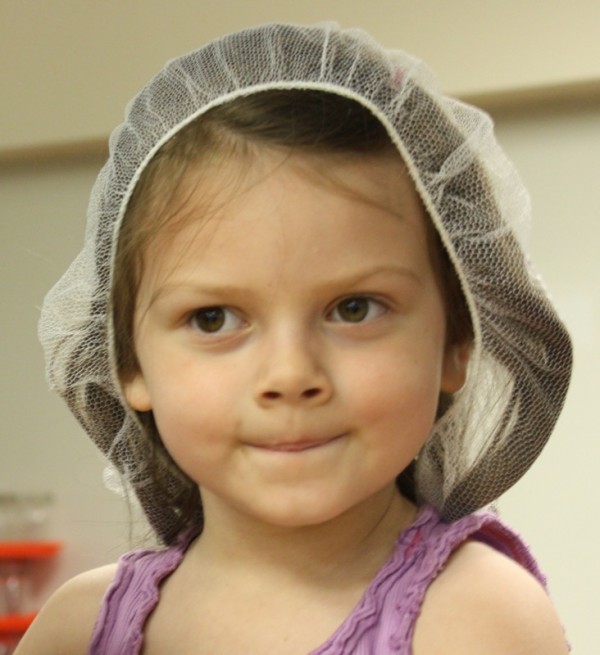 None of us were, but that did not daunt anyone's enthusiasm! Hair is a beautiful thing, but no one needs to find it in their food.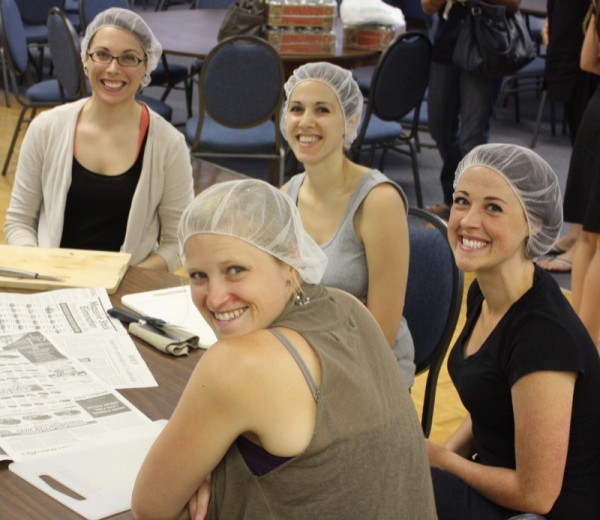 Johwanna had a technique for removing cherry pits that works like a charm. Miss E also had a very slick way for removing her pits and did better than I did! Seriously!
This was one focused four year old. As Kevin said, "She is easily engaged in fun activities, and a lot of experiences around food are fun!"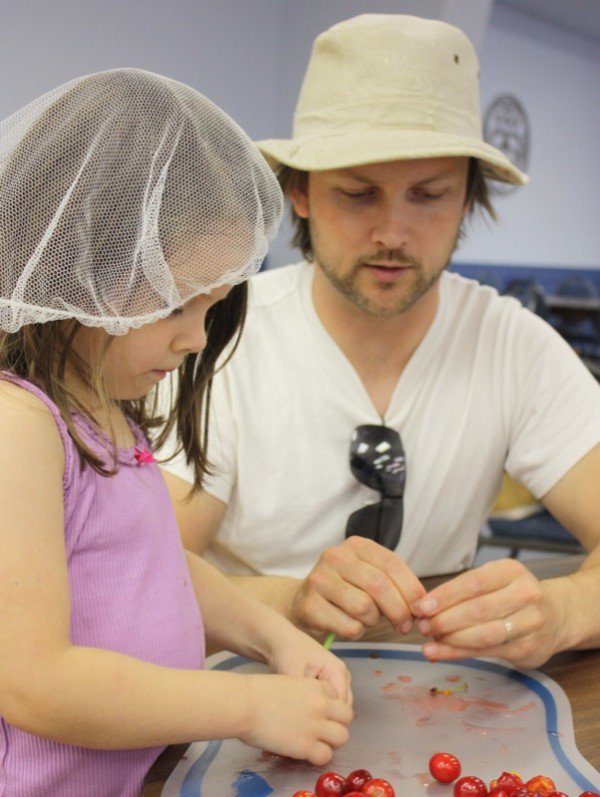 Johwanna supplied us each with a straw that is inserted into the stem end of the cherry over a bottle.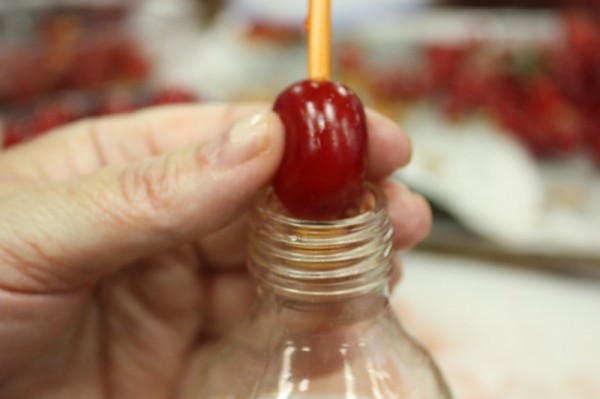 The pit is pushed straight through the cherry and into the bottle: slick and clean! Most of us didn't use bottles as there were not enough… but it worked well without them, too.
Look at that determination! It was such fun making such a productive day into a social activity!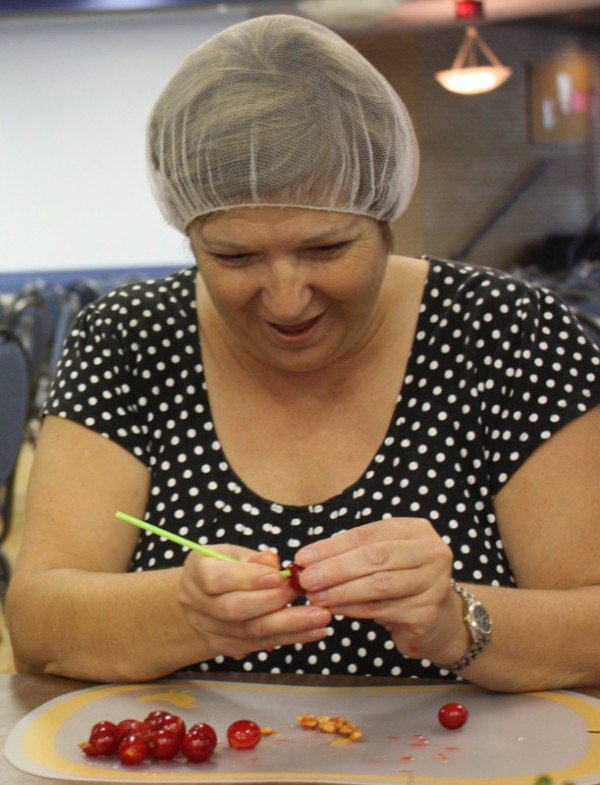 Time for treats! Johwanna didn't miss a beat. Crackers, cheese, and a sampling of the delicious Evan's Cherry Walnut Chutney to go with! Of course, Miss E was happy to serve.
It took us all about one and a half hours to pit the entire lot of cherries. We worked like a well oiled machine! Laughter was a great motivator.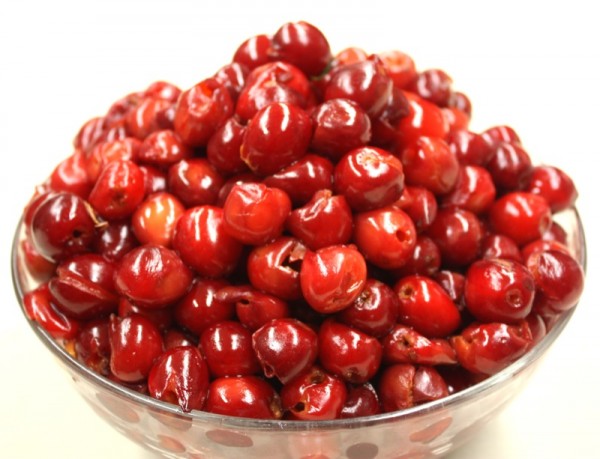 Johwanna had groups go into the kitchen to preserve their cherries in a simple syrup for a multitude of future uses. Her individual focus and instruction with each small group made the learning experience more personal.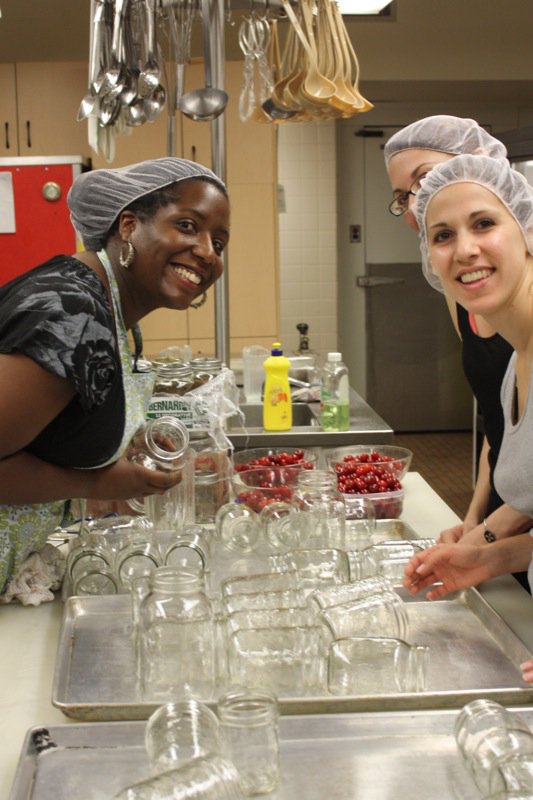 There was a huge "WOOT!" from the kitchen and I had to run back in: their first jars of cherries were canned and the excitement was "wooted" aloud!
Meanwhile the rest of us continued to pit cherries.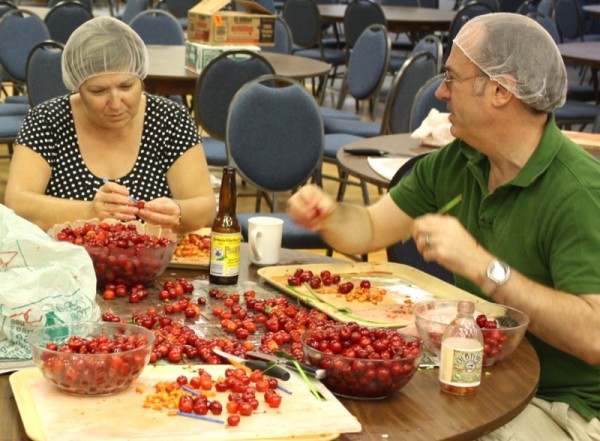 And another group made black currant and raspberry jam. The groups rotated through the day.
Each one having a blast!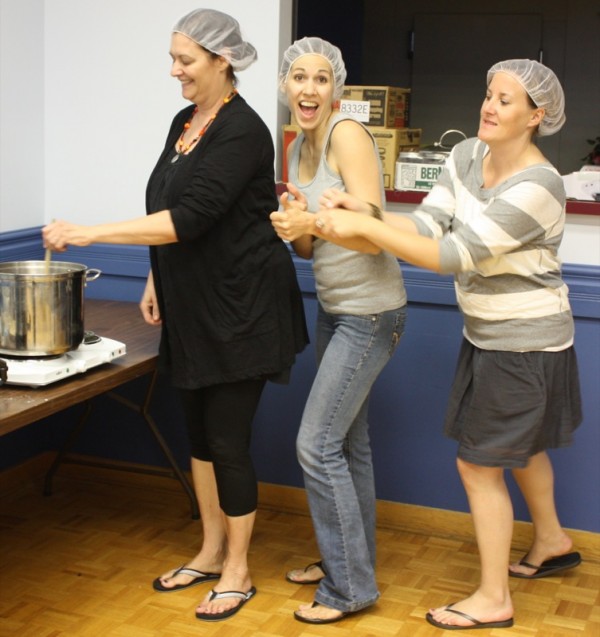 Thoughtful questions… helpful hands….
Chutney ingredients prepared after the cherries were all pitted…
Cherries, jams and chutneys….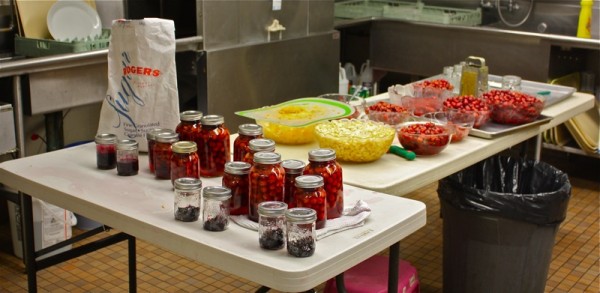 Family fun…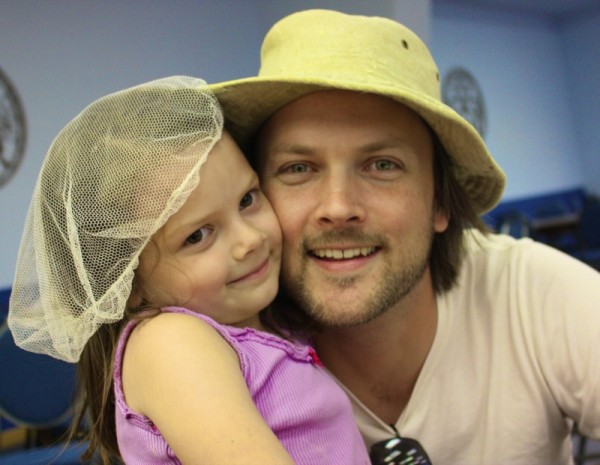 I had to leave early to go to the Old Country Tomato Fare at Salisbury Greenhouse, but after the chutney was finished, all participants were treated to a homemade pyrogie dinner handmade by the sweet ladies of the parish. What serious fun!
I came home to my own Evan's Cherry tree needing to be picked. This year there was very little fruit on the tree. Look at the surreal colour of these berries.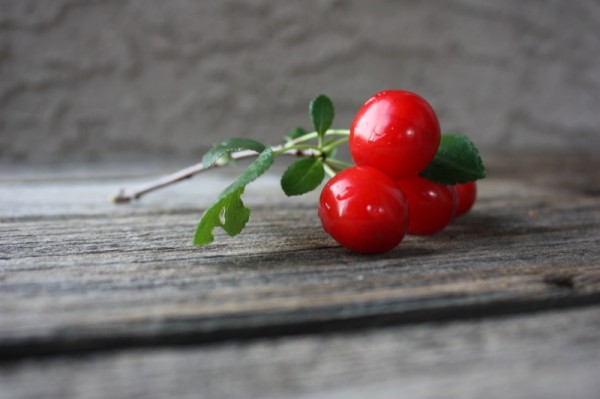 The photo of the portion of the tree bearing fruit looks fake because the cherry colour is simply so intense. That's all I got from my entire tree. Definitely enough for one lovely sauce, maybe two.
Certainly, it is clear why such preserved foods were so revered in the dark cold winters.
Evan's Cherry Walnut Citrus Chutney Recipe (water Bath Canning)
From Bernardin Guide to Home Preserving
Ingredients:
3c. tart apples (4 medium)
3c. pitted sour cherries
3/4 cup water
3.5 cups sugar
3 medium oranges and 3 lemons
3/4 cup chopped walnuts
1/4 cup amaretto
Instructions:
Peel core and chop apples: measure 3 cups; combine cherries with their juice, apples and water in a large stainless steel saucepan
Using a rasp or grater, zest oranges and one lemon; add to cherries
Remove remaining white membrane and peel from citrus fruit, discard seeds and chop fruit; add to cherries
Bring fruit mixture to a full boil, stirring constantly
Stirring frequently, gently boil 10 to 15 minutes or until cherries are soft
Stir in sugar until dissolved; boil gently, stirring occasionally until mixture thickens and reaches a gel stage: about 30 – 40 minutes
Stir in walnuts; if using liqueur, remove conserve from heat and stir in amaretto
Return conserve to a boil; stirring constantly, boil until mixture reaches desired consistency: about 3 to 5 minutes
Remove from heat.Makes 7 250 jars.  Boil in canner 15 min.
Note:
Chop all ingredients a similar size: apples, cherries, oranges and walnuts for even cooking and a pleasing mouth feel
If you prefer conserves with a tart flavour, omit the amaretto as it adds a touch of sweetness