Slow Food International's Bi-Annual International Food Conference and Global Market of Taste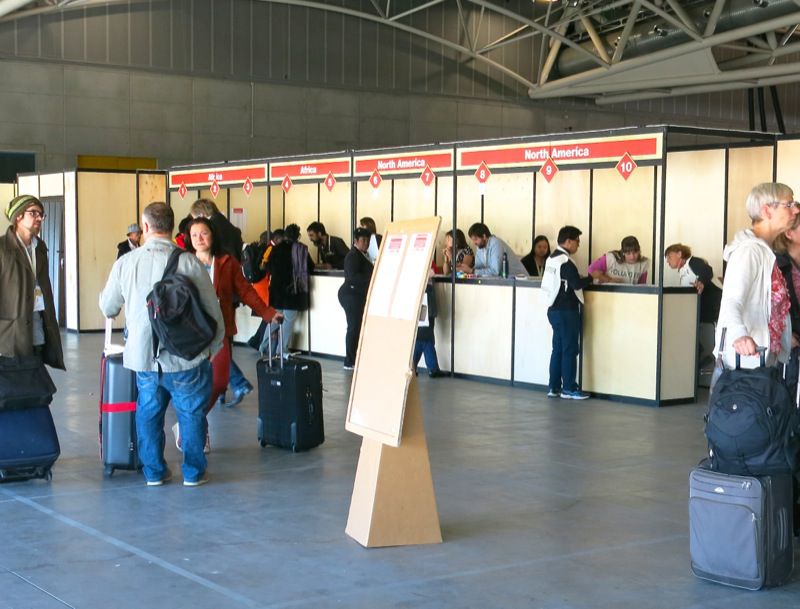 After 20 hours enroute to Torino, Italy, for my first visit to Terra Madre (Mother Earth), I arrived at the Olympic Oval for Delegate registration. Overwhelmed would be an understatement.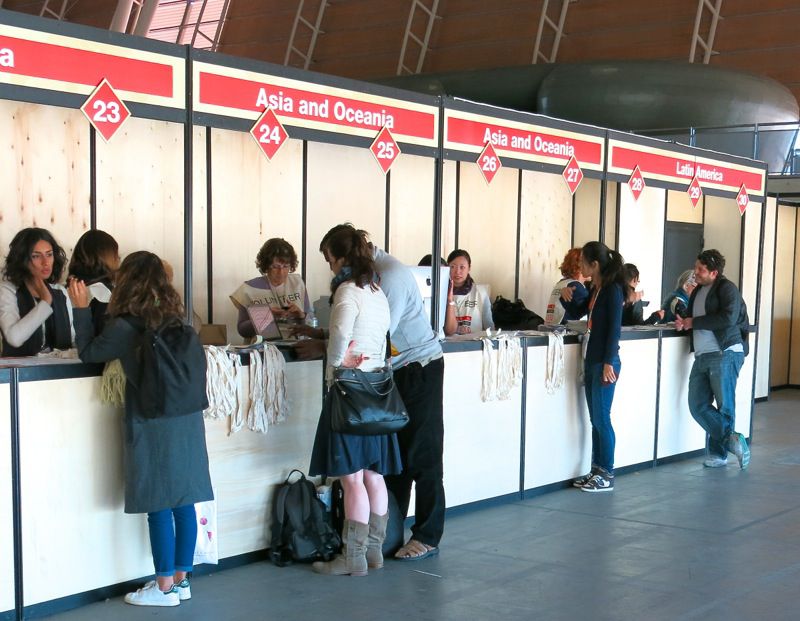 Alongside 3999 delegates representing 950 food communities in 158 countries, I was and am extremely honoured to have been selected as a Slow Food Delegate from Edmonton, Alberta, Canada, via the national Canadian network to attend Terra Madre and Salone del Gusto 2014 for my years of volunteer service within this vast and important world changing organization.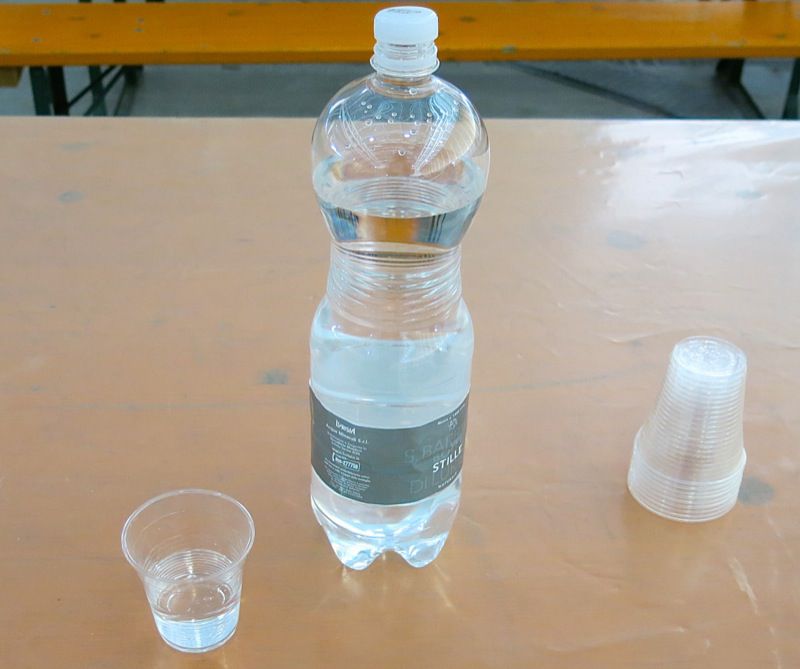 Delegates pay airfare and are then hosted completely by Slow Food International. Sometimes, a delegate's local convivium (chapter) will raise funds to pay for the airfare. Sometimes there are government grants or sponsors that pay for airfare. This is very important for delegates that receive this honour, but cannot afford the airfare. To imagine that 4000 of us are picked up from the airport, housed in hotels or homes via billeting, fed three meals a day, transported from accommodations to and from the event every day, provided full entry access to Terra Madre and Salone del Gusto and then driven back to the airport at the end of the 6 days is mind boggling from an organizational standpoint. Yet, Slow Food International does it, and does it well. After registration and over 24 hours without sleep, the water on the table in the canteen was worthy of a photograph. I sat. I gulped, then sipped. Then sank, deeply into my chair and looked around.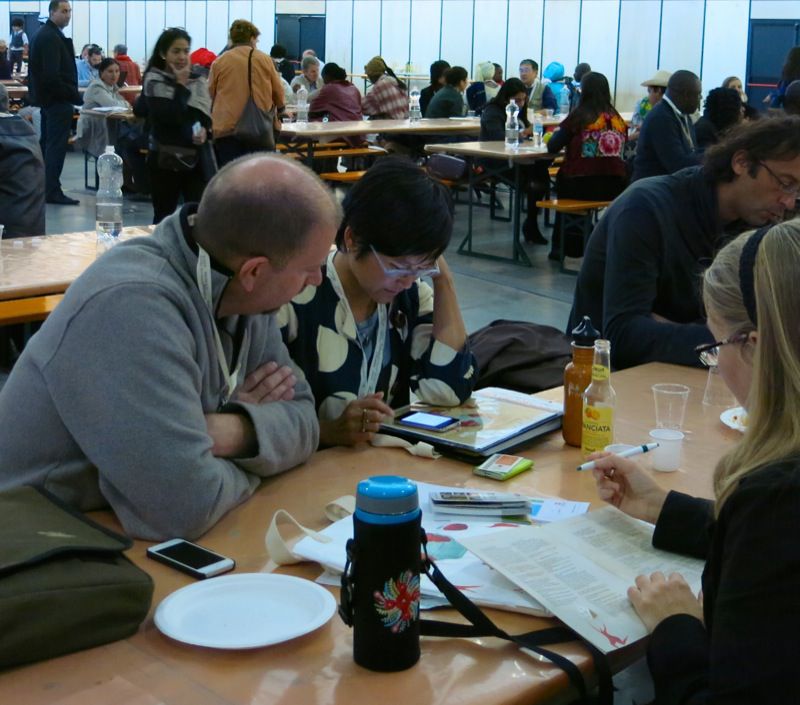 The room was not full, yet filled with people from all over the world, in clusters, alone – chatting, eating, plotting…. or simply exhausted. I had passed by a few laying on the cement floor at registration entry, sleeping. We were to check our bags, refresh in this space, eat the hot and hardy meal provided, somehow recharge and attend the opening ceremonies in another location at 7 pm. Our bags were to be taken with us to that location, checked, and then taken with us to our accommodation check in at 11 pm that evening. Oh, to be young again, and able to tolerate such plans!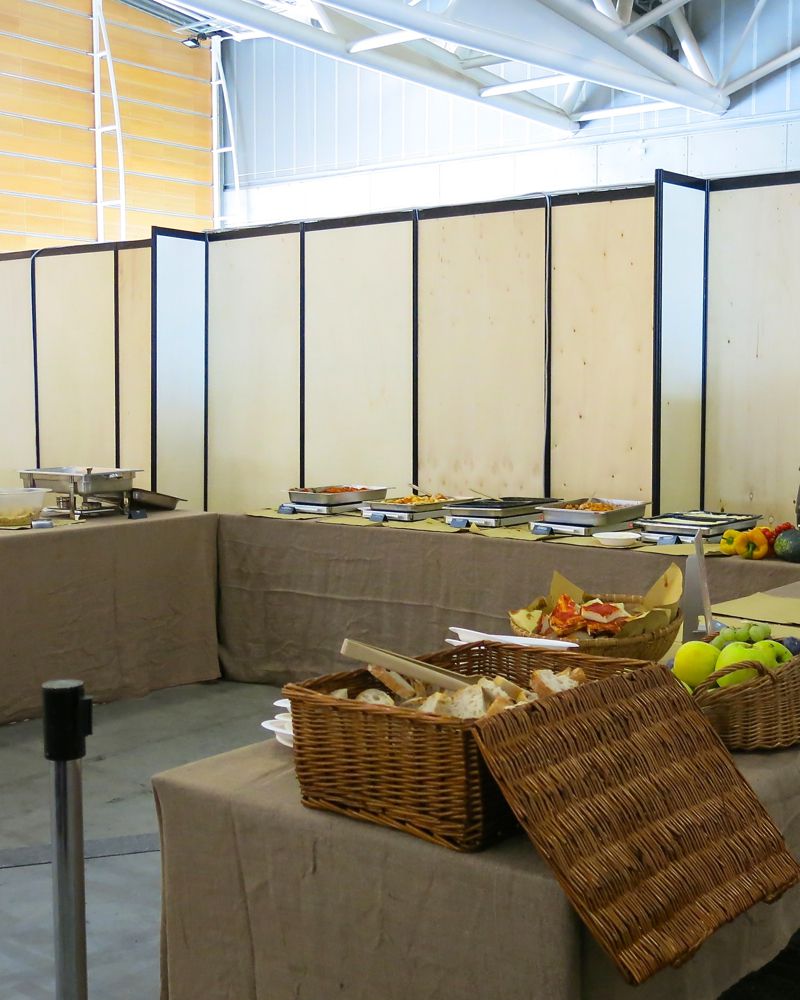 There were 5 U-shaped food stations at one end of the huge canteen space. Two were open at this time.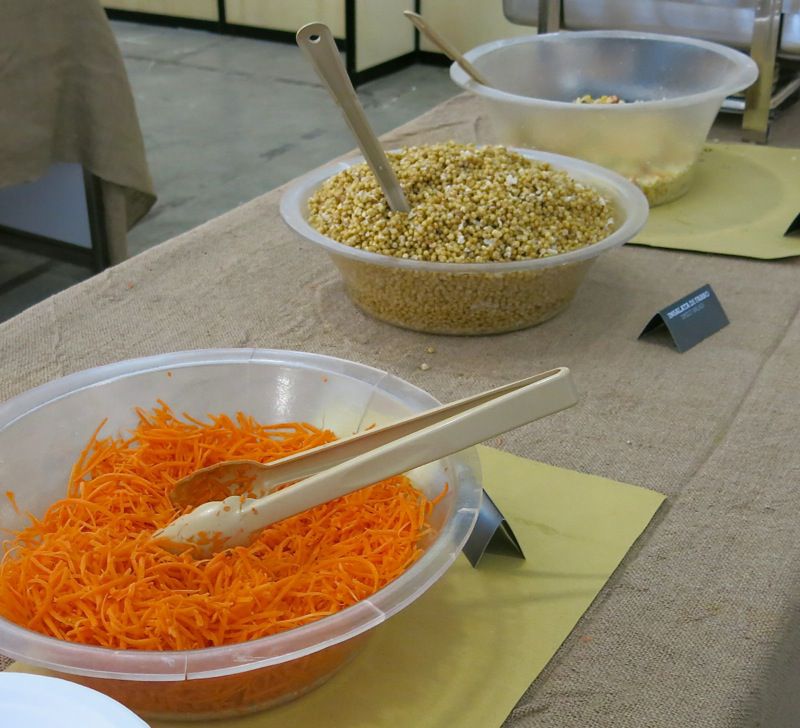 Plates, napkins and cutlery were at the start, followed by an ever changing choice of three salads. This was the same for every lunch and dinner. Breakfasts were provided at the accommodation location.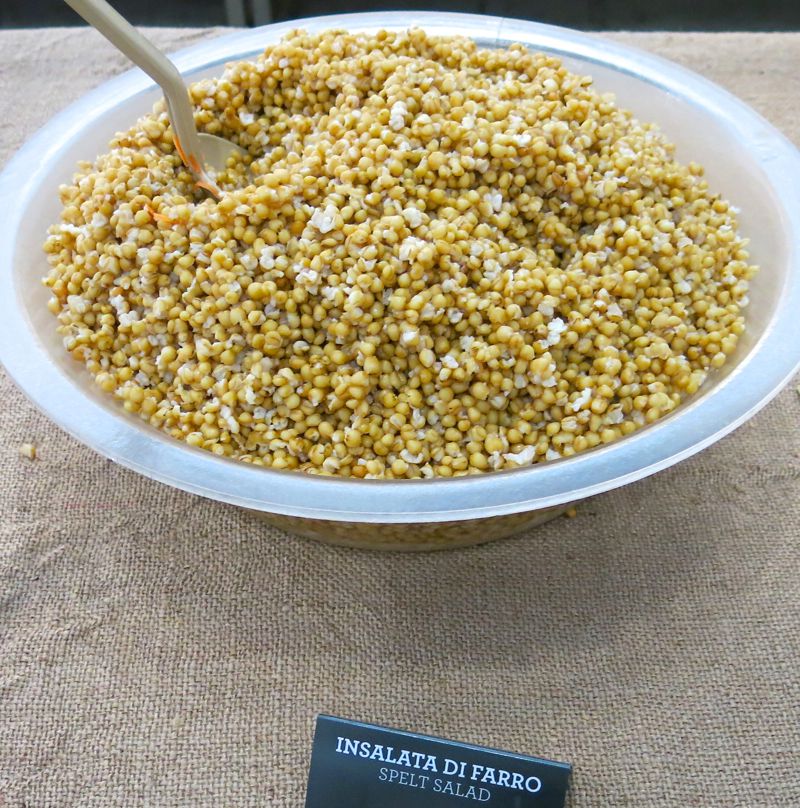 I could not possibly taste it all. I was almost too tired to open my mouth. The farro or spelt salad was appealing.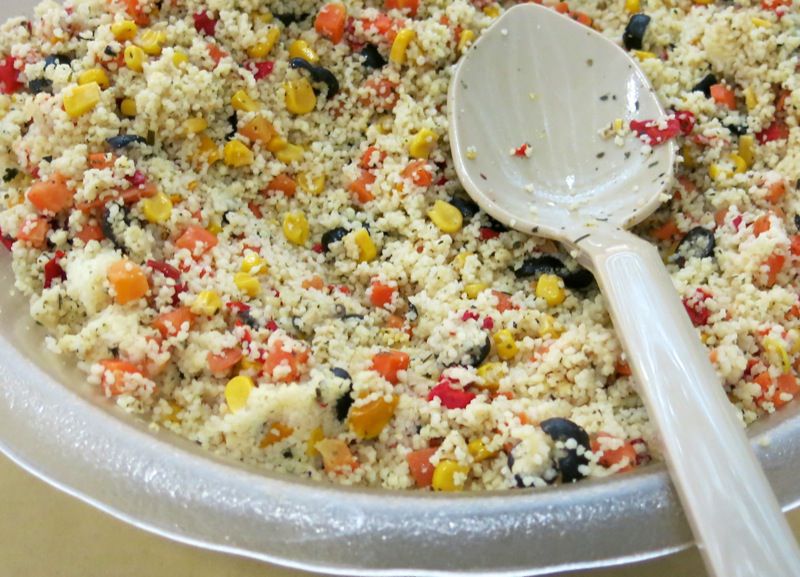 The quinoa salad looked delicious. I wandered how tasty the grated carrots would be, yet was impressed by the choices, considering the vast number of palates and cultures this food had to appeal to.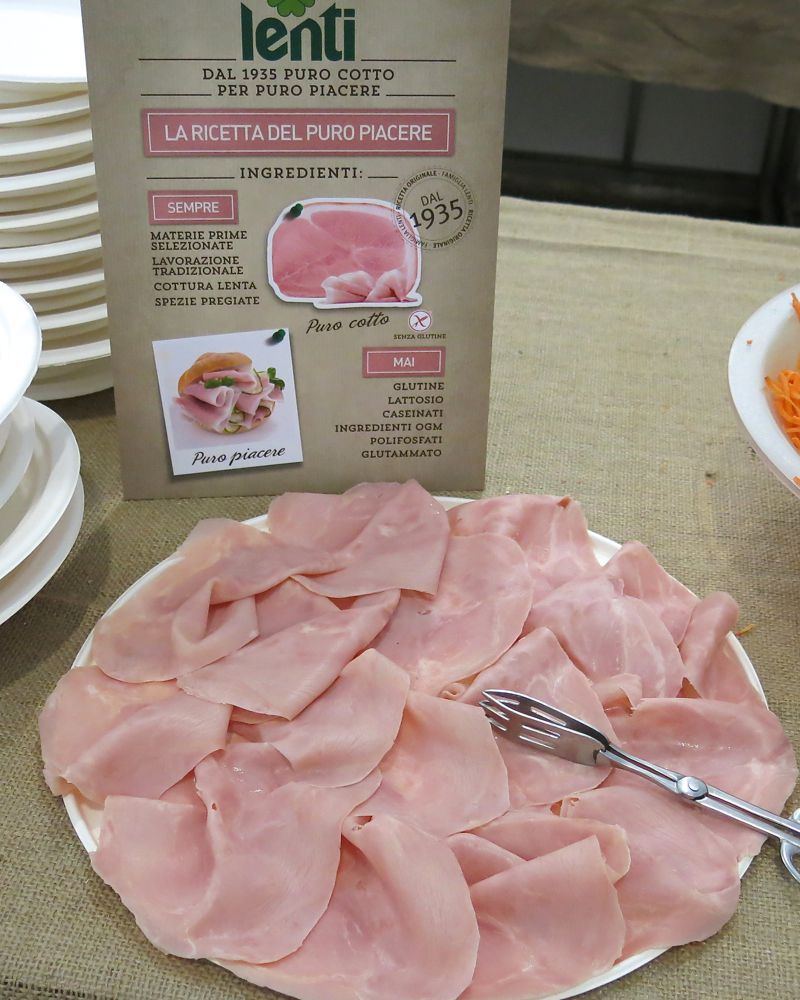 This was a treat. Every meal there was some kind of unexpected "special" treat.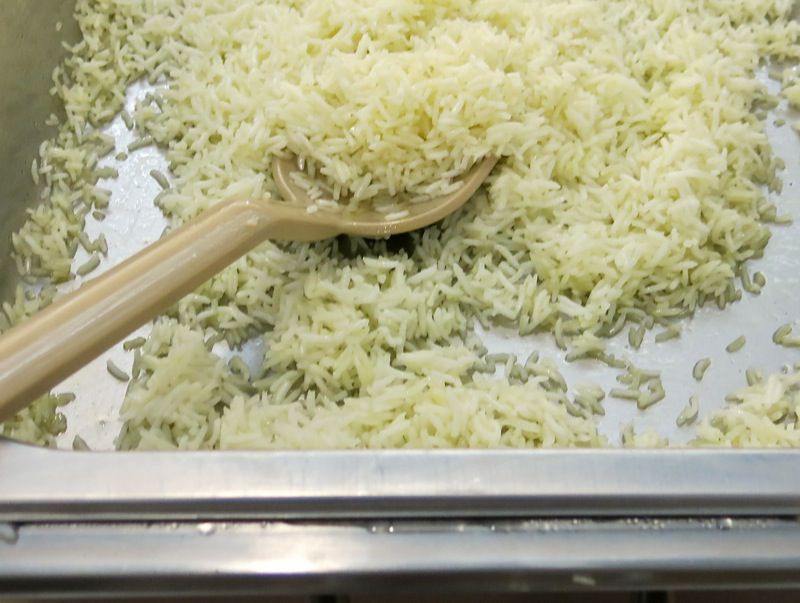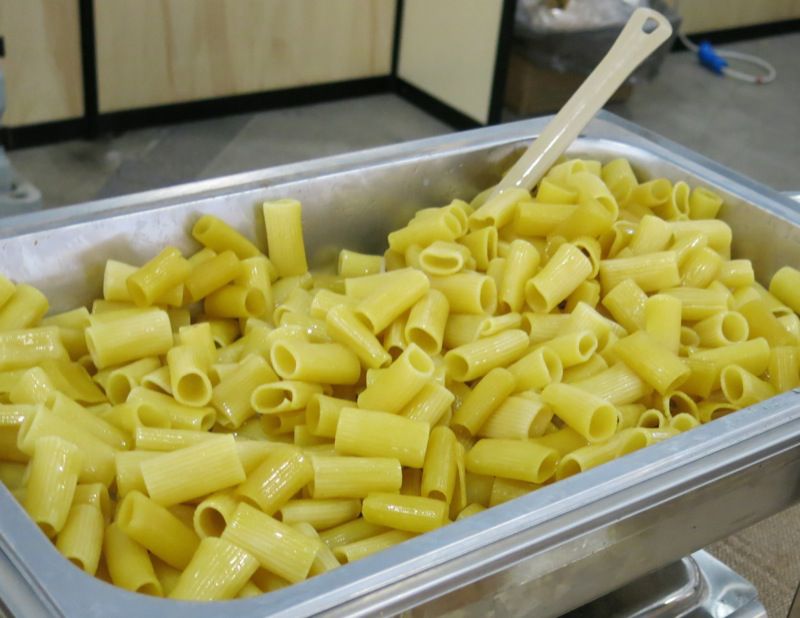 Today there was a plain rice at the end of the salad bar. This was always there as was a plain pasta.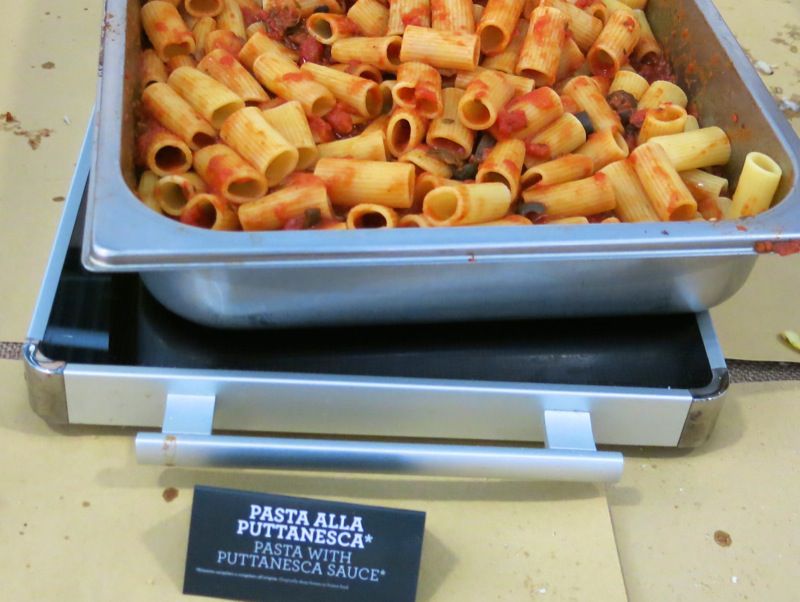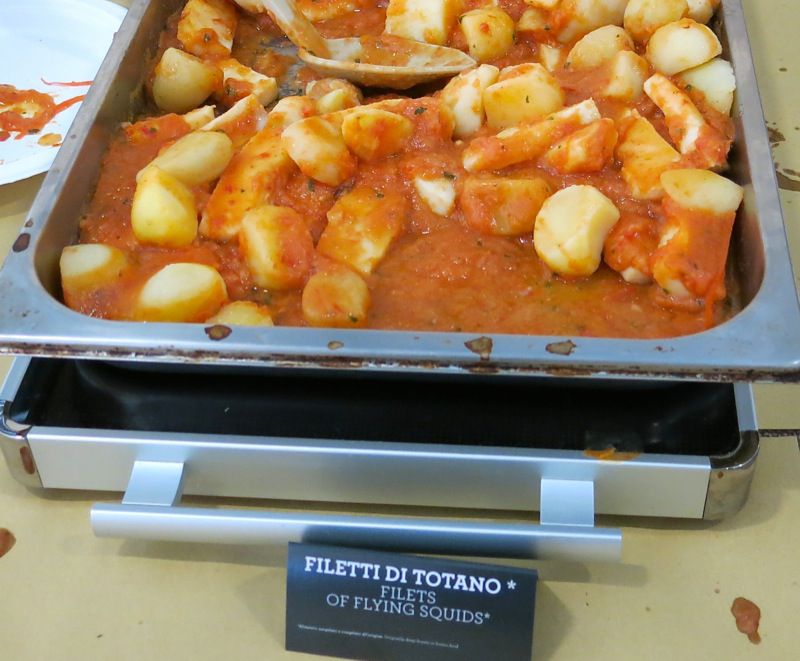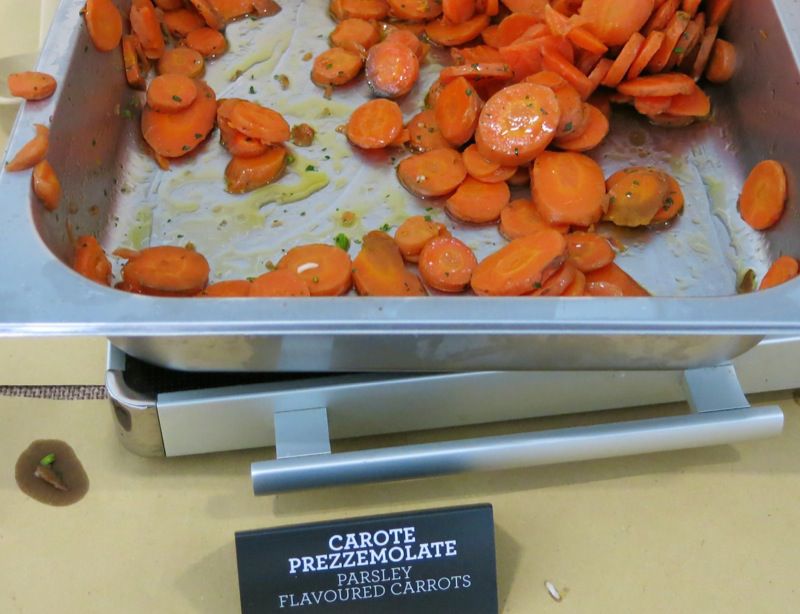 Five hot dishes followed at every meal. I am missing the vegetarian lasagna and the beef and gravy in the above array.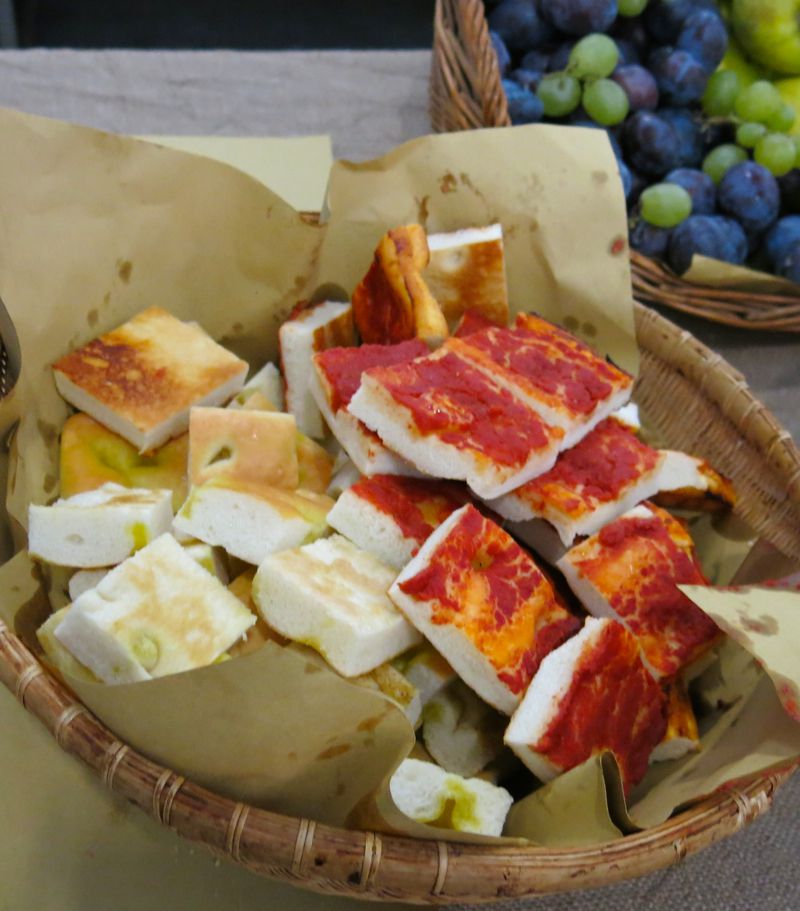 Sometimes cheeses, and always an assortment of breads came next.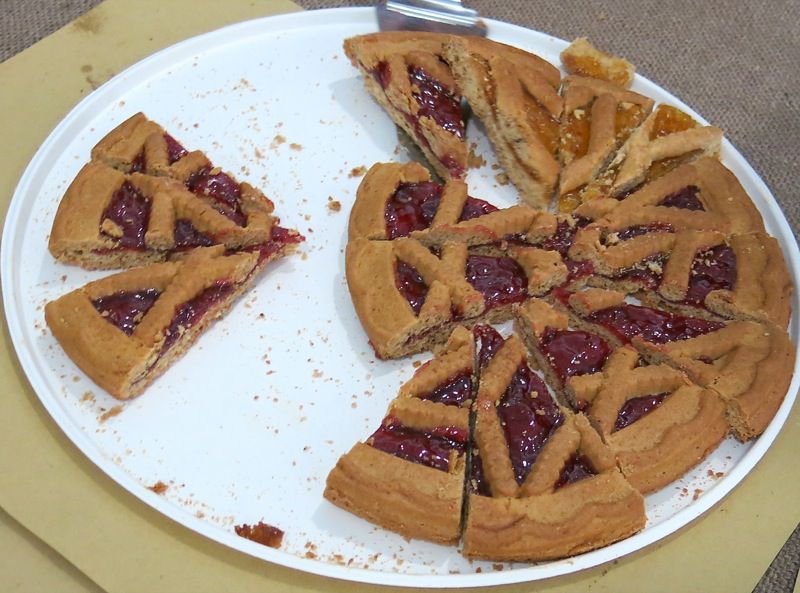 Usually one pastry or dessert followed by a large bowl of fresh fruit which you can see behind the bread, above.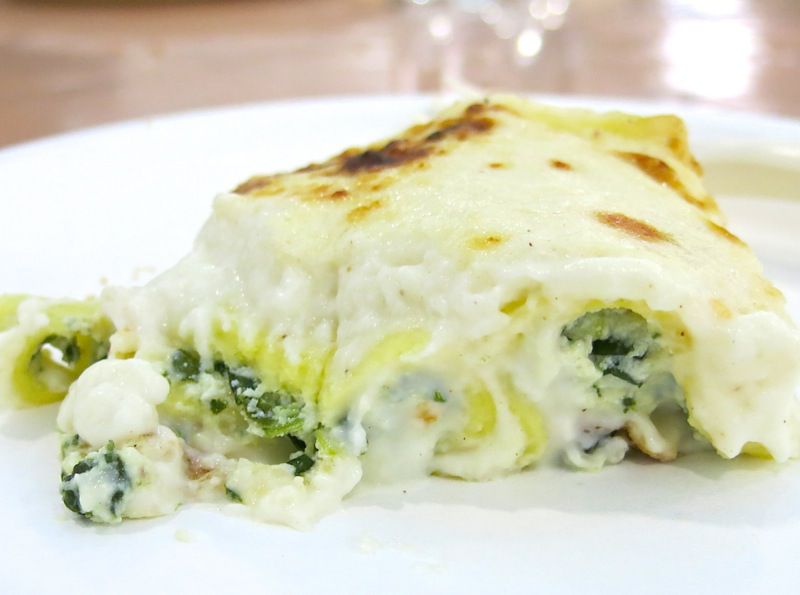 Spying this spinach lasagna somehow pumped motivating energy into me, and I ate it – all. This was a luxurious, nutmeg infused velvety welcome to Italy. How can canteen food taste so good? Only in Italy.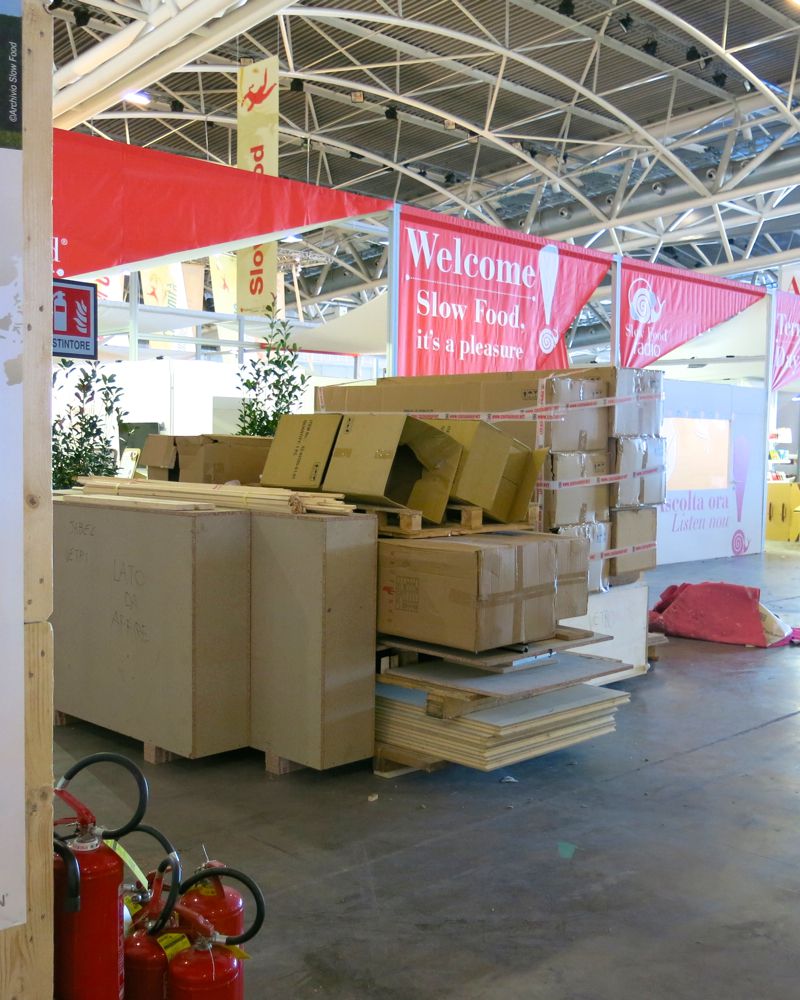 No opening ceremony for me. Of course, I had looked forward to attending. At this point, accessing my physicality, completely out of the question. Taxi, please! Wandering past the canteen, I found myself in the global area of Salone del Gusto which was opening tomorrow at 10 am. How in the world would this be ready by then, I wondered?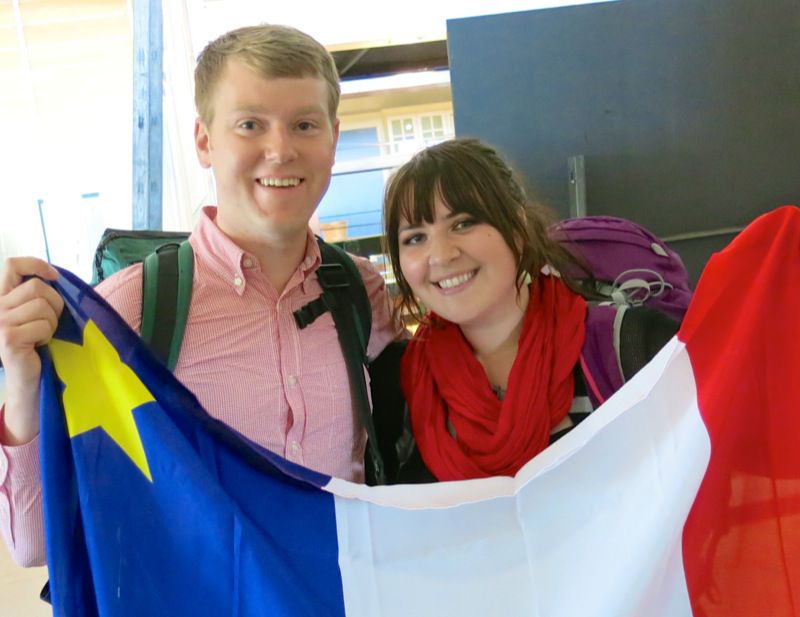 Turning my first corner, I ran into 5 people from Canada! Only workers were in the room – and then Canadians! Christina and Maxime were welcome faces. I was so happy to see them. Hugs felt great! A photo of them with their Canadian Acadian flag was a must. These two young people are taking Slow Food in Canada in a direction it has needed to go for a very long while. That is "far"! Maxime Gauvin and Christina Allain are both from the Cocagne Acadie convivium in New Brunswick.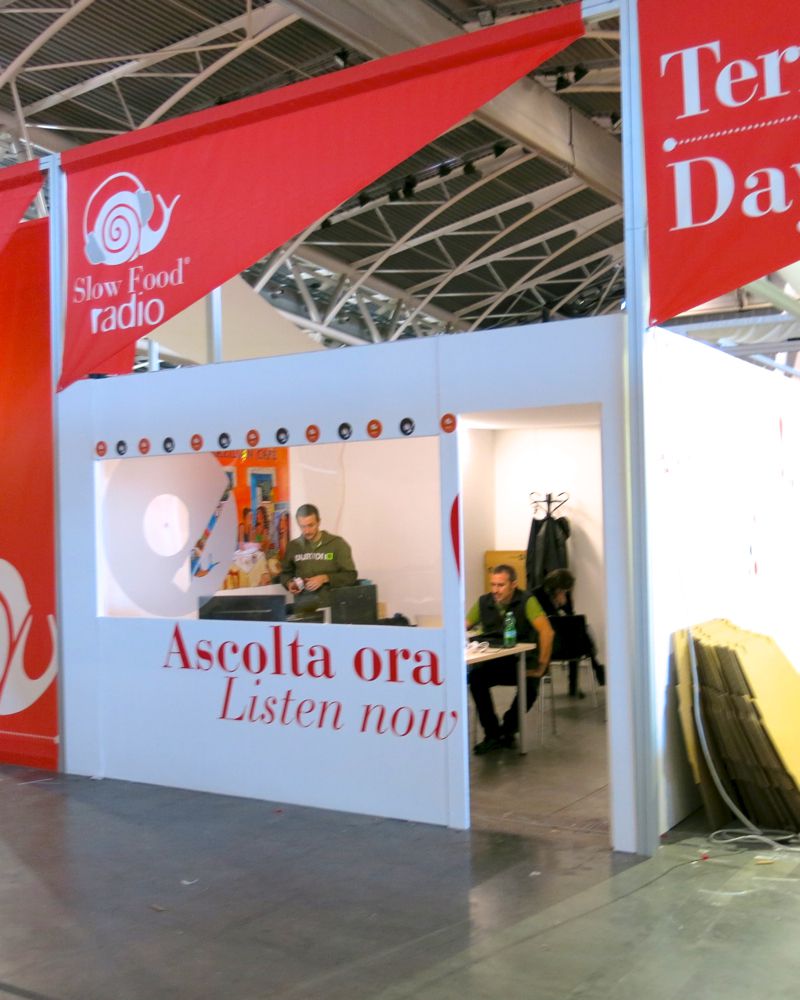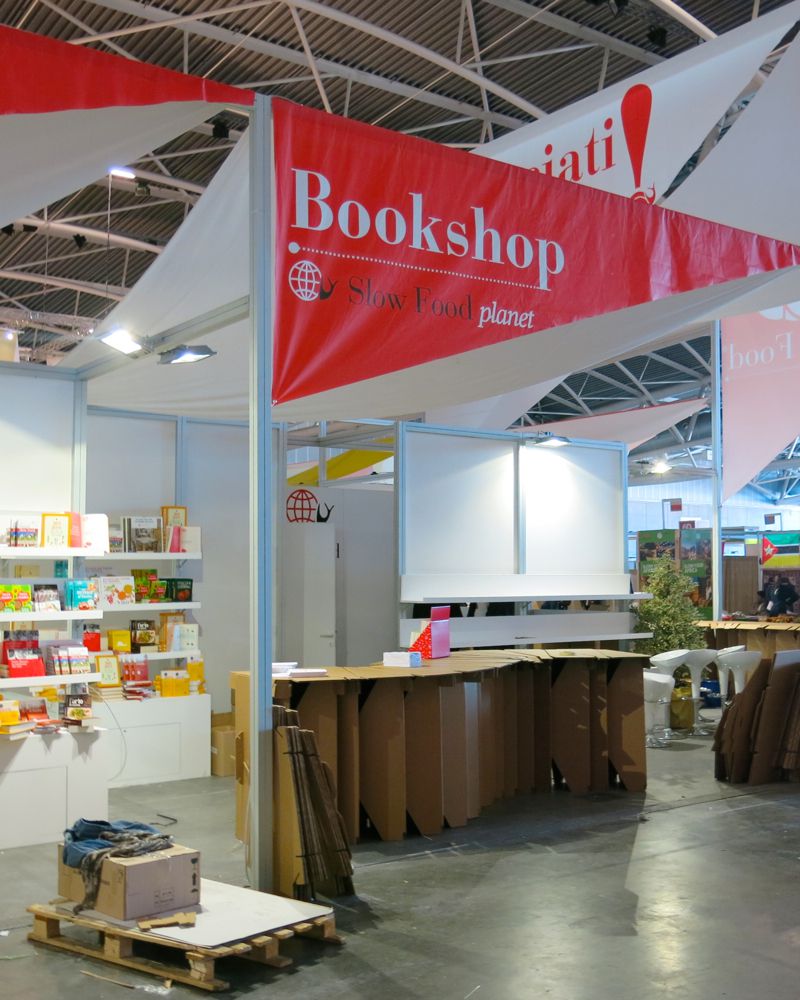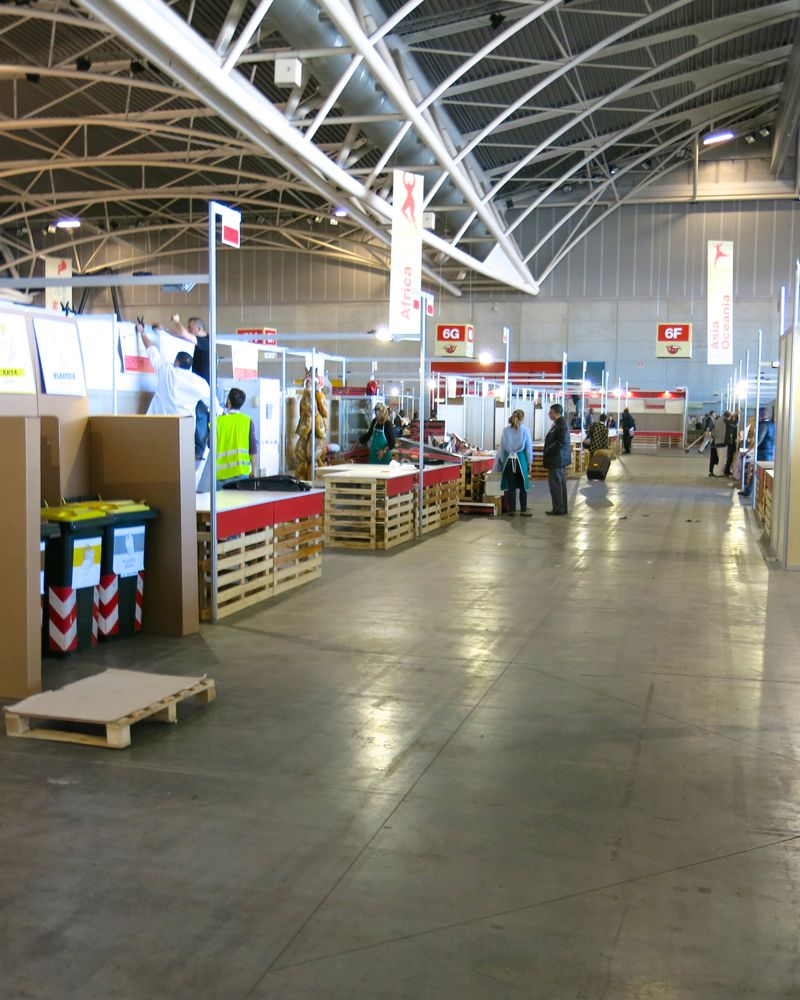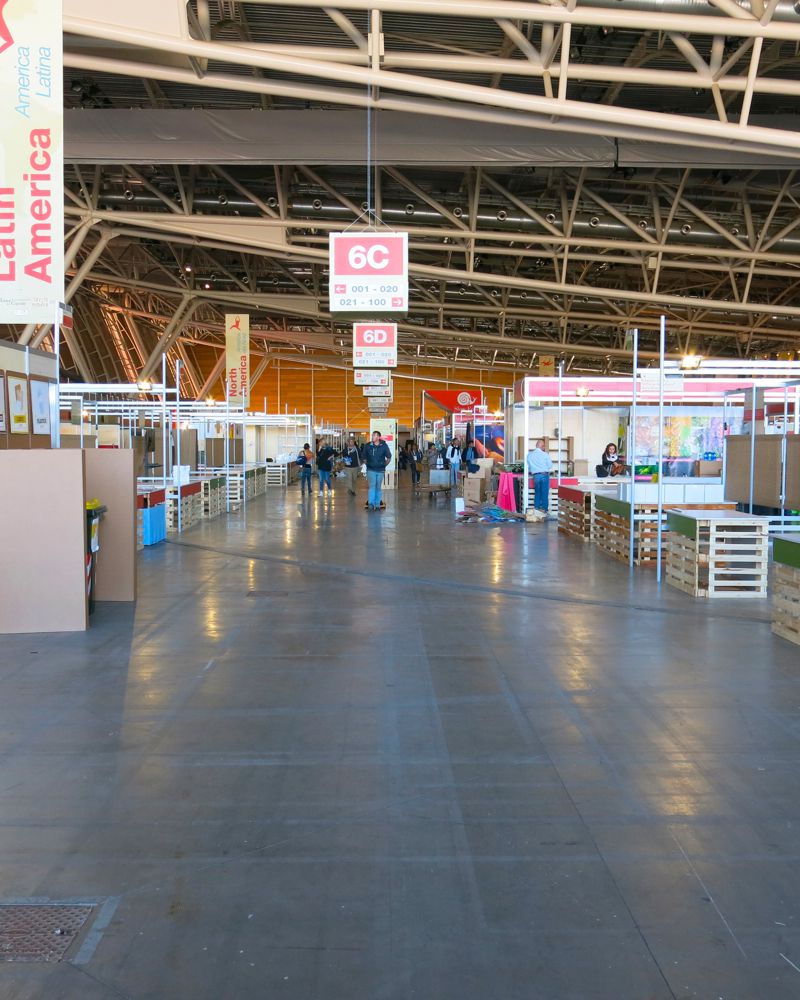 There was Slow Food Radio, a Slow Food Bookstore Booth, booths from countries around the world. In the middle of this space I would later learn was the display of the Ark of Taste Foods and a space for free tasting workshops. Where was a taxi? How would I find one?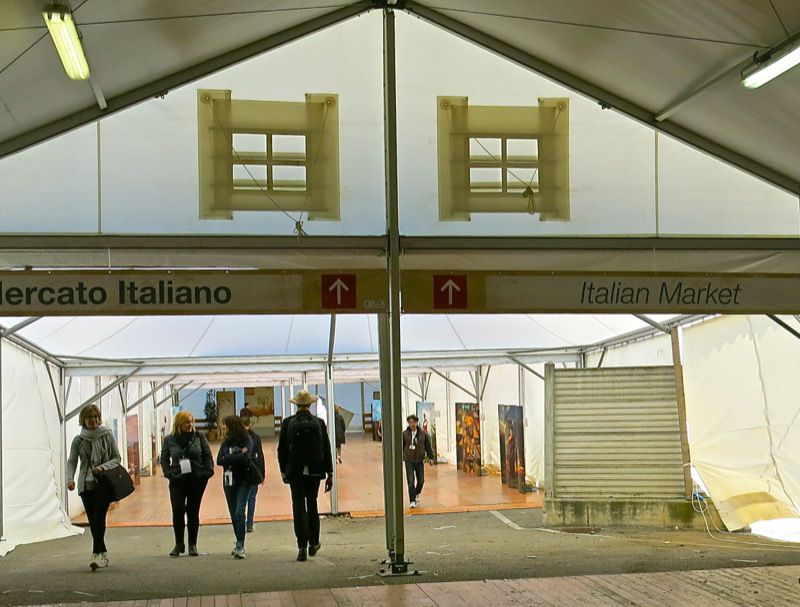 Moving from this stationary spot through a labyrinth to what I would later learn would be the Enoteca (wine tasting space) and the three Italian halls that house booths for Salone del Gusto. One for the world and three for Italy! This space was not so clean. How would they be ready for tomorrow?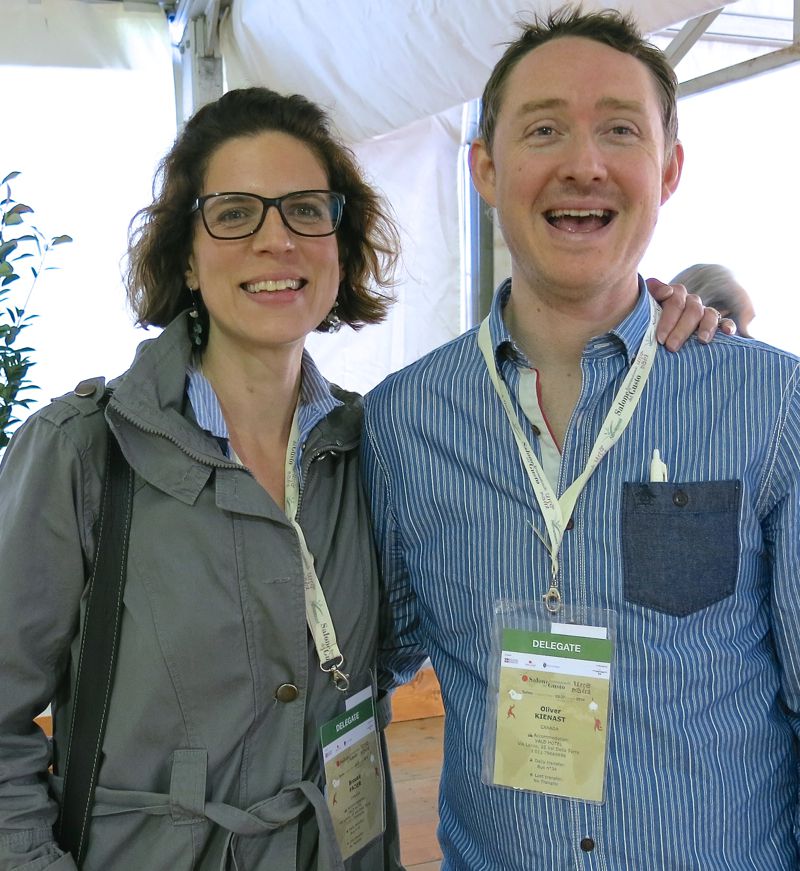 Turning the next corner, and I do not tell a lie, was Brooke and Oliver! Two more welcome faces! Oliver Kienast is the Chef at Sooke Harbor House on Vancouver Island and Brooke is his wife and convivium leader of the Vancouver Island and Gulf Island Convivium as well as an integral leader in Slow Food in Canada's Slow Fish campaign. So wonderful to see them with so few people passing by!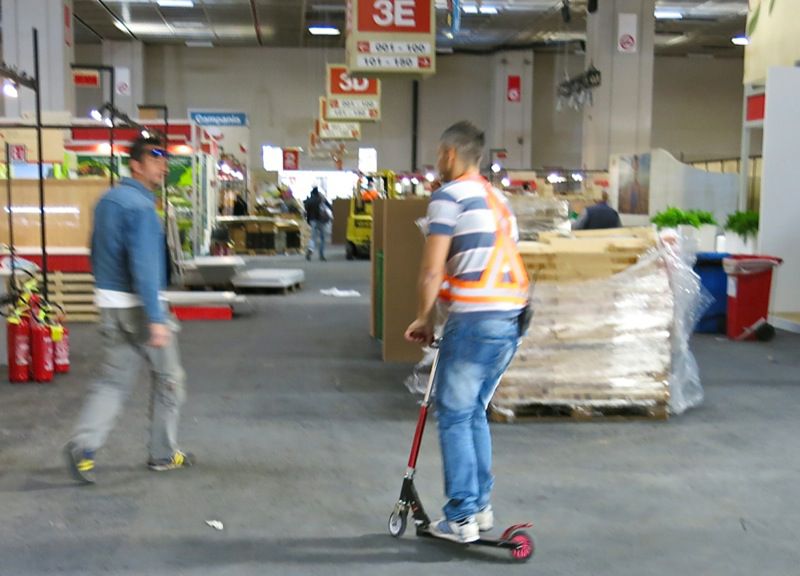 The Italian market had a completely different vibe than the quiet global market. It was alive with disorder, conviviality, life and confusion. Chaos in every direction, I had no idea where to go… so I just went…. on. I am not sure how, but I found myself moving forward, completely dazed.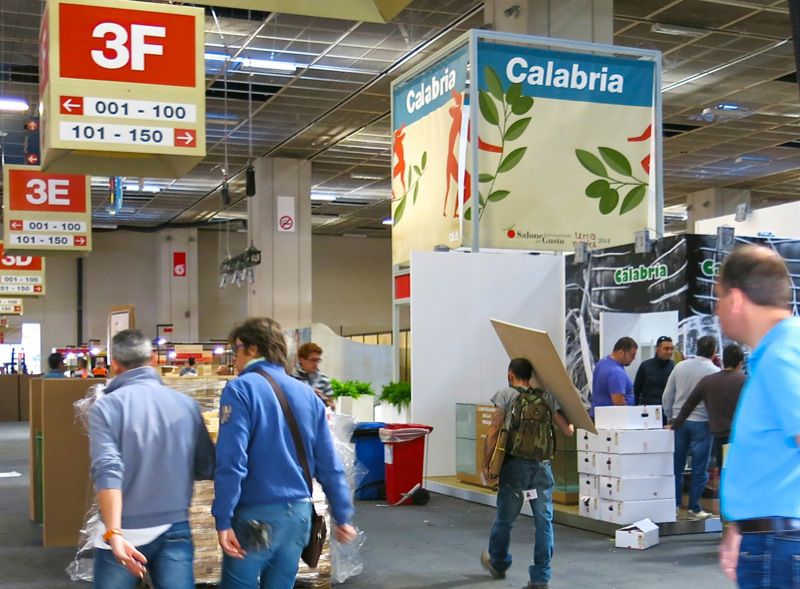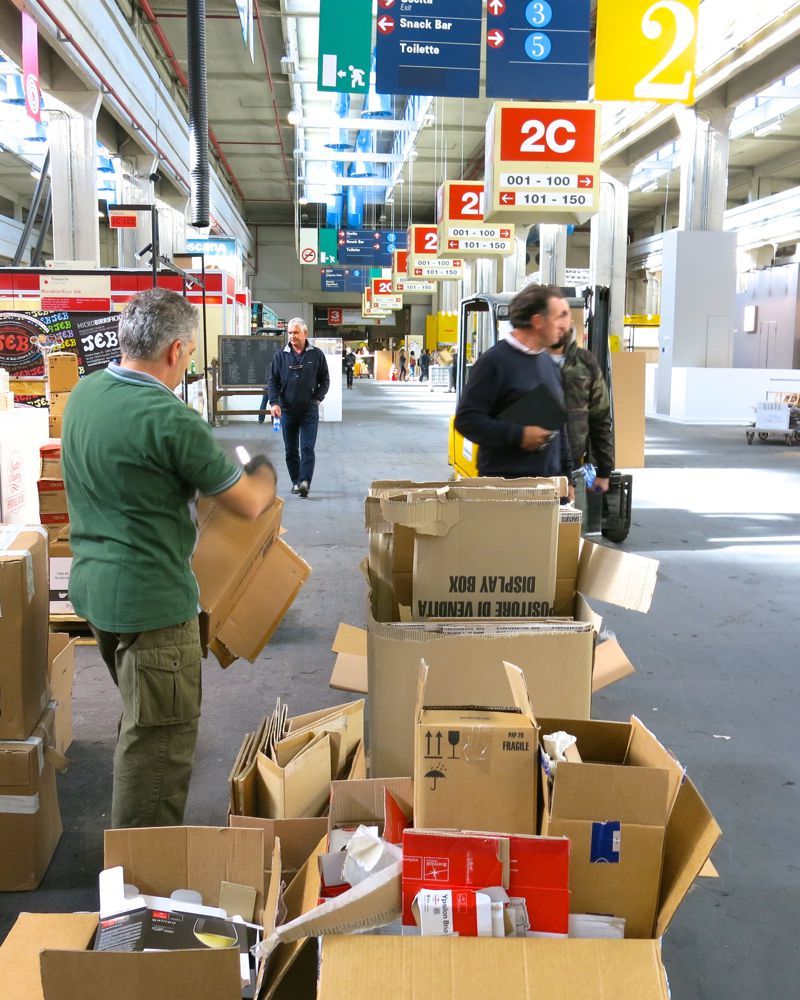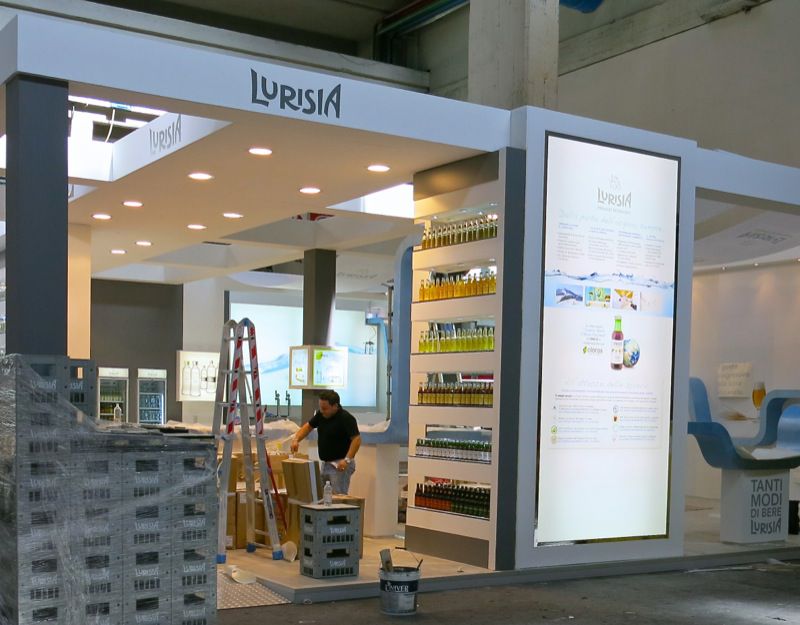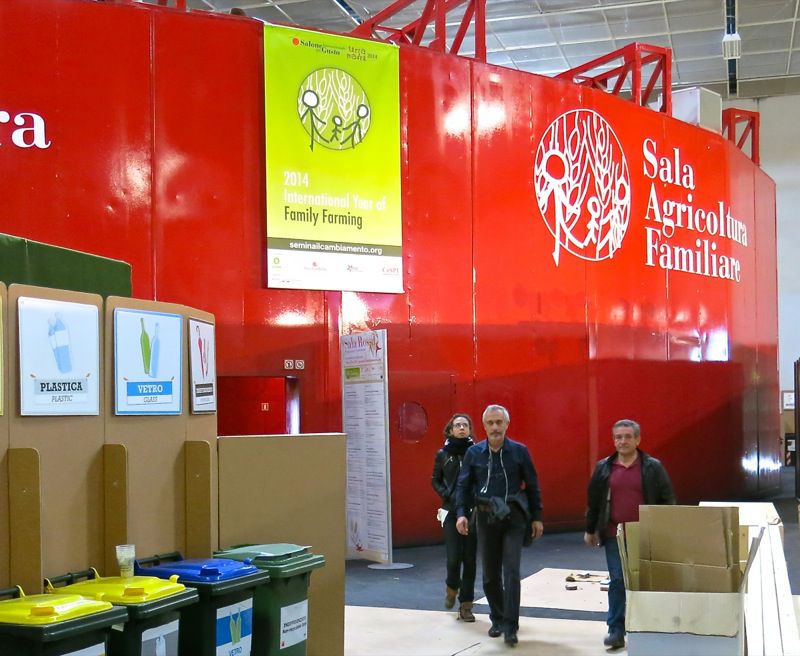 The theme for Terra Madre this year is the Family Farm as the United Nations declared 2014 to be the year of the Family Farm.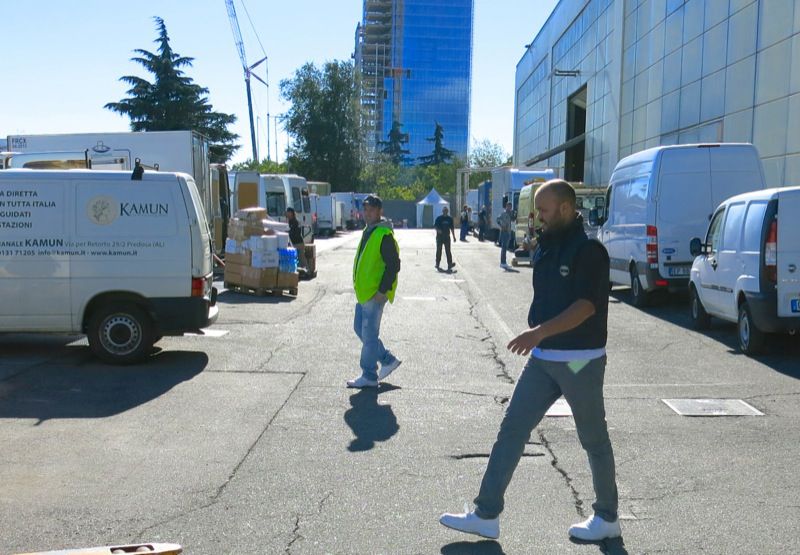 And then I am outside. Endless vans and trucks line the back road unloading… but no taxi, and so I continue…. on.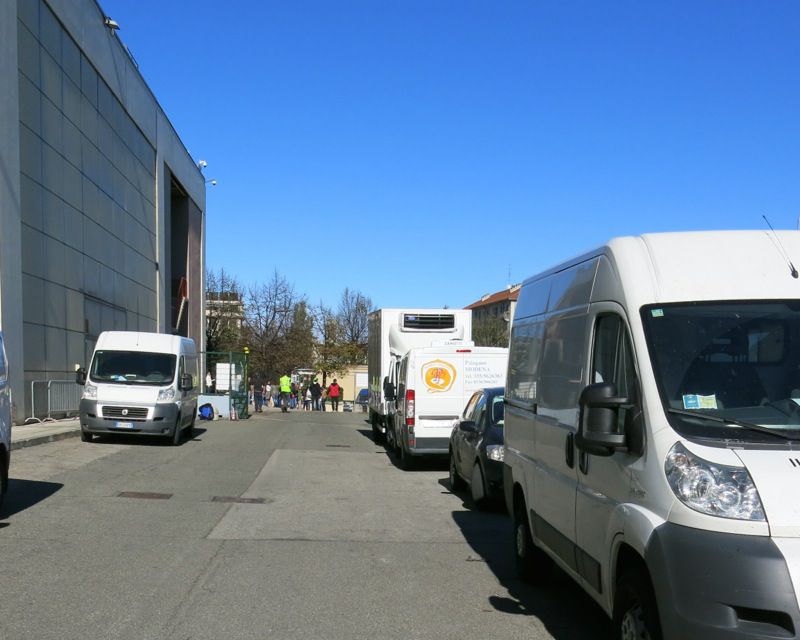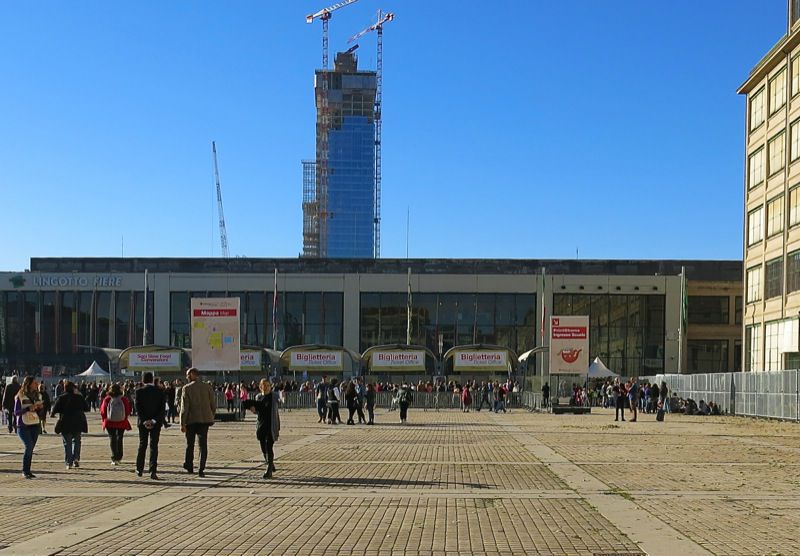 I took this photo the following day, but walked past this empty space and did not even recognize it as the entrance.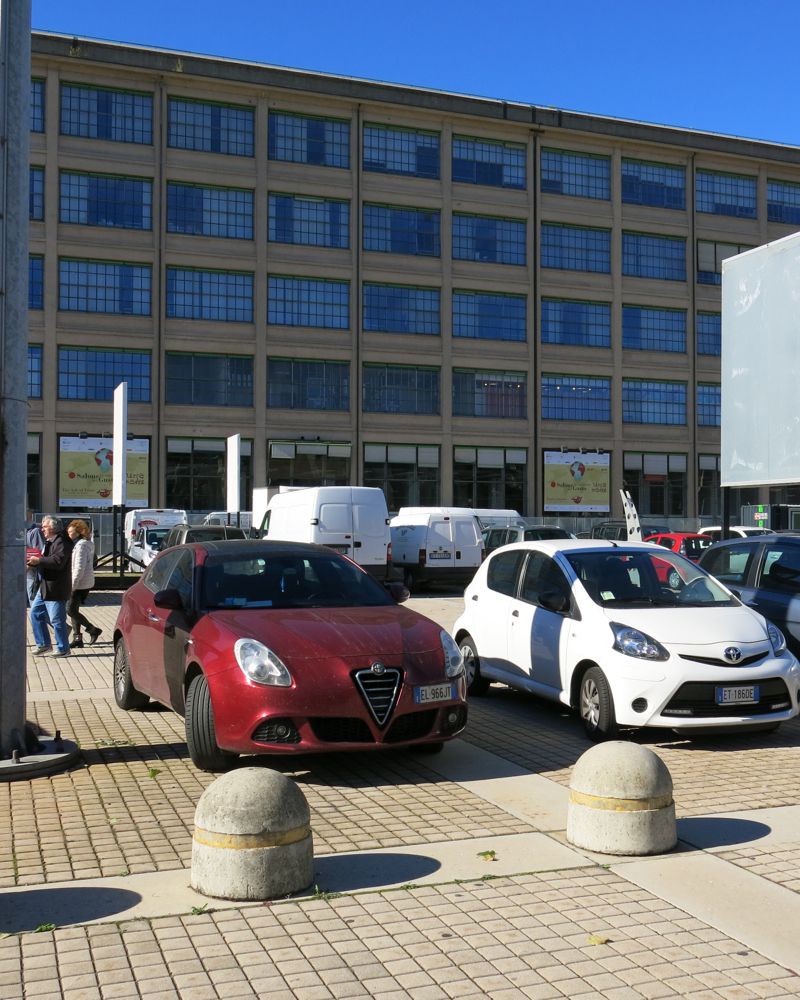 The accreditation offices for The Press are at the doors, above.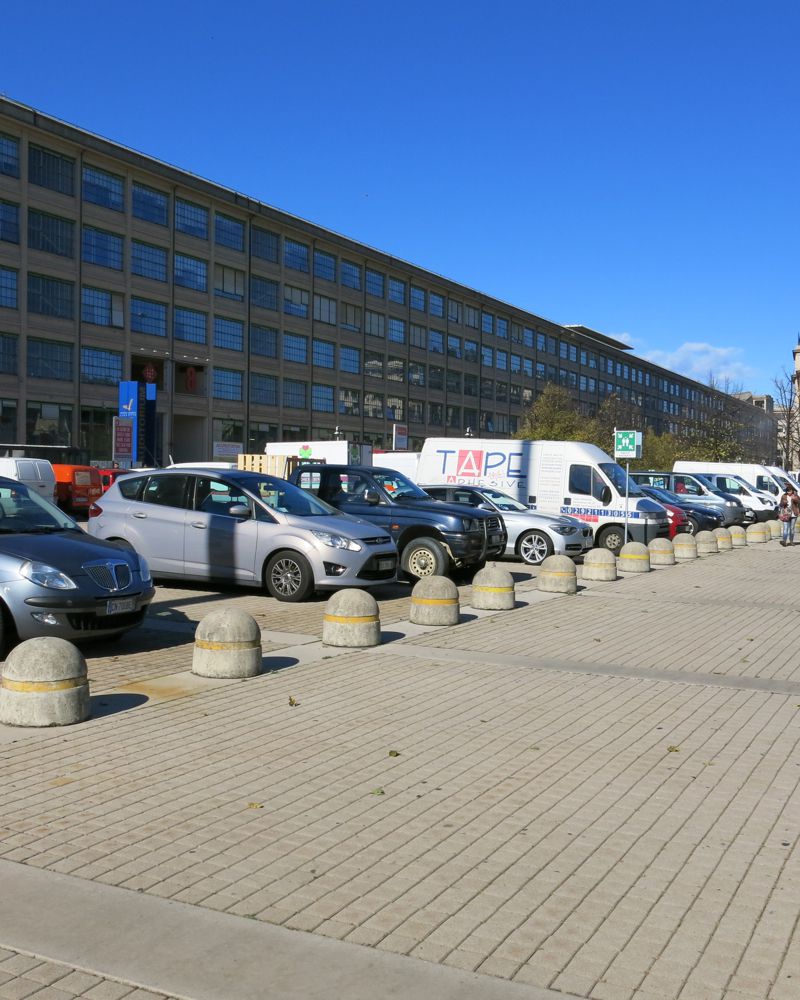 This long building is The Lingotto and goes on for a few blocks. It was built in the 1920's and was then a state of the art Fiat Factory. In Inside of it are the Terra Madre workshops and tastings. On the second floor is a mall. On the roof are outdoor cafes and who knows what else. In the mid 1980's the building was reconfigure into a modern complex including concert halls, theatres, a convention centre, shopping arcades and a hotel. The headquarters of the Automotive Engineering faculty of the Polytechnic University of Turin is also located in the building. The original race track was retained on the roof of the shopping mall.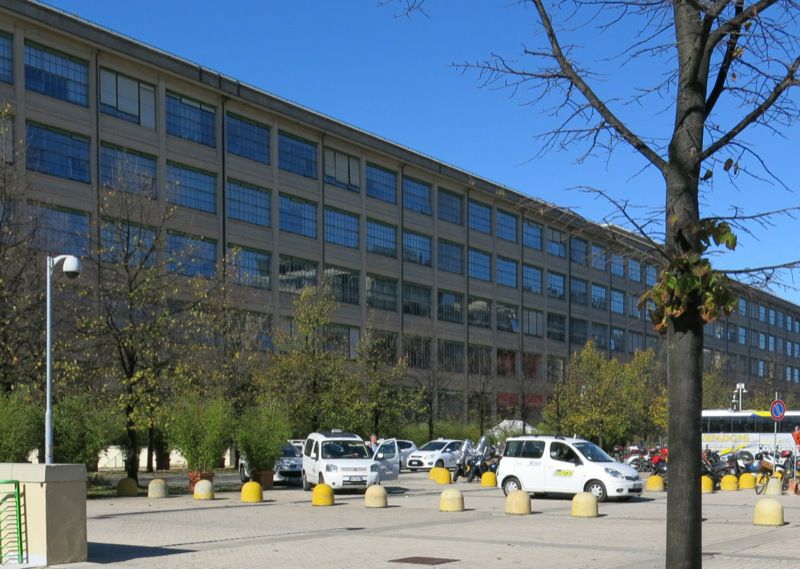 Do you see what I see? A Taxi! There is my man. Above, to the left. Forty Five euro later I found myself at a gorgeous little hotel that was housing all Canadian delegates 30 kilometers out of town.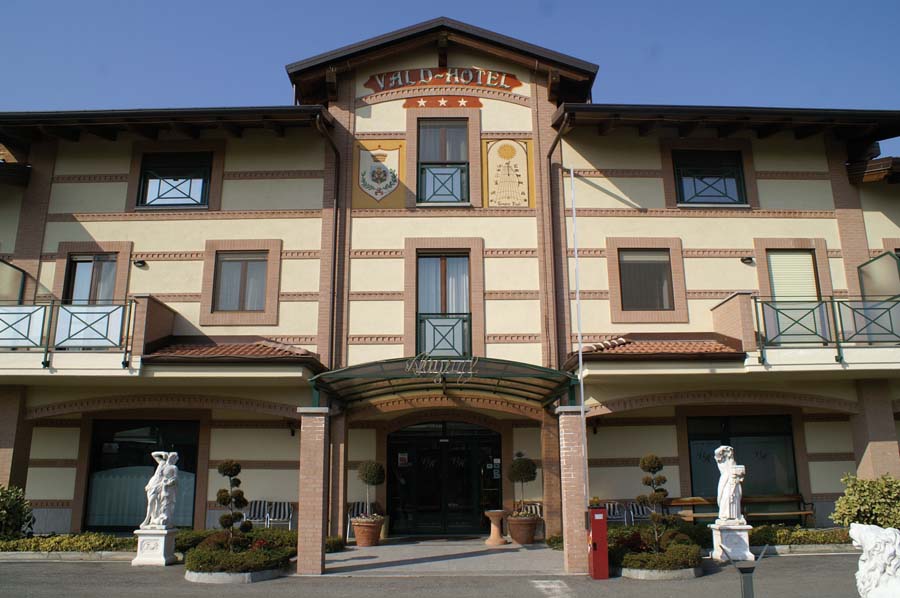 The bus was leaving for the event tomorrow at 6:45 am. Still overwhelmed and disoriented, but relieved to have such a nice clean room. Time for a shower and bed.