Prairie Garden Summer Salad: The Best Thing I Ever Ate!

My good cyber friend, Valerie, aka More Than Burnt Toast, started a brilliant little blogging series called: The Best Thing I Ever Ate. I think she should do it again. It seems to me she did it in late Winter. I posted my preserved oven roasted tomatoes then. This Spring, The Best Thing I Ever Ate was my thinly sliced French Breakfast radishes with butter and fleur de sel on bread. This summer, it is this Prairie Garden Summer Salad.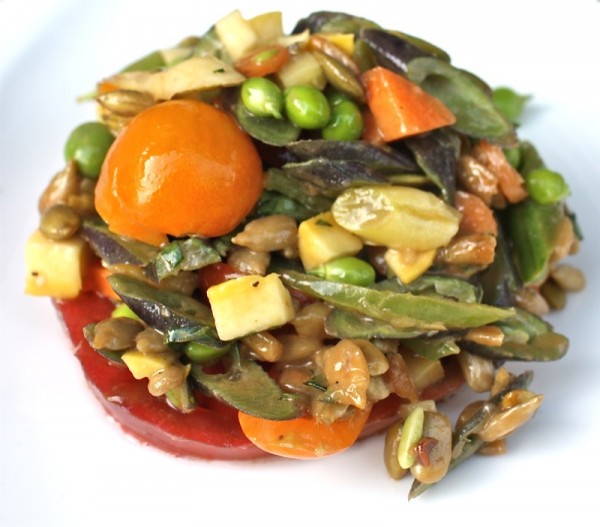 Why? Fresh. Fresh everything. Freshly shelled garden peas. That would almost be enough. Young sweet garden carrots, freshly cut crisp garden beans and gorgeous mild zephyr zucchini. Luscious cherry tomatoes bursting with flavour. Why else? Crunch! Crunchy fresh summer garden vegetables and crunchy savory salty tasted seeds. And the sweet, tart dressing was definitely the crowning glory of this salad. A subtle little "hello"!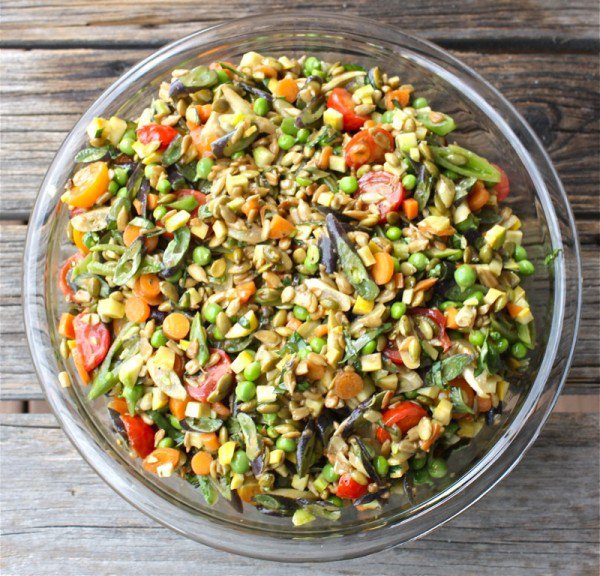 When Maria and I were at The Tomato Fare, this salad made an impression. I had to get the recipe! The gal at Prairie Gardens Adventure Farms booth serving the salad promised to send it to me if I wrote and asked her for it. How lucky are we? This is a great salad and now I want to visit the farm. Check out their website. It looks like a blast for the entire family!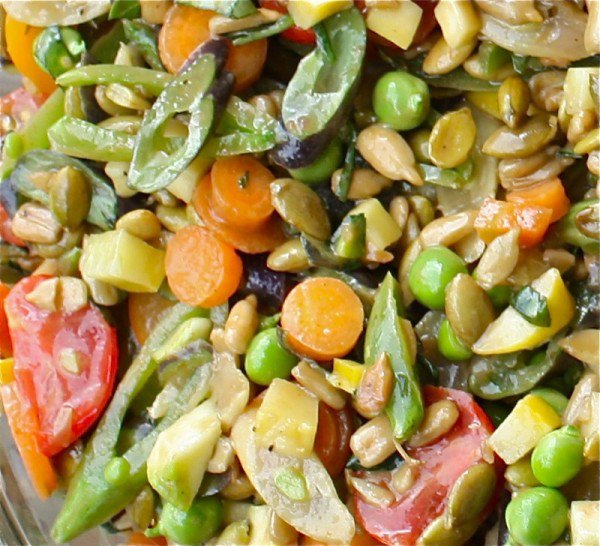 Time to get out my ancient bean slicer. I have not used it for over thirty years. It is a great little instrument that slices beans diagonally very quickly. Perfect for slicing blanched beans and freezing family portions in bags: almost as fresh as from the garden when they land on the table done this way! I am so glad I still have it. I used it so much as a young wife! I bought most of the ingredients for the salad from the Prairie Gardens Adventure Farms booth unless I grew them myself.
Prairie Garden Summer Salad: Preparing the Beans
I had only seen Zephyr zucchini at The Ferry Building market in San Francisco so was delighted to find them at The Tomato Fare!
Prairie Garden Summer Salad: Preparing the Zucchini
I did have my own carrots and garlic in the garden. You will note carrots are not even in the recipe! But, they were in the salad so it was either an oversight or just inspiration. That is what should always guide a good cook, anyway. (The garlic was in the dressing.)
Prairie Garden Summer Salad: Preparing the New Carrots and the Dressing
I bought a tub of peas from Prairie Gardens Adventure Farms and enjoyed shelling them, thinking of the salad! The snow peas are also a great addition and I have enjoyed them often in salads cut like this.
Prairie Garden Summer Salad: Preparing the Sugar Snap Peas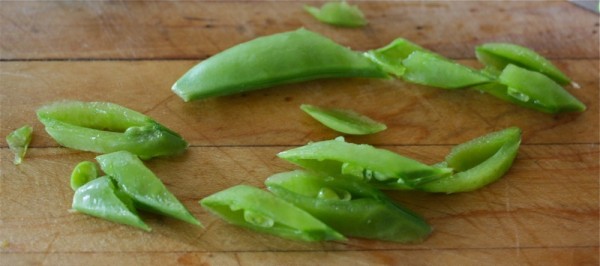 This is what I put in my salad. Each bowl is a generous cup. I would suggest a quarter cup of each item would feed 15 people as it is such a dense salad.. You can imagine how much salad I had! I could have had twice as many cherry tomatoes for balance but did not need any more volume as I was making this salad for two of us at lunch and for five of us for supper. The amount you see below would have made about 50 portions. I kid you not. Live and learn! I was excited. What can I say? And, I had a blast making it.
Prairie Garden Summer Salad: Mis en Place
This it is a salad you do not want to dress until just prior to eating. Another lesson learned. It loses a level of vibrancy.
Prairie Garden Summer Salad: The Dressing
Is this not summer in a bowl?
Prairie Garden Summer Salad: Putting it all Together
I had a beautiful heirloom Purple Cherokee tomato from the garden I sliced to mound each serving upon.
What a gift.
Prairie Garden Summer Salad: Add Edible Flowers!
After Note, Summer 2015: Edible prairie garden summer flowers add such a happy little punctuation mark on this dish, whether served in a bowl, or individually.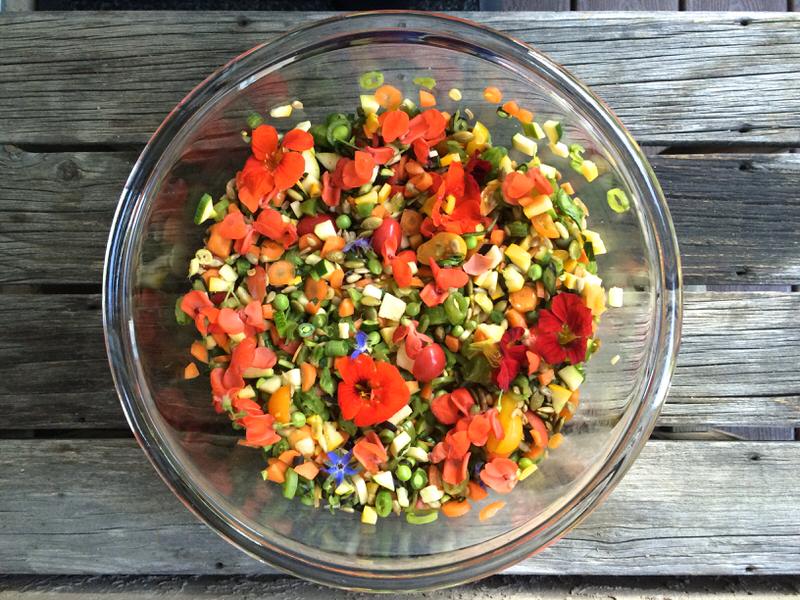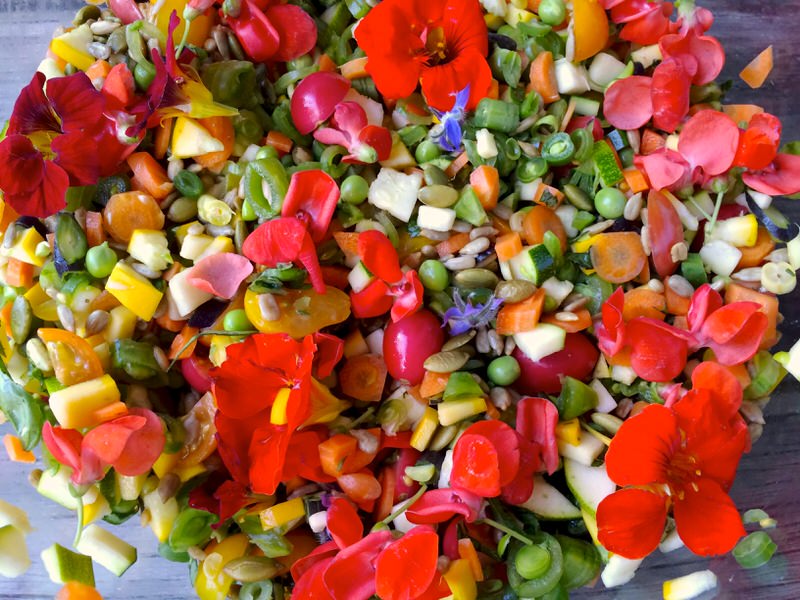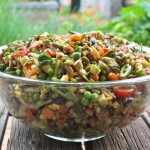 Prairie Garden Summer Salad


Raw food at its prime: the fragrance of this combination of mid summer prairie vegetables is simply irresistible.
Ingredients
For the Salad:
1

each of small zucchini: green

, gold, Cousa, zephyr (4 zucchini)

1

handful each of raw green

, purple, yellow beans (3 beans)

1

handful snap peas

1

handful young carrots

1

handful shelled garden peas

(2 peas)

1

handful chopped fresh basil

2

large fresh tomatoes

1

handful cherry tomatoes: Yellow Pear

, Sweet Million

salted pumpkin and sunflower seeds to sprinkle on top

Edible Prairie Garden Summer Flowers to garnish: Scarlet Runner

, Nasturtium, Marigold, Borage
For the Dressing:
30

ml

black currant juice or cordial or coulis

30

ml

balsamic vinegar

, white or red

2

freshly minced garlic cloves

pinch Dijon mustard

pinch of salt and pepper to taste

100

ml

cold-press Canola Oil

(made with the Polish seed)
Instructions
Chop vegetables into bite-sized bits

Toss with cherry tomatoes

Combine all dressing ingredients in a blender, except oil; add it in a steady thin stream with blender on high until emulsified; season to taste

Slice large tomato; place on plates and spoon chopped garden veggies over the edge

Drizzle vinaigrette over vegetables; sprinkle sunflower and pumpkin seeds on top
Recipe Notes
Drizzling dressing over salad will keep it fresh much longer; adding seeds at the end will keep them crunchier longer
Just before serving, whether individually or for a crowd, sprinkle top with edible flowers for a mind blowing visual appeal and a palate blowing textural contrast.