Keto Cheesy Meatballs: Seriously, the BEST Meatballs Ever!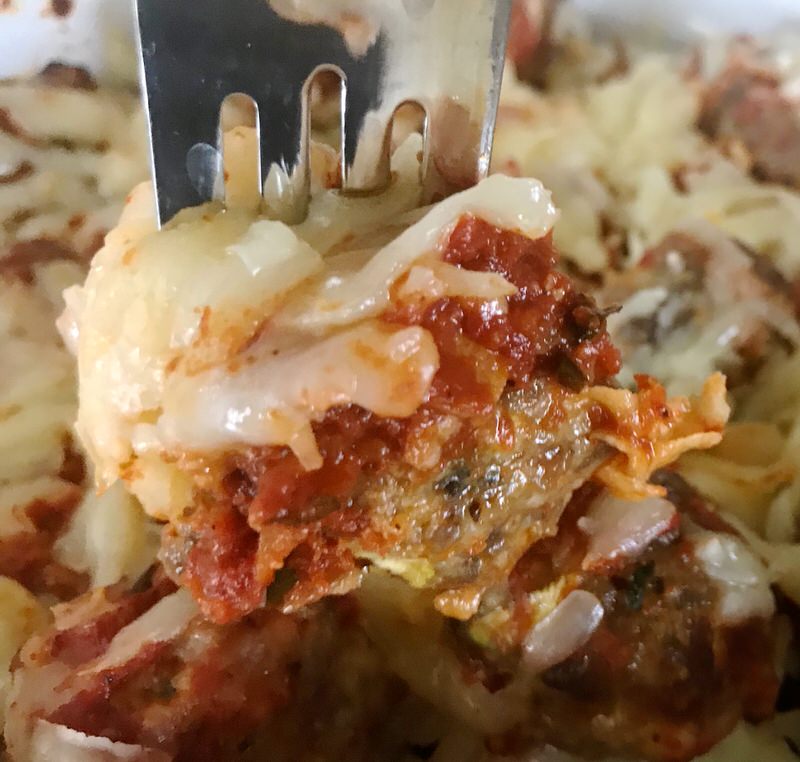 Cheesy Keto Meatballs are a flavour-packed bite that will knock your socks off. Talk about comfort food on a fork!
Cheesy Keto Meatballs: Mis en Place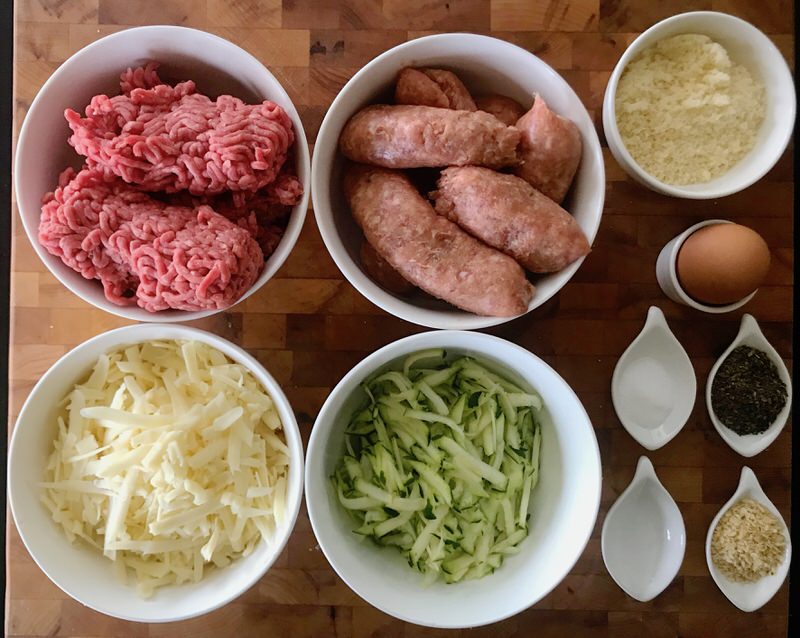 Simple tasty ingredients rolled into one: know-your-farmer grass-fed ground beef, organic well-seasoned sausage meat (homemade Spicy Italian Sausage would be delicious), mozzarella cheese, Parmesan cheese, an egg, a cup of shredded zucchini for moisture, dried basil, salt and flaked onion and garlic. The very expensive dried garlic and onion flakes add an unexpected intensity to the seasoning which balances very well with the fatty sausage and cheese.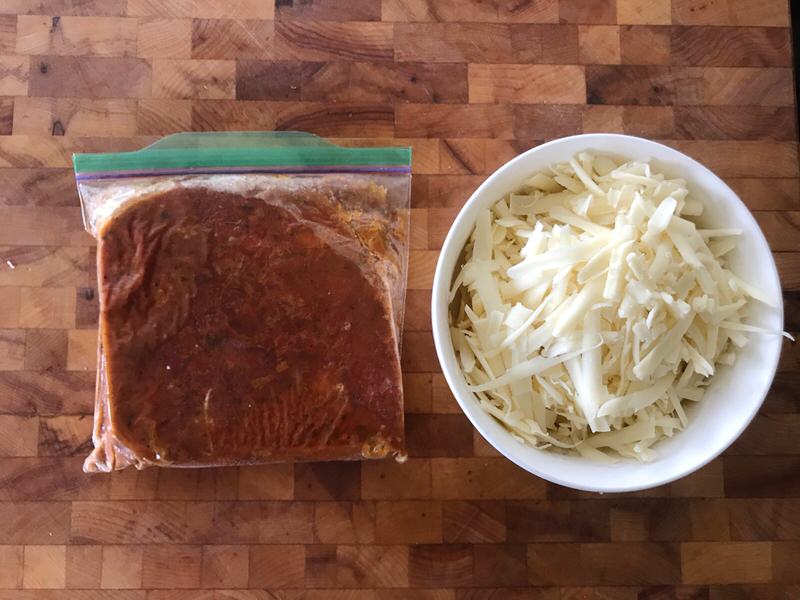 The meatballs actually stand alone, however, a sauce and more cheese can't hurt? The topping ingredients, above, are my "Best Ever Homemade Tomato Sauce" recipe and more cheese!
Cheesy Keto Meatballs: Making the Balls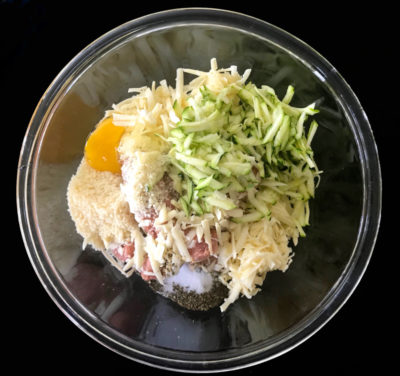 So simple! All ingredients for the meatballs are measured into a large bowl and fully incorporated, albeit gently, by hand.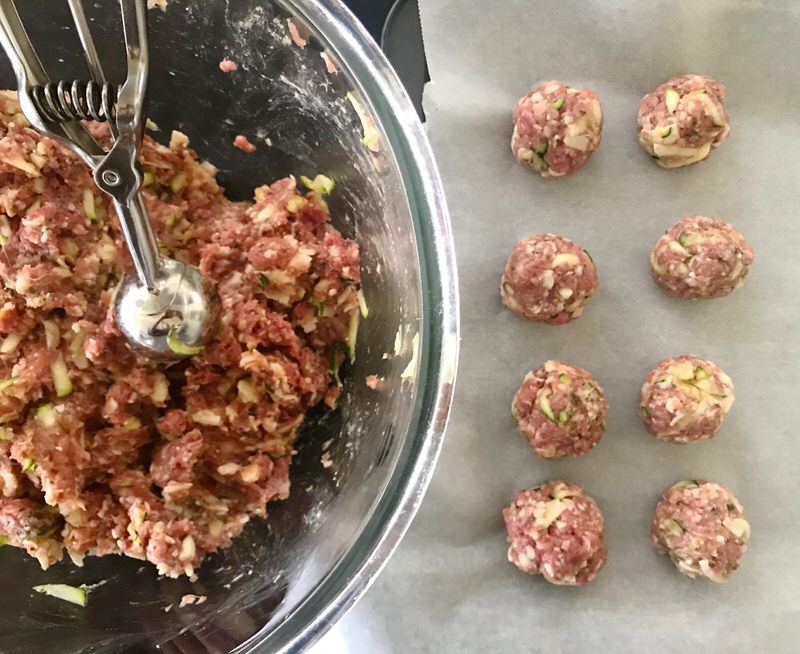 Choose your size of meatball. For the serving of 5 small meatballs, I made 40 per batch. You could make 24 much large meatballs for 3 per serving.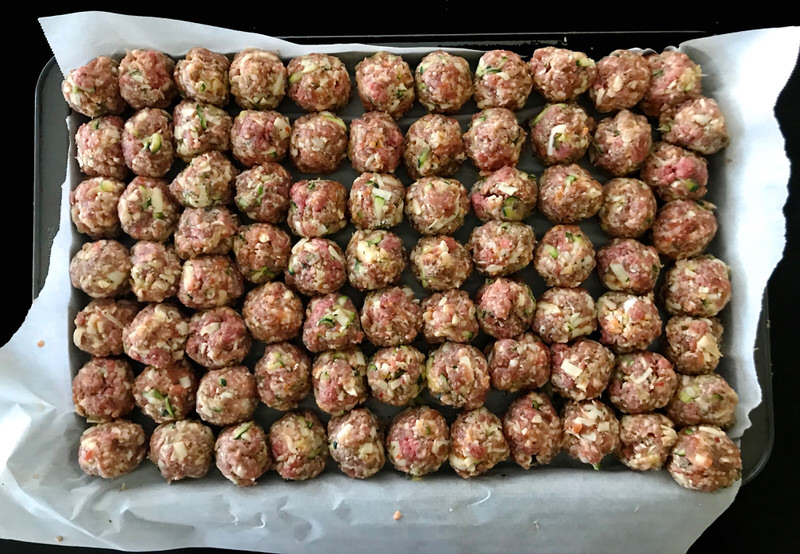 When I make anything, I make it in large quantities. I love to cook, but I am also busy and don't like to buy convenience foods. I like to make my own! So, for make-ahead meatballs, I freeze them individually on a cookie sheet and package them in labelled and dated freezer bags.
Cheesy Keto Meatballs: Baking and Topping the Balls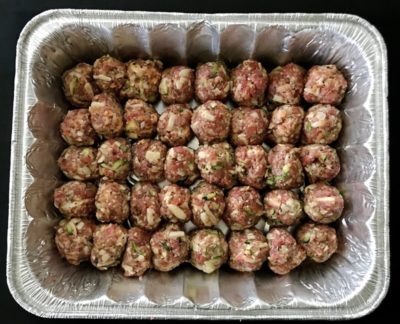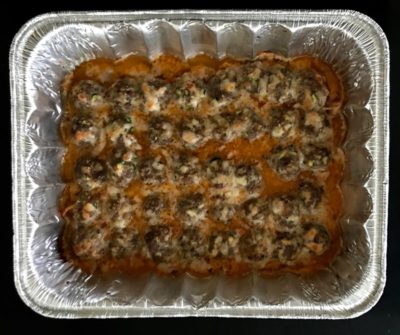 During Project 2019, Ragan and I try to cook together every Tuesday to make healthy, delicious, nutritious Total Reboot Mains for our week. Above, is one batch of this recipe for Ragan to take home. Raw balls in a casserole, above left, then baked for 25 minutes at 400F, above right. There is a great deal of fat from the meat and cheese left in the tray. Don't drain it off.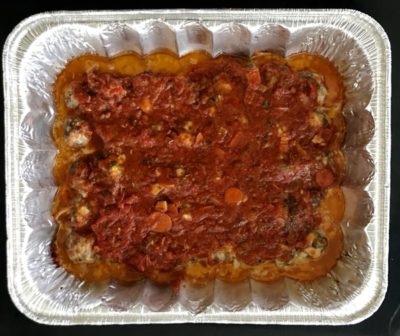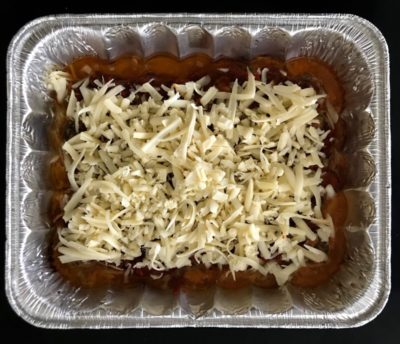 Cover the balls with one cup of the tomato sauce and cover that with a cup of shredded mozzarella. Heat until cheese is melted, the sauce is bubbling, and serve.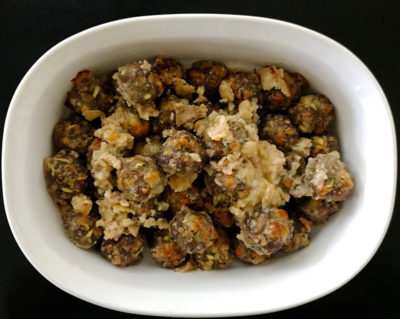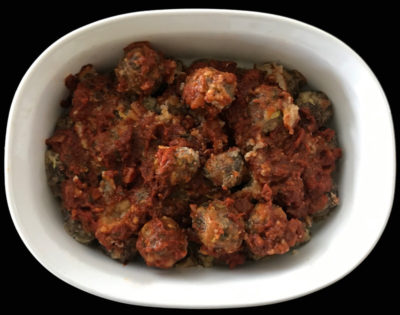 When I first made the meatballs, I baked them on a sheet pan first. Mistake. They must be baked single layer in the casserole dish you will serve them in if making the casserole with the toppings as the fatty juice from the meatballs is lost. Above left, the baked meatballs with drippings I could preserve from the parchment paper. Above right, topped with tomato sauce.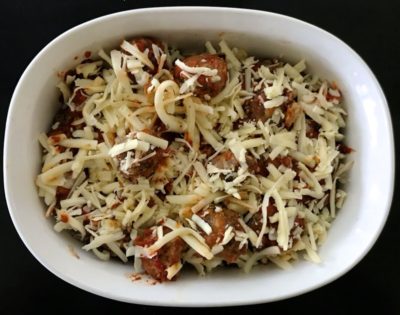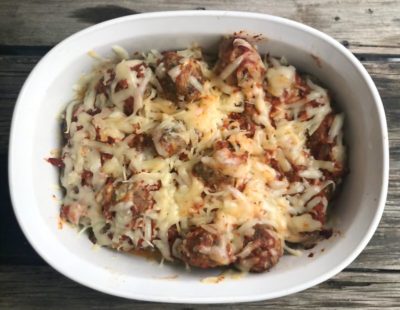 Shredded cheese added, and baked. What doesn't work if you are on a program counting your macros is that the above is not single layer and the toppings are therefore not equally distributed. To those that don't battle weight issues, this will not be a problem. Most of us will use a single layer casserole dish to equally distribute all ingredients.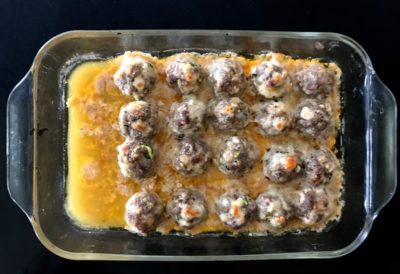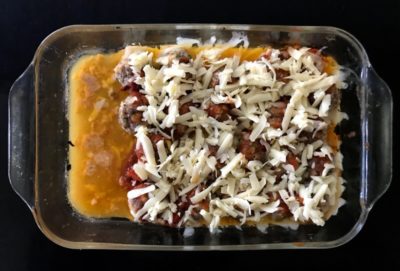 Even if the dish isn't quite the right size, single layer works much better. Above, half a batch of the recipe.
Cheesy Keto Meatballs: Alternate Ways to Serve the Meatballs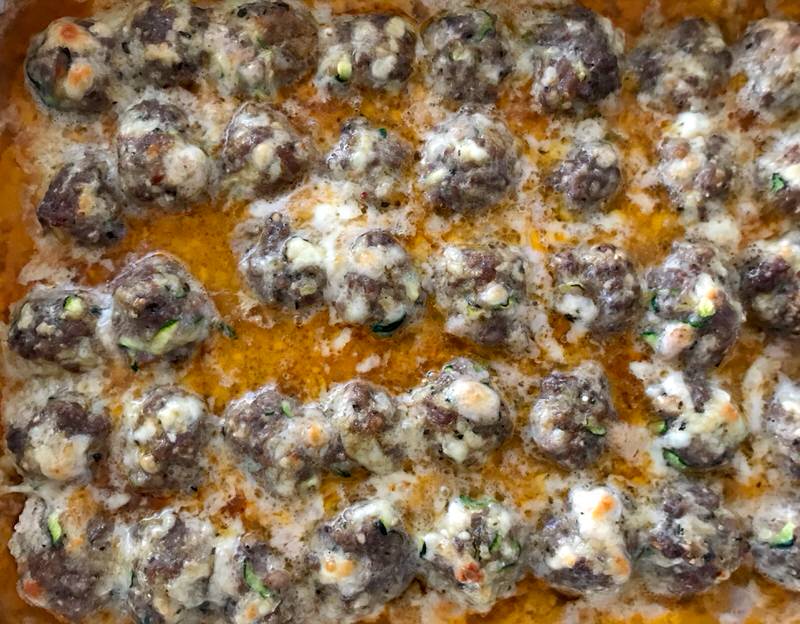 These meatballs are right out of the oven, no sauce, no extra cheese. I found them juicy enough and flavourful enough without any sauce or added cheese. Your imagination is the limit. Share your serving ideas with me! The recipe for the tomato sauce follows.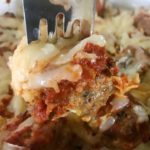 Reboot Cheesy Keto Meatballs
Cheesy Keto Meatballs are nutritious and reasonably economical to make. This is an Evolv Health Total Reboot Recipe for Project 2019. Absolutely DELICIOUS! With, or without the sauce and cheese topping.
Total Time
1
hour
15
minutes
Ingredients
Ingredients for the Cheesy Meatballs
500

grams

grass fed know-your-farmer ground beef

500

grams

organic

sugar and gluten-free, pork sausage meat

220

grams

Mozzarella Cheese

shredded

50

grams

Parmesan Cheese

grated

1

egg

½

or 1 cup large zucchini

shredded or grated

1

teaspoon

salt

2

teaspoons

dried basil

2

teaspoons

onion flakes

2

teaspoons

garlic flakes
Ingredients for the Topping
One cup of The Best Ever Homemade Tomato Sauce

220

grams

Mozzarella Cheese

shredded
Instructions
Instructions for Cheesy Meatballs
Place all ingredients in large bowl; mix to fully combine by hand

Pre-heat oven to 400˚F; place oven rack in centre of oven

Form into 40 meatballs; place each on parchment covered sheet pan OR single layer inside 11x15 inch casserole dish

Bake for 25 minutes; do not discard cheesy fat from bottom of pan
Instructions for Putting it all Together
Top with 1 cup tomato sauce and sprinkle evenly with shredded mozzarella

Bake for 10 minutes, or until cheese has melted

Serve immediately with a green crispy salad or over a cup of Konjac noodles
Recipe Notes
The meatballs can be enjoyed without the sauce and cheese topping in other recipes. For example, sauce each portion of meatballs with tomato sauce and toss with a cup of Konjac noodles.
The recipe for the Best Ever Homemade Tomato Sauce is here.
PROJECT 2019: JOIN US! EVOLV HEALTH TOTAL REBOOT PROGRAM SHARING AND RECIPES
This recipe is part of Project 2019 as this is "the" year! I am refocusing my eating to reboot my gut health and promote an active, healthy lifestyle leading Saturday Morning Evolv Total Reboot Support Sessions for anyone who wants to join us.
So far,
my husband,
my daughter, Ragan,
Janet, her best friend, and
Diana, a long time ACF reader and social media friend, attend
Let's add YOU to our list!
We have met every Saturday in 2019! The feedback has been very positive. It is not easy. It is not hard. I have found that anything I undertake in life that really makes a difference takes determination, perseverance, consistency and a truckload of passion. But, this undertaking has blown me away. I have my life back.
Introducing Project 2019
Project 2019 Total Reboot Recipes
I found myself on this path through sheer desperation, but it is the passion of feeling new and alive again that is driving me forward every day, one day at a time.
If you are interested in joining us, leave a comment in the section below, and I'll be in touch.
The Total Reboot your Gut Health 28 Day Plan Kit
DISCLAIMER: This is my personal story. I have not been hired by Evolv Health to write these posts, nor am I getting any in-kind gifts for sharing this information.
REQUIREMENTS FOR PHASE 1 OF EVOLV REBOOT YOUR GUT HEALTH 28-DAY PLAN
This Reboot Cheesy Keto Meatballs recipe definitely satisfies one's desire for a flavour packed savoury bite while on the first 28 days or Phase 1 of Evolv Health Total Reboot. (scroll down). Throw all ingredients into one bowl and roll into balls. Easy-peasy!
As weight is lost during this program most refer to this program as a diet and according to the actual definition of the word, it is. Though I do restrict myself from eating many things on this program, I am never deprived. That is a primary difference to this program and what we usually think of like a diet.
I have made many delicious meatball recipes. Most have fillers like breadcrumbs or cracker crumbs, but when gluten-free, must be altered to fit my current eating program. This recipe is, hands down, the most flavourful meatball recipe I have concocted.
This is not a recipe for someone with a large appetite as each ball is 96 calories 7 grams of fat, 7 grams of protein and 1 gram of carbohydrates. That is one small ball or one 40th of the recipe. You can figure out from there how many meatballs make a portion size for you. For me, it is three meatballs. For Vanja, it is 6 with the toppings and a lovely single serving of NuPasta with extra sauce!
This recipe absolutely aligns with a way of eating that promotes optimal health for your body and the opportunity for it to return to its original fat burning state. What are the requirements again?
Simple, Delicious, Nutritious and Economical Food: This means easy to find ingredients, "easy-to-make", tasty, nutritious foods from the Total Reboot Phase 1 List and economical (cost effective). Each meatball costs 50 cents. This is not an inexpensive dish but it is not expensive. Each batch with toppings cost me 20 dollars. If you are looking at 5 meatballs per serving and 8 servings per batch, then it is $2.50 per serving. Maybe that is inexpensive!
High in Fat and Low in Carbohydrate Foods: This can be determined by using My Fitness Pal and inputting a 25% Carbohydrate, 25% Protein and 50% Fat daily intake ratio coupled with a basic daily calorie intake that addresses your metabolic needs. Certainly, this is a low carbohydrate recipe.
Whole Foods that are Healthy and Good for you: This means know-your-farmer, non-GMO and organic whole foods that are homemade unless you can be sure of the ingredients contained in what you purchase and only foods on the Total Reboot Phase 1 List allowed. Reboot Cheesy Keto Meatballs meets all of the requirements.
The Total Reboot your Gut Health 28 Day Plan Kit from Evolv Integrated Health is the program that I have been on since June of 2018. My 62.5-pound weight loss as of today is completely secondary, though exciting and exhilarating.
The "big deal" is I am me again! I feel rested when I wake in the mornings, energetic, no more brain fog, no more pain, off all my medications and am once again enjoying my life. That's the greatest benefit from this program to me.
PLEASE SHARE YOUR EXPERIENCE IF YOU MAKE THIS RECIPE
If you make this recipe, please share your experience in the comments section below. Or, if you have other favourite similar recipes that you believe would meet the requirements of the Total Reboot 28-day Health Plan(password: Evolv) do tell! Obviously, compiling recipes for this program and working to change the way I think and eat is a process and I know there are many out there further along this journey than me! Chime in!