I call it Red Pepper Caviar as it is so labour intensive!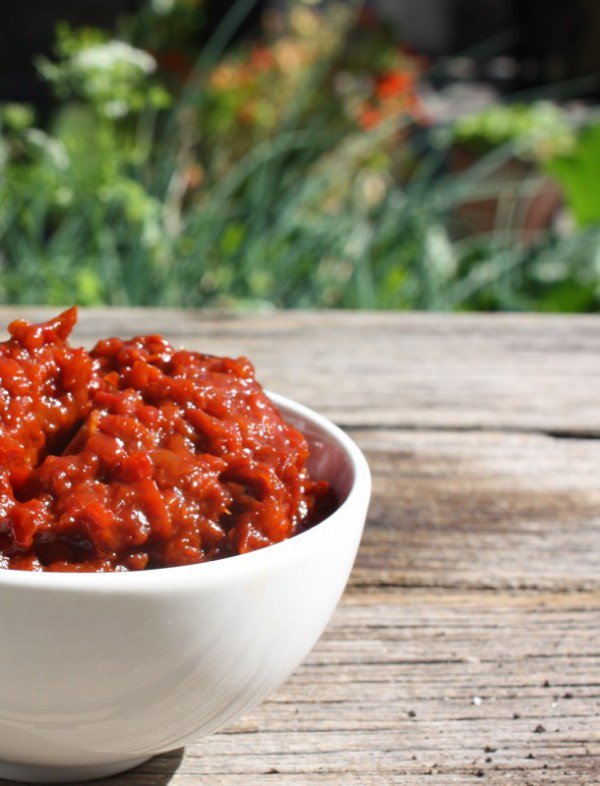 Preserving food was originally done because it was not possible to have the precious in-season foods any other way. In later years (when I was a child), it was done for economic reasons. Preserving your own food was much cheaper than purchasing canned produce from the grocery store. Now, it is usually more, or much more costly to preserve one's own food. We do it to preserve the traditions of our past and, as importantly, to ensure that the food we eat is healthy, preservative, chemical and GMO free.
Look at the glistening spherules of roasted red pepper!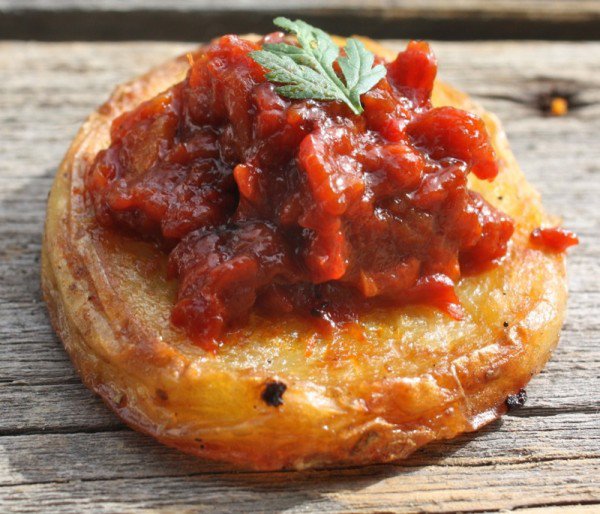 Come gather 'round people
Wherever you roam
And admit that the waters
Around you have grown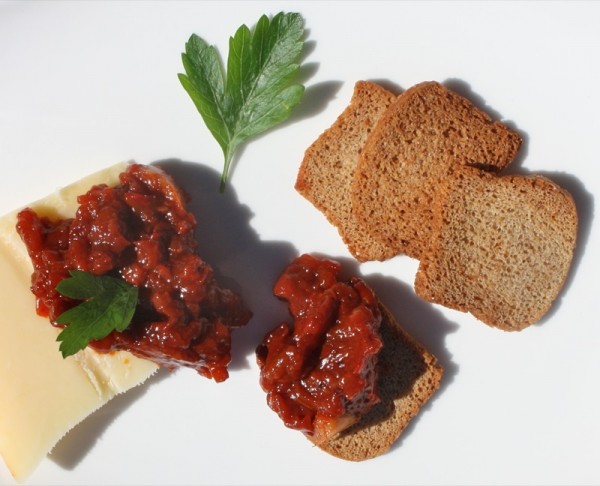 And accept it that soon
You'll be drenched to the bone
If your time to you is worth savin'
Then you better start swimmin'or you'll sink like a stone
For the times they are a-changin'.
Please play the music clip (below) to provide the mood for this post. 🙂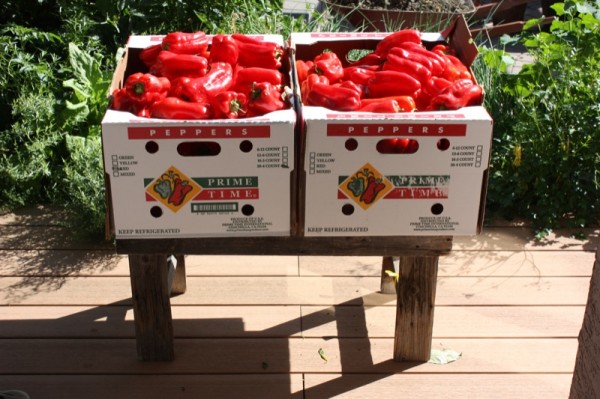 I am the wife of a Balkan man. Red peppers are abundant in that area of the world. In our area, we can only buy them at a reasonable price at this time of year. Usually, I only preserve regional, local food. But, I also work to preserve the heritage and traditions of our family, and make food my husband loves and will actually eat.
So, the ajvar marathon begins again this year with three cases of red peppers from the Italian Centre Shop (piled into two boxes) and roasted…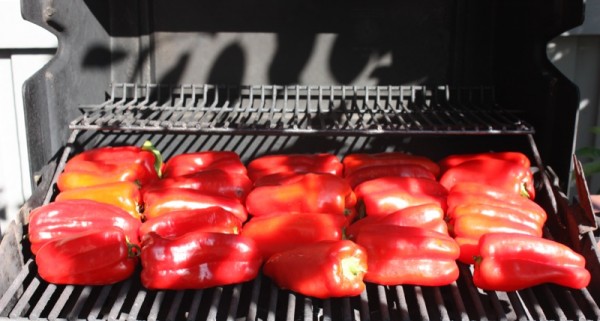 …and roasted…
…and roasted.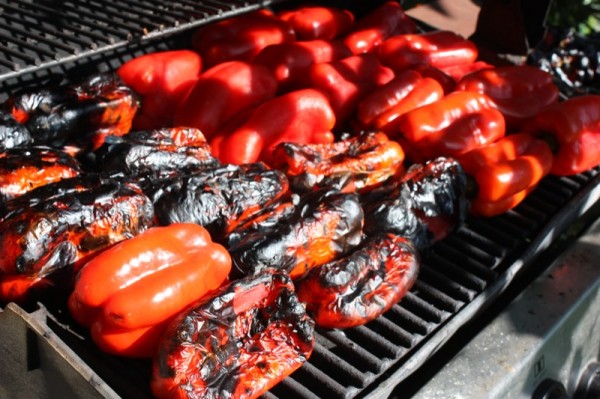 Until they look like this. (Roast all sides and the tops and bottoms, as needed, to loosen the skin.)
Below is all of the peppers. Ninety dollars worth. This is a very good price here. In the former Yugoslavia, this amount of peppers would be about thirty dollars. Maybe less.
It look me almost 4 hours to roast them all.
I use a bowl of water to rinse my hand in as I peel the peppers. Never run water over the peppers. Just peel off the skin, rinsing your hand regularly, until all is off each pepper; remembering to take off the stem and remove the seeds.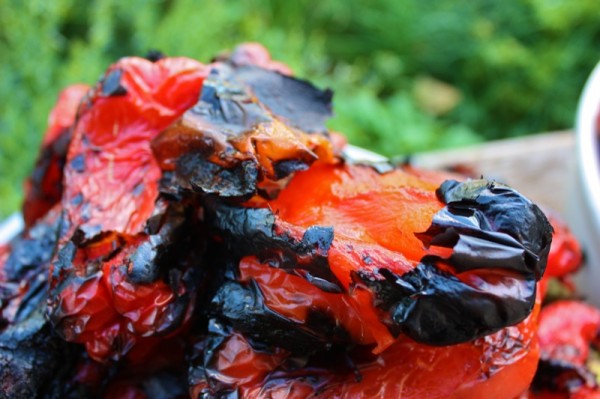 As I peel, I keep my "pieces of peppers" organized. The lovely fat perfect pieces go into piles to be frozen for roasted red pepper salad. The uneven and ripped pieces are placed in a bowl for the ajvar.
I will add it took me 12 hours to peel these peppers. Don't do this many. Ever.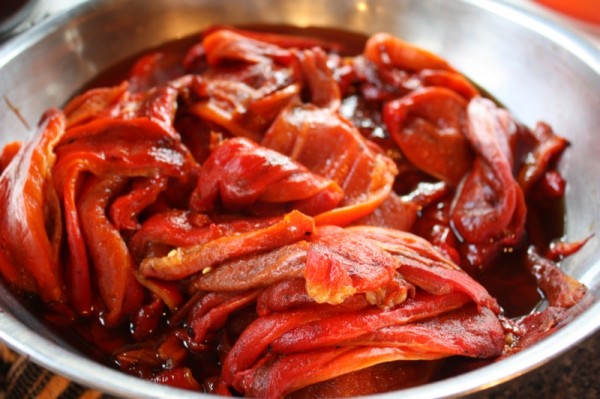 The peppers are then put through a meat grinder and ground on "fine". This year, I actually had the meat grinding attachment for my Kitchenaide that I used. (This is a photo from last year, below.)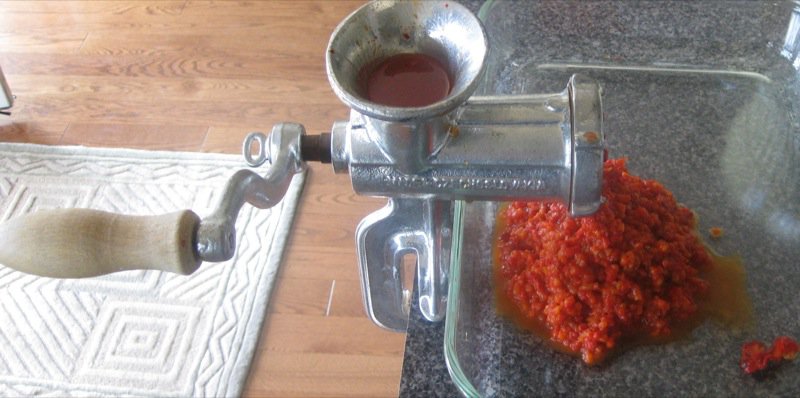 It worked out to almost be half ajvar (not made yet, in the bowls, below) and half peeled and roasted red peppers to freeze.
Yes, they do freeze beautifully. If I had them side by side: fresh and frozen, I would challenge you to tell me which was which… after the frozen ones were thawed, of course.
The ground roasted red peppers now need to be cooked and condensed in a similar fashion to tomato paste with that exception: we are not looking for a paste. We are looking for a distillation of the flavour and texture of the roasted pepper. So, into my paella pan they go. In the Easter European country side at harvest time in the later fall, one would see great cast iron pots brimming with ground roasted red peppers hung over fires, smoke billowing, while home owners stir and stir continually until this delicacy is done.
I will use our gas barbecue. It is pretty messy to do in the house as it sputters and splatters.
These peppers were bagged, labelled and frozen flat on cookie sheets.
Some people add a lot of roasted eggplant to this as it saves money and the eggplant takes on the flavour of the pepper. That would be good, too. It doesn't save money here.
Some people add garlic. I love garlic, so added a considerable amount with 1/2 a cup of lovely olive oil for this entire amount (which was 1/2 teaspoon for every cup of ajvar at the finished stage) to prevent sticking to the pan.
See the liquid below. This needs to be stirred constantly until there is no more liquid at all.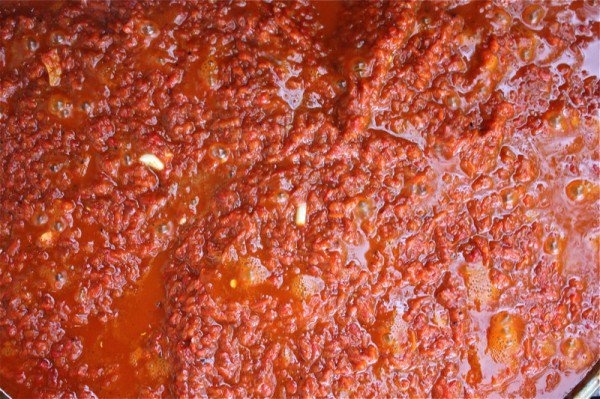 The mixture is done when it parts and does not go back together and when no liquid seeps onto the part.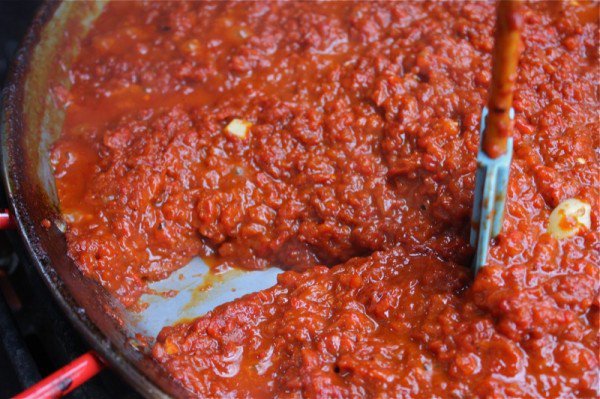 jars are sterilized and waiting.
Close, but still not done.
Now, it is done. That took about two and a half hours for this amount of ajvar.
Come writers and critics
Who prophesize with your pen
And keep your eyes wide
The chance won't come again
And don't speak too soon
For the wheel's still in spin
And there's no tellin' who that it's namin'
For the loser now will be later to win
For the times they are a-changin'.
I canned 14 250ml jars of ajvar and froze 12 bags of the roasted peppers.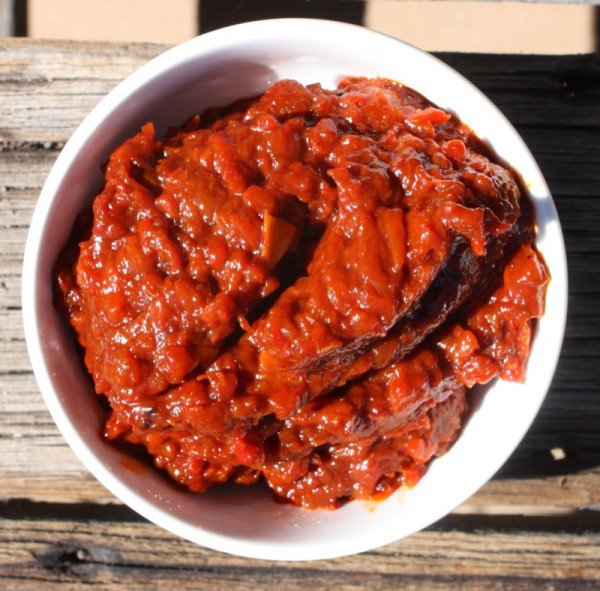 It cost a little over a hundred dollars (including the jars and the bags) and took over 20 hours of hard focused work time.
Come senators, congressmen
Please heed the call
Don't stand in the doorway
Don't block up the hall
For he that gets hurt
Will be he who has stalled
There's a battle outside and it is ragin'
It'll soon shake your windows and rattle your walls
For the times they are a-changin'.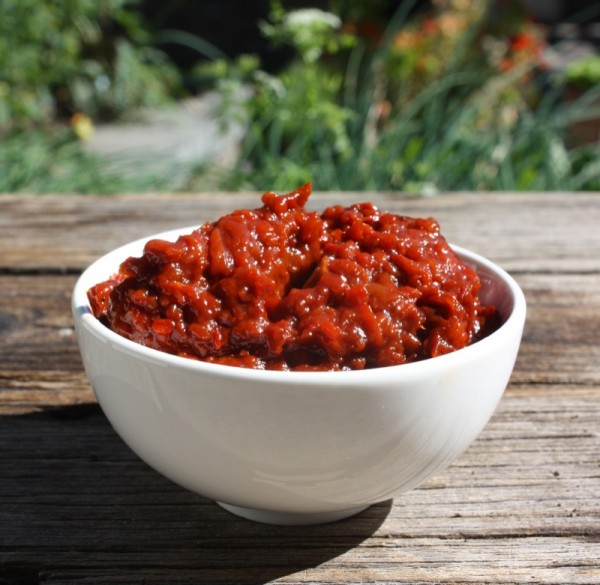 Was it worth it? Absolutely…. but, I would never do this many again. I would do half of this amount. That is enough for us. That is a sane amount of time to spend on this project by myself.
Come mothers and fathers
Throughout the land
And don't criticize
What you can't understand
Your sons and your daughters
Are beyond your command
Your old road is rapidly agin'
Please get out of the new one if you can't lend your hand
For the times they are a-changin'.
Ajvar Recipe
Ingredients:
roasted, peeled red peppers
olive oil
vinegar
salt
canning jars
Instructions:
Grind all of the ajvar, removing as much liquid as possible (it is bitter)
Prepare canner (fill with water, and start to heat water to boiling)
Cover the bottom of the frying or cooking pan in a thin skiff of olive oil
Heat the oil; add the ground peppers, and stir constantly over medium to medium high heat
When all liquid has evaporated and the mixture can be separated with a spoon without any liquid appearing, it is done
Add vinegar (I added 1/3 cup to the entire batch I made, so about a tablespoon or two for a frying pan full)
Add salt to taste (I added about 1/4 cup of salt)
Have canner filled with hot water and boiling, have lid liners boiling
Fill each sterilized jar with ajvar, leaving 1/4 inch air space on the top; attached lids
Process at a simmering boil for 10 minutes
Remove jars, cool and store
Note: If I don't add garlic when I make it (or if I do) it is delicious to add fresh garlic and a wee bit more salt to this prior to serving
The line it is drawn
The curse it is cast
The slow one now
Will later be fast
As the present now
Will later be past
The order is rapidly fadin'
And the first one now will later be last
For the times they are a-changin'.
It is time to stand up for healthy GMO free food and preserve the heritage of those that came before. Yes, the times are a-changin' and we need to change with them.