An Eastern European Man's Home Food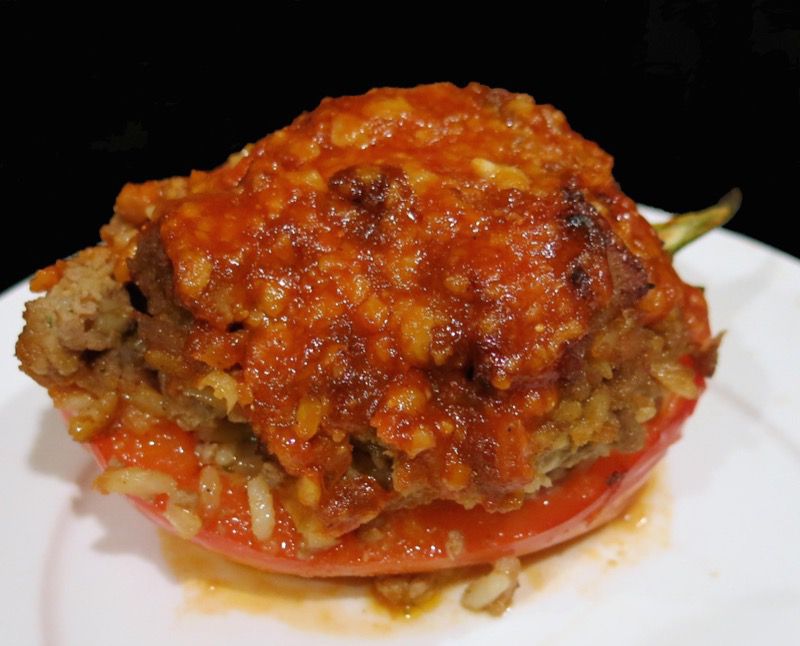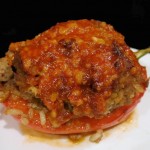 Stuffed Peppers


This is a delicious simple make-ahead weeknight meal. Everyone seems to love stuffed red peppers. Serve with a side salad and you have a happy family.
Total Time
1
hour
20
minutes
Ingredients
Ingredients for Peppers:
10

large sweet red bell peppers

, cleaned, seeded and halved (stems remain on)
Ingredients for Rice:
2

cups

long grain rice

6

cups

water

1

teaspoon

salt
Ingredients for Filling:
3

cups

chopped onion or 3 medium onion

1

tablespoon

oil

1

tablespoon

Vegeta

2

tablespoons

really good quality Paprika

1

teaspoon

salt

lots of freshly ground black pepper

2

packages frozen

, oven dried tomatoes

1

tablespoon

garlic powder

5

pounds

know-your-farmer ground beef

1

pound

know-your-farmer bacon

, sliced into lardons

1

tablespoon

Vegeta

lots of freshly ground pepper

1

tablespoon

garlic powder
Ingredients for the Topping:
2

cans tomato soup

(yes, I use Campbells)

1/2

cup

golden brown sugar

4

tablespoons

French's dry mustard
Instructions
Instructions for the Peppers:
Preheat the oven to 400F; place cleaned and halved peppers on cookie sheet covered with parchment paper

Drizzle peppers liberally with olive oil; bake for 20 minutes

Cool until needed
Instructions for the Rice:
Bring water to a boil; add salt and rice

Cook 20 minutes with lid on

Strain 4 cups of semi-cooked rice from the pot and set aside
Instructions for the Vegetables:
Saute the onions in the oil until translucent; add Vegeta, paprika, salt, pepper, tomatoes and garlic powder

Add water if needed to thaw tomatoes

Cook on low until tomatoes are thawed and all melded together; add rice

Continue to stir and cook on low until all liquid is absorbed and a path can be left by a spoon; set aside
Instructions for Meat:
Fry bacon until translucent; add beef, one pound at a time, stirring constantly to brown and break into crumbles

Add seasonings

Once meat is almost completely browned, taste and adjust seasoning

Add rice and vegetable mixture to the meat mixture; stir well to combine and cool to touch
Instructions for Stuffing the Peppers:
Drain the liquid that has collected inside of each pepper back into the filling; stir it in

Fill each half with 3/4 cup of the filling, mounding it on top

Place filled peppers on clean cookie sheet with clean parchment paper; freeze overnight

Package individually in freezer bags, wrapped very well first, labelled and dated, until needed OR

Place peppers in casserole dish; bake at 400F for 20 minutes until bubbling and hot

Cover with tomato sauce or cheese or both; serve immediately
Instructions for the Topping:
Combine all ingredients and top each pepper with sauce before baking
Instructions for Freezing:
If freezing, it is best to freeze peppers without sauce on parchment lined sheet pan overnight, then top frozen peppers with sauce and fast freeze overnight again

Wrap tightly, label and date individually once frozen
Recipe Notes
Do not drain fat off the bacon if your beef is ultra lean; it will add flavour and some needed fat
… and a Canadian pleasure. Ah, stuffed peppers. Simple. Nutritious, delicious, economical. Now, we are singing my song. There is something primordial and deeply gratifying about the Eastern European combination of rice infused with a simple combination of a rich tomato sauce and well-seasoned ground meat wrapped or stuffed in a vegetable. Pure pleasure.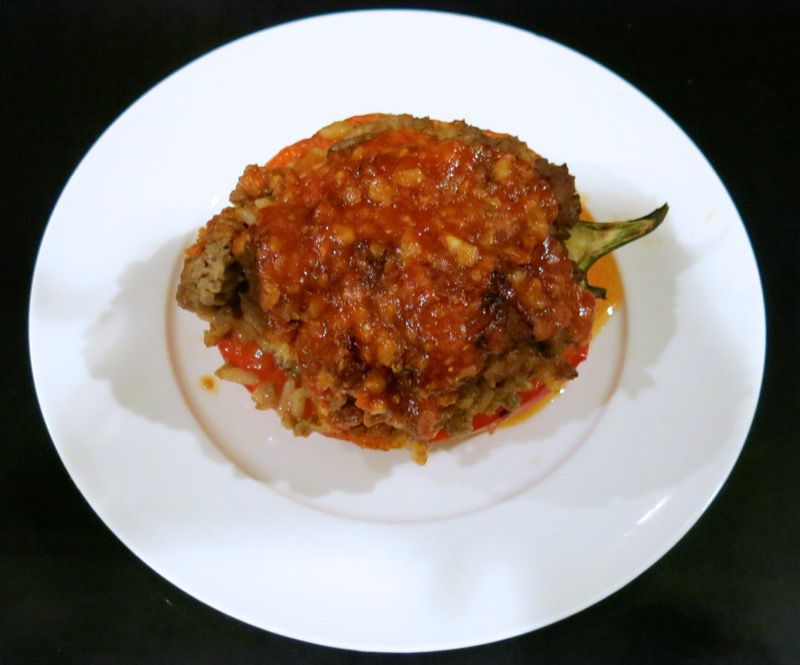 Nothing fancy about this dish. Anything stuffed in a vegetable denotes a nod to the sensibility of the kitchen with reference to the frugality of the past. The complexity of flavour determined by the pantry coupled with an experienced palate can prompt an unexpected guttural response after the first bite. That was my hope as I worked to create a complex depth of flavour with simple, everyday ingredients.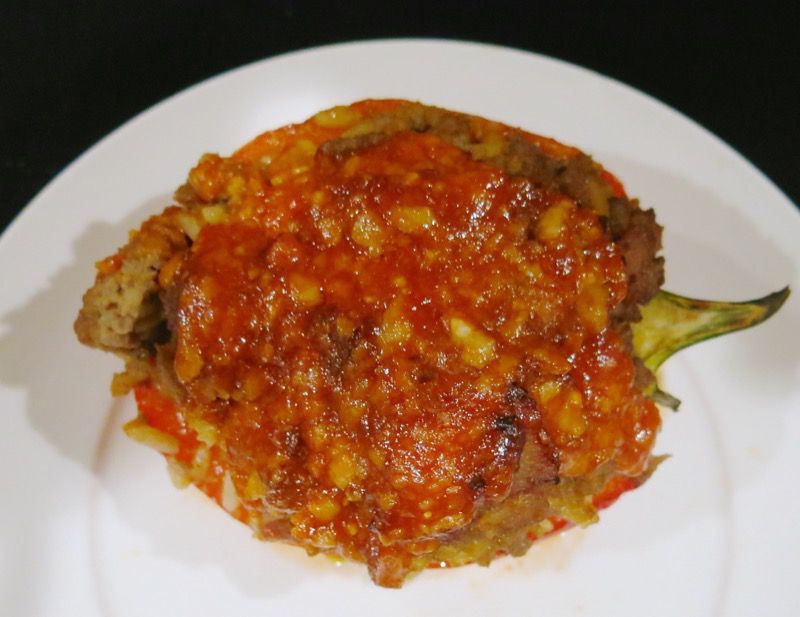 Like the classic Italian Bolognese, I succeeded! This is one very simple and very special recipe for a very serious home food meal.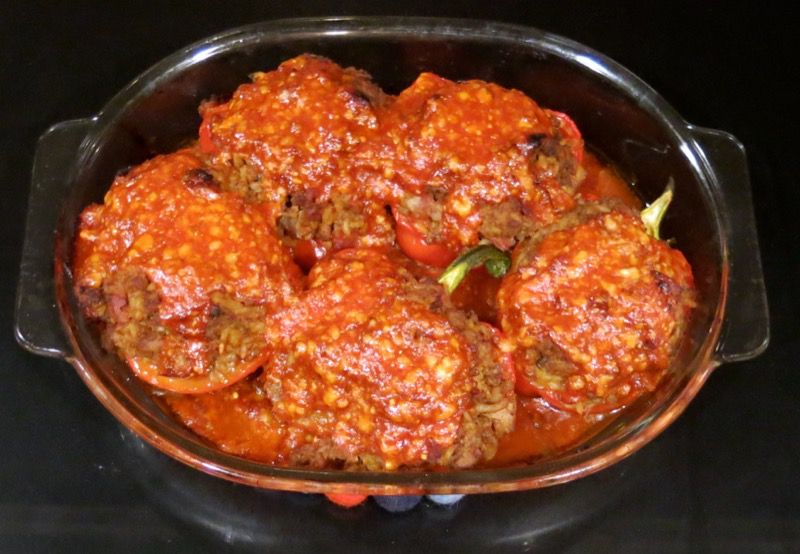 My recipe makes 20 this size. I froze the other 15. That is what I do on my cooking days: I cook a lovely meal and freeze a lovely meal or two. This month, I am filling the freezer as I am heading out on a cruise with mom at the end of the month for 10 days, and then William Duggan is arriving!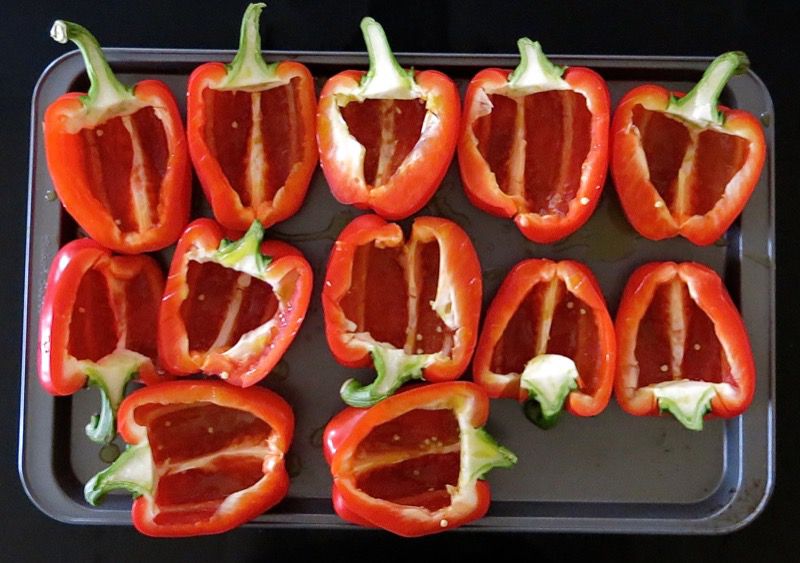 In the old country, the top of the pepper is removed and the entire vessel is filled. I prefer this presentation. Even if you choose small peppers, one serving is enough for some. Two, this size, please, for Vanja. Presentation-wise, the colour on the stem is pleasing, so it stays. And who is William Duggan? My soon-to-be-born grandson! He is due February 28th and I will be leaving February 25 for a month of pure bliss! (My son-in-law may not be looking as forward to my visit as I am, but I promised to be on my best behaviour!) Anyway, I booked an extended stay hotel so everyone can have the privacy needed during such a miraculous time in our lives. Every recipe I make and stow away has excitement tingling through it as I dream of the gurgles and giggles to come.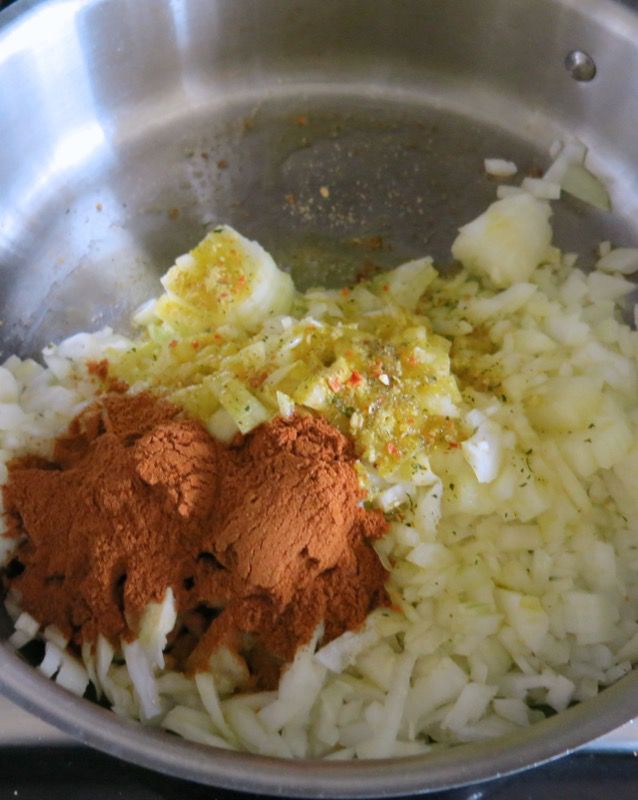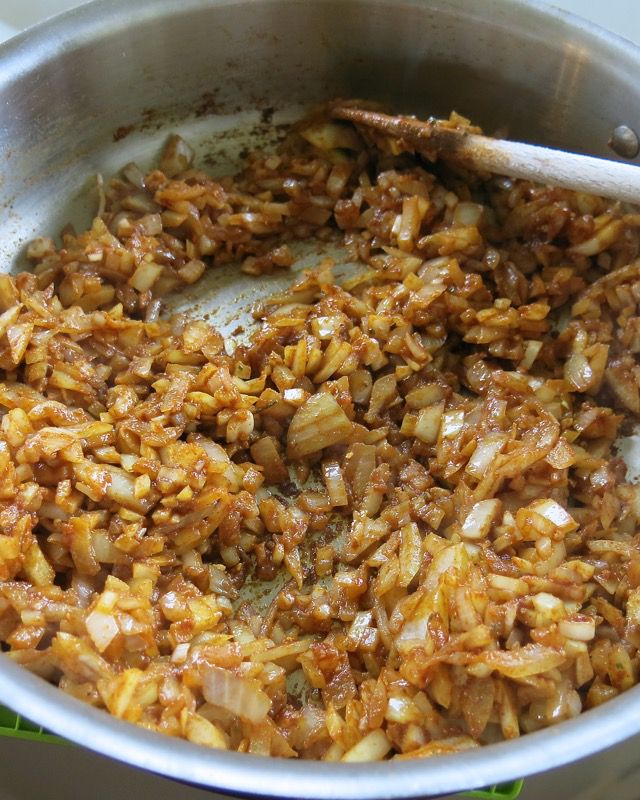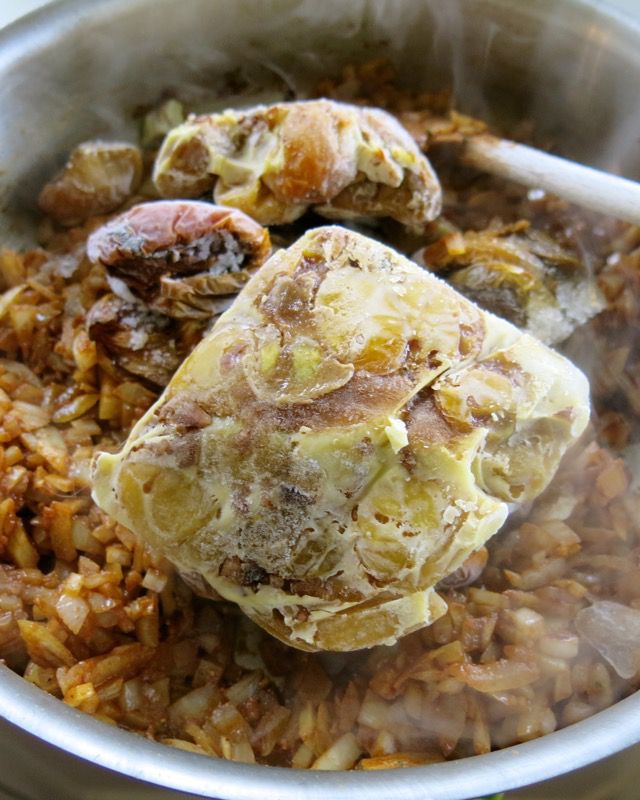 Vanja is a tough food critic. When I told him I was making stuffed peppers, he asked: "What are you putting in them?" The nerve. You would think he would have enough faith in my culinary prowess by now, no? Well, no. That was the catalyst for the thinking that motivated me to build flavour into this dish. Otherwise, I would have just "made the stuffed peppers". I took the time to work on recipe development and analyze what would please my man. Meat – and lots of it. So, I started with the aromatics. Onions. Paprika. Not just any paprika. The one I buy every summer when visiting Serbia, from the local Spice Shop in Vanja's brother's neighbourhood in Belgrade. The 500g of gorgeous fragrant ground dried Paprika I order from the Spice Man each time is so fresh that the paper bag he portions it into is dark and soaked with pepper oils by the time we return to the apartment. The aroma is intoxicating. Garlic, of course, and my own oven roasted garden tomatoes. Two bags. These tomatoes are a stand-alone spectacular treat.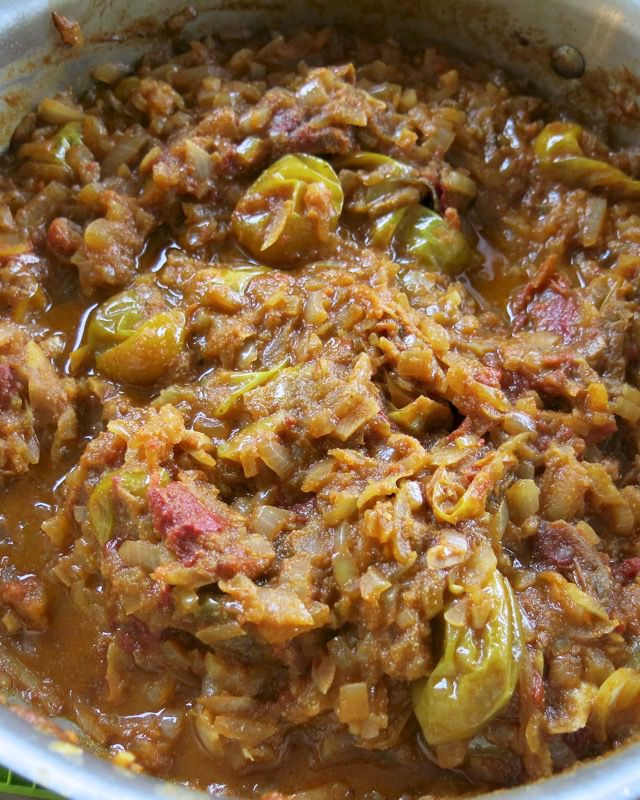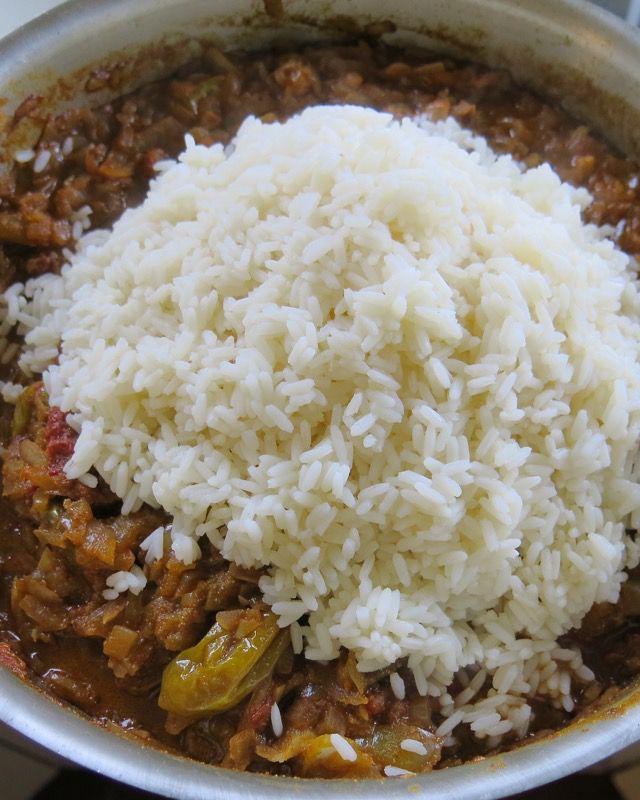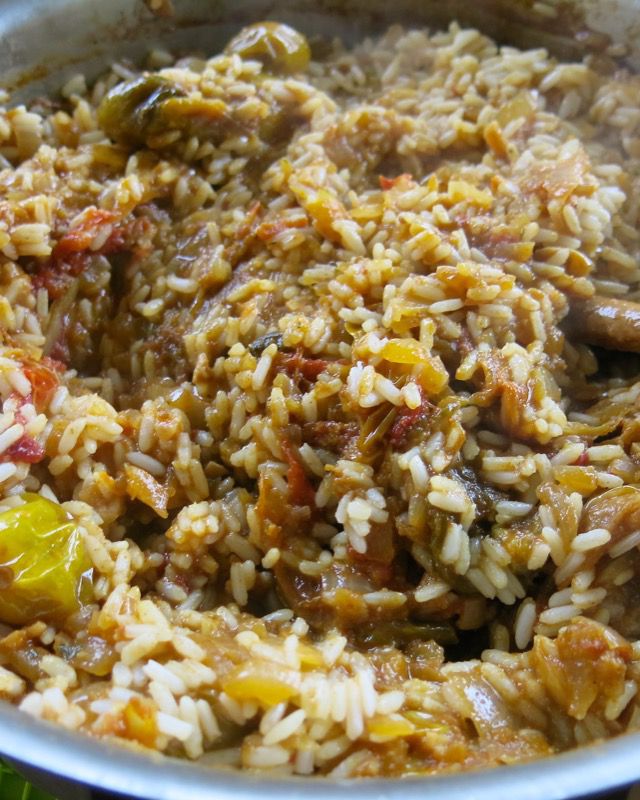 And, of course, the rice. The onions are sautéed in a bit of olive oil, paprika, salt, freshly ground black pepper and garlic added. The frozen tomatoes are melted in. Meanwhile, the rice is partially cooked and added to the vegetable mixture to infuse the delicious aromatic and fruity flavours during the final cooking process. Stirring and stirring…. mmmmm…..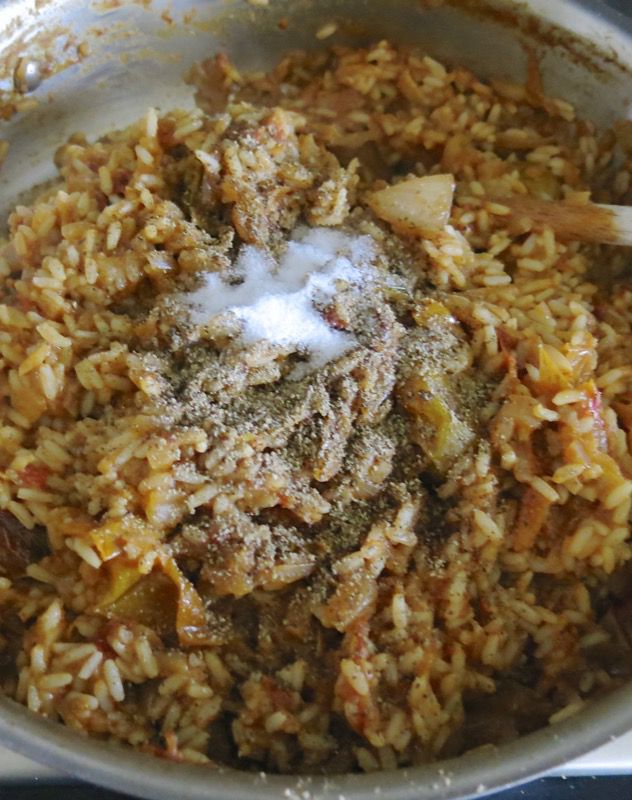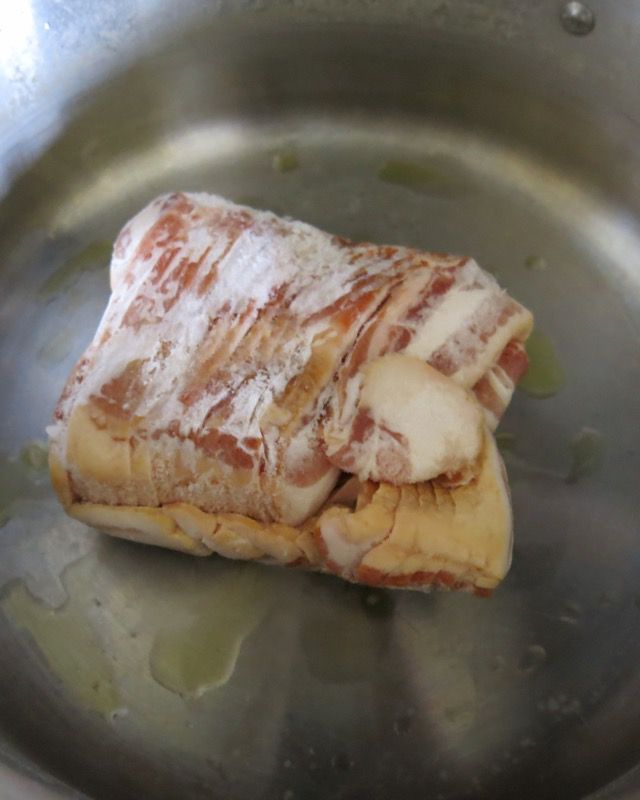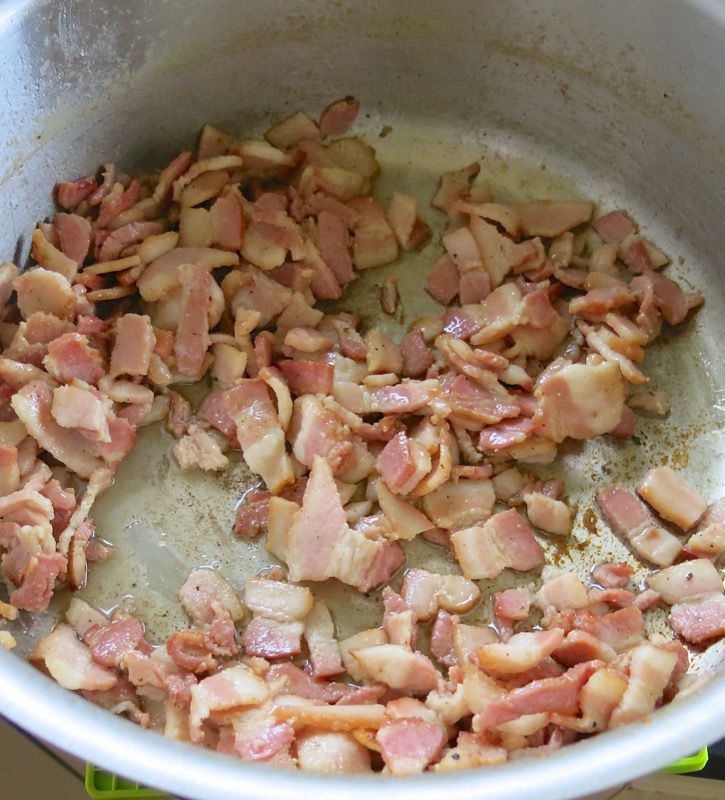 Above, the final seasoning is added to this part of the filling to ensure it is "stand-alone" delicious. Now, for the meat. I started with frozen bacon, thawed it a little, then sliced it into lardons. Best to start with the bacon sliced into lardons.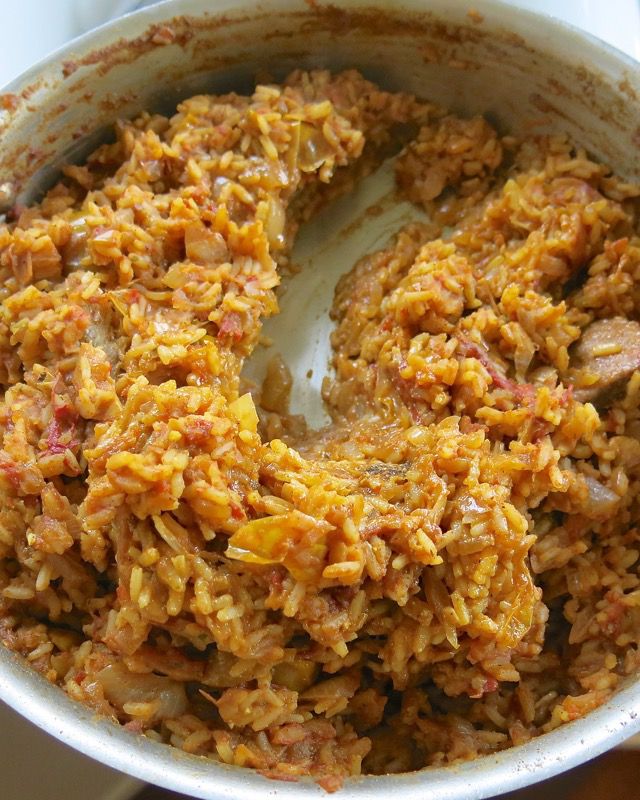 Above, the vegetable rice mixture is finished cooking as the rice is bursting with flavour, completely saturated with the discerning sauce and a path left in the pan with the spoon.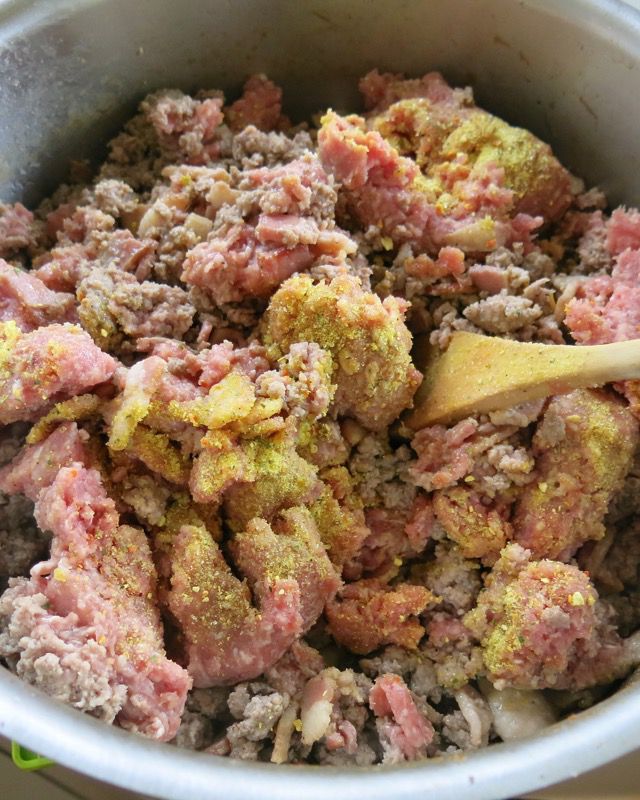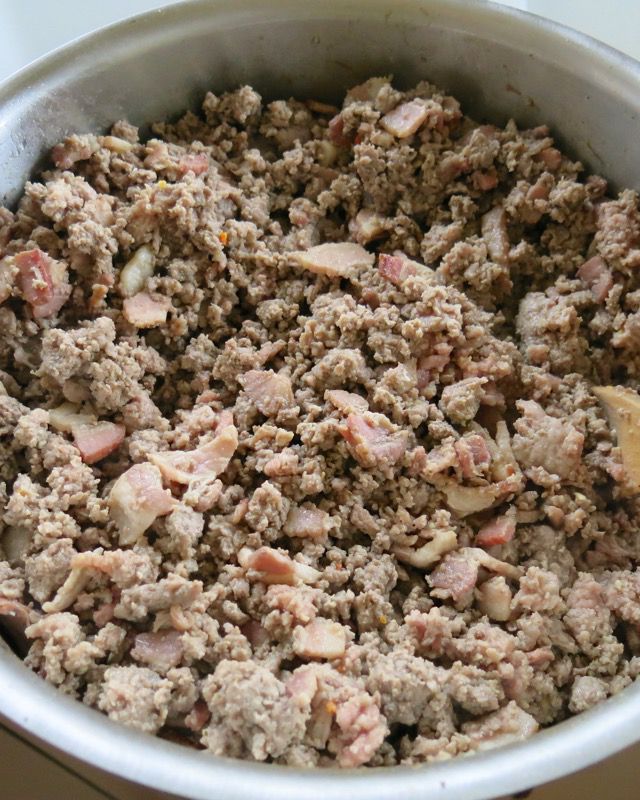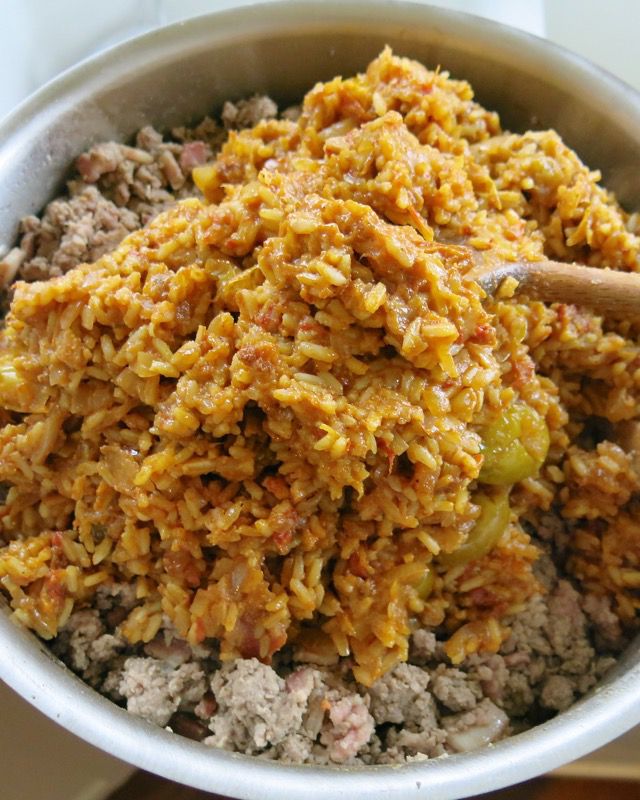 Ground beef, one pound at a time, is added to the fried bacon. Once each pound, or 500g, is crumbled and partially browned, the next portion of ground beef is added until it's all in and almost all browned… just as above: yet, a little pink. Seasonings added to the meat mixture so it is delicious "stand alone" as well, then both concoctions are combined.
It may not be pretty, but the flavour built into this generic looking pot will elicit that instant response every cook works for. That unexpected je ne sais quoi is definitely present. But, it isn't a true "je ne sais quoi" as then eye-balls is nothing unidentifiable, yet the exception of intensity of the pleasure elicits that je ne sais quoi. Whatever is it that enables such simple ingredients taste so deeply delicious?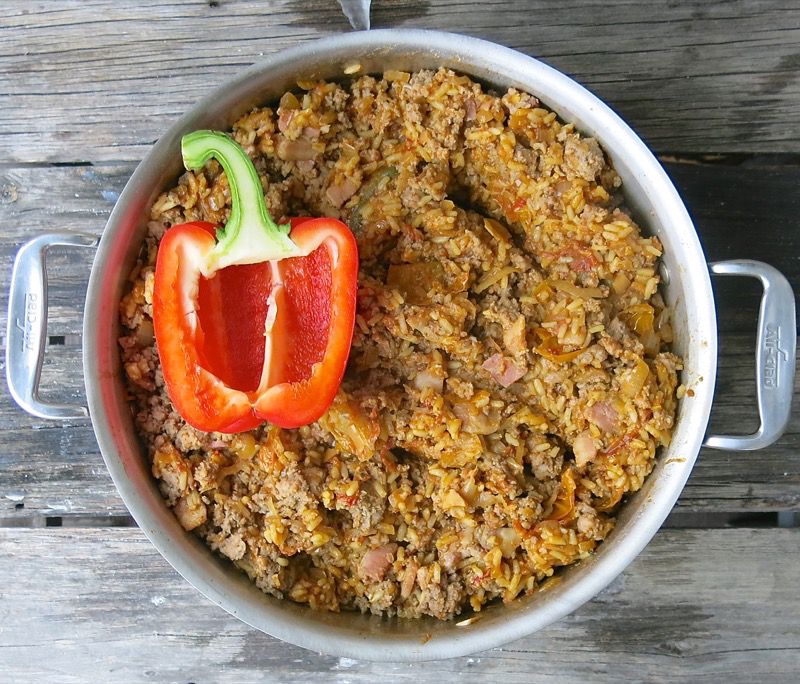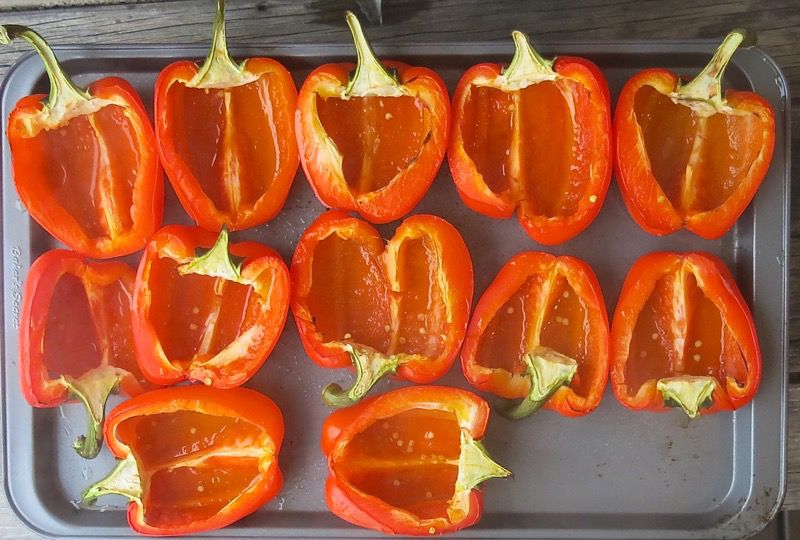 Roasting the peppers in a hot oven for 20 minutes ensures they will be tasty and properly cooked as the filling is completely cooked. Each half pocketed a little puddle of pepper syrup that I poured back into the filling mixture: an umami whammy.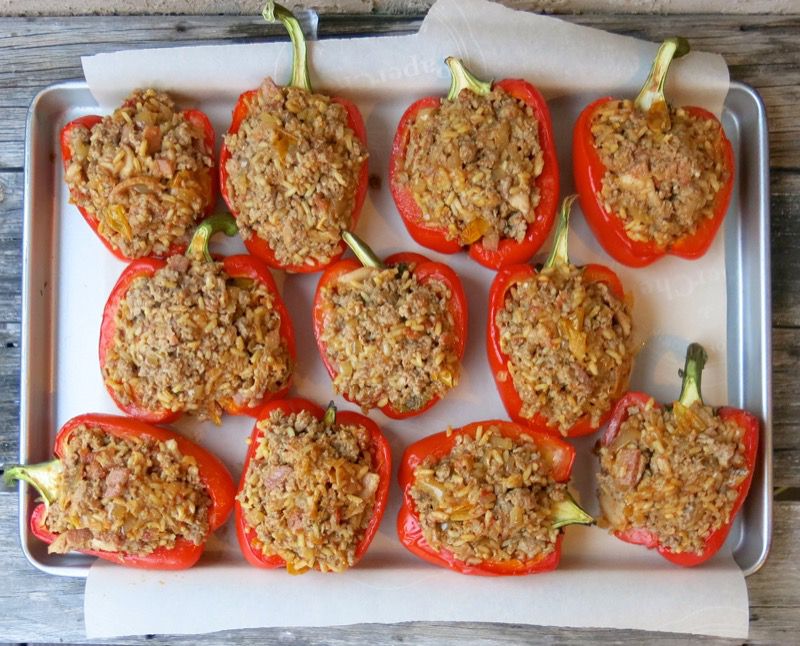 I bought hearty, ample peppers and mounded the filling generously on top. Each has half a pound or 250g or know-your-farmer grass fed ground beef in it. Did I say, start with the meat? Just the other day I made 3 hamburgers per pound and hear muted complaints. "Why didn't you make me two?" One-half of these peppers with a crunchy fresh salad is a full meal deal. At this point, into the freezer went 15 of the halves.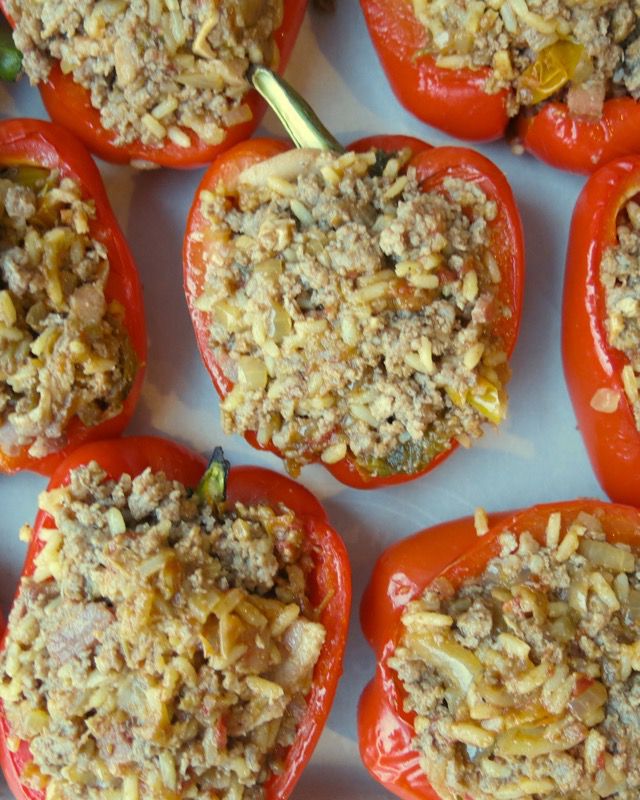 Five were popped into a casserole dish and covered with Mom's Tomato Meatloaf topping, baked for 30 minutes, then eye-balls rolling in the back of the head scrumptious.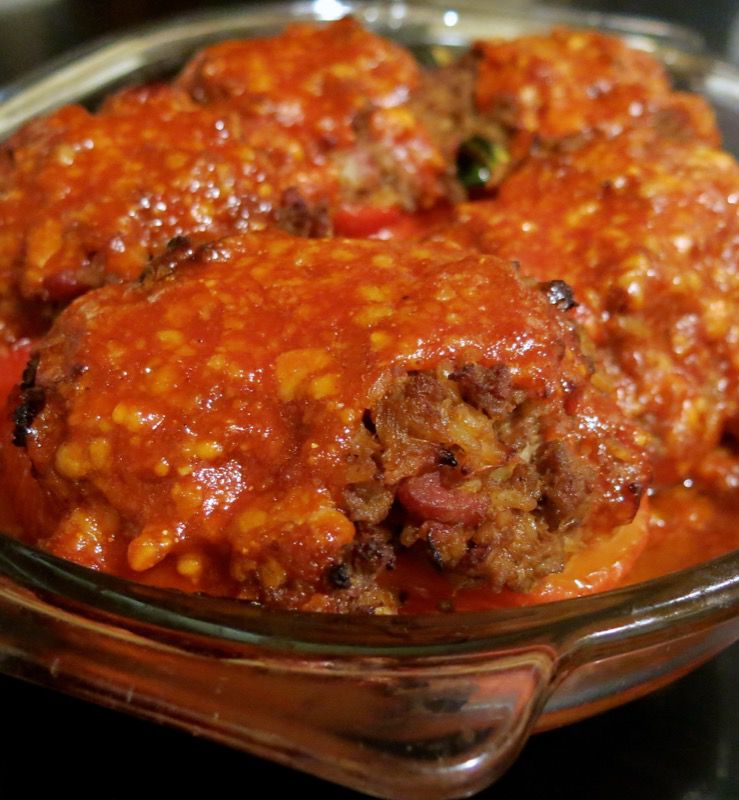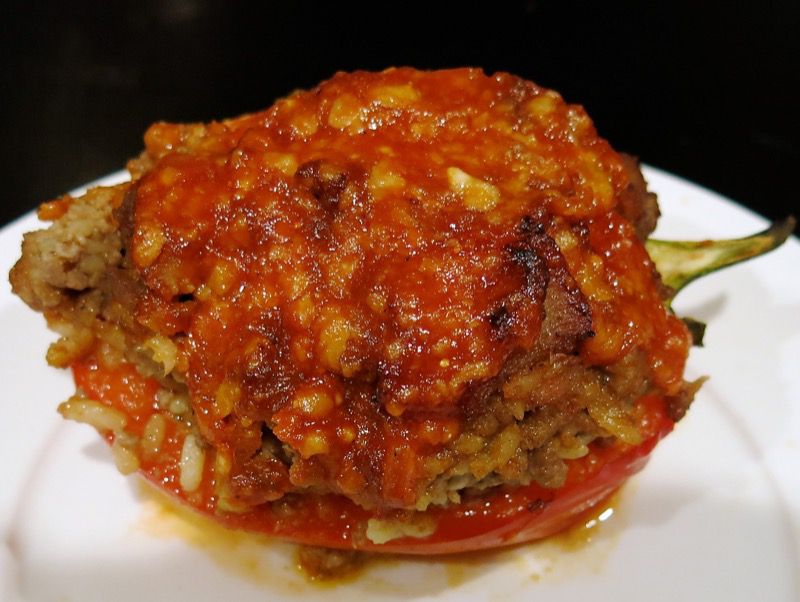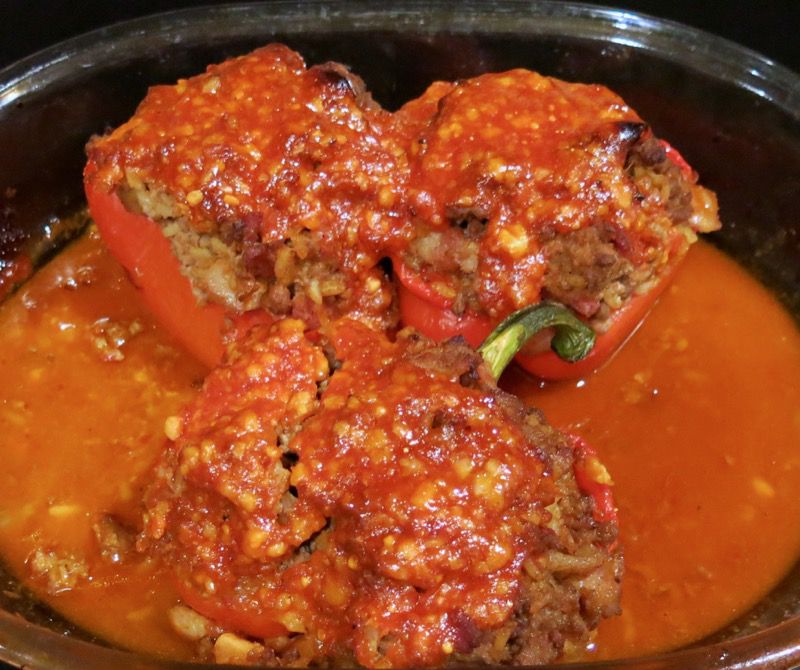 Vanja ate two. But he still only gave me an 8.5 out of 10. What? "Outstanding." was his comment. I think I need to take him to "fair marking school". "What would have made this dish a 10/10?" I questioned in dire earnest. "Sour cream." was his innocent answer. "I craved sour cream while eating it." I shook my head and revelled in the 8.5. Anything over an 8 is so rare, it is almost non-existent. I am certain I will be missed and appreciated this March as I snuggle with William Duggan while Vanja and Ragan enjoy this meal (with the unnecessary sour cream, of course). When I tasted the peppers the day after I served them, I was astonished. They surpassed expectations and motivated my effort to describe the impact of this tasting. I rarely sing such praises over such a simple dish, but should you try this recipe, please let me know if you experience a similar pleasure. Inquiring minds do want to know.
If you have a stuffed pepper recipe you love, please also tell me about it!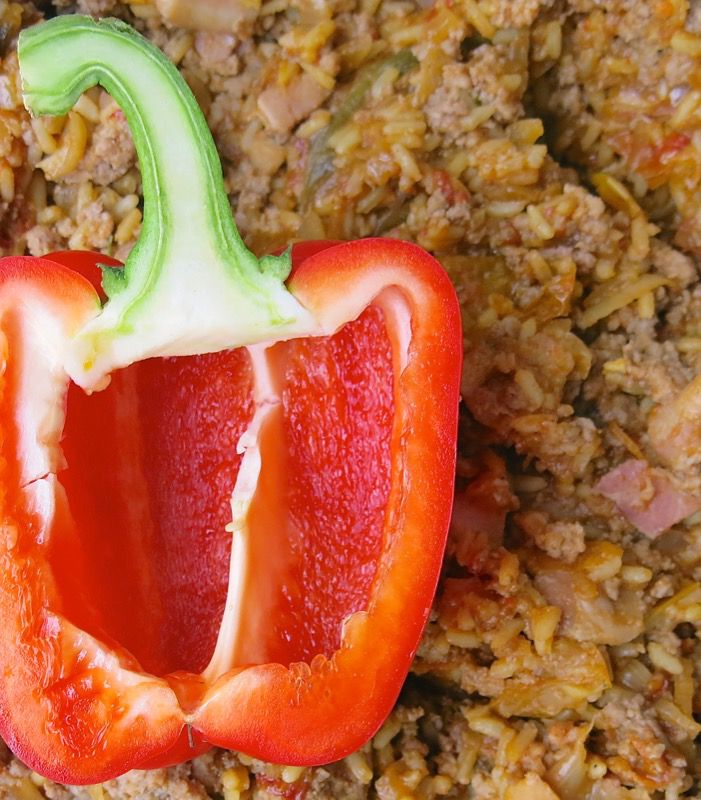 Mom's Meatloaf Topping