Calling all farmers and food producers… chime in!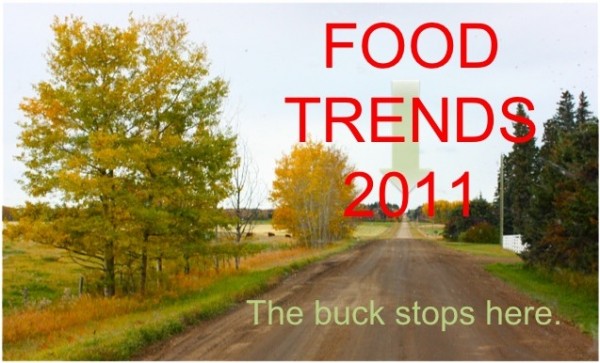 I am sorry and sad to say that my request to all of the farmers got stuck in my draft folder unbeknownst to me. Therefore, when I DID find it, it was sent out very late in the season and I have only four responses. However, I hope to update this post as other's get their reflections to me. I will let you know in future posts when this is complete. For now, we have four very insightful and deeply thoughtful local farmers providing their answers to the same four questions:
1. What do you see as the major food trends locally (Edmonton, Alberta) for 2011?
2. What do you see as major trends throughout Canada and or the US?
3. What would your most sincere hope, wish, or desire be to see as a food trend in 2011?
4. Any other comments…
If you are one of MY farmers, or one of Kevin Kossowan's farmers, and did not get an e-mail from me, check you junk e-mail box, please! For some reason, e-mail sees "A Canadian Foodie" as junk or spam all too often these days!
Jerry Kitt from First Nature Farms at Old Strathcona Farmer's Market every Saturday
Good questions. Â In answer to 1. and 2. : I feel that the home delivery of organic and local foods will continue to expand as our need for real food that 'touched the earth' becomes more valuable in our increasingly busy lives.
My wish? Â I am hoping that the Monsantos and Cargills of the world shoot themselves in the foot and that plants the seed that starts a new revolution in our food system. Â Control of our food supply needs to be in the hands of local producers around the world, not the pockets of corporations. My dream revolution would see to that. (Quite a wish eh?)
Do you receive my "Farm News"? Â If you would like to, just let me know.
Xina Chrapko from en SantéWinery at Old Strathcona Farmer's Market every Saturday and at City Market in the summer
While I have you for a moment, here's some advance news for you that will come out in 2011: We're renaming our winery and redoing our whole corporate identity. The "En Sante" brand is appropriate for an organic operation that, moreover, is situated near the banks of Lac Sante; however, our name [needs a change. Look for that in the New Year!]
After a few years (since 2007? 2008?) of slow'ish economics in Alberta, things seem like they might accelerate–or at least become more hopeful–in 2011, especially with the oil patch reporting more drilling. In Alberta, if the years from 2003 through 2006 are any indication, that will likely mean more eating out and possibly more travel in peoples' lives. As a result, I would expect there might be generally more food experimenting and more exotic dishes on peoples' plates. "Money Meets Culture", you might say.
The so-called Great Recession caused us to catch a glimpse of the "dark side" and forced nearly everyone to do more with less. As a result, there seems to be at least a temporary appreciation for NON-materialistic pursuits and more fundamental concerns about "community". Since Canada didn't fare as badly as other parts of the world, we are living the contrast, if you know what I mean….and for now, the U.S. is doing better than, for example, its fellow members in the G-20 like Ireland, Spain, Greece and Portugal. So, maybe in North America we'll see more family-centered dining and more care put into the most basic aspect of our lives: food. I see this as part of a return to the basics, especially if the economists are right and the road to recovery is very long and slow. My Mom, sister and I just returned (as one of Alberta's invited representatives) from Terra Madre held biannually in Torino (Turin), Italy. At Terra Madre, it was very apparent that people in many regions of the world are going ever-deeper into Slow Food, Organics and the Eat Local movement….i.e. returning to the basics is not merely a North American fad: it is much more fundamental and (seemingly) quite global. Or at least I hope so!
I would ask Santa for stronger regulations and enforcement of food safety in general. This takes many forms. For example:

There are Farmers' Markets that pretty much amount to 'middle men' for the Macdonald's Consolidated of the world or for importers (not actual farmers).
As well, we hear and read about more GMO/GE food entering the supply chain which is especially bad when it does NOT come with mandatory, clear labelling. I suppose that the large, integrated agri-industrial complex will forever hold sway in the corridors of power–partly by making threats and doomsday predictions if they get regulated–but it would be nice to see the "little guy" get a leg up by virtue of consumer insistence/demand for local, organic food.
And in developing countries, such a policy direction would allow people to feed themselves again in areas where this is not always the outcome and the consequences are tragic.

I think another really important issue related to food is waste. The impact of this is felt on so many levels

from how much food needs to be produced,
to waste at abattoirs,
to households,
to restaurants,
to the transportation of the waste to landfills, etc.
Land is precious and can produce only so much, so if we reduced the waste of what it already has produced, then we would not be trying to get it to produce more than its capacity especially when we take a long term view and consider the generations to come.
The saying "we do not inherit the land from our ancestors….we borrow it from the future" comes to mind.
Shannon and Danny Ruzicka from Natures Green Acres at City Market in the summer
I think the trend will be artisan products that are a twist of the standard food fare. For example: not just local clean beef, but grass finished clean local younger beef (like our nouveau beef), or not just local cheese, but grass fed unpasteurized local cheese, or not just locally grown veggies and fruit, but endangered veggies and fruit locally grown.
I think the same as above, but on a less intense scale. It will be the trendy thing to do but has the danger of becoming out of style once the artisan and endangered species (animals and plants) trend becomes more intense.
I'm excited about what I see as the possible trend, so that's what I hope for.
I think there will be a lot more reliance on you, the local food advocate, for information and education on local foods and specialty products. As one of the many producers whom you've advocated for and encouraged with the passion in which you seek real food and seek to teach others about it, I want to say Thank You!
Jenny Berk Vriend from Sundog Organics Farm at City Market in the summer
I think that the food trends this coming year will continue to emphasize local. I also think there is a growing interest in healthier meats such as pastured and grass finished as well as more natural processing techniques. I also think hunting is experiencing a bit of a renaissance. Not really my thing, though it is certainly a better way to eat meat.
If you are a farmer or a producer, I want to hear from you! Please answer these questions, or just speak from your heart in the comment section of this post. Tomorrow, I plan to finish this series with feedback from "The Man on the Street". Mel Priestly's colleagues, and as many other people as we could find to get responses to these questions will be featured. Please e-mail me if you have something to say so that I can feature your insights, too!