First Cousin to Hungarian Goulash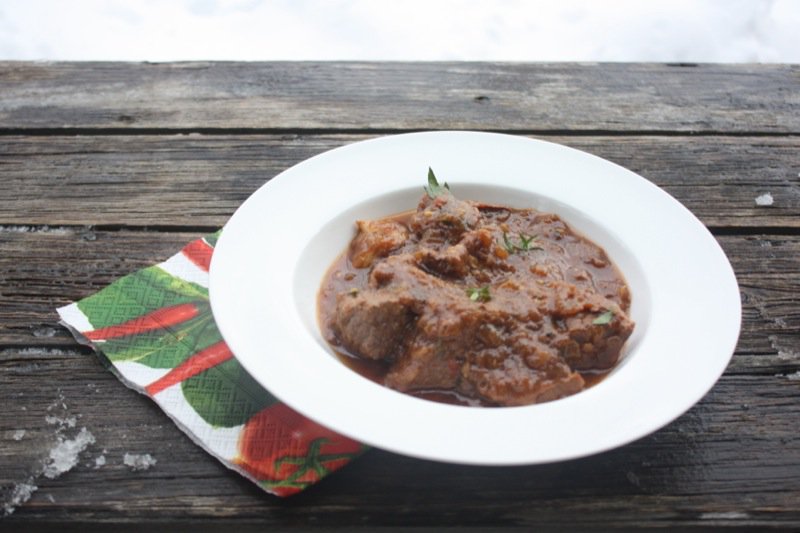 Though I knew that Serbia was beside Hungary, as we entered the county, the difference between the two was dramatic. The food, however, is similar in many ways. Serbian Goulash is a national dish there, as it is in Hungary. Each is moderately different from the other. Contrary to Wikipedia, Serbian goulash rarely has vegetables in it which is a reflection of the countryman's love of meat. Serbia is a country of carnivors. There is no doubt about that. In my experience, Serbian Goulash is simpler; however, do not mistake that as lacking in breadth or depth. Serbian food (the food of the entire former Yugoslavia) is most overlooked and one of the tastiest cuisines in the world.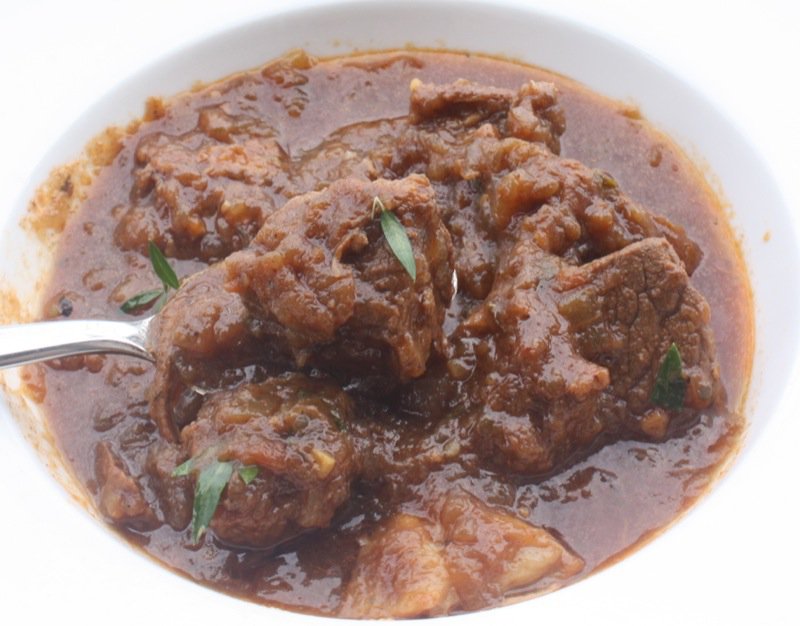 In Hungary, goulash can be made in the consistency of a soup or a stew. In Serbia, the sauce must be plentiful, and not thick, but it would never be considered a soup. Neither goulash is thickened with flour. It is thickened with the gelatinous meats used in the stew and in Hungary, sometimes with potatoes. There are also a variety of vegetables in the famous Hungarian Goulash which is not the case in Serbian Goulash.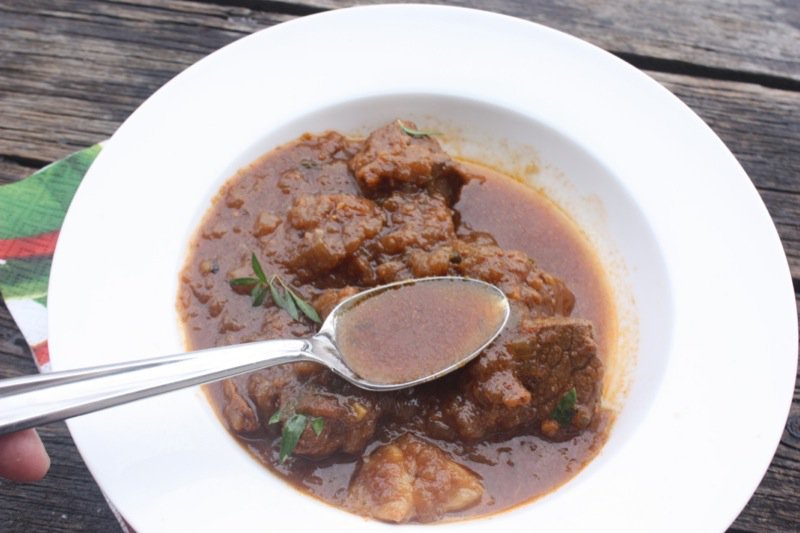 This is a dish that spells home to every Serbian man, woman and child. It is always served with mashed potatoes. And bread. There will always be bread. Just in case the potatoes didn't quite soak up all of the lovely juices. The bread is poised to sop up the rest.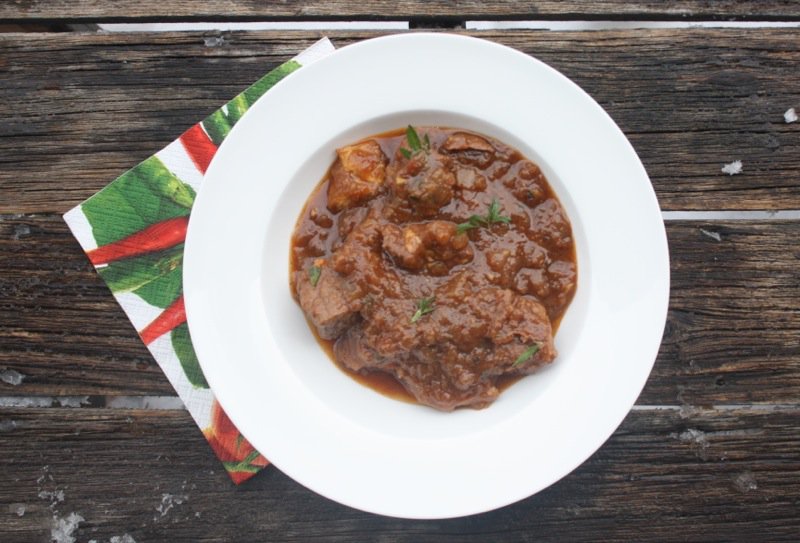 I used round steak from Nature's Green Acres Nouveau Beef. Vanja's mother would buy a piece of meat from her butcher of the cow that is worked hard and cook it down low and slow. It is all about the flavour driven by frugality. Most people have pork in their freezers and buy beefs from the butcher. This is a poor country, but this is a country where the people eat very well because they know how to make everything from scratch and are very good at it. This aspect of the culture has changed dramatically in the cities the past 10 years, but it remains the same in the countryside. The meat is not browned first, but the onions are caramelized which sets the rich foundation for this flavourful stew. I made a double batch, but caramelized the onions in two batches.
The simplicity of adding water to cover the onions just makes sense. Above, I have put both batches of onions into the pan and covered them with water to simmer. Why a double batch? I know my husband. This recipe says it serves four. That means two at our house. Remember, these people love their meat! After the onions have simmered, the parsley, paprika and bay leaves are added into the mix, with salt and pepper to taste. The bouquet garni has the bay leaves in it to save me from searching for them later. (Keep in mind you are seeing a double batch of ingredients in these photos. ) This is a land of paprika, or red peppers. The peppers grown in these Eastern countries are the best in the world. Ajvar is a famous dish in the homes of Balkan people. There is still not a commercial company who makes it anywhere close to to the people in their homes. Dried paprika is so fragrant and fresh that the paper bag I buy it in is wet from the oils in the peppers by the time I get home. You must use a really good paprika for this dish. Serbian paprika for Serbian Goulash! 🙂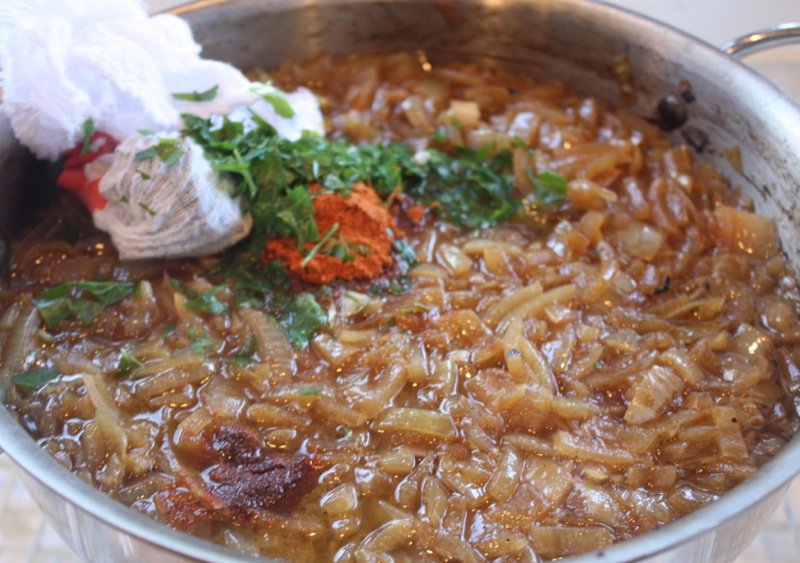 Parsley? Darn! And I know the difference a little of this makes to developing a complex flavour! So, knowing where the snow fell over it, out I scampered to retrieve enough for this dish! I found a branch and pulled it out from under the snow! Brrrr! The leaves were still lush and beautiful under those freezing white crystals!
Chunks of meat are added into the mix and all is once again covered with water and simmered. This is the point where simmering for a long time is really important when you have a tough cut of meat. You can see my pan is now too full, and I need to transfer the goods to a larger pot for this part of the process.
Salt, pepper and Vegeta added, and it is good to simmer! Vegeta is a seasoning salt that is used throughout Eastern Europe in almost everything. You can buy it with or without msg so watch that on the label. It can be found at any major grocery store and at almost all European independent grocers.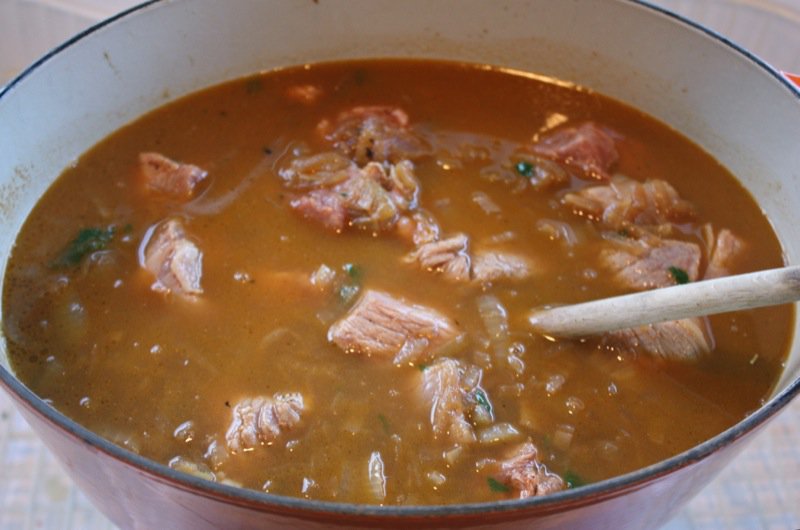 This evening, we are having our dear family friend, Vanja to dinner. Yes, there is another Vanja. The sun is going down, so the tomato juice is added now as we will be eating shortly, but the rest of the pictures will be taken tomorrow when the sun is up again! The intensity of the colour of this stew surprised me. The flavour is lovely, and after the tomato juice was added, the acid made a significant difference to balancing the overall flavour, but I could not discern any tomato flavour, per se.
Did I tell you I needed to make a double batch? V and V devoured half of the pot of stew, and then I sent another good portion home with our guest to enjoy the following day. This is what remains for you to see. I would say there was a decent dent put in this dish and that is was definitely a hit.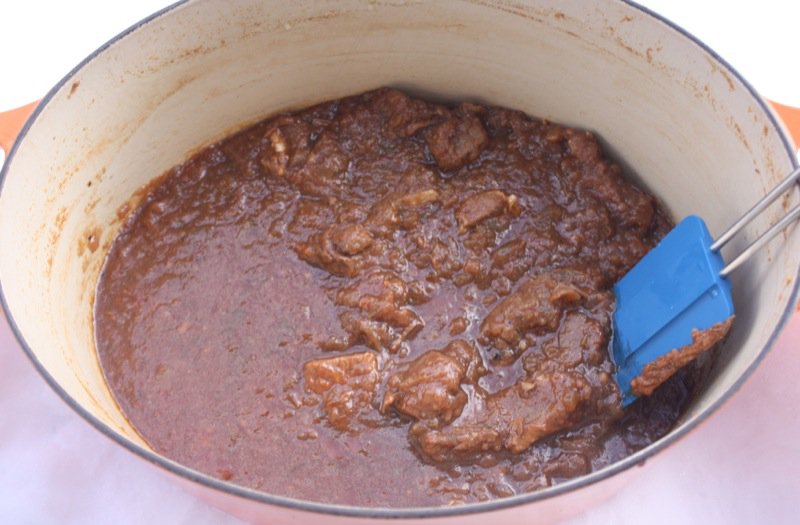 There was no flour added to this dish. It had definitely thickened up the second day, but without any flour added. A nice portion was draped over the remaining riced potatoes and made a nourishing, nurturing lunch the next day and there was still enough for one more meal.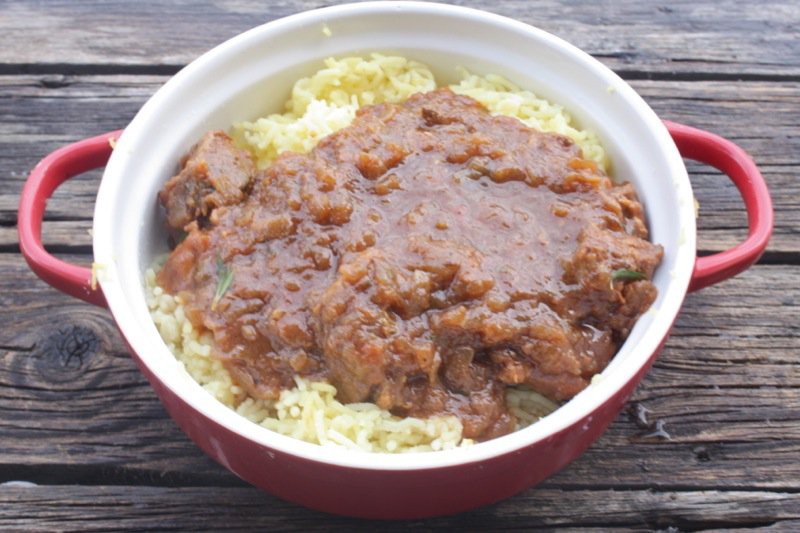 There is nothing fancy-schmancy about this dish. It is home food. A simple dish with basic ingredients that bring love and comfort to your kitchen table. Especially if your mother used to make it for you growing up!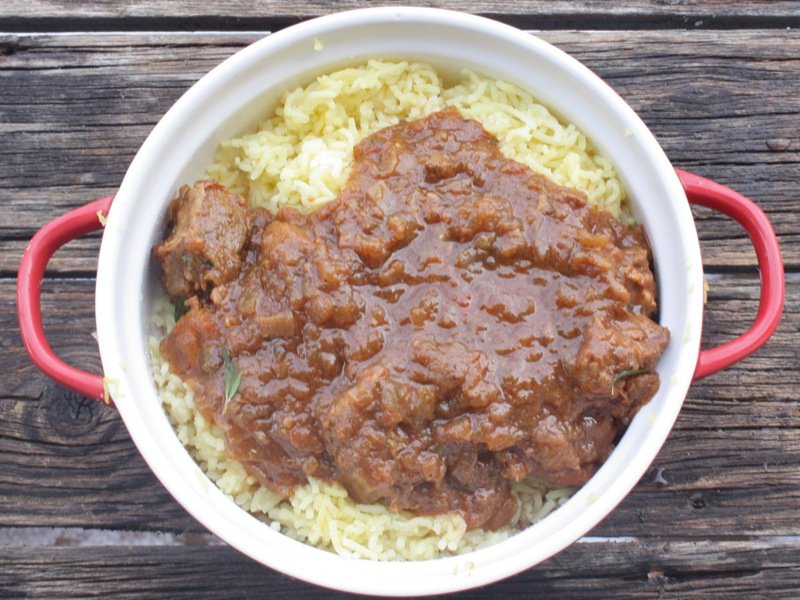 We wives who marry those men work to please! 🙂
Serbian Goulash
Ingredients:
600g onion, minced
3 T oil
2 bay leaves
2 tablespoons Vegeta
salt and pepper to taste
1 T fresh parsley, minced
2 teaspoons red paprika
600g beef, cubed
250ml tomato juice
1 t basil
Instructions:
Sauté onion in the oil, once caramelized, cover with water and simmer for 20 minutes
Add paprika, bay leaf, parsley and cubed meat to onion mixture; cover with water, stir and simmer until meat is cooked, adding more water if needed
Simmer for as long as possible; the longer it simmers, the better it tastes, stirring from time to time
Add Vegeta, tomato juice and season with salt and pepper 15 minutes before service
Just prior to service, add basil or garnish with it