A sour cherry varietal prolific on the Alberta prairies: a vibrant red and flavour-FULL!
This is the last of my deluge of homemade ice cream posts. Together now: "Awwwwww!" I know. I know. There are so many more kinds!
Next year. I must yet make the raspberry one, but am not posting it, as I did so long ago. Evans Cherries are an Alberta triumph. We can grow real cherries in this very short zone three garden climate. This is really something to celebrate, as there was no such option when I was a child growing up. Apples and berries. That was it. Thus, it has taken me some time to develop recipes that work with this cherry. Europeans have many lovely sour cherry recipes, and all would work with this cherry, I am sure. I have just had very little sour cherry experience through my life, so am learning as I go.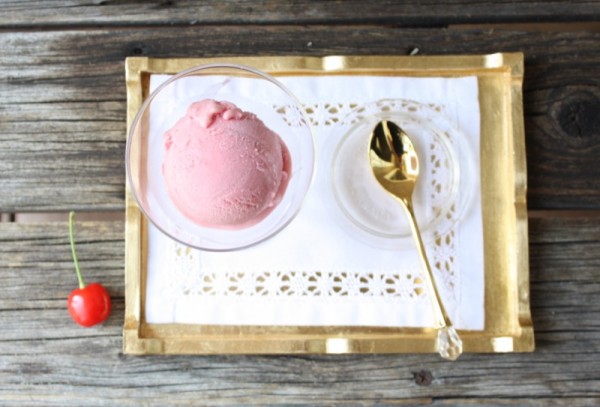 This ice cream is beautiful, isn't it. Last year, I made it differently. I made my standard Vanilla Custard Ice Cream recipe, and then minced a couple of cups of cherries and sprinkled them into the custard as the ice cream maker was churning. It tasted a lot like maraschino cherry ice cream. I kid you not! It was pretty and it was tasty, but not "cherryey" enough.
It is such a gorgeous colour and texture. I was very pleased.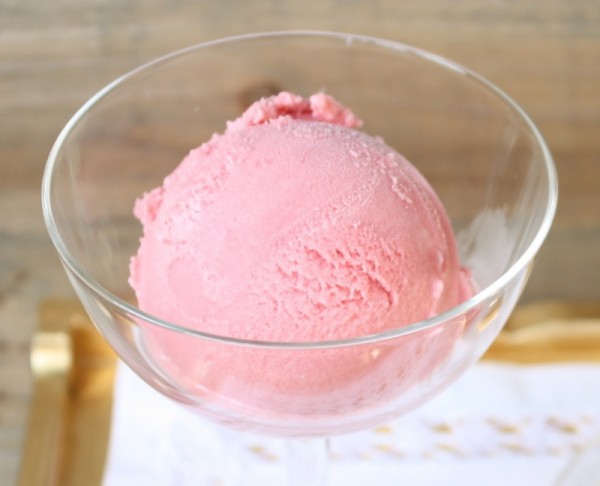 This year, I decided to make it in a similar fashion to the rhubarb and Saskatoon berry ice creams. I uses 700 grams of frozen berries, added 1/2 cup of sugar and no water. I chopped them and 'heated them to 60°C to maintain as much of the integrity of the cherry as possible. When there was a lot of juice in the pan (I confess, I did use my Thermomix), I puréed the cherries and then tasted them for texture. There was a grit. Darn. So, I pushed them through the tami. Due to the cherries being a liquid, the substance went through the tami quite quickly. I again used the rubber spatula to finish it off. No grit at all. I did get a little cherry fruit leather out of the waste, too!
Below is the 2 full cups of the cherry liquid I ended up with (just the right amount!) mixed with a cup of heavy cream. As this cherry purée was so wet, I then compensated for that by using cream with the sugar and the salt in the beginning of the recipe, instead of milk. It worked. This is not a super rich ice cream, but the same creamy lustre as most. The Saskatoon berry ice cream is the thickest in texture. The flavour of this ice cream is lovely, but like the Saskatoon berry ice cream, not as predominant as the colour. I would like the cherry flavour to be in the front row as it was last summer when I added the minced cherries to the vanilla ice cream. That is definitely what I will do next time, and what I believe will elevate this recipe to being an unforgettable taste experience.
The custard has now set overnight and is ready for churning. At this point, I would add at least a cup of minced cherries. Maybe two. The cherries would add a tartness to the ice cream and one cup may not upset that balance too much. Two cups, may. If the cherries were soaked in a simple syrup before being minced and added to the ice cream, that would solve that problem, me thinks.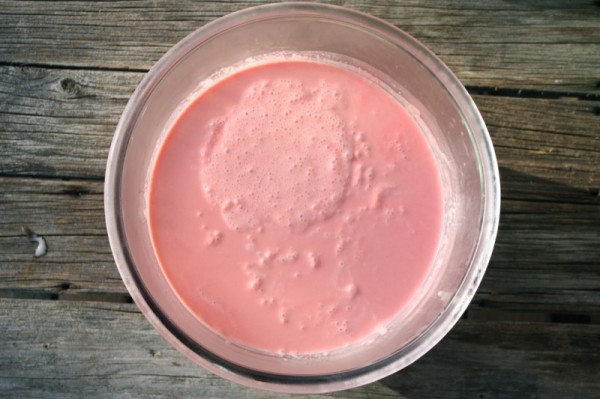 I was tickled pink by the texture and mouth feel. (No pun intended!)
Evans Cherry Ice Cream Recipe
About 2 quarts
Ingredients:
3 cups heavy cream
1/2 teaspoon of salt
2 1/2 cups sugar
2 cups Evans Cherry Coulis (made similarly to Black Currant Coulis*)
1 ½ cups (500ml) heavy cream
9 large egg yolks
Instructions:
Heat 2 cups of the cream salt, and sugar in a saucepan
In a separate bowl, stir together the egg yolks
Temper the yolks by gradually pouring some of the cream into the yolks, whisking constantly, then pour the warmed yolks and cream back into the saucepan
Cook over low heat, stirring constantly and scraping the bottom with a heat-resistant spatula, until the custard thickens enough to coat the spatula
Mix the remaining cup of ice cold heavy cream and cherry juice together in a large bowl over a bed of ice
Strain the custard into the cream and cherry juice mixture; stir over the ice bath until cool
Refrigerate to chill thoroughly: preferably overnight
Freeze the custard in your ice cream maker according to the manufacturer's instructions
Instructions for using the Thermomix:
Scale 2 cps of the cream, salt, and sugar in the TM bowl and heat to 50°C for 10 minutes at speed 2-3
Set time for 15 to 18 minutes, temperature to 80°C and speed on reverse 2-3; add each of the yolks to the warmed milk one at a time, within about 2 minutes
Mix the remaining cup of ice cold heavy cream and cherry juice together in a large bowl over a bed of ice
Strain the custard into the cream and cherry juice mixture; stir over the ice bath until cool
Refrigerate to chill thoroughly: preferably overnight
Freeze the custard in your ice cream maker according to the manufacturer's instructions
Note: *For the Sour Cherry Coulis I used 700g berries, 100 g sugar and no water; I got exactly 2 cups of very runny coulis (more like a juice)