Homemade Sour Cherry Pie Filling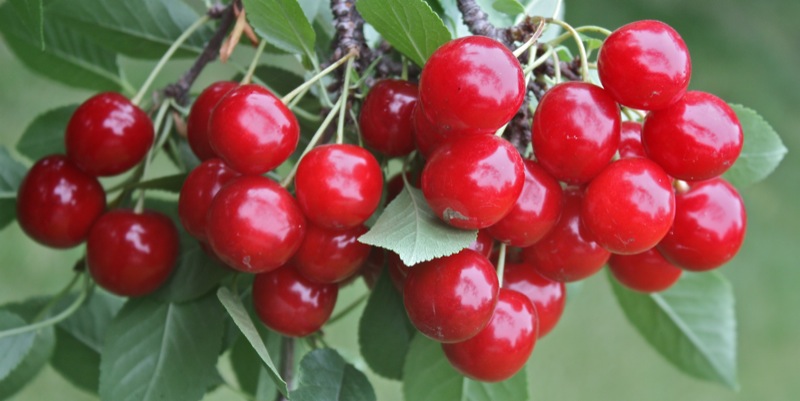 Ah, Spring! Where art thou?
Lo! where the rosy-bosom'd Hours,
Fair Venus' train appear,
Disclose the long-expecting flowers,
And wake the purple year!
The Attic warbler pours her throat,
Responsive to the cuckoo's note,
The untaught harmony of spring:
While whisp'ring pleasure as they fly,
Cool zephyrs thro' the clear blue sky
Their gather'd fragrance fling.
So tired of these long cold grey and dirty days of this long, drawn-out Winter-Spring. Time for a cherry pie! Not really – but time to get the abundance of frozen, pitted, gorgeous red Evans Sour Cherries out of my deep freeze and into something wild and colourful and bright and bountiful.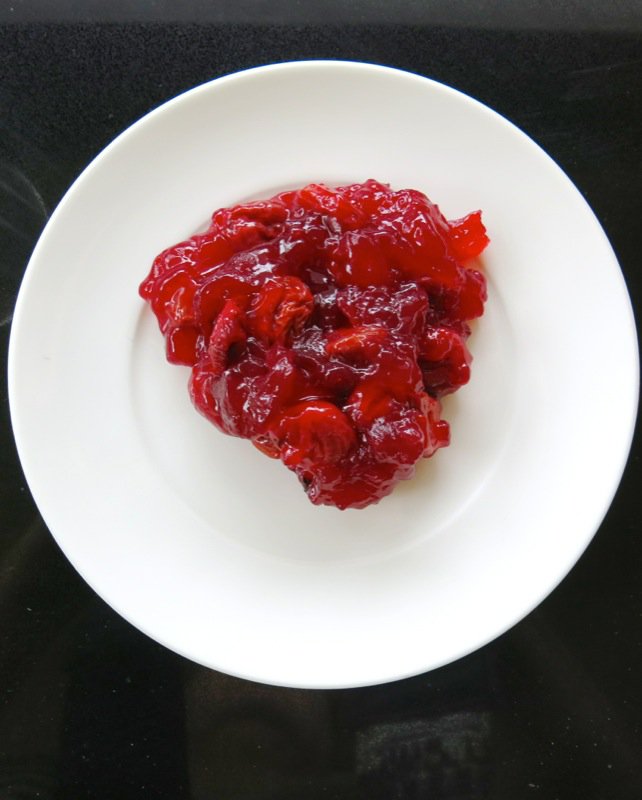 That looks about right. Actually, that was so easy, it makes getting there embarrassing!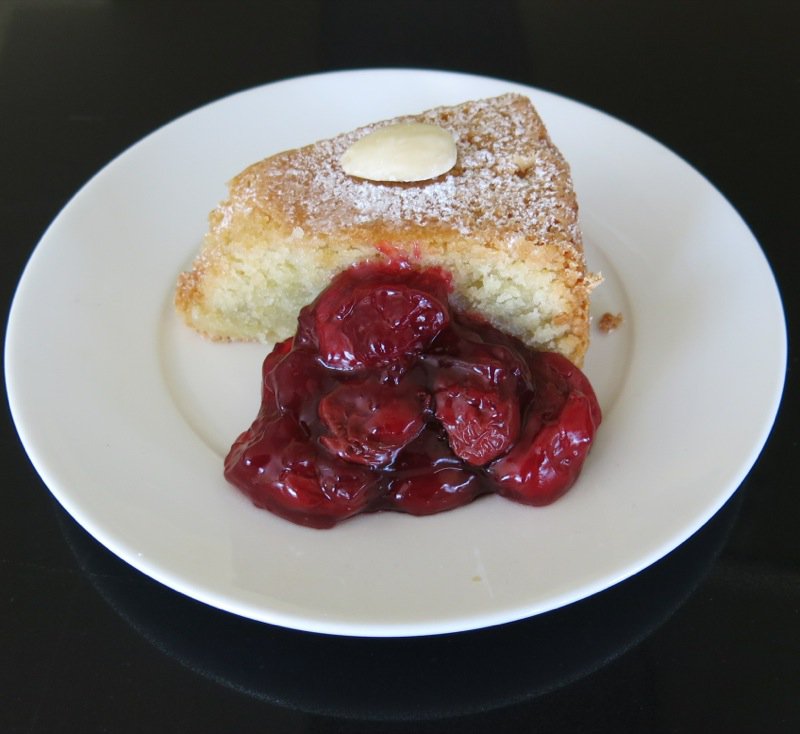 Superb with the Three Ingredient Gluten Free Algarvian Cake, above. Yet, making mistakes is how I learn. Wish it wasn't, but it just is. Has been that way all of my life. I should be brilliant by now.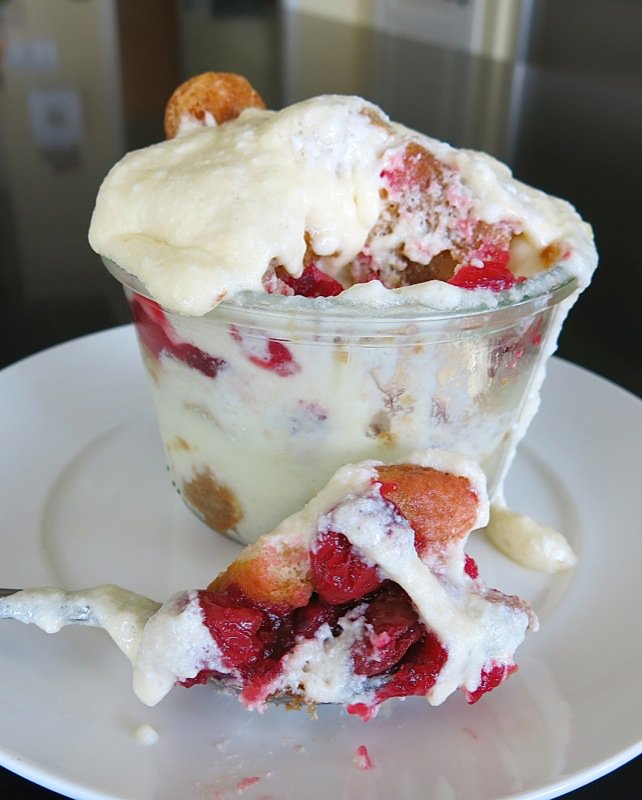 I do have my moments. Like, "inventing" this homemade Evans Sour Cherry Tiramisu. Vanja would say, "Don't mess with a good thing, Valerie." And, if he is saying this after the fact, it is the look he gives me that drives home my regret. My tiramisu is Vanja's favourite dessert. I have not made it for awhile and got the idea of making one with homemade Evans Sour Cherry pie filling inside of it. I couldn't face the possibility of that look, so decided to test my idea on a large one person portion instead of the entire batch.
"Look, ma! Mikey liked it! He liked it!" I will definitely be making a less traditional presentation of my classic recipe in a see-through pedestal bowl the next time I make it. This was supercalifragilisticexpialidociously delicious! You must try it. Making a tiramisu is so easy.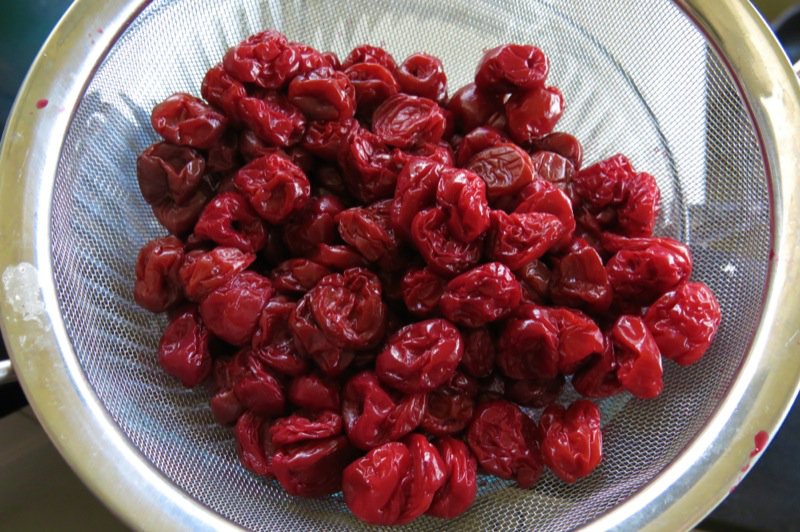 And…working my way through to develop this recipe with my frozen pitted cherries should have been so easy. Hands up. How many of you have frozen sour cherries in your deep freeze from the fall harvest? I hope you pitted them first. There is so much that can be accomplished with pitted frozen sour cherries. That was not the mistake I made. I have experienced more than my fair share of brilliant little flavourful episodes of Evans Sour Cherry concoctions burst upon my palate this Winter.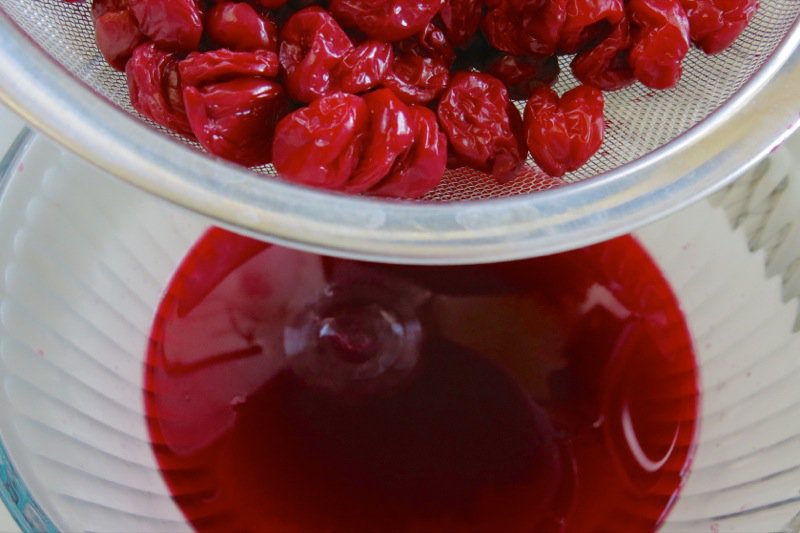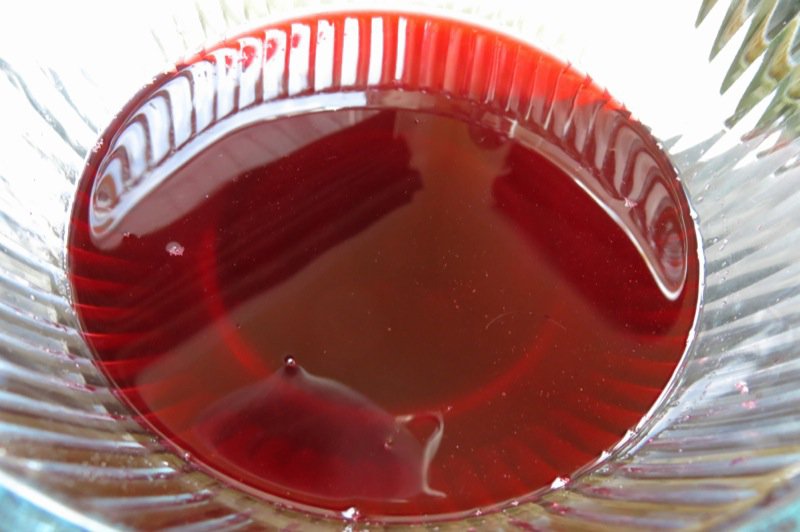 This is such a great recipe. I actually do pack my flash frozen pitted perfect little cherries into zip lock bags, two cups at a time. So, two bags had the four cups of berries needed and hanging them for a few hours produced about 2 1/3 cups of this jeweled cherry juice.
Cornstarch. My nemesis. I don't use it often. Probably why. The formula I applied to the dry ingredients to wet for this recipe was actually perfect the first time. That was a miracle. Oh, I also believe in miracles. They also happen to me all of the time. I'd sure be in trouble if they didn't. Recognizing them used to take some time, but now, they are just obvious. I've made a lot of sour cherry recipes and pies, but never the sour cherry pie filling with that translucent thick sauce I could eat out of the can with a spoon. And, why not? I like to use it. I enjoy eating it. Even though it tastes like something that I could never possibly make myself – and maybe shouldn't? The thickened sauce does have that "naughty-naughty" written all over it, don't you think?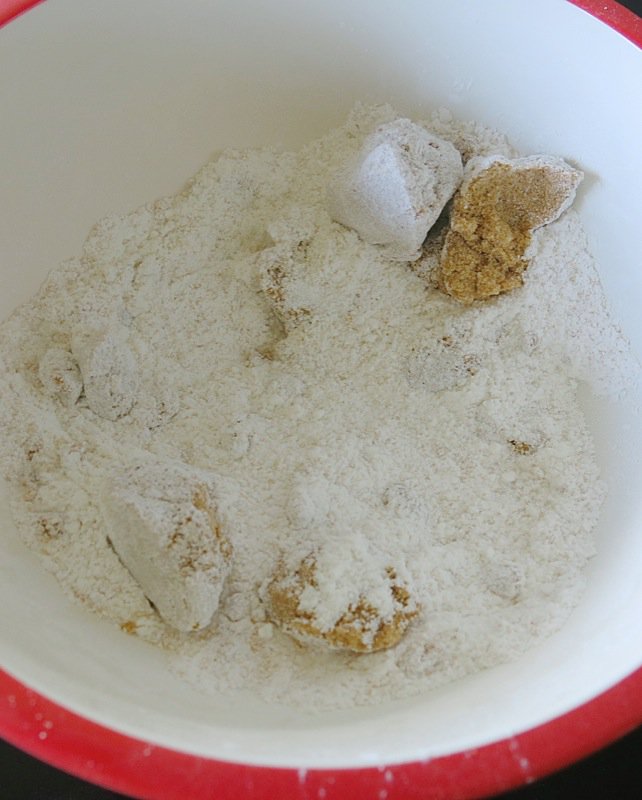 Second time around, I did it differently. I added the dry ingredients through a sieve to the juice, gently shaking the mixture over the heating juice and that worked perfectly. I was going to use a 2:1 ration of juice to sugar, but decided to use less sugar to start, so did 1/3 of brown and 1/3 cups of white sugar with 1/3 cups of corn starch. Recipes for preserved cherries use brown sugar, so I took the risk and used both. That worked well.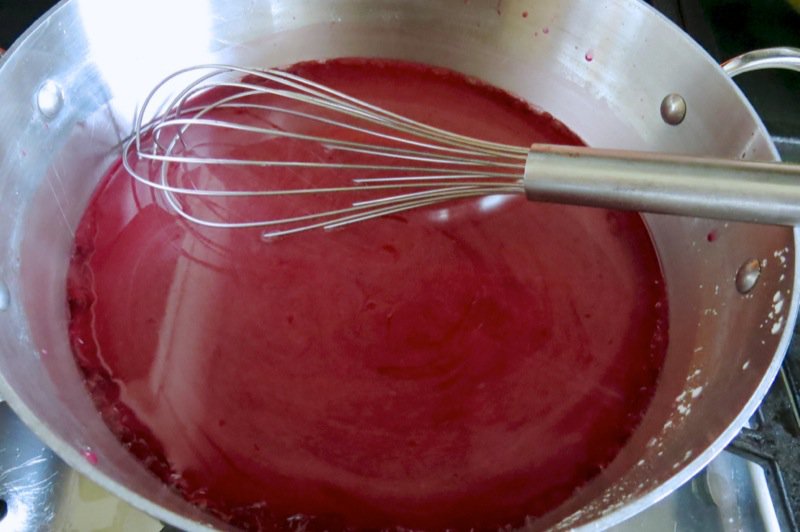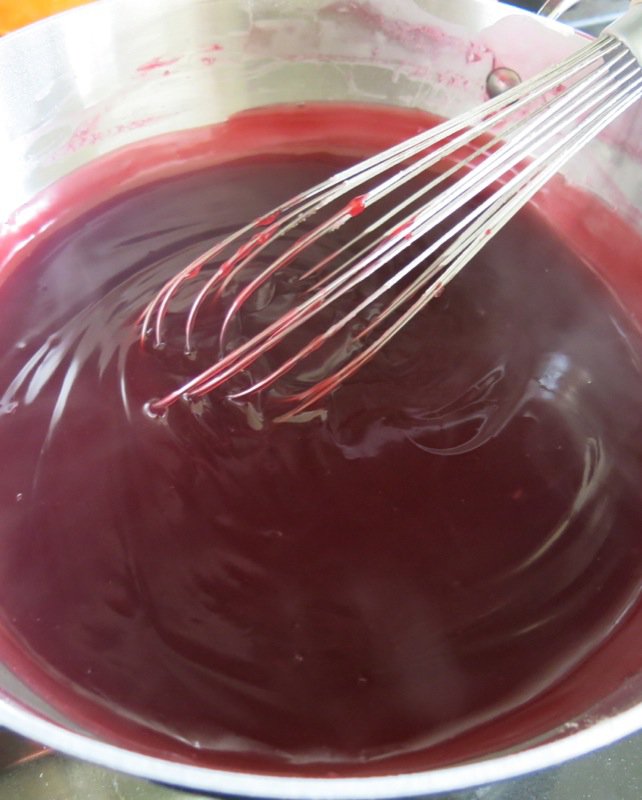 It was actually perfect. But, I first time round, I decided to add the extra juice… and then more cornstarch… and what a mess. I liquified it all to use in a cake or triffle and started again. Can anyone relate? It was actually a delicious mistake, but had very few possibilities for use. The miracle was getting the formula for this recipe right the first time. The mistake was looking the miracle straight in the face and denying that it had actually happened by adding the remaining juice. Spank me.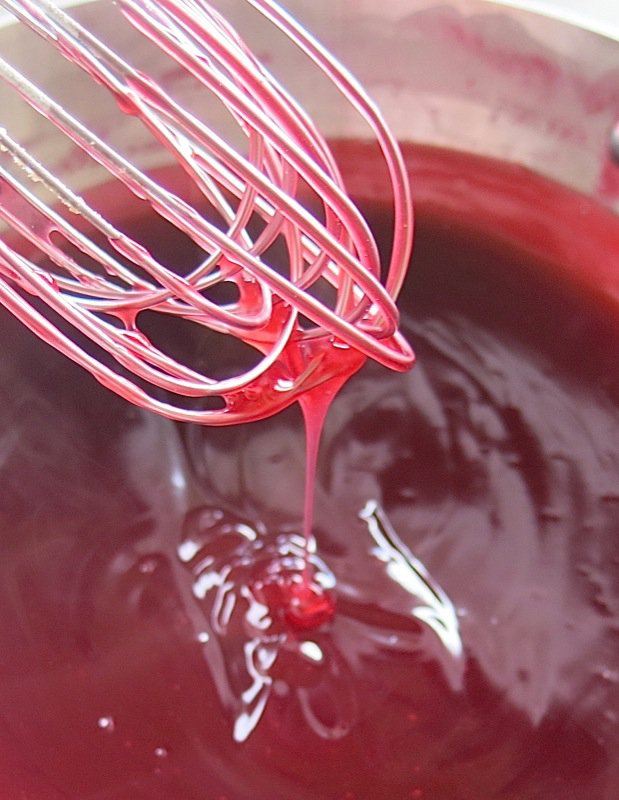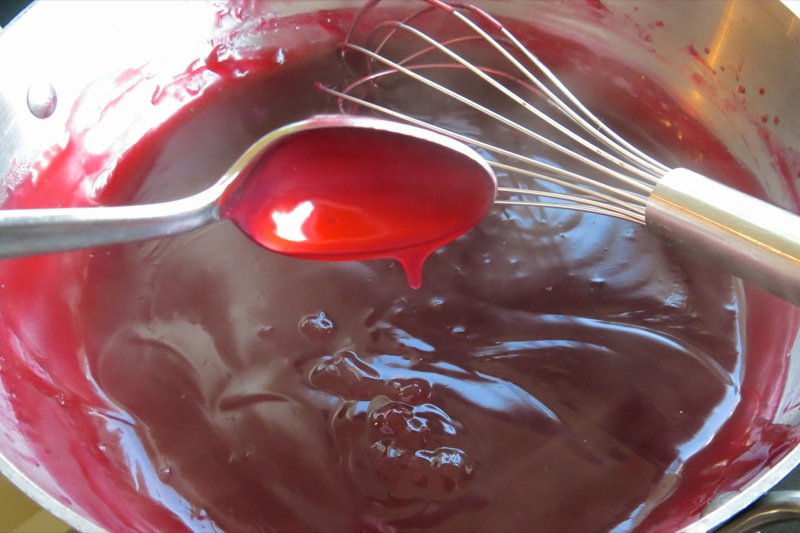 Yet, it happened. This is a great recipe. The sauce is very thick, seemingly too thick as it is hot, and will thicken much more when cool; however, the cherries need to be added and will dilute the viscosity.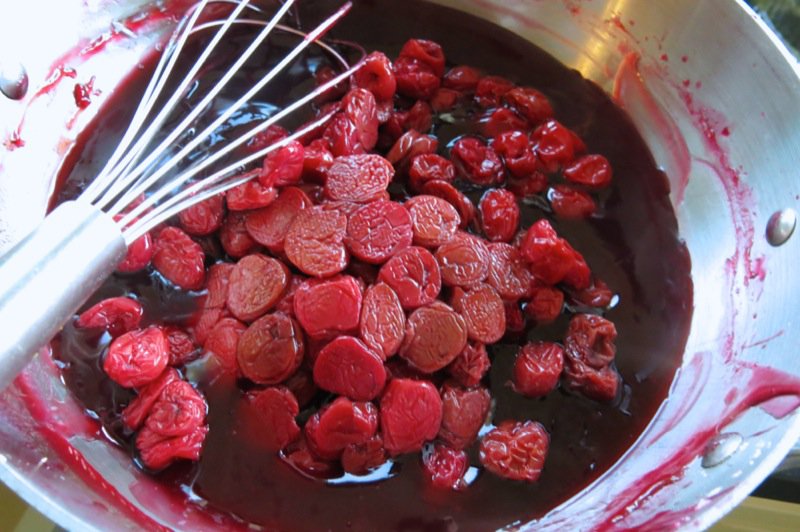 Frozen cherries do look deflated, don't they? It is amazing how a little cooking plumps them right up.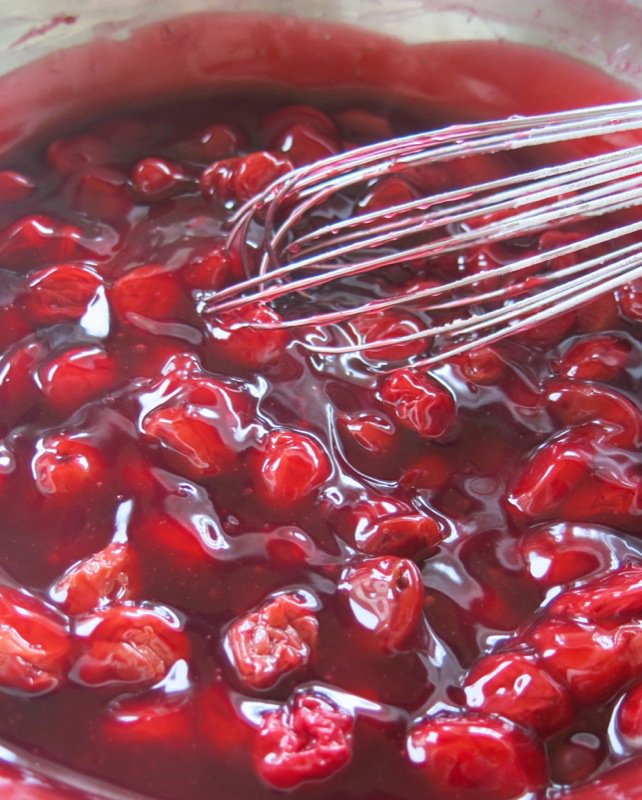 Important to cook the cherries in the sauce a couple of more minutes to firm the sauce back up.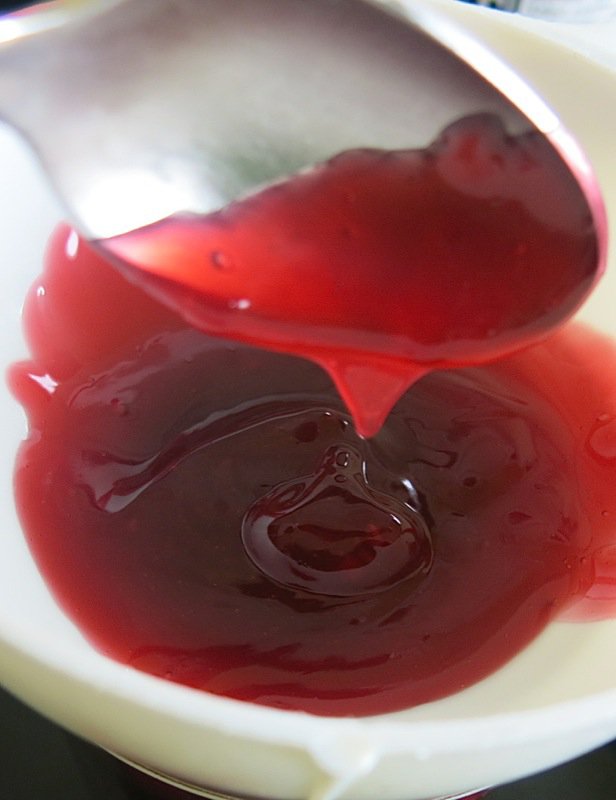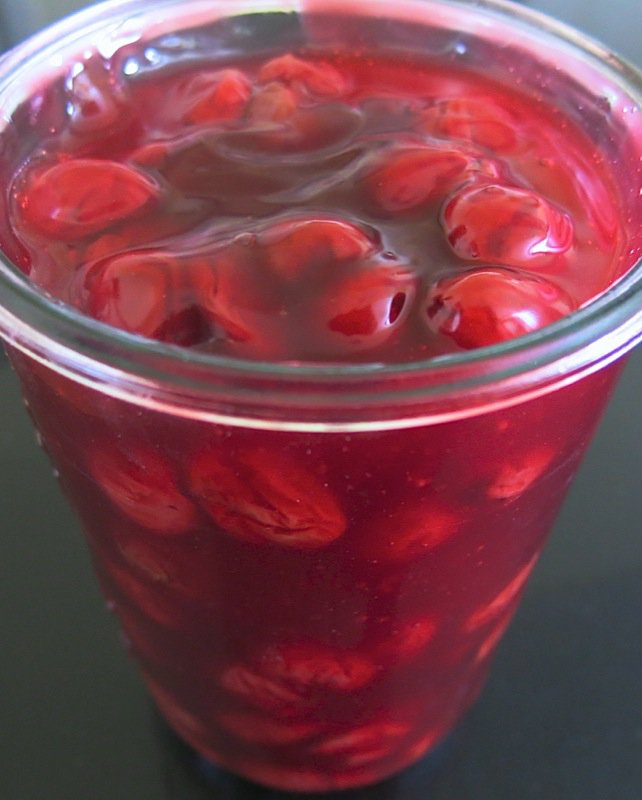 The entire batch makes exactly one liter of filling, perfect for one pie. Who knew? S-m-a-r-t-e-r than I thought by a country mile. I was so pleased (and shocked, actually).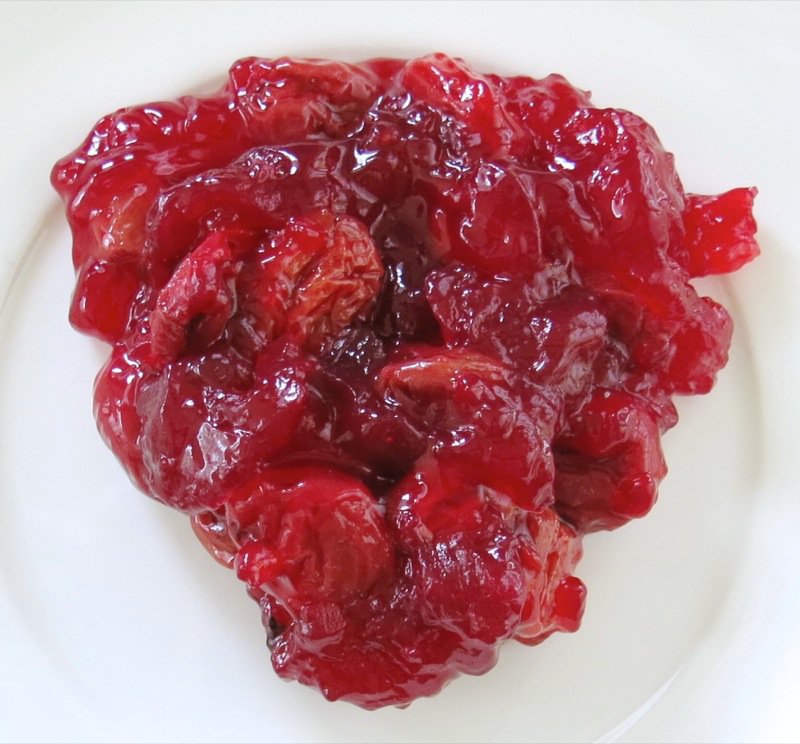 This recipe does thicken to a gel at refrigerator temperature, but back to room temperature, or inside of a pie, and you have the perfect homemade Evans sour cherry pie filling that you can use any way you normally would as you used to use that canned concoction with all of those deadly preservatives.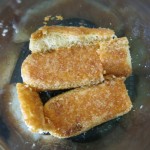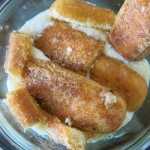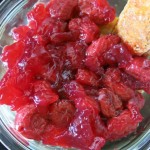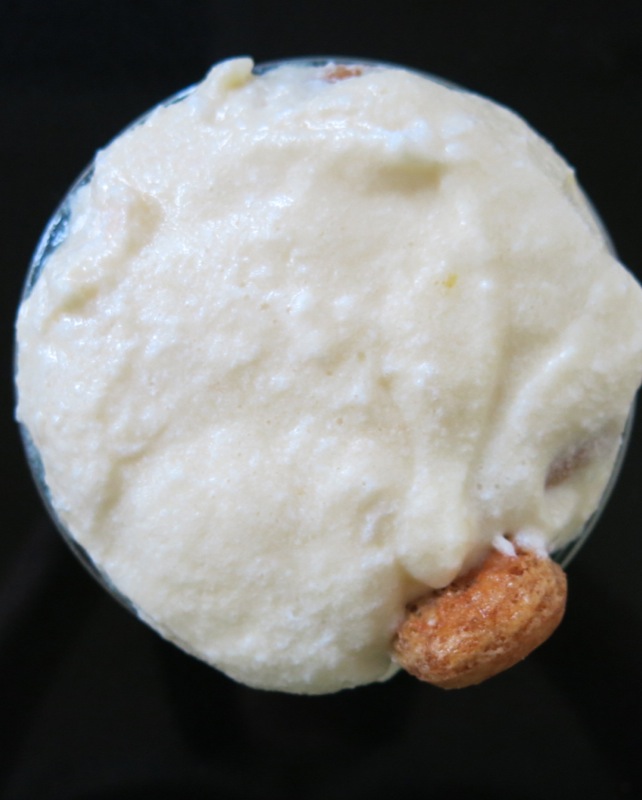 Making a tiramisu in the classic fashion, I always double my recipe (use 12 eggs and 2 500mL containers of Mascarpone, or make my own double batch), and find I inevitably have a generous amount left over for another little individual sized dish that would actually feed two. So, dipping the Lady Fingers into the espresso Kahlua mixture to layer the bottom of the jar, I layered the light eggy cheese mixture the first layer, and then dolloped a layer of this homemade Evans sour cherry pie filling under the second layer of cream. The third layer of liqueur soaked biscuits was topped off with the remaining cream, then set to cure (soak all the goodness into the biscuits, until the dish "becomes one within itself".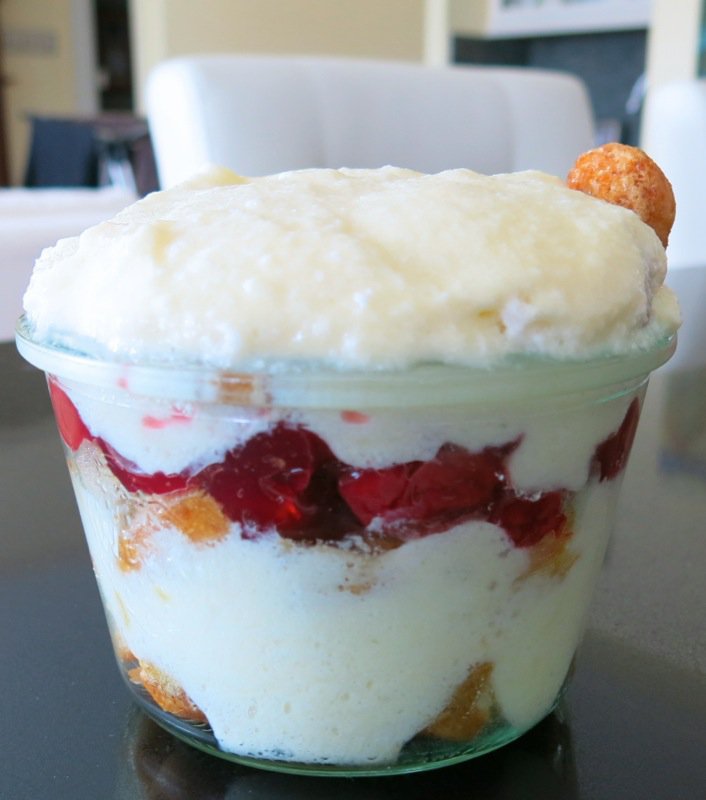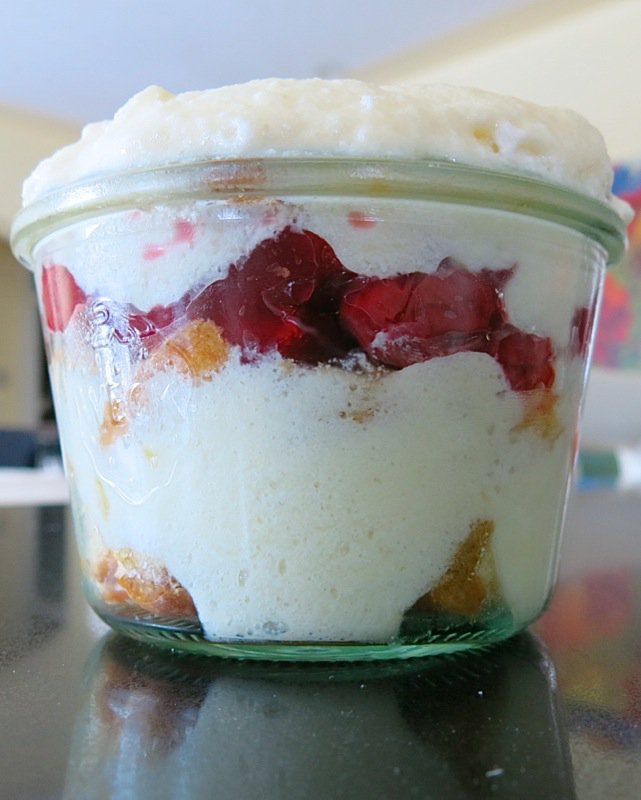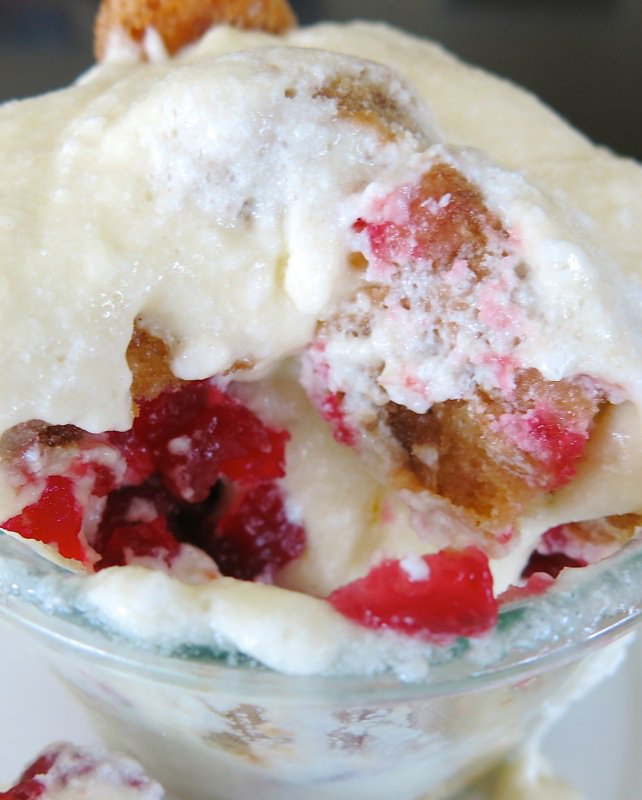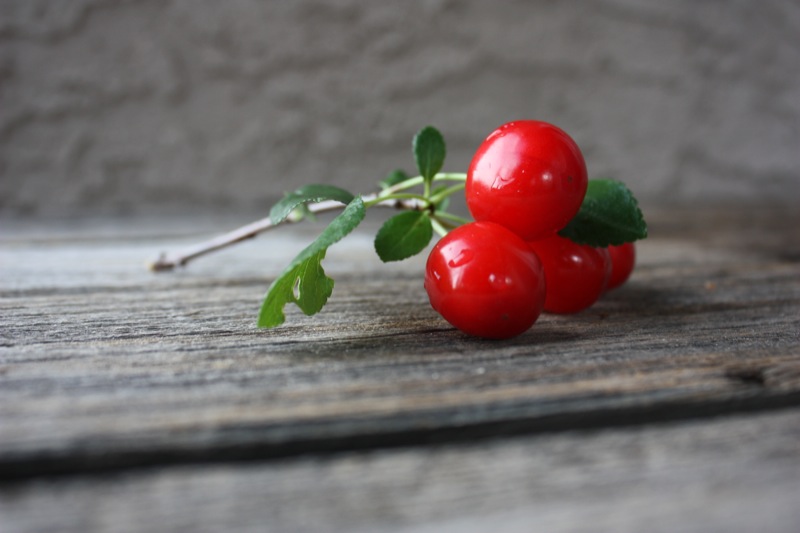 I want to sing a rendition of "I AM FREE!" from the mountains, as I have just made the most gorgeous, much healthier version of a pie filling we all love, from cherries I grew in my own backyard. And the taste? Enough sugar, no doubt about it, yet that tart cherry flavour is addictive. Completely different than canned filling. I had not realized that creating such intense flavour in this kind of a recipe was even possible. Seriously. Yeah.
Still is the toiling hand of Care:
The panting herds repose:
Yet hark, how thro' the peopled air
The busy murmur glows!
Yep. If Spring is not in the air, we can still force it there. (part of Ode in the Spring by Thomas Gray)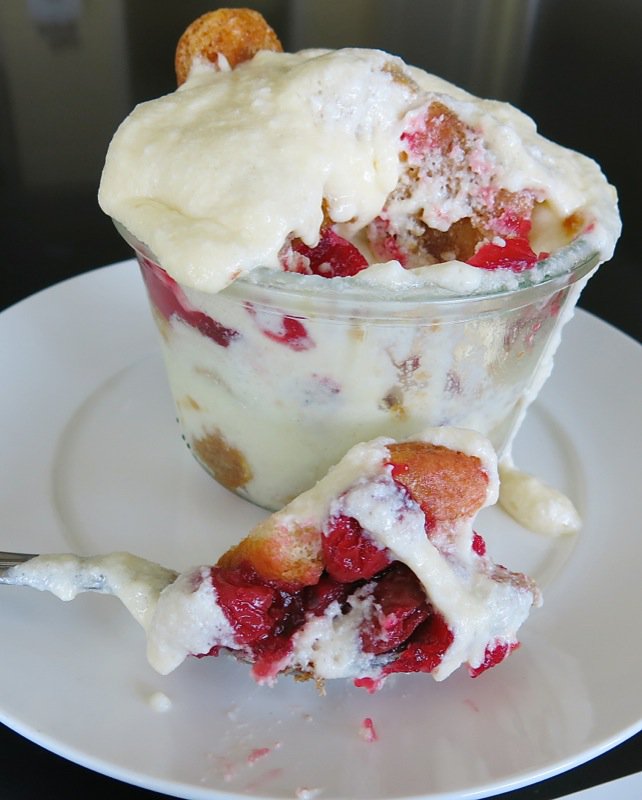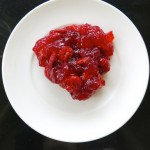 Evans Sour Cherry Pie Filling


This is the cherry pie filling recipe you have been looking for. The one exactly like the pie filling you buy in the can, but better, because you know what is in it, and made it yourself.
Total Time
3
hours
12
minutes
Ingredients
4

cups

pitted sour cherries fresh and pitted

, then frozen and drained

2

cup

cherry juice

(I got more than 2 cups when my frozen cherries thawed)

1/3

cup

cornstarch

1/3

cup

brown sugar

1/3

cup

white sugar

1

teaspoon

almond extract

2

teaspoons

vanilla
Instructions
Thaw cherries, and hang in sieve over a bowl for a couple hours to separate cherries from juice

Blend cornstarch with both sugars; place juice in a medium saucepan, and whisk in dry ingredients as you sprinkle them over the juice via a sieve

At medium-low heat, stir until thickened and clear; mixture will be very thick

Add strained cherries, stirring constantly to bring mixture back to a boil: 1-2 minutes (it won't really boil, but will just plop-plop for a minute or two as you continue to stir constantly)

Remove from heat immediately as cherries are tender should not be overcooked

Stir in almond and vanilla; pour into canning jar

Cool to room temperature

Freeze pie filling or store in fridge for 2-3 weeks in tightly sealed container
Instructions for Thermomix:
Thaw cherries, and hang in sieve over a bowl for a couple hours to separate cherries from juice

Scale cornstarch and both sugars into the TM bowl slowly; combine for 2 seconds at speed 0-3

Set for 1 minute on speed 2 and slowly pour juice in through the hole in the lid

Set time to 4 minutes, temperature to 80C and speed on 3; stir until mixture is very thick and clear

Add cherries to the sauce in the TM bowl; set time to 2 minutes at Reverse speed 2 and temperature at 80C

Remove from heat immediately as cherries are tender should not be overcooked

Stir in almond and vanilla; pour into canning jar

Cool to room temperature

Freeze pie filling or store in fridge for 2-3 weeks in tightly sealed container
Recipe Notes
I measure my cherries every year, after pitting, into 2 cup bags for freezing. Therefore, I know I have 4 cups of cherries and the juice from the frozen cherries is necessary for this filling. You will find you have about 2 1/2 cups juice. Don't even think about putting the extra juice into the recipe.