Rhubarb Strawberry Jam: Ragan's first original Thermomix® Recipe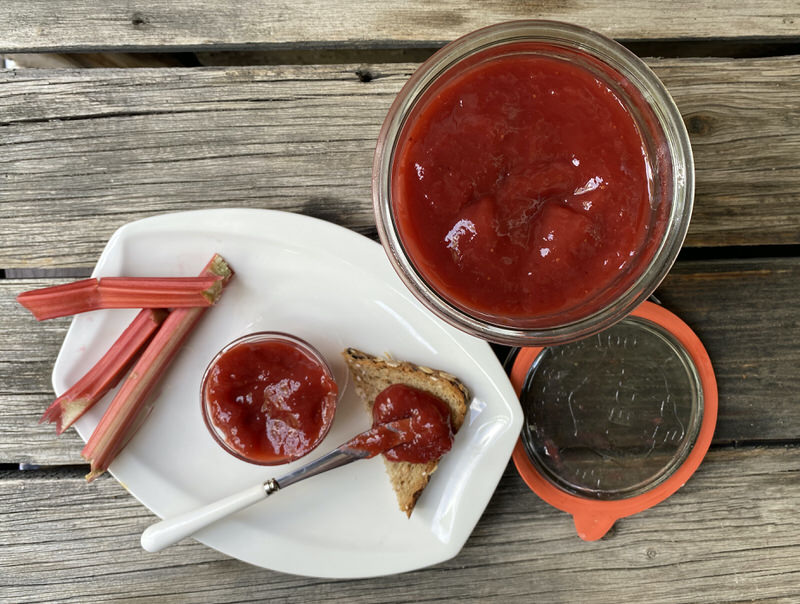 I have received three clumps of rhubarb from friends that are supposedly red rhubarb varietals. I bought one from a nursery myself. I only recall one name: "Glaskins Perpetual Red", but no other. Everyone looked fabulous in the garden of the giver. And don't get me wrong. I can grow a jungle of rhubarb. Just not red.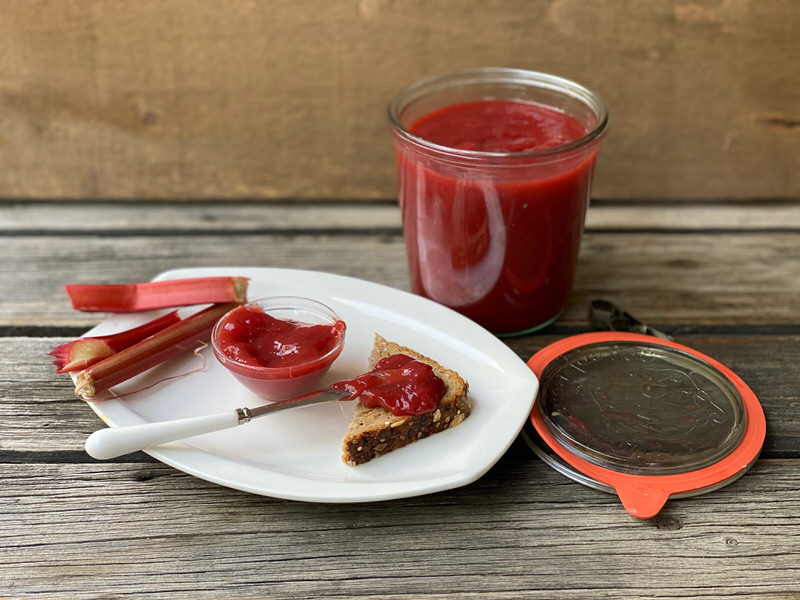 Each Spring, the anticipation swells as the earth bulges with the tender leaves of the first green shoots in the garden. Each Spring, disappointment. Red when planted, green the following year. Every time. Every time. If anyone reading is near Edmonton with a clump of red rhubarb that needs separating, consider me. I have not given up. I have just given up understanding what makes the rhubarb red. I just know I want it.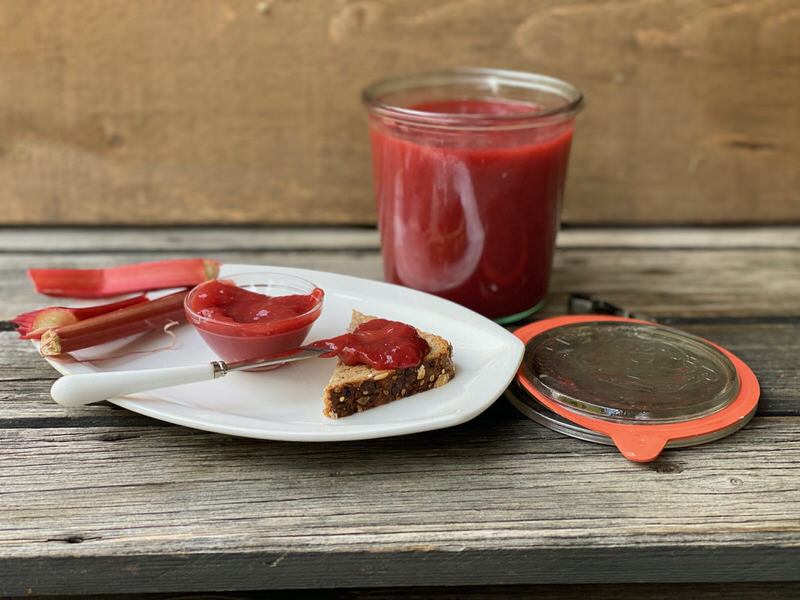 I have so much of the old fashioned massive thick light green centred stalks in my garden every year that I can never use them all. Remember me if you want some. Happy to share! It grows all summer! And, as I planted only herbs this summer due to Covid-19 and not getting to the garden centers, the rhubarb is even more present. Ragan took note and a big armful home to be creative with. I have been creative with a few bundles myself: Grandma Maude's Rhubarb Custard Pie, a tasty Rhubarb Strawberry Custard Square, a delicious Homemade Rhubarb Ice Cream (why hasn't anyone sold this in a carton, yet?), and not so creative, but a several-times-a-season-must Rhubarb Crisp and so many more (tarts, jams, cakes…)!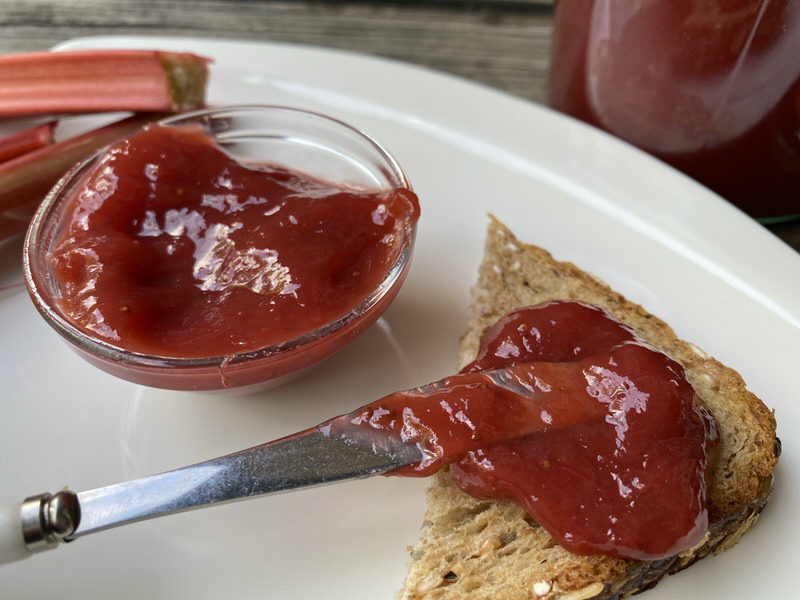 She came up with a variety of concoctions but this was the simplest and most delicious in my humble opinion. I LOVE IT and I'm really not a "jam gal".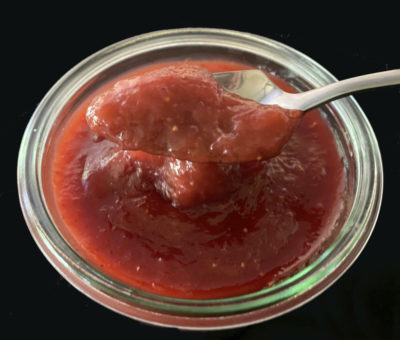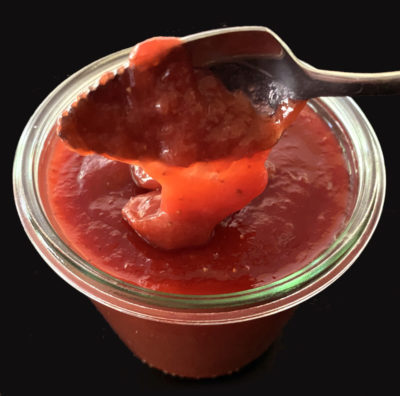 Really a beautiful colour. After she made it, she found a Rhubarb Brioche recipe on the Cookidoo® French recipe platform and we were motivated. Rhubarb Brioche? Yes, please! We made it, too!
Rhubarb Strawberry Jam: Mise en Place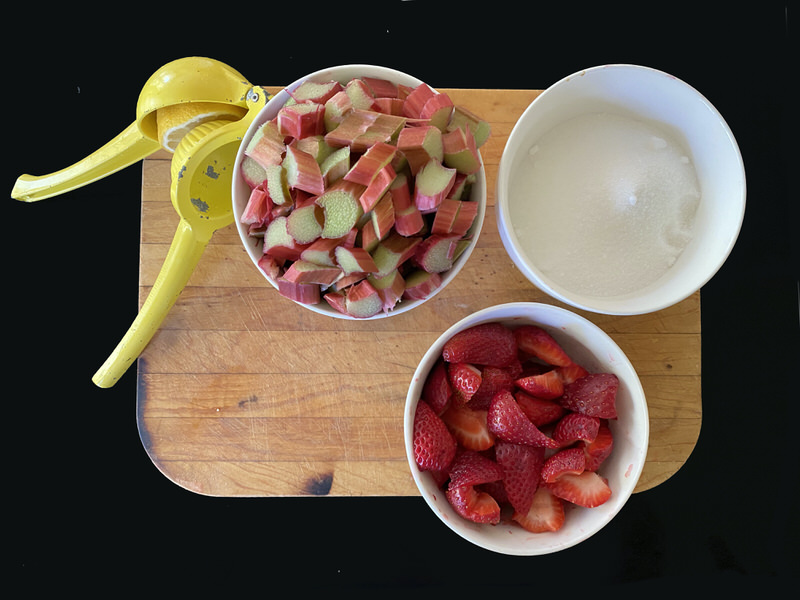 This recipe has four very simple ingredients. Sometimes – many times – simple is best. This is one of those times.
Rhubarb Strawberry Jam: An Incredible Filling for Brioche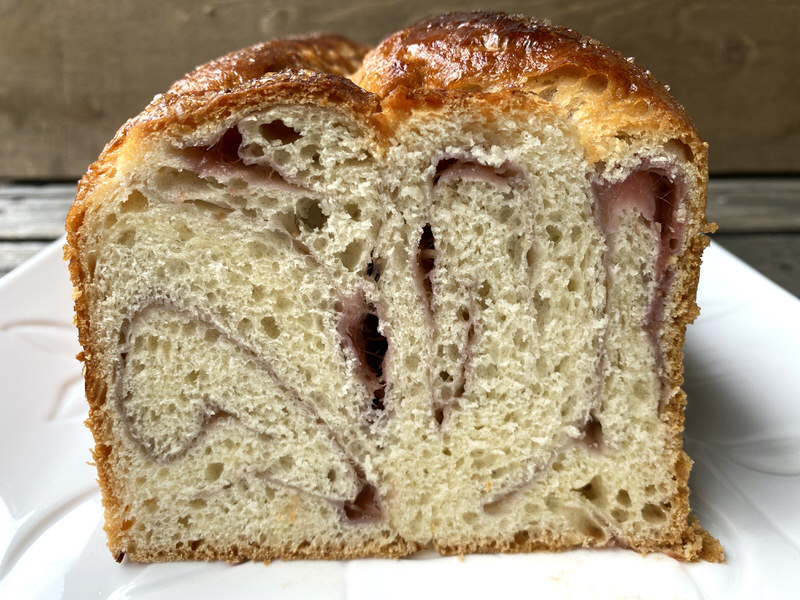 You will find the recipe for this bread here. Oh, my. What fun we had. The jam. The dough. The experience. Such fun! Let us know if you make it and enjoy it as much as we did. So proud of Ragan for taking the initiative and coupling it with her learnings from presenting so many online Thermomix® Cooking Classes to create such a dynamite flavour bomb!
Rhubarb Strawberry Jam: The Recipe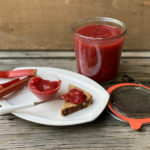 Ragan's Rhubarb and Strawberry Jam
A vibrant, delicious flavour bomb!
Ingredients
500

grams

rhubarb, chopped

300

grams

strawberries, hulled and quartered

450

grams

granulated sugar

1/2

lemon, juice freshly squeezed
Instructions
Place all ingredients into mixing bowl and set time for 30 minutes at Varoma speed 3

Pour into sterilized jar through a funnel seal and refrigerate until ready to use