August 16. 2012 Tomatoes have been ripening on the vine for a good week now!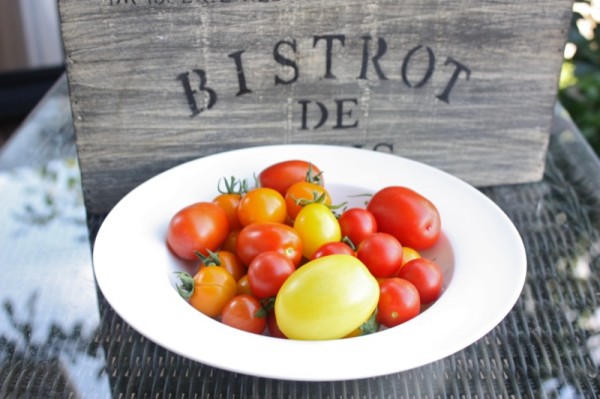 Maybe this is the rhythm of our garden: the raspberries have just finished and the tomatoes are ready! They have been presenting their rosy little cheeks the last couple of weeks now, but only enough ripening to make the watering and weeding fun. Now, however, the bushes are bursting with colour and lively life! I just ran out to pick a few for supper tonight, and look at this harvest!
The large one is the Purple Cherokee which is usually one of my fleshy meaty favourites. This one is not so full of flavour. I am puzzled. The small tomatoes are. Each has their own perky little personality which I will explore in greater depth, later in the summer, once all have ripened. For now, I am going to snip some chives and herbs, mince some onion and sliver the lettuces. (Vanja says they are like eating grass, so I have to camouflage that usually savored freshness!)
This was an winning green this year (below). It is "Basil Lettuce" from Renée's Seeds and is a light crinkly basil. The flavour is as intense and the Italian basil I am used to, yet the texture is lighter and more crisp. I have had a lot of fun with it in summer salads!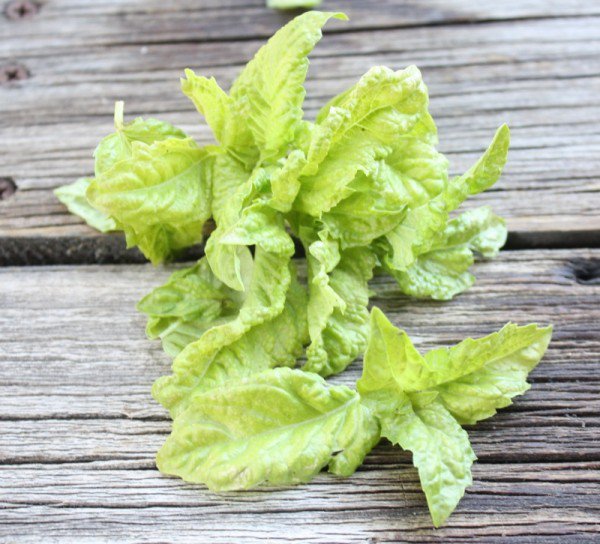 What little garden treasures are you harvesting for your evening meals? Inquiring minds want to know! 😉