To-Die-For Buttermilk Biscuits (or Baking Powder Tea Biscuits)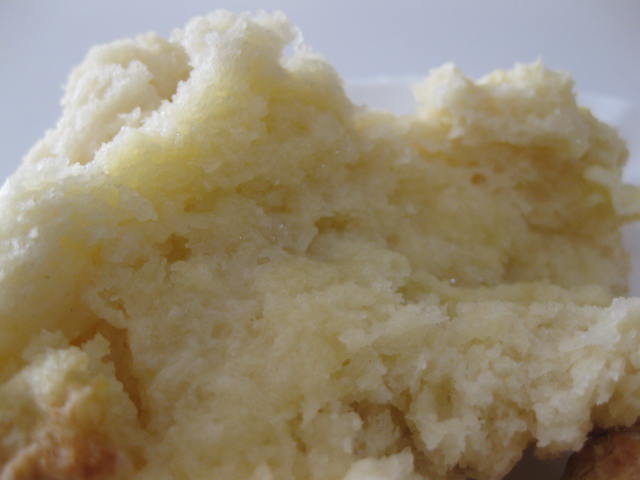 I remember you, Judy, O'Brien. Every time I whip up a batch of these prairie buttermilk biscuits, it is you I am thinking of.
Yum! Yum! Yum! Hot tea biscuits with butter. Hot baking powder biscuits with butter. Hot buttermilk biscuits with butter. They are all the same thing – as long as you use butter – and buttermilk to make them. The butter melts into the flaky layers and drips down my fingers as I take a bite. That's how it is supposed to be: a casual, messy, deliciously warm comfortable pleasure.
Judy O'Brien was my grade 7 Foods teacher. It was called Home Economics in "those days". We all had to wear a dress with nylons. And I do mean nylons. So now you know it was really "the old days"! Boys weren't allowed to take Home Ec.. Girls weren't allowed to take "Shop". Mrs. O'Brien was an absolute doll. There were only about 12 of us in the class. She would talk to us, and sing to us, and provided such a warm and wonderful place for us to be that we always looked forward to primping for that full morning once each week. A great excuse to dress to the nines every week. Who would complain?
She taught us how to make Postum because drinking tea and coffee was against her religion. Postum was good. We would make it, sit together at the long table and learn how to drink it properly We learned how to have a proper conversation, how to use impeccable manners, and how to make the best buttermilk biscuits on the Canadian prairies. If it wasn't for her, who knows what would have happened to me on my first date! My mom taught me impeccable manners, too. But, never ventured into what to expect from a date like Mrs. O'Brian did. I still get excited thinking about it.
I have many recipes from that grade seven class that I have made all of my life, yet the most dog-earred is this one. Whenever we ate soup, stew, had company, or were out of bread when I was in University, out came the recipe. I made it when I was newly married to please my young husband. I made this to get a warm hug from each of my daughters as they grew through the years. Now, I make it for my dad. He loves Buttermilk Biscuits as much as I do. Mrs. O'Brien called them Tea Biscuits. My mom calls them Baking Powder Biscuits. What do you call them?
Now I teach my own Foods students this very same recipe so that they can use it to bring smiles to the faces of those they love.
"The best biscuits are made from the best ingredients". That was Mrs. O'Brian's mantra, and it is mine with my students, today. I use freshly churned organic butter (when I have it, and I try to always have it). I use organic buttermilk and if you haven't tried it, you must. It is absolutely irresistable. Then, I use white flour.
Look into the buttermilk bottle. Can you see how thick and luscious it was? I used my Thermomix, though you certainly do not have to have one to make this recipe. Most people use a food processor now. Learning how to cut the butter into the flour by hand is still a valued skill and one I insist that my own daughters learn to do before using a machine.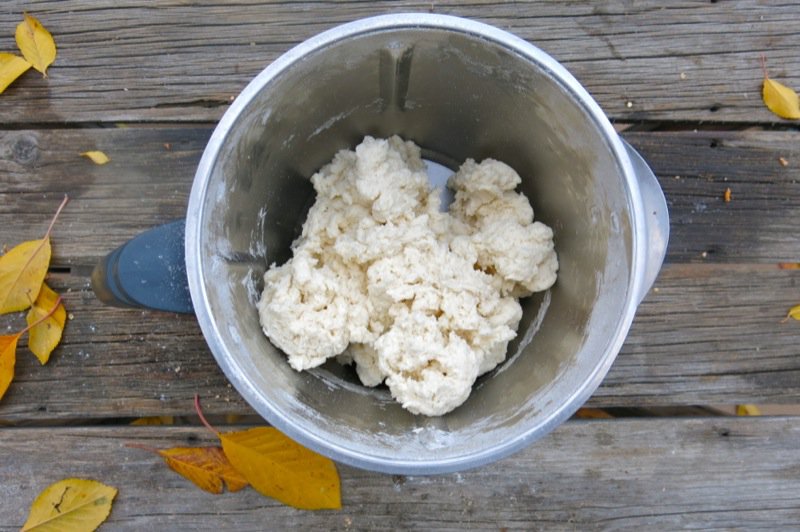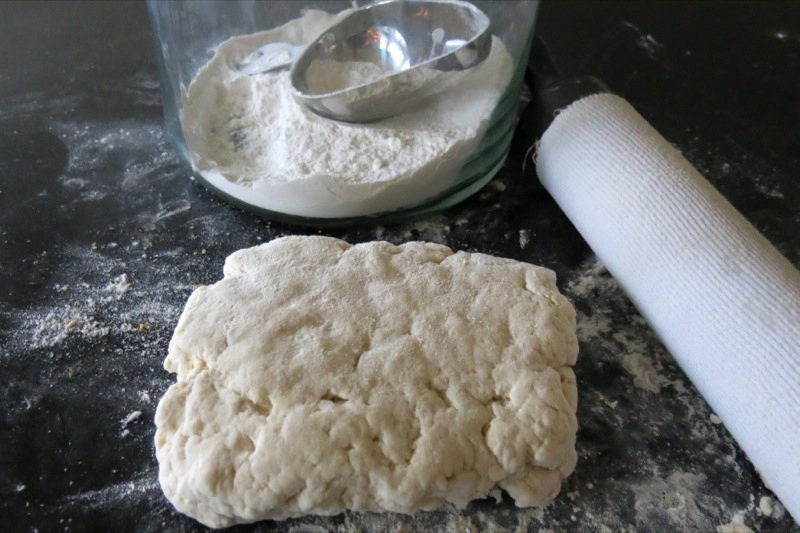 I teach my students to cut the fat into the flour by hand, just as I did so many years before. "You cannot add your liquid until I see how well you cut the fat into yout flour". My teacher reminded me as I remind my students. "Your fat will look like oatmeal flakes if you have cut it in properly". But she would let us add the liquid if we had cut it to the point that it was the size of small green peas.
The butter was frozen solid when cut and placed in the Thermomix. The power of the machine is amazing, and in 2-3 seconds, the fat was perfectly cut into the flour (picture two, three rows above, to the right of the buttered cubes in the flour). Then, with the buttermilk added, and kneaded for 15 seconds. At this point, you could add herbs, cheese, or anything else you can think of. The batter came out of the TM bowl (two rows above, middle photo) absolutely clean. A brief roll under parchment paper (we used to use waxed paper), and they are ready to cut. Remember to leave them really thick so you will have a high buttermilk biscuit.
I use a biscuit cutter. Rerolled the left over dough, and cut out more.
Judy O'Brian and I became close friends later in life. She was only 8 years older than me and always young at heart. I am sure she still is. We lost touch about 10 years ago. And, though I am sure I could find her without too much trouble, I can never forget the huge impression that she had made upon my life, and how powerful, and treasured her classes were… and, now, I am paying it forward with my own students. Thank you, Miss Judy. XO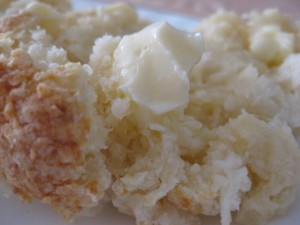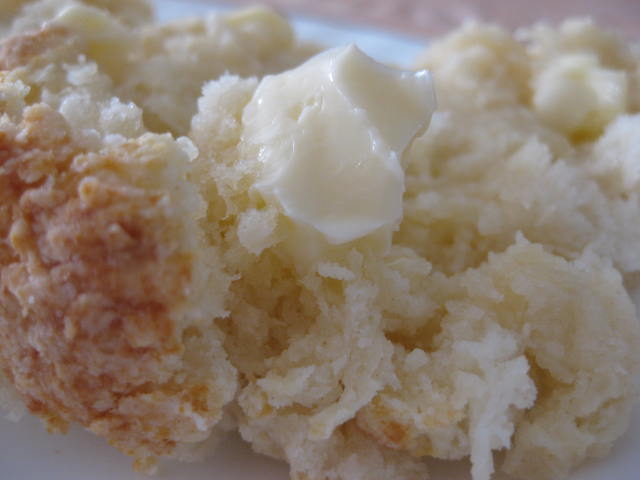 And, yes, it definitely left me with a glassy-eyed smile on my face. I was so carried away that I didn't even hear the little squeals beneath me for quite some time. Yes. Poor little Beavie. Somehow, I sat on him. He really has to watch where he seats himself. But, he will survive. He is just plumping himself up and breathing out the moment. He'll be back. Don't worry.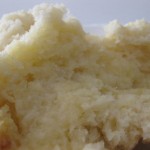 Good Old Fashioned Buttermilk Baking Powder Tea Biscuits
Makes 6 gorgeous biscuits
Ingredients
2

cups

or 300g flour

4

teaspoons

or 20g baking powder

1/2

or 2.5g teaspoon salt

1/4

cup

or 60g ice cold butter

, cubed

1

cup

or 200g buttermilk
Instructions
Pre-heat oven to 450 F

Place first three ingredients into a food processor with the steel blade

Add frozen butter in even chunks

Process three to four times, quickly, until the fat looks like flat oatmeal or, the butter is about the size of peas

Incorporate the liquid gently, until mixture just comes together; do not overwork this dough, or the biscuits will be tough

Roll dough between parchment paper about 2 inches thick; cut into desired shapes

Bake at 450 F for 12 to15 minutes until golden on the bottom and lightly golden on the top
Instructions for the Thermomix:
Pre-heat oven to 450 F

Scale first three ingredients into the TM bowl; combine for 5 seconds at speed 2

Scale cubed butter into TM bowl; pulse on turbo 3 times for 1 second each until the fat looks like flat oatmeal or, the butter is about the size of peas

Scale the buttermilk into the TM bowl; mix to just combine at speed 0-5 for 6 seconds

Knead for 30 seconds; remove from bowl and place on lightly floured surface

Roll dough between parchment paper about 2 inches thick; cut into desired shapes

Bake at 450 F for 12 to15 minutes until golden on the bottom and lightly golden on the top