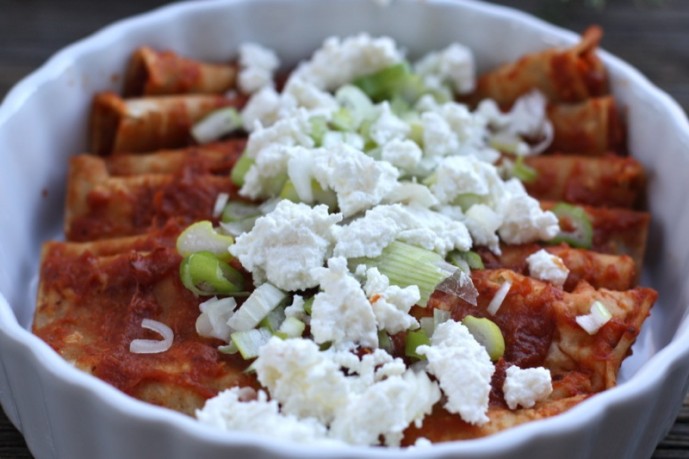 I chose this recipe because I had already made one of Vianney's enchilada recipes with great success, it looked incredibly simple, I had just picked a peck of perfect tomatoes, had lovely Mexican corn tortillas in the fridge, and I needed to make supper. It is a great side dish, but I would say a better potluck dish, or as Vianney says, party dish. It would be lovely with a salad. It is certainly substantial, but the tortillas are really soft.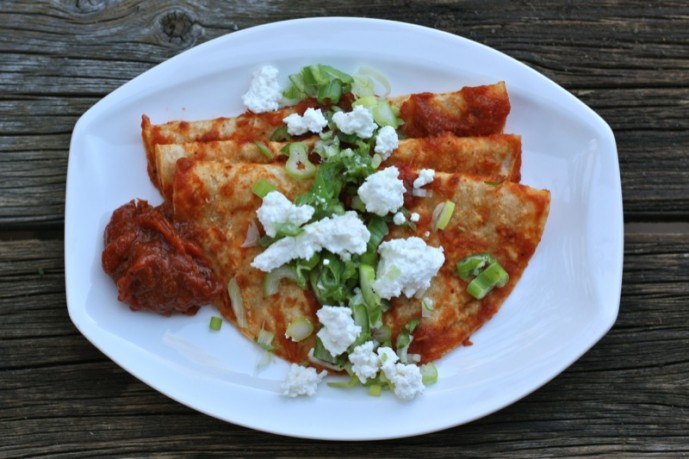 I do prefer them soft, but usually the sauce is on the inside when eaten as a wrap! As these are soft, and swathed in the tomato sauce, they need to be eaten with a knife and fork as do all enchiladas. Hmmmm… they are delicious, but there is a lot of corn in the tortillas, too. I think I am just missing the melted cheese over top. For my palate, a cornucopia of julienned raw vegetables hiding in the middle of each of these with melted Oaxaca would make it the perfect concoction.
Don't get me wrong. I learned a great deal making this recipe and a host of ideas were dancing in my head as I would not have imagined such simple ingredients would make such a complex and well balanced sauce. As they would say on Iron Chef or Master Chef: "Where is the crunch?" Everything is the same texture. But this is a yummy dish!
One could argue that same thing when eating mac 'n cheese. I prefer a crunch with that, too!
So, Vianney, thank you once again for a lovely, simple recipe idea. I will definitely be making this sauce again. And maybe frying tortillas in crisp triangles and melting the cheese over them with the onions and dipping them in this sauce. Same ingredients, just a different presentation and a little crunch. I cannot wait to learn about all of the other comfort foods you will be writing about this month! I imagine I will be making more than just this one!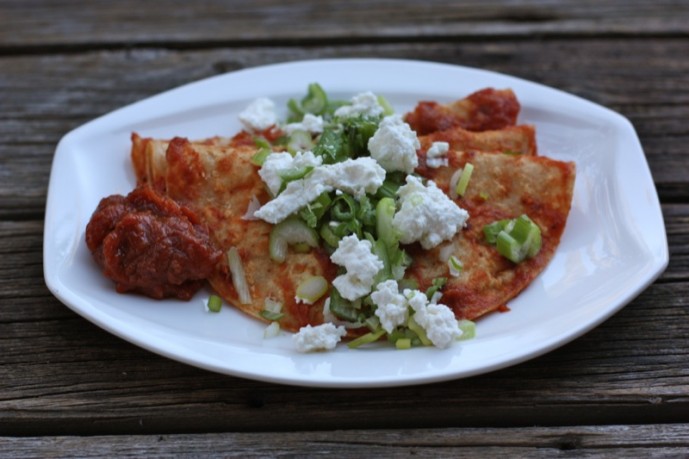 PS: When Vanja came home for supper, he was starving, so I added Oaxaca to the top of the casserole dish and melted it with more onions on top. He loved it just as it was. I really enjoyed them like this with more green onions in the middle!
Enchiladas en Salsa Roja
Ingredients
1 pound ripe tomatoes or ½ pound tomatoes and ½ pound tomatillos (I used tomatoes)
1 large onion, halved (I used 1/2 a large onion in slices)
2 garlic cloves, skin on (I used 4 cloves)
1 jalapeño, remove seeds for less heat (left this out)
Salt and freshly ground pepper (yup)
12 corn tortillas
Oil for frying
queso fresco, crumbled (I used a similar cheese)
green onions for the top (instead of the other half of the large onion)
Instructions
On a baking sheet place tomatoes
On another sheet place the garlic, half of the onion and jalapeno
Place under broiler and roast until charred (skin slightly blackened): about 5-10 minutes, turning once, to char evenly; I roasted the tomatoes for 5-6 hours first to get a denser flavour because I like that flavour, then did the charring for about 5 minutes on both sides
Be sure to watch the garlic as it will char before the rest of ingredients; I just charred the onion and garlic as per the directions, but had them in a separate pan due to the roasting of the tomatoes
Remove garlic skin; add tomatoes, garlic, onion and chile to blender and puree until smooth
Season with salt and pepper, set aside; slice remaining half of onion for garish (or use green onion, as I did)
Over medium heat in a skillet add enough oil to reach 1/2-inch deep; lightly fry each tortilla; they should be soft, but still pliable (I found this hard at first as they cook to a crispy stage quickly, but I "got it")
Drain on paper towels, then dip each tortilla through the tomato sauce; mine was really thick due to the roasting, but it was really delicious
Fold and arrange on plate or platter and spoon more sauce over the top (which I couldn't do, it was too thick, so I placed it on the side); garnish with queso and sliced onions