A truly unforgettable taste and an original creation!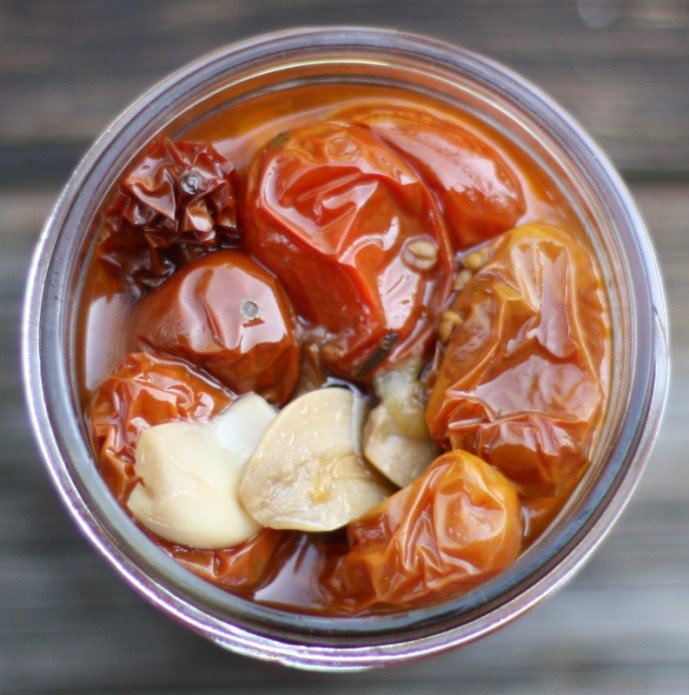 Tomatoes are the ultimate food. I grow several heirloom varieties and discover new favourites every year, but I would never forsake the oldies, either: small sweet succulent bobbles of nature's nectar, the Sun Gold; miniature oblong hearty bursts of red tomato splendor, the Heirloom Juliette (as opposed to non-heirloom Juliette, and there is one); gigantic green hued purple heavy fleshy decadence, the Purple Cherokee. This year the season was long enough to harvest a truckload of Green Zebras and they are an anomaly: a gorgeous vibrant stripy green tomato with a vivid bright and lush rich complex "tomatoey" flavour. The Orange Amana was another significant discovery as the massive firm and fleshy umami steeped and hearty beast lords over the garden with a noble nod.
I could go on.
After months of tending to the tendrils, coaxing the bees to pollinate, and whispering to the hard little buds forming within the wilting flowers: grow… grow…grow! Each arrives in full harvest regalia almost at once. These are my summer "candies", my afternoon treat and my daily fetish. There is nothing better than a fresh tomato plucked from its uber fragrant fuzzy clingy vine popped into my mouth bursting with the warmth of the sun and the lively colourful flavour of Thanksgiving harvest… or sliced and dusted with a finishing salt.
Well, maybe one thing. My preserved oven dried tomatoes.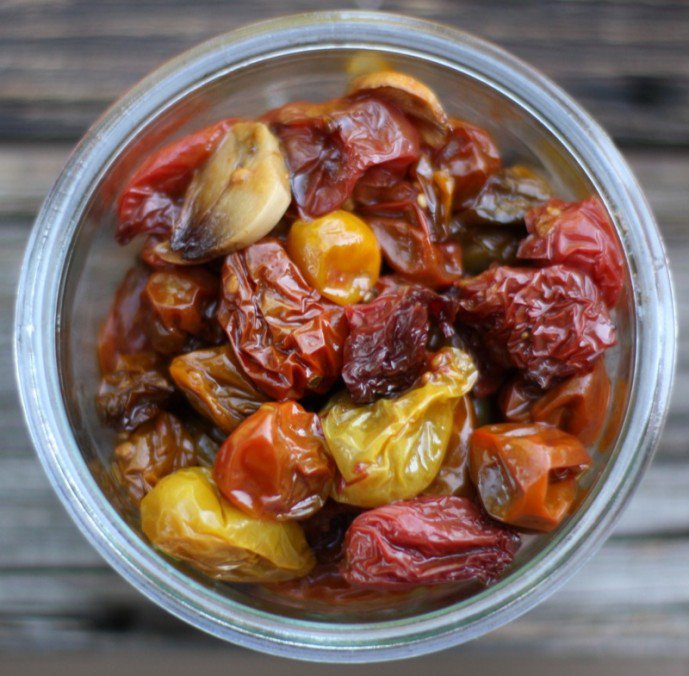 I enjoy them a variety of ways, but one of my favourite is with fresh Bocconcini cheese. That is one of the reasons that I want to learn to make cheese this year. I adore Bocconcini cheese and these tomatoes so I really want to learn how to make this cheese, too. The simplicity of this dish is powerful to the palate.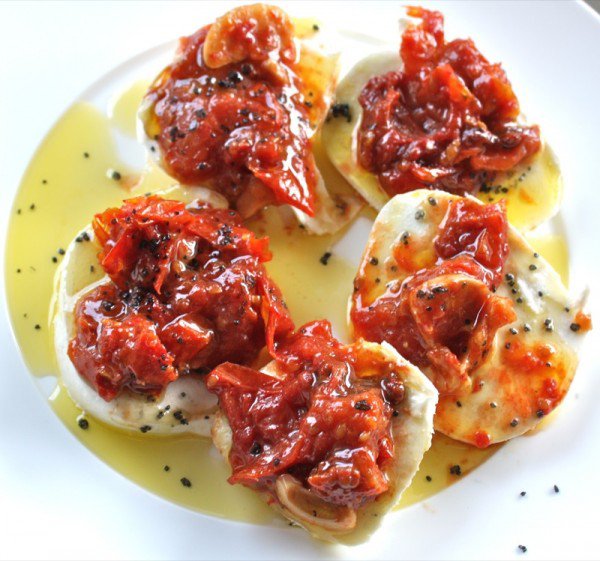 There are many other ways I use these tomatoes: grilled pizza, pasta, toasty croustini… each equally delicious. Below is a soon to be grilled (and topped with shredded basil) pizza; the crust has been grilled on the top side.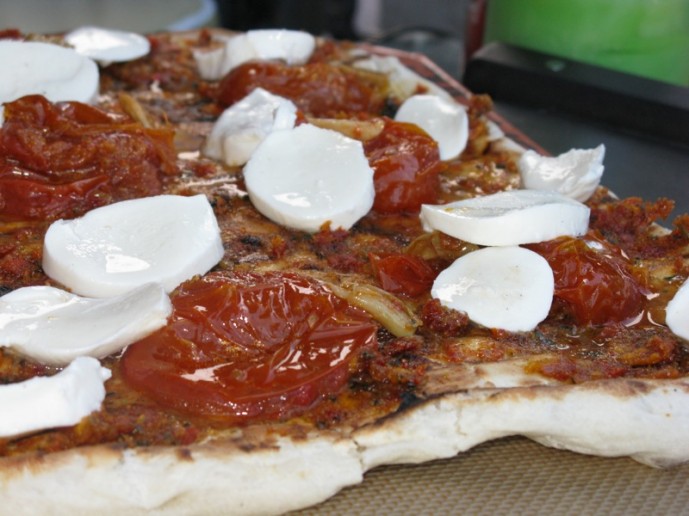 There is not a day through our cold Winter months that I am not thankful for the tremendous bounty from my small urban garden. The tomatoes harvest this year has been the greatest in ten years due to our incredible fall weather.
I use only glass pyrex dishes to roast the tomatoes in and fill each one layer deep only when the tomatoes are larger and cut in half, or quarters for the huge tomatoes. I leave the small tomatoes whole, and fill each dish as you see, below. I peel some really great garlic, usually from Sun Dog Organics, and slice a head or two into each casserole dish, then pour some really good quality fruity olive oil over the tomatoes and sprinkle with Maldon Salt. In the oven at 170°F for 24 to 48 hours depending upon the size of the tomato, and then pack them into jars to freeze.
Below is a tray of Green Zebra Tomatoes. You can see them in the bowl, above, too. There is an Orange Amana at the back of the bowl and the Heirloom Juliettes are in the wooden box to the left.
Above is the Costoluto Genovese which is a delicious and is a classic Italian heirloom tomato great fresh and in sauces. Below, in the middle is the Purple Cherokee and to the left, a variety from my garden: Carolina Gold, Miss Kim, and Oregon Spring.
Below, left, is the Heirloom Juliette sitting on top of some lovely Golden Raves. The next two dishes primarily hold Ball's Beefsteak and Cluster Grand, neither are heirlooms, as you can see.
The oven dried tomatoes coming up have some slightly over dried tomatoes on the right tray. The middle tray was done without garlic, oil and salt this time to experiment with the use of unseasoned preserved tomatoes. You will see as you scroll down that I did this for some of the trays. I made about 6 times this amount through the summer and now that I have finished, I do regret not adding garlic, oil and salt to them all. The tomatoes without the seasoning are delicious, but the others are significantly tastier.
This is a sampling of my garden "gold". I actually started, just this year, freezing some batches in ziplock freezer bags and will see how well they keep and how well that works. I do know that they freeze and last all year in a jar with the oil, garlic and salt, and if in the fridge for an extended period, as long as they are covered in oil, will keep for a very long time. However, the distilled essence that liquifies in the dish as they roast is deadly yummy and I do not add extra oil unless necessary. Usually there is enough in the dish to cover all of the tomatoes in jars if they are roasted properly.
I use the convection part of my oven and rotate the trays and move them to another shelf in the oven about every four hours to distribute the heat as evenly as possible.
Preserved Oven Dried Tomatoes
Ingredients:
tomatoes
garlic
extra virgin olive oil
Maldon Salt
Instructions:
Layer a pyrex casserole dish with tomatoes; if large, cut in half and face down for first half of drying time and up for second half (see notes above for other sizes)
Peel and slice a couple of heads of garlic for tray of tomatoes, and disperse evenly throughout
Generously, drizzle the olive oil over the tomatoes and garlic
Sprinkle with Maldon Salt to taste (an average amount)
Dry roast at 170°F with oven on convection, if possible, for 24 to 48 hours, depending upon size of tomatoes
Rotate trays of tomatoes through the oven, turning them as well, about every four hours
Remove from oven and gently move tomatoes to preserving jars, sharing the liquid from the pan amongst the jars, loosely seal and freeze
Tighten the seal on the jars once frozen
Thaw in the fridge prior to use and be prepared to be blown away!