Homemade chèvre in the newest addition to my truffle family!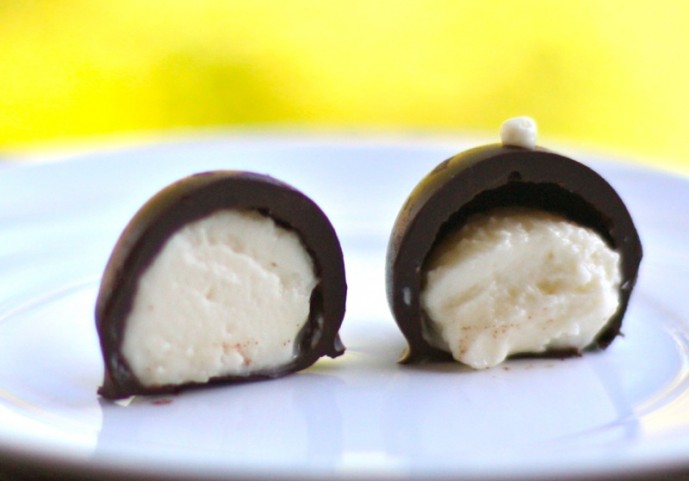 I taught myself how to make truffles years ago and used to make hundreds every Christmas. No longer holding the annual Christmas party for 100 plus friends, so no longer stocking the pantry with festive foods like I used to. I miss making the variety I used to make as with only two of us at home, now, even with gifting, it is just too much. I have never posted any of my truffles, and I do a few new ones every year. This year, the first new one was inspired by our second local Cheesepalooza Tasting! I was preparing my fare for the big night and like to add a little sweet bite still in line with the cheesy treasures!
Leslie and Alex from Smoky Valley Goat Cheese made Chèvre Truffles with Thistle Honey last Easter and I really enjoyed the unexpected flavour combination. You will either love it, or not and now you know where to buy them if you don't want to make your own!
I love it, particularly as the mouth feel is also unexpected. The milky chèvre inside of the crisp velvety chocolate almost liquifies when popping one of these into your mouth. The flavours are each there, but the texture of the chèvre is very different that when spread on a cracker. The sweet and tangy combination is appealing to me, and the wildflower honey adds the perfect third note to this little ditty.
Chèvre Truffles Recipe
Ingredients:
8 ouncez chèvre
1/4 cup of honey of your liking, (to taste: keep in mind the chocolate will add another dimension of sweet; at the same time, I used double the amount of honey I thought I would as evident in the photos, above)
250g good quality chocolate (you will have plenty left over to melt for dipping again, but you need a considerable amount for dipping)
Instructions:
Make the chèvre 🙂 or purchase it
Start with adding 2 tablespoons of honey to your chèvre, mix it in well, taste, and add more, as required
Roll into balls and place on a parchment lined cookie sheet: freeze
The next day, or several days later (you will have to place frozen balls in an air tight container and keep them frozen), shred the chocolate and melt it
If using a Thermomix, melt at 50°F, pour into a bowl, clean well and dip frozen balls into the chocolate
If not using a Thermomix, use a double boiler to melt the chocolate and ensure no water or steam gets into it, or it will seize, and your chocolate will bloom
When dipping, I use a small fork or a toothpick: as the balls are frozen (and must be) the chocolate must be quite warm or it will be too thick; you will need to use another instrument to clean the excess chocolate off of the bottom of the truffle, and slide it along the parchment paper, carefully, so there will not be a puddle of chocolate around it
Use a white chocolate glove when handling the truffles to not leave finger prints, and place on serving plates to enjoy!
Note: I used Callebeault couveture for my truffles and places a little white chocolate dot on top to identify the kind of truffle