Prairie Gardens Farm is a Pumpkin Paradise: Great family day to pick out your HALLOWEEN PUMPKIN!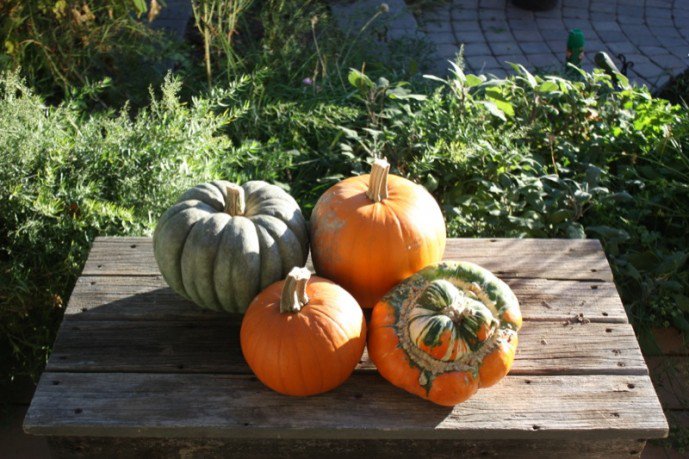 Many of you know that our family has a lot to be thankful for this season! Mom was diagnosed with bowel cancer about 5 weeks ago, and dad has been in the hospital for a week 3 times since then with congestive heart failure and severe COPD exacerbation's. Here is the good news: mom's surgery is on October 12 (this Friday) and so far, her cancer has not spread; dad is recovering and receiving outstanding medical care at the Misericordia Hospital in Edmonton. We are all so thankful that my parents have had almost 63 years together and are still enjoying an independent quality of life. That may soon change, but another miracle is that I retired from teaching last December and have been able to be with dad during this time of need, and will be able to do the same for mom next week. Of course, it has brought our family together.
Dad will get a pass to come home for the afternoon tomorrow for our Traditional Thanksgiving dinner. We usually keep it simple:
And the finale has brought me to another reason I am Thankful this season! Look what I found on my front door step the day before yesterday! Can you guess what was in it or who it was from?
Yup! These gorgeous pie making pumpkins and squash from Prairie Gardens Farm. Is that not wild? The large blue green one is a Jarrahdale pumpkin (pies, desserts, soups) , the two orange are Sugar pumpkin (pies and desserts) and the colorful one with the bumps is the Alladin Turbin squash.
I am so thankful for all of my farmers. I first "met" Tam from Prairie Gardens at Tomato Fest a couple of years ago. She won't remember. But, I was crazy over the salad they served. She shared the recipe, and it is now a family favourite! You must try it! I was invited to their big Harvest Festival this year, and could not come due to my family needs. Last year, we were in Italy, and I missed it, too! I am devastated to miss any harvest party as it is just such a part of our prairie culture and our local food system. To keep the story short, Sandi Lavigne drove completely across the city to ensure we had great pumpkins for our family dinner and I am roasting these in the oven for the pie tomorrow as we speak. That post will follow.
But first, I did not have any idea of the multitude and magnitude of Prairie Gardens Adventure Farms investment in these amazing fall jewels. Did you? This is truly a huge aspect of our Canadian culture and I would strongly urge every family with children to make a trip out there to pick out your Halloween Pumpkin. There is no better family experience than doing it at Tam's farm. Kids never get out to farms anymore, and you will all have a blast. Let me share some of the photos I asked for ask I couldn't go our and take them myself.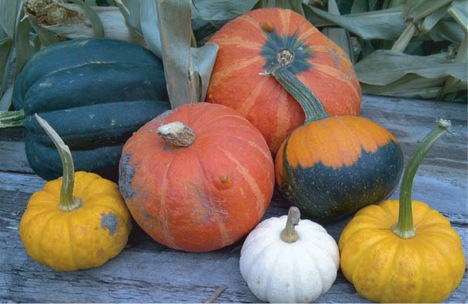 Haunted Pumpkin Festival Hours: 11 AM – 5 PM daily -every weekend in October – with the Mega Corn Maze open til 10 PM on Saturday
Admission: $9.95 per person ages 2 and up / Family rate is $9.25 per person. Group rates is $8.50 (15 or more)
Address: 56311 Lily Lake Road, Bon Accord; 25 Km north of Edmonton, Alberta.
GPS Address: Latitude N 53 degrees 51.086' Longitude W113 degrees 23.698'
Google Map Link: http://bit.ly/gN04l8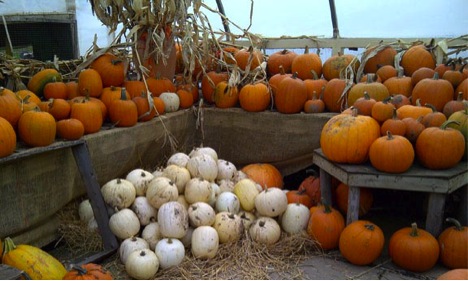 Now, I realize you may be thinking: What is the big deal? She delivered the pumpkins, and Valerie wrote an advertisement. That is not how I see it. First, I promote local farms and producers consistently for nothing. Secondly, I am not that special that my promoting this amazing farm would make someone drive clear across the city to deliver this incredible produce. I believe it is another indicator of how incredible our local food community is. I will continue to sing that song: Edmonton rocks and the people within this local food community are amazing!
Thank you, Tam and Sandi for making our family Thanksgiving dinner whole. It was a huge effort and I am every so grateful. Watch for the pie post, soon!