Ticket Give-a-Way!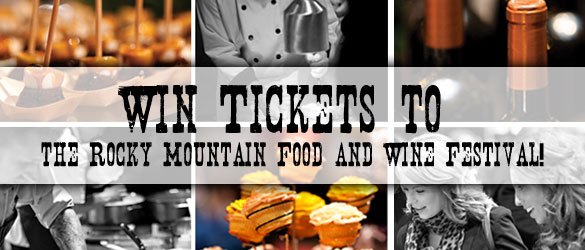 Here is a rare happening at A Canadian Foodie! A Give-a-Way for TWO incredible tickets to the Edmonton Rocky Mountain Food and Wine Festival this
Friday, November 2nd, from 4-10 pm.
These tickets are only good for the Friday evening which is the opening evening and the opening is always the best time to go! The tickets sell for $26.50 each, so that is a value of $53.00! Can't beat that for a Friday night party! Please note that you will also have to purchase Sampling Coupons once inside of the event which are available for $0.50 and can be purchased at the Grand Tasting Hall. Samples range from 1 to 20 or more coupons, depending on the item. Coupons can be purchased with cash only inside the hall. ATMs will be available but bringing cash with you to the Festival is advised.
All attendees must be 18 or over and absolutely no minors are allowed as this is a licensed event.
I have missed this event last year, as we were traveling in Italy, and I am so looking forward to it this Friday. I am late getting this post out due to issues with my newly launched site so this is a fast 36 hour turnaround for all; however, other food bloggers in the city are offering tickets as well, and I suggest you also enter their contests:The Kitchen Magpie and The Tiffin Box.
The Edmonton Grand Tasting Hall will feature a distinguished collection of wines from around the globe, premium spirits, single malt and blended scotches, port, specialty liqueurs, and import and micro-brewed beer. Pair your beverages with a delicious selection of nibbles from local restaurants, hotel and food purveyors. Offering something for everyone, products will range from value based to ultra exclusive. The Grand Tasting Hall offers a unique opportunity to explore new products, interact with experts and discover new finds. With an onsite Liquor Depot store, you can pick up new and exciting finds and old favourites on the spot!
Check out the food, wine, and beverage samples being offered at the 2012 Edmonton Festival:
How to be a Winner?
Leave a comment here for one entry with your e-mail or contact information in it, and if you want to be entered more than one time, do one or all of the following (an extra entry for each one):
"like" my facebook page
follow me on Twitter
tweet about my contest give away and include a link to this post and my twitter handle @acanadianfoodie
When will the draw happen?
Thursday at 6 pm I will make the draw via a random generator and the winner will be contacted by myself via e-mail shortly thereafter, so be sure to check your e-mail. Tickets will be held at the door on Friday with your name on them.
GOOD LUCK!
Transparent Disclosure:
ACF has attended this event in the past and completely enjoyed it without compensation. I did receive 2 free tickets to attend the event this year; however, all views expressed are my own and I never promote events that I am not personally aligned with.
The Header Image is courtesy of Rocky Mountain Wine and Food Festival found on their website.
UPDATE AND WINNER ANNOUNCEMENT:
Draw includes very few as my subscribers were not uploaded when my site was relaunched (but they are there now! Just missed this post!) so you are all lucky as you have a one in 14 change of winning:
Ashley = 1
Laura – 2
Nicole – 3
Tyles – 4
Lisa – 5
Brianna – 6
Peggy x 4 (comment, twitter, facebook and tweet) 7. 8. 9. 10
Lindsey – 11
Chelsey – 12
Ragan (only tweeted, no comment – so no x 4) – 13
Su (only tweeted, no comment – so no x 4) – 14
Pick a number between one and fourteen, I said. Vanja said NINE. That is you, Peggy! You are the winner! I will tweet it out now! ENJOY!!!