An exceptional meal full of at home comfort and company's coming zeal

With a simple spinach risotto, above, or the Grand Slam Osso Buco: new garden potatoes, tomatoes, and gremolata!

Yes, we will be having our Traditional Canadian Thanksgiving Dinner today. The aroma of the turkey roasting in the oven is already intoxicating. However, our anniversary is October 17. I will be away at the Food Bloggers of Canada Conference 2014 in Vancouver. Last year, Vanja was with his mom and dad in Bijeljinja. The year before, I was caring for dad in the hospital. That was our 10th. This is our 12th. It has been a long time since we have been able to celebrate this occasion properly.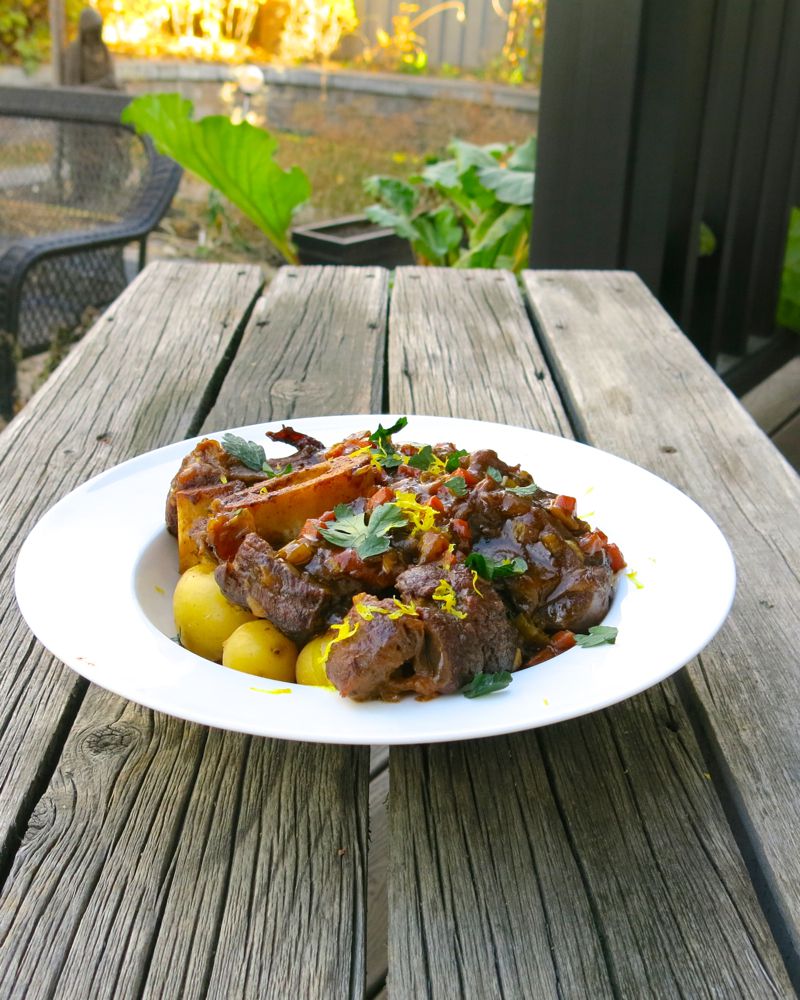 I was actually looking for beef cheeks at the Farmer's Market yesterday morning. No beef cheeks, but there was shank. Perfect. Osso buco was also on my "to make" list and the day was perfect for that. I was making pumpkin pie, caramel apples, turkey stuffing and prepared this dinner at the same time. A little early homage to our weekend apart.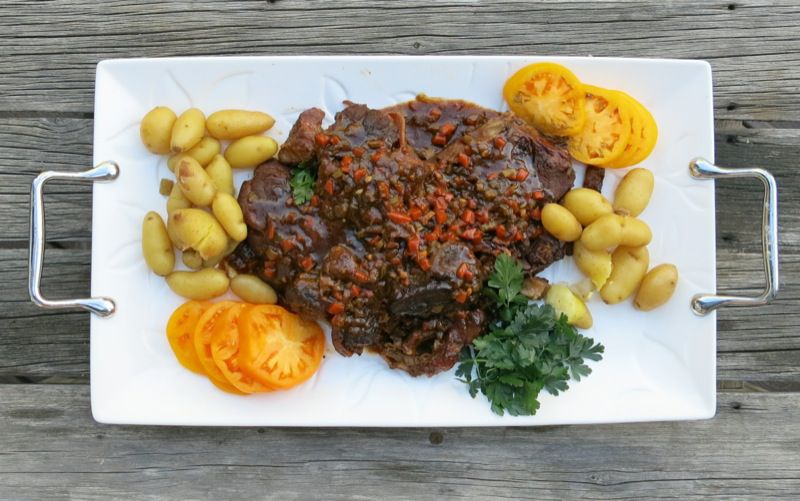 These are the kinds of home meals I revel in making. A one pot, no stop, killer of a meal packed with flavour that has everyone's legs swinging with delight under the table as they fork it in.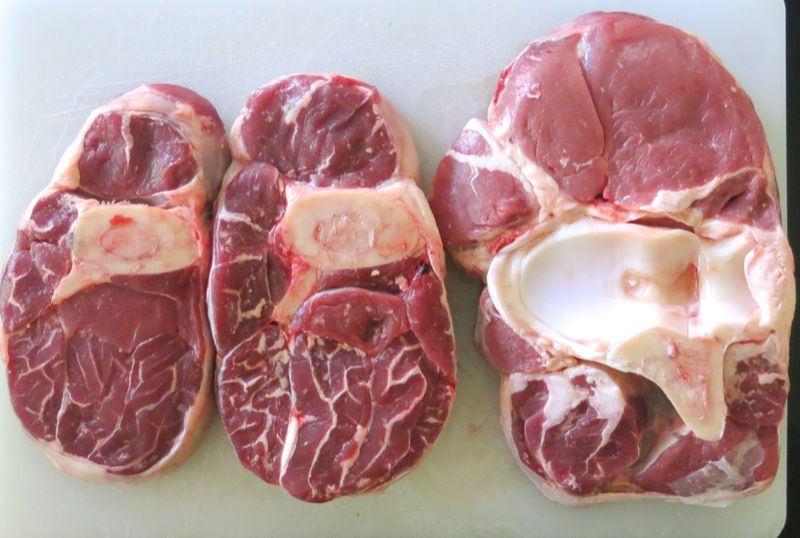 We are out of beef and waiting for our half from Nature's Green Acres, thus my market purchase from Sunworks Organic Farms. Gorgeous shanks, no? Irresistible, really. I would have rather had three like the two smaller, but this is all they had. And I learned to do something better, new time. Tie them. Tie them before you fry them.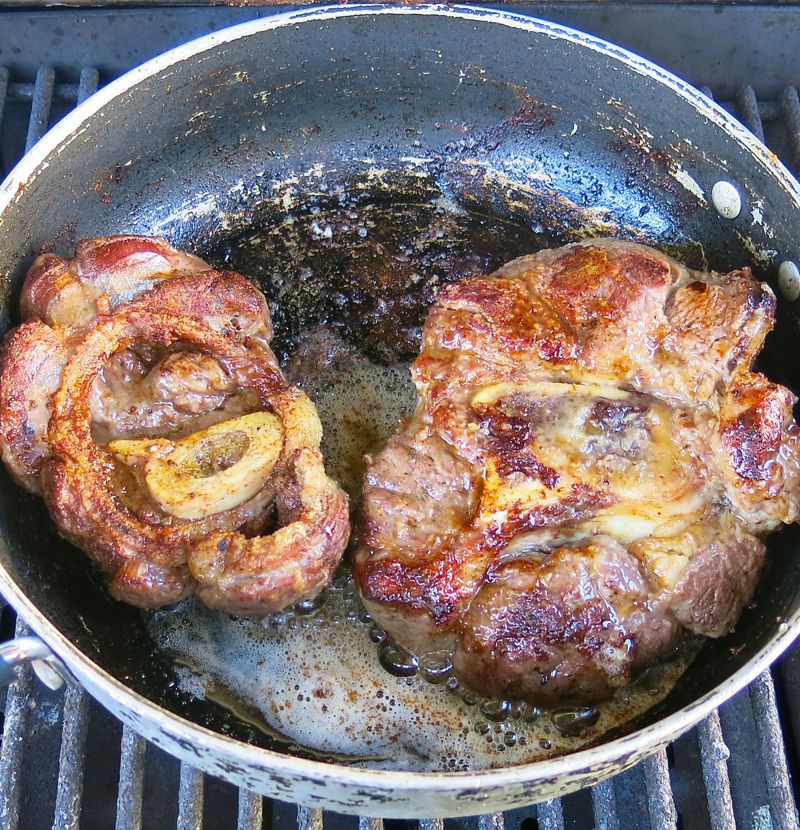 That way, they will hold their shape instead of pop out recklessly from the circle of fat that will squish the meat out like an elastic band as it contracts with the heat. Tie them, before you fry them. It will make a gorgeous presentation.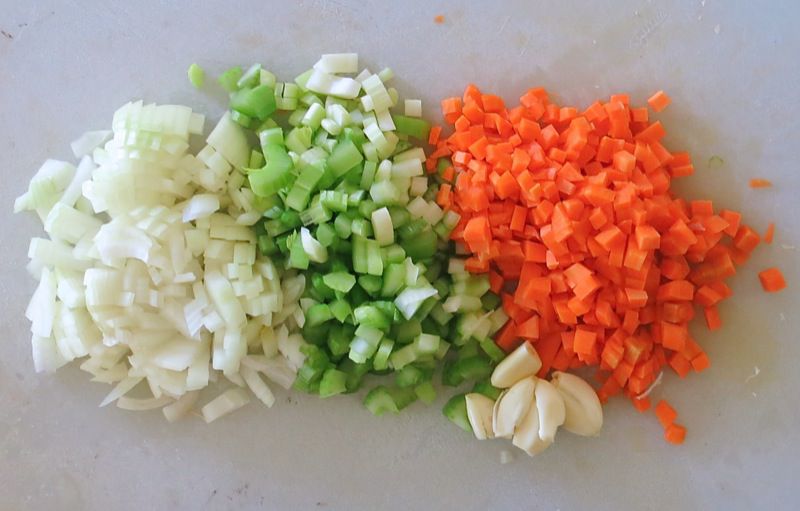 Chop a mirepoix, usually 2 parts onion to one part celery and carrot, with equal parts of all three vegetables. I used 2 medium onions to start, and went from there.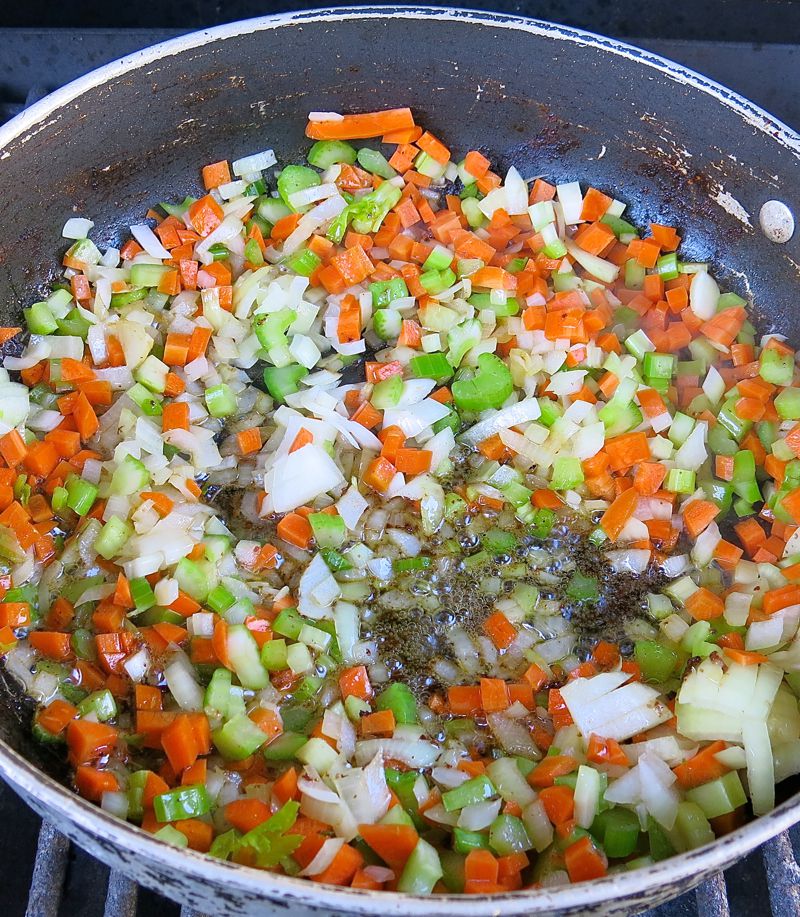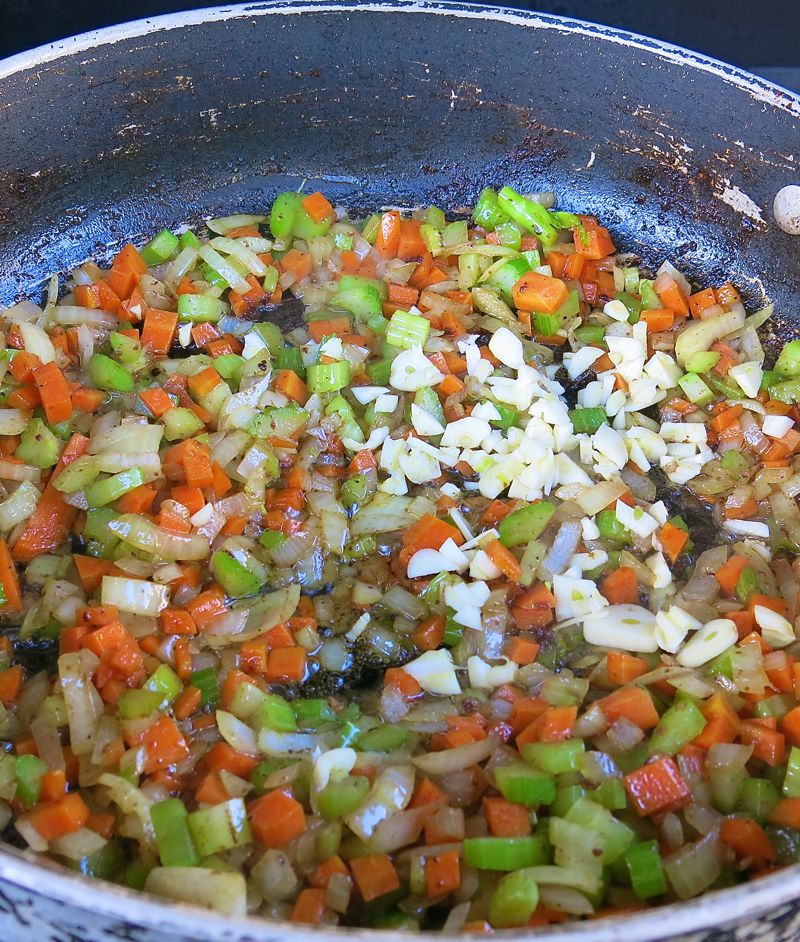 Once the vegetables are translucent, I add the garlic: sauté for 30 seconds, then added the frozen cubes of veal jus.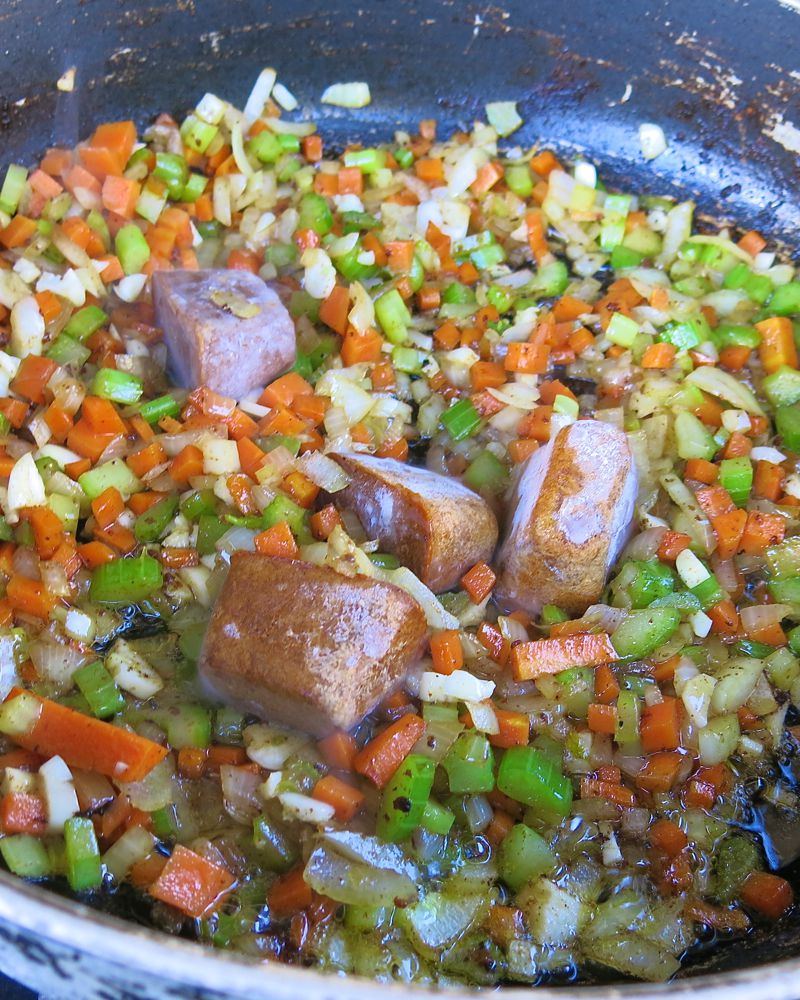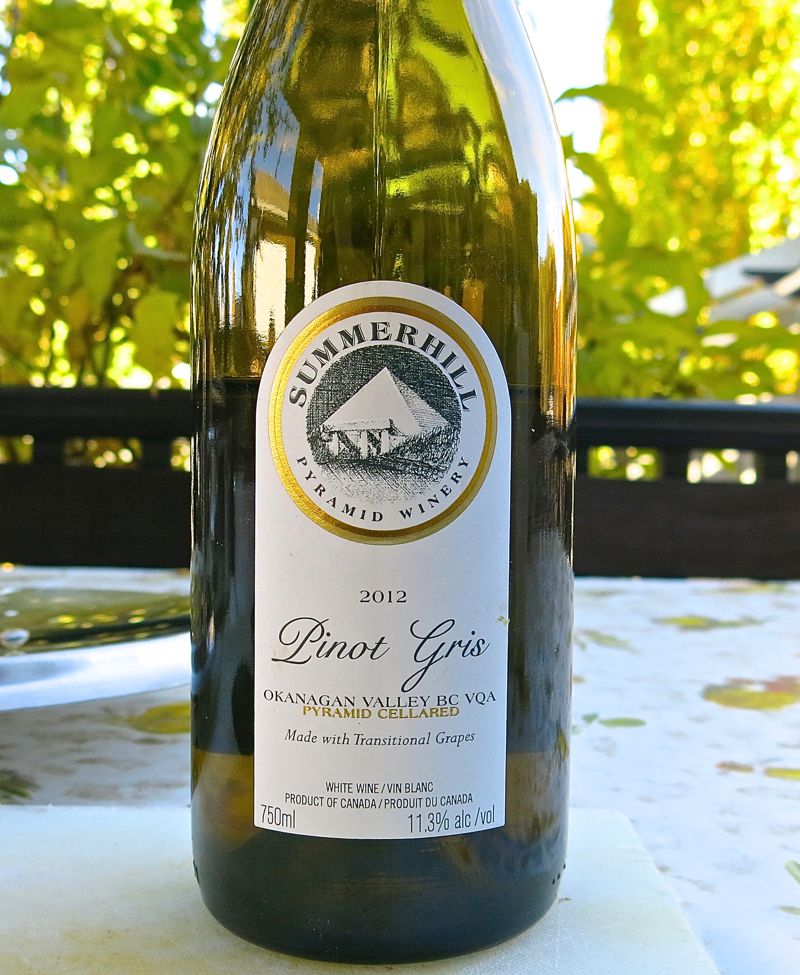 I have posted my veal jus recipe years ago, forgive the photos and will update next time I make it. Freezing it in this manner has brought so much pleasure to so many family meals! After it has melted into the pan, I added the wine and reduced the liquid to half.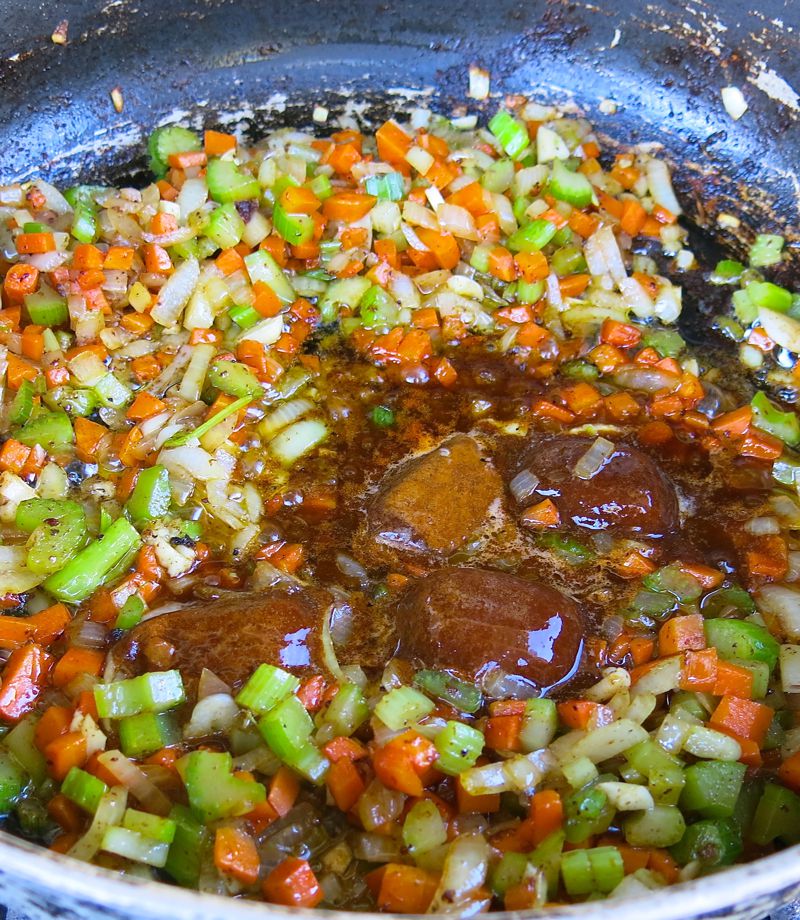 The glaze does turn a little reddish in hue, but there are no tomatoes added to this recipe, nor to the veal jus.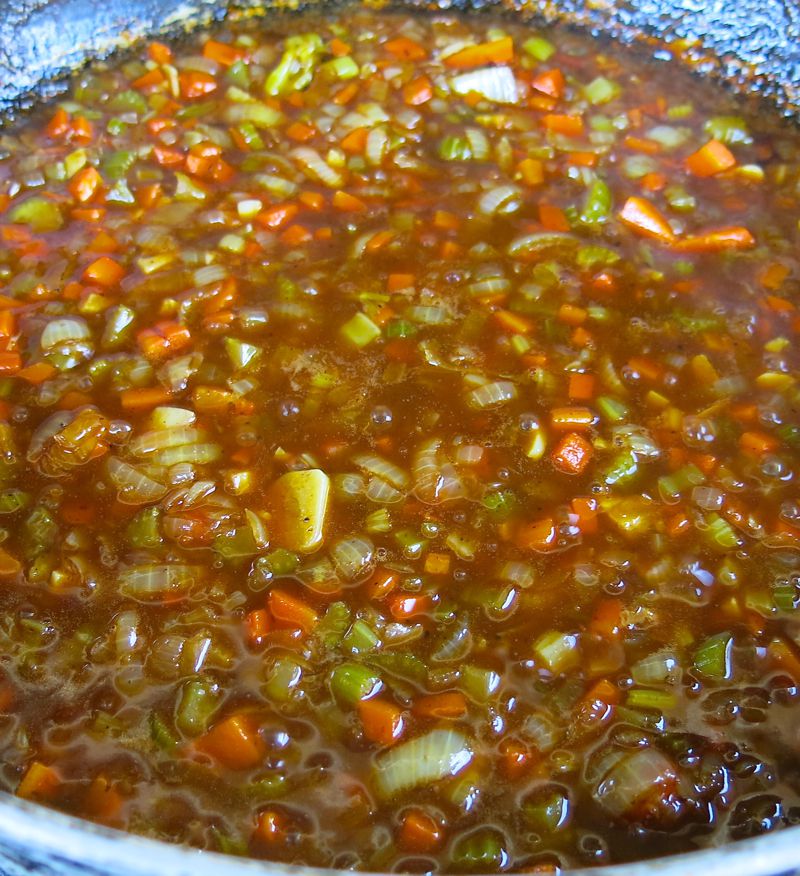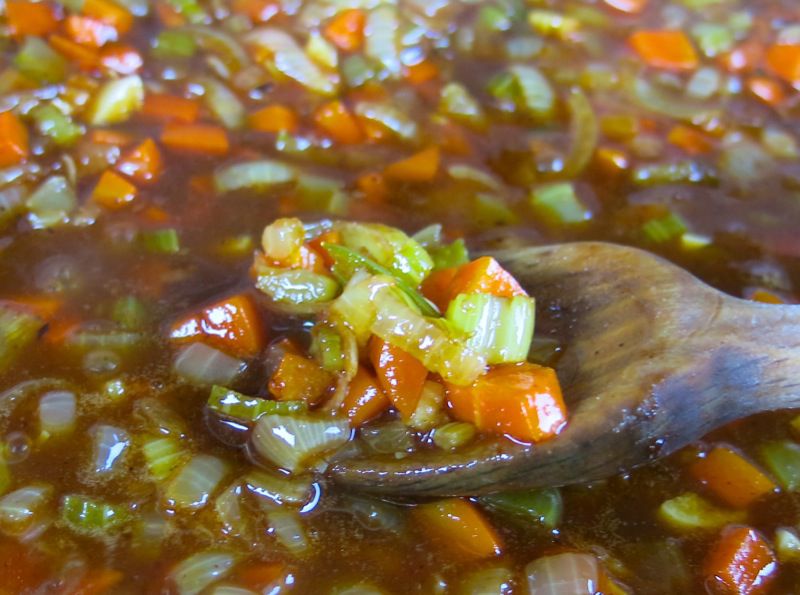 Once the liquid has reduced by half, the beef broth is added.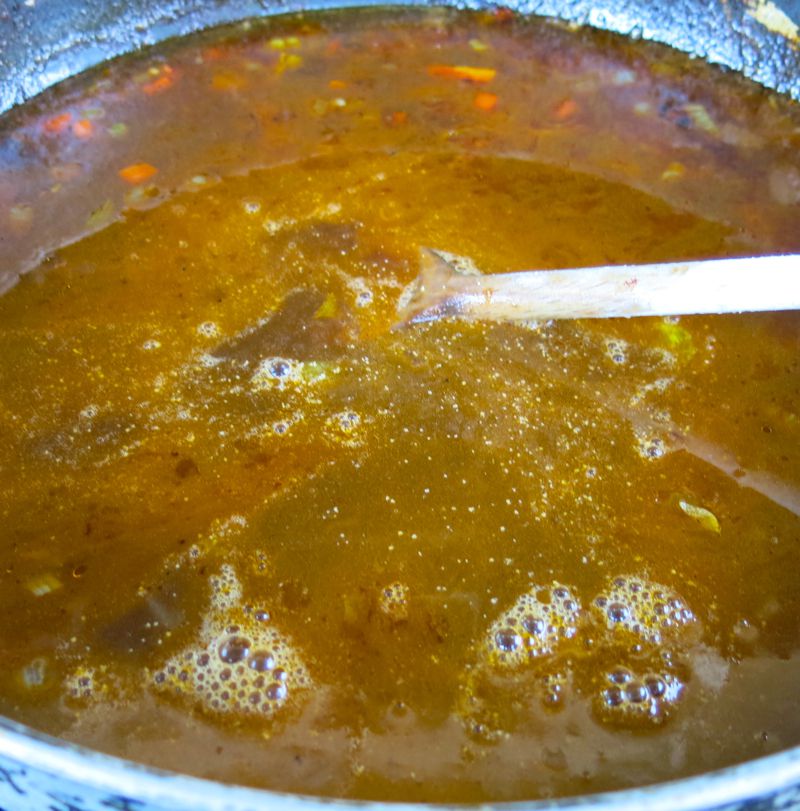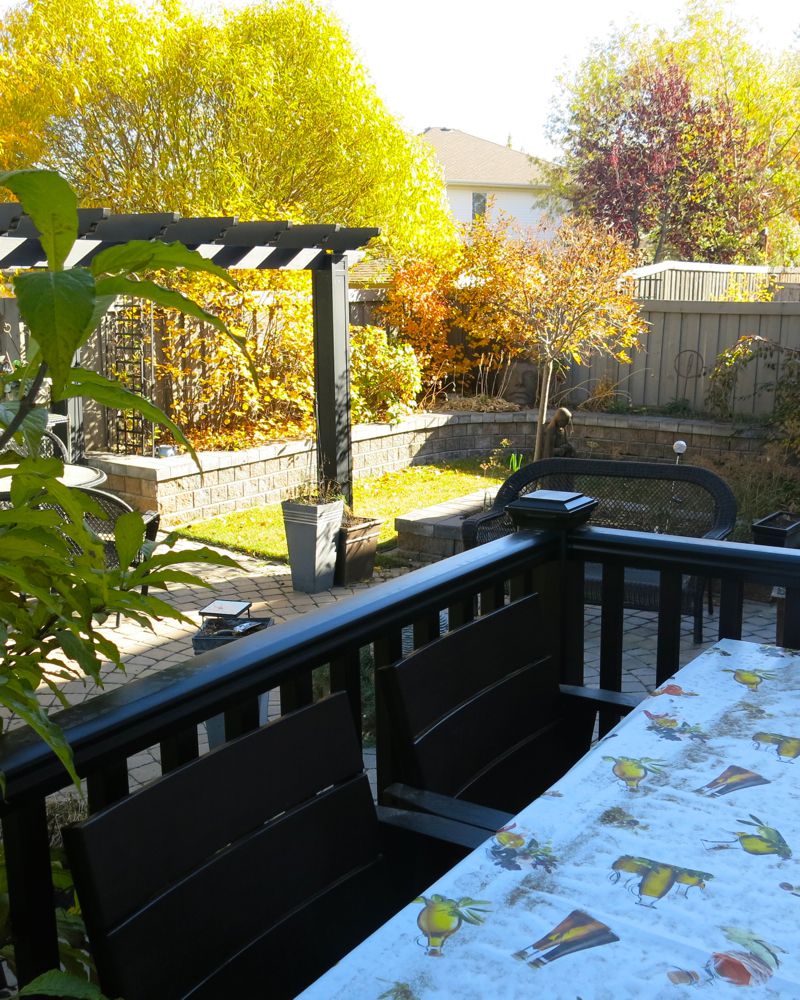 I actually worked out on the BBQ today to brown the meat and prepare this dish. The day was so gorgeous, my kitchen was just cleaned, and it was a perfect solution.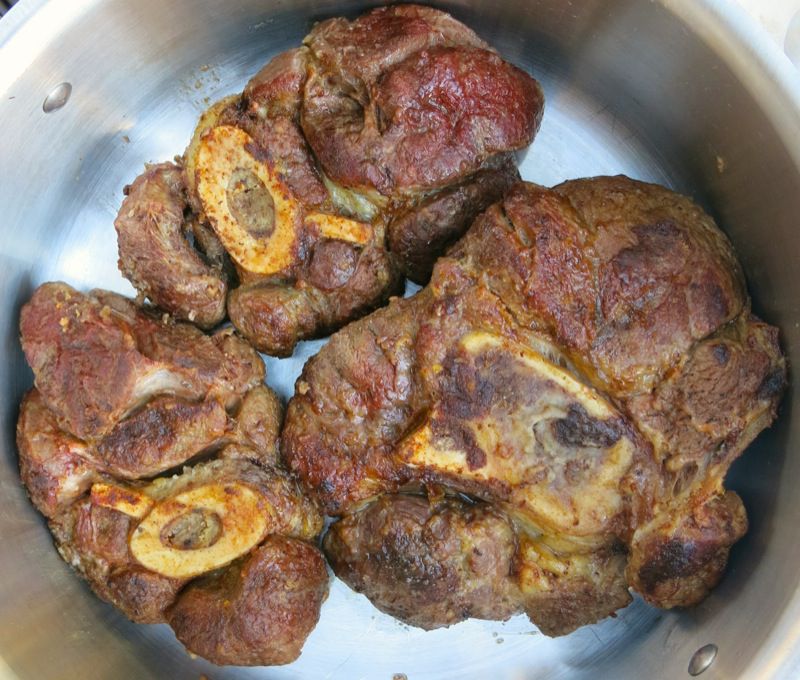 Browned shanks now in the dutch oven ready for the long haul.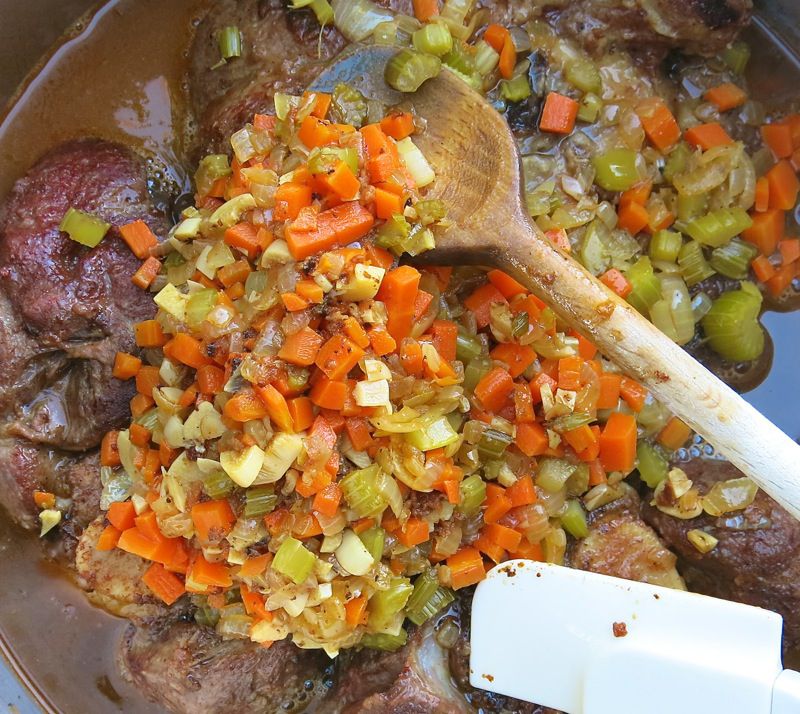 Sauce with broth just added to it poured over the meat in the pan, cleaning every scintilla of flavour from the bottom of the frying pan.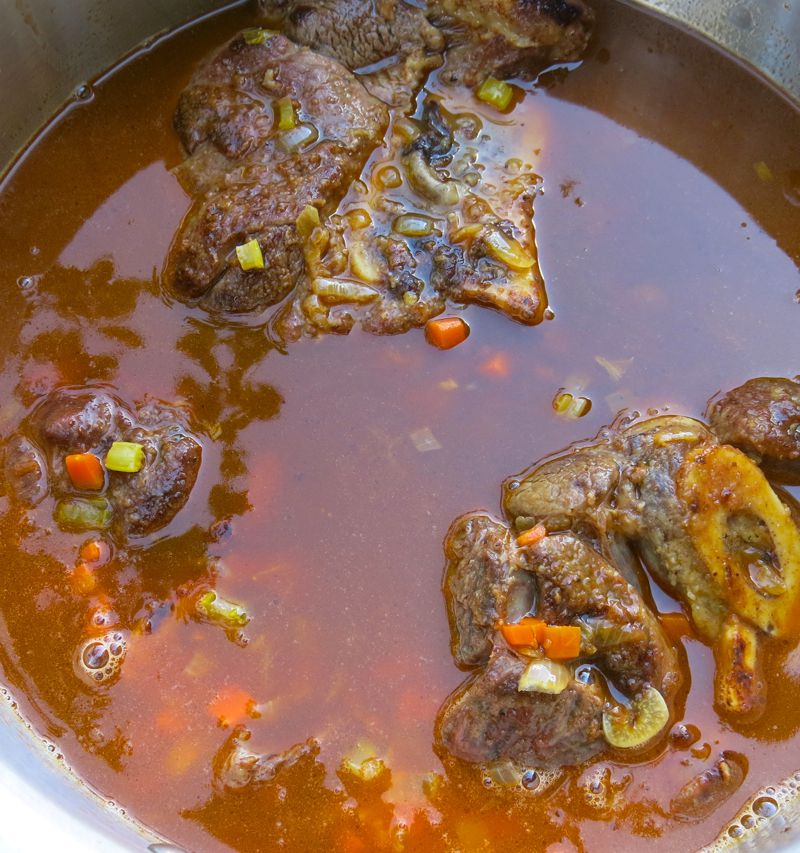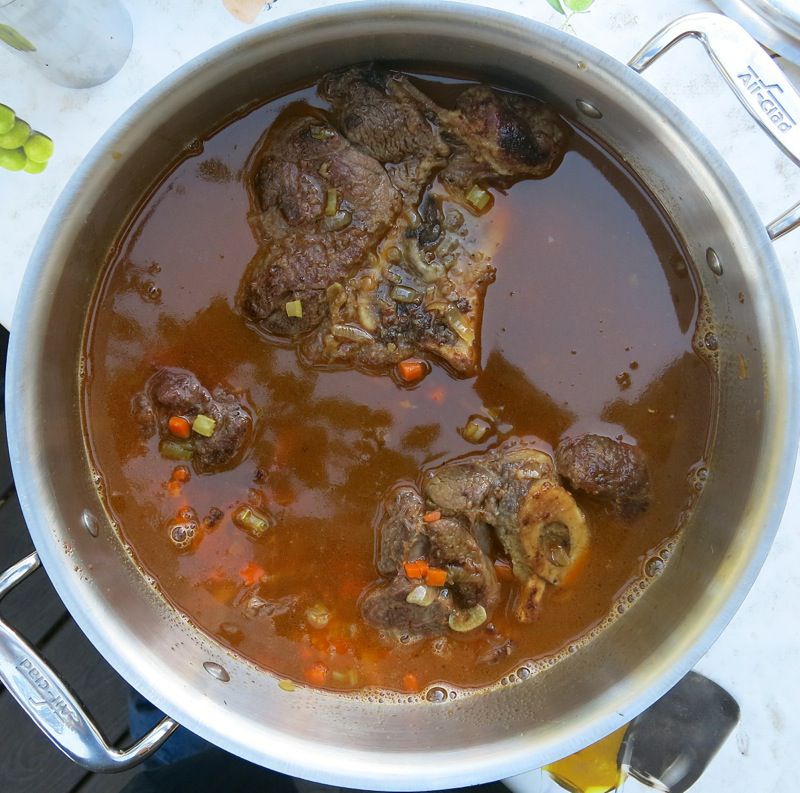 That is what you want to see. The shanks must be almost covered by the broth, but not completely. Into the oven for 3-4 hours, low and slow, Geronimo. And, oh, what flavour! The meat gets removed from the pot, and the juices with the vegetables are then boiled on the stove top to reduce. I did not cover my meat, but just turned it once in the pan while cooking, so my juices were not in too much need of reduction. I thickened the broth slightly into a thin translucent sauce with corn starch. I know this is not a traditional addition, but it is a delicious one!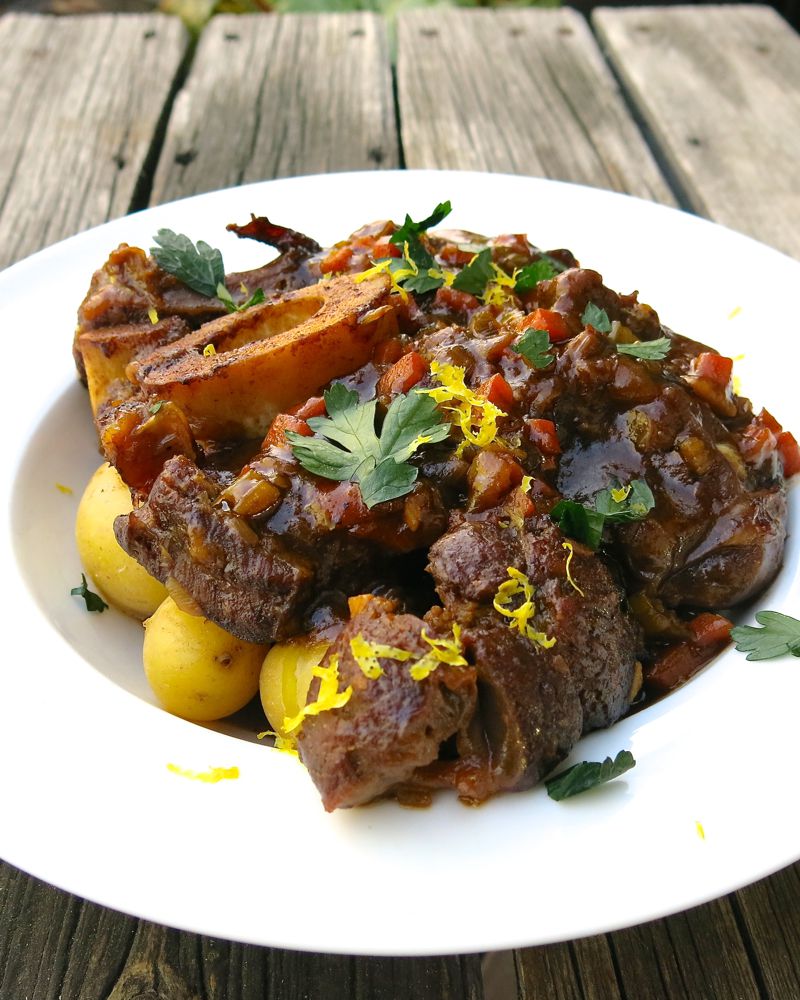 Gremolata would be sprinkled over the traditional osso buco, but some fresh flat leafed parsley still thriving in my autumn garden with a hit of lemon zest simply elevates this dish to another sphere entirely.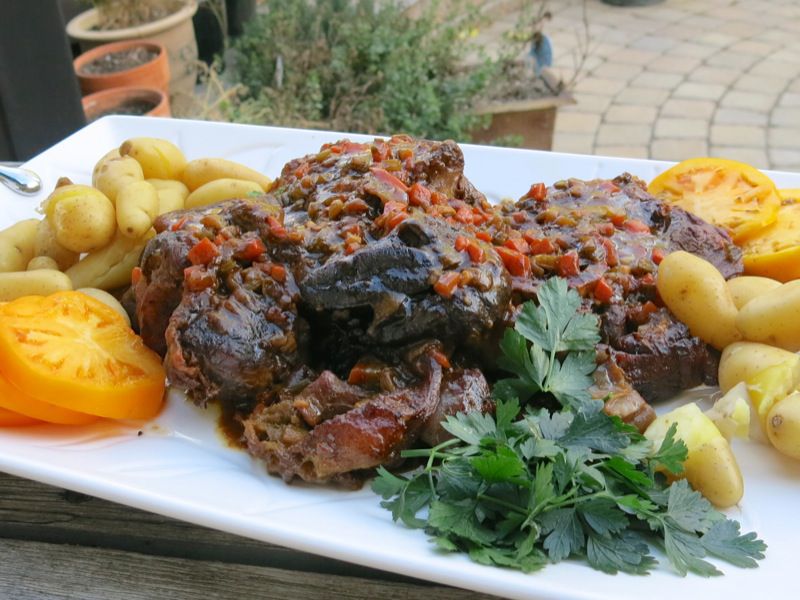 You will note, Vanja's food rarely gets elevated to that sphere. He doesn't like lemon or parsley.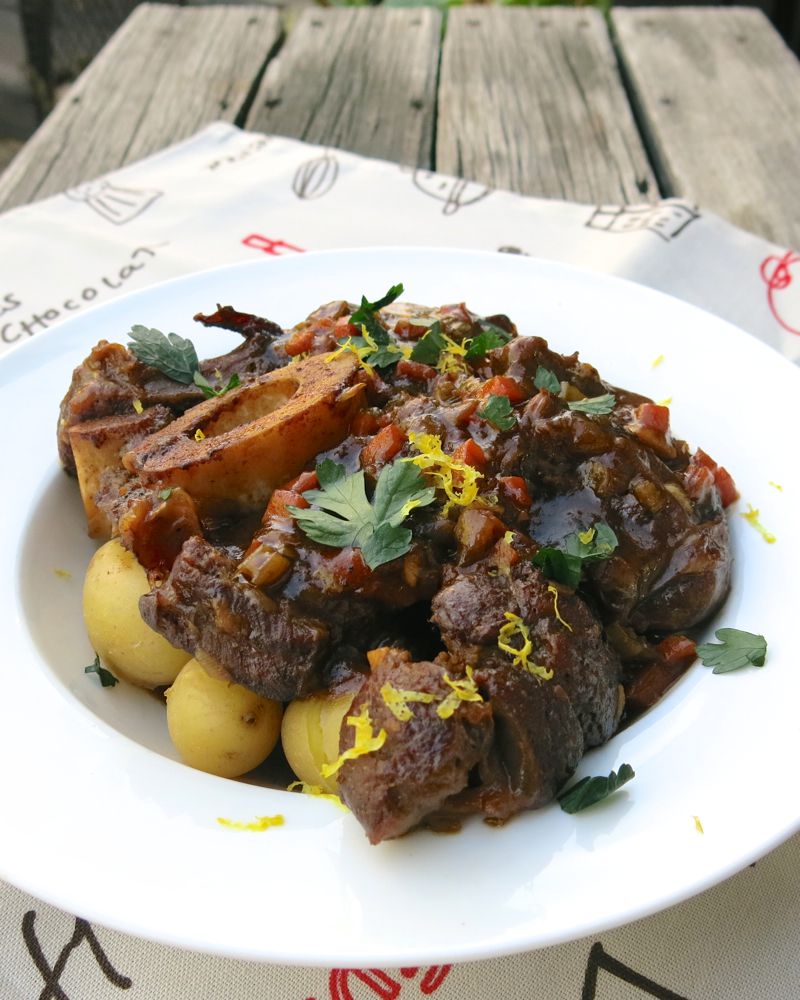 This is actually a traditional dish from Northern Italy, sans the veal jus and the corn starch and is served on a bed of Milanese Risotto. That will be next! The lovely pillows of new potatoes worked perfectly for this dish on this day at our house.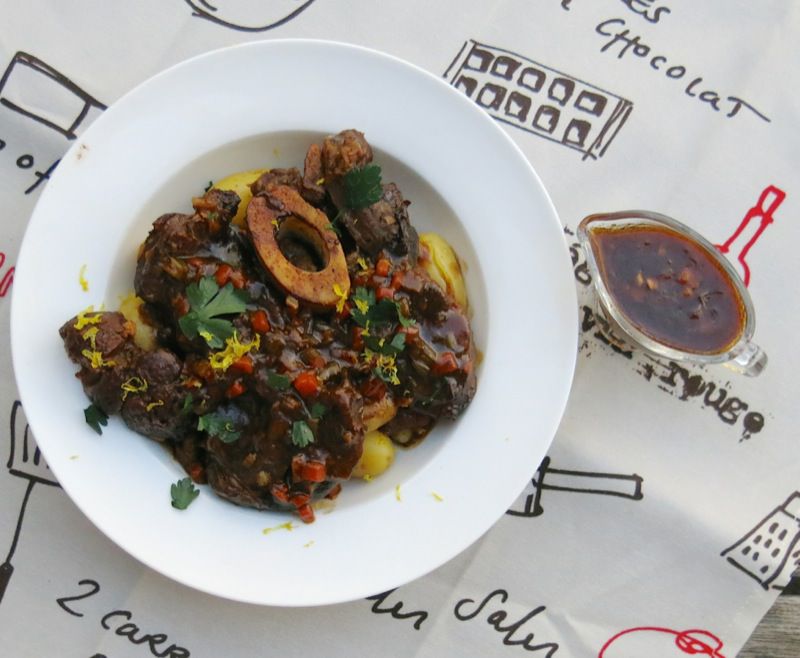 A little extra sauce on the side is a must. Like the Classic Pasta Bolognese Sauce recipe, the depth of flavour in this sauce and in the meat is unexpected and unforgettable. Welcome to our family, Osso buco!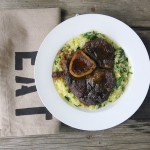 Osso Buco with Veal Jus
Traditional made with veal, I have used organic beef shanks; the frozen veal jus cubes are the secret of the success of this special Osso Buco recipe. Lip Smackin' delicacy.
Total Time
3
hours
20
minutes
Ingredients
3

whole veal shanks

(about 1 pound per shank), trimmed

Sea salt and freshly ground black pepper

All purpose flour

, for dredging

¼

cup

vegetable oil

¼

cup

butter

1

onion

, diced

2

carrots

, diced

3

stalks celery

, diced

4

cloves

garlic

, peeled and minced

3

cubes veal just

1

cup

dry white wine

4

cups

beef stock

1

tablespoon

cornstarch

3

tablespoons

fresh flat-leaf Italian parsley

, chopped

1

tablespoon

lemon zest
Instructions
Pat shanks dry with paper towel to remove moisture; using twine, circle circumference of each shank and tie tightly with twine

Season each shank with salt and freshly ground pepper; dredge each in flour, shaking off excess

In a large heavy pot, heat oil and butter until smoking; add tied veal shanks to hot pan

Brown all sides (3 minutes per side); remove browned shanks and reserve

Preheat oven to 300F

In the same pot, add onion, carrot and celery; season with salt to draw out moisture from vegetables

Saute until translucent; about 8 minutes

Add veal jus cubes until melted; combine

Add white wine and reduce liquid by half (5-8 minutes); add beef stock

Return shanks and juices to pan with stock; bring to boil

Place shanks, uncovered in oven for 3 hours; cooking liquid should be about 3/4 up each shank (add more stock, if necessary, or cover with foil or lid

Carefully remove cooked shanks; place in decorative serving platter; cut off and discard twine

Set pot with juices and sauce on stove; bring to a boil and reduce by 1/3 or ½

Sprinkle 1 tablespoon corn starch into sauce to thicken; stir constantly

Season with salt and pepper; pour over shanks and place remainder in pitcher alongside

Garnish with chopped parsley and lemon zest

Traditionally served over risotto; mashed potatoes also make a wonderful accompaniment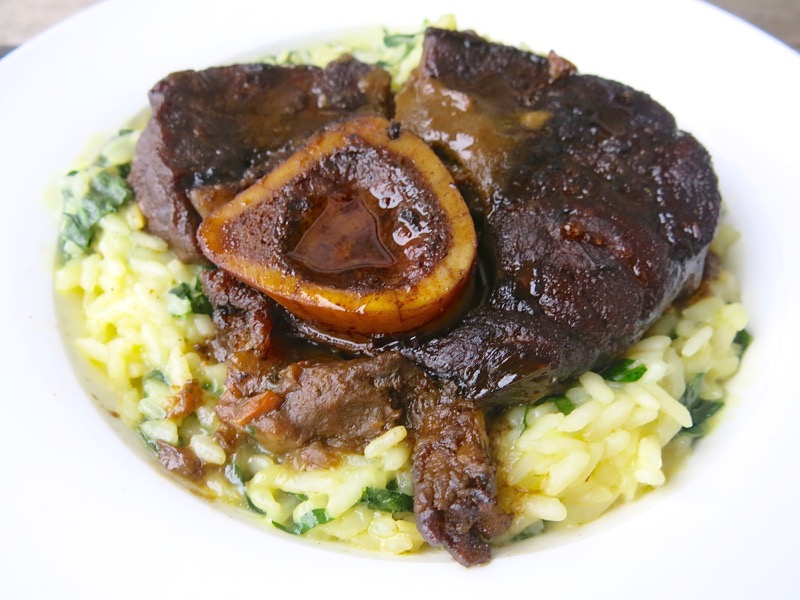 This time, in Winter, so fabulous on Spinach Risotto!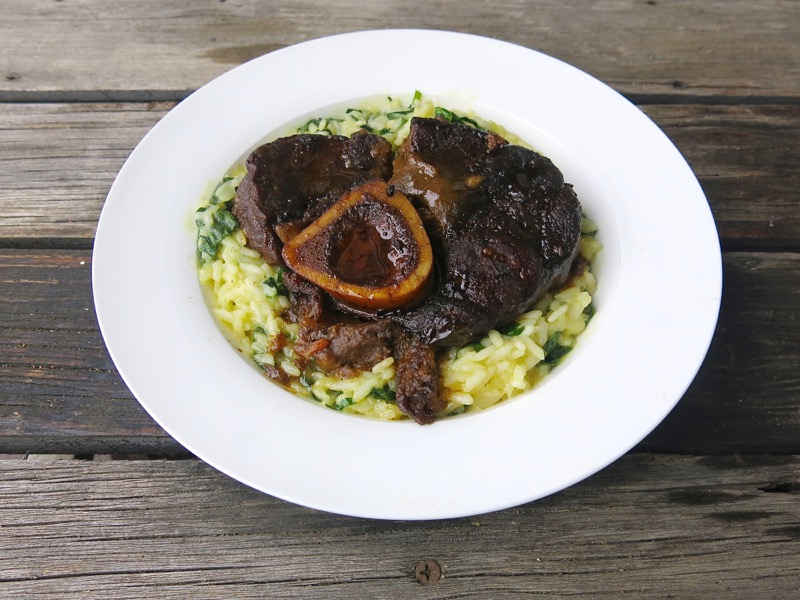 Mmmmm!