An Almost Traditional Balkan Delight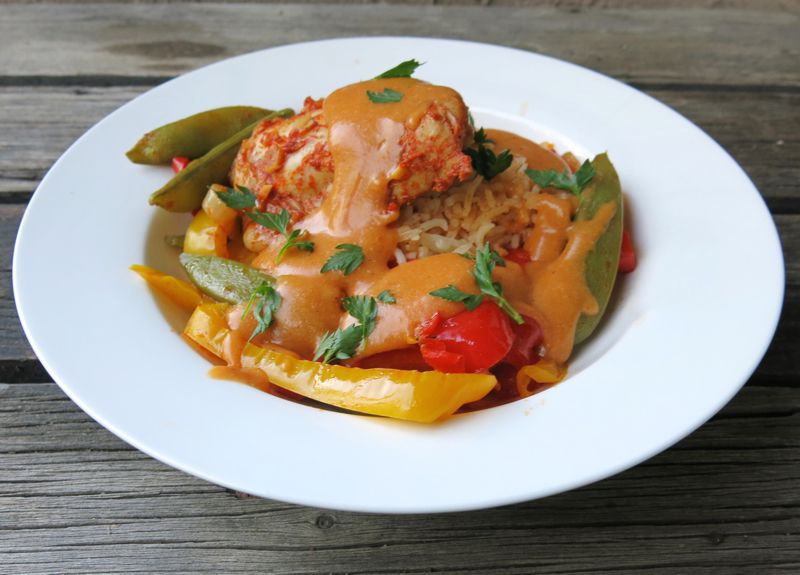 Chicken Paprikash is one of Vanja's comfort foods. He walks in the back door, the aroma greets him before I have a chance, and he is grinning from ear to ear, relaxed and so happy to be home, by the time I round the corner. Thermomix Chicken Paprikash, however, is new. A new concept, a new experience, but somehow, familiar. "Mmmmmm. Smells good!" were his words when he came in from mowing the lawn.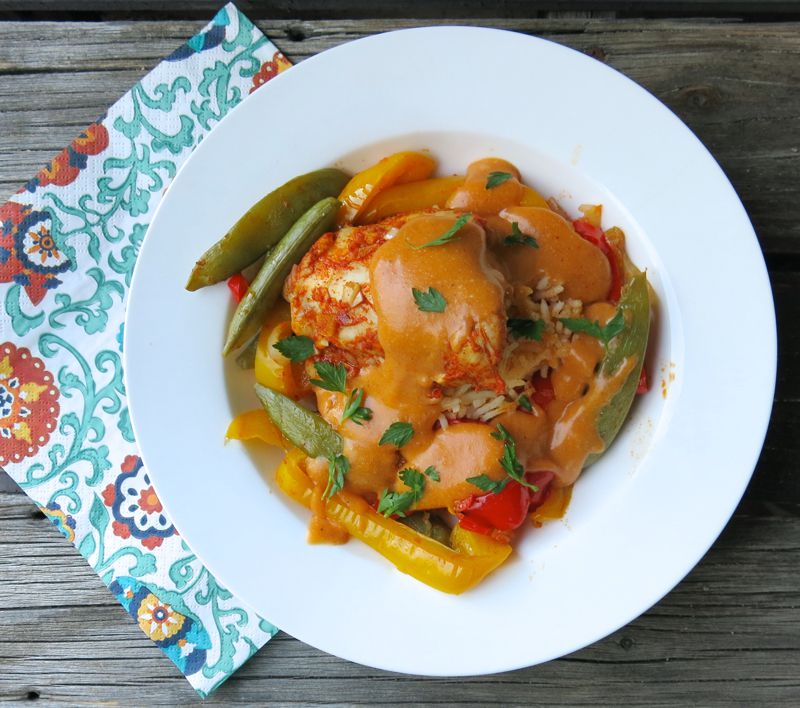 Now, who likes steamed chicken? Certainly, not my uber carnivorous Serbo Charger. I couldn't even imagine it. That was, until my outdoor grill was being install, so no BBQ. The temperature outside was over 30ºC and I felt like I was moving in slow motion the entire day. Cooking anything would heat the house. Out of the question. Oh. Nope. We don't have air conditioning. I live in Edmonton, Alberta, remember? (OK. Many people now have it, though our summers are very brief, they are warmer, yearly.) Anyway. I was not going to cook in the house. Take out wasn't really an option, either. We had been away over a month and I knew he wanted some good home food. What to do?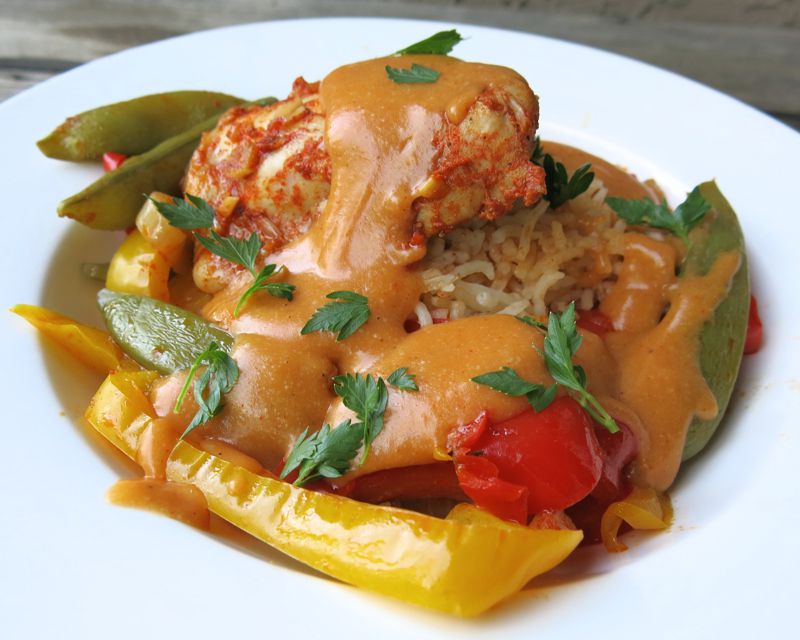 Of course, I knew I was going to cook something in my Thermomix, but I was afraid. I have successfully prepared many a main meal in my Super Kitchen Machine, yet was somehow stumped. What could I prepare on such a hot day? Googling and ogling all of the online Thermomix full meal deal recipes I could find from reputable Thermomix recipe developers, I came across Quirky Jo's Paprika Chicken with Creamy Paprika Sauce. Immediately, I was inspired. Chicken Paprikash in the Thermomix, it is!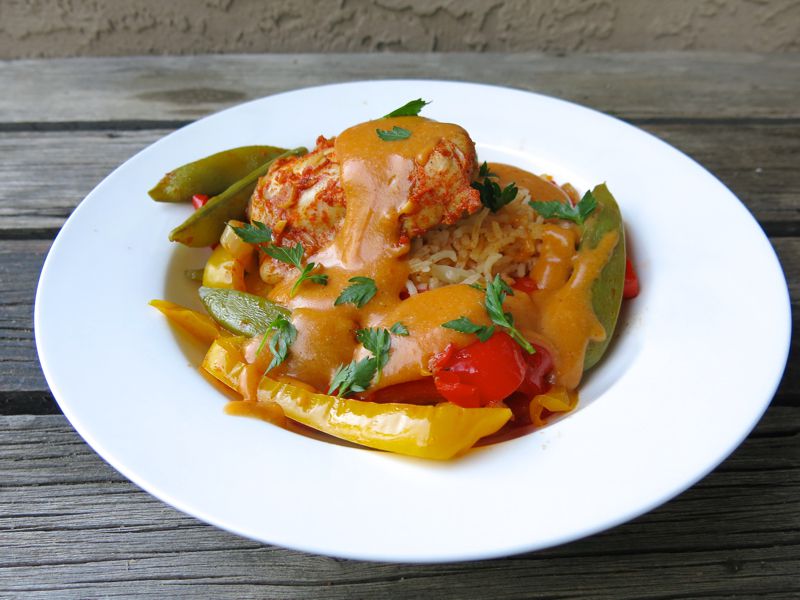 Still, filled with trepidation, as a slow braised traditional home food country dish is vastly different than a steamed full meal deal, I worked out my recipe.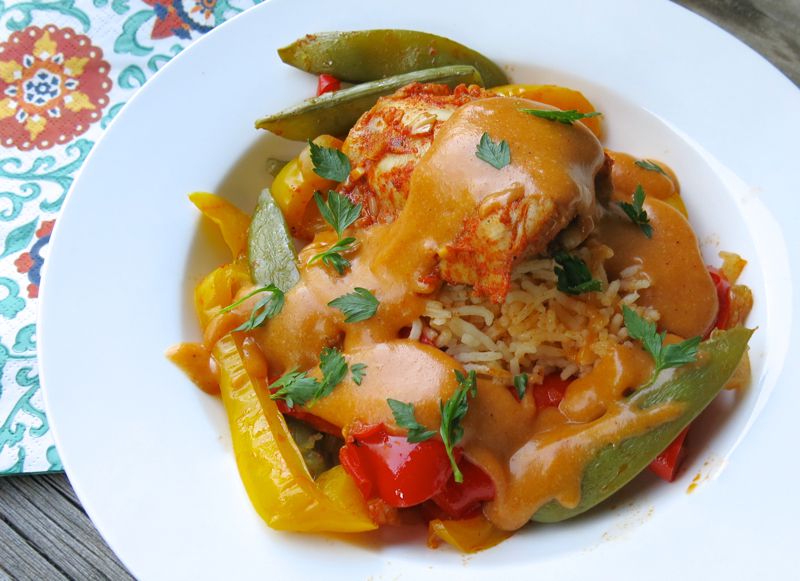 The chicken would be even better over night in the marinade. I left it for 4 hours. I recommend 8 hours or over night.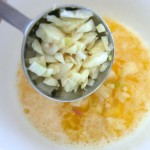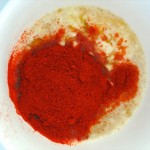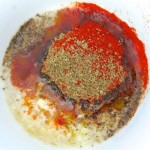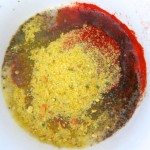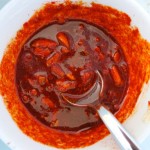 Thinking about the traditional Paprikash flavours and knowing I wasn't frying or grilling my chicken, I wanted to develop a depth of flavour and a visual appeal. Anemic looking steamed chicken would not appeal to Vanja. I started with a good amount of melted butter: 1 tablespoon per chicken thigh. Then, a good amount of garlic: 1/2 a large clove per thigh. Having come home from Greece with a good amount of extraordinarily fresh top quality Hungarian sweet paprika, in went a tablespoon. A good amount of freshly grated black pepper followed: a good 1/2 teaspoon full. More if you enjoy heat. Last, Vegeta. Nothing goes onto the grill without Vegeta, and as I was preparing a marinade, it was a must.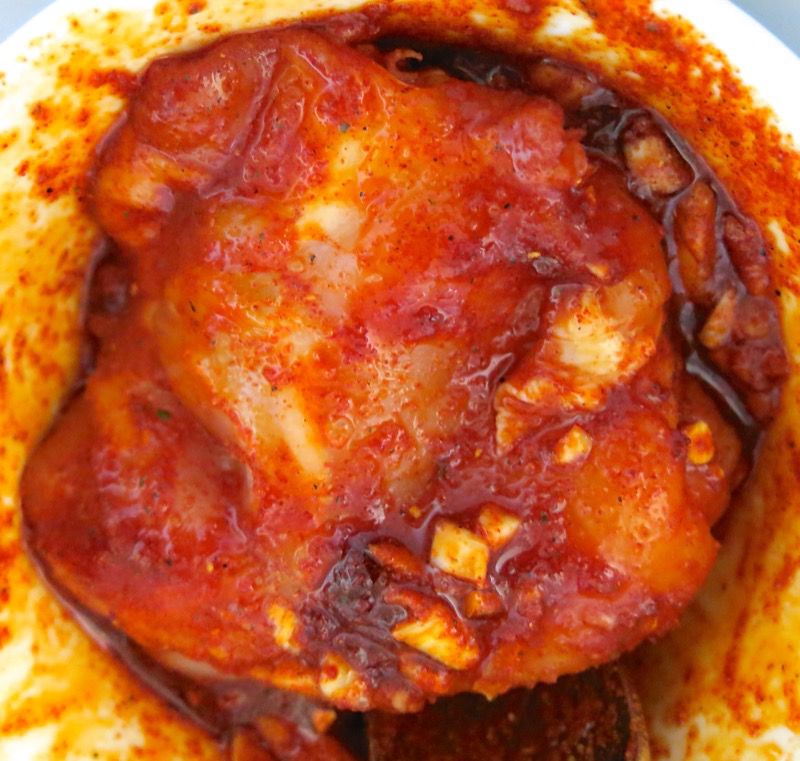 I slathered the marinade over each and every thigh by dipping in the marinade, and then placing in a large zip lock bag. In the fridge it went to chill while I cleaned up and sliced the peppers and onion.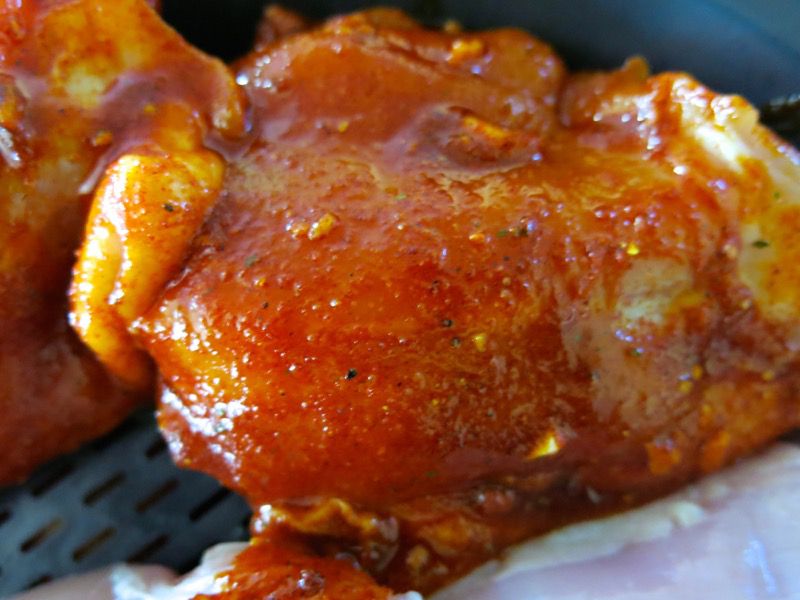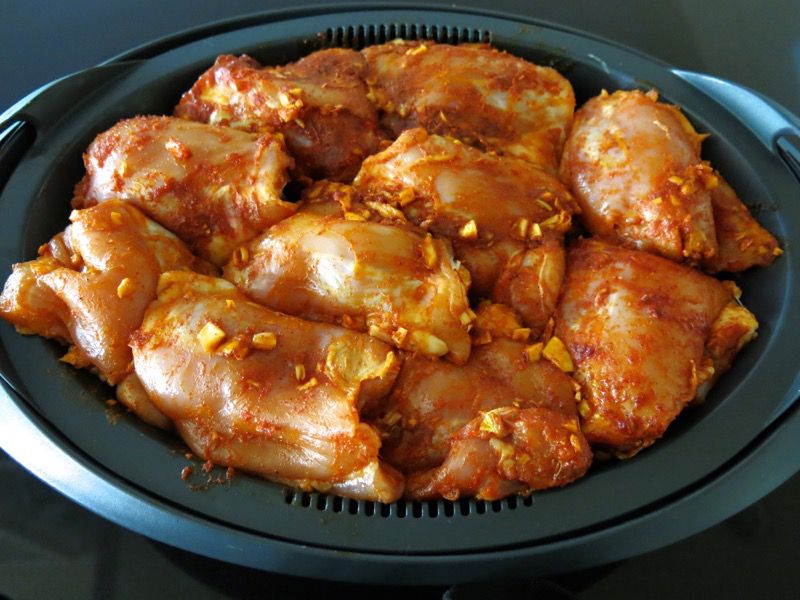 Ten cold and well marinated thighs fit perfectly on the Varoma shelf.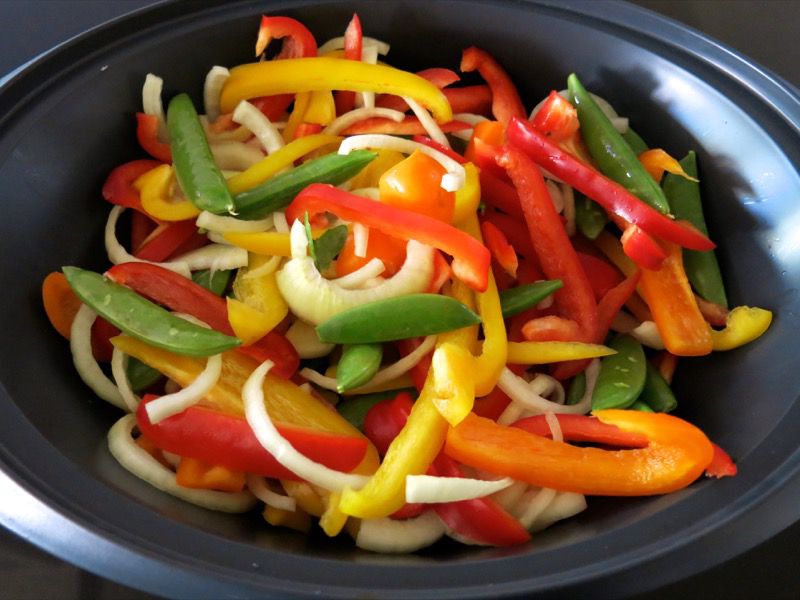 The peppers and onion filled the entire bottom of the Varoma to the top. I added some peas that I had for colour. This would not be a traditional Paprikash vegetable! Green pepper, possibly, but nothing other than peppers, garlic and onions.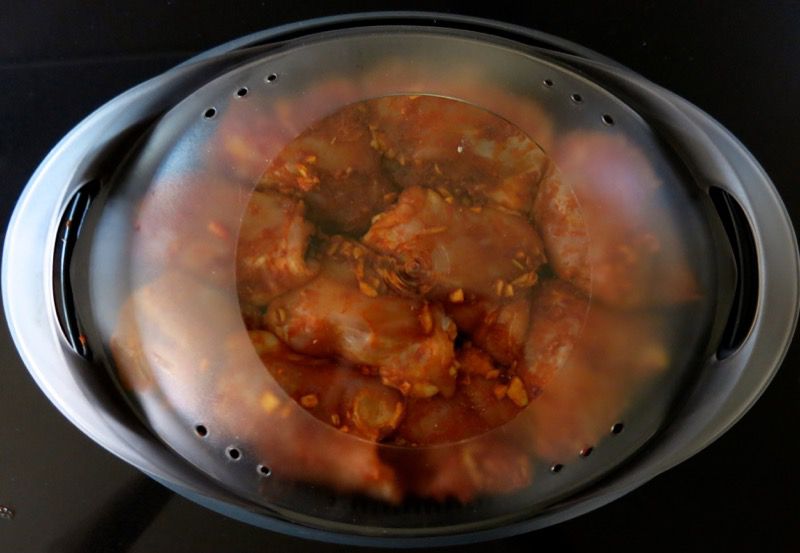 The chicken went on top of the vegetables in the Varoma. I placed the lid on top, and filled the TM bowl with a litre of flavourful chicken stock to steam the rice.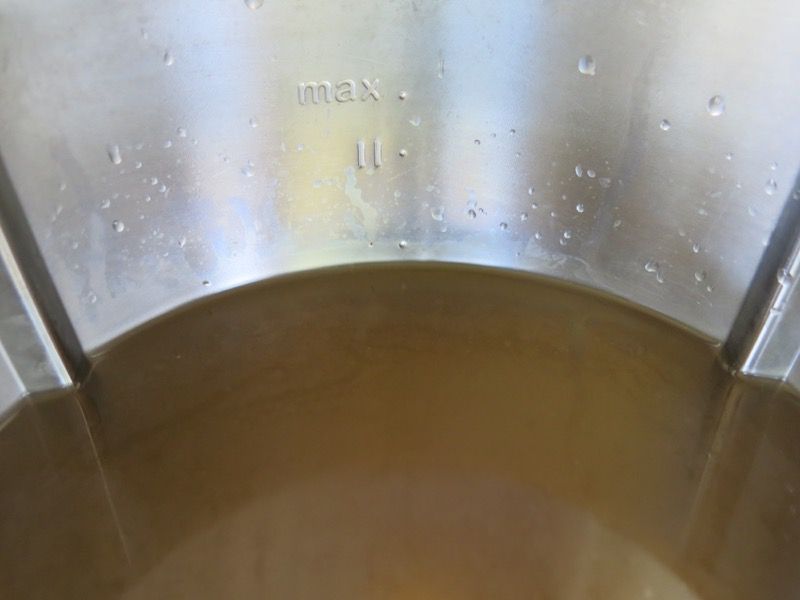 Above, you can see how much liquid the TM bowl has in it: almost to Maximum level. You will see how much is left after cooking the rice.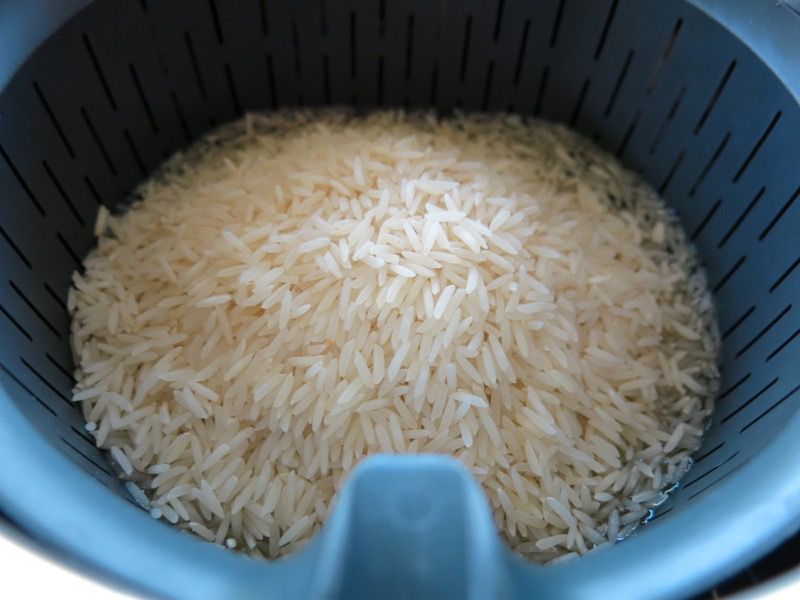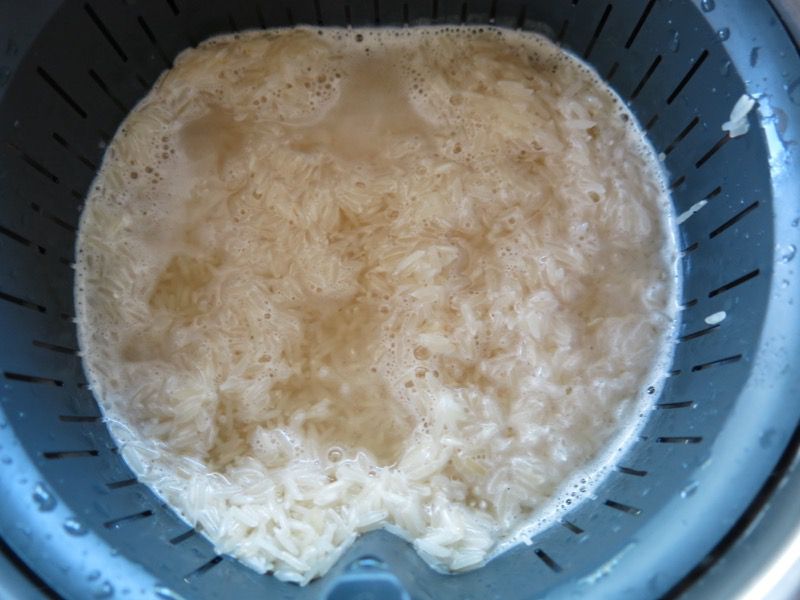 Jo writes about swishing the liquid over the rice before cooking it which is a great little tip. I have always done this, too. I think things like this come natural for cooks, but they are very important to know if you aren't one!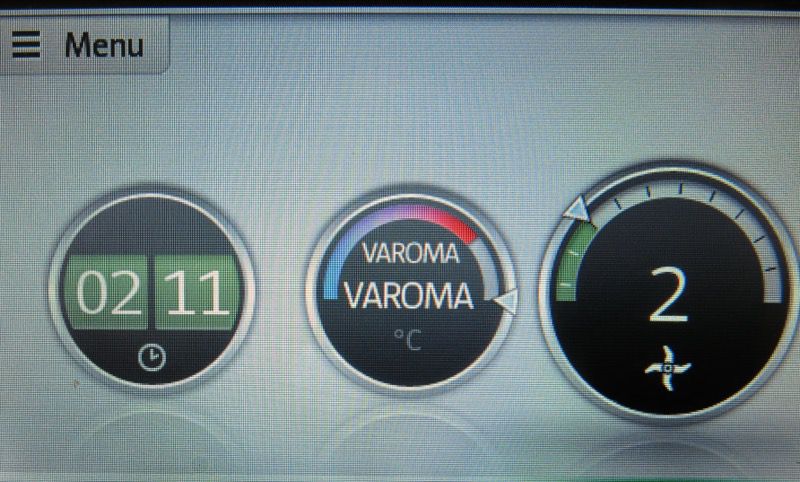 The time, temperature and speed was set. Lid locked in place. Broth in the TM bowl. Rice in the simmering basket. Vegetables in the bottom of the Varoma and chicken in the top. Good to go. 40 minutes to cook, and that's all she wrote…. except a couple of minutes to make the gravy at the finish.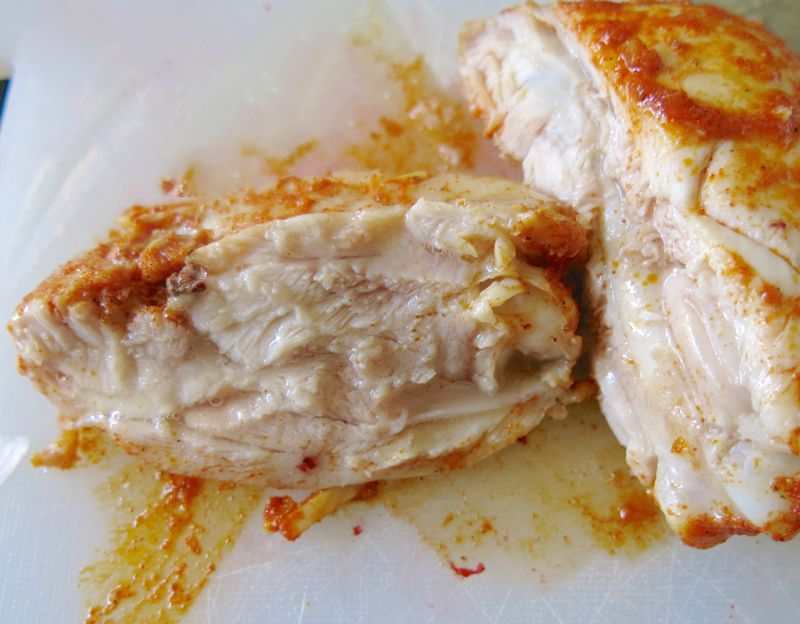 Important to ensure your chicken is cooked. Mine was plump and juicy and perfect. However, chicken pieces can vary in size and density. Always check. I was pleased with the fragrance and the hearty appearance of the cooked thighs. Skin was removed. They were marinated in a butter sauce, recall?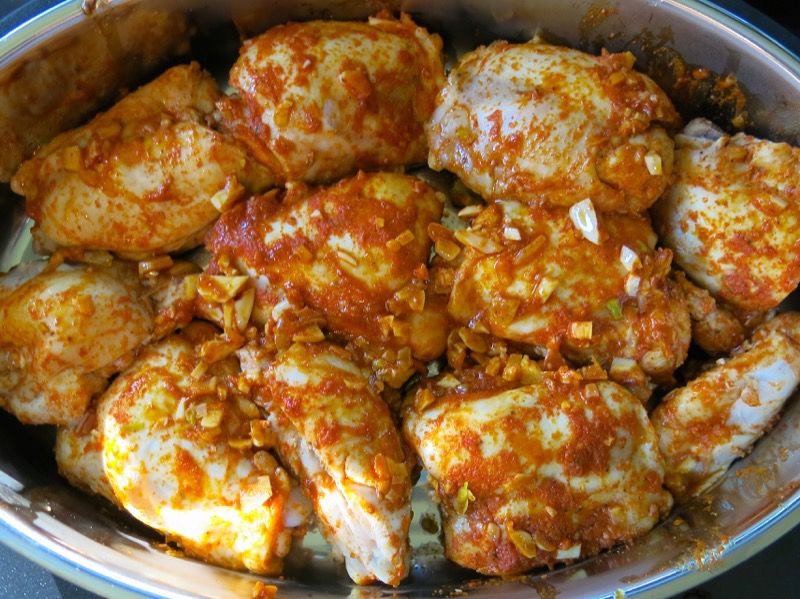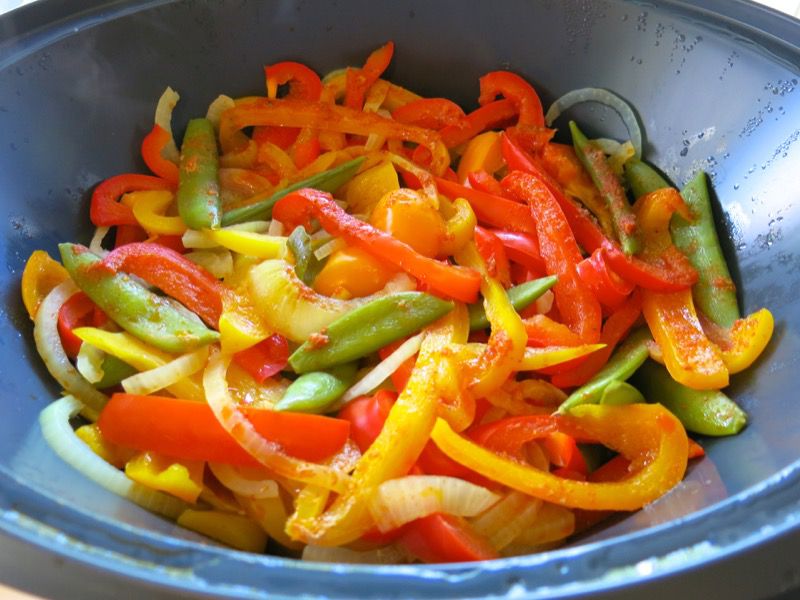 Vegetables were perfect.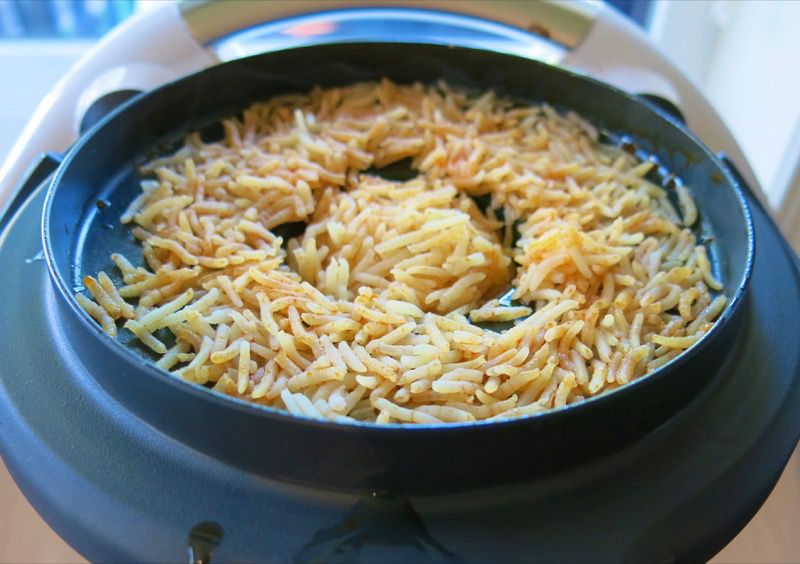 Rice was a little too puffy for its own good, but that was my fault. 360g of rice is the maximum the TM5 will cook. I know that, but snuck in 400g to see what would happen. This happened! But, it was fine. Cooked perfectly: fluffly, light and tasty.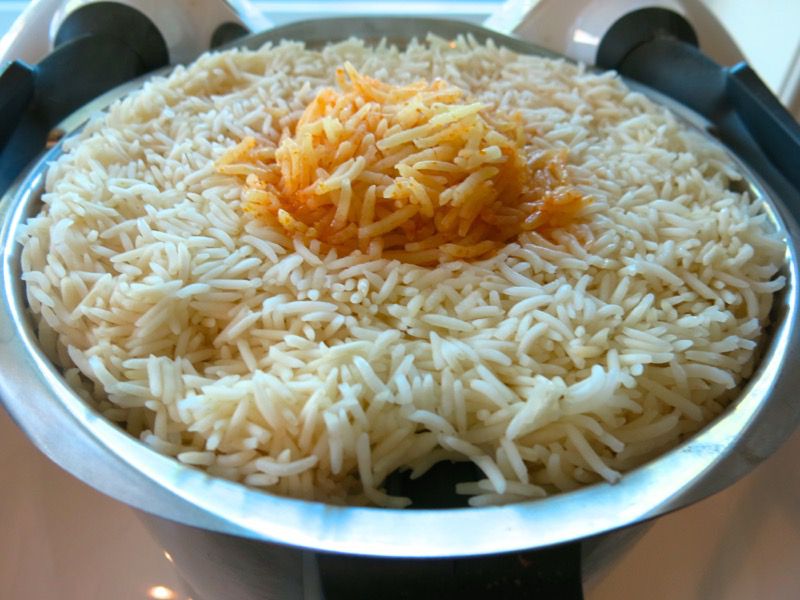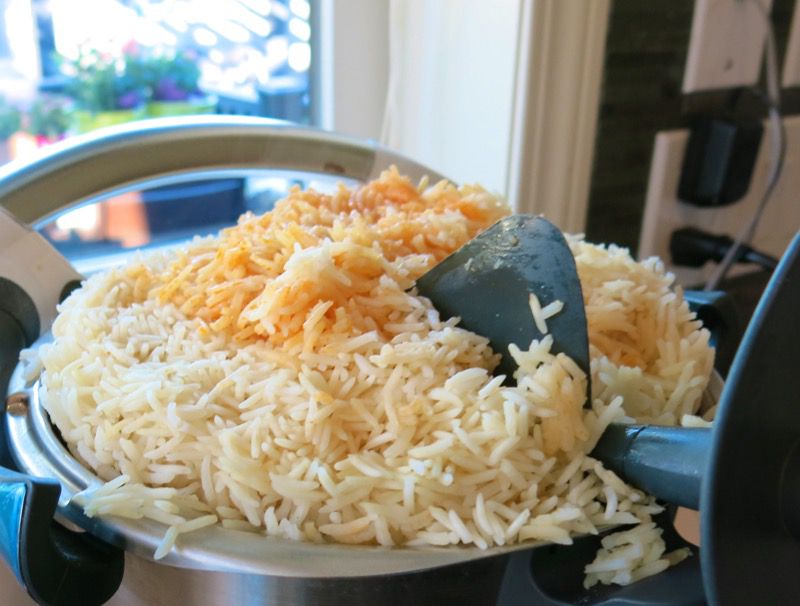 Too hot to lift out. Definitely use the spatula to help with this.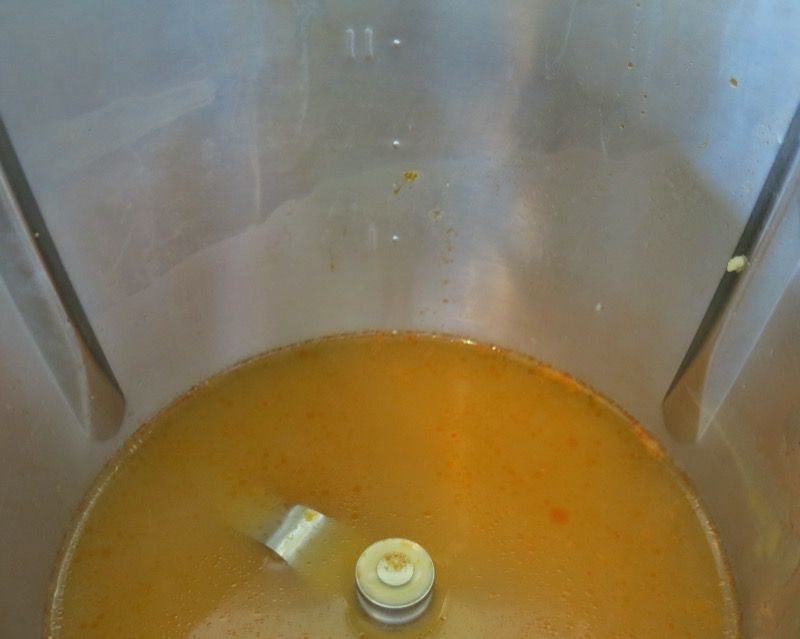 See how much liquid is left now? Look way up to the Maximum fill line. The rice absorbed a good deal, but there is a nice amount left to work with.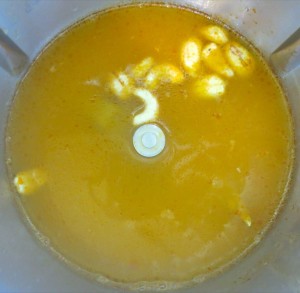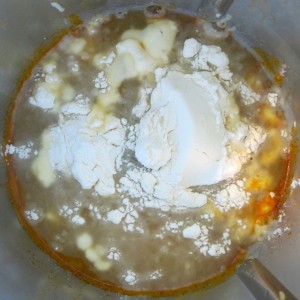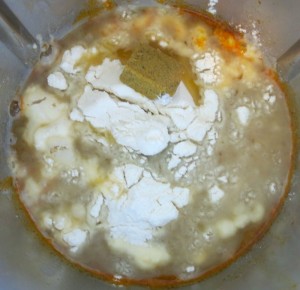 Though I am not gluten free, I have used nuts for thickening in many of my vegetarian dishes to create a full protein. My yam soup is one. (Scrumptious) So, I liked the idea and added them here, inspired by Jo's sauce. Then I continued with my usual Paprikash sauce ingredients with one exception. I added a cube of chicken boullion that I brought back from the former Yugoslavia. The one Pava used, but never told me about. The one that makes her chicken soup taste incredible! I have been using it in dished like this ever since. (Consistently working on developing my own homemade Thermomix Chicken Paste to taste the same.)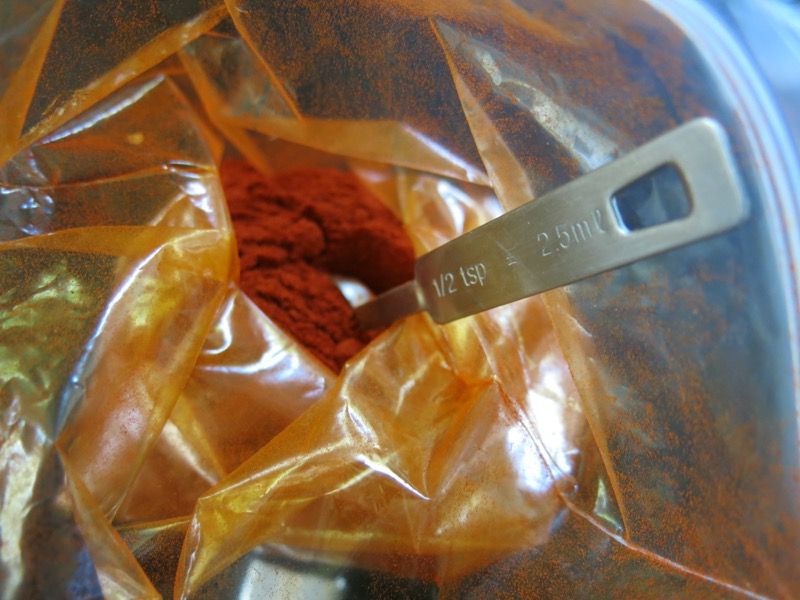 Ah, yes. More lovely sweet paprika into the sauce as the chicken is not braising in it.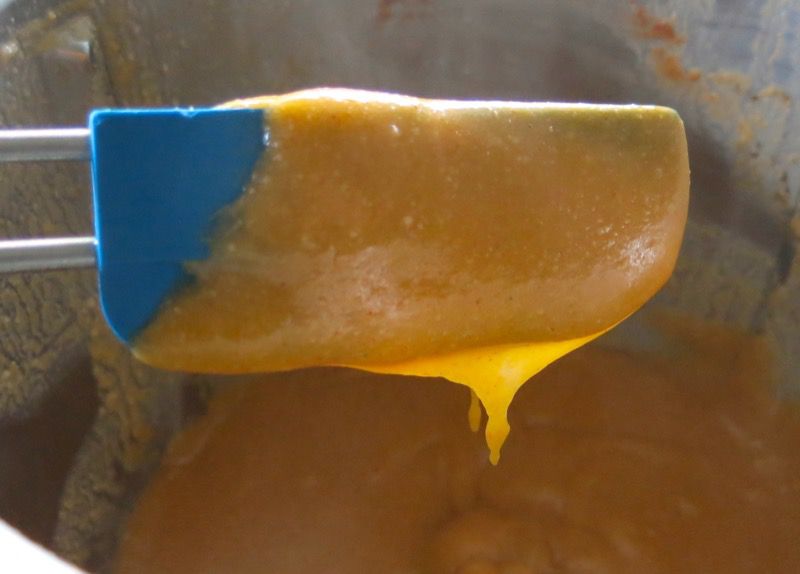 Voila! A little on the thick side, but delicious, and lovely thinned with a little stock, as desired.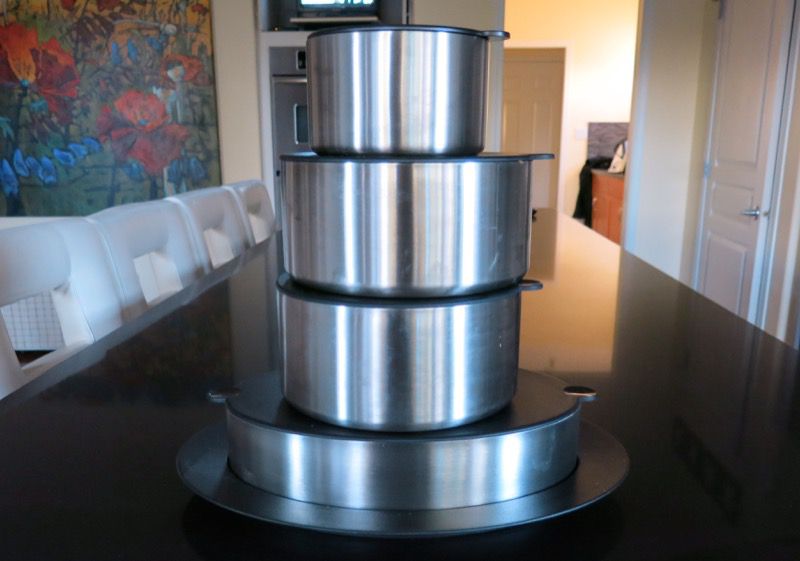 I confess. I have been selling Thermomix machines for almost 9 years. I have therefore earned and been gifted several Thermo Serves. These "not so lovely in appearance" servers keep food hot or cold for 5 hours. Piping hot, I will add. I simply pour boiling water into each to warm it. Dry it. Place the food into it. Put the lid on it, and when the family comes home, dinner is served. I do not do this all that often, as fresh from the stove top, Thermomix, or grill, is always best – yet, it is a lovely option. And, on this hot day, was a God send. Chicken in the bottom, rice was next, then the vegetables, and last – the gravy. I will be in the basement, in front of the fan, cooling off! Just help yourselves!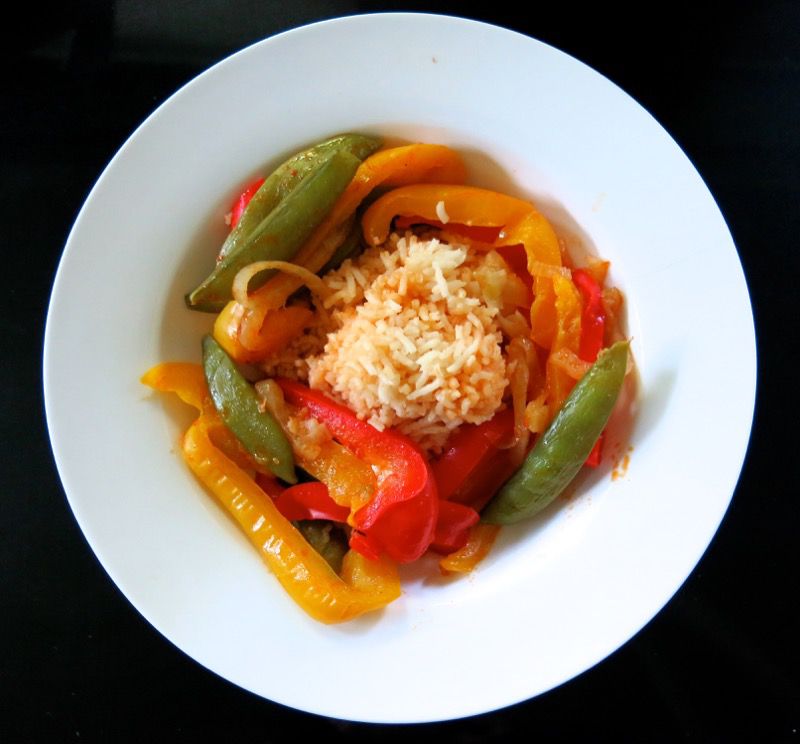 Plate on a large tray or individually: rice in the center, surrounded by the vegetables.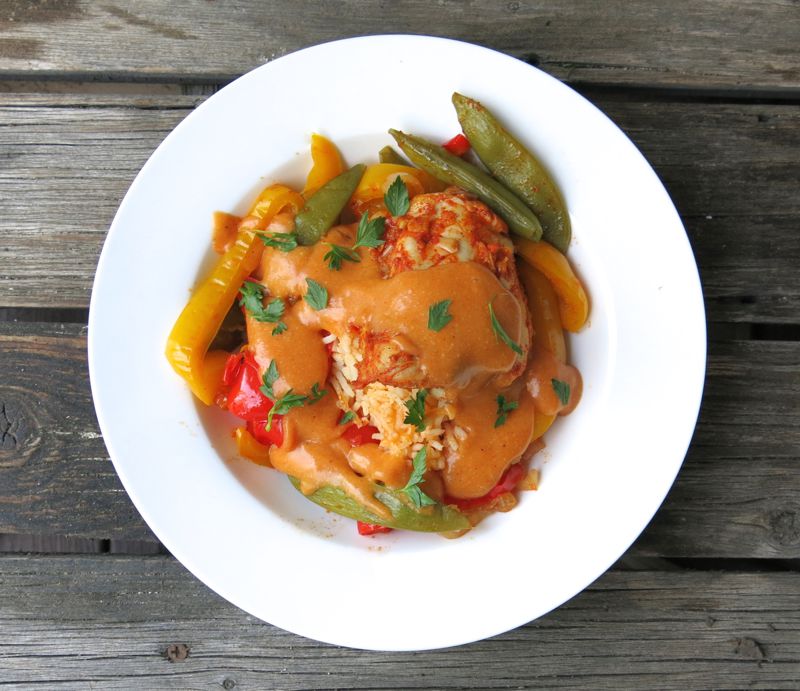 Cover the rice with the meat and drizzle with the gravy. Garnish with flat leafed parsley or chives.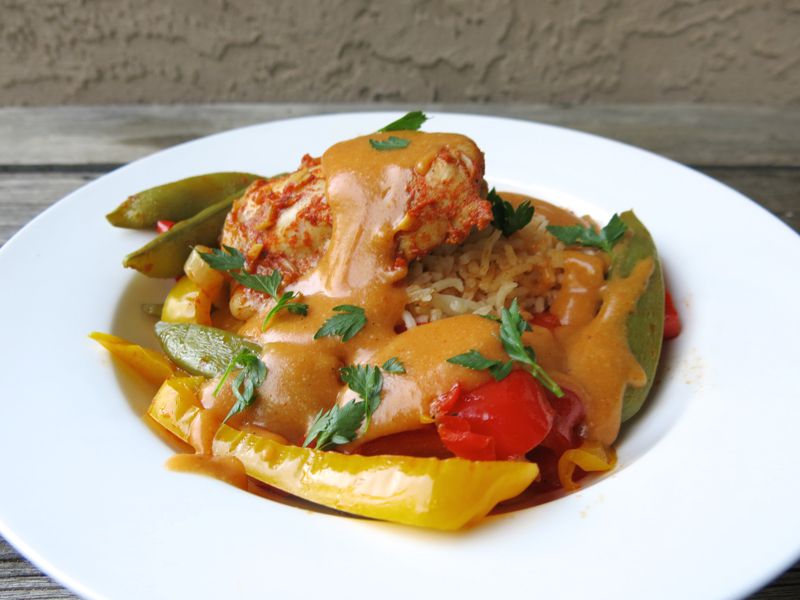 How happy was I when Vanja liked it! Oh, my! Of course, he added: this is nothing like "real Chicken Paprikash, you know." But, of course it is a lot like it. It is just to near and dear to his heart to accept that. If you make it, I want to hear about it. If you have other stellar "full meal deals" you make in your Thermomix you think that my uber carnivore may enjoy, by all means, include the link below!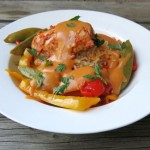 Thermomix Chicken Paprikash
Inspired by
Quirky Jo's Paprika Chicken with Creamy Sauce
one very hot summer evening when the BBQ was out of order and I needed a husband friendly carnivorous meal for Vanja's palate. One of his favourite dishes is my
Chicken Paprikash
and when I found Jo's recipe, I was so inspired to make my version with her expertise. So, I have used my own recipe, completely inspired by hers, to create this meal for Sunday Supper July 2015.
Ingredients
Ingredients for Marinade:
15

g

Sweet Hungarian Paprika

(1.5g per thigh)

10

g

Vegeta

(1g per thigh)

5

g

freshly ground black pepper

(to taste)

5

large garlic cloves

, minced (1/2 clove per thigh)

1/2

cup

butter

, melted (roughly 1 scant tablespoon per thigh)
Ingredients for rice:
1350

g

homemade or organic chicken stock

10

g

salt

400

g

Basmati rice

(if you don't mind it puffing through the lid)
Ingredients for Traditional Vegetables:
1

large yellow onions

, peeled and sliced thinly

3

red peppers

, sliced thinly (OR 3 sweet bell peppers: red, yellow, orange)

large bunch of green beans

, cleaned and ends snipped (or sugar snap peas): an optional and non-traditional addition
Ingredients for Know Your Farmer Chicken:
800

g

know your farmer chicken thighs

, bone in, skinned, washed and patted dry (10 skinless thighs, bone in)
Ingredients for Gravy:
100

g

raw cashews

1

cup

chicken stock

i chicken boullion cube

1

teaspoon

fragrant Hungarian paprika

1/4

cup

plus 2 tablespoons flour

(to start) and add 2 more tablespoons (or 1/2 cup flour, total) for a thick gravy
Garnish
1-2

tablespoons

flat leaf parsley

, roughly chopped
Instructions
Instructions for the marinade:
Melt butter and add minced garlic, Sweet Hungarian Paprika, Vegeta, and freshly ground black pepper; combine well

Coat thighs completely in seasoned butter mixture: place into zip-lock bag and marinate for a minimum of 4 hours, preferably 8 hours or overnight
Instructions for rice:
Weigh rice; wash well

Scale stock and salt into TM bowl; scale rice into simmering basket and place inside TM bowl
Instructions for vegetables:
Place sliced vegetables into lower Varoma tray
Instructions for chicken:
Place marinated thighs onto Varoma tray; set tray on top of vegetables and place the lid over the chicken
Instructions for cooking Chicken Paprikash:
Set time for 7 seconds at speed 5 to wash the broth through the rice

Cook rice: set time to 40 minutes at Varoma, speed 2; place Varoma with chicken and vegetables on top of the TM bowl (understanding that it will take 8-10 minutes for the temperature to reach Varoma and be hot enough to actually cook the contents within)

Ensure chicken is cooked when timer rings (or continue, until cooked after removing rice to ThermoServer)

Remove rice to a ThermoServer; place chicken and vegetables into other ThermoServers if you have more, or leave in the Varoma and simmering basket while making the gravy
Instructions for gravy:
Scale ingredients to liquid left in TM bowl; puree for 1 minute at speed 9

Scrape down sides of bowl with spatula; season to taste

Set time for 4 minutes, temperature to 100 and speed to 2; set the table and call the family for dinner

If gravy isn't thick enough, add remaining 2 tablespoons of flour and cook for 3 more minutes at 100 degrees, speed 2
Instructions for serving Chicken Paprikash:
Serve rice onto individual plates or a large platter; arrange chicken in the middle of the rice and the veggies around the chicken

Drizzle with sauce and serve extra on the side

Garnish with parsley and serve with a crunchy green salad