This is our first stretched cheese!

Evelyne at Cheap Ethnic Eatz from Montreal QU Canada has succeeded with this challenging cheese, but on her fourth try! Doesn't hers looks soft and delicious? MMMMmmmmm….. This was a daunting challenge for so many, yet was the first cheese I ever made and the one that spurred my enthusiasm to create the Cheesepalooza Project! However, I had Deb showing me how and wasn't going it alone! You must stop by Evelyn's site to celebrate her perseverance!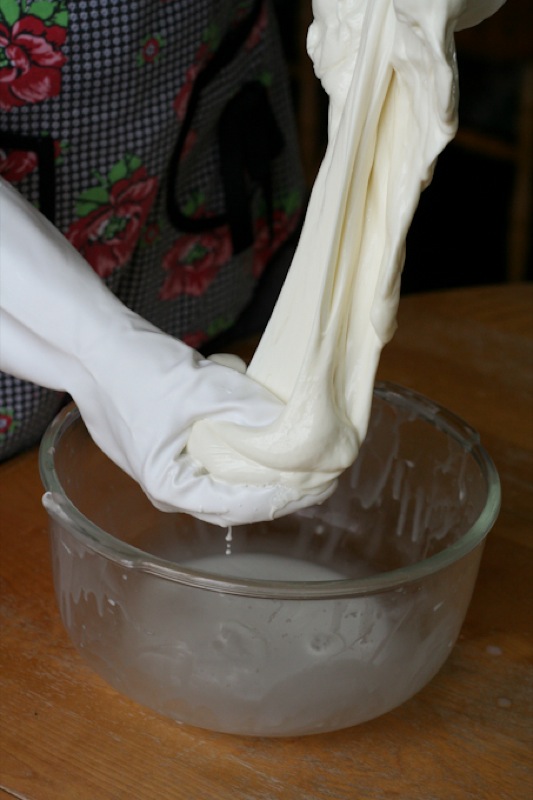 Lori Anne and Stephanie also have "the gloves"! Look at that stretch! Wowswers! Stephanie at Clockwork Lemon and her mom, Lori Anne, have made an incredible mozzarella! Oh, what a friend we have in cheeses!
Before continuing, Simona at Briciole has this video called The Mozzarella Maker on her homemade mozzarella site. It is a story from the New York Times that is well worth the 90 seconds to watch as it lays the foundation of the importance of cheese making in the life of one woman in one community.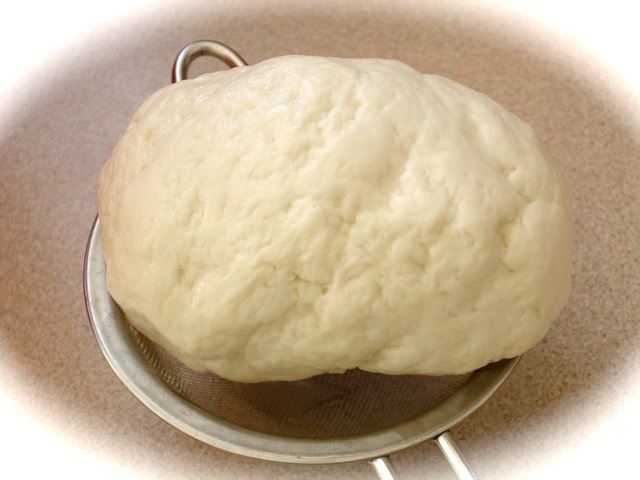 Simona at Briciole has been making mozzarella for a very long time. This is a 30 minute mozzarella! If you haven't stopped by her site yet to delve into her expertise, now may be the time!
Ntala at Crazy Mare Ranch has enjoyed her first real success with mozzarella this challenge. One of her lessons was to use cows milk. She has goats and was using goat milk without success. This does appear to be a cheese that moos. Remember to take a look at the Cheese Making Kits she is selling and sign up for her posts as she will be offering cheese making days on the farm sometime in the future!
Christine from Wannafoodie remains all in with every aspect of Cheesepalooza. I am sure she will be completely finished every recipe in the book by the end of the year, if not before!
Denise at Whole Made Goodness has the gloves! Provolone is also a stretched cheese, so I believe "the gloves" will be on the list for my next order. I really want to make that cheese, too. Denise gives a very detailed step-by-step pictorial and this is definitely a must read!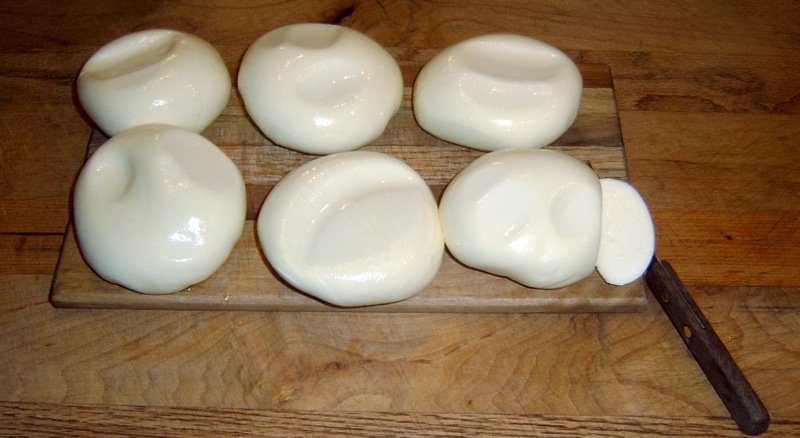 Diane at Bar Over V Ranch from Okanogan Washington USA has also written a very detailed step by step pictorial post and she has done a few things differently and her mozzarella came out perfect! Check out how she salted her cheese!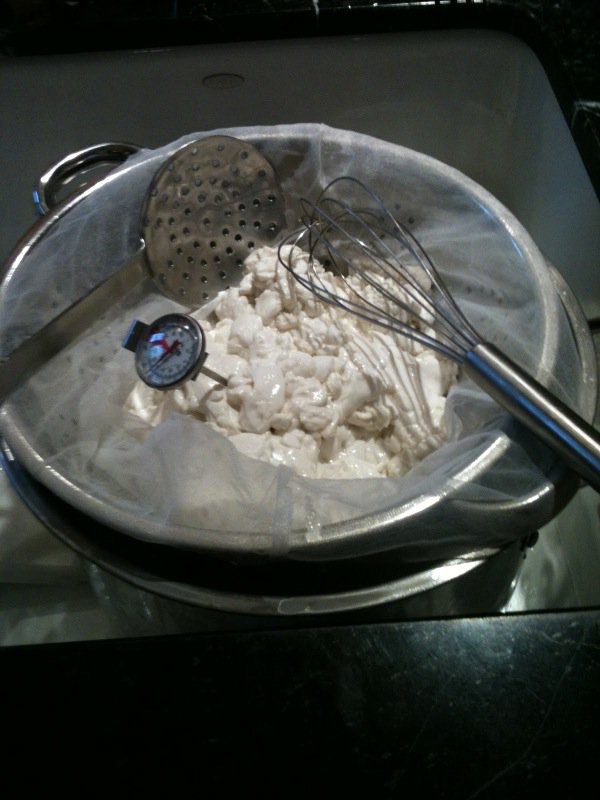 Sarah at Several Gardens made the traditional mozza! She did not succeed. Please take a moment to go over her step by step photos an offer her your insights! Only a brave woman publishes her failures.
Larry Harris at Le Bonne Vie had great fun with his son making this cheese. He also made a Crescenza that was delicious this month! Check it out!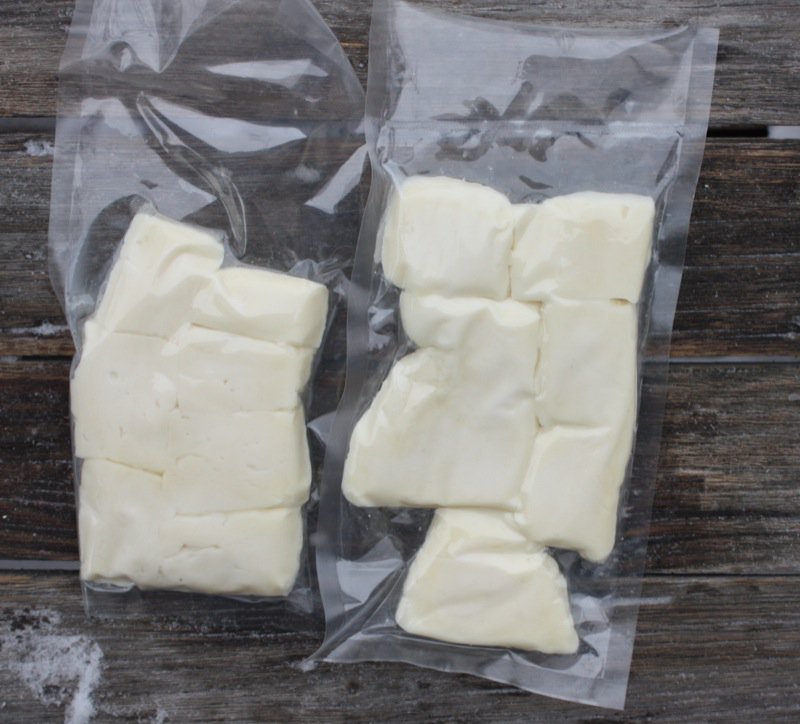 I haven't posted my successful Traditional Mozzarella post, yet. I plan to. The little tip I want to leave you all with that I learned from Deb is that after you have cut the slab of mozzarella curd into cubes, you can vacuum pack them and they will keep for a considerable length of time. This is excellent for a table side heat and stretch when you have company and want to have a little cheese making fun! A double batch of Mary Karlin's Traditional Mozzarella recipe made three packages (one more than you see, above) and each package makes a nice sized boule of mozzarella. I did this for the Cheesepalooza Tasting in November and it was a gorgeous and delicious cheese! I didn't demonstrate it, as I am not that experienced at this, yet!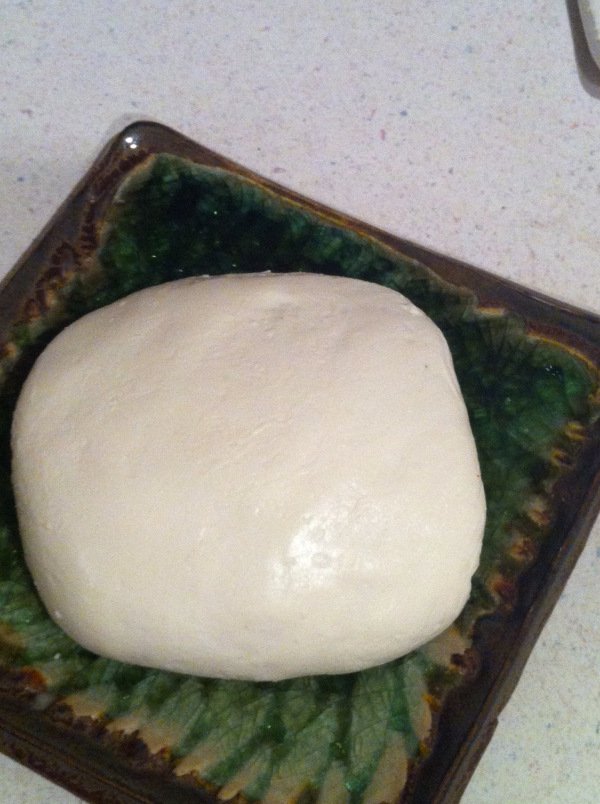 Rick at Sailor Rick from Edmonton Alberta Canada made a host of mozzas, including some gorgeous burrata!