Seedless Raspberry Ice Cream: Vivid, Vibrant and Vivacious
Raspberries are my first love. Sorry, Vanja. Really, they are. Vibrant jewels of juicy goodness that have been treasured in our family garden since long before I was even a sparkle in my father's eye. Row upon row upon row grew in my Grandmother Maude's fertile farmyard garden in Clive, Alberta. The hot itchy days of picking and picking with mosquitoes buzzing and biting are not at the forefront of the memory. It is the family. Together. Picking, bickering, singing, and slogging through the ever-so-long hot summer until all the ripe berries were gleaned from those rows of bushes… and day after day we would be out there. It still amazes me how fast this precious bulbous bounty ripens. Sometimes, I could pick twice a day.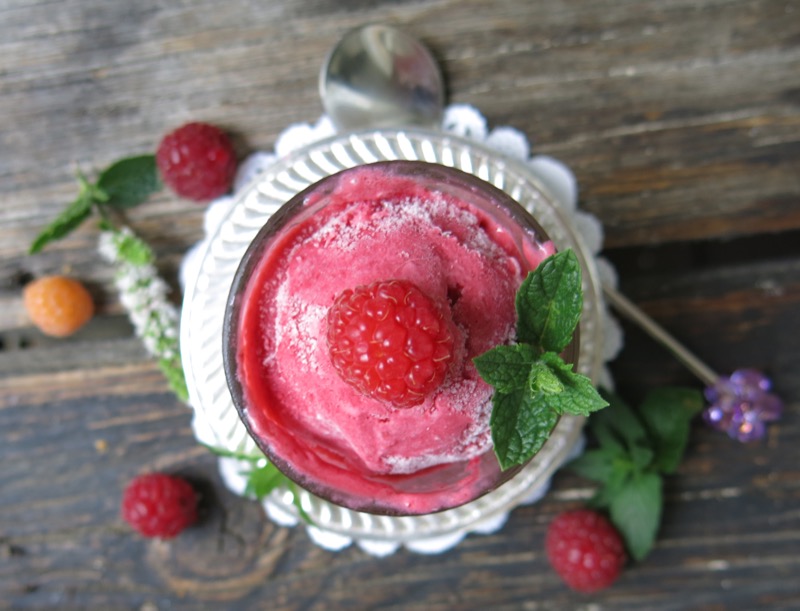 After picking our berries, the celebratory treat at the end, was a bowl of them chilled in the fridge, laden with thick fresh raw cream from the Bell's down the road. Oh. My. Oh, and the faintest sprinkling of sugar. Just to add sparkle to the eye and the palate.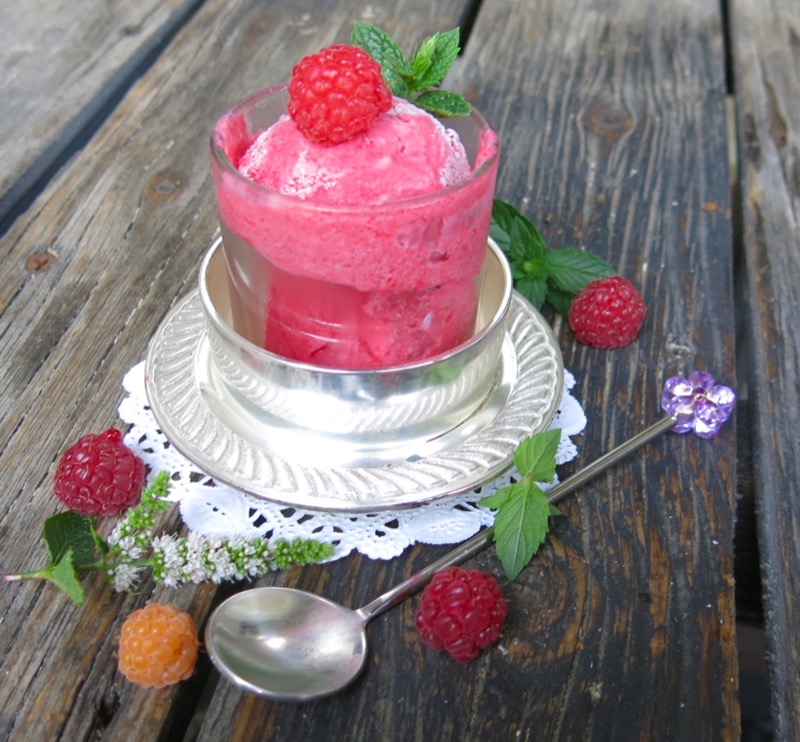 Raspberry Ice Cream was one of the first delights I discovered when I purchased my first Thermomix machine about 10 years ago now. I used to adore the ruffage in the velvety cream from the seeds. Not so much ten years later. And, as many of us attending the baby shower for Amy's new little gal are ten years older, Seedless Raspberry Ice Cream was on the menu.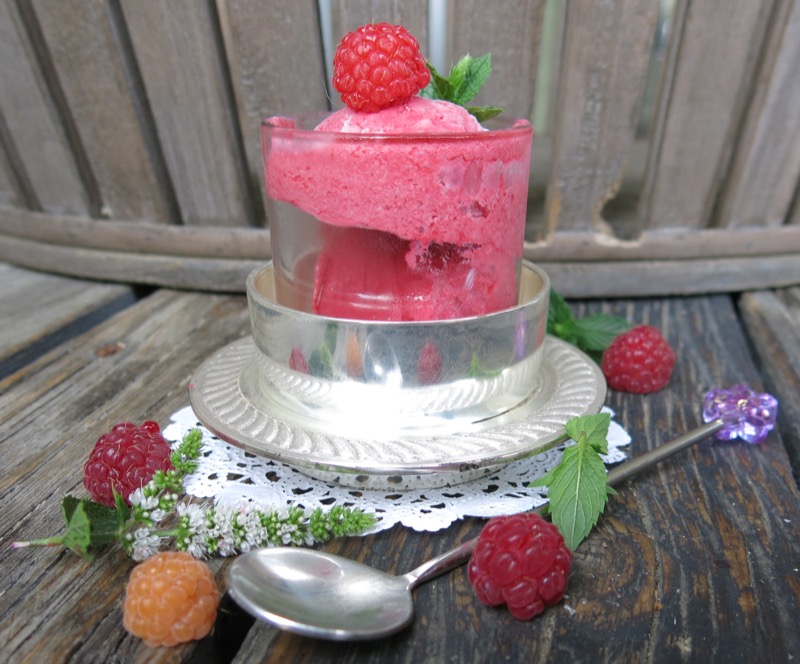 When I have a summer event, I must have more than one ice cream. Seedless Raspberry Ice Cream would explode with flavour and colour. This is not made with a traditional egg custard. There are three simple ingredients: berries, heavy cream and sugar. If you have ever had thick icy cold heavy raw cream from the farm gently ladled over freshly picked chilled raspberries, you will understand how delicious this ice cream is. And, it will be the perfect compliment to the Deviant Tutti Frutti Ice Cream and the Pina Colada Frozen Yogurt that will accompany this recipe to make up the three I will be serving on the dessert buffet.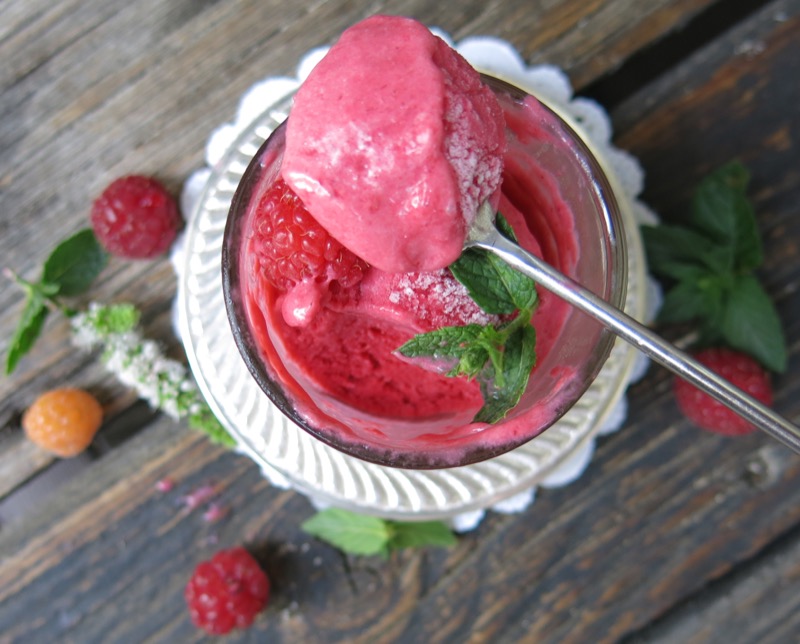 After the baby shower, Ryan and his dad stopped by, at my invitation, to help Amy and the Grandmas get the gifts into the car, but more importantly, to sample the wares. I knew there would be so much food. Amy was hosting her in-laws, and a little man-snacking would be a good thing! My favourite food memory of that day was Grandpa Scott's reaction to this seedless raspberry ice-cream. He tasted it, and then uttered something rather unintelligible to himself. "Pardon me?" I said, full-on intrusively. "Oh! Now, that is good stuff!" He responded without taking his eyes off his mini cone. "That is really, really good." The expression on his face as he savored this simple concoction was a gift. And, I agree. To me, this was the crème de la crème of anything on the baby shower dessert buffet table (with the exception of Mom's homemade angel food cake, of course!).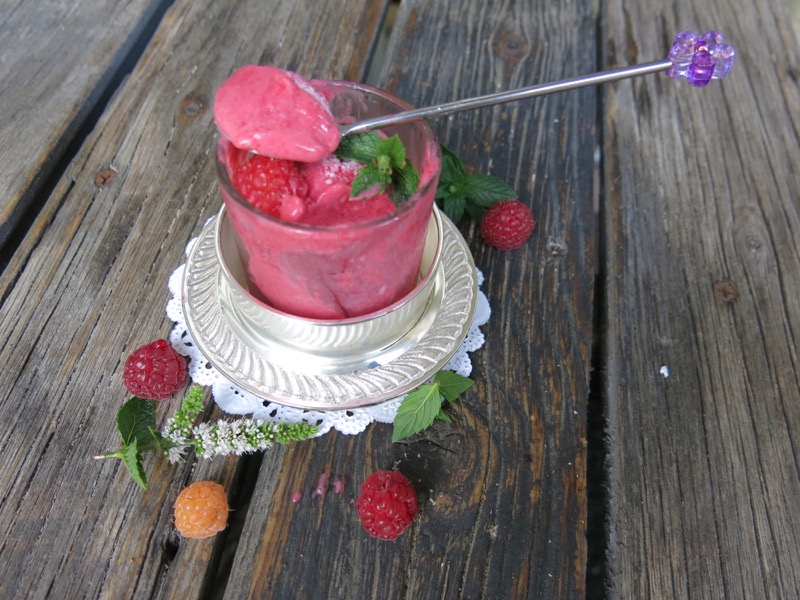 Thermomix Seedless Raspberry Ice Cream: Making the Raspberry Juice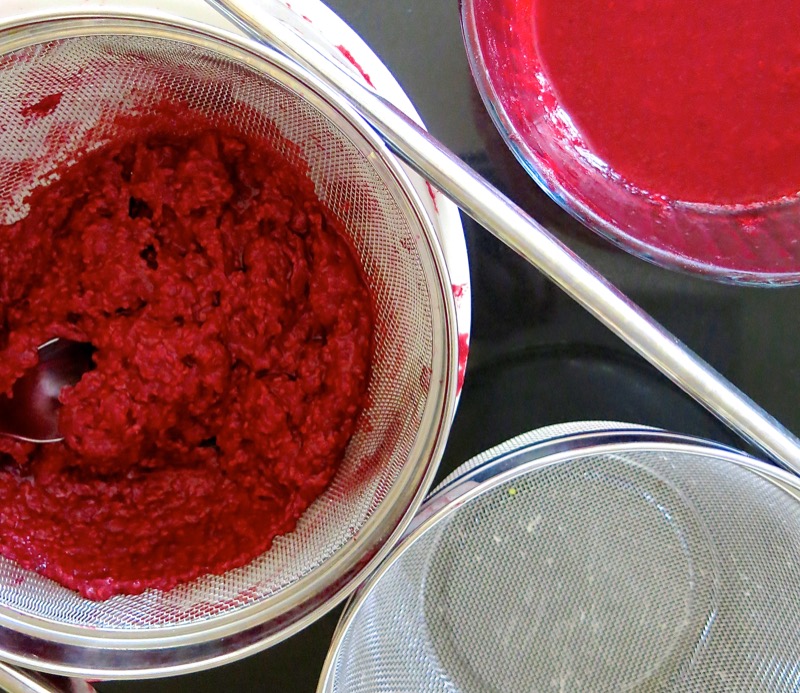 This was a great year for raspberries in my zone three small city garden. I grow a row between my driveway and the neighbours, where most people have decorative rocks. I harvest enough for our entire family for a year. Step one, pick the berries. I was making three kinds of ice cream with 24 guests, so 18 balls of each flavour would be plenty. Five hundred grams of berries would be plenty. After they were picked, they were placed into a chinois and strained through the sieve-like part of the apparatus, then strained again through a finer sieve.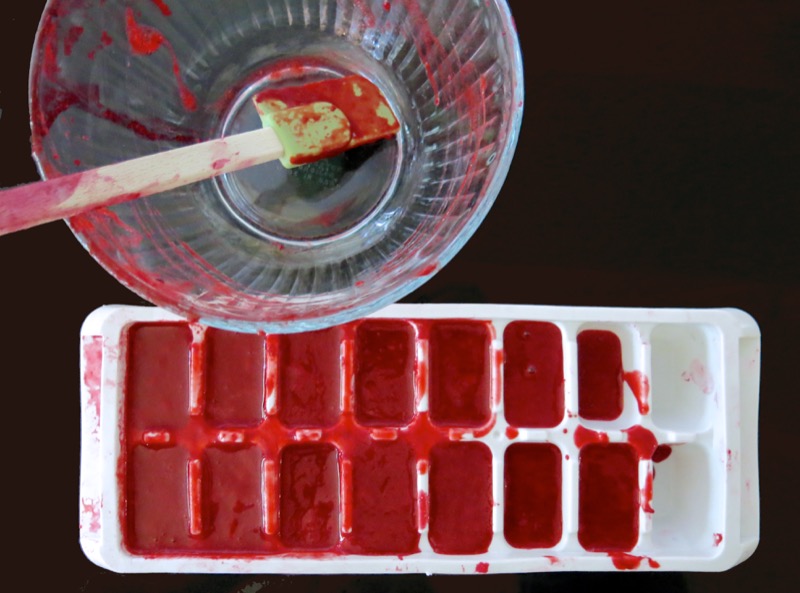 The juice was then portioned into my rather large ice cube trays and frozen in labeled and dated freezer bags.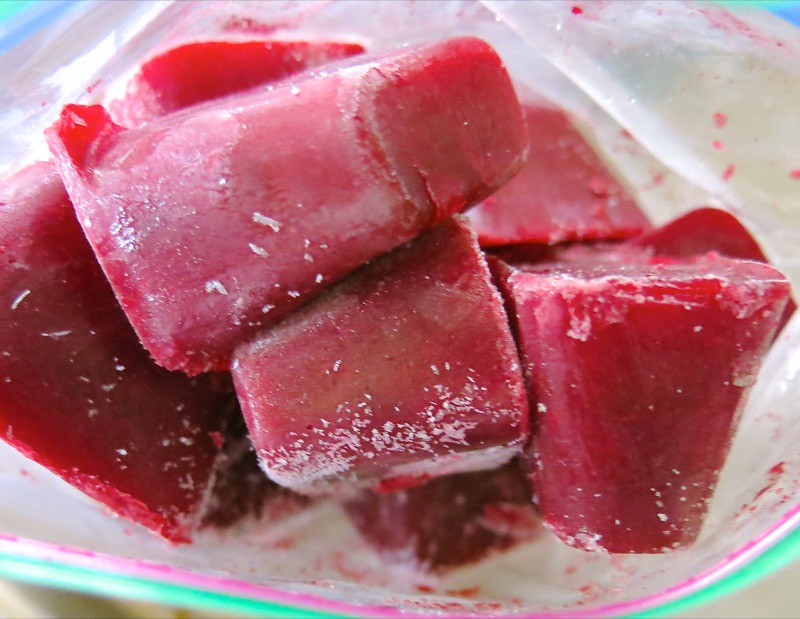 Thermomix Seedless Raspberry Ice Cream: Making the Ice Cream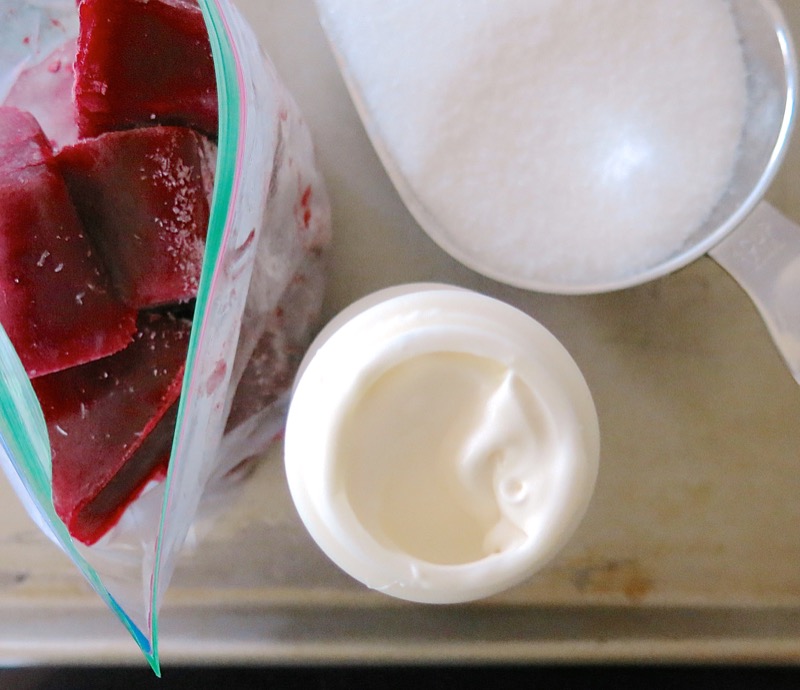 Three simple ingredients: 500 grams of frozen cubes of vividly vibrant raspberry juice, 100 grams of sugar and 100 grams of heavy 52% non-homogenized cream. Yes, regular heavy cream "will do", but this cream is the catalyst for the eyes-rolling-back-in-the-head effect when tasting.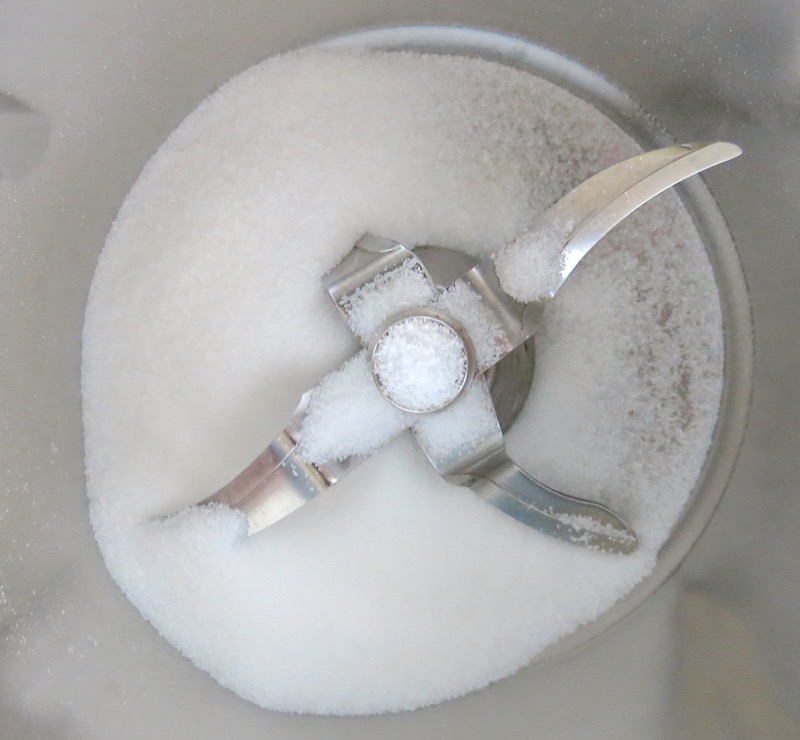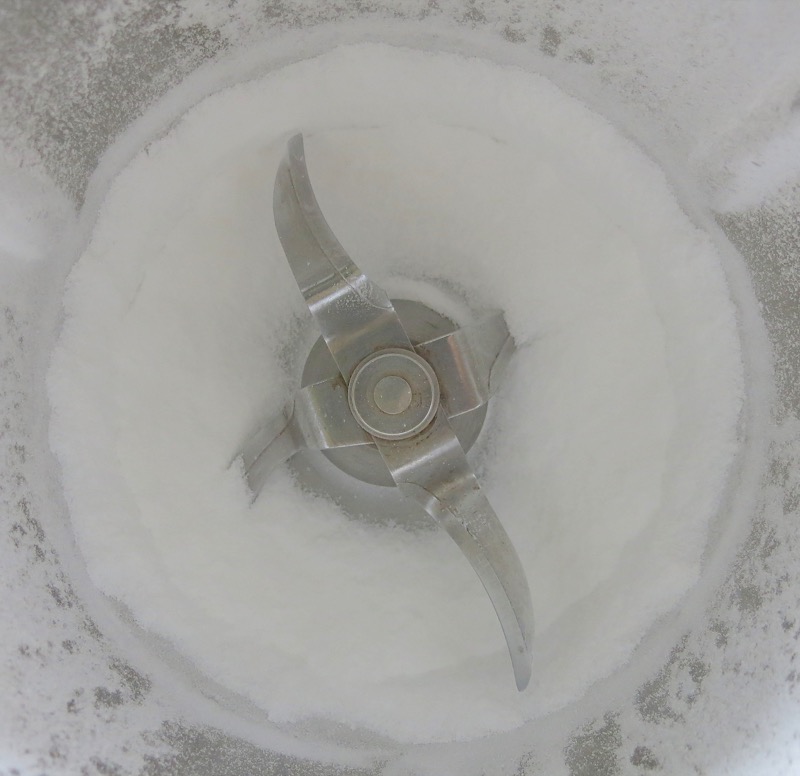 Regular sugar in the Thermomix machine for 3 pulses at 1 second each creates a gorgeous powdered sugar.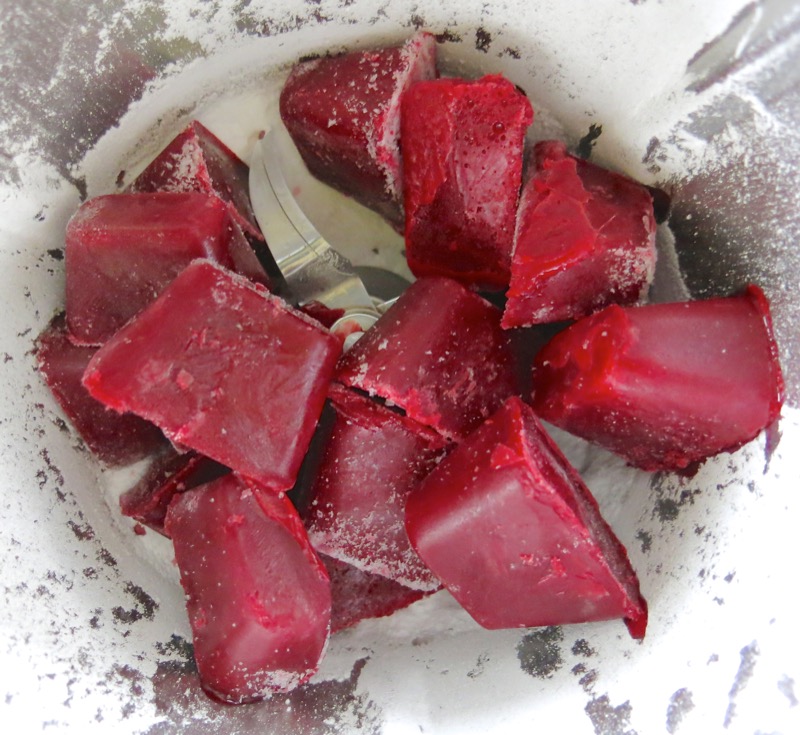 The cubes of frozen juice are weighed into the bowl, followed by the heavy cream. Not too much. Just enough.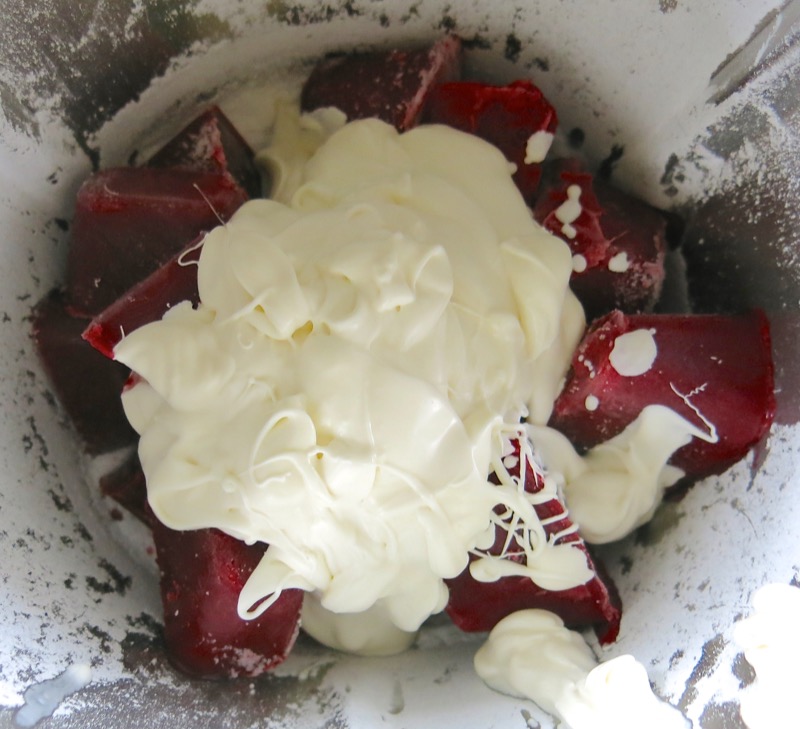 Thirty seconds later, and I kid you not, you have the finished product.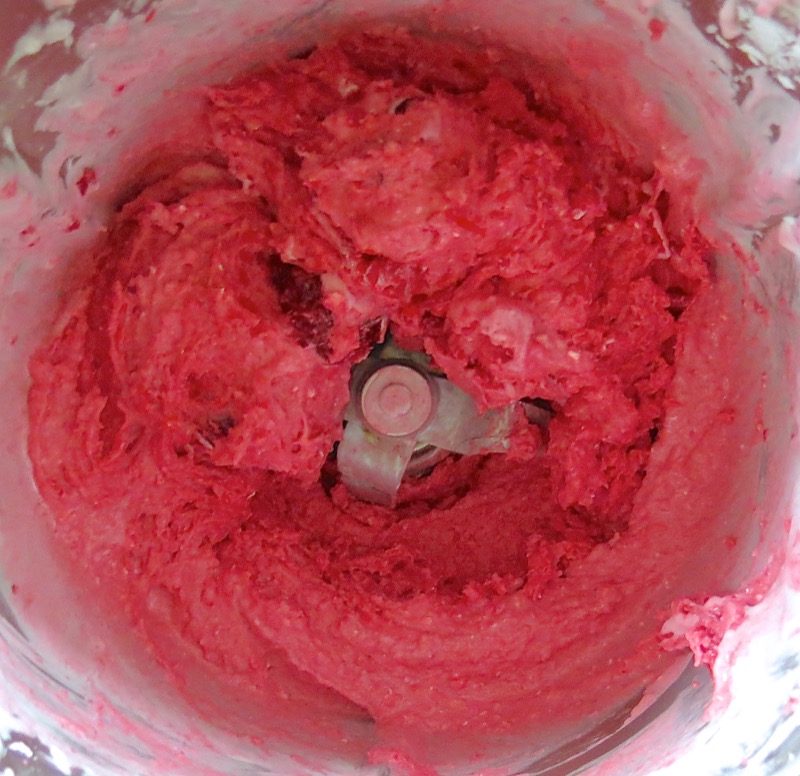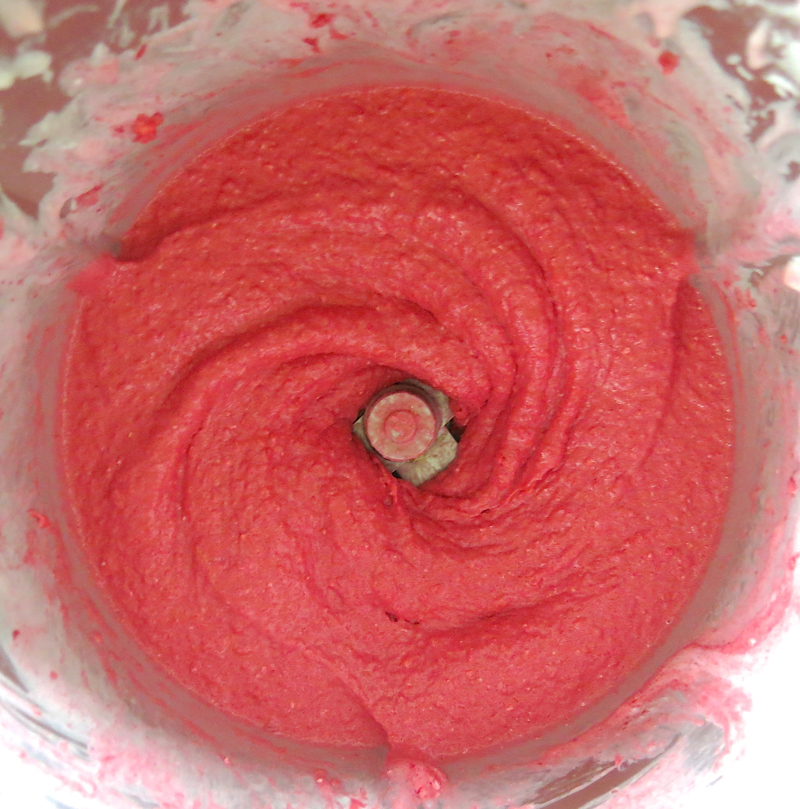 Ladle it into a container for freezing, but not without scooping a nice soft serve cone for a little instant gratification. I think that is most appropriate and actually, an important part of the process!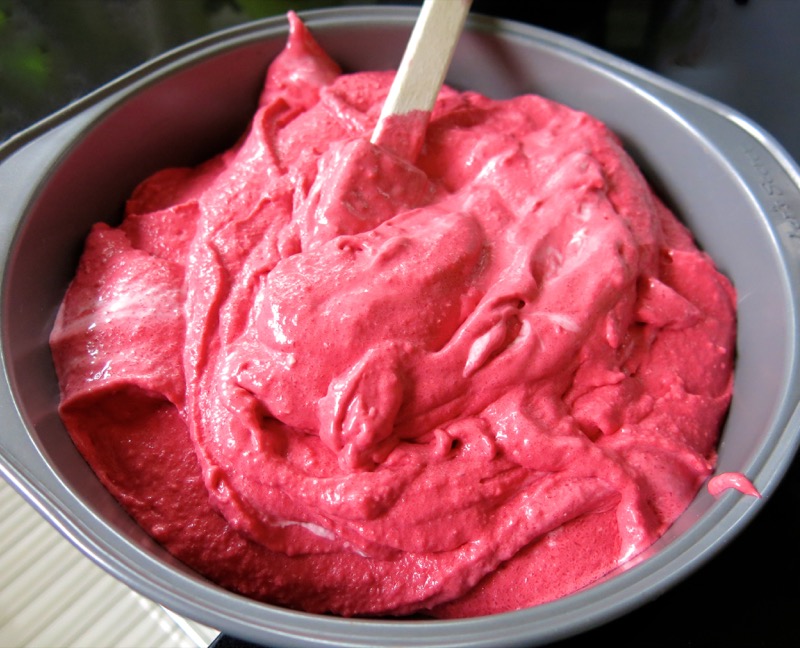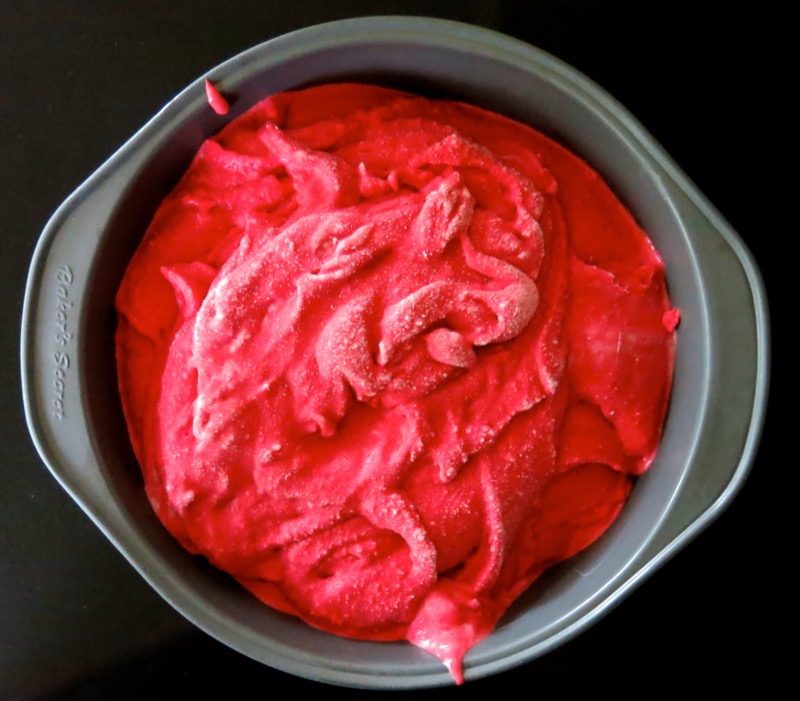 Freeze over night, then take out of the freezer to make the balls.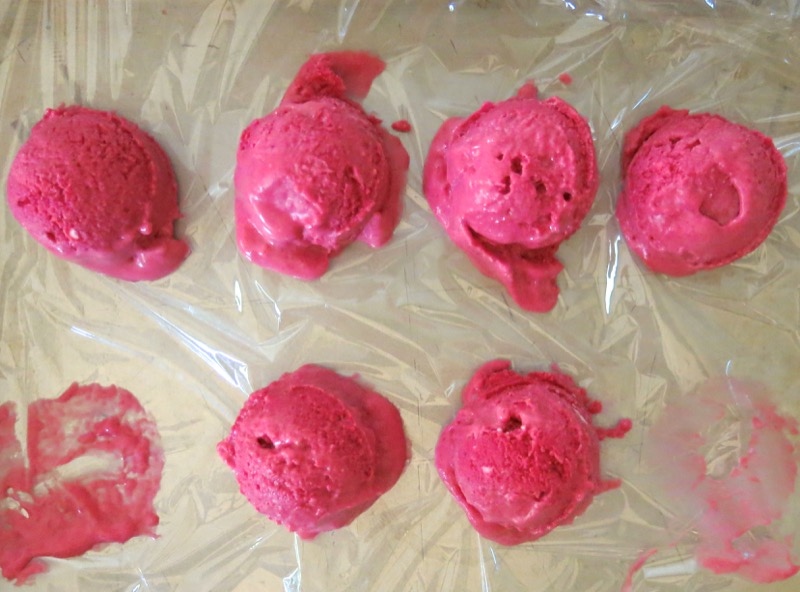 Why make balls? When serving for an event, there is never time to scoop enough balls into cones before the ice cream melts and makes a mess. There is a lot of waste, and the scoops are not pretty. Making them in advance, they are pretty. I freeze them on plastic of parchment over night, then roll them up in it and place in a larger labelled and dated freezer bag until ready to use. Then, I unwrap them, and plop the balls in a bowl or a mini cone. Slick. They do need about 15 minutes before serving to thaw and relax into their container, but I rarely have that time before they are served.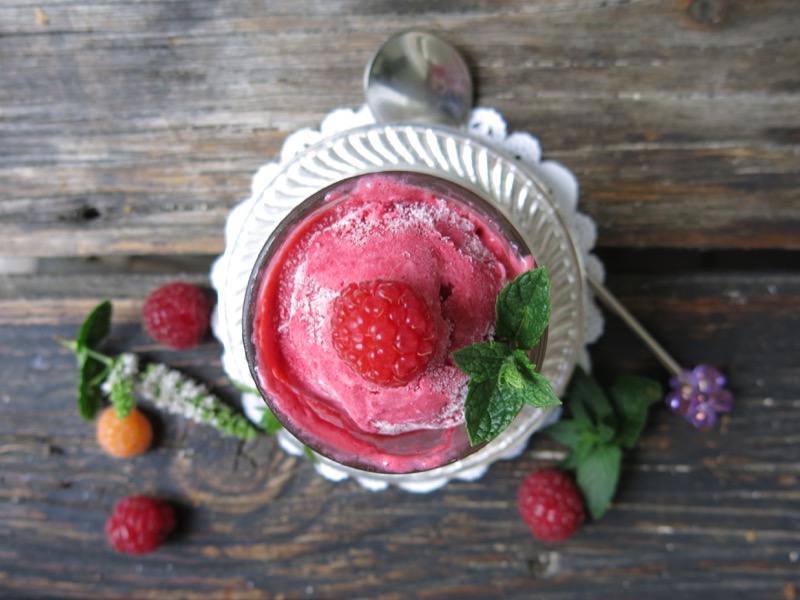 Gorgeous colour.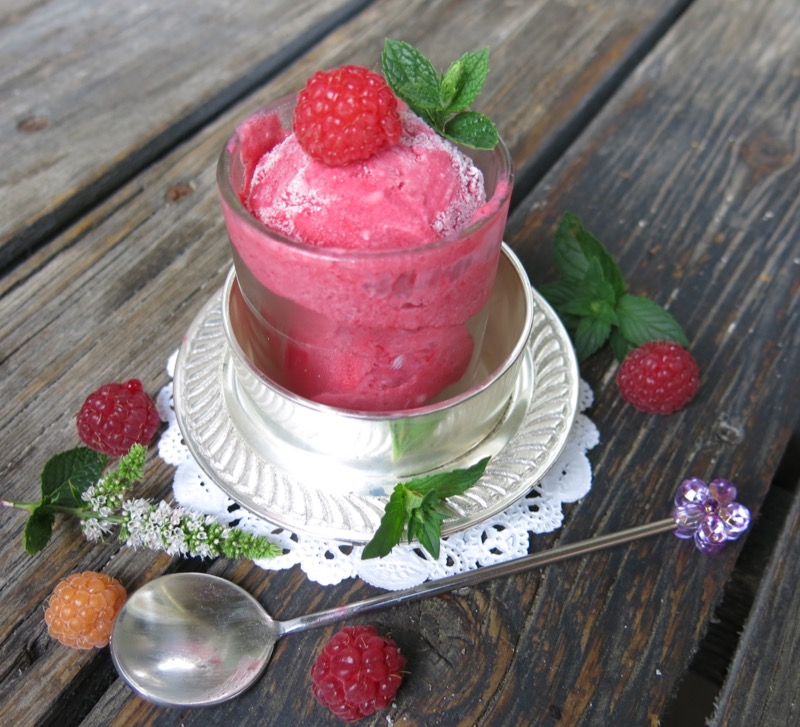 Gorgeous Flavour.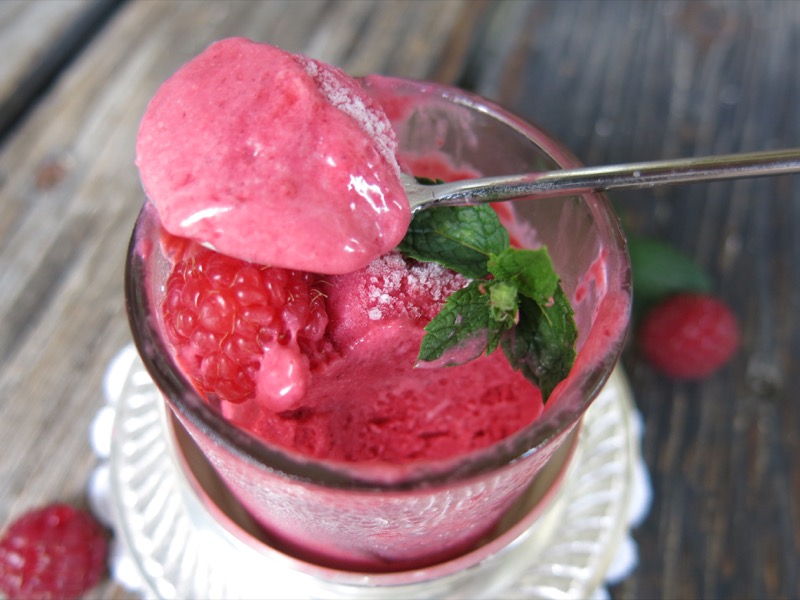 Smooth as silk.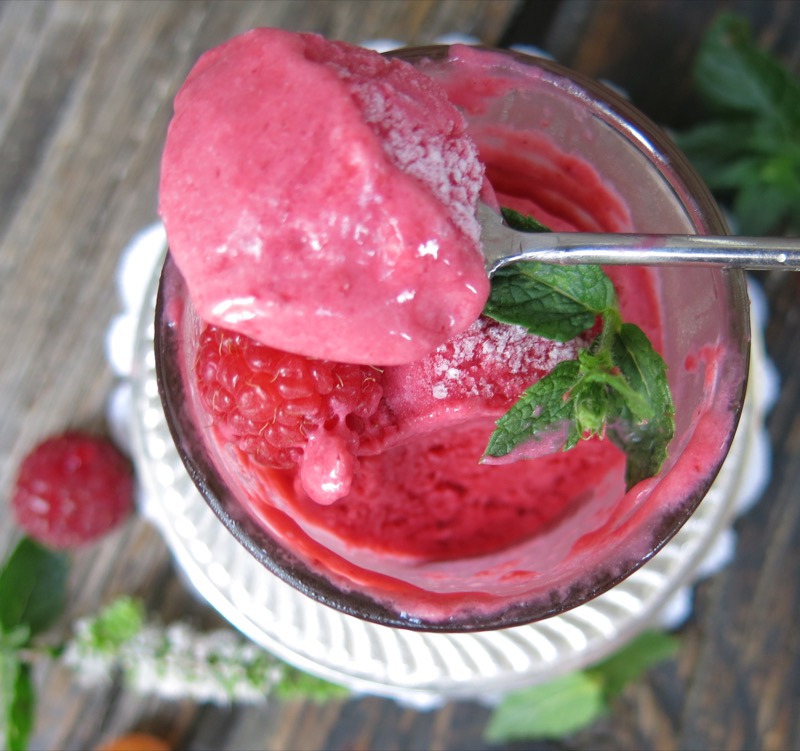 Luscious.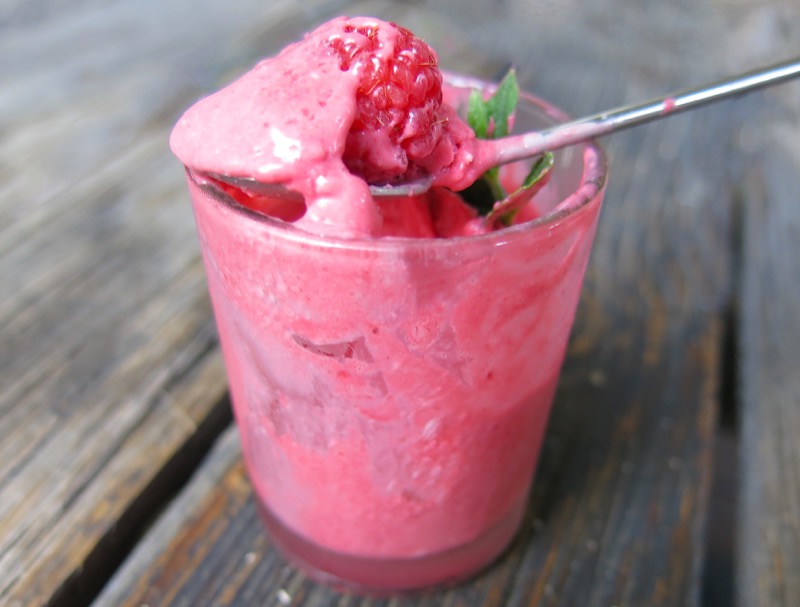 And with the fresh berries? Oh-la-la.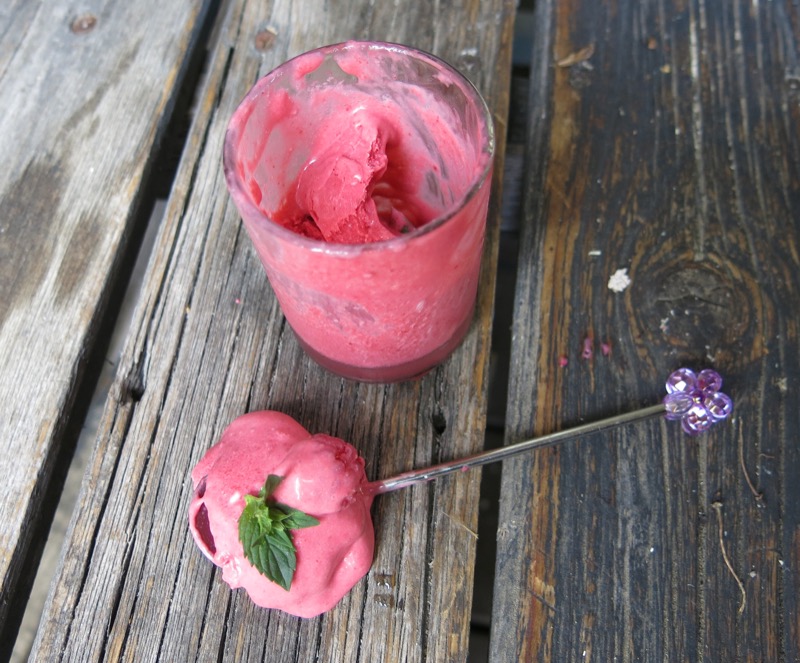 I'm clearly having a tough time taking photos.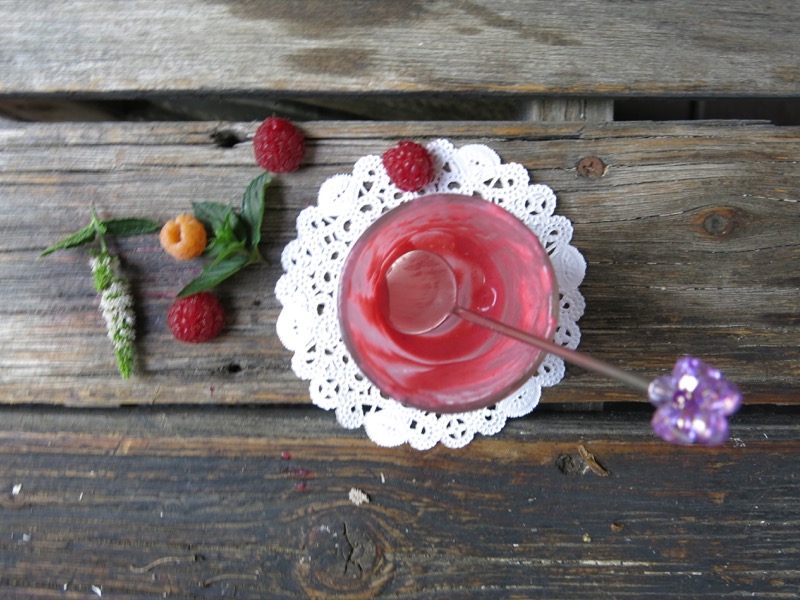 Scrumptious.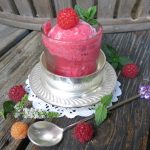 Thermomix Seedless Raspberry Ice Cream
Ingredients
100

grams

sugar

500

grams

frozen raspberry juice cubes

100

grams

heavy cream
Instructions
Prepare container to freeze the ice cream in by lining it with plastic wrap

Weigh sugar into TM bowl; turbo for 1 second three times

Weigh frozen raspberry juice cubes and heavy cream into TM bowl; using the spatula through the hole in the lid as a plunger on a 45 degree angle to keep the berries and cream near the blade, set the time for 30 seconds and the speed from 1-10 over 30 seconds.

Scrape down the side of the bowl and finish without the spatula until thick, velvety and smooth (but not runny)

Ladle into prepared container for freezing; wrap well and freeze

Remove from freezer 15 minutes before scooping; enjoy!
Recipe Notes
For 500 grams of frozen juice use 750 grams of fresh berries, to be on the safe side
If you are preparing this for a big event, you may also want to scoop your ice cream balls in advance, freeze overnight, then wrap well and freeze.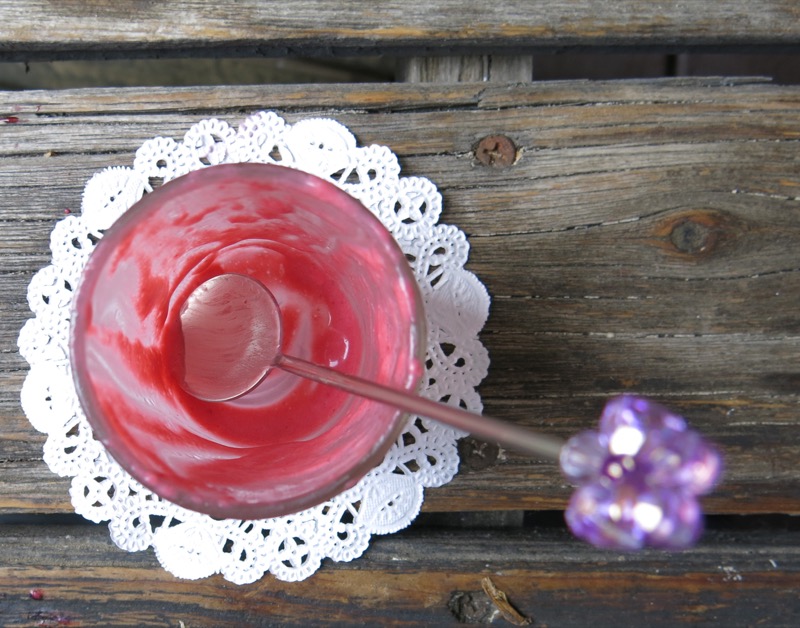 Lip-smacking. More please!