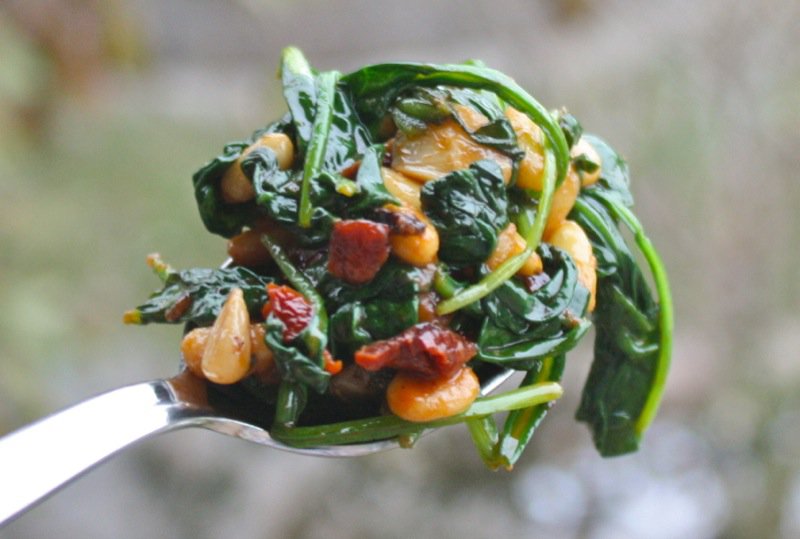 We stayed with Letizia at the end of August 2011 at her agritorismo and I took a cooking class our last morning there, before we headed into Firenze. It began with an inspirational Taste of Terrior at a little shop down the winding road from Monte Subasio to the nearby village of Santa Maria degli Angeli at the foot of Assisi. We purchased foods from the tasting and returned to cook a lovely rustic meal together. (Which I believed I would have posted long ago.) One of the dishes Letizia demonstrated was so similar to this recipe. She used kale and then placed little mounds of the mixture on a local Assisi flatbread. Spying the sapphire globes in the market, I immediately visualized mounds of the flavourful rustic vegetable mixture on top of each smoky grilled vessel.
Grilled eggplant are a bit of a conundrum. People love them or hate them. Some find their texture slimy. Not me. They are all about the texture which ranges from silky to gooey to spongy to slippery. Their flavour is almost indeterminable; they take on the flavour of whatever they are cooked in and they absorb fat like no other vegetable! To avoid the bitterness present when cooked, the eggplant must be properly sweated and drained to expel the liquid inside that can create a bitter aftertaste if not carefully done This will also dramatically reduce the unwanted moisture in the dish. Every Italian grandma knows, that you must remove the excess water from the eggplant. This leaves the eggplant tasting more sweet and pure. Some believe the bitterness in the liquid may cause stomach cramps. In any case, I always salt, rest, and drain my eggplant before grilling and it is exceedingly delicious!
Letizia used the ingredients I am using. Just a little goes a long way: beautiful salt-packed capers, sundried tomatoes, garlic, black dried olives, red pepper flakes and gorgeous creamy toasted pinenuts (to be added later). These are fried quickly in a bit of fruity Umbrian olive oil, then a bit of tomato paste is added to the mix.
I adore the tender leaves of vitamin and mineral rich spinach. I piled the steaming pot high with the leaves as Letizia did with the kale, stirring just a couple of minutes to wilt them. Once wilted, the pinenuts are tossed into the mix, and, voilà – rather velato! The vegetable mixture c'est fini – è tutto finito!
Of course you could dive into the bowl with a fork and have a nutritious, delicious and economical meal… snack… side dish… or…
…you could pile this dynamic concoction onto a silky smoky grill eggplant and just stop there.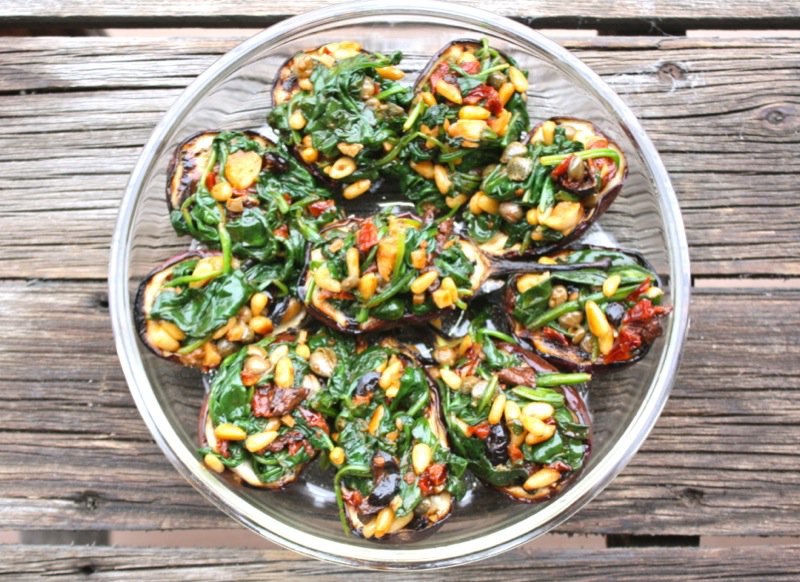 But I didn't. I added some fresh homemade traditional mozzarella and a little flat leaf parsley for garnish! Oh, my! Eye-balls were rolling back and pinball payouts were ringing the big time chimes on a bite of this one. This is my take on Letizia's dish and it is past sensational, if I do say so myself. And, I do.
Grilled Eggplant Caponata Recipe
Ingredients:
6 small Indian eggplant (normally just a few inches long, shaped like an egg), halved
salt for sweating eggplants
oil for brushing on the eggplant
2-3 tablespoons fruity Umbrian olive oil
2 tablespoons sundried tomatoes, sliced thinly
4 large garlic cloves, chopped
2 tablespoons dried black olives, pitted and chopped
2 tablespoons capers, salt washed off
1 teaspoon red pepper flakes, or to taste
1/3 cup pinenuts, toasted
2 tablespoons triple condensed tomato paste (Mutti comes in a tube and is an excellent brand choice)
2 -3 cups or generous handfuls of fresh, tender spinach leaves
12 1/2 ounce slices of mozzarella cheese
12 flat leaf parsley leaves for garnish
Instructions:
Generously salt the eggplant; set aside for 2 to 4 hours
Wipe off moisture accumulated on the surface of the eggplant, brush with oil, and grill on a hot surface (eggplant will lift when done)
Drizzle grilled eggplant with olive oil; set aside
Preheat oven to 400°C
Place the next five ingredients (olive oil to red pepper flakes) into a frying pan, and sauté for 1 minutes to 90 seconds
Add spinach, and stir to wilt; toss in the pinenuts and stir
Top each eggplant half with one twelfth of the vegetable mixture in an oven proof baking dish
Place one slice of the mozzarella on each with a decorative leaf on each; set aside until dinner service
Just before serving, place stuffed eggplant into the pre-heated oven, tented with foil for 20 minutes, or until hot, bubbly and the cheese has melted
Serve immediately as an appetizer, a side or a main course with a salad: be prepared to roll your eyes back in your head and have each of your senses stand at attention, then to satisfaction with the impact, complexity and unexpected pleasure of this dish!