Corn Fritters: The Daring Cooks Challenge for August 2012: Cornmeal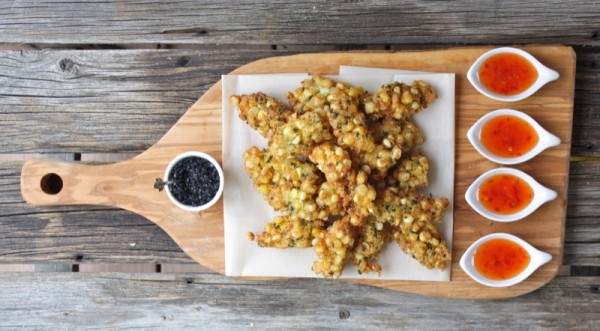 Corn Fritters? It is late August and I MAY be getting my act together. Not too sure yet. I need a little more evidence than just getting one post out on the required date. Rachael of pizzarossa was our August 2012 Daring Cook hostess and she challenged us to broaden our knowledge of cornmeal! Rachael provided us with some amazing recipes and encouraged us to hunt down other cornmeal recipes that we'd never tried before – opening our eyes to literally 100s of cuisines and 1000s of new-to-us recipes!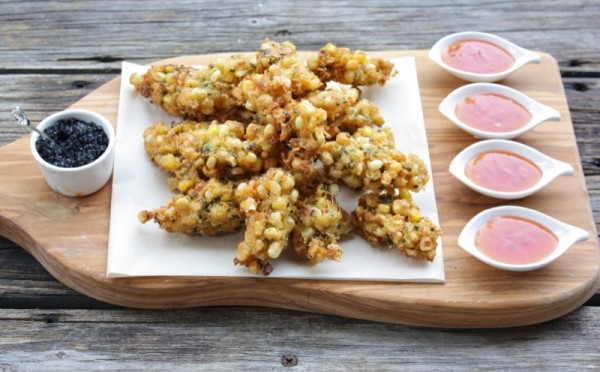 I love them all, but Vanja does not like anything with cornmeal in it. The former Yugoslavia has a traditional dish called Proja and another very similar dish called Pura neither of which he likes so I don't make anything with cornmeal and crave polenta and Johnny Cake and cornmeal goodness on occasion. My concern about corn and GMO ethics as so clearly defined in Michael Pollen's book, Chapter One, of The Omnivore's Dilemma has also tempered my appetite for corn flours. Sad.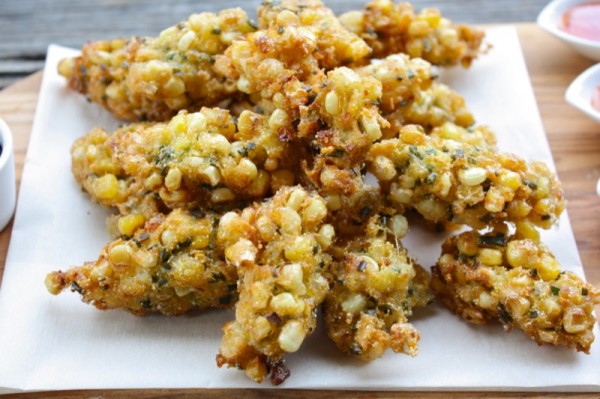 I know Vanja loves corn fritters: beer batter, lovely sweet corn, and deep-fried fatty crunch! Who wouldn't? So that is what I made with my daughter, Ragan, who happened to be visiting at the same time as I realized I needed to make these and post them today. We had so much fun cooking and tasting in the kitchen together!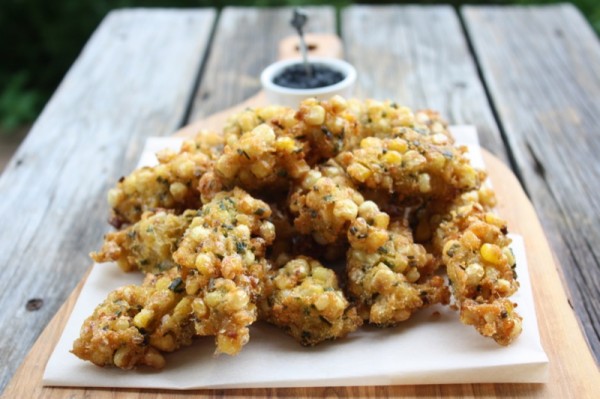 Corn Fritters: Mis en Place
Freshly scraped corn niblets combined with the flour, above left. Remaining ingredients for the corn fritters, sans beer, above right. Close-ups below.
Oil coming to temperature on the stove, below.
Almost ready.
Ginger beer was my choice. I love ginger. Mixed in, below.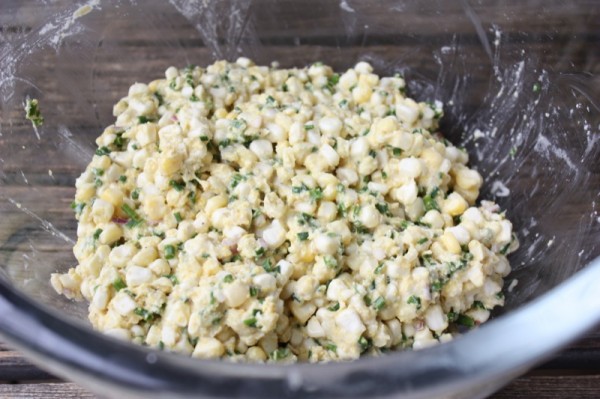 The part I missed was the deep frying. Let me tell you, when deep frying, there is no time for photography if you are working alone. I was doing this part solo.
Corn Fritters: Serving the Fritters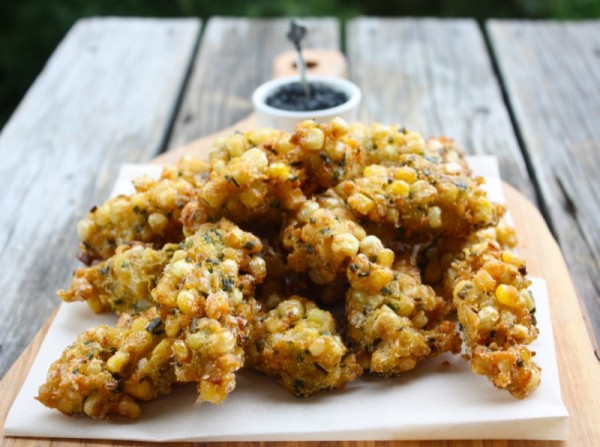 Tickled with the golden beauties.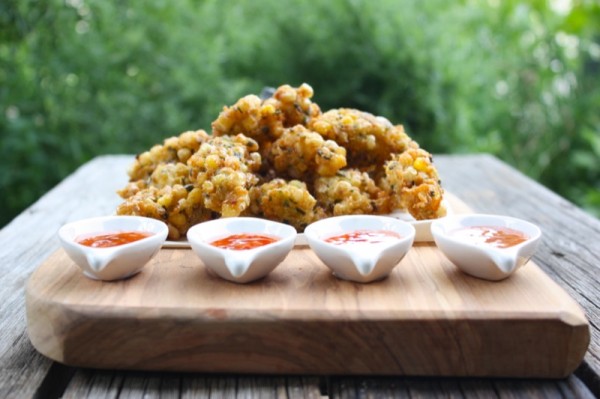 To keep it simple, I served them with PC Memories of Thailand dipping sauce, this round.
Let me know if you make them! Vanja snorfled almost all of these delectable corn fritters up. We all love them!
Corn Fritters Recipe
This beer battered fritter recipe is crunchy, filled with harvest fresh sweet corn and an irresistible addition to your harvest recipe repertoire.
Ingredients
Ingredients:
4

fresh cobs of corn

preferably Peaches and Cream variety, or "real Tabor Corn" if in Alberta (1 cob of fresh corn is 1/2 cup of frozen)

¾

cup

flour

¾

cup

cornmeal

4

green onions

minced (I used 1/3 cup chives and 2 tablespoons minced onion)

1

pinch

of red pepper flakes

½

teaspoon

salt

½

teaspoon

freshly ground pepper

1

cup

beer

your favourite Canadian brew, of course

2

cups

Peanut oil

Cilantro leaves

for garnish

Dipping Sauce of your choice
Instructions
Instructions:
Slice kernels from cob; place in bowl

Stir in next 6 ingredients; add beer, combine until well mixed

Rest for 30 minutes (run to the store for Peanut oil, like we did)

Heat oil in heavy bottomed pan or deep fryer to 250ºF

Form football shaped portions, tablespoon-sized, in palm of hand and drop carefully into hot oil: 6 at a time for 5 minutes, or less (until golden and crispy on all sides)

Watch the temperature to ensure it stays at 250ºF

Drain on paper towel; garnish with cilantro (optional)

Serve hot with a dipping sauce of your choice (we used a Thai Dipping Sauce) and served with Hawaiian Black Salt...mmmmmm
Recipe Notes
Notes: • Batter can be prepared three hours in advance and refrigerated for hot service • Fritters may be fried, frozen and thawed in the fridge, baked for 5 minutes in an oven pre-heated at 400°F on a cookie sheet lined with parchment paper