Freshly picked heirloom tomatoes, sliced and sprinkled with hand-mined sea salt and basil buds….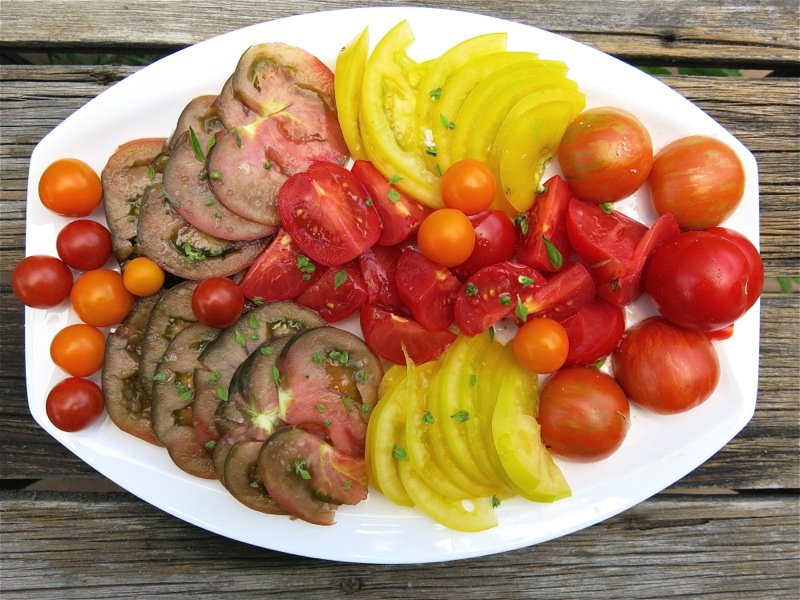 Arriving home from a week in the gorgeous Okanagan Valley at Mara Lake in Sicamous found me "in the zone": well rested! Seeing the untended garden elevated my heart rate, but only momentarily. Spotting the little orange colour inside of the tomato vines, the work I had to do was forgotten as that seasonal thrill of the harvest washed over me. Which one was this? Oh, the Orange Wellington. Last year, I had an Amana Orange that was outstanding. It was prolific, the tomatoes were huge and the flavour and texture were equally delectable… but could find it nowhere this year. The Orange Wellington looked similar and it is meaty and deeply delicious, but did not make it to the salad platter!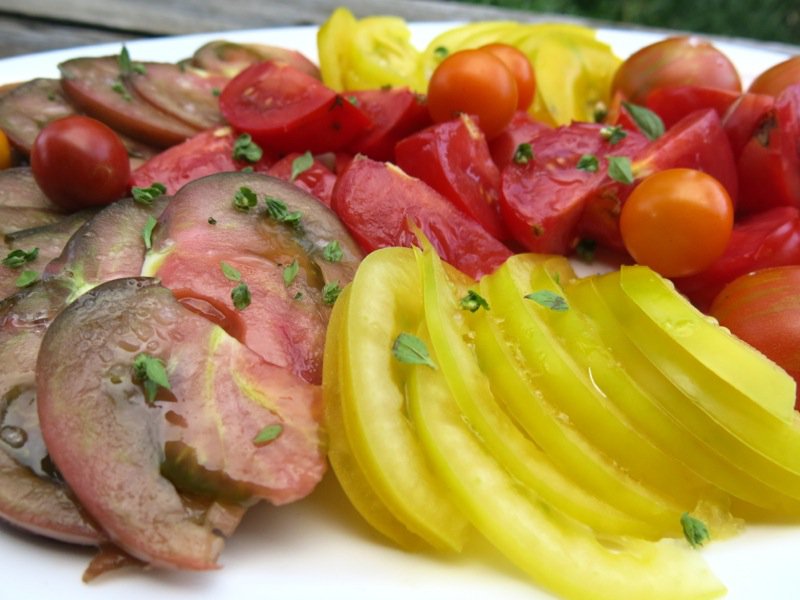 This was not a good year for tomatoes. Last year wasn't the best, either, though much better than this year. Is it only me? The Orange Wellington is not as prolific or as large as the Amana. The texture and flavour do seem to be similar… but, I only have my taste memory to rely on. I am happy with this one, but will grow them both next year, if this is possible.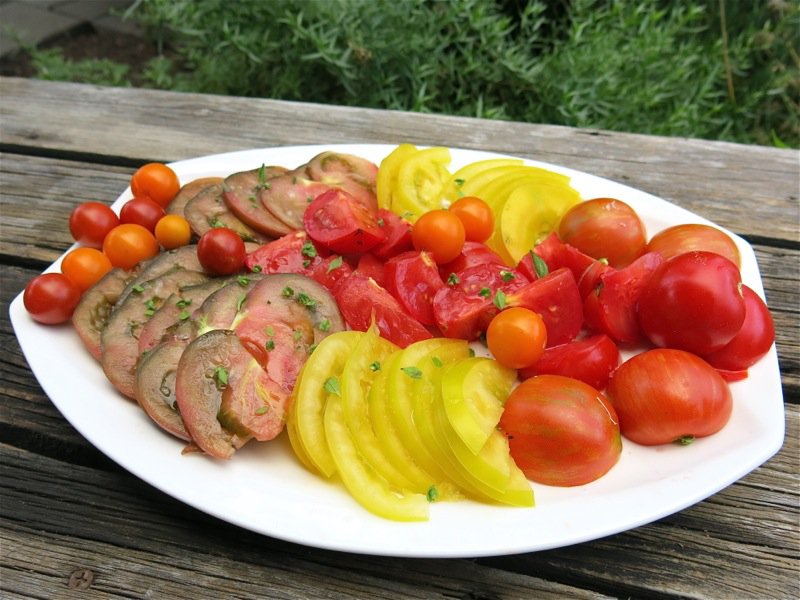 Stupice are the small deep ruby ones quartered down the centre of the plate. Oh my. They are a bright, lively, very prolific and the most "tomatoey" flavoured tomatoes this year, according to my tomato loving husband.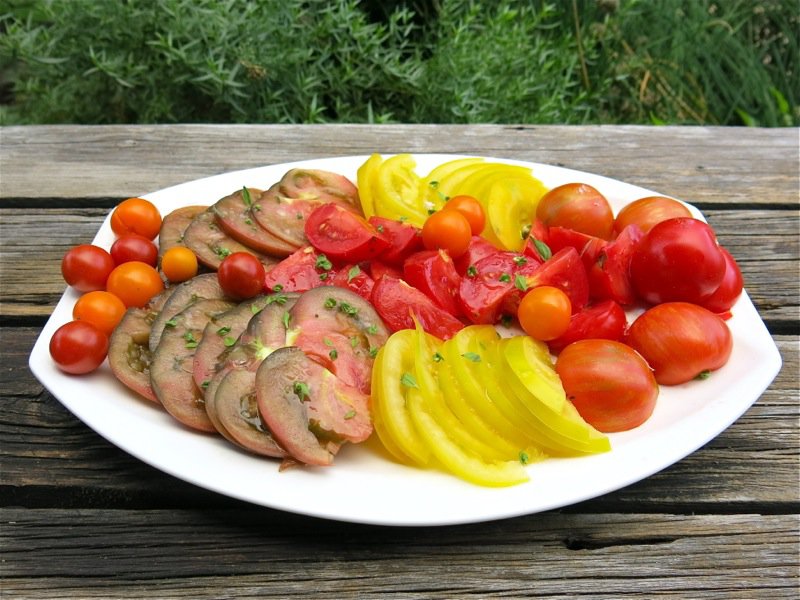 The large yellow tomato was actually a surprise. A lovely surprise. I had purchased two Tye Dye plants on a whim, homage to my youth in the 70's… and the tag showed them as unpredictable splashed of red, yellow and orange colours. The fruit is huge on the bush, each with a pointy end and the flavour is not acidic, as I have found most yellow tomatoes to be. It is more watery than the orange as there is more geleée inside of the flesh, but the flavour is complex and deep and tomatoey delicious.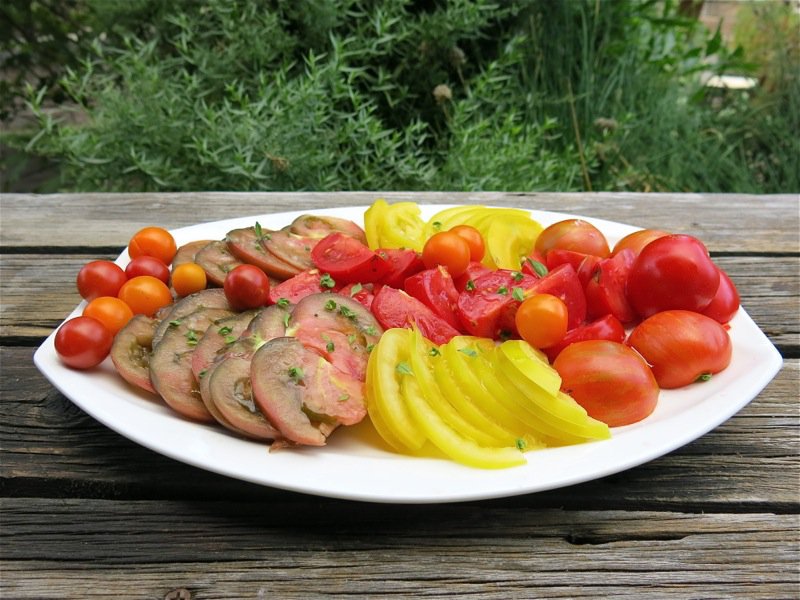 My favourite, the Cherokee Purple, was hard to come by this year. The dark greenish red one on the platter, this year, is the Black Krim. It is very similar in appearance, not quite as big and not as dark as the Cherokee. It is delicious, and again, I didn't compare it beside the Cherokee, but there hasn't been a year when I have tasted the Cherokee that my eyeballs didn't roll back in my head for more than a few seconds. This didn't happen with the Krim, but it is still a very substantial, meaty and flavourful tomato.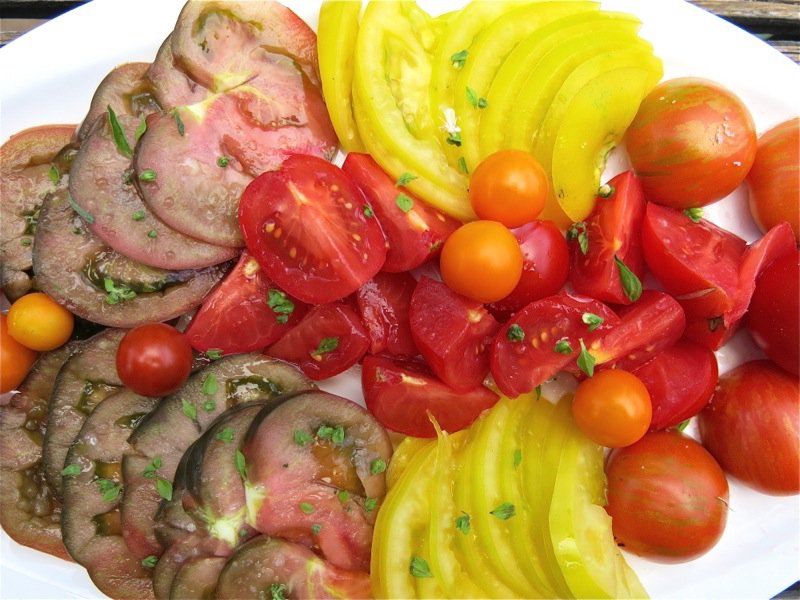 The cherry tomatoes are so sweet, they are truly addictive. I cannot get enough of the small orange cherry Sunspun. They are sweet and so tomato yummy! The Cherry Raison tomato that I tried for the first time this year had a very thick skin and was sour. Not my cup of tea. The two orange-red with thin green strips to the far right of the platter are called Tigerella and were as flavourful as the Stupice. Very similar, actually.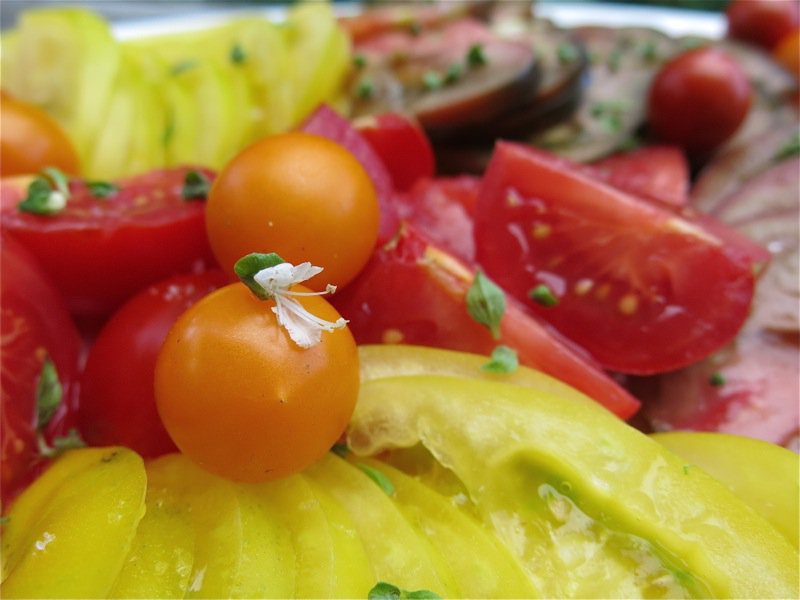 I find a few basil flower buds (or flowers) with the sea salt and some gorgeous fruity olive oil is all that is needed to celebrate Mother Nature's jeweled treasures. Tomatoes are my favourite food. I have never been successful at growing them from seed indoors, and used to have a gal who would grow what I wanted from seed and sell me the plants each Spring. I really miss that as I cannot access the varieties I have learned to love… of course, I always like to try new kinds of tomatoes, but there are some I want to grow yearly and would love to have someone to grow my plants for me in the Spring. Offers?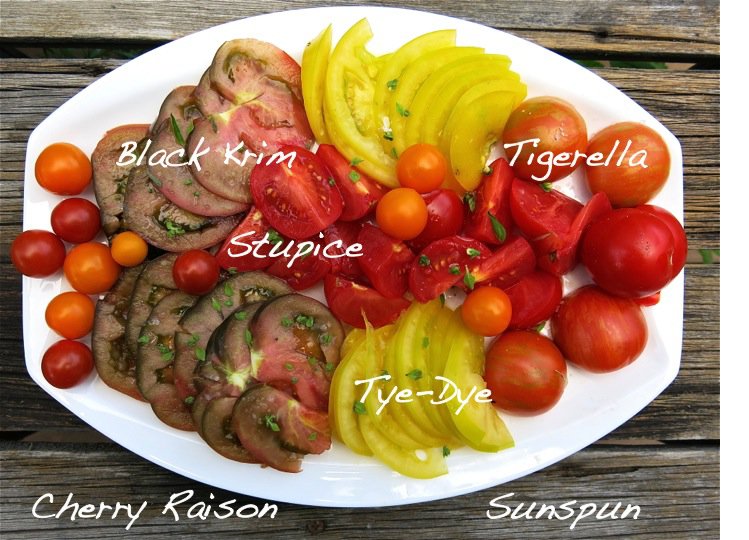 Meanwhile, we will marvel at these gorgeous offerings each day from our garden this year. Grow, grow, little tomatoes… grow… ripen into your bejeweled hue and emote your addictive and fragrant umami laden tomato vine aroma… I am coming….