You light up my life: Each of you has "made my year" with your thoughtful contributions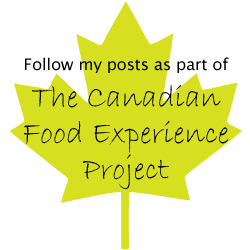 And I am talking readers and participants, here!
I am most definitely a goal setter and the new year is a time for reflection about past successes and lessons learned and a time to adjust, re-adjust and focus on the future.
And I set goals I will succeed at. There are too many things in life I have no control over. I do have control over my passions, enthusiasm and time (with the exception of emergent family needs). Thus, goal setting is a joy for me and reflecting over the achievements and learnings of each past year is consistently a revelation. When I was younger, I was in awe of how much was possible in one entire year. Now that I am older, I am in awe of how much more I used to accomplish when I was younger.
The Canadian Food Experience Project
The Canadian Food Experience Project was initiated by me so there is no question about me not following through, no matter what. That being said, I certainly understand how difficult it is for anyone making a commitment to a challenge for a year to follow through. I have not been able to follow through with my communications as I have not been able to have the time to read everyone's posts since Challenge four. That is due to my dad's illness, yet pressing hard on my heart as I am confident that part of the reason people are beginning to fall by the way side in this project is the lack of that personal response and relationship. I know how important it is and am truly heart-sick as I see the affects of my inability to keep this up.
I have committed to projects initiated by others, and unless it is completely aligned with my own passions, I have learned I do not succeed. I just cannot work "things" into my schedule that I am not passionate about and that do not align with my food ethics and goals. I am so inspired and motivated and impressed by the 35% of our participants who consistently complete the challenge each month.
As each arrives in my mail box, I feel I have been offered a precious gift. I do not exaggerate.
This is an incredibly important project to me, to our Canadian Food Blogging community as we work to find and express our Canadian voice to the global food community and to our Canadian culinary food heritage as we share heritage and regional foods as well as our multicultural ethnic settlement foods and learn together through this work.
And is this project succeeding? Yes, it is! By all means, I am overwhelmed each month by the conversations, exchanges and posts by participants of this project designed to explore the vastness of our landscape and our Canadian experience together, once a month, throughout the following year as we work to more clearly define and identify our Canadian Voice.
What is working?
I would like to hear from each of you about what is working for you. For me:
The topics are good and timely culturally and seasonally; am am consistently motivated to address each one.
The stories are compelling and heart warming and revealing and so Canadian!
Many of us have evolved through this process to understand what Canadian food is and have acknowledged that this process has definitely edified and centered you
Participants have developed confidence within their writing regarding Canadian food and have more clearly defined their Canadian Voice
Readers have expressed appreciation and enthusiasm for the project and have rejoiced in our quest to work to identify our Canadian Voice
Many of us are writing specifically about Canadian food (identifying it as such with a story and explanation) at other times of the month which was not happening before
The recipes reveal time and place regionally and culturally and weave themselves in our Canadian food tapestry
I have learned about specific produce and food in specific regions that I didn't know before
I have consistently been intrinsically motivated by each of you and made several of your Canadian dishes in my home kitchen as I evolve as a Canadian and learn about the vast food heritage of my own country
Others are noticing: I have been asked for interviews regarding the project and I have heard from various people in regional pockets across the country that the project is gaining ground and more and more people and specific organizations are tuning in
What is not working?
Some key elements are not working that I would like to understand better and have help with solving (we still have 5 challenges to go and the project will have a whole life after that):
from the onset, few participants read and posted comments on one others work or even on the round up post
the Facebook page isn't being used as I am not taking a lead there: will someone volunteer to take this on?
Twitter tweets are sporadic and inconsistent: I do tweet as I read if there is an icon available for me to tweet from inside of the post, yet some of you miss these as you do not have your twitter handle attached to these kind of tweets which must be done in the back end of your site. Can someone volunteer to take on leadership in this area?
I did not initiate the use of Instagram, and we should be working at using this when creating our recipes (too many "should's" though, right?)
People are loosing interest of having difficulty getting a post up each month
Possible Solutions?
At the onset, I didn't worry about the deadline date. Yes, it would be wonderful in a perfect world if everyone would pump their posts out at midnight on the 7th of every month, but I knew that wasn't reasonable for me, or anyone. The goal has always been to just get the article in. Of course, getting it in my the round up makes a huge difference to the project.
If participants, old and new, miss a challenge, they are consistently encouraged to just get it done and posted, send me the information and I add it to that challenge post: the body of work will remain . These posts are read and referred to often. This enables participants to get 9 out of 12 challenges complete within the year.
I have asked for help with managing the Facebook and Twitter sites for this project. That would help a great deal with promoting the work of our participants. Promoting your work is important! The stories and recipes are incredible and I cannot celebrate this enough.
Regional Teams? Marilyn made this suggestion just this week and it is a great idea. As it is completely overwhelming to read and comment on the complete body of work each month, she suggestion that people collaborate within regions to support each other by reading and commenting on the posts within the same region.
Obviously, I need your suggestions, so please chime in….
The Canadian Food Experience Project Phase II
What do you imagine for next steps? I imagine MORE. I cannot get enough.
Thinking out loud: Maybe we can create a Canadian Food Experience Project Committee…and share the communication tasks, share the project promotions, get the stories and the recipes being shared to the media and others interested in Canadian Food?
We still need to involve our aboriginal and First Nations people in this project, get more Francophones involved (have you noticed the incredible recipes coming from those participants?) We need more men. We need people from the North and some regions have only one person participating.
I have had so many recipes and stories sent to me that are not yet a part of the project that would be wonderful to have people create, and tell.
You can see I am on fire and that through this very tough year (and a half) struggling with my father's end of life phase, that this project has been the wind beneath my wings. Oh, I know clichés are bad form: but this is my blog and I can do what I want to (whoops, two of them!).
Happy 2014 and keep those Canadian Food Experience stories and recipes coming!