Fresh out of the ocean boiled in salty sea water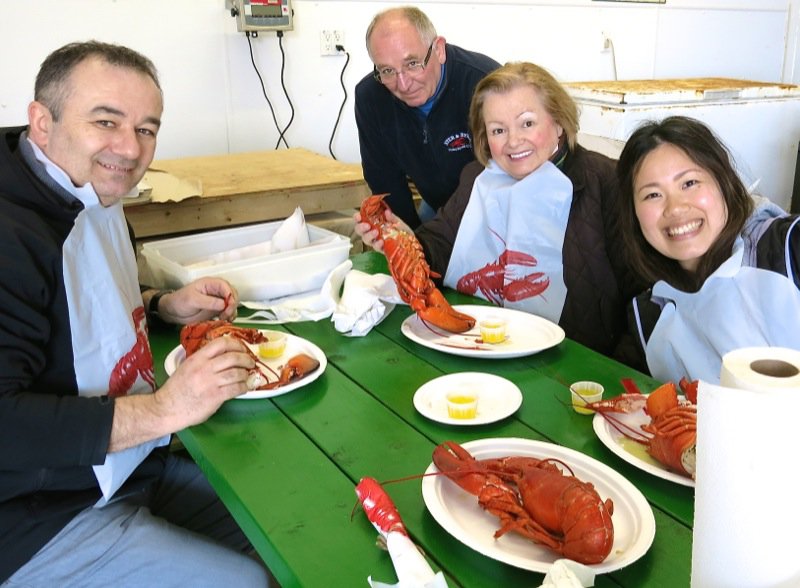 To orient ourselves to a location when we travel, Vanja and I like to take walking tours or a city. As we were traveling on the shoulder season, walking tours were not an option, but I was able to book Robert Young from Tall Tale Tours for a 6 hour private tour of Halifax and Peggy's Cove for the two of us our first day together in Halifax. Relaxed, well rested, and eager to get out in the city, we were delighted that Robert had a good handle on how to orient us to the city, its history and put everything in context for us. Lunch time was rolling around as we were heading out to Peggy's Cove when Robert asked if we'd be interested in a very rustic lobster experience.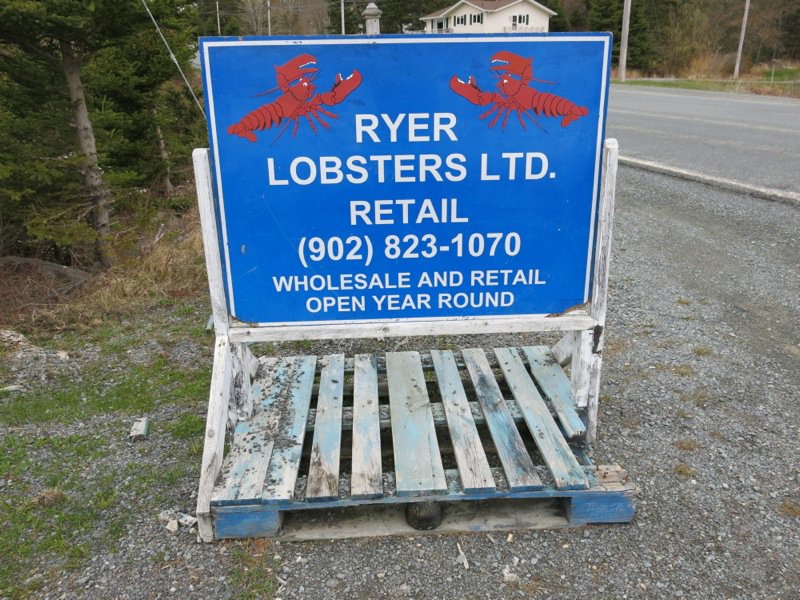 "Ryer Lobsters is a bare bones place. A picnic table, a bib, and really great lobster. That's it. Fifteen dollars a person for a 1.5 pound meal." Forget the tour. Forget the history, architecture, art, literature or anything else. Get me to the lobster guy. Certainly, I had planned our entire trip around culinary experiences, but hadn't thought this little jaunt would include something this special. When in Boston a few years back visiting Lauren while she was in school there, I actively sought out a place just like this one… the kind you read about – a little shack on the side of the road where the fishermen stock the store with fresh lobster and the person in the shop just boils them up as people stop by. Believe me. There was nothing to be found like this in the Boston area, and I hadn't even thought to search for such a place in our Atlantic provinces – yet, without any idea of what a thrill this would be for me, Robert casually suggests this possibility for our lunch.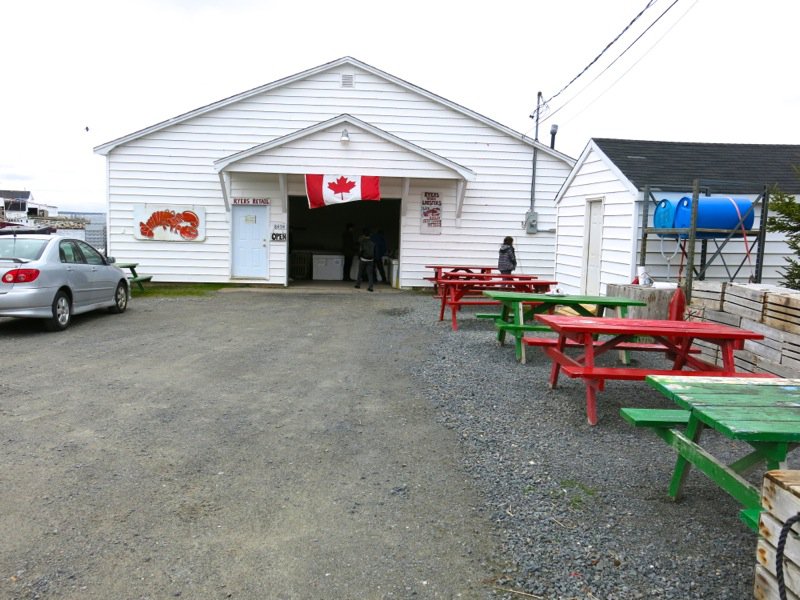 It was a grey, somewhat drizzly day. Having just spent 5 days in the Tatamagouche area for the Slow Food in Canada National Conference 2014, I was getting used to the East Coast Spring fog, drizzle and chill. Undaunted by it, we spied the Ryer's sign and I was out of the car and into Ryer Lobsters before Robert even had it in park.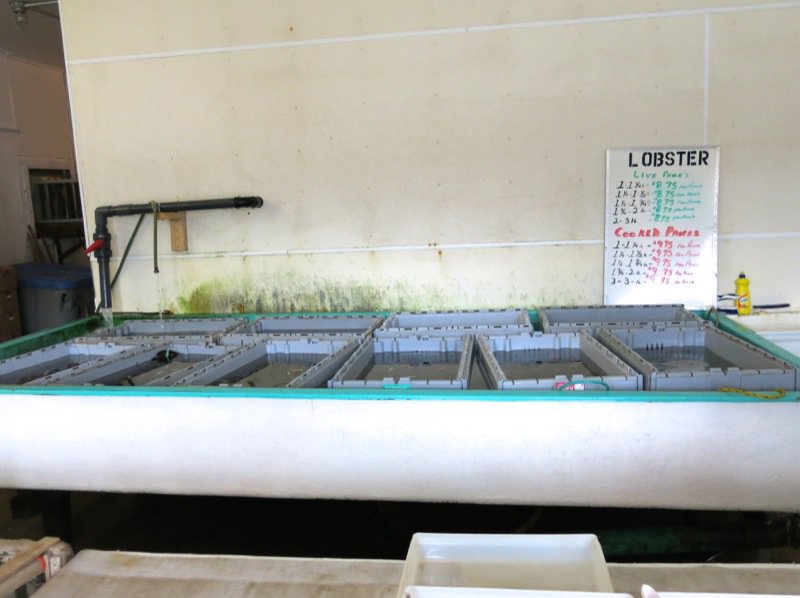 Yup. Perfect. Exactly what I had hoped for. A fishy smelling, somewhat stinky little spot with live lobster splashing rigorously in their tanks.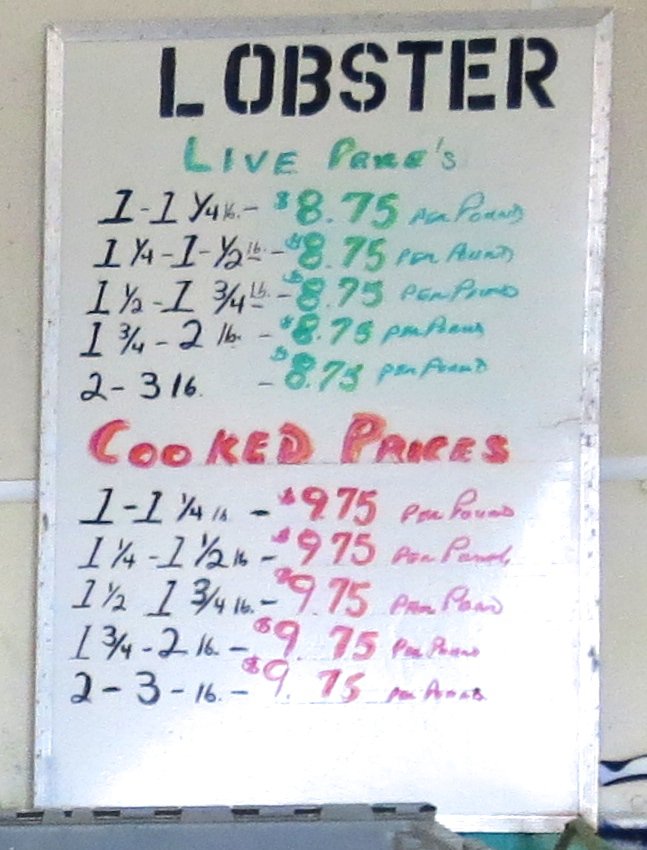 Prices were better than one would ever find in any restaurant, mind you, this wasn't even close to what one would call a restaurant. However, where lobster is concerned, I don't need ambiance. Who does? Let's face it. Diving into a lobster feast is messy business and this environment is the perfect one for such a culinary treat. And, Ryer Lobsters boils each lobster in salty ocean water. Something I hadn't realized that every East Coast person knows: lobsters and any shell fish that needs to be boiled or steamed is always tastiest when cooked in ocean water.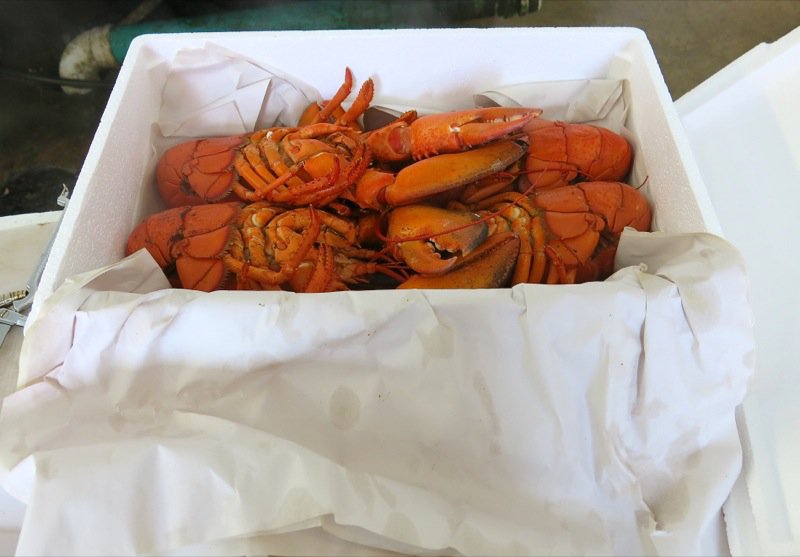 Now, we were a little later than Robert had called in our order for, so the 4 lobster were packed in an insulated box, steam rising off them as the lid was removed. Those are hefty little babies.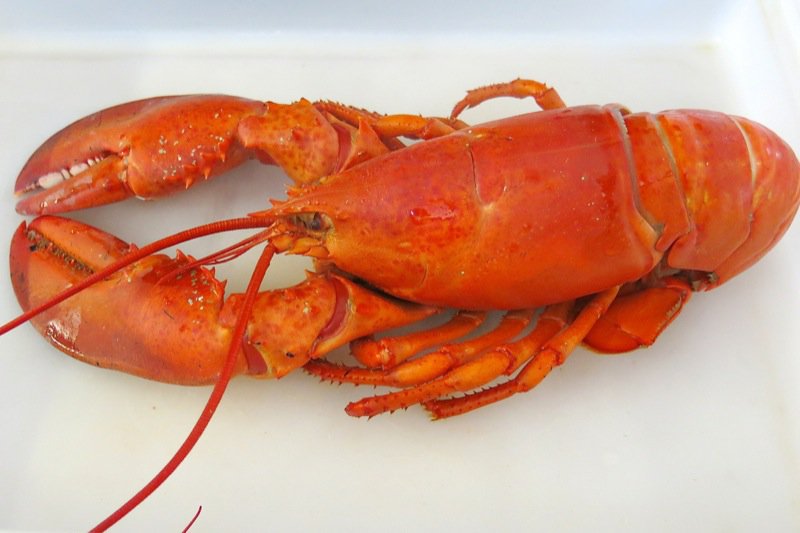 Come to me, my pretty…. you are mine… all mine!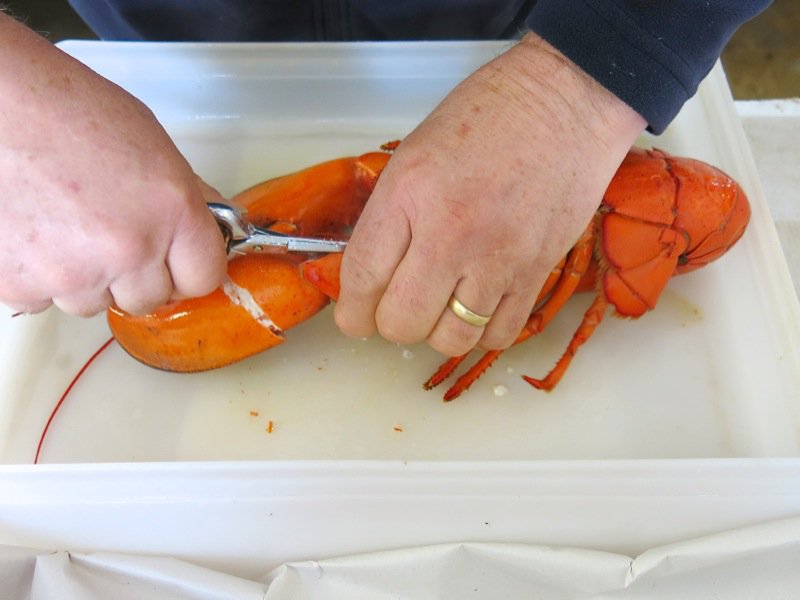 Dave Hoskin, owner, deftly prepared the lobster for use to eat with ease cleverly using the lobster scissors he sells in the shop. Bought a pair.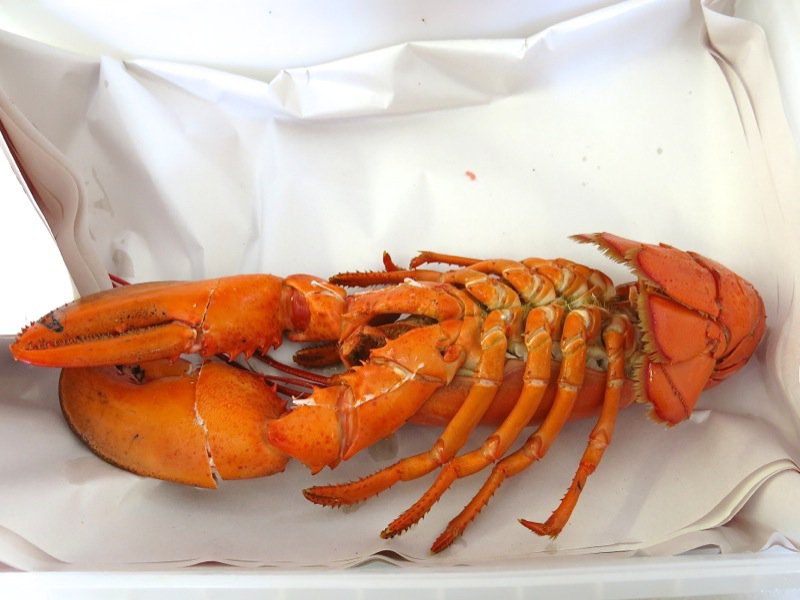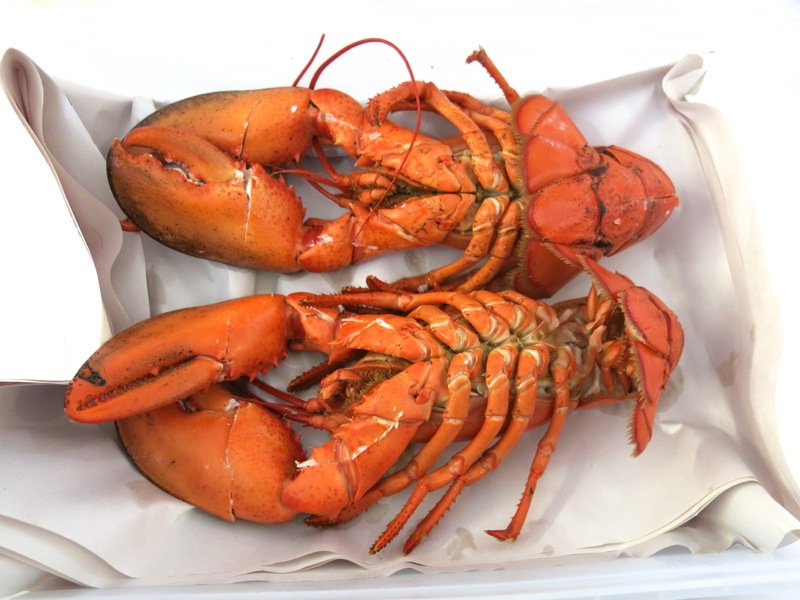 Two were placed in a rubber bin with paper towels and handed to Vanja and I. Only then, did I turn and see the picnic table to the left of me, set up for our rustic dining experience.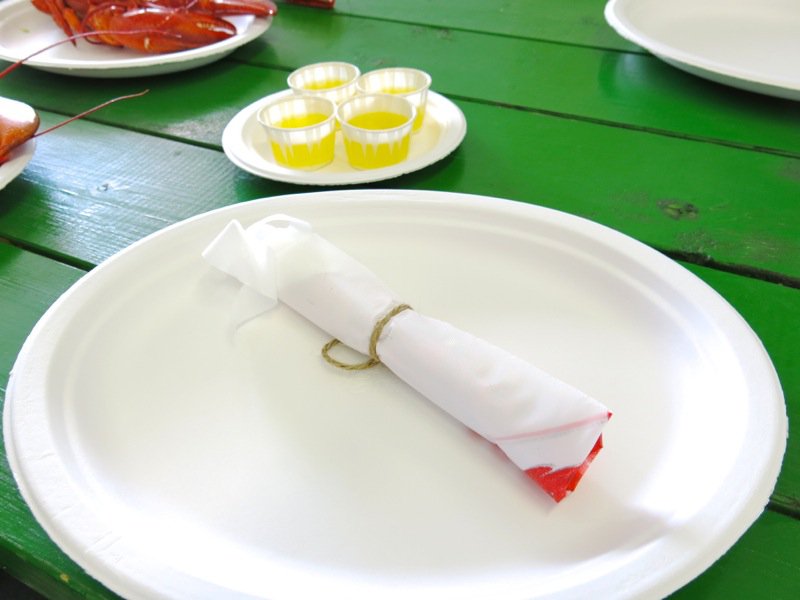 Napkins, bibs, plates, picks, drawn butter: what else does one need? Absolutely nothing.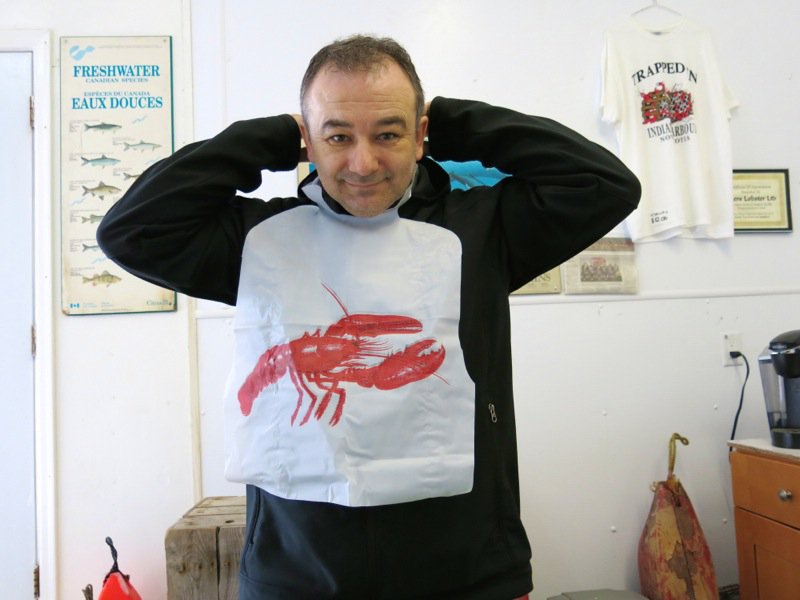 Adorable.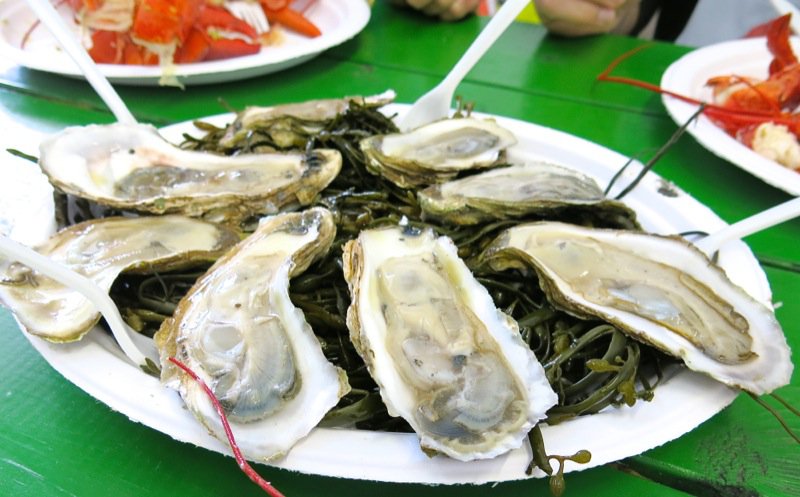 Barely had my bib tied when Dave brought over some complimentary oysters for us to taste. Now, there were four of us as Robert had another client join us at the last minute. This was a generous amount of oysters to gift our table with – and I love oysters. Yet, with a steamy, sweet, succulent lobster in front of me, they held little appeal.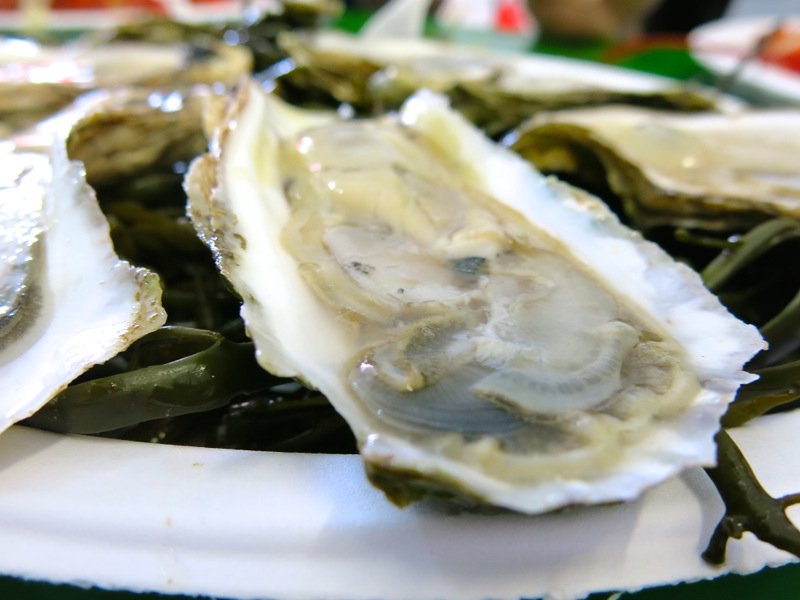 To be polite, I immediately ate one, and though they were large, and large oysters are usually off putting to me, these were bright, clean, refreshing and absolutely delicious. I was actually stunned by the texture and flavour of such a large oyster. The kind? I did ask. Black something. I didn't write it down. Lobster, remember?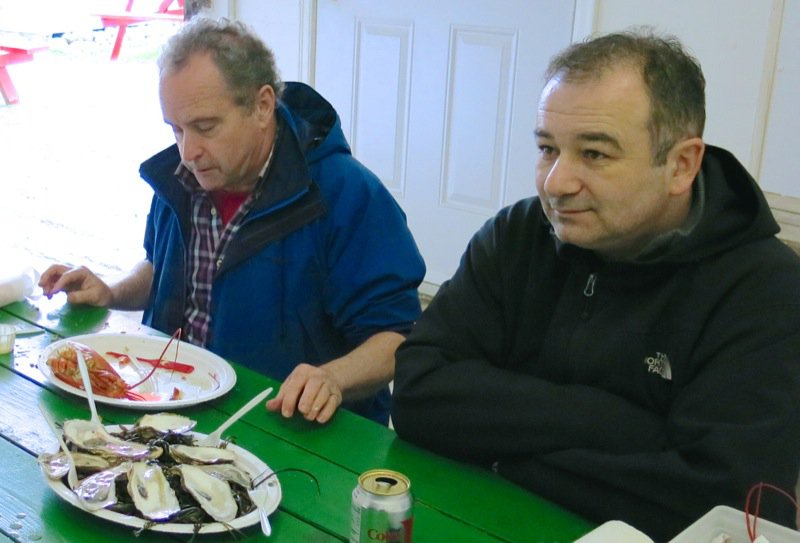 No more photos. This lobster was the most delicious lobster I have ever eaten. The experience was a 10 out of 10. I can, even now, vividly recall cracking the claw, and pulling out the steamy claw flesh, dipping it into the butter and sinking my teeth into the most luxurious of textures… perfectly cooked; the sweetness coupled with the rich unctuous butter added to the toothsome pull of the claw flesh coming off of the thin translucent flat bone was transcendent. Give me a moment.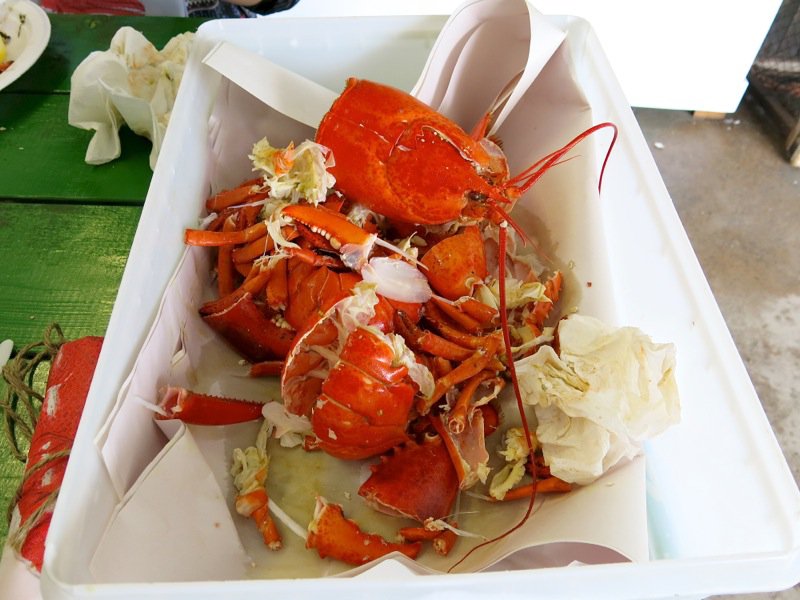 The white container with the paper towel housed the shells. Vanja and I don't care for the tamali, yet the young gal with us was crazy over it and ate two of them.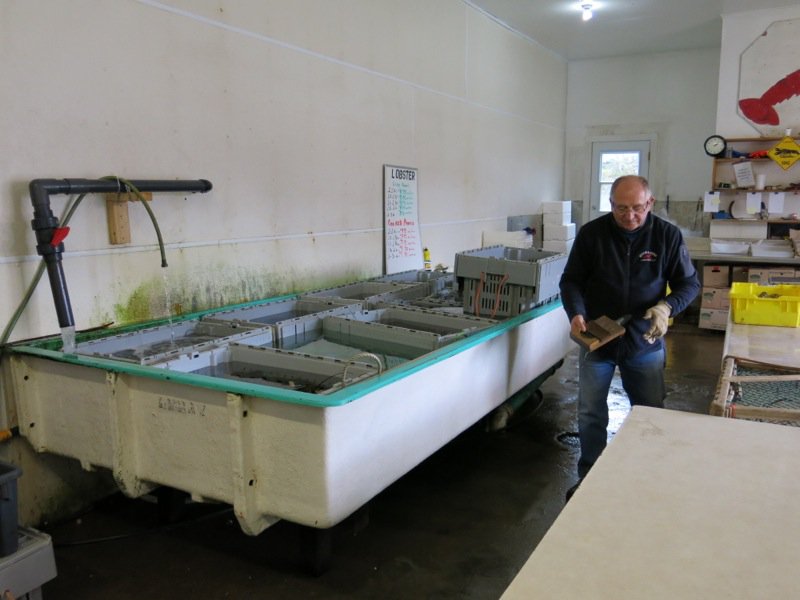 I had just licked my paws clean when I could see Dave was up to something.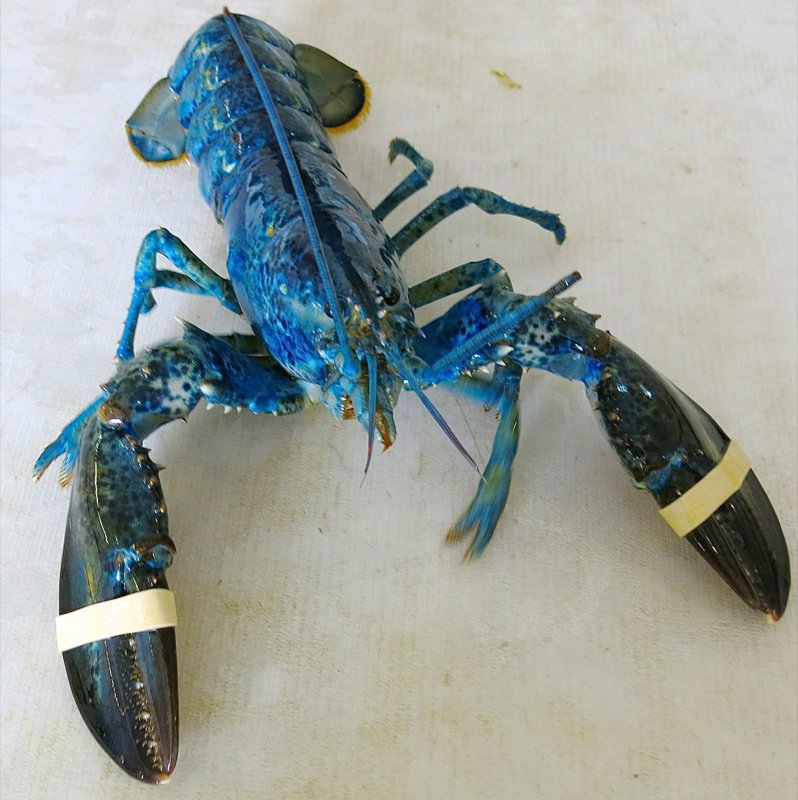 Another absolute thrill! Blue lobster. They say, they are one in a million.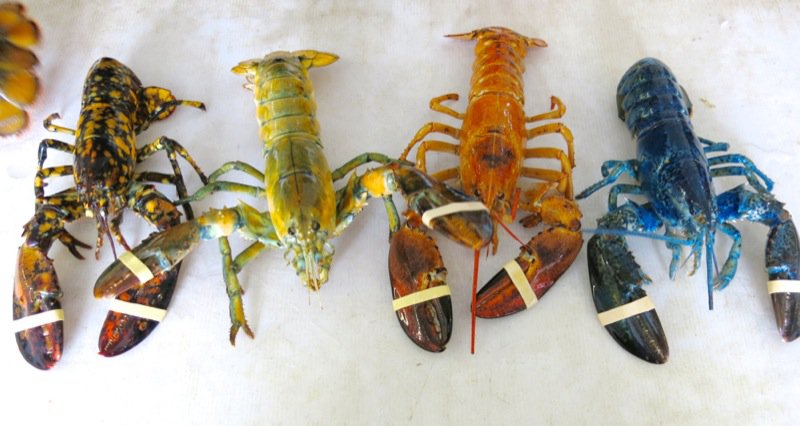 And then all of their "pets" were pulled out of a special larger tank in the back. These shell colours are anomalies and a thrilling find for any lobster fisherman. The white one is apparently the most rare.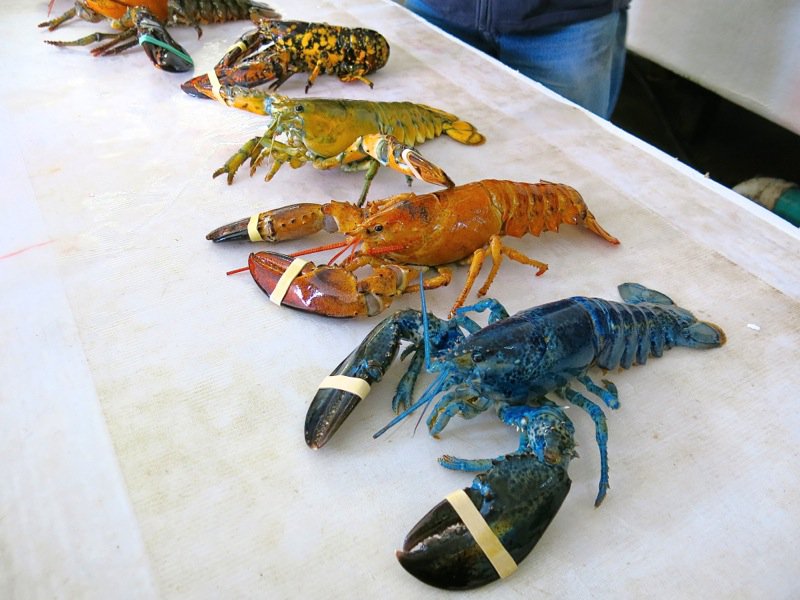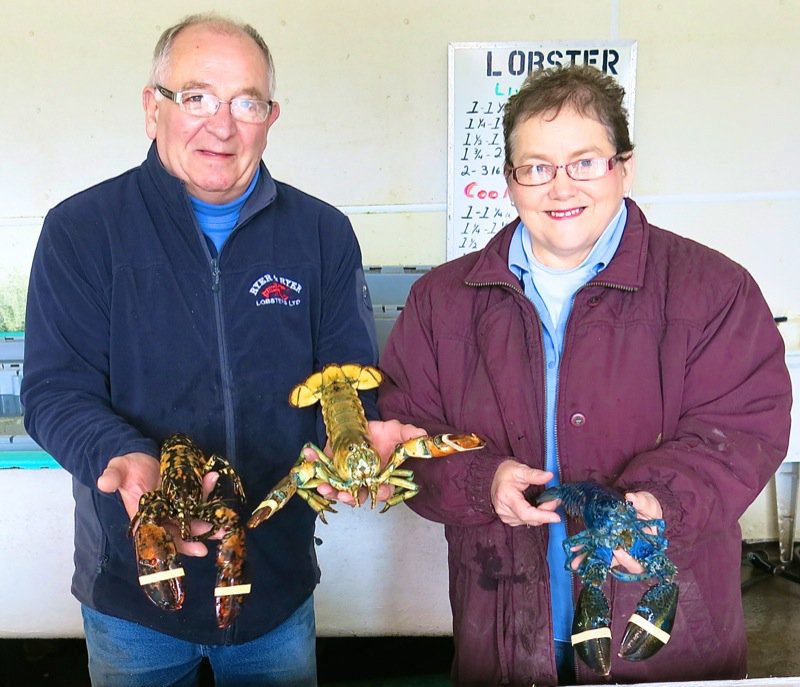 Dave and his wife with their "pets". I believe her name was Connie. Great fun couple with energy and information in abundance.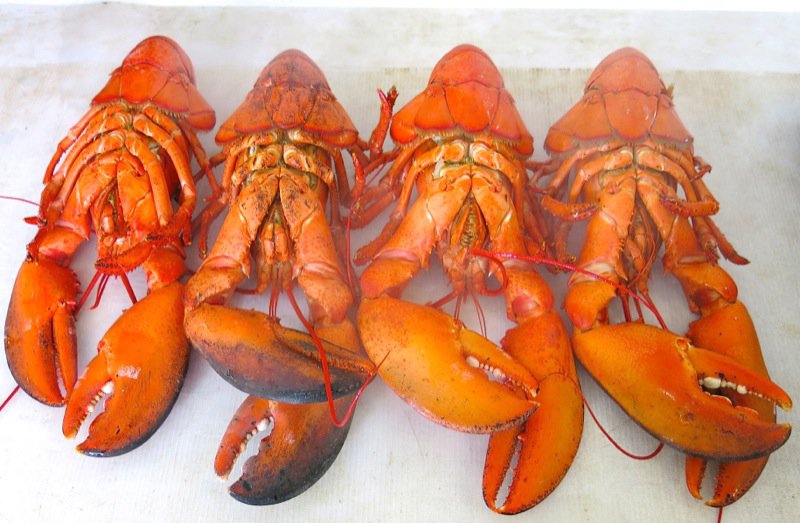 Four others had come in an ordered up a feed of 2 pounders. I could barely finish my pound and a halfer. These were huge!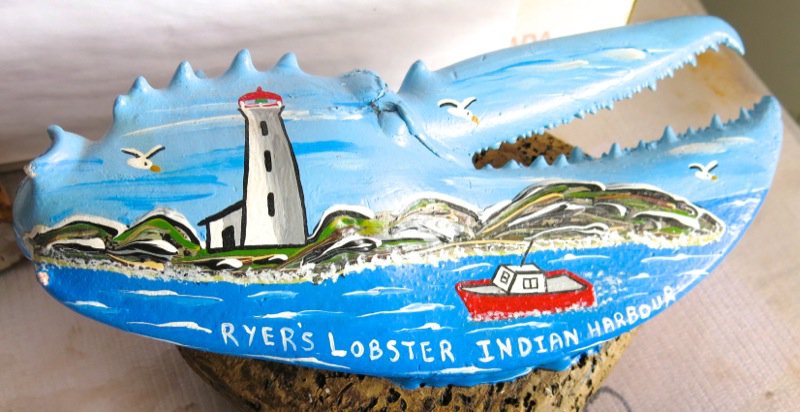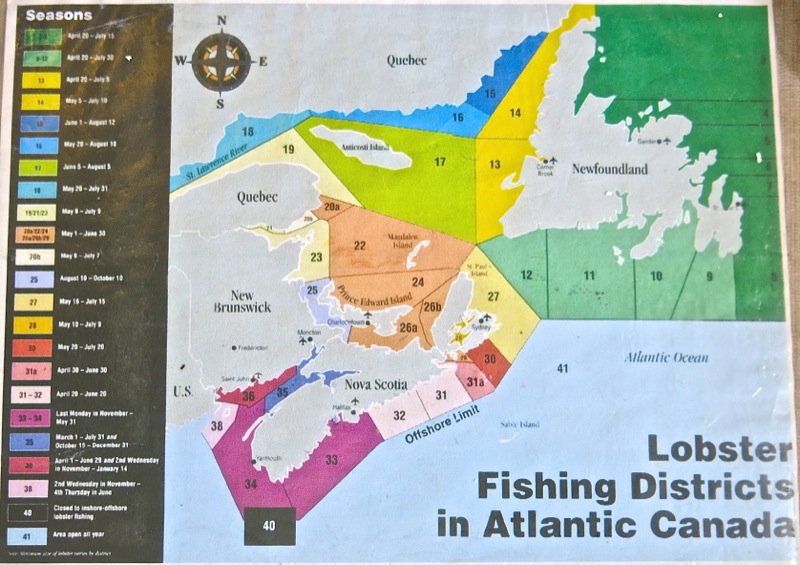 Dave explained the lobster fishing area times off the Atlantic Coast, showing us this colour coded map. Very interesting to note the seasons in each area and how it is organized.

Bought our shears…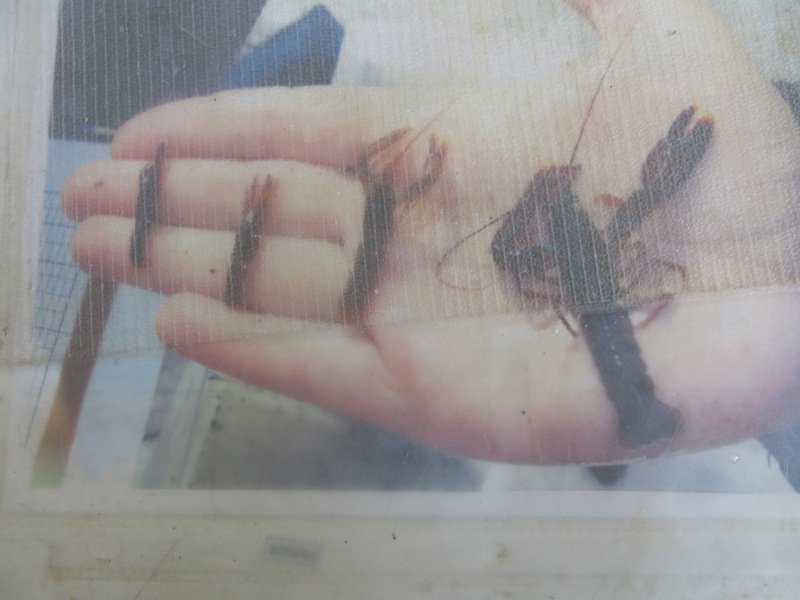 Looked at some photos of how lobsters grow. The eggs float up to the surface, Bonnie was telling us, at Wallace Wharf, which makes them very vulnerable to predators. Such a small percentage actually survive. Therefore, in her area, they actually "seeded" their inland fishing area with these baby lobsters as they sink to the bottom and hide under rocks, thus avoiding predators. Veronica, from Cape Breton, a Lobster Scientist, later told me that they weren't having the success they had hoped for in the Wallace Wharf inland fishing area, after doing this.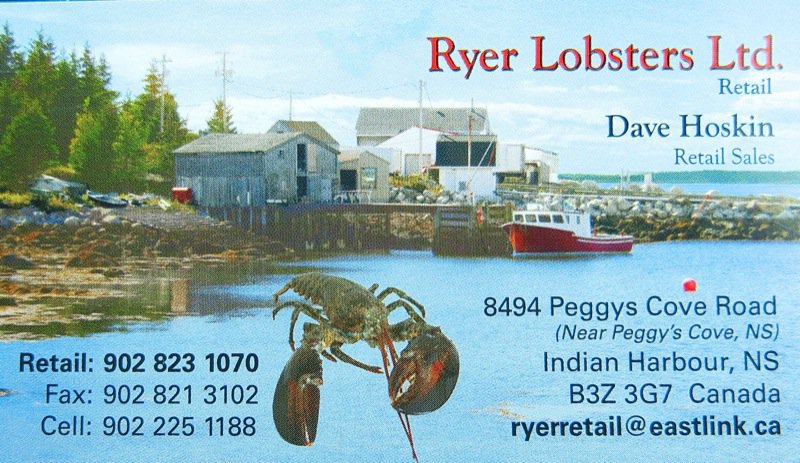 I think you get the idea. If you are anywhere nearby, Ryer's Lobster is a must stop shop. It was all I could think about on our last two days in Halifax. I wanted to go back to have just that one more lobster. But, that was my little secret and was such a selfish wish that I couldn't even share it with Vanja. I am just so thankful for the experience I had.