His naive whimsical style and sense of humor attracts acclaim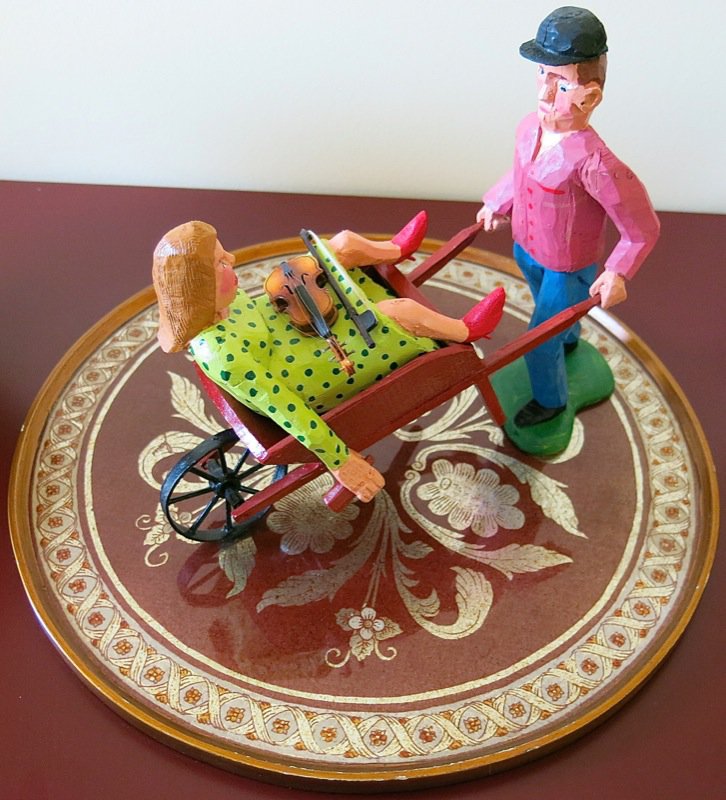 Born and raised in Cheticamp, Nova Scotia, Bill is a self-taught folk artist. He has painted and made woodcarvings since childhood and has been able to make a full time living at this work for the last 5 years, he told me, when we stopped to visit him on a very rainy day in May, 2014.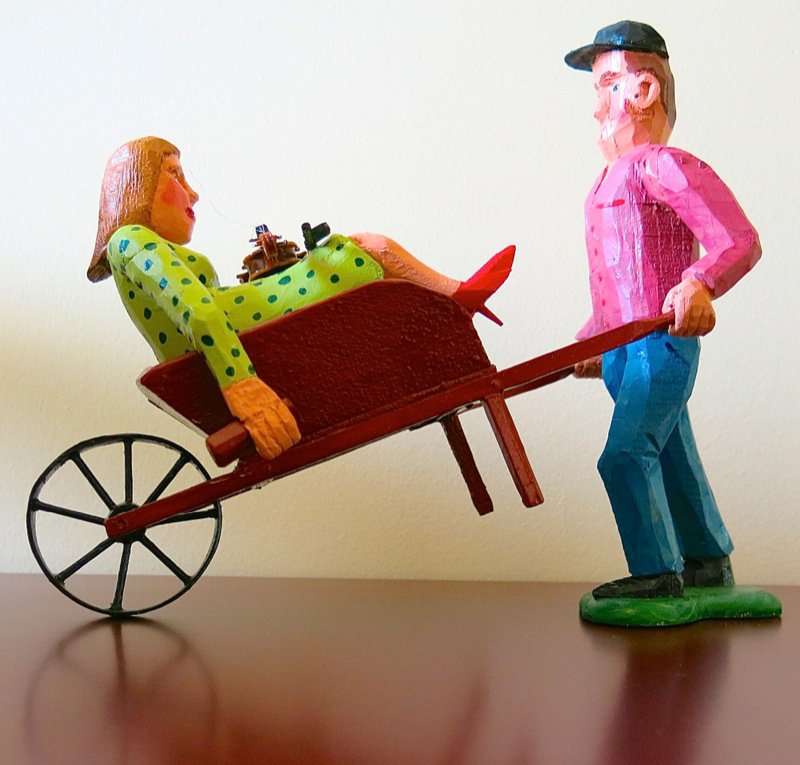 Immediately after our visit to Eel Lake Oyster Farm, we headed to Cape Breton, arriving about 8 pm, in time for a meal and a well needed rest. The following day was ear-marked for the famed Cabot Trail. Both Vanja and I were eager to enjoy a leisurely road trip, taking in the beauties of the nature surrounding us, and the culture of the people from Cape Breton.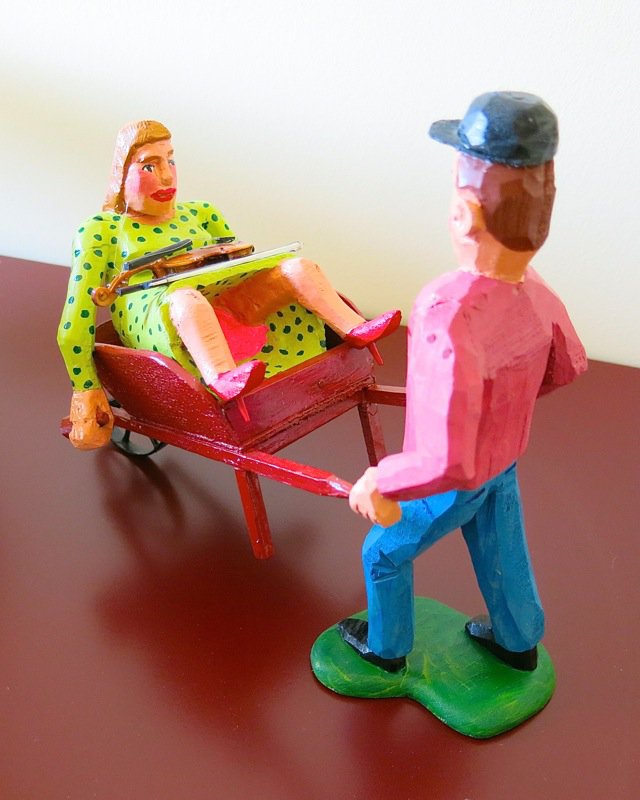 We awoke to pouring rain, but undeterred, we headed out on the trail, looking forward to several highlights:
the nature, itself, enroute
Cheticamp, another Acadian community, like Pubnico, where the people returned after The Great Deportation: one of the three Acadian communities in Canada where the people returned close to the same place they had been expelled from
an authentic Acadian lunch in Cheticamp: aware it was shoulder season, and told most summer eateries would be closed, everyone had said we would find authentic Acadian fare in Cheticamp, almost anywhere
Bill Roach's wood carvings: one of my wishes and musts was to bring home a folk art carving from Nova Scotia to hold the memories of this trip for us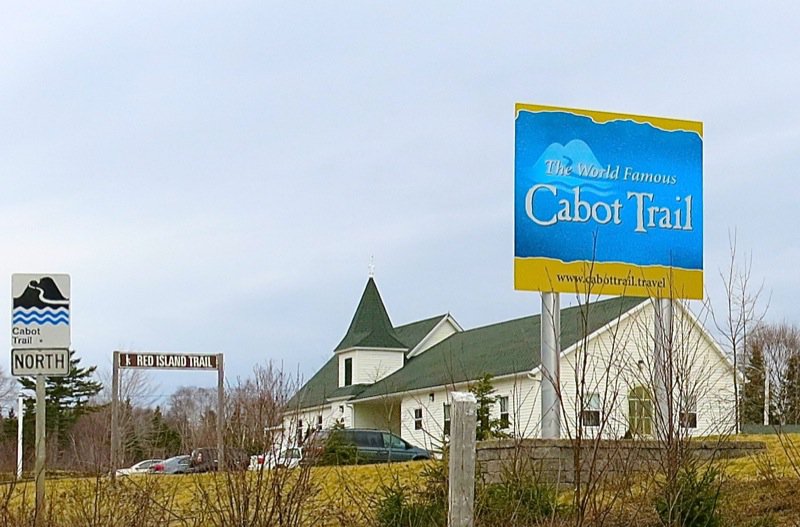 We were told Bill's gallery might be closed, but that he lives right next door to it. "Just knock on the door, and I am sure he would be happy to open his shop so you can take a look." More than a few people told us this. But, I could not do it. When we saw that his shop was closed, my heart sank. After hours of grey sky, mud, and rain, this was a highlight I had my heart set on. "Just drive in, so I can take a few photos of the buildings; they are so charming!"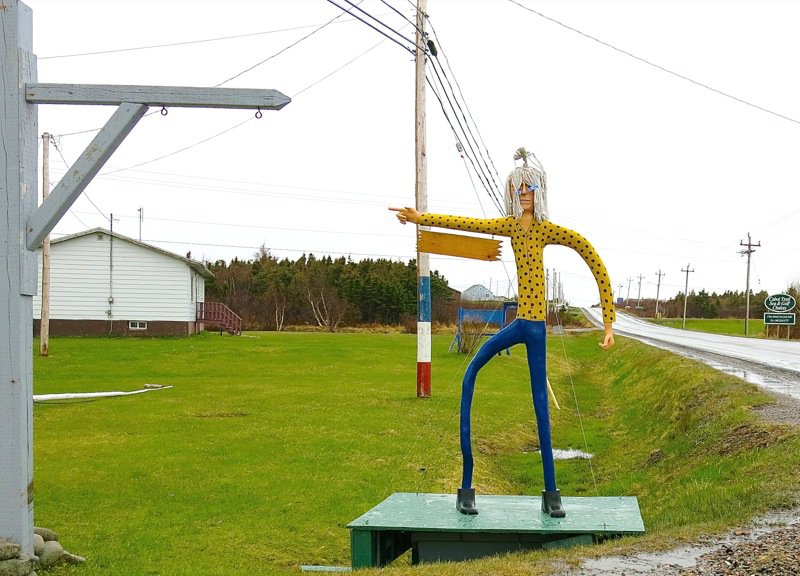 One of Bill's wood carvings pointed out The Sunset Art Gallery just behind his yellow house.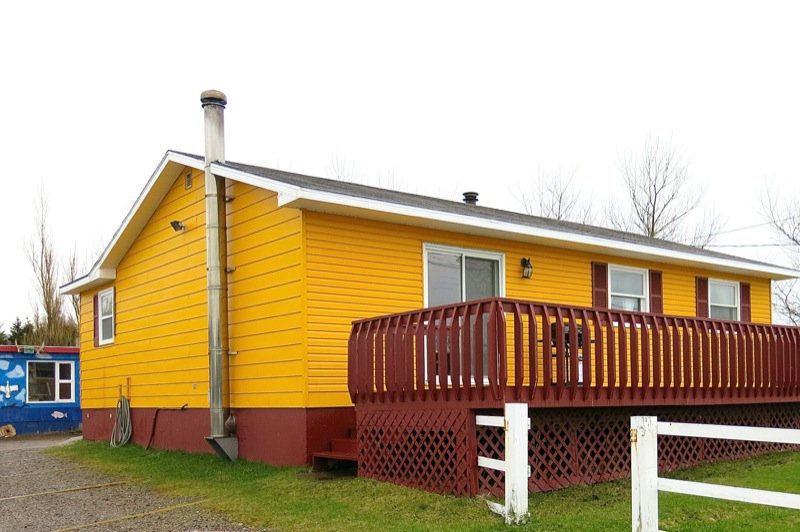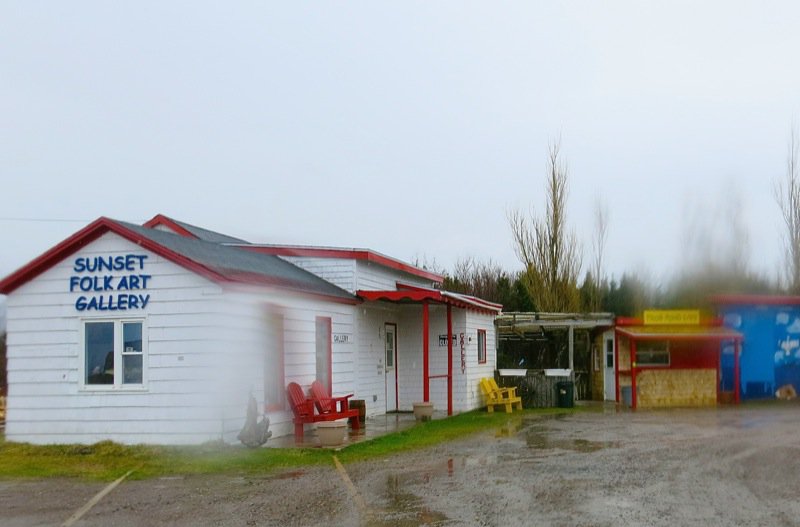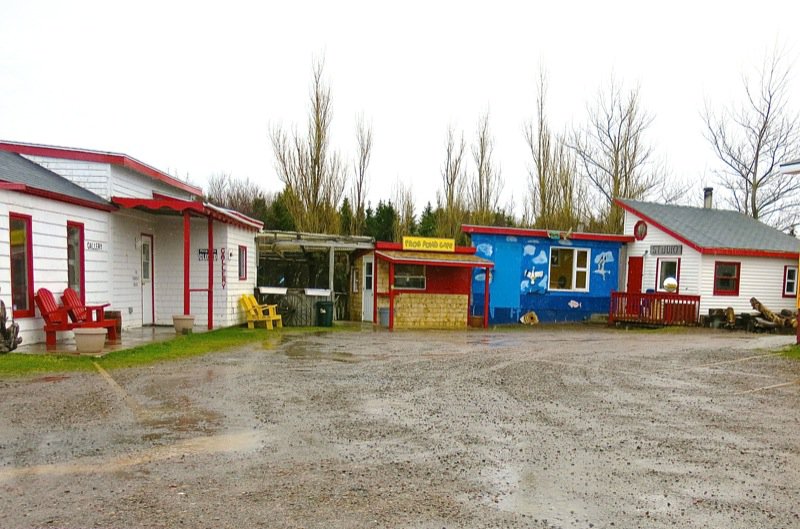 What a bright spot on such a gloomy day!
Snapping the studio, Vanja remarked, "Valerie, he just looked out of his window and saw you snap that photo." What? A rush of embarrassment washed through me. I must apologize. I had no intent on knocking before, but now, I must. And, it wasn't just raining. It was a torrent of rain. Yet, I lept out of the car, to the door, and knocked. "Yah?" I heard some kind of greeting, and opened the door, sticking my head in, "Are you Bill? Bill Roach?" "Yeh." The room was quite dark, yet windows were large and would flood the room with light, if the sky was not so blackened by the storm. "I am so sorry to have taken the photo. I didn't mean to invade your privacy. I was so hoping you would be opened and was just taking photos of the buildings when my husband told me you were in the window, but I didn't know." All 5 feet of him stood looking up at me. "Would it be possible to see your work?" "Sure. I guess I could open up the gallery and let you take a look."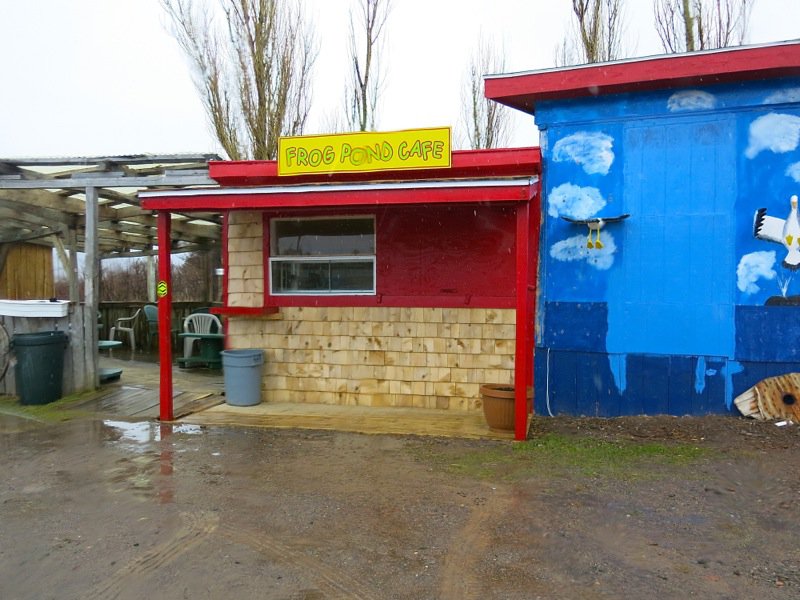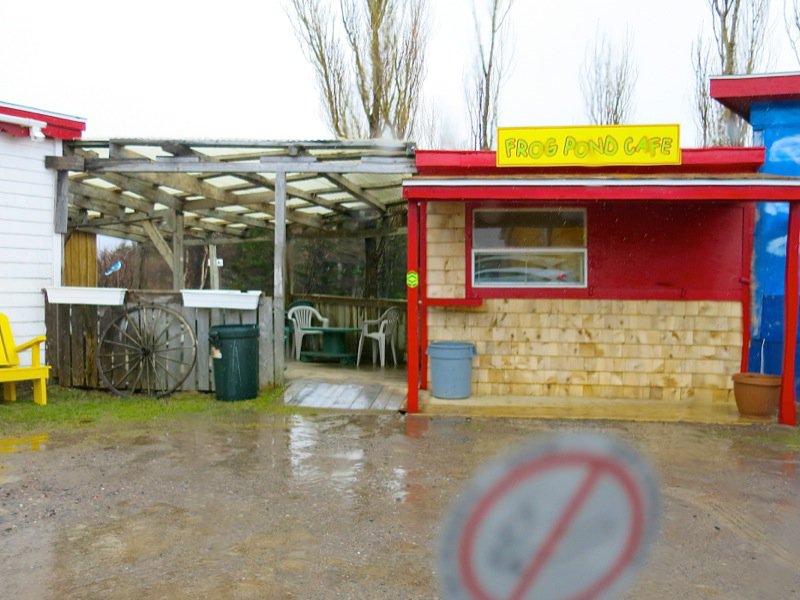 He fished for his keys, found them on top of a wooden workspace, and we were both out in the rain, across the lot and into the bright, clean gallery within seconds. I had waved Vanja in. The space was completely white with large colourful carvings propped everywhere. No photos allowed, inside. Sorry, folks. The two photos below, are from the Sunset Art Gallery website.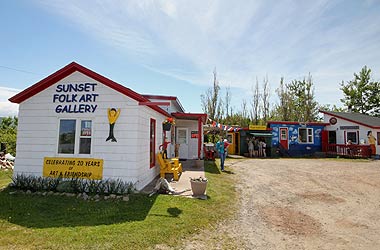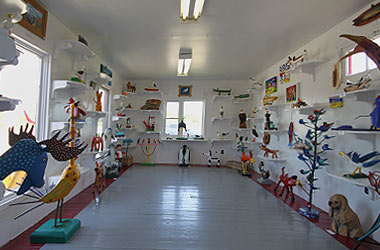 The first sweep of the space left me a little disappointed, as I could see none of the work on display this day that could fit into our home, though many pieces found me grinning. I later learned that The Sunset Art Gallery is owned and operated by his wife, Linda Roach. The gallery also showcases work by three other folk artists. Suddenly, I spied a small piece on a shelf that I had missed first round. Immediately drawn to it, as the gal had a fiddle on her lap with a string broken on it and was in a wheelbarrow, bottle of beer in hand, legs flailing in the air, propped up and being pushed "home from the party" by her man.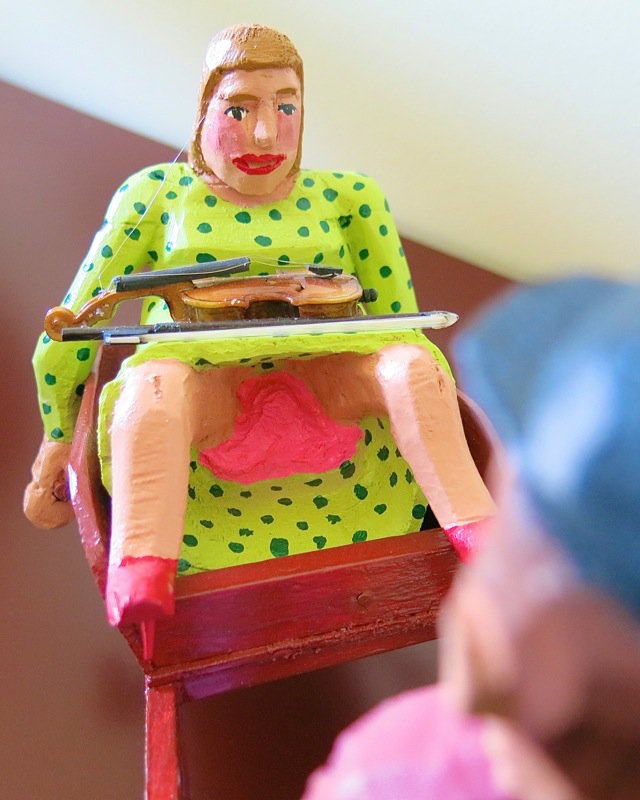 I started laughing. I must have this piece. "How much is it?" Bill didn't price the pieces and his wife was in Sydney for the day. I walked around looking for the priced pieces.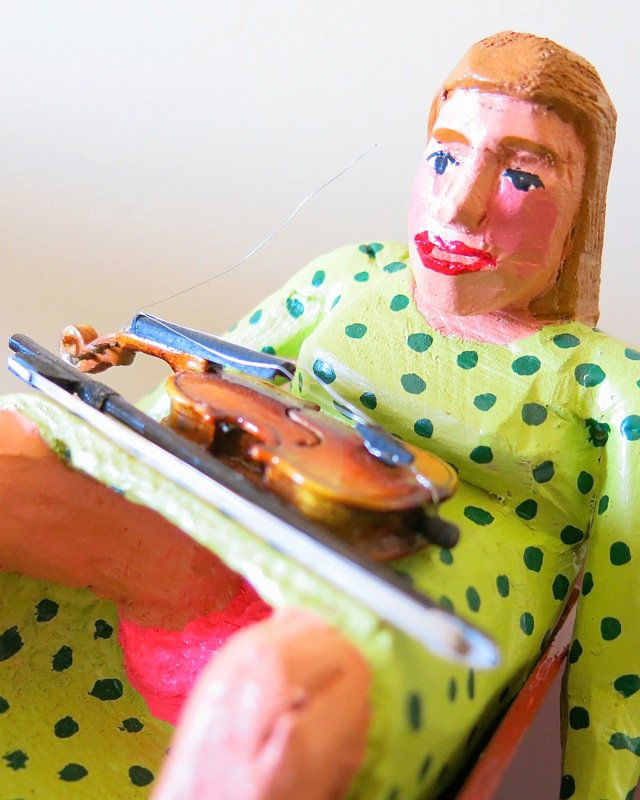 I came back to it, and made him an offer. "Well, I don't know. My wife would have to price the work. I've given so many pieces away and she won't let me do that anymore." Vanja suggested he call her. After the call, we had a deal. I was elated.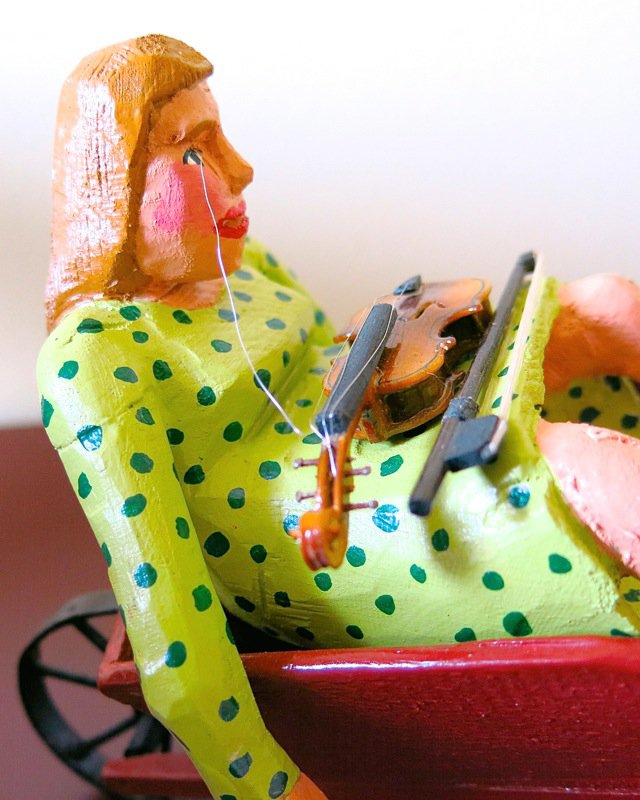 The fiddle brought dad right into the moment. He had left his violin, or fiddle, to me when he died just this past January – and I knew he would appreciate the humor carved into this brightly painted pine, string flailing from the fiddle… panties yielding to the wind.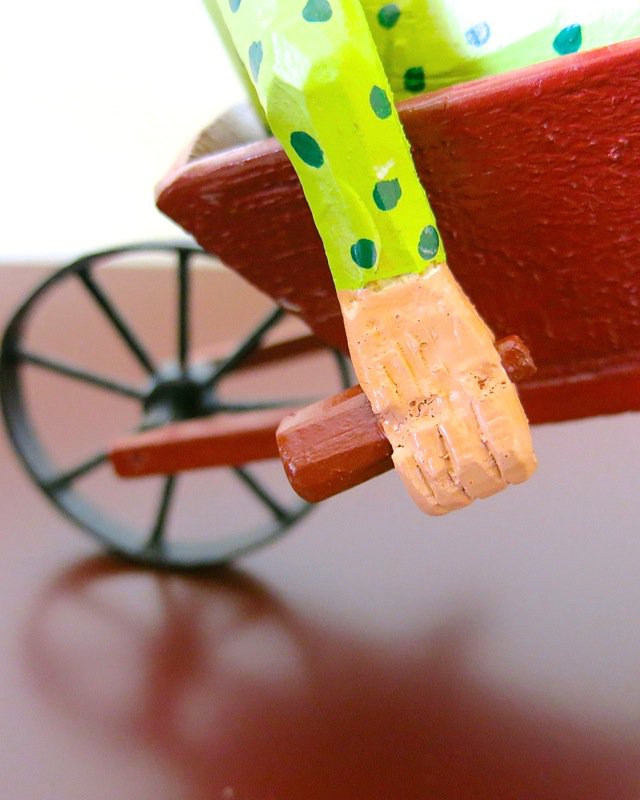 I also later learned that some of Bill's work can also be seen at the Art Gallery of Nova Scotia in Halifax, The Scotian Ocean Gallery in Mahone Bay, as well as Folk Art Maritime, in Lunenburg. The later two hadn't been opened when we were there. All of his woodcarvings are made of pine and brightly painted. He was the 2005 recipient of the GRAND-PRÉ PRIZE which goes to an Acadian artist of Nova Scotia who is recognized for their artistic excellence and originality and has achieved professional status and recognition. He has many exhibits, awards and articles written about him
Some of his works had names on them. "What did you call this one?" I asked earnestly. He looked at me with a twinkle, laughed and then said, "Well, Home from the Party! Of course!" What a thrill to meet this gentle, unassuming man who brings light, life, colour and and humor to simple Cape Breton pine.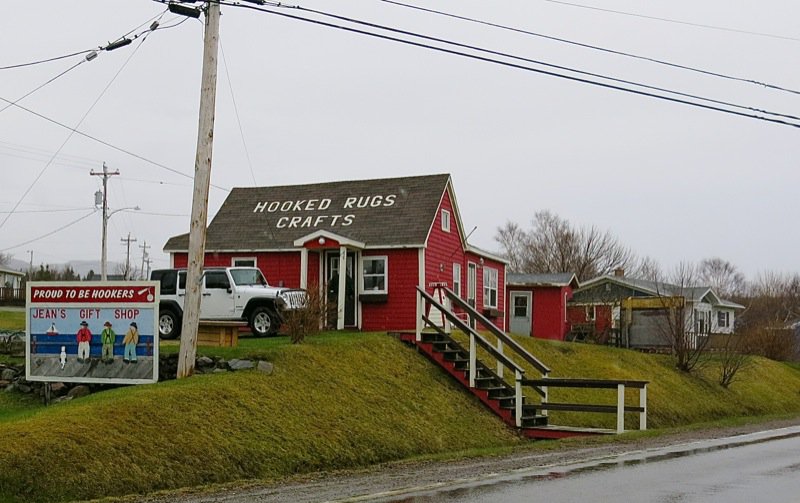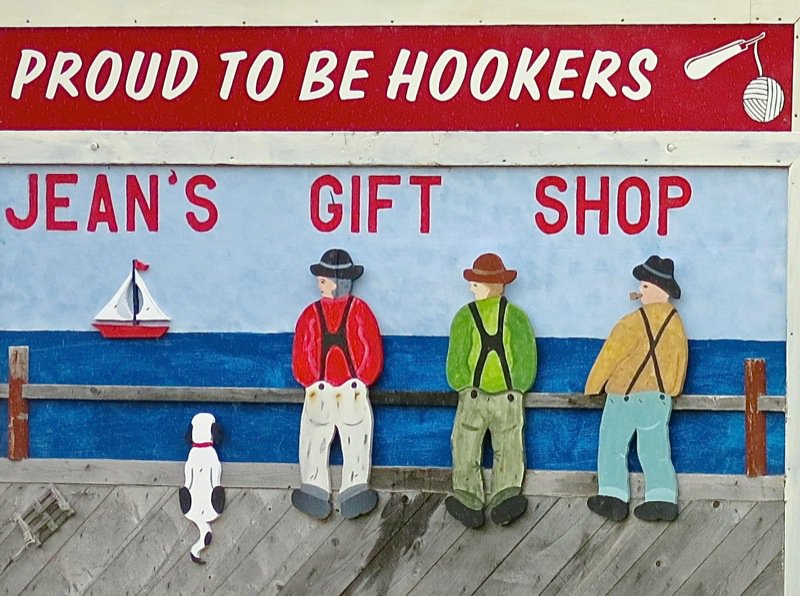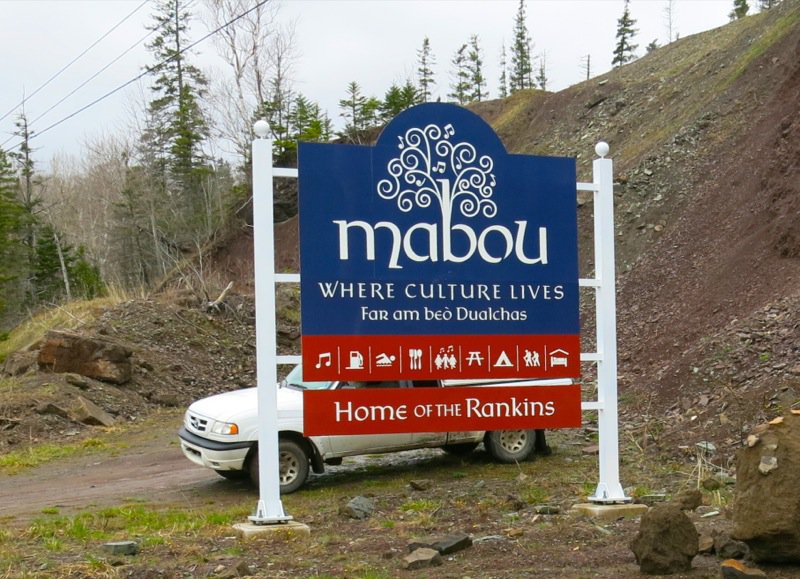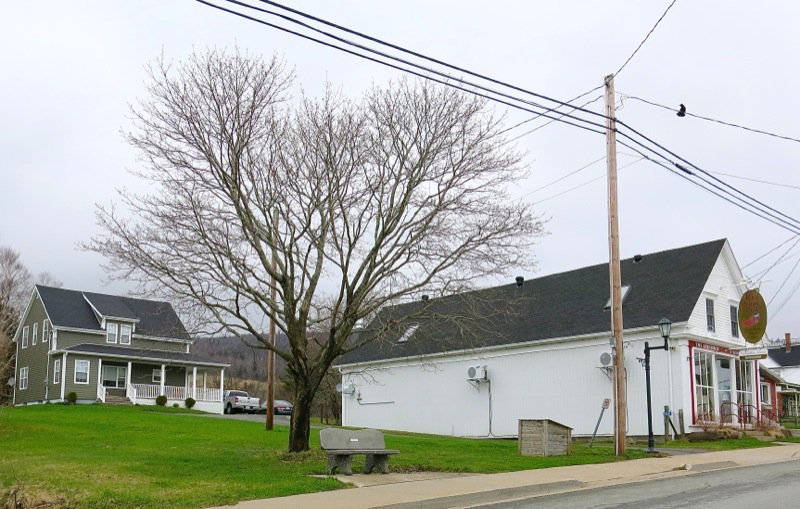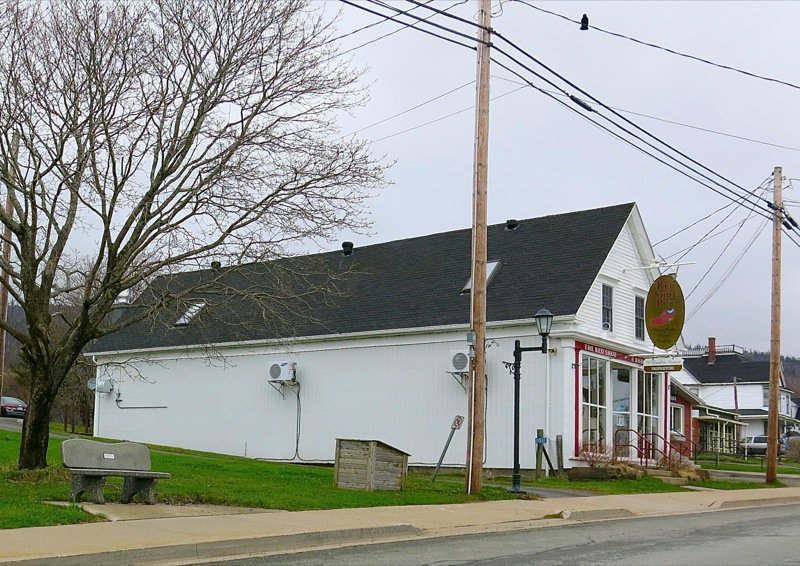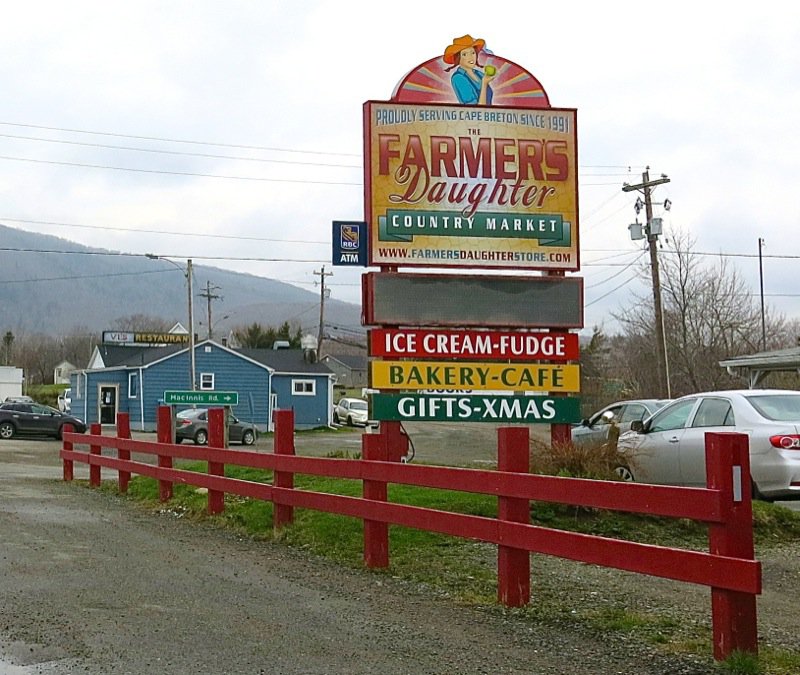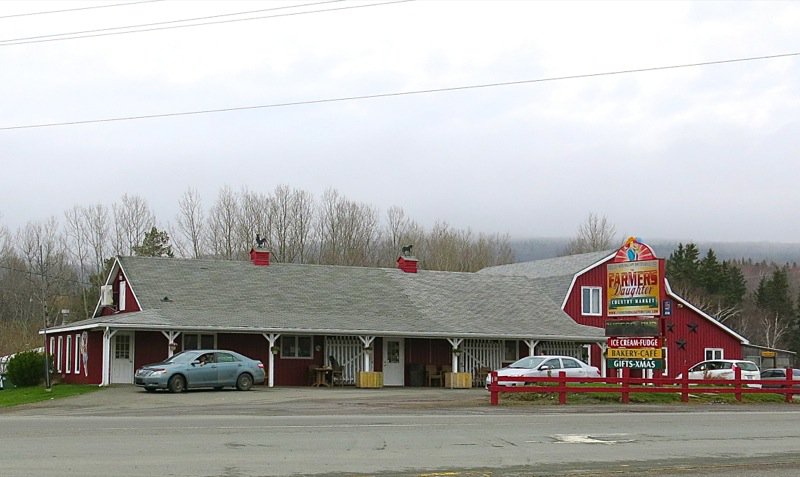 We continued our trip through the trail. The Alexander Graham Bell Museum would have been a highlight if the gals there would have been kind enough to give us a tour. There were three of them. Two of us. It was an hour before close. Oh, yes. I had called ahead months ago – and this day it was open for a cruise ship that had cancelled. The last tour would go at 4. We made it in time, but they would not accommodate us. The 5 minutes we talked to one of the gals gave us an indication of what we sorely had missed. And the Red Shoe Pub? Shoulder season, remember. Lunch at Cheticamp? Not Acadian cuisine. That is offered the first of June. And dinner at the Telegraph House Hotel in Baddeck on the Way Home… did I mention this was Mother's Day? Pretty much a disaster. The music was ethereal as there were two young people playing at the piano and singing. But the "totally local" meal of rice, grapefruit and …. was just not very tasty. Pretentious, yes. Tasty, no. And local? Well, the last time I saw rice or grapefruit growing in Nova Scotia was…. hmmm. Suffice it to say that the three days of grey heavy rain we had in Cape Breton coupled with nothing being open left us disappointed with this neck of the woods. Except for Bill. I have "Home from the Party" where I can enjoy her and grin at her every day!