How would you spend 5000 to create a better organic world?
This is AS easy as making Paneer. TRULY. This is SUPER DUPER easy to make. You must like tofu, and this is certainly not silken tofu.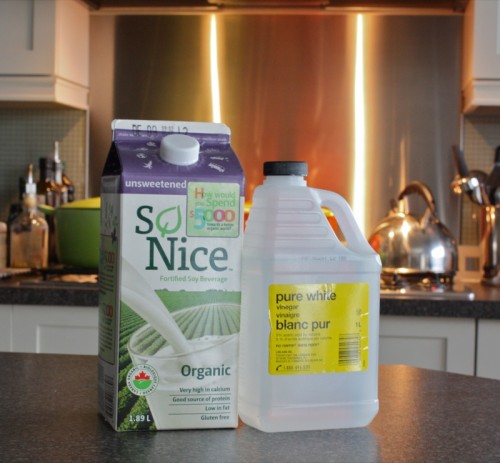 Two ingredients. That is it. The same as paneer. Angie, from Angie's Recipes commented on my Paneer post that this was how she makes tofu, but with soy milk. Really? Immediately I wrote to her asking for specific instructions. She sent me to two of her posts, neither of which used vinegar to make tofu, so through a few e-mails, she told me what to do. She has used a vinegar extract and she has used other catalysts, all to be found on her site.
So, I forged ahead planning to do exactly what I had done with paneer, to make homemade tofu.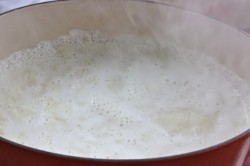 I heated the golden hued milk to the boiling point… until it just started to boil…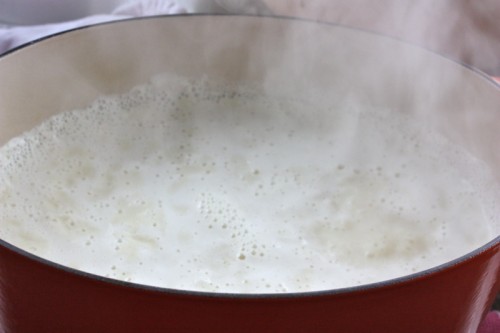 and added 1/4 cup of vinegar.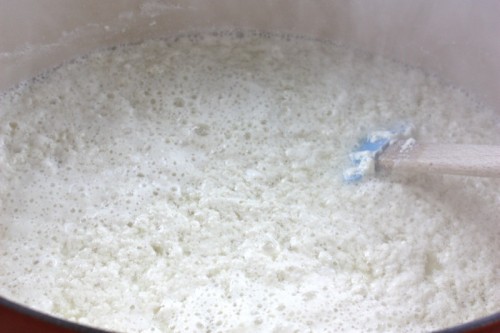 It curdled immediately upon stirring. I had read that if the curdles were small, to add more in another posts, but that was not dealing with vinegar. Then, if you do add more of that particular catalyst, you have to soak the tofu to remove the sourness. I opted to leave the curds small, and just follow Angie's instructions.
Pour immediately into prepared sieve covered with cheese cloth, or a thin towel.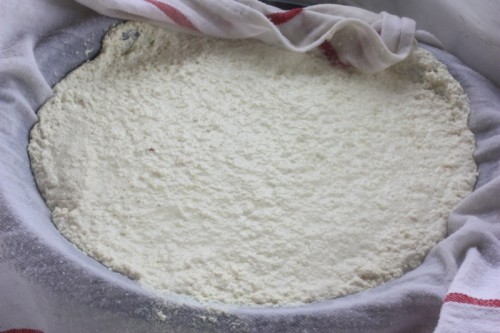 There was a fair amount of curd.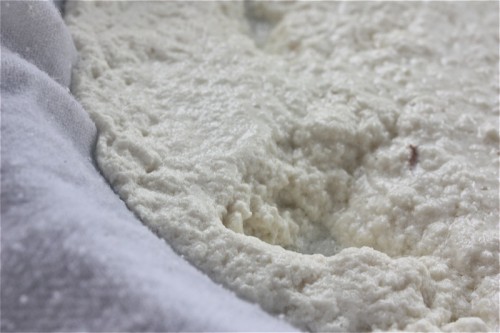 I rolled the curd back onto itself to make a small package.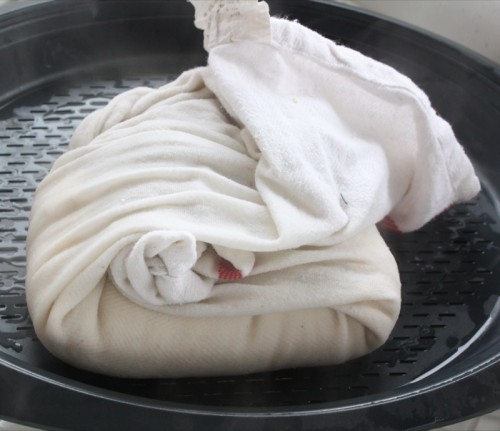 Then, again, exactly as making the paneer, I weighted it with a heavy pot.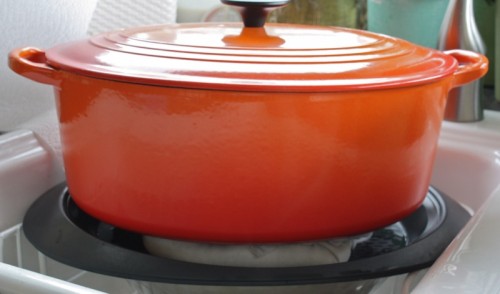 About a half hour later, I unwrapped it, but had left the card in my camera. Took all the photos, and my camera didn't even tell me I hadn't a card in it. Imagine! That is a bit of a shame, as this is really when the difference in texture between the paneer and the tofu became apparent. This piece of "cheese" looked similar (without the lovely marks indented in it that the paneer had as I used a different cloth), but it was much more delicate. When I went to pick it up, it started to crumble so I cut it and gently seared the pieces.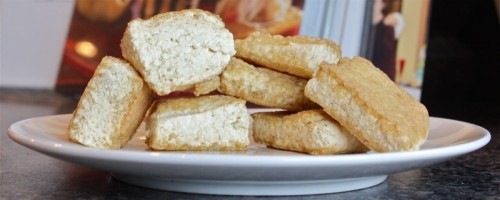 This was also significantly different than the paneer, as the pan we extremely hot and I could not get a golden crust on the tofu. However, I did taste it before and after frying. It had a lovely sweet flavour. I was actually prepared not to like it as I am not a fan of tofu, anyway, and I had no clue if this looked how it was to look. Regardless, I was very pleased with the flavour and it was filling and satisfying. I preferred it in the crumbly, not fried state.
It was also tasty fried, but the texture was not as pleasing. To be honest, both ways, the texture dried the mouth a bit. So does the paneer. But, this was an unpleasing, to me, residue left in my mouth that was hard to get out after eating the fried tofu. The plain tofu dissolved, or washed down, better.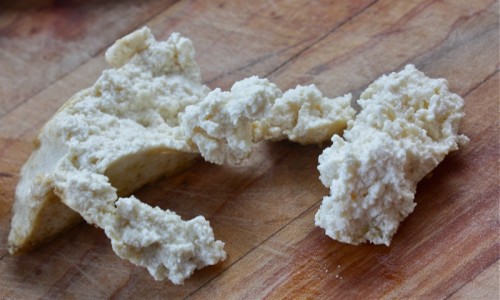 I liked the thicker tofu pieces, too. They had a lovely custard like texture. I would love this crumbled on a salad. It was really great just with a little sea salt. Not so grate I will make it over and over, but if I was a vegetarian, I definitely would. I loved the learning experience, and am eager to hear comments and feedback from others who have also made their own tofu!
This fantastic contest by So Nice offers ANYONE the opportunity to submit their idea about how to create a better organic world in 300 words or less. The person with the best possible idea will win and actually get the 5000 to make that idea happen. How wonderful is that? Think about actually making a difference in your neighbourhood and then write about it! Enter the contest as the closing date is:
5pm (Pacific Time) December 31, 2010
Find the rules and regs here.
And, yes, I am honoured to be a judge and cannot wait to see more exciting ideas being generated. I would love to see some generated in this area. We could use a $5000 project in Alberta! Don't worry. There are rules in place coupled with my own integrity so that when the judging is carried out those from my area will have to win on their own merit! The point is to get into the running!
And, make some homemade tofu! Let me know what you think.