Or… lunch, supper, snack… guest fare….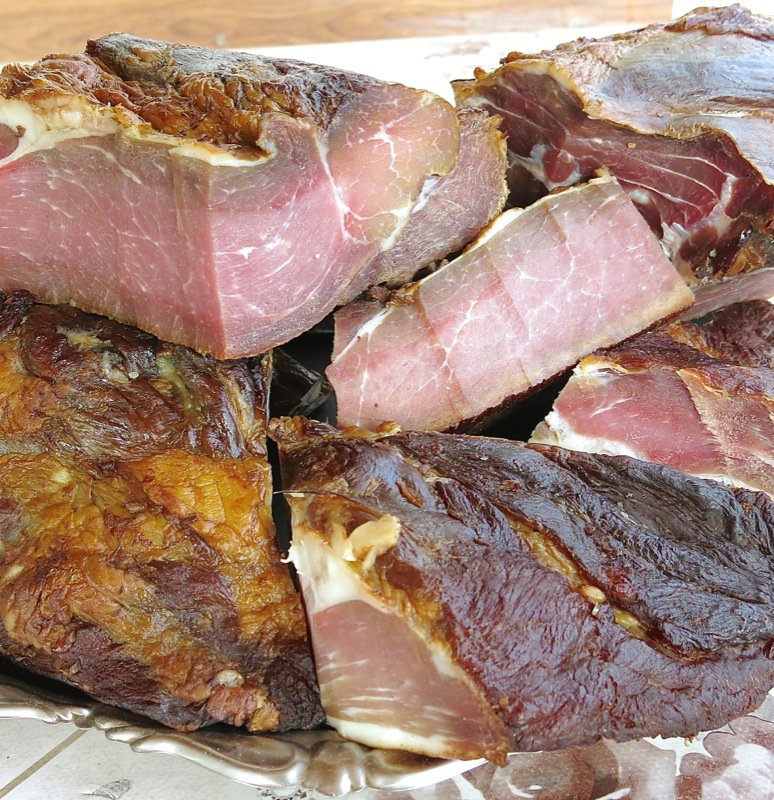 This is a family of serious carnivores. Lots of meat, potatoes of some kind, and a salad, usually tomato, with every meal. Don't forget the chicken soup! Breakfasts and light meals always consist of smoked meat, almost always homemade, either sunka and slanina, or both. Thin slices of fatty flavourful and double smoked air dried sausage, tomatoes and bread may also appear. Often cheese is added into the mix, but it is not necessary. This would be breakfast, lunch, supper, a snack, or served to unexpected guests with some homemade preserves. And coffee and sljiva, of course.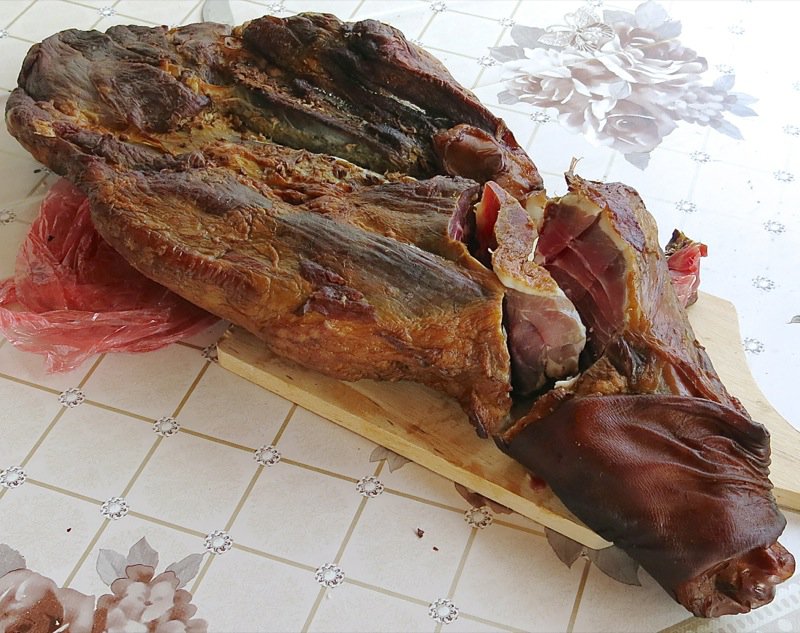 Petar lost a lot of last year's pig in the terrible flood of May 2014. The food was floating in the freezer. But, this one smoked and air dried leg was safe, and he saved it for our visit. Just to smell it is a pleasure…. but, to eat it – surreal. And I don't eat meat.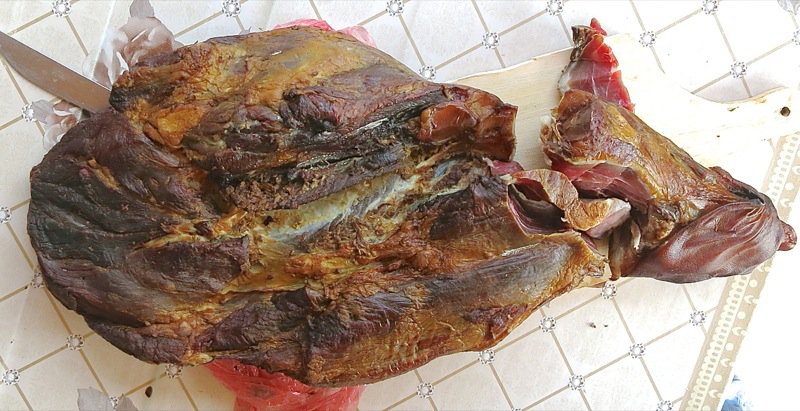 The flesh is as soft as butter, addictive and as good as Njeguski Prsut, just different. Yes. Petar is a master of his smoked meat and takes great pride in this process.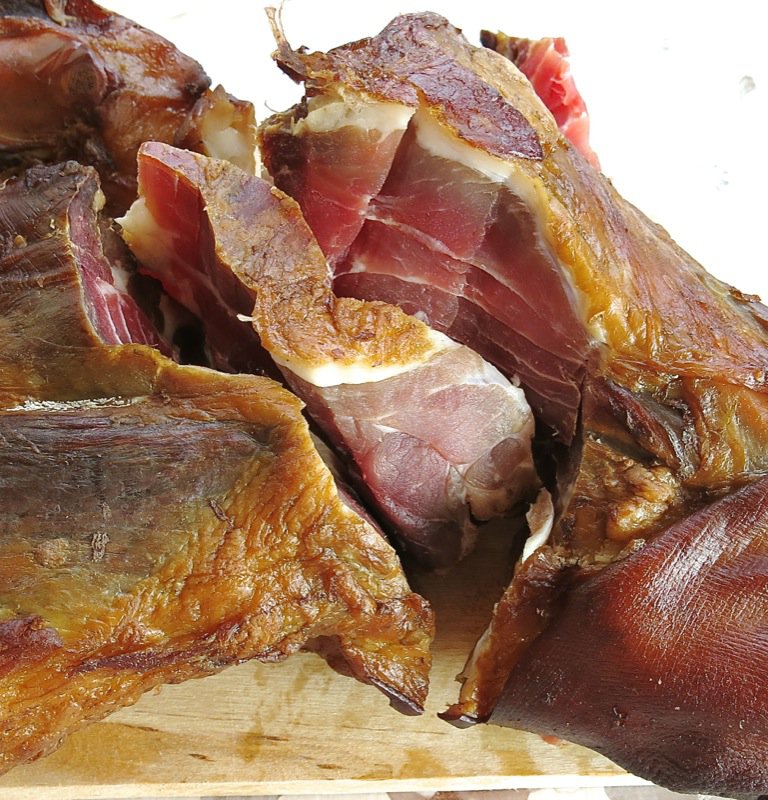 The Summer Kitchen is his Smoke House in December. You can see a close up photo of it in my Cooking After the Flood post. It takes about a month to smoke and air dry all his pork – just in time for the holidays! The hole in the floor of the smoke house is the fire pit and it is a big trunk or root piece and the fire is smoldered with sawdust and kept lit 24 hours a day for a couple of weeks. It is low and slow. Then it is air dried in the smoke house another two weeks before freezing for the year.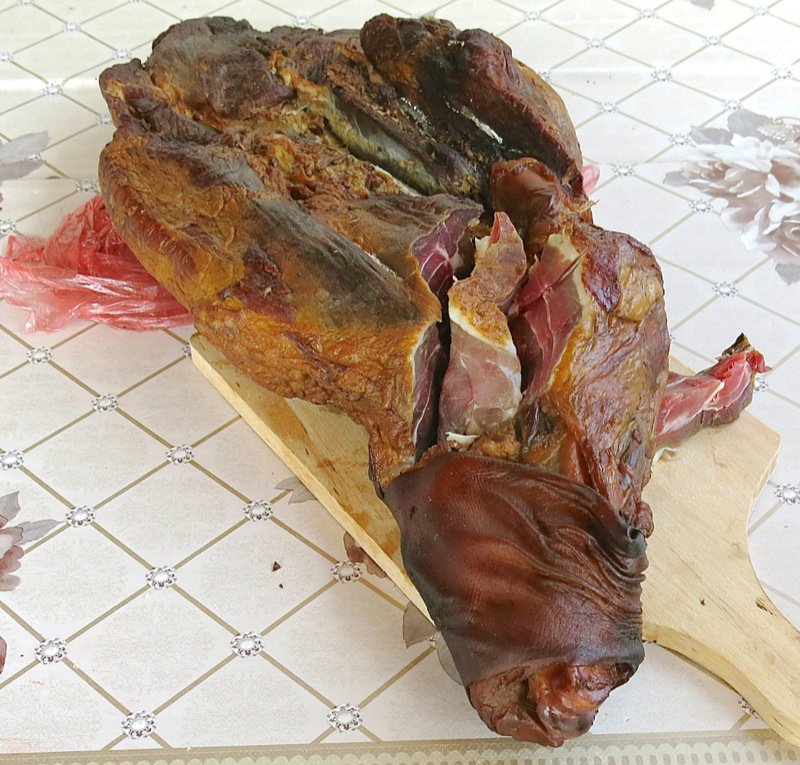 We have made sausages with him, though we ate them fresh as it was not smoking season. I have certainly been here many times when he has had his three little pigs. Though I love animals and know they are very intelligent, forgive me, but they smell just terrible in the heat, so I try to avoid them….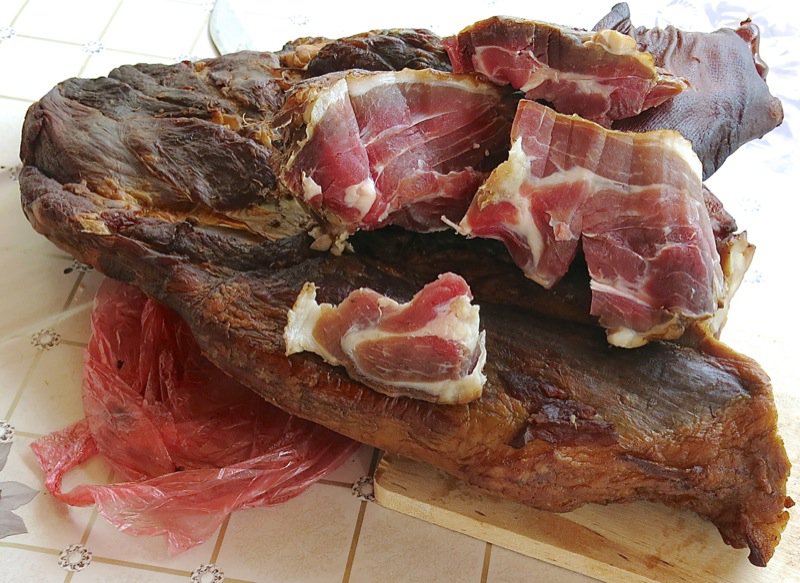 I really don't and cannot eat meat. It just doesn't digest well, anymore, but I always gnaw on a sliver of the sunka and enjoy it immensely.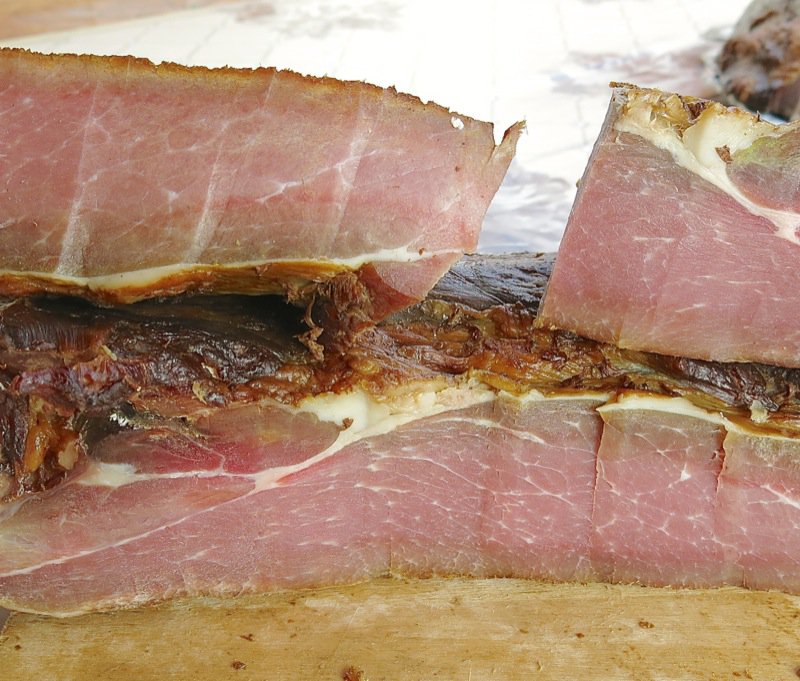 I mean, just look at that gorgeous smoked meat. Who could resist? Darn those sniffing dogs at the airport. We would love to bring some of this home, but it is just not possible. Vanja did make it a couple of years with some other friends and it was spectacular. I don't know why he quit. He loved it and you cannot buy anything close to it.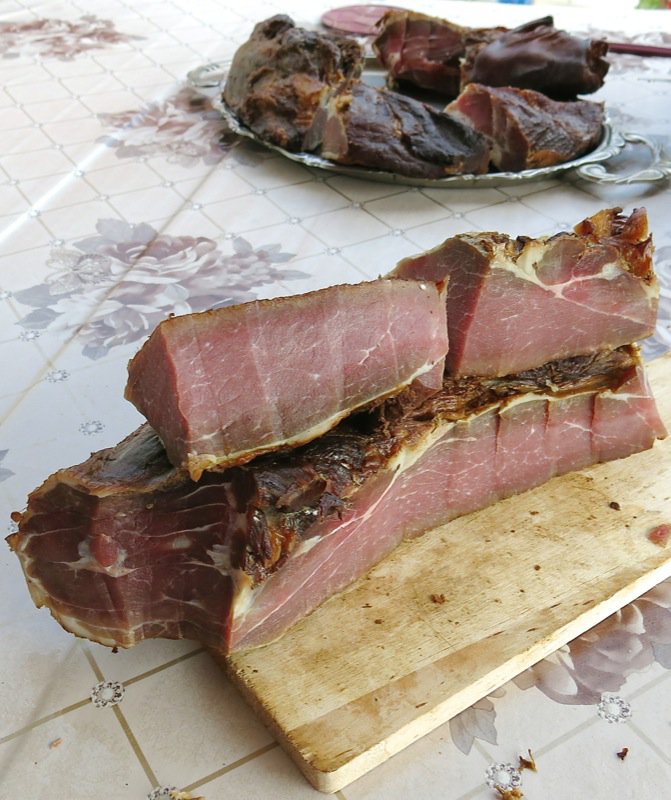 And the slanina? Well…. it is raw cured and smoked bacon and everyone eats it like this, here. I don't care for it – but, the panceta in Italy I tasted raw and the lardo at Colonata that I thought I would never be able to stomach at all, were both scumptiously sumptuous. So, I understand those who love it now that I have found my love for some similar raw cured meats.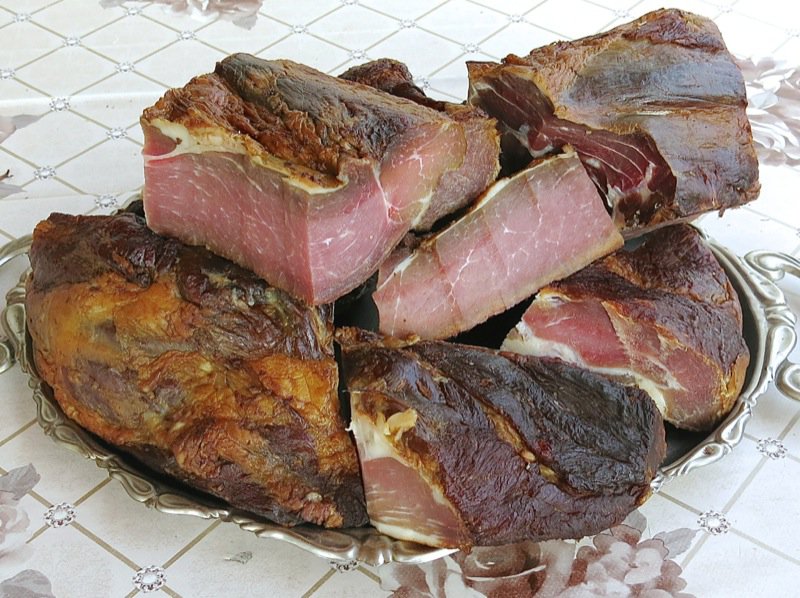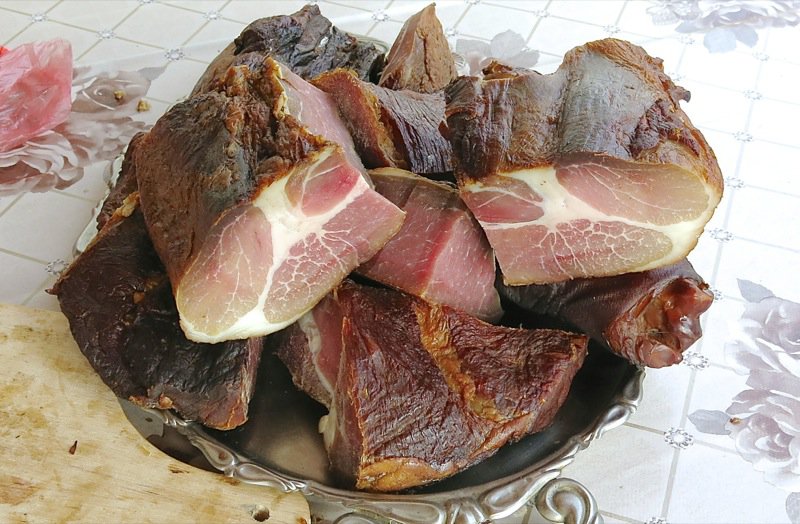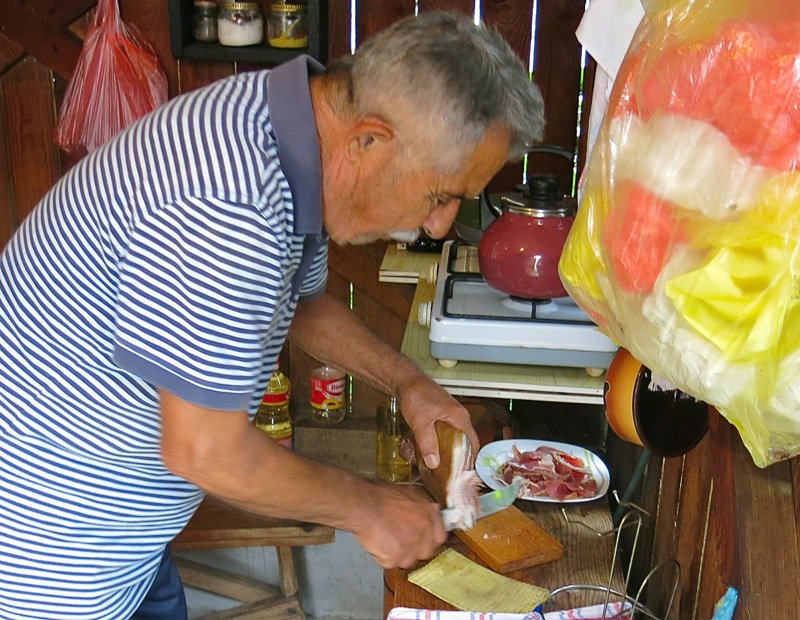 And breakfast? Petar is in the Smoke house, above, slicing his slanina as I write. Well, as I snapped. Even after so many years, he cannot slice his slanina or sunka without salivating. There is something primordial there, about smoked meat and the Lugonja bloodline. 🙂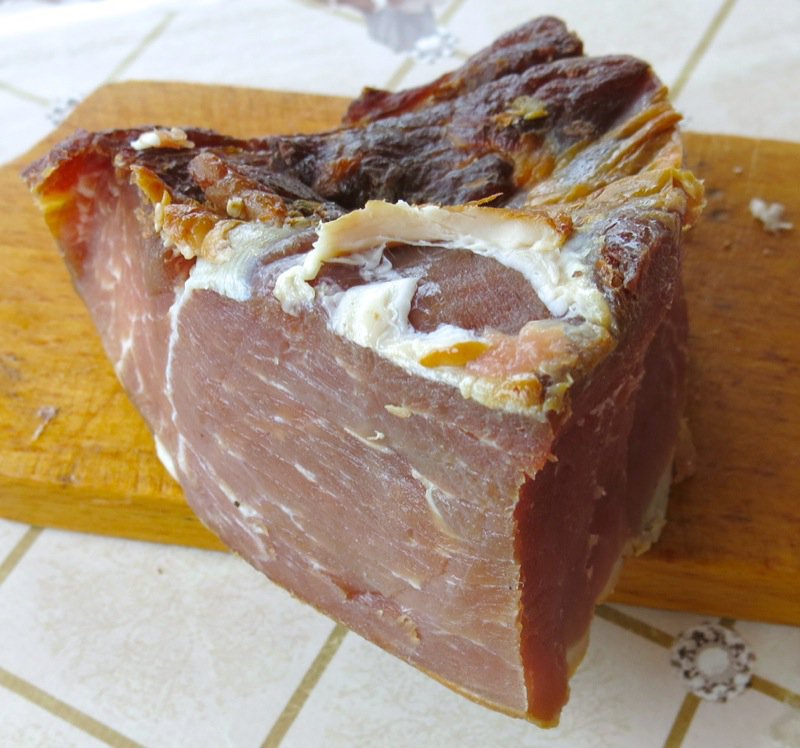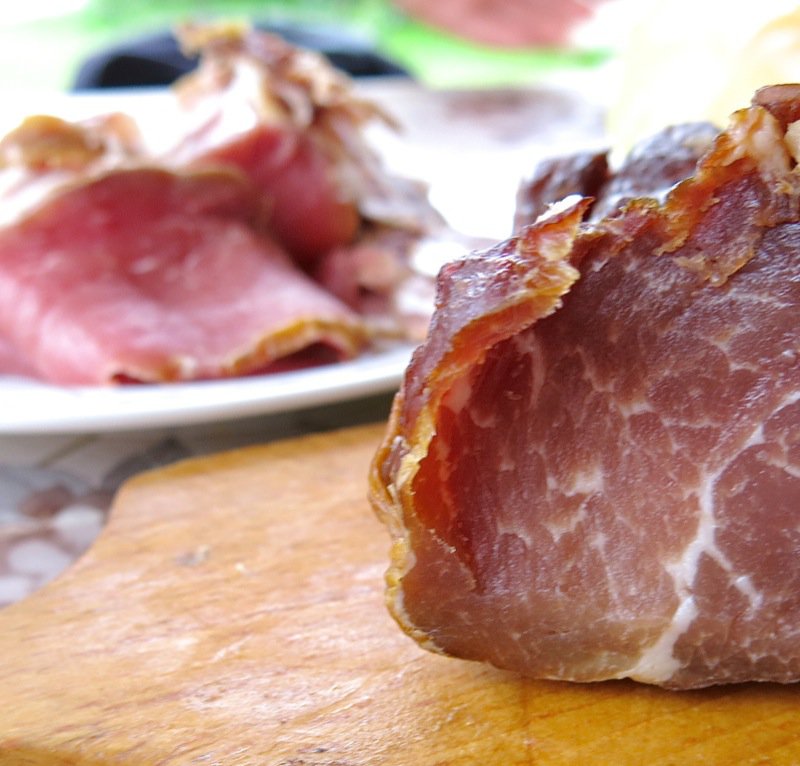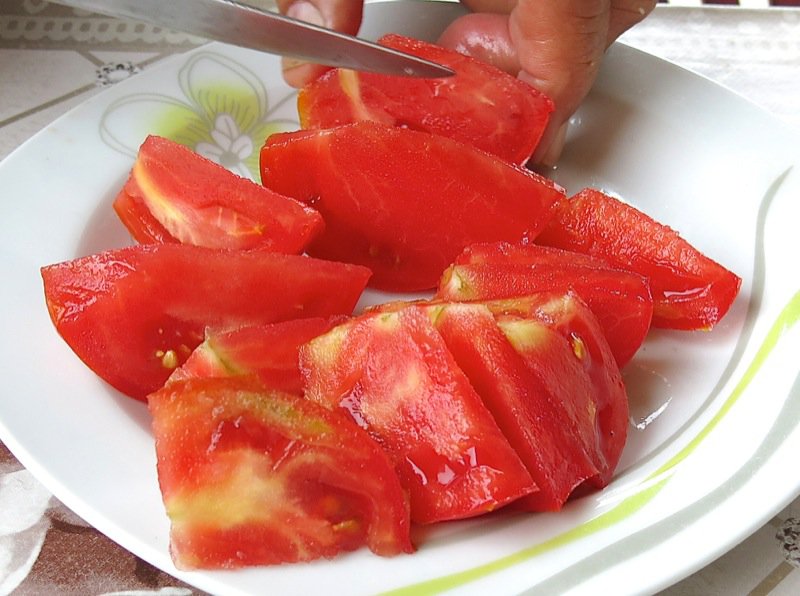 Well, sometimes we don't have breakfast at all.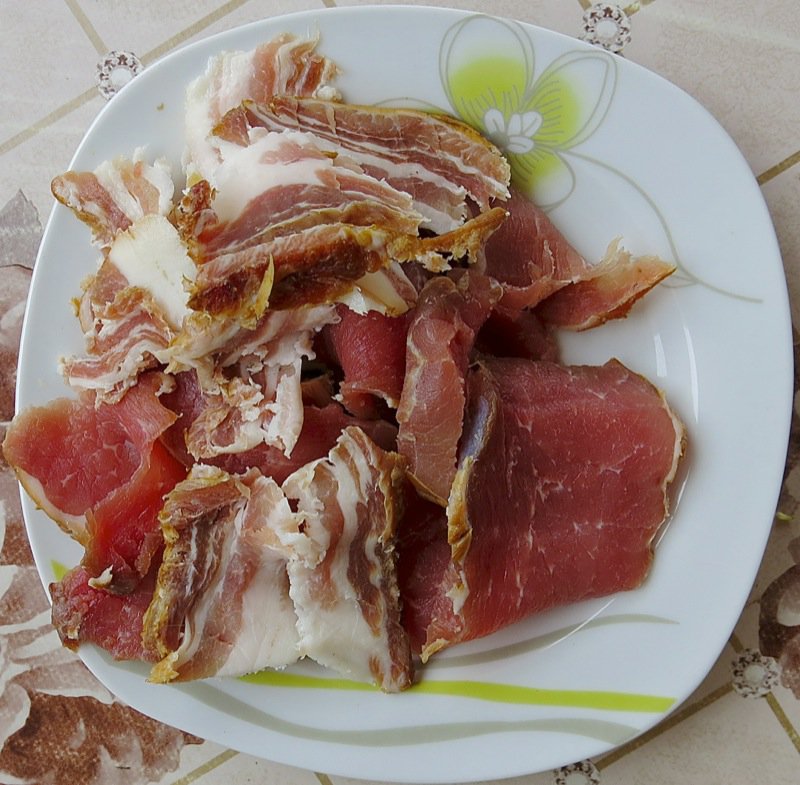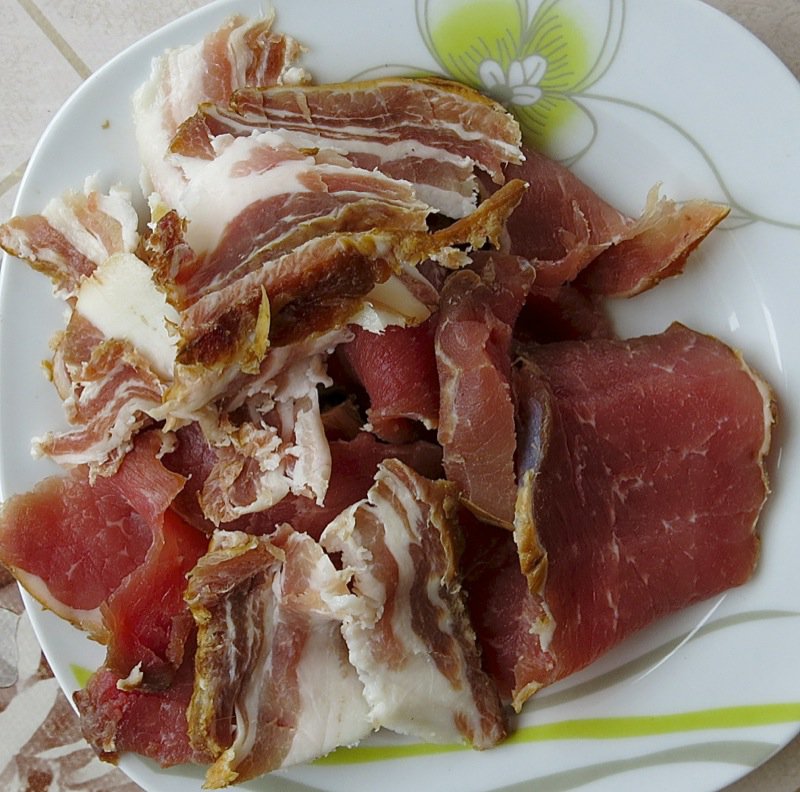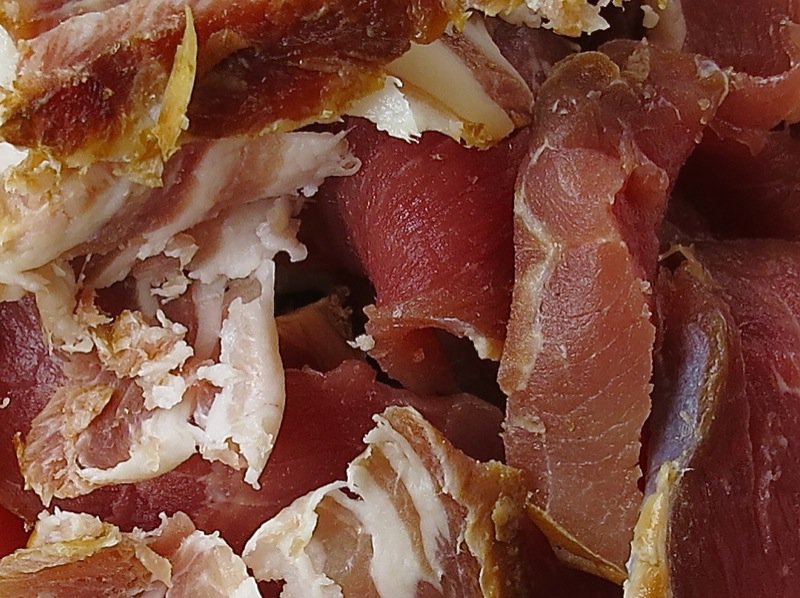 Mmmmmm…. I can just smell that. I am convinced that a Serbian "au de cologne" in Smoked Sunka fragrance would sell like crazy. Here, at least!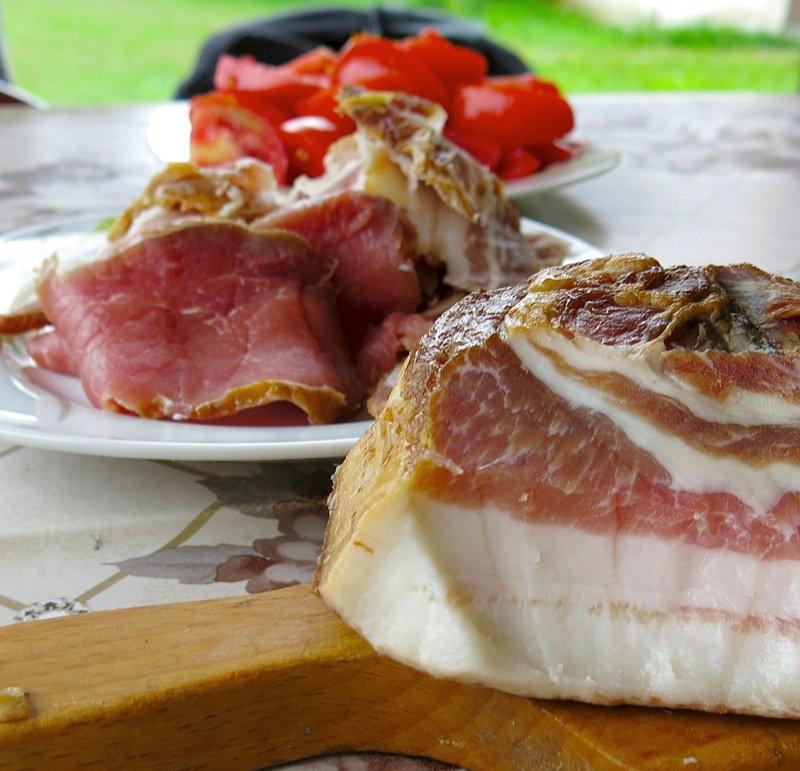 But, when we do have breakfast, or a snack before bed, or the middle of the day – this is what we eat when we are at this "home".