A swoon worthy humble fall dessert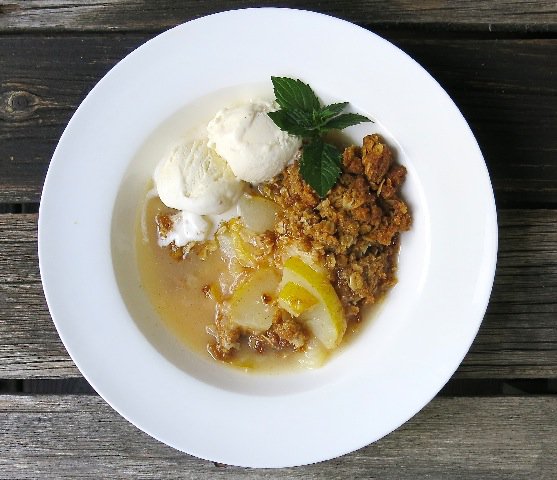 I am not sure what year it was, but Ragan was a baby and I lived in Lethbridge at the time. It was pear season, and I got a case or two of everything in those days for canning. We lived in a low rental complex. I washed and waxed my floors every week. There wasn't a corner of that dilapidated townhouse that wasn't immaculate. I can still feel the crisp fall air as it moved in and settled upon that small city at the time: brisk, cool, invigorating. Ah! Apple Crisp season, yet I had a kitchen full of pears. Why not?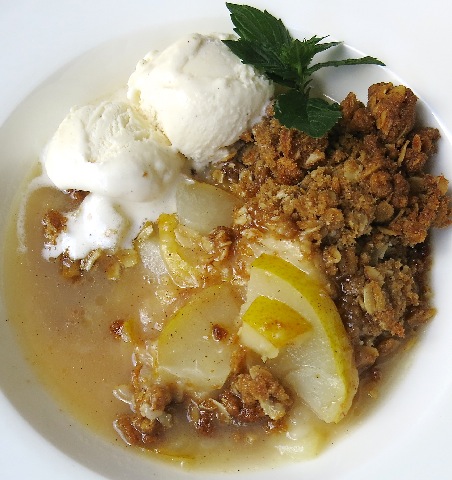 Baby sleeping, I washed, cored, sliced and whipped up the crisp in no time flat, as the pears didn't need peeling. They were succulent, sweet, juicy and filled with the perfume of the late summer orchard. While it baked, I made supper and watched the toddlers outside my kitchen window riding their tricycles, moms sitting on porch stoops chatting as all waited for daddies to come home. I don't recall what I made for supper, but I have never forgotten my first pear crisp.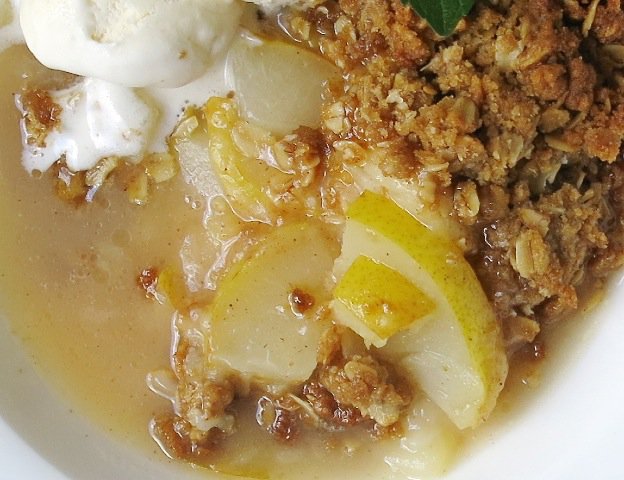 Why is the Apple Crisp the iconic Canadian prairie dish that signaled fall was in the air? The pear crisp was the best thing I had ever eaten and is still the very best dessert ever at this time of each year. Oh, My. Goodness. The warm steamy intoxicating juices from the pear coupled with the buttery crisp topping bits swimming in thick cold cream from the melted scoop of vanilla ice cream. Heavenly day. I was a genius. I had just created the most simple dessert from a classic recipe that was going to rock the planet. At least my corner of it. And to this day, each year, this dish still rocks my little corner of the world.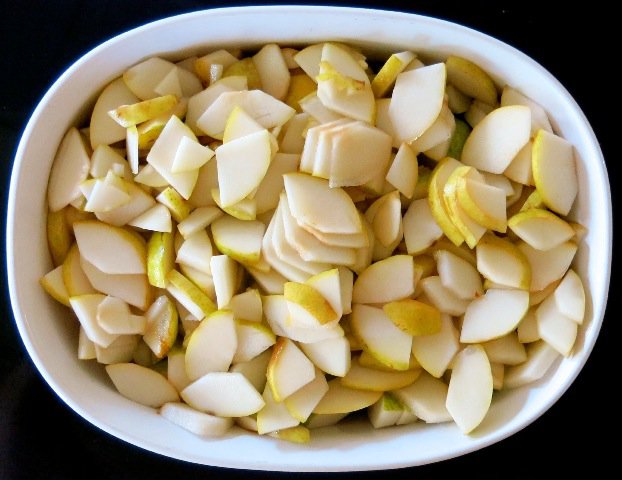 Lots of pears.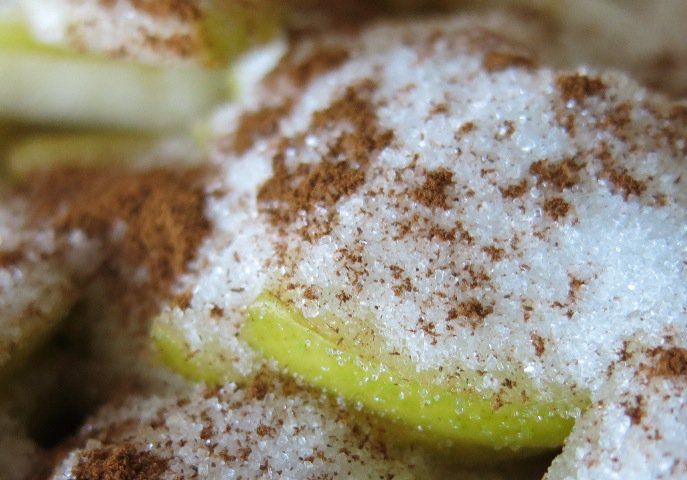 If they are ripe, they are sweet, so don't overdue the sugar or the cinnamon – but add both.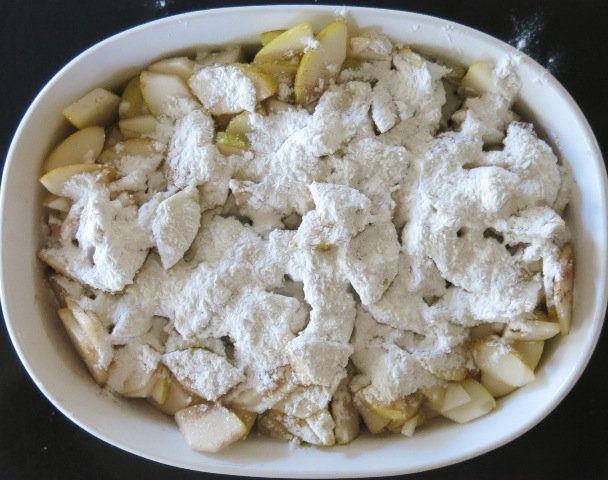 Pears are juicier than apples, so a little more flour than you would add to an apple crisp.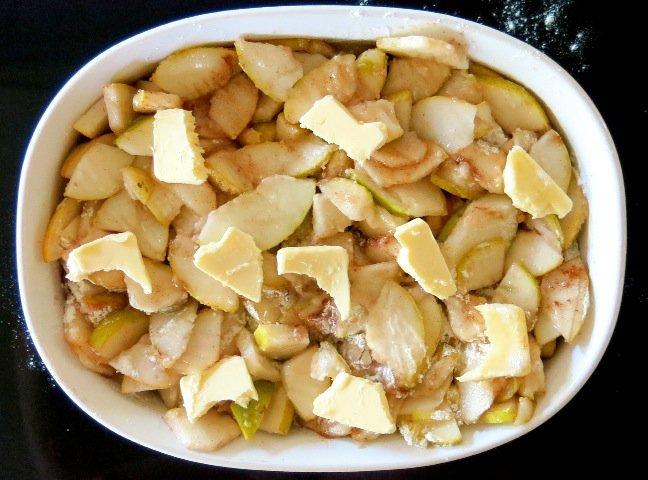 Mix it all in and do dot the butter on top. Butter, flour, sugar and pears….. mmmmmm……. thick luscious perfumed sauce to-die-for. Seriously.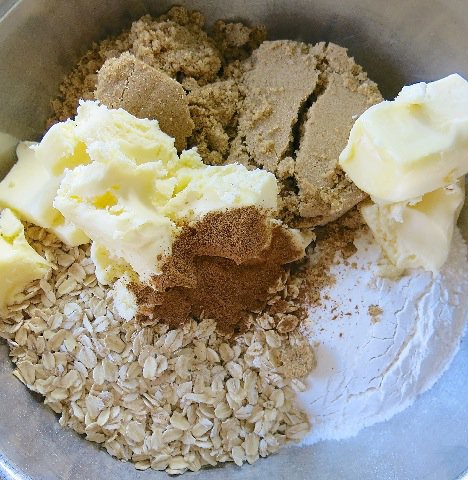 Work the four simple topping ingredients together with your fingers until there is a crumble in the bowl.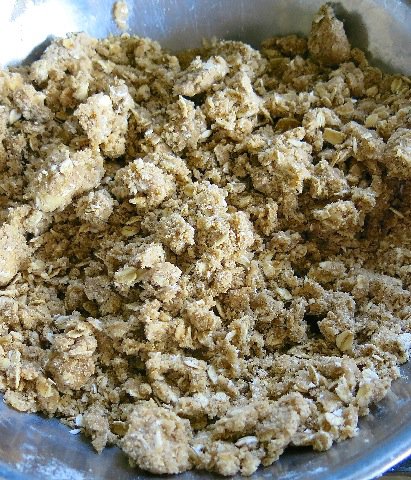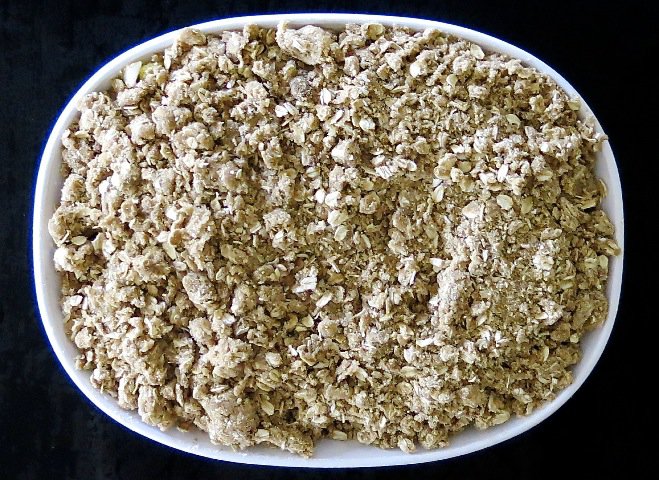 Cover the fruit. Do not push the topping into the fruit or pat it down…. just cover the fruit generously and completely with these crumbs that will become crispy buttery golden nuggets of flavour.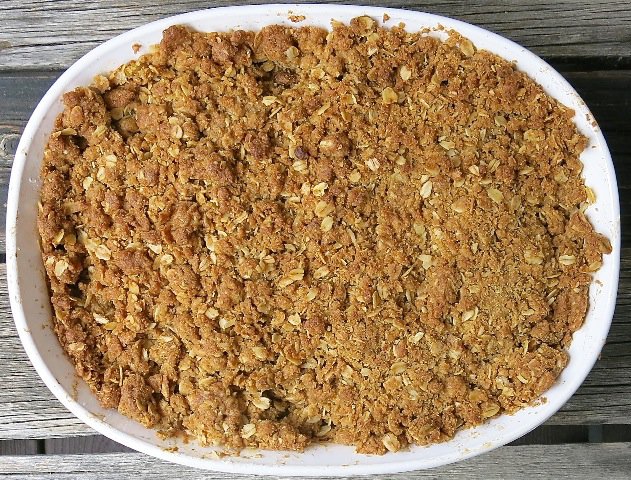 I didn't actually use the entire topping recipe. There was about 1/4 of it labelled and frozen in a zip lock bag for another day.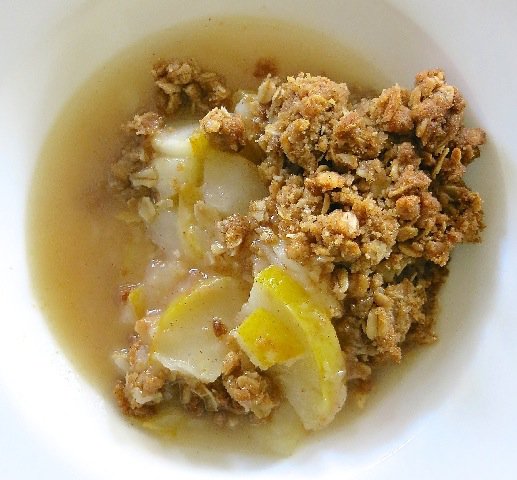 How can such humble ingredients create such a dynamic impact? Well, that is often how it is, when I think about it. Humble is home.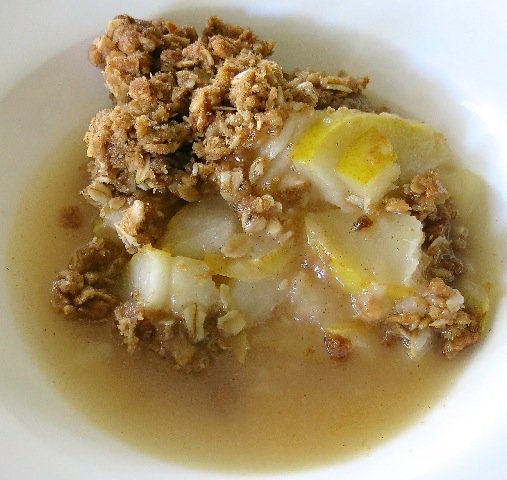 If you make it, please share your experience with us here. If you have made pear crisp before, I want to hear all about it. You can see, I clearly feel like the inventor of this entire recipe, idea and even movement. That's what it really is. The Pear Crisp Movement, no? Are you in?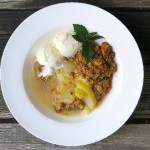 Bartlett Pear Crisp


This crisp must be made at the height of pear season and is a swoon worthy humble fall dessert; if you have only tried the apple crisp, now is the time to make this Bartlett Pear Crisp Recipe, It is phenomenal! You will have a new family favourite, guaranteed!
Total Time
1
hour
10
minutes
Ingredients
Ingredients for the Filling:
15-16

medium to large Bartlett pears

, washed, cored, and sliced (no need to peel)

3/4

cup

granulated sugar

1/3

cup

all-purpose flour

1

tsp

ground cinnamon

9

teaspoons

butter
Ingredients for the Topping:
1

cup

all-purpose flour

1 1/2

cup

packed brown sugar

2

cups

rolled oats

1/2

cup

unsalted room temperature butter
Instructions
Instructions for the Filling:
Combine all ingredients, except the butter, and place into a well buttered casserole dish

Dot teaspoons of butter on top
Instructions for the Topping
Preheat oven to 350ºF, lining oven with foil, or place a cookie sheet with parchment under the wrack to catch any boiled over bits if your dish isn't deep enough

Combine flour, sugar, rolled oats and butter. Mix well with fork or fingers and sprinkle over pear slices, leaving cracks for steam to escape (do not press crumbs into slices)

Bake at 350ºF until golden brown, about 45 - 55 minutes

Serve warm with vanilla bean ice cream and a sprig of fresh mint from your garden (extra delish with the mint!