Inspired by Tracy Zizek and Maria Iocobelli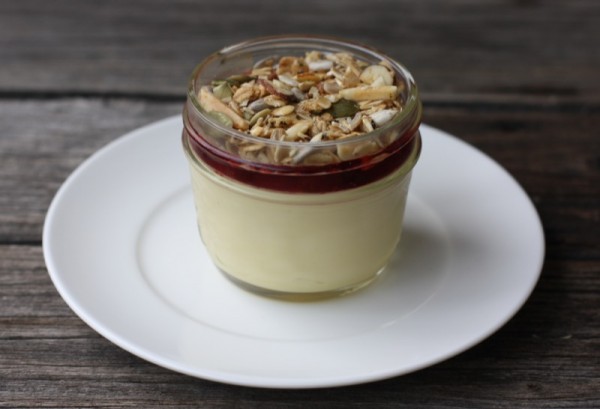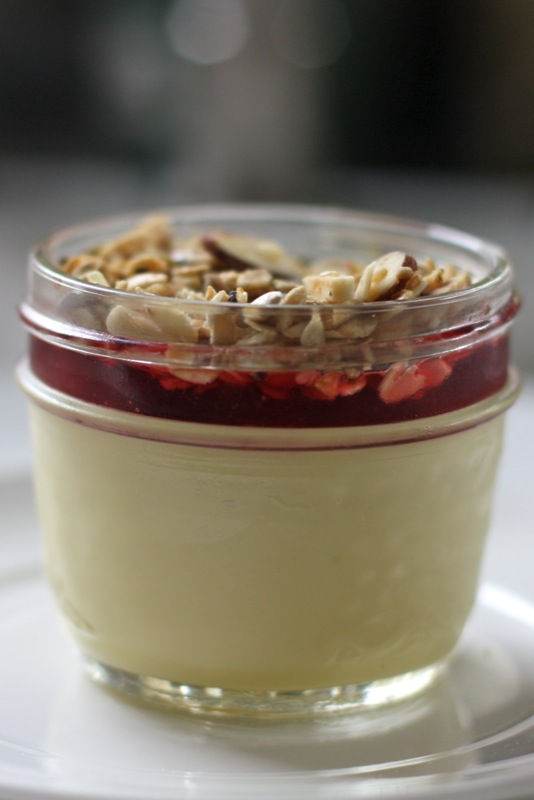 How better to present a Canadian prairie dessert than in a canning jar? When Tracy Zizek, Pastry Chef and owner of Caféde Ville, and Will Kotowicz, a creative young chef currently honing his pastry skills at the Duchess Bakeshop, presented their Zuppa Inglese, a gorgeous and refreshing dessert, at the Roots Boots and Garden Shoots Slow Food Canada fundraising gala, I thought: brilliant. Until that meal, I had never seen this presentation for a dessert. The honeyed Saskatoon's goat milk custard, rhubarb and ice wine preserve, streusel topping and spiced shortbread cookie was a sensation. I was inspired!
This is my inspiration!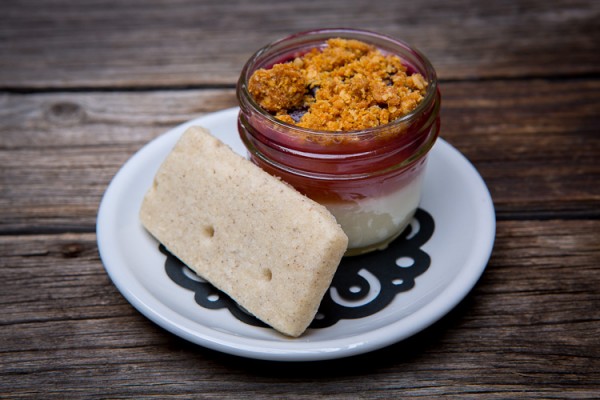 When Maria Iocobelli brought this lustrous, silky, bowl licking cheesecake to our next Slow Food Edmonton executive meeting, I was motivated!
And when Vanja announced guests for dinner Saturday right after I had made ricotta, crème fraîche, and my first mozzarella ever, I decided to make it happen. Now was the time. And, this is what I created.
This is a completely original recipe with all completely homemade and local ingredients except the lemon and some of the seeds and nuts in the granola. It is delicate and delicious without any topping at all.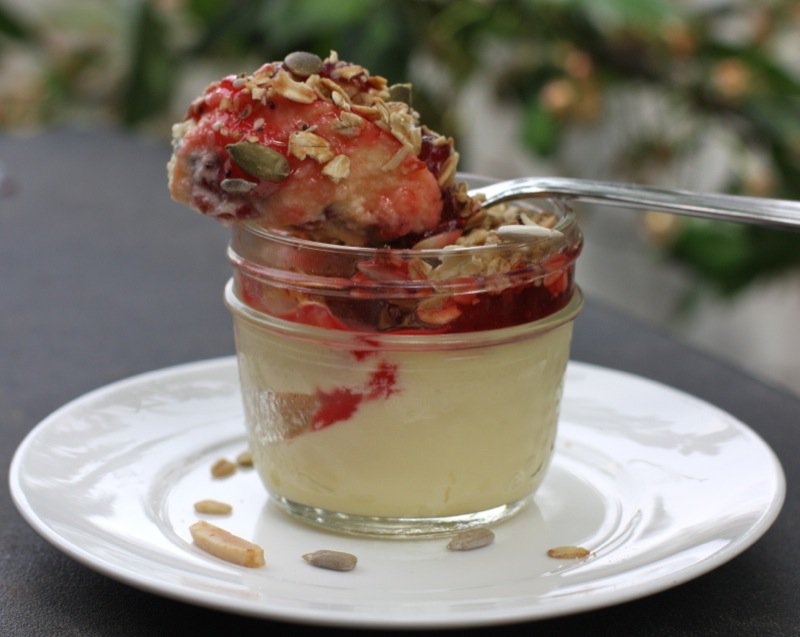 Prairie Pudding in a Jar
Ingredients for the pudding
Ingredients for the Topping:
Instructions for the pudding:
Preheat oven to 325ºF
Beat ricotta with a mixer on medium speed until smooth; add honey
Beat on medium speed for 3 minutes more; reduce speed to low
Add eggs, 1 at a time, beating well after each addition
Raise speed to medium; add crème fraîche, lemon juice, and 1/4 teaspoon salt
Beat for 3 more minutes
Divide batter among twelve 1/2 cup jars, filling each two-thirds full
Transfer jars to a deep baking dish or pan; add enough boiling water to dish to reach halfway up the sides of the jars
Cover dish with loosely foil; bake until set in the center: about 25 minutes
Cool; refrigerate overnight to set
Instructions for the pudding using the Thermomix:
Preheat oven to 325ºF
Scale ricotta into the TM bowl with the butterfly set into it; 1 minute at speed three
Add honey and set time for 20 seconds at speed 2 -3
Add eggs, 1 at a time during 30 seconds at speed 2-3
Add crème fraîche, lemon juice, and 1/4 teaspoon salt; continue for another 30 seconds at speed 2-3
Divide batter among twelve 1/2 cup jars, filling each two-thirds full
Transfer jars to a deep baking dish or pan; add enough boiling water to dish to reach halfway up the sides of the jars
Cover dish with loosely foil; bake until set in the center: about 25 minutes
Cool; refrigerate overnight to set
Instructions for the Topping:
Stir together rolled oats and butter; bake on a parchment-lined baking sheet for 10 minutes
Let cool; top each cheesecake with 1 tablespoon plus 1 1/2 teaspoons preserves
Divide graham topping among jars (about 1 heaping tablespoon each) just before serving
Note: You can even reverse the ricotta and crème fraîche amounts in the recipe for a slightly different experience, depending upon what you have on hand in your pantry