Inspired by Calgary's own Crispy Ginger Beef with a DYNAMITE GIVEAWAY!

Double the sauce to double your fun. One can never get enough sweet, sticky, sour, savory, ooey-gooey garlicky ginger sour cherry sauce. Bet you've never had it before. Now is the time. Pucker Up 2014 and @choose cherries! As you know, I am a fan of my Evans Sour Cherry Tree and have a blast each season creating recipes from the fresh fruit and all year long with the frozen jewels stashed in my freezer.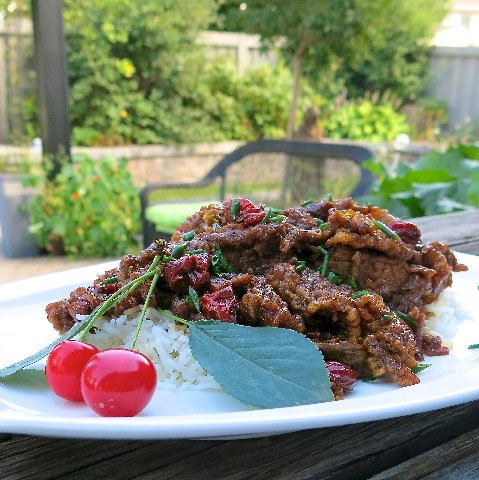 And how did this concoction come about? I had a vision. An epiphany. A brilliant idea! (Me thinks, anyway…)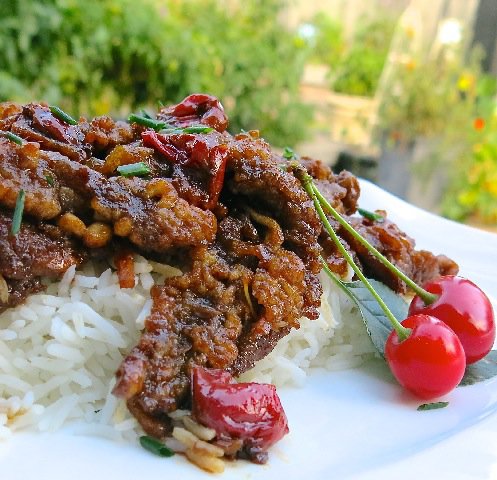 Motivated by the opportunity presented to me by The Cherry Marketing Institute to develop three recipes for them this year, I tried to think out of the box, yet focus the series to fit into our Canadian prairie food culture. Concocting new creations with what grows in my own garden is a personal passion. I have shared here, publicly, my 5 year love affair with my own sour cherries from my Evans Cherry tree and the recipes I have served my family. I confess, developing recipes for The Cherry Marketing Institute heightened my creativity. I am tickled pink with this recipe. It is absolutely finger-licken' lip-smackin' and "Please, sir, May I have some moe" good.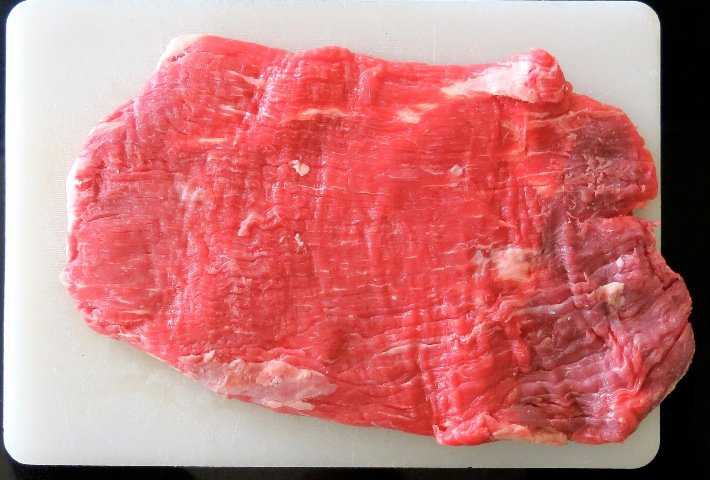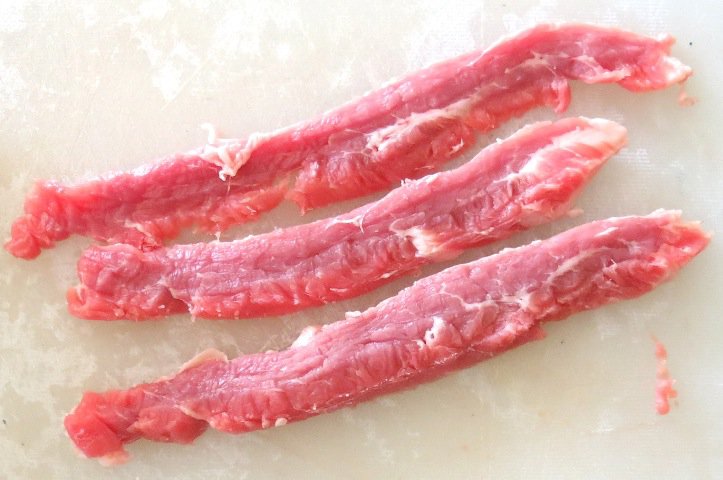 Got to start with good know-your-farmer Alberta Beef. Brisket would work. I used flank steak, cut very thin, on the bias. This used to be a poor man's cut. I do buy my beef by the side, but did purchase this separately at a store for this recipe and both Vanja and I were stunned at the price of this cut! 28 Canadian dollars a kilo. Am I over reacting?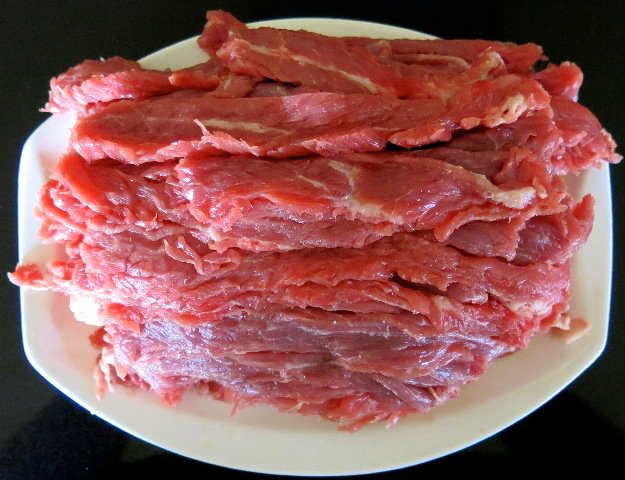 It was a beautiful piece of meat. The slivers cut on the bias will be so tender and flavourful because Alberta beef is simply the best. It's not just about the terroir, but that is a good part of it.
Batter and Deep Fry the Beef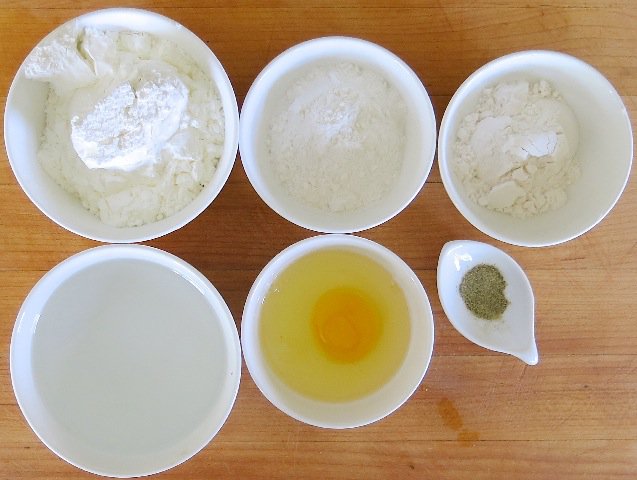 Mis en place for the batter. This will blow you away. It is 1 cup of corn starch and 1/4 cup of rice flour with only 3 tablespoons of regular flour. That is not a misprint and that is my own ratio for the crispiest batter ever! The corn starch and the rice flour – either, actually – added to any batter will heighten the crispy factor. And this batter? Well, earth quake index watch worthy.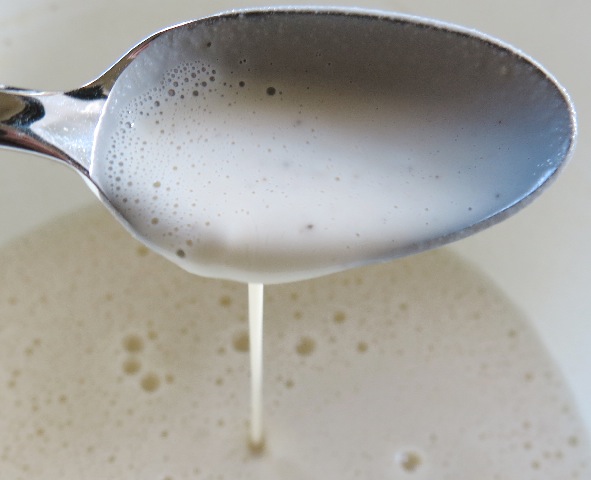 It is a very thin batter. That is the point: crispiness.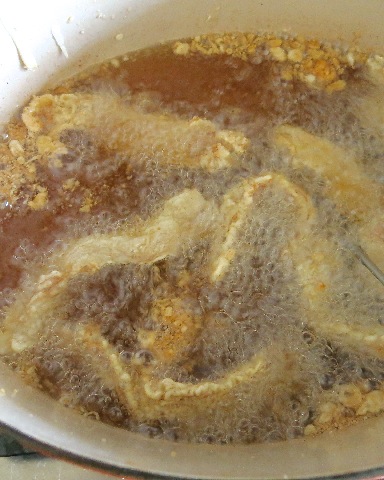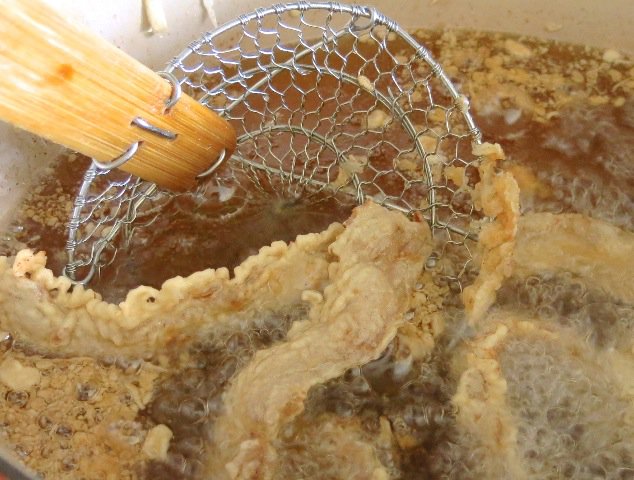 Do not worry about the beef not frying to that golden brown crisp coating one sees on TV commercials. The Sour Cherry Ginger Sauce will take care of all of that.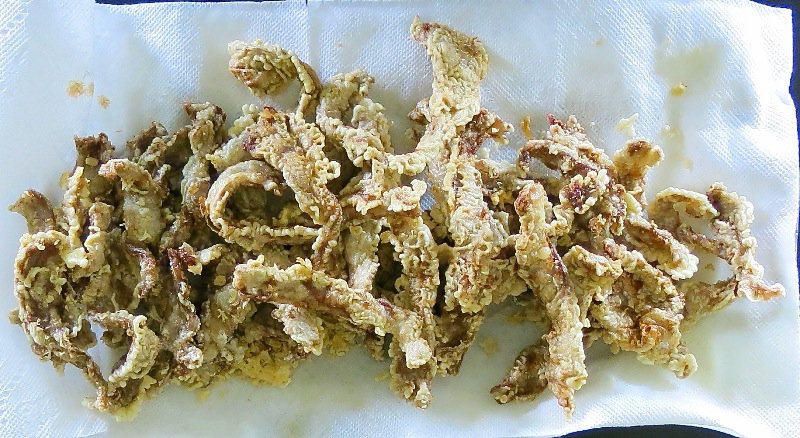 The shards of beef may look rather anemic at this point, but they are really crisp. I actually make the sauce first, and then fry the beef so that the sauce is bubbly and hot when the deep fried crispy beef goes into it – a toss, and the meal is served. That way, the crunch is unforgettable. My own personal taste prefers the crispy batter to bask in the sauce, absorbing the complex sweet sour-tart-savory combination. Mmmmmmm.
Sour Cherry Ginger Sauce Photo Essay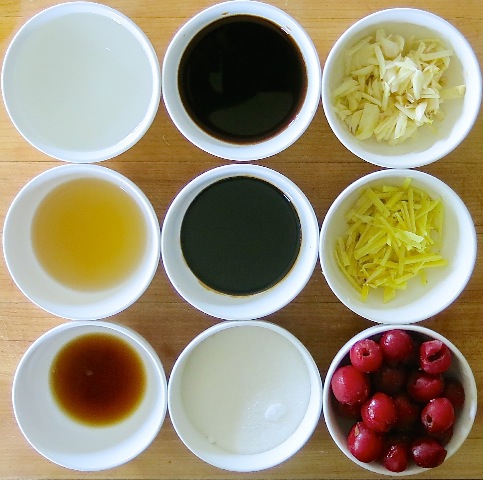 Mis en place for the Sour Cherry Ginger Sauce, vertically, from left to right: water, rice wine vinegar, Chinese cooking wine, soya sauce, mushroom soya sauce, sugar, garlic, ginger and frozen sour cherries (three times the amount of cherries shown).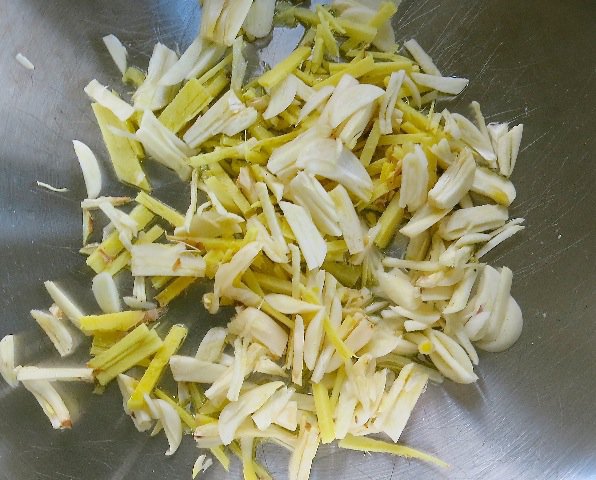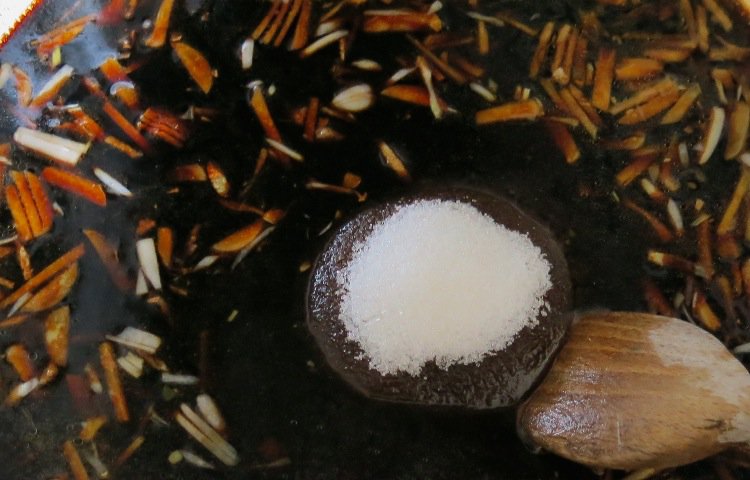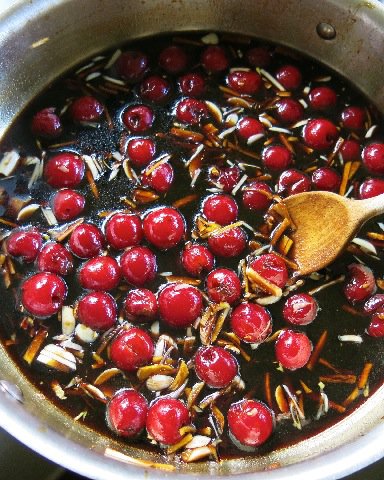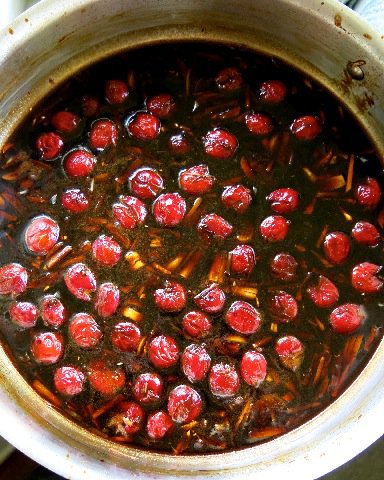 Stirfry the shards of garlic and ginger for about 30 seconds on high heat. Add all liquid ingredients. Add the cherries, and boil for 2 minutes. That is the extent of it. However, there is a lot more to say about this incredible sauce than there is to do when you make it.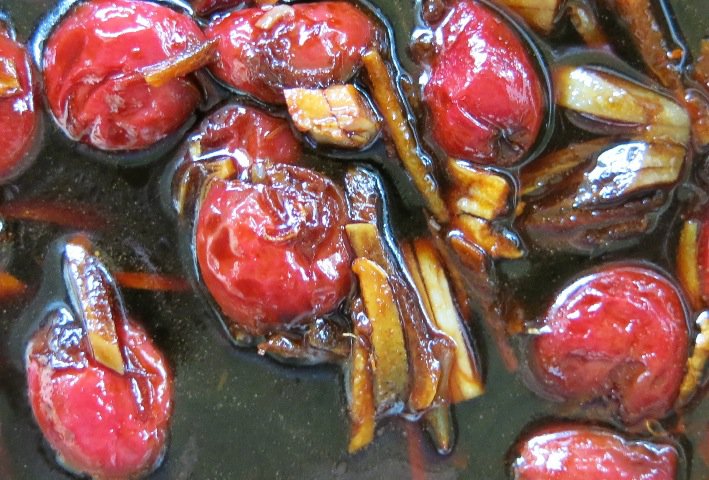 The above photo is not enhanced in any way. Vanja said, don't use it; you have altered it too much! That's the thing about sour cherries. They are so brilliant and perfect that they are very difficult to photograph, even in this sauce, just boiled for the 2 required minutes. Why cherries? Though I usually make sweet recipes with my cherries, I tend to love these with cheese and other savory bites. Their tart flavour profile does provide an opportunity to use this fruit in both sweet and savory recipes, fresh, frozen and preserved. And, did you know that tart foods are trending? This was news to me until I did my research to prepare these recipes for The Cherry Marketing Institute. People are refining their dining, clearly pining and whining for change – and tart is it. Certainly, the flavour profile of these cherries could not be better matched than with the ginger, garlic and Asian sauces used to create this powerful pucker up punchy compliment to the crispy ginger beef.
Putting the Sour Cherry Ginger Beef Together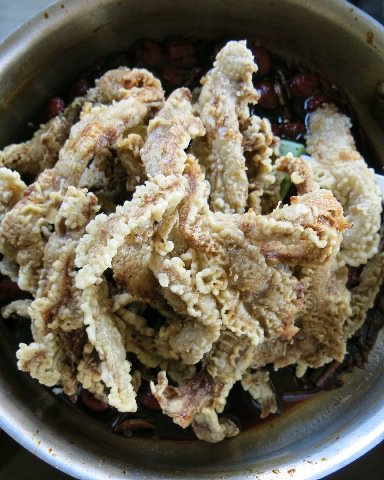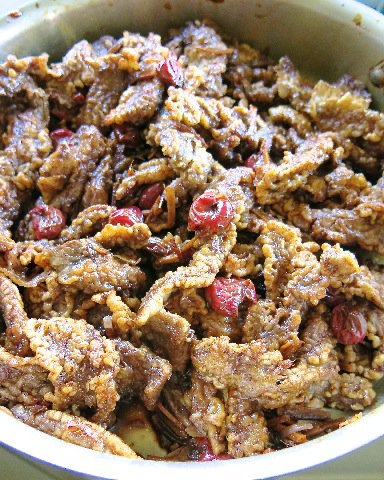 Toss shards of crispy fried beef into the Sour Cherry Ginger Sauce. Toss and toss and toss, until each strip is completely covered with the sweet and sour cherrilicious delicious creation.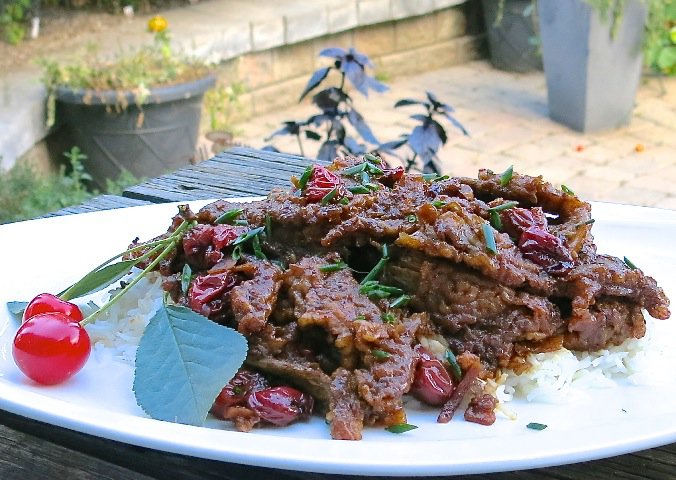 You all know that Vanja is not easy to please. One bite, eyes lit up, smile radiating. "YUM! You nailed it!" Ragan came home from work, dug in, "Mom, this has so much flavour. How did you think of it?" Happy family, happy momsey. And these cherries are good for us, too! There are phytonutrients inside. These "thingies" aren't essential for keeping you alive, unlike the vitamins and minerals that plant foods contain, but when you eat or drink them, they assist in keeping your body working properly.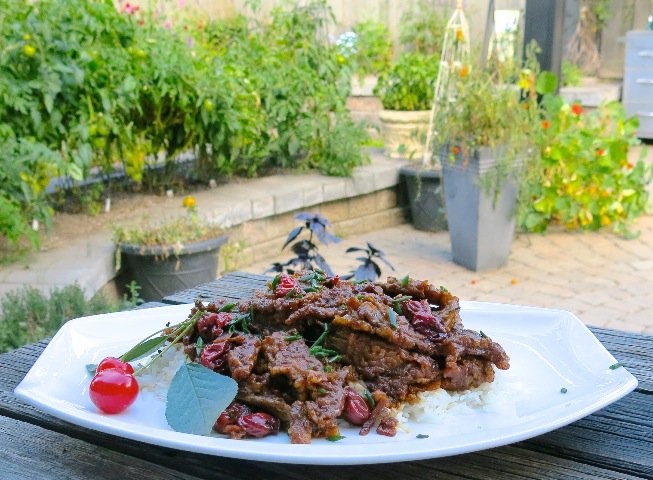 Did you also know that sour cherries now being touted as a superfruit? Makes sense, really. They contain anthocyanins which is a flavonoid that contributes to their bright red color and distinguishing taste that may possess preventative and therapeutic roles in a number of human diseases. To know they are good for you as well as delicious is a bonus, no? They do pack one powerful punch of flavor and that is why this recipe is so inspired. Brilliant perfectly round glistening translucent candy apple red earrings growing in massive clusters on trees does inspire brilliance.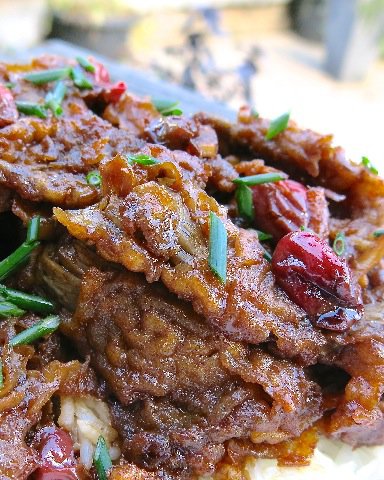 Can you taste it? I sure hope you take the time to make this recipe and tell me about it. Frozen sour cherries are available right now in our local farmer's markets in Edmonton. If you know where to access them in your own community, please chime in below, to share that information with my readers so everyone can be enjoying Sour Cherry Ginger Beef this weekend!
If you are visual, this is the accurate amount of cherries in the sauce: one and a half cups (and a little more for good luck)!
Follow Valerie's board Sour Cherry Season and Recipes on Pinterest.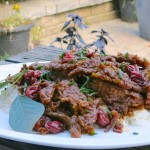 Sour Cherry Ginger Beef
Sour Cherry Ginger Beef created for Pucker Up 2014 was inspired by Calgary, Alberta's Crispy Ginger Beef recipe, but with a sour cherry sauce which creates a dynamic dish! Finger lickin' and lip smackin'!
Total Time
1
hour
30
minutes
Ingredients
Ingredients for Crispy Fried Beef:
1

pound

"know-your-farmer" flank steak

, sliced thinly against the grain

oil for deep frying
Ingredients for the batter:
1

egg

1

cup

water

1

cup

corn starch

1/4

cup

rice flour

3

tablespoons

wheat flour

½

tablespoon

white pepper

2-3

cups

oil for frying beef
Ingredients for Sour Cherry Sauce:
1 1/2

cups

frozen or fresh sour cherries

, pitted

6-8

large cloves garlic

, finely julienned

hefty chunk of ginger

, size of two thumbs, (same amount as garlic), finely julienned

¼

cup

light soy sauce

2

tablespoons

rice wine vinegar

3

tablespoons

mushroom soy sauce

1

tablespoon

Chinese cooking wine

½

cup

water

¼

cup

sugar

(or ½ cup if you like it sweet)

½

tablespoon

or more crushed chilies

, if you like heat
Instructions
Instructions for Crispy Beef Batter:
Combine all ingredients, toss beef in batter, a strip at a time

Deep-fry strips of beef, a few at a time, until crispy; set aside
Instructions for Sour Cherry Ginger Sauce:
Stir fry ginger and garlic in a little oil for 30 seconds, until aromatic; add liquids, then sugar, then sour cherries

Bring to boil for 2 minutes; remove from heat

Add beef; stir to coat completely with sauce

Serve immediately over fragrant rice with extra sauce
Recipe Notes
For the a darker complexity to the sauce and presentation, keep warm for 1-2 hours until the dark deep flavour and colour has permeated the entire dish; the sauce will thicken during this time and the beef will no longer be crispy, but be prepared for a serious addition, here!
The Grand Prize Tart Cherry Giveaway from The Cherry Marketing Institute for US and Canadian Readers!
representing Canada's tart cherry growers and processors!
The DYNAMITE giveaway includes the following:
Tart cherry juice
Dried tart cherries

The Deets for the Cherry Marketing Institute Giveaway August 28 to September 15, 2014.
Winner will be announced September 15, 2014 at midnight. Contest closes at 6 pm that same day.

The Deets:
arrangements will be made for the prize package to be mailed to your door
contest will close at 6 pm September 15, 2014
the winner will be announced via September 16, 2014, and I will attach the name to the bottom of this post with congratulations immediately upon selecting the winner.
all names will go in a hat (this is the way we do it at our house) and my husband will draw the winner; each name will go in for each entry as outlined below
yes, you can enter your name more than once (read below)
To enter the contest, you must do #1 or #2; the other ideas are opportunities for extra entries:
Write a comment about your personal experience with sour cherries on this post, or either of the other two sour cherry recipes that I am developing for the Cherry Marketing Institute (favourite recipes, include the link; favourite products, etc.)
OR write a comment about a great recipe you found over at Choose Cherries with the link, instead. (Check it out; there are some incredibly inspiring recipes there.)
Follow me on Twitter: has to be a new follow to count, sorry
Follow Tart Cherries on Twitter @choosecherries, also has to be a new entry to count
Tweet the contest and include @acanadianfoodie and @choosecherries in the tweet so I can count it as an entry in the draw; you can tweet daily (each tweet counts as an entry into the draw):

sample tweet (you can use) here:

Great prize from @choosecherries over at @acanadianfoodie Pucker Power Series 2014! DON'T miss out! #tartcherriesrock http://wp.me/p2OMxc-fMX
Like my Facebook page: (and I am talking the page, not this post) has to be a new "like" to count, sorry
Like the Tart Cherry Facebook page: has to be new to count
BONUSes: You can get THREE entries if you share the link to this post and this contest on your own personal Facebook page and include "Valerie McKinney Rodgers Lugonja" in that post with the link AND/OR FIVE entries if you sign up for my weekly newsletter here: Scroll down to choose "Saturday morning news" and I will see your name
NOTE: please make sure you leave an e-mail with your comment below so that I can reach you to let you know if you are the winner, otherwise, you will not win!
That's an opportunity for A LOT of entries. I hope you take advantage of this opportunity as I KNOW this prize is definitely worth it.
Disclaimer: Have you figured out that this is a sponsored post, yet? It is. Thanks to the Cherry Marketing Institute for the opportunity to develop these recipes and introduce my readers to my Pucker Up 2014 Series.