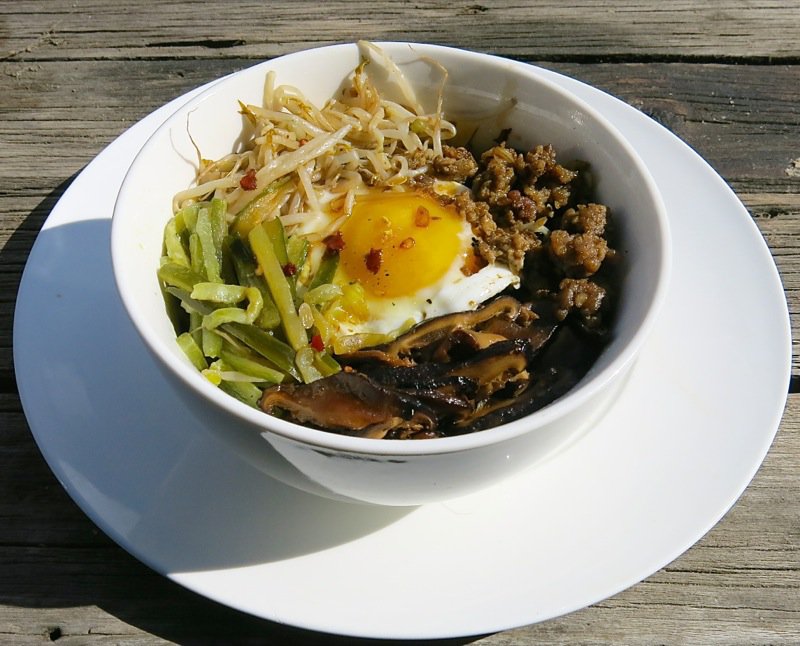 Subscribe to Chef Butler for 35 dollars a month and receive a carefully curated box shipped on the 10th each month, delivered to you door, filled with the highest quality of non-perishable ingredients for two to three unique recipes. Make a globally inspired meal with your own fresh, local ingredients and the help of Chef Butler. I did. It was such great fun, even all by myself!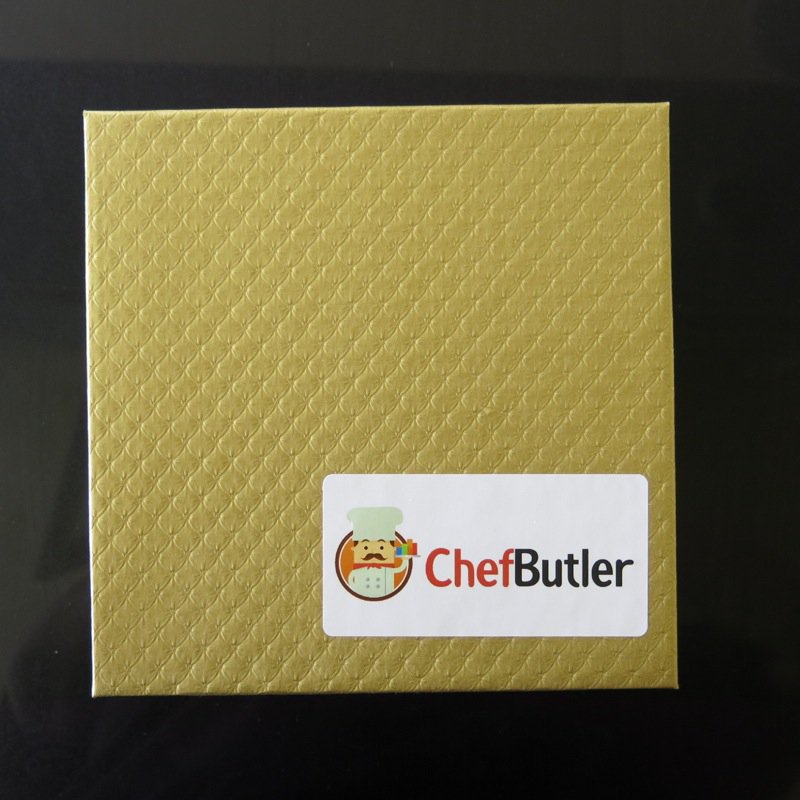 I had no idea what to expect. The box appeared. Heavier than I thought. Unwrapped, a golden square box beckoned.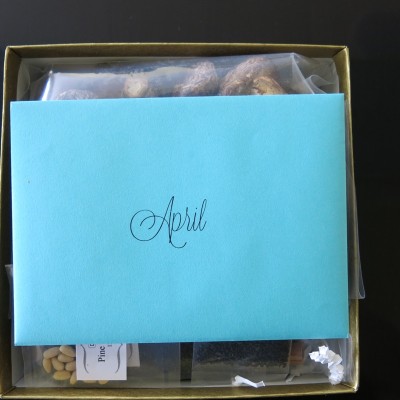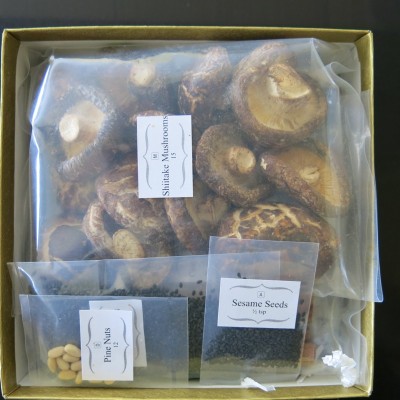 Beneath the lid, what a delightful package of individually wrapped, very carefully labeled treasures, the three recipe cards and my shopping list.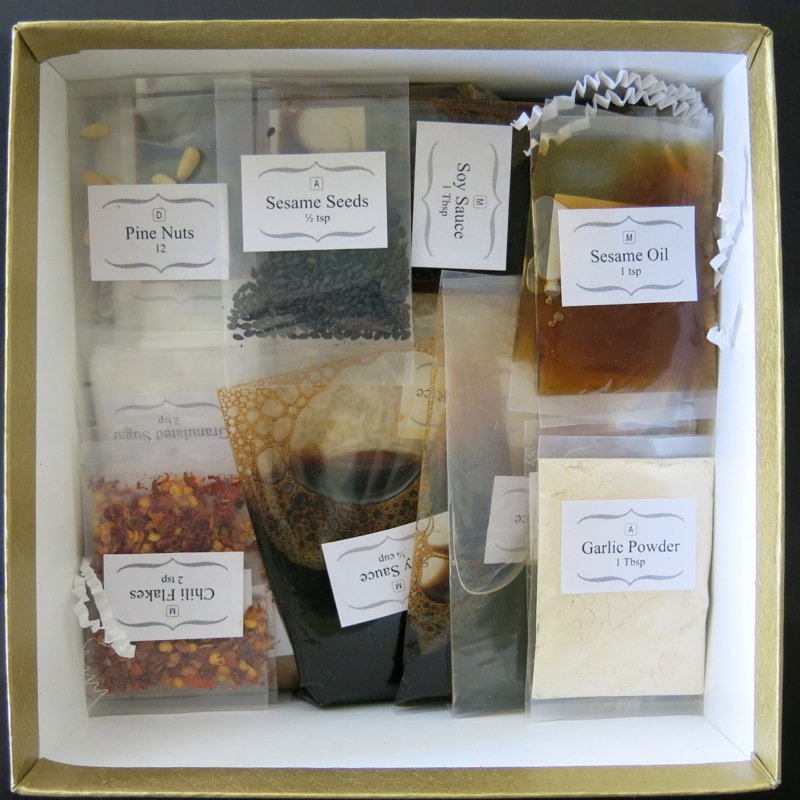 Talk about mis en place! I can get into this!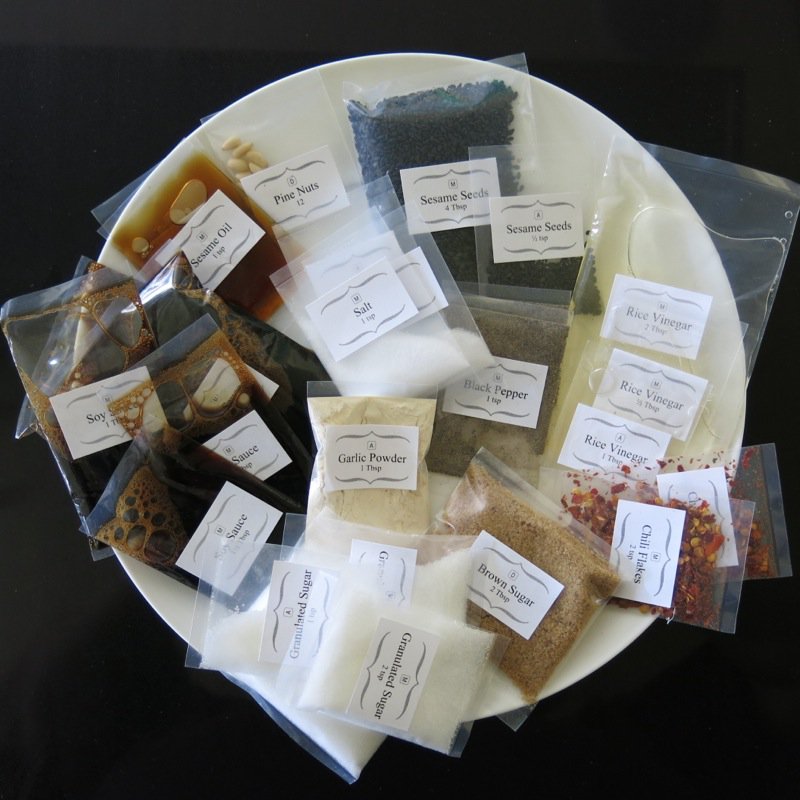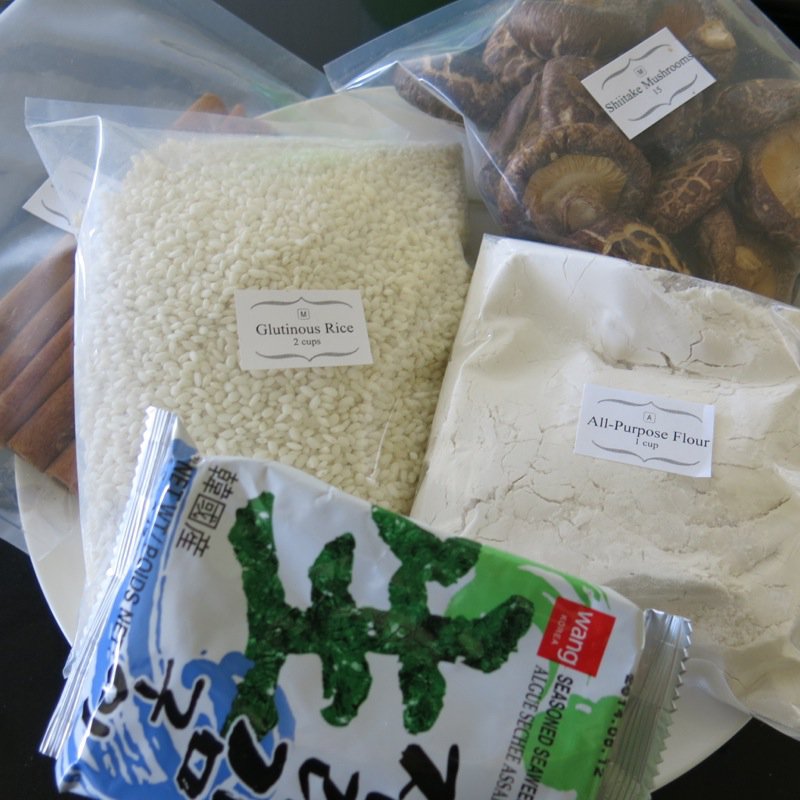 Remember the commercial: "How do they get the caramilk into the Caramilk Bar? That was my question examining these teeny perfectly measured packages. How did Katie and her team ever manage to do this? What a beautiful idea for a gift! And SO affordable!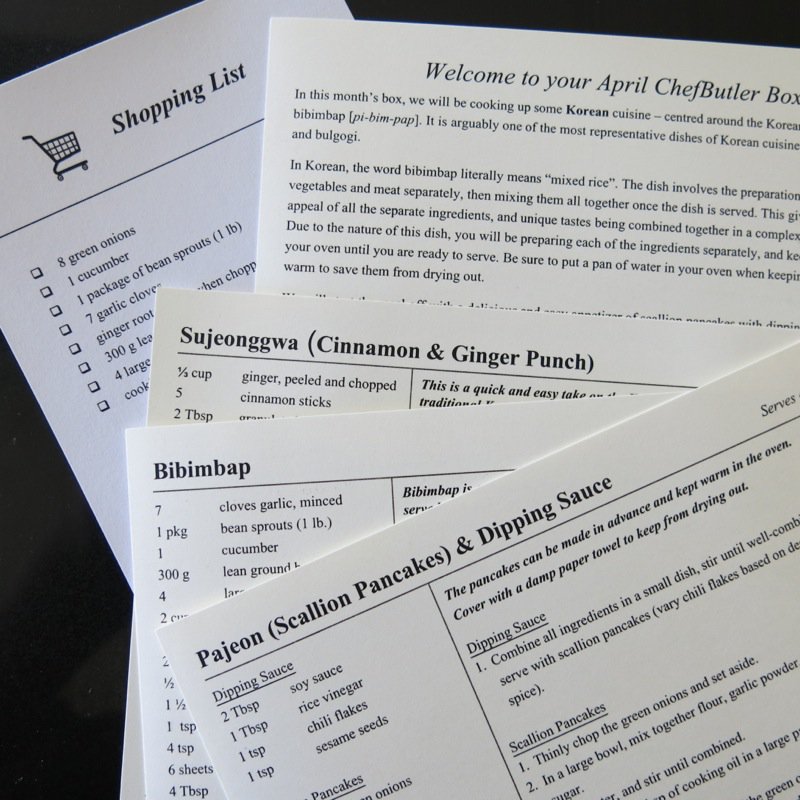 All prices include shipping and taxes, so there won't be any surprise charges. For me, the big sell is that I can get a box monthly to make a global meal that will widen my culinary horizon and still use my own fresh local ingredients! Brilliant! And, Canadian. Oh, Canada! Sadly, for the rest of you, but at the present time, only for Canadians. As you can see, this month was the Korean box:
Sujeonggwa: Korean Cinnamon and Ginger Punch
Pajeon: Korean Scallion Pancakes and Dipping Sauce
Bibimbap
I had never heard of scallion cakes and had never eaten Bibimbap – and that is the whole point. Without searching for hard-to-find ingredients, or having to buy containers of might-use-only-for-this-recipe ingredients, I get to the opportunity to try the flavours of a global cuisine out and see my family likes it.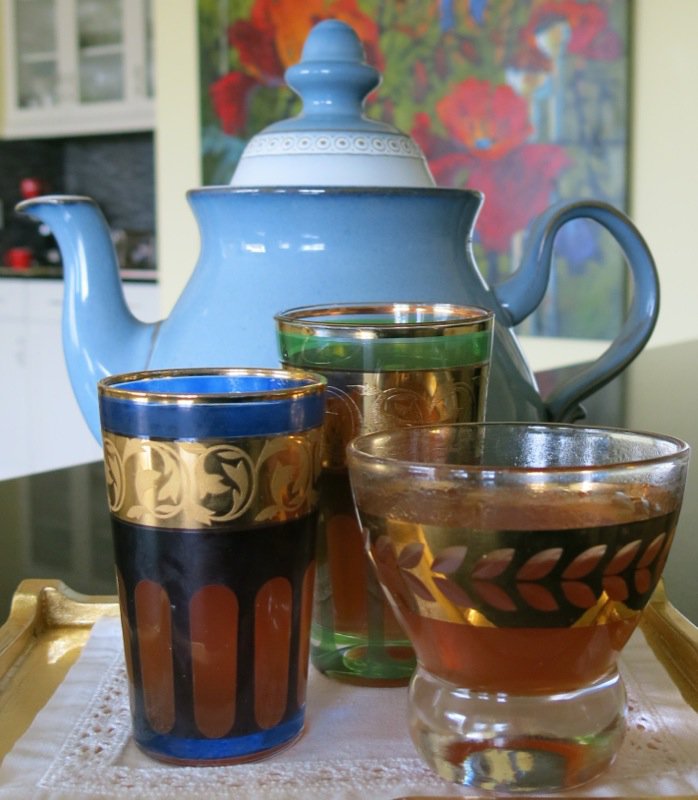 Sujeonggwa or the warm Korean Cinnamon and Ginger Punch is outrageously delicious, yet was first made out of simple obligation. I had the ingredients and the recipe, so I made it, but I have always really loved, ginger, so I didn't mind. If I had the remotest idea that it was this easy to make such a soothing concoction, I would have been making it for years. Be prepared. If you are a personal friend, this is the new drink of the season at our house. You will definitely be offered what I call Homemade Ginger Tea. This was a huge hit! Yes, even with Vanja.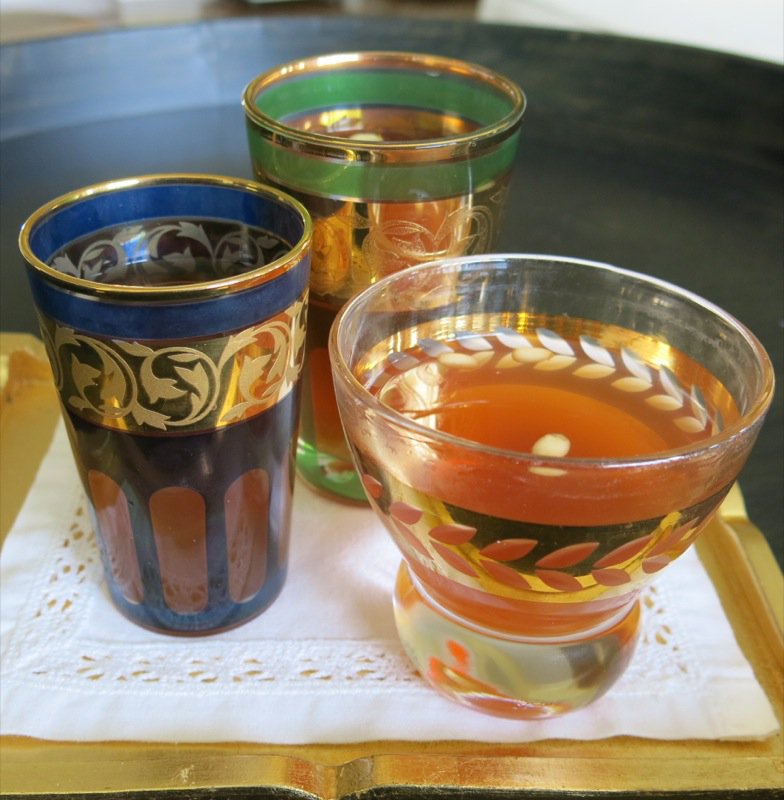 Isn't the colour of the tea beautiful? The spicy arousing fragrance fills the room and brings the family to the kitchen on a quest. There are three little pinenuts floating on top to add interest and appeal.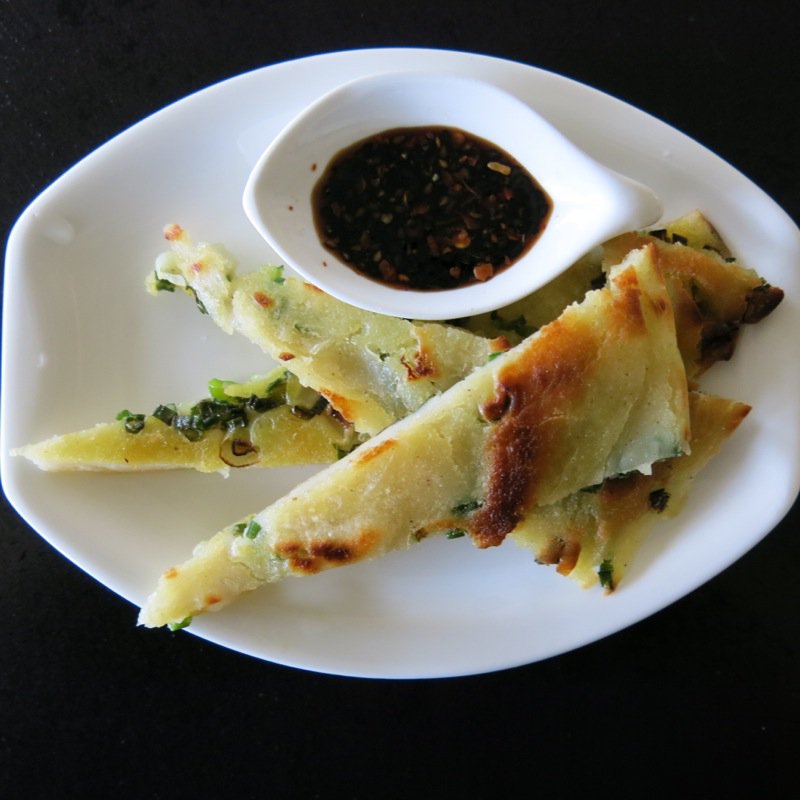 Most of us know about Green Onion Cakes living within our Chinese heritage in Canada, yet few know about the Korean Pajeon or Scallion Pancake. At least, those in my circle hadn't heard of them. I am sure I will be making this every weekend for the rest of the year. You know how that happens? Everyone in your family discovers their "new favourite thing" and mom is asked to make it over and over and over again? My own mom was over for dinner on this evening and this recipe was an "out of the ball park" hit with the entire family. I would have never ever made this recipe without this opportunity from the Chef Butler. Everyone knows I am an adventurous cook and I do try new things, yet had zero knowledge that there was such a dish, so without Chef Butler, this would not have opened that door to our family table. I have been on a quest to learn how to make Green Onion Cakes for a couple of years and am so thankful that I can now make these as they have a very similar flavour and texture, surprisingly enough. They are absolutely delicious, cost pennies, and are and almost effortless to make.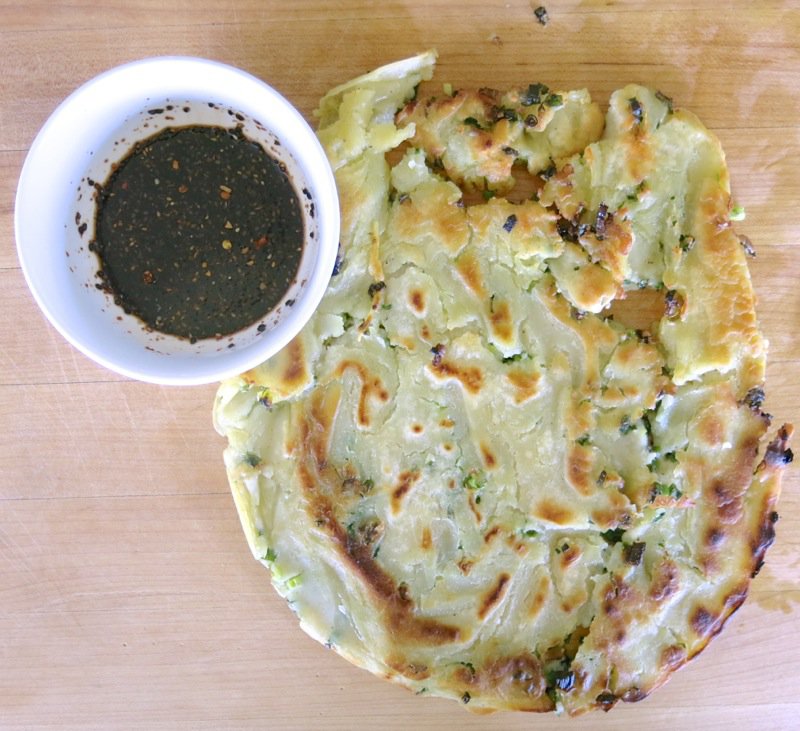 Of course, I made some mistakes. It was my first time. (Give me a break!) It is not easy to flip a green onion pancake the size of a huge skillet, you know. I can flip crepes, so I am not so unskilled. Yet, this is really not necessary, either. Next time, I will use a smaller pan and make smaller pancakes. Three, instead of two, with the same recipe. Both gobbled up and delicious without any dipping sauce.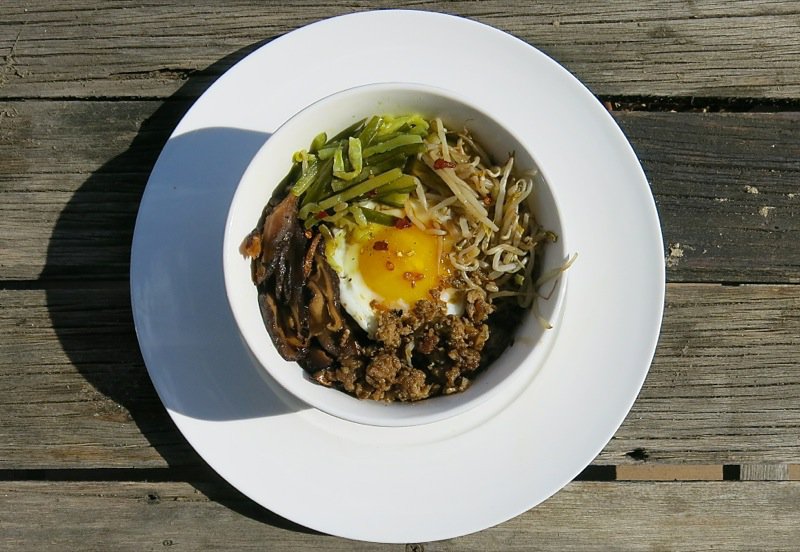 The Bibimbap was a gelatinous bowl of sensual textural glory. Bibimbap is listed as one of the top 50 most delicious recipes in the world. (More on that, next post.)
I think this is the time I need to say that this initiative by Kate in a MUST BUY for anyone reading my blog posts on a regular occasion and anyone just stopping by to see if "it is worth it". Yes, it is! If she posted to the US, I would buy my daughter living there a box a month and she and her husband would have a blast cooking from it. It is the perfect: let's-have-a couple-over=for dinner-and-cook-together party-in-a-box.
It is also a whole lotta fun for one gal in the kitchen making a family meal on the weekend. So easy with all the mis en place done!
Just sign up! You will not regret it, and on the month or two when you are too busy, give your box away to a friend as a gift. The new cycle for 12 new boxes begins May 1, 2014.
I think the perfect way to really enjoy these boxes is to buy them with a friend and cook together once a month and each invite a guest of have your husband or wife join the eating and do the clean up. 🙂
I am writing three more detailed posts about my experience with each of these recipes and will describe the cooking and tastes there. But, let's figure out the budget, first:
Let's figure that out:
$35.00 for the box
$3.50 one pound hamburgar (I buy from my farmer)
$1.00 ginger
$1.00 green onions
$2.00 1 pound bean sprouts
$1.00 1 cucumber
$1.00 4 eggs
garlic (grew my own)
So, for $44.50 cents I made dinner for 4 adults with big appetites and had 2 main course hefty leftover portions (this may not always happen) of delicious and nutritious food made wiht fresh, local ingredients and high quality non-perishable items that I did not have to shop for – and it was a whole whack of fun with careful instructions and the mis en place done for me! Unbelievable.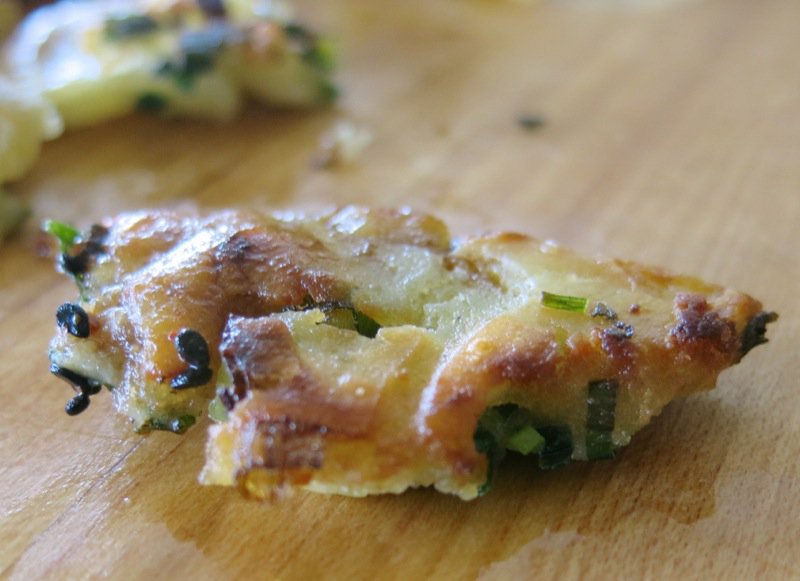 And, every morsel was delectable!
"Start the car! Start the car!"…….. subscribe before Katie realizes this purchase is almost a gift in itself!
Use the coupon code "canadianfoodie" for 50% off your first box if you subscribe. NOTE: this cannot be applied to gifts.
And please comment if you do subscribe. Inquiring minds want to know. 🙂
The link is here and everywhere the name is mentioned highlighted in green – hover over and click: http://www.chefbutler.com/v2/
I have included the main recipe here, but will be writing about it later this week.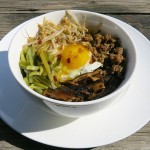 Bibimbap
Ingredients
6

sheets nori

(dried seaweed)

2 1/2

tablespoons

rice vinegar

2

teaspoons

chili flakes

½

cup

soy sauce

300

g

lean ground beef

2

cups

glutinous rice

2 ½

cups

water

1

pound

bean sprouts

1

cucumber

, cut into match stick pieces

15

dried Shiitake mushrooms

4

large eggs

7

cloves

garlic

, minced

2¼

tsp

sesame oil

1 ½

teaspoons

salt

1

teaspoon

black pepper

4

teaspoons

sugar

4

tablespoons

sesame seeds
Instructions
Instructions for the chili sauce:
Combine the following in a small bowl: ¼ cup soy sauce, 2 tablespoons rice vinegar, and 2 teaspoons chili flakes (to taste)
Instructions for the nori:
Crumble nori into a small bowl
Instructions for the mushrooms:
Soak the dried shiitake mushroom in a large bowl with warm water for 20 minutes, or until softened (place stems down in the water, and ensure mushrooms are submerged)

Remove tough stem; slice thinly

Sauté in medium skillet medium-high adding 1 tablespoon of soy sauce and 2 teaspoons of sugar; stir for 2 minutes
Instructions for the bean sprouts:
Rinse sprouts under water several times; add to a large pot with 1 teaspoon salt and cover with water

Place lid on pot and bring to a boil; cook for 20 minutes

Drain water and mix sprouts with 1 clove of minced garlic, ½ tablespoon sesame oil, 1 tablespoon soy sauce, and ½ tablespoon rice vinegar
Instructions for the cucumber:
Sprinkle cucumber pieces with ½ tsp salt; sauté in pan over medium-high heat approximately 10 minutes or until translucent
Instructions for the rice:
Rinse rice in warm water several times

Combine 2 cups rice and 2½ cups of water in medium-sized pot, and cover

Bring to a boil, reduce heat to low, and simmer until liquid has been absorbed, and rice is tender (exactly 20 minutes)
Instructions for the ground beef:
Heat medium pan on medium-high; once hot, add ground beef and stir constantly

When fully cooked, drain excess liquid from pan and add 1½ tablespoon soy sauce, 2 teaspoons sugar, 1 teaspoon black pepper, 1 teaspoon sesame oil, and 6 cloves of minced garlic; mix well to combine
Instructions for the eggs:
Fry 4 eggs sunny-side-up, or over-easy, until whites have been cooked, but yolk is still runny
Serve in 4 large individual bowls:
Add rice first, sprinkled with sesame seeds; add all other ingredients (to taste), in quadrants, inside of the bowl, including the crumbled nori over the mushrooms, sprouts, cucumber and beef

Top each dish off with the fried egg

Place chili sauce on the table for guests to add to taste

Each person is to then mix ingredients together inside of the bowl, and enjoy!
Recipe Notes
Bibimbap is a combination of ingredients prepared separately, and served together over rice. Keep prepared ingredients warm in the oven until ready to serve. Place a dish of water in the oven to keep the ingredients from drying out while you keep them warm.
DISCLAIMER: This is a paid post, but all opinions and views are my own. I never receive payment for anything I cannot philosophically align with. I don't write negative reviews and I do not write about products I don't like.