Cancook in Cancun at Mi Cocina es Tu Cocina with Chef Claudia Garcia Ramos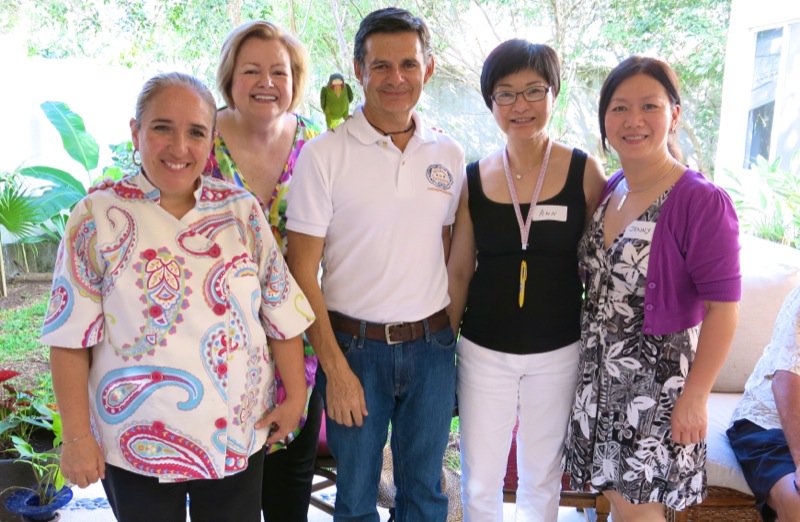 Salsa di Albanil or Tomatillo, Avocado and Queso Fresco Salsa recipe included
Thermomix Canada sent me to the Yucatan peninsula this past February to meet my fellow Thermomix sales consultants and to participate in a Thermomix conference as well as to be rewarded with a little time on our own. I opted to take an authentic Mexican cooking class on my free day and was thrilled to have two of my new friends and Thermomix colleagues join me. Above, you will see my newest best friend, Chef Claudia, myself, Polly, Lorenzo, Claudia's husband. Anne and Jenny. Oh, what a class this was! This experience is rated the #2 top "thing to do" out of just under 200 activities on Trip Advisor and I would highly recommend this class to you as it was certainly the highlight of my trip.
Four years ago UNESCO recognized the roots of Indian, French, Chinese, Italian and Mexican cuisine. That is a pretty significant recognition. Claudia began her lesson by explaining that five crowns of Mexican cuisine are: Salt, Garlic, Onion, Pepper and Tomatoes. Together these ingredients spell umami to me.
Corn, peppers, beans, avocado, lime, cilantro and rice are the eight staple foods of Mexican cuisine. Chef Claudia announces that with these 8 and the 5 crown ingredients, you have a Mexican Party!
I can attest to the warmth of this couple. Due to constraints in our scheduling, and the class start time, Lorenzo actually made arrangements to pick us up from the bus as we traveled from Playa del Carmen to downtown Cancun early in the morning. His warm welcome immediately found us at ease after arriving late due to an unknown bus rule (arrive early, as the gates close 5 to 10 minutes before departure).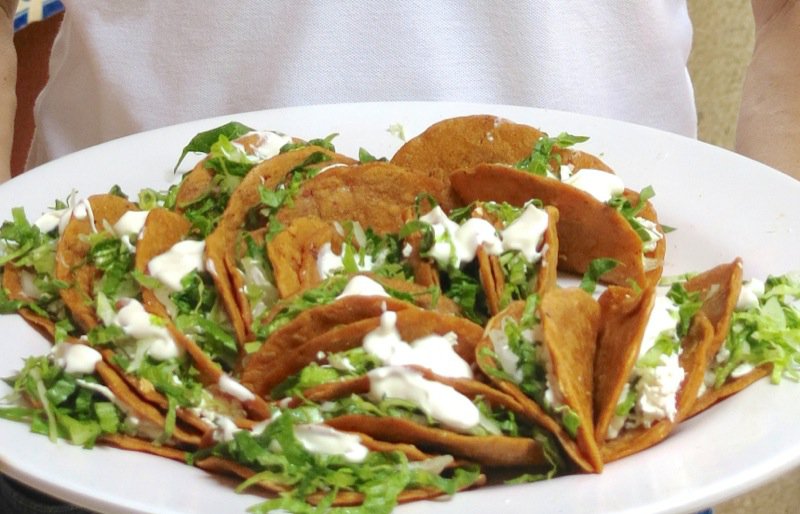 The recipes we learned to make this day were 5 different salsas which we tasted as condiments to the amazing enchiladas served as the appetizer to our midday feasting finale.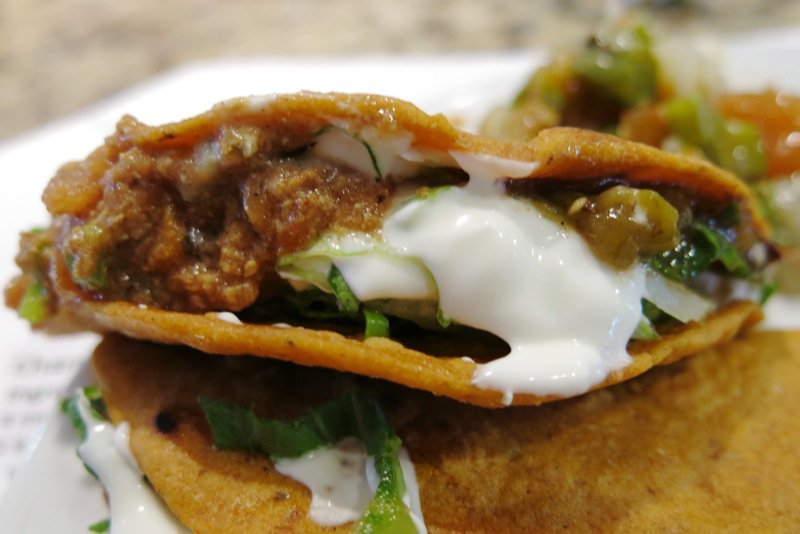 Look at the gorgeous salsas we made, below. Salsas are Mexican condiments used to flavour soups, stews, stocks and to add interest to tortillas, enchiladas and similar kinds of Mexican foods. A Mexican would never eat a salsa with a chip as a dip as we do in North America. How did that happen? As condiments, these complexly flavoured concoctions make perfect sense and completely change a dish.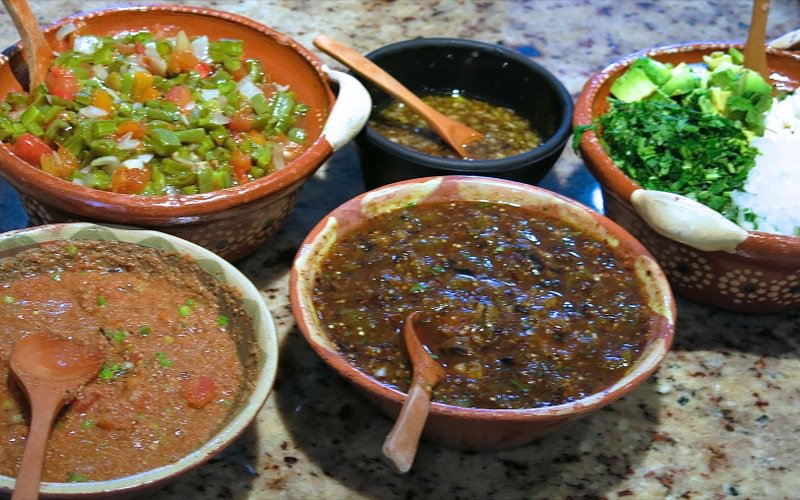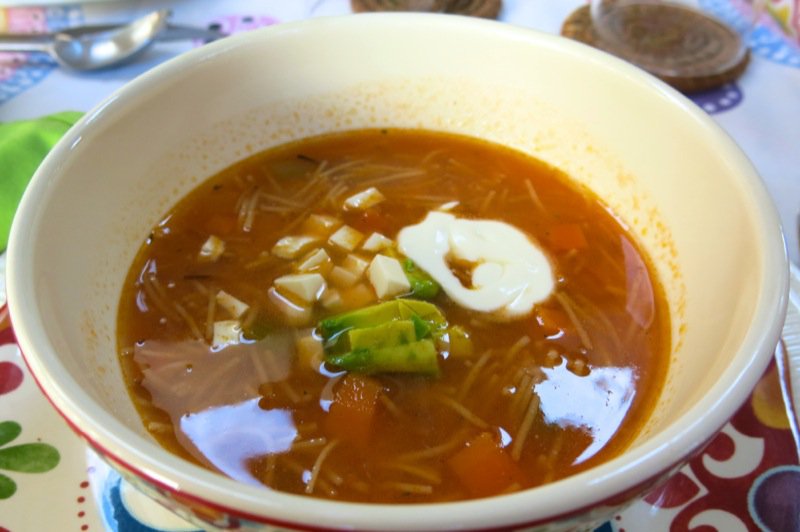 We watched the making of the Mexican Vermicelli Soup which was quite a production and a phenomenal learning experience as the process of working with the ingredients to create a soup is vastly different than how I develop a soup. I was hoping to learn how to make the traditional Mexican tortilla soup with lime as I am nuts about it, but have not yet found a recipe as delicious as the soup I tasted created by Rick Bayless at one of his restaurants. The toppings and the manner with which garnishes and flavourings are offered to personalize one's soup is almost a complete education, itself.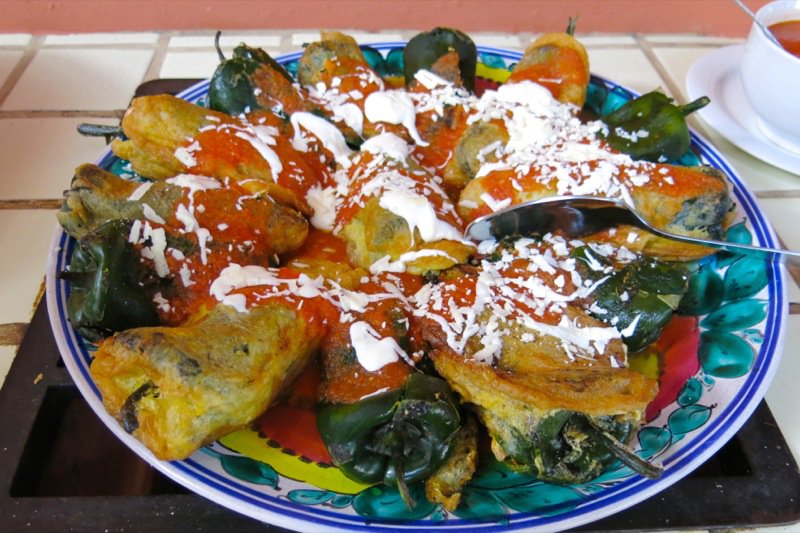 Is this not art on a plate? What a gorgeous looking dish. Chef Claudia is informative, skilled and practical all at once. She demonstrated one of the most fundamental dishes: stuffed Pablano peppers and then offered it to us two ways. Half were battered and friend and the other half were baked with a sauce. The presentation is a combination of both garnished with more sauce and the addictive Mexican Crema which falls between sour cream and creme fraiche on the flavour meter. Where else but this authentic Mexican cooking class could I possibly be on this day?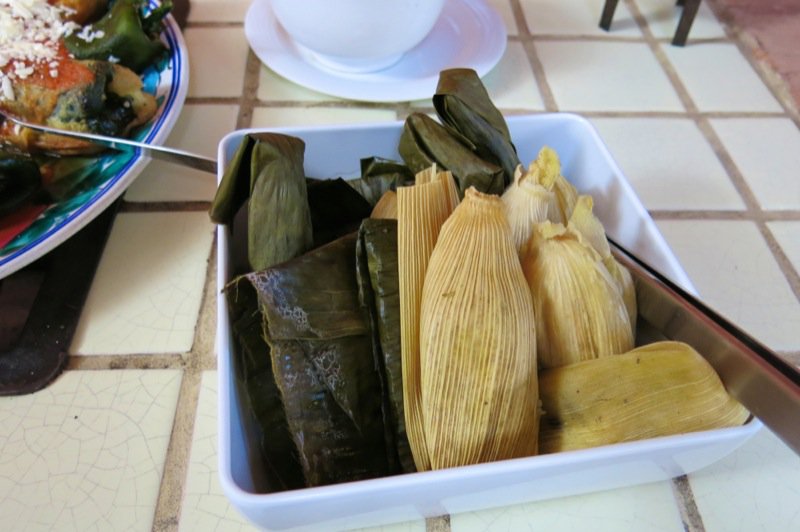 Tamales! What fun they were to make – and so easy, yet there is a more traditional and challenging method included in our recipe package that I will definitely be making at the harvest season with fresh corn. Love the flavour that each wrapper brings to this steamed dish. What a lesson in culture, creativity, and ingenuity with endless possibilities!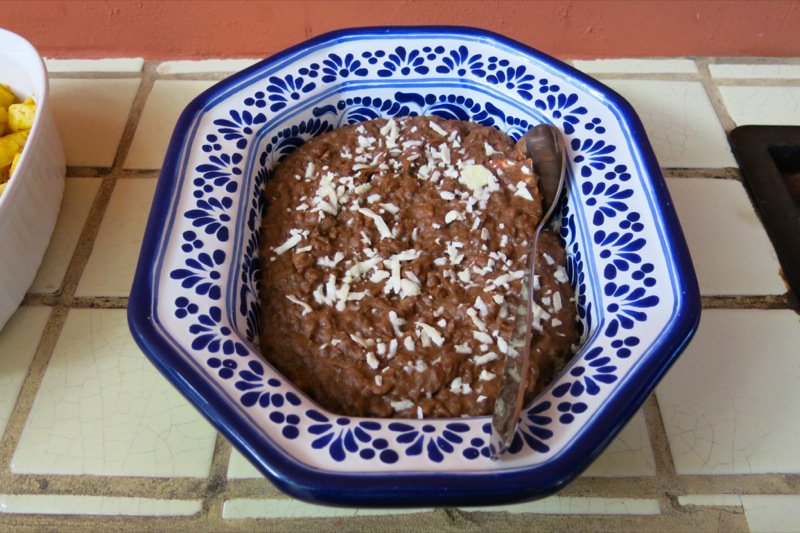 We didn't make the refried beans or even discuss how they are made, but the recipe is in our package and they are clarly easy to make. They were delicious and sprinkles with Queso Panella. Certainly, the dinner would not have been complete without this dish. I use it to temper the spicy dishes and find the texture and comfort of the beans seems to unite the plate for me.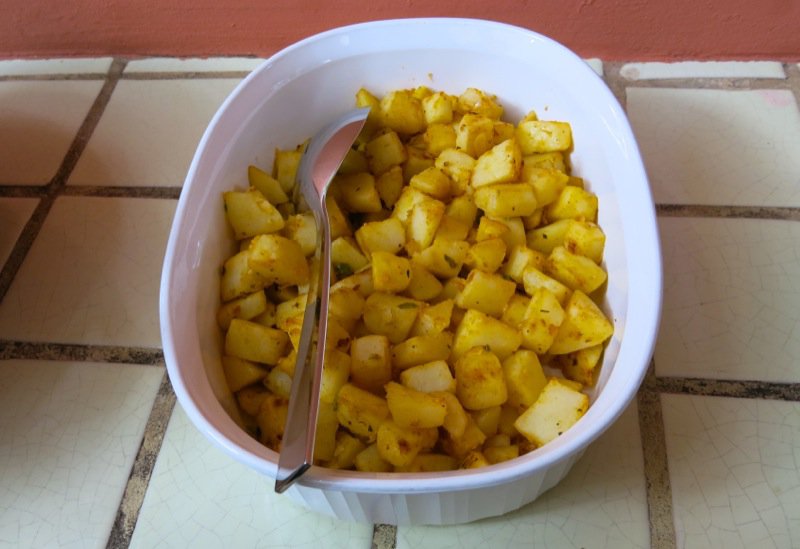 The traditional Mexican cubed potato dish has me baffled. It was everywhere on every buffet and certainly a classic recipe. yet, they are subtle in flavour, al dente in texture, and not really memorable. Interesting how such a versatile vegetable is served the same way over and over again without variation, really – and without any vibrant flavour combination. Maybe that is the point?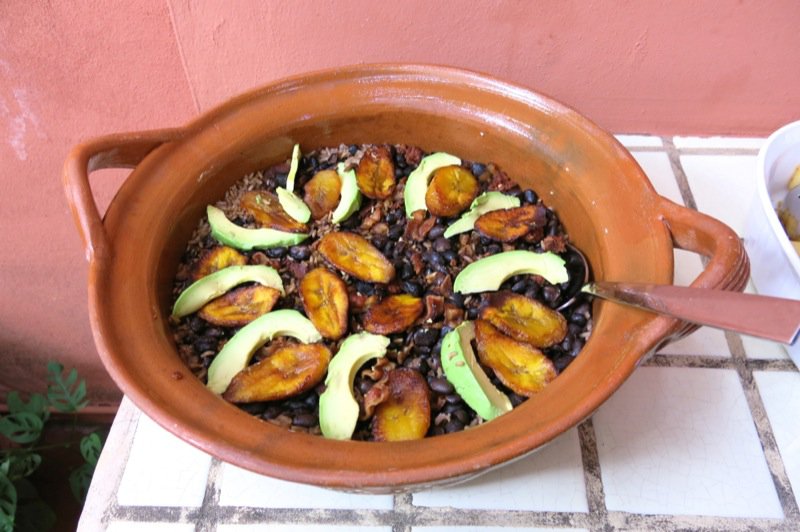 Ah, the Mexican Moros con Christianos or rice and beans! Chef Claudia added some Mexican chorizo and bacon to the mix and the dish was very tasty. The garnish was not just pretty, but also added a lot to the flavour and texture of each serving.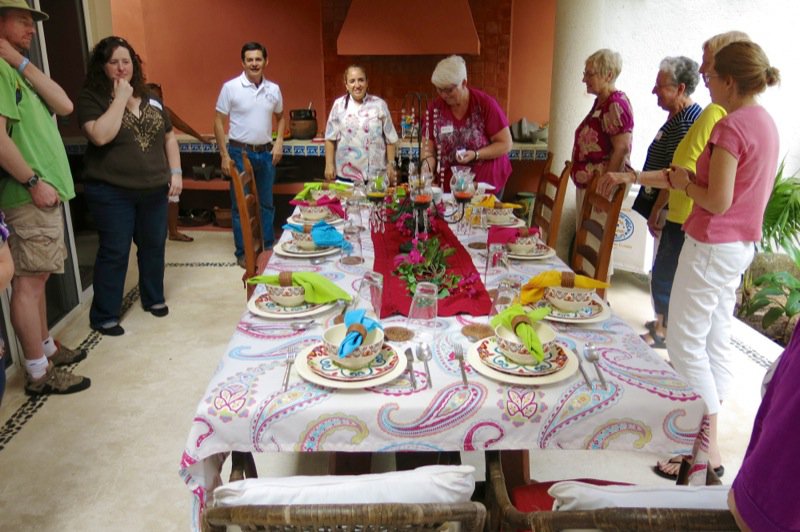 As you have seen what we are learning to make, let me forward you that this is another of my infamous "epic posts". So, you may want to skim it to enjoy the photos, but I promise you an interesting read if you want to go and grab a coffee and settle in with me for a bit. Driving through the outskirts of Cancun, we found ourselves clearly in an upscale neighbourhood as property was walled and entrances private. Pulling alongside the vibrant red door to their home, Lorenzo ushered us through a magical tropical courtyard, through the front door, down a hall and out the back door to a second outdoor space completely covered with a massive overhang all along the back of their home overlooking a gorgeous yard. Churros and Mexican coffee awaited as we joined the group gathered for this adventure: my first authentic Mexican cooking class!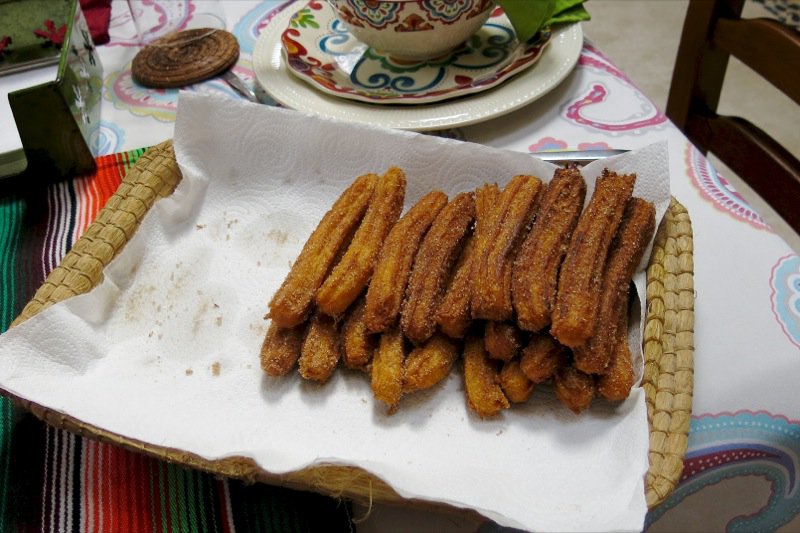 I learned to make churros at one of Kathryn Joel's local cooking classes (which I would also highly recommend) and could not resist one each morning which became a ritual with a plethora of exotic fruit at my Mexican breakfasts. I never eat breakfast at home.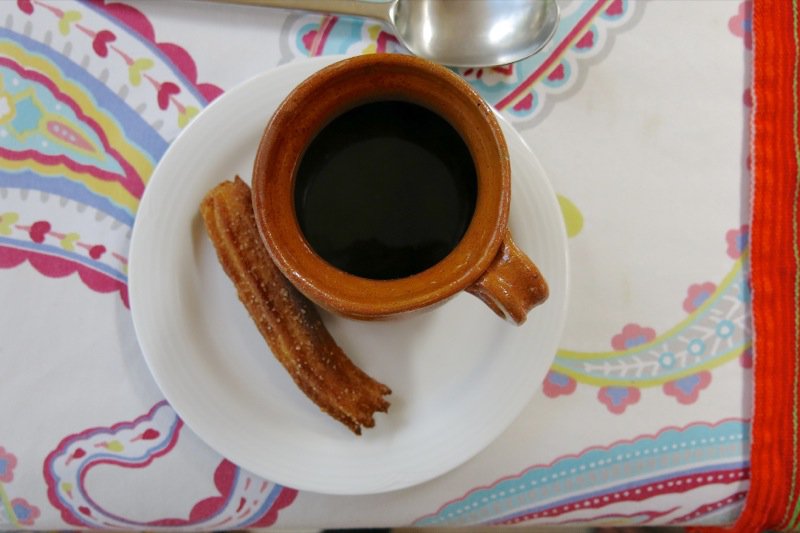 The churro was still warm to the touch and the coffee was like a coffee-tea combination. It was very tasty and enjoyable.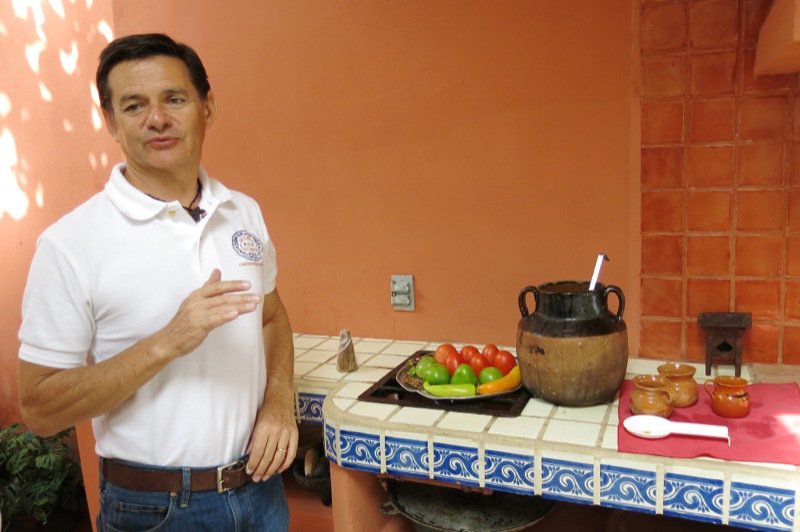 The traditional double handled coffee making clay pot is to the right of the gas burner where the vegetables are roasting on the comal. Lorenzo explained that cinnamon is added to the boiling water with regular coffee and some very unrefined palm sugar, shown below. How I wanted to find some of that at a market to bring home.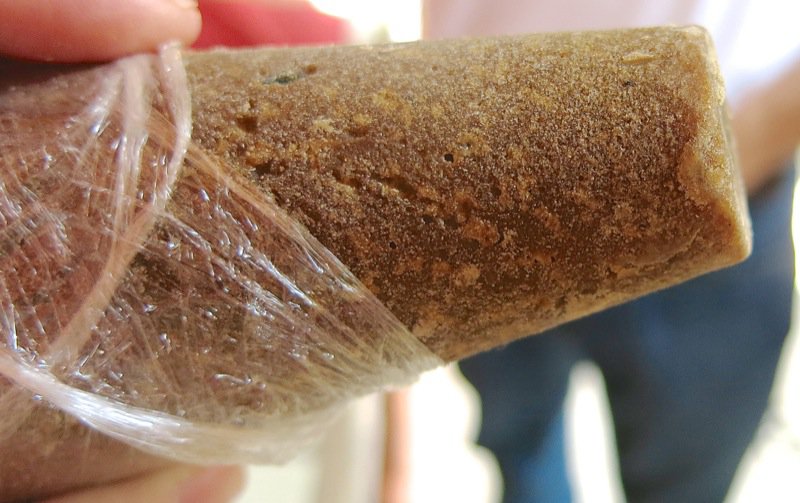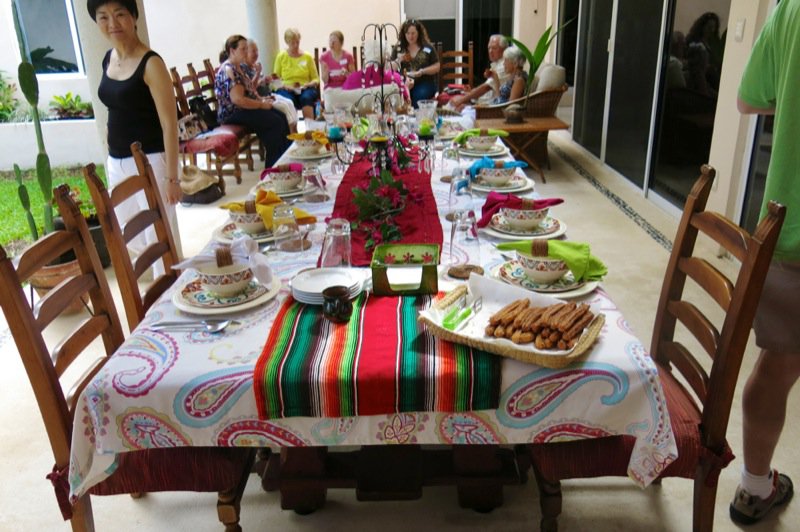 There were 12 of us gathered together on the long outdoor space at the beautiful home of Lorenzo and Claudia ready to begin our day learning about traditional and authentic Mexican cuisine. This is the place to come for that, seriously. Behind where I am standing is their outdoor kitchen with a little walkway to my right down the side of the house and out to the front drive with another little pantry or kitchen attached to the main kitchen in between. Perfect of parties and cooking classes.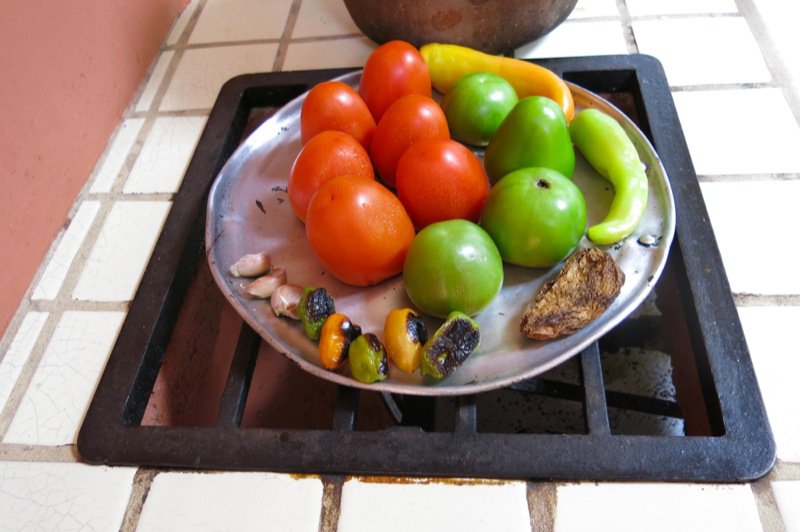 Lorenzo knew I was going to write about my experience so made a concerted effort to inform me about each little step along the way. This is the traditional way for roasting vegetables in Mexico. The tomatoes, tomatillos, peppers and garlic are sitting atop a comal over an open flame and roasting.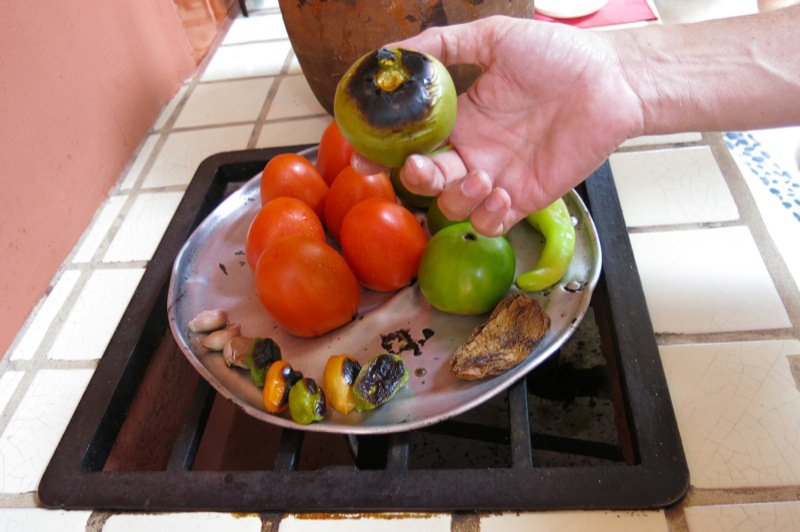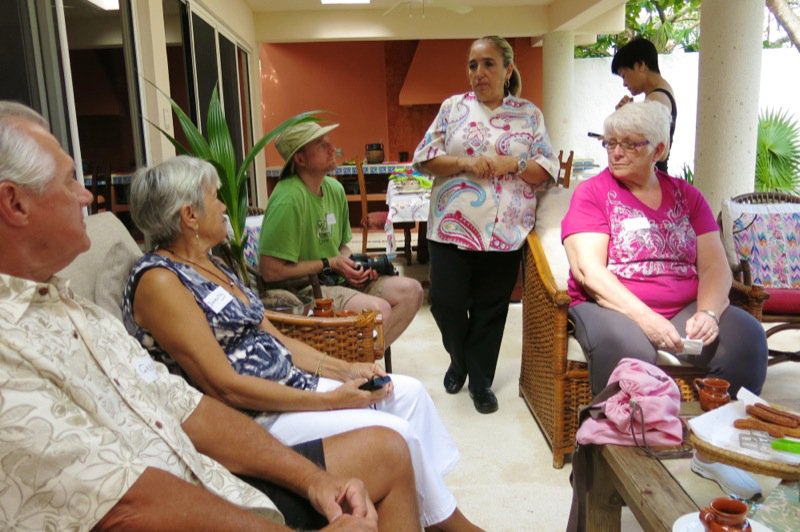 There were other participants from Alberta, Canada, the United States and England!
The grassy expanse behind the paved deck is small, but big enough for a childhood romp. Then a wall is built and a stretch of jungle appears with exotic fruit trees and other little critters living within the environment.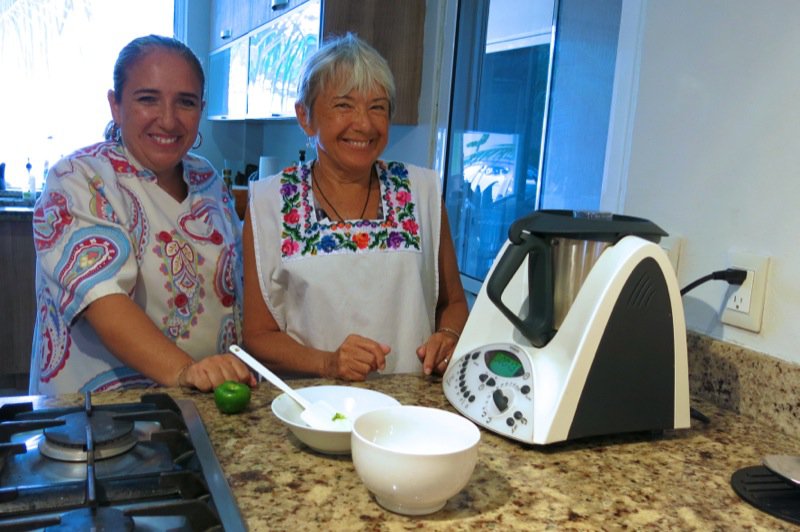 You can only imagine how tickled we were driving to the class telling Lorenzo that we are all Thermomix Consultants when he told us that Claudia owned her own machine and loves it! She used it to make the one salsa recipe I have included in this post.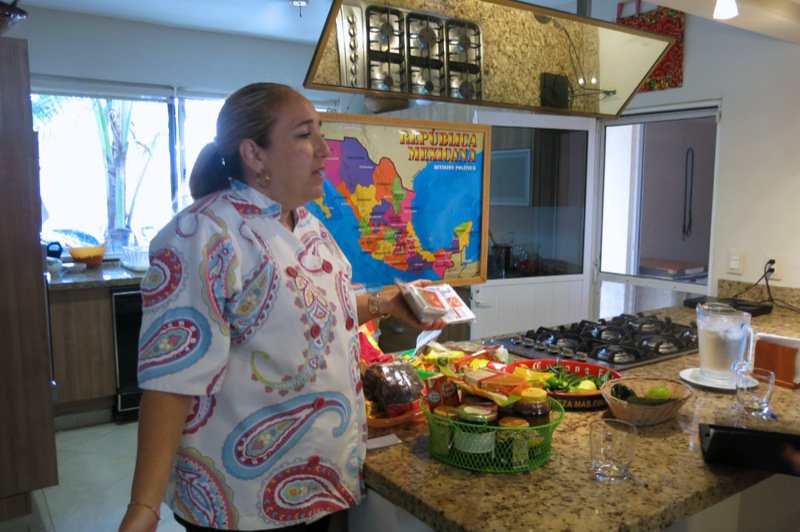 The class began with a lesson about Mexican cuisine and culture that was captivating – particularly as we watched a short video at the onset and were served an exotic fruit punch and fresh fruits drizzled with various spices to amuse our palates while talking about this expansive food culture.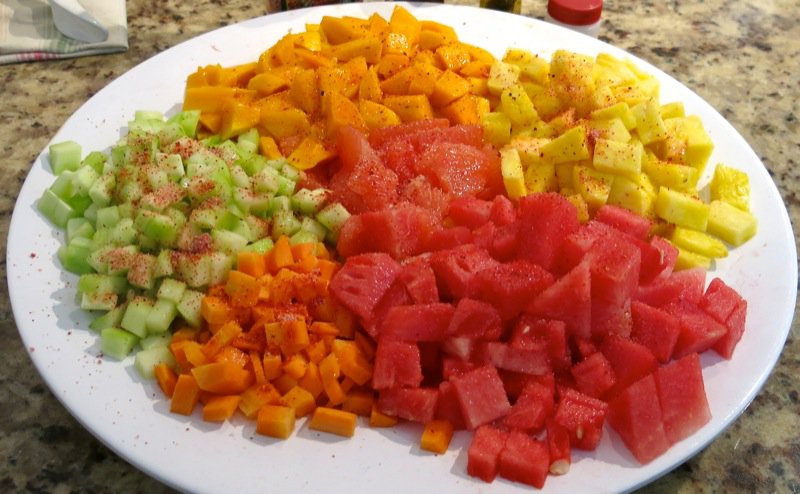 While in Hawaii last January, I learned that spices sprinkled on exotic fruits add interest to that tropical culture, yet was surprised to find a similar practice here. I suppose exotic fruits or such a delicacy in Canada that we would never think of messing with their flavour, but here they are so plentiful they need to bump it up a notch.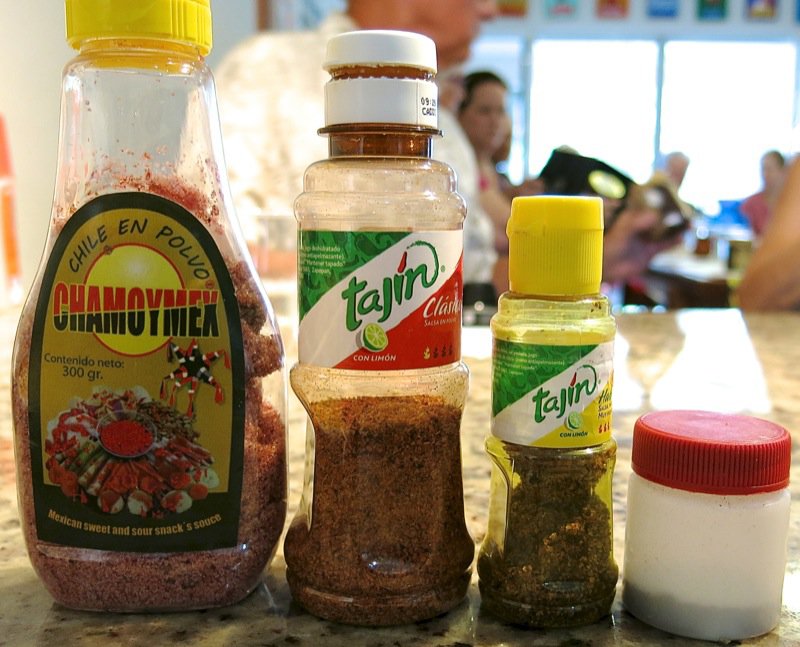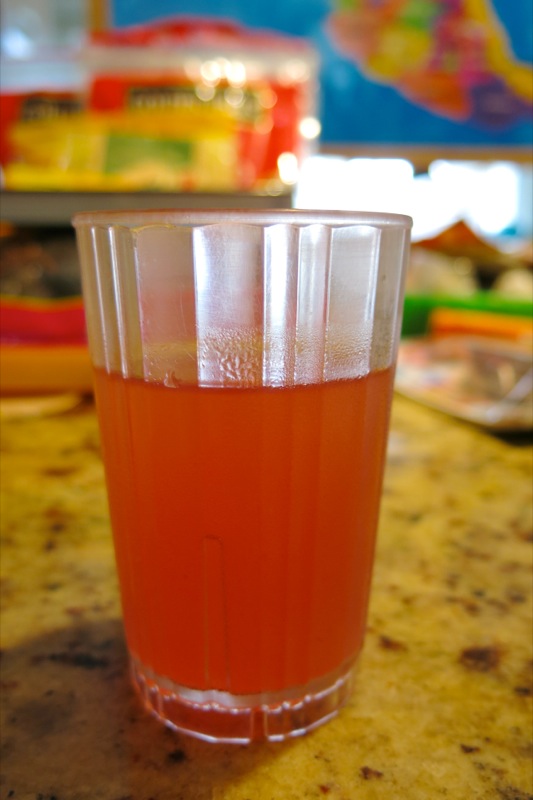 I have always been a fan of sweet, spicy and salty, so this was a fun little enjoyable sensual treat.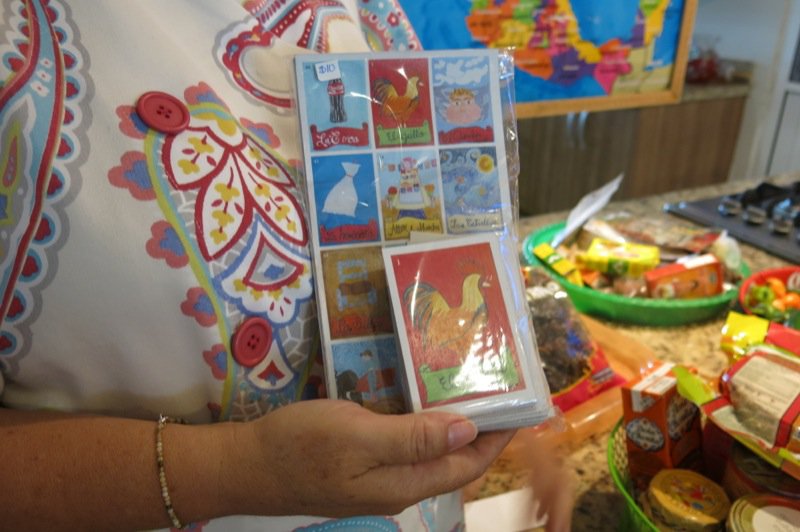 Claudia introduced us to one of the Folk Culture games that she is personally hooked on and has hand painted on folkart fashion each and every image with in the game on a small canvas that are displayed with such joy on her kitchen wall.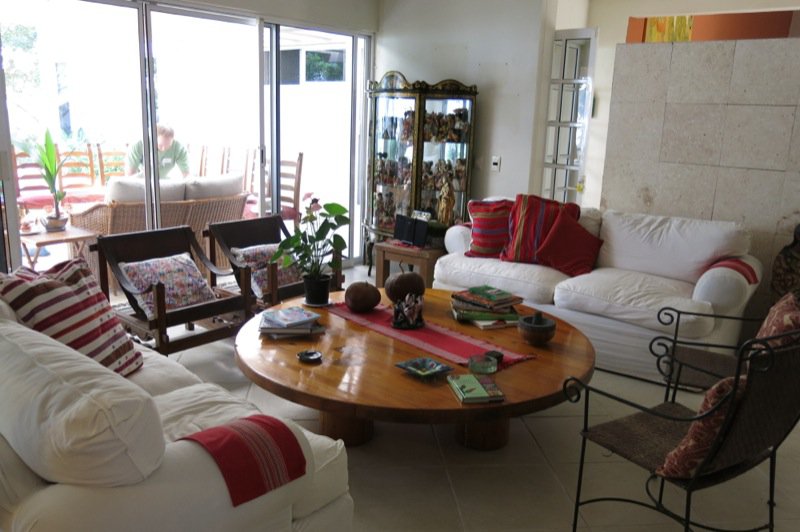 A little snoopy moment eyeing the living space behind my stool on propped close to the kitchen counter. You can see and have access to the outdoor space from both the living space and the kitchen space. Below, I have just turned around and backed up to take the photo. Who wouldn't want to take a cooking class in this lovely environment? Beside the sliding glass wall, below, to the right, hang Claudia's little paintings.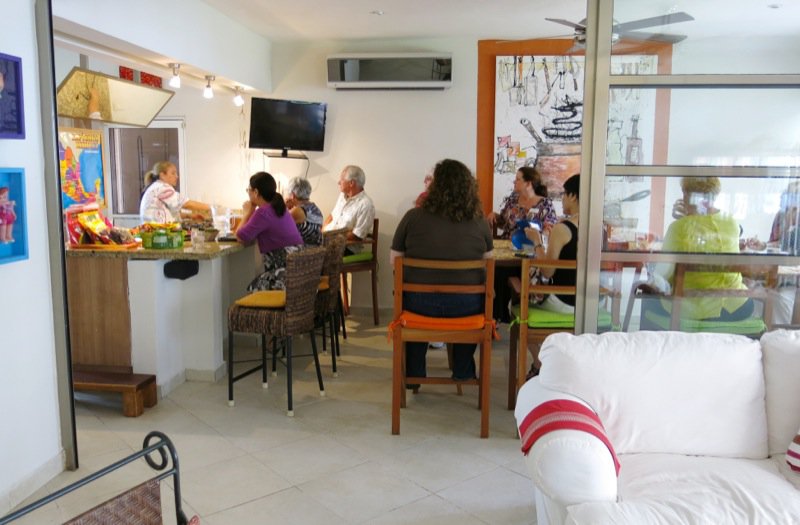 Jenny got a giggle noticing Claudia on her stool. I hadn't noticed at fist, but smart. and I love the rustic wood, length and visual appeal of it. Would use one in my own kitchen!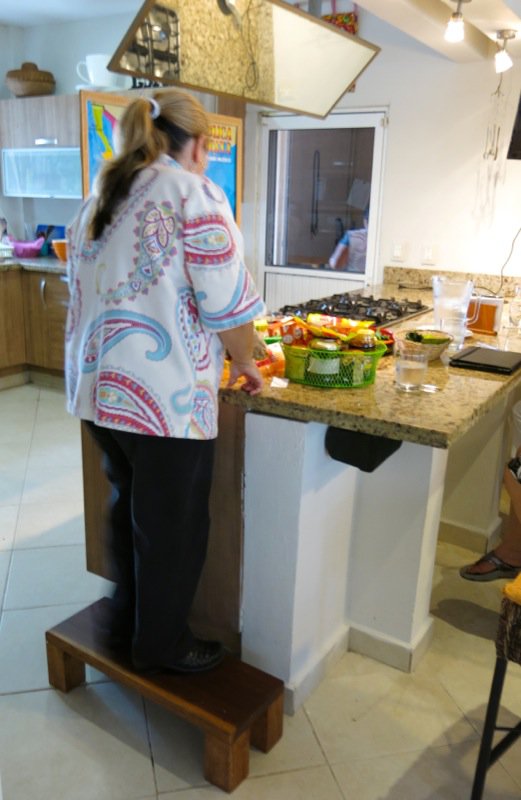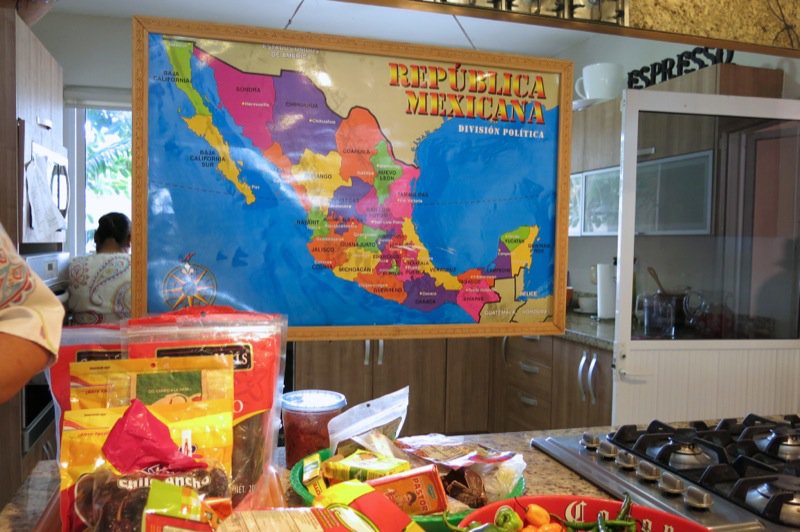 Everyone could see the map and in the mirror. Chef Claudia was raised in a home with 8 children. Her mother died when she was three, so her father and three house helpers raised the family. She was clear to say how thankful she still is for her help and how she values the relationships developed with those who work for her and live with the family as they become part of the family. Below is Maria, a Mayan gal whom I completely enjoyed. I said, " Zum bo'otik" (I found it spelled like this on line: Dios bo'otik or dyos bo'otik, but it is pronounced how I spelled it) to her which is Thank you, in Mayan, and she was deeply touched by my efforts and worked to teach me other Mayan words throughout the class – which I worked to learn.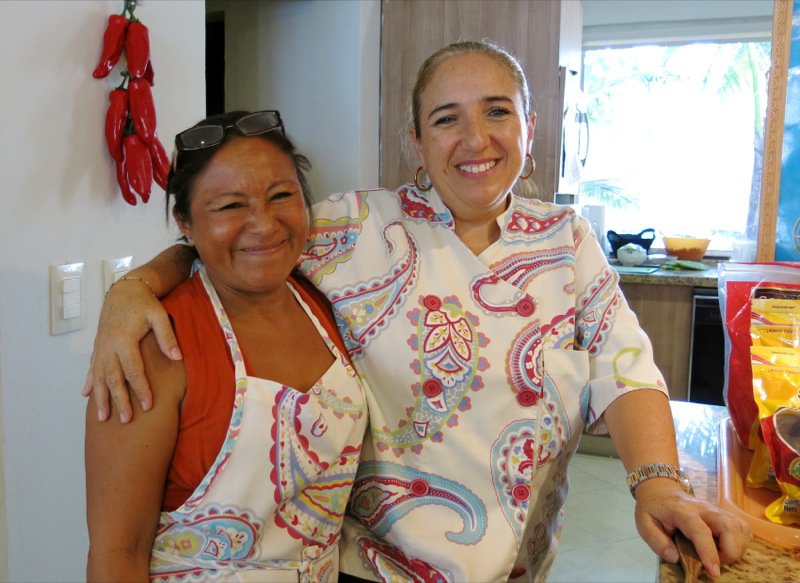 Pear Cactus or Nopal
Nopal is the leaf of the Pear Cactus and has been eaten for centuries because it is plentiful and well liked, but recently the nutritional value of this vegetable has been realized and it is recognized as a new superfood. As a result of its new place in the spotlight, all sorts of concoctions are being made with from the nopal. It has even been dried and ground into flour to make tortilla shells mixed with a bit of corn flour which are incredibly nutritious, quite tasty and only 20 calories each. It is still one of the very cheapest vegetables around so is a household staple. It can be fried with a bit of oil and takes about 10 minutes to cook completely, or grilled outside. The flavour is a bit like asparagus on the grill, or like a green bean when steamed, though the texture can be somewhat similar to okra when fried. It increased the good insulin in the body and in Mexico, people with diabetes and cancer eat this in a raw green juice form to stay as healthy as possible. The green juice has recently become very trendy and was available at our resort with almost every meal mixed always with another flavourful fruit like grapefruit, pineapple or orange and combined often with spinach. It is sold shaved, or without thorns in local market, though it does oxidize more quickly when shaved so sold with thorns in foreign markets. Purchased fresh locally, it lasts about 8 days in the fridge and the oxidation is just scraped off, should any appear.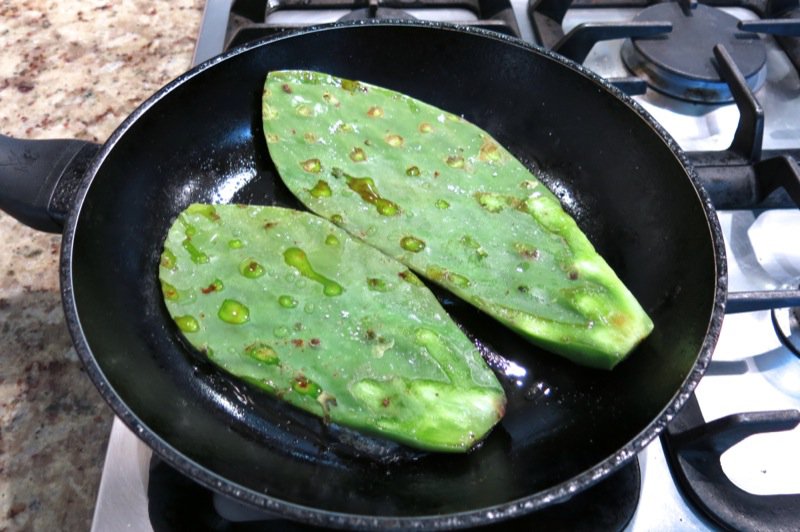 The nopal tortilla shells are displayed, below.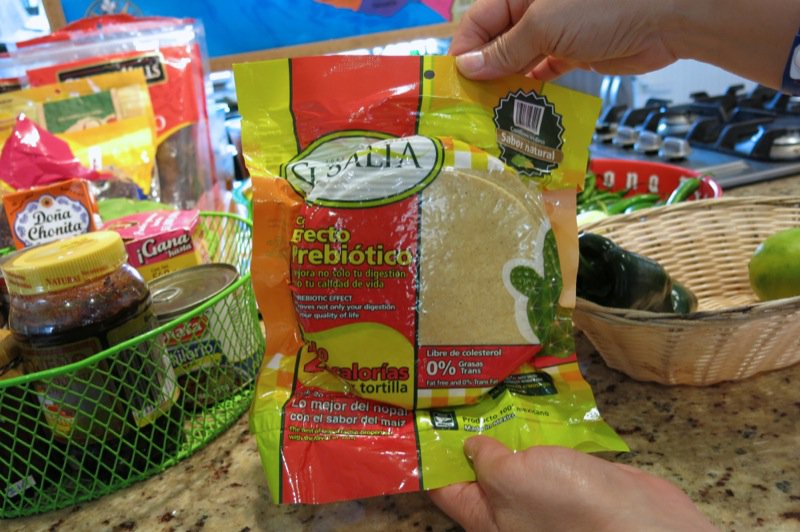 Corn
Corn is the most important with over 60 varieties of corn in Mexico. Oaxaca is believed to be where corn originated and was then introduced to the world. Oaxaca used to be Olmeca and was Mayan and the birthplace of the Mexican culture. The most common corns are white, yellow and blue. Red and black corns are plentiful in Mexico, but not as common.
In Mexico the corn is grown, harvested and dried, the boiled with limestone powder to tenderize it and rinsed then ground into mesa. At this point, it is dried again to make the Mexican corn flour. This is a radically different process for flour making that we would imagine in our North American culture, and important to realize when eating Mexican food as the recipes cannot be recreated with corn flour that is not made in Mexico as the process of making this flour is important to the authenticity of Mexican cuisine.
Field corn is used to make tortillas.
Hominy is a larger corn kernel and used to make grits.
There is also a fungus or type of mushroom that grows on the corn that is a Mexican delicacy and in English is called the Corn Truffle. The name for this delicacy in Mexican is cuitlacoche.
Most Mexicans are vegetarians simply as the cost of meat is too high.
Corn doesn't grow well above the middle of the country. There is an invisible line and Northern Mexican tortillas are made with flour instead of corn due to the hot and dry climate. Southern tortillas are made with corn due to the hot moist climate much more conducive to corn growing. Interstingly, a Mexican sized tortilla shell (that would be small and about 5 inched in diameter) is 160 to 180 calories if made with flour and only 70 calories if made with corn. Mexicans enjoy changing flavours and variety, similar to Spanish tapas, and their tortillas would never be the size sold in the North American market place, nor can you find anything like those in Mexico.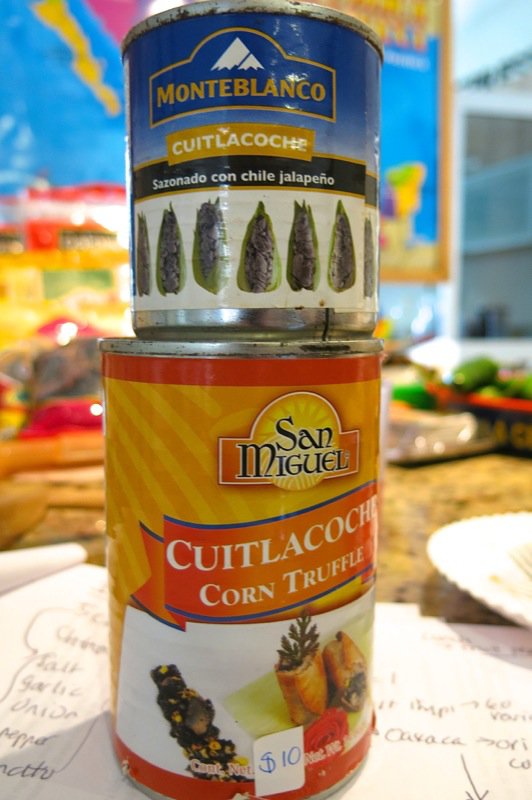 Shopping later for the corn truffle and blue corn flour was an daunting, let me tell you. It is always revealing to go to a grocery store in a foreign country and a "high to-do" on my list. A great quality blue flour and these corn truffles are not available at most grocers. Find out where to buy them if you want to bring them back. Hopefully someone will chime in here to tell us. Also, it was hilarious to find at the grocery store that locals do not use vanilla extract, but instead, artificial vanilla. At the mega mart, only artificial vanilla was sold and Walmart had one small bottle of extract amongst a slue of artificial bottles for sale. Sad, really.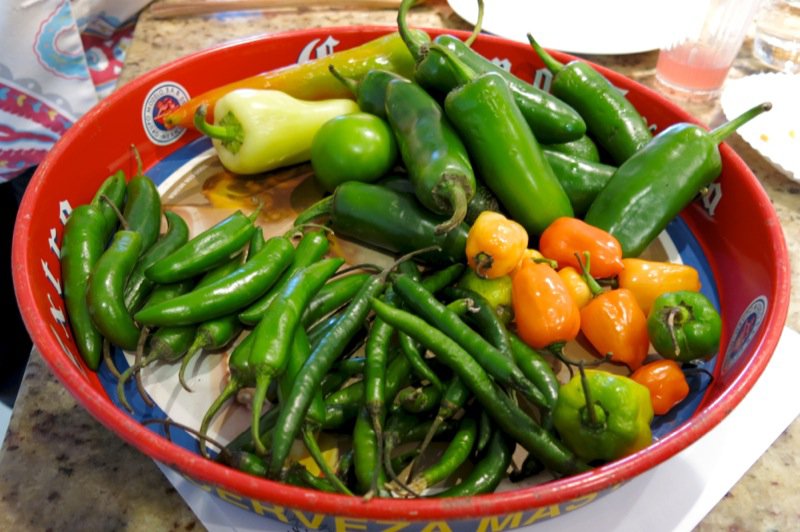 Peppers
With over 140 varieties of peppers in Mexico, no wonder they are so important to the cuisine. There are 8 peppers key to the cuisine, however: four that are fresh, and four that are dry.
Fresh peppers: serano, habanero, jalepino, pablano
Dry peppers: guajillo (Chef Claudia has never seen it fresh), chipotle (smoked and dried jalepino), ancho (dried pablano) and pasilla (dried chilacka)
The Scoville unit of measurement is used to measure heat in peppers. Hot peppers are usually spiciest when most ripe and that often means red.
In the Yucatan peninsula, the soil is steeped in limestone. As the limestone in the soil increases, the spiciness of the peppers increase grown in a soil rich with limestone. This is one of the reasons this area is known for spicy food. Also, the more sun a spicy pepper plant gets, the more spicy the pepper. Thus, one plant can produce spicy and sweeter peppers as the peppers on the sunny side will be spicier.
The Arbol pepper is also common and growns on bushes. It is the one that is dried and used as hot pepper flakes in food. An important regional pepper that can only be found in the Yucatan is the Xcatic which is a spicy banana pepper.
Traditional Mexican Soup has fried Pastilla peppers julienned and placed on top of the soup for an important flavourful garnish. This is Chef Claudia's favourite dried pepper. Another way she loves to use this pepper is to remove the stem and the seeds, soak the pepper to reconstitute, then cooks it into a paste and adds it to any barbecue sauce for a special hit.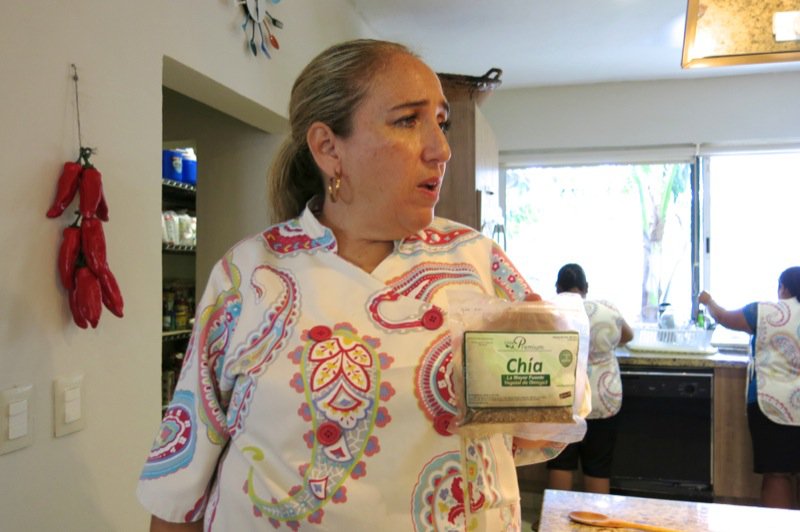 Chia Seeds
Chef Claudia thought these were lemon seeds as a child because she never had a glass of freshly squeezed lime juice or lemonade without them in it. They are consistently added to lemonades and smoothies throughout the country due to their high nutrient value. As the world has come to understand the nutritive value of chia seeds, Mexicans can no longer afford to eat them. They increased in price from 100 pesos a kilo to 500 pesos a kilo almost overnight.
The seed has an interesting history as it was once banned by Spanish conquerors as they suppressed native Mexican traditions and foods due to their close association with religion. Pre-Columbian civilizations used chia as a raw material for medicines and nutritional compounds; used by the Aztecs as food, mixed with other foods, in water and drunk as a beverage, it was a fundamental part of the diet. Also included in medicines, pressed for oil and ground into a flour that could be stored for many years easily carried on long trips, and serve as a high-energy food. The Aztecs also offered chia to the gods during religious ceremonies as it was such a powerful component in their lives. Chia, as the result, was deliberately eliminated for over 300 years, yet survived in one regional area iand has been since revived.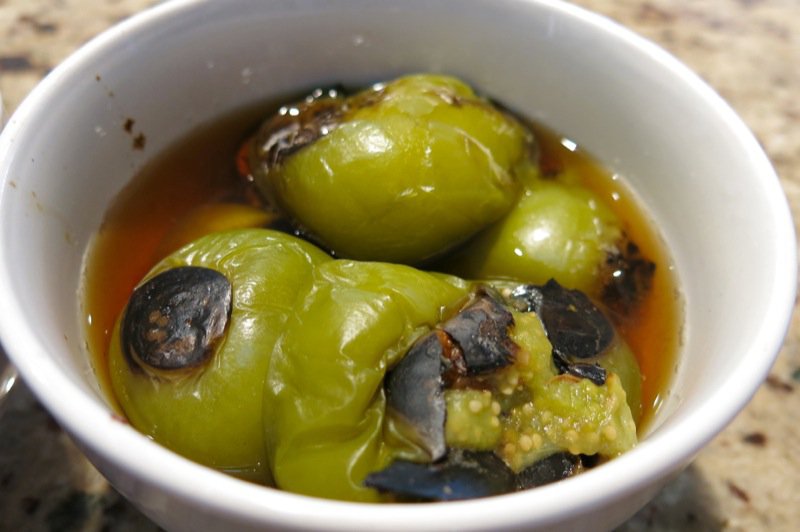 Ah, the roasted tomatillos are now cooled from roasting on the comal and ready to be made into a salsa. Chef Cladia explains the importance of the mortor and pestal to Mexican cuisine: the volcanic rock enhances the flavour and pops the seeds better and without the heat that a food processor often introduces to the mix. She is holding up a new pestal and one her family has used for over 100 years.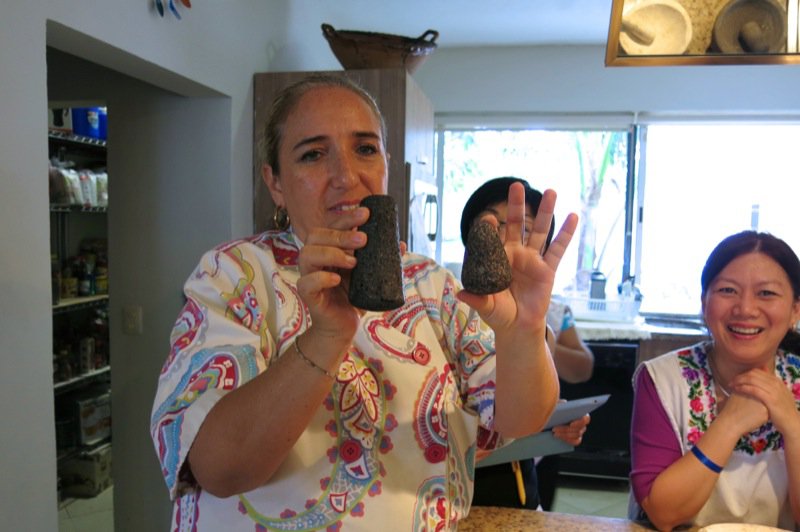 For each of the 5 salsas, participants were invited up to make one. I stuck to my camera and enjoyed the fun vicariously with full intent to do some at home.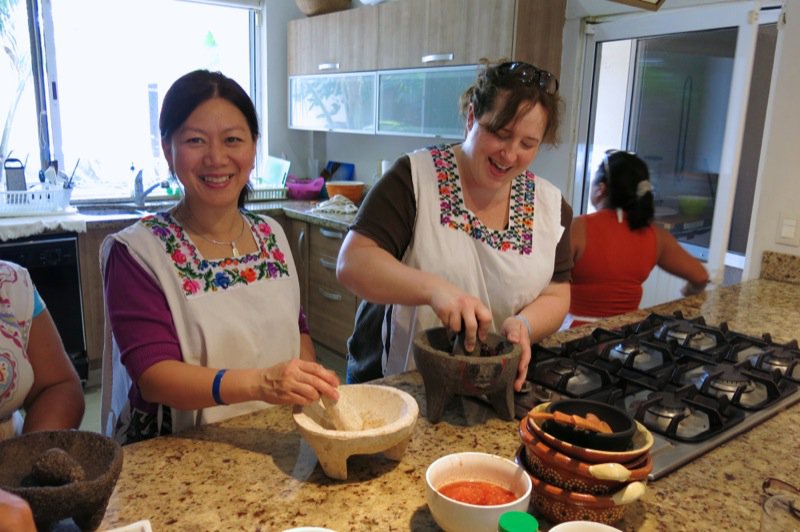 Volunteers from the class, Jenny and Jen, are busy mixing up the first two salsa recipes.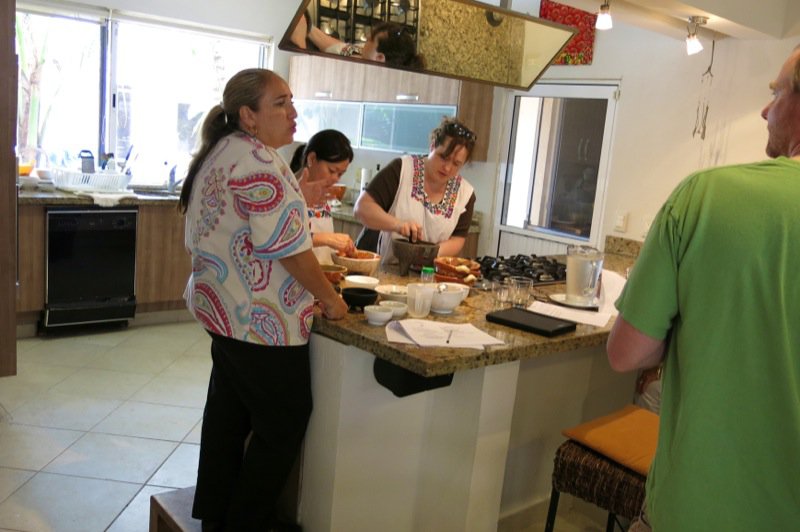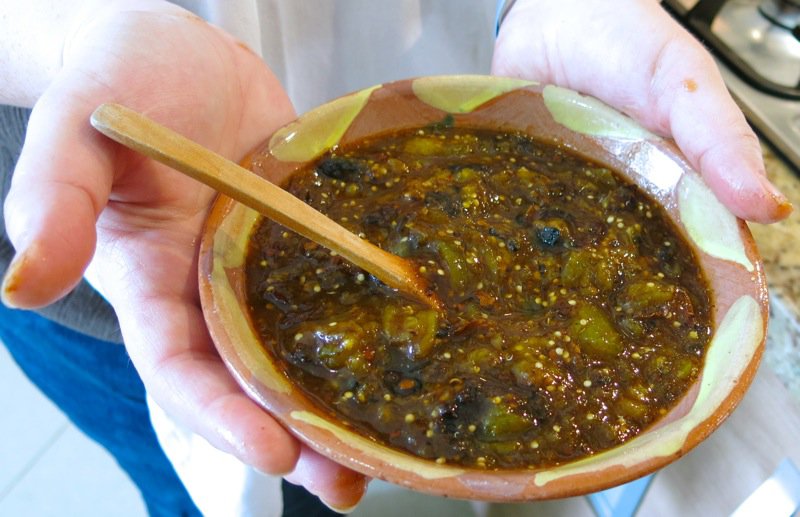 The smoky flavour that the chipotle imparted to this salsa was lovely and I was actually shocked that the heat level was tolerable my moi as I have grown into quite a wimp. Usually, I can only eat chipotle is there is just a touch added to the recipe, though I adore the smoky heat it imparts.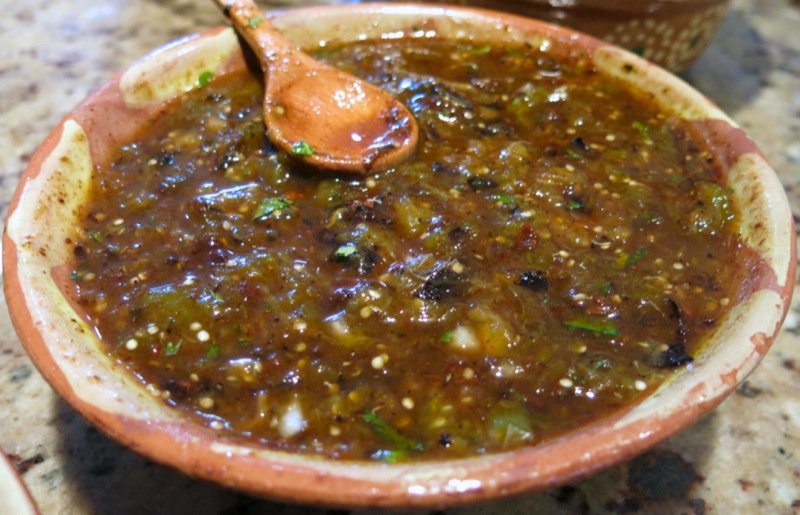 Really surprised to see the addition of the toasted ground pumpkin seeds added to the roasted tomato salsa. All kinds of squash are commonly available and these seeds may be different than those we know in North America coming from only the orange Halloween pumpkin. The flavour is definitely similar and toast added an appealing complexity to the sauce as well as to the mouth feel as the seed does thicken the salsa.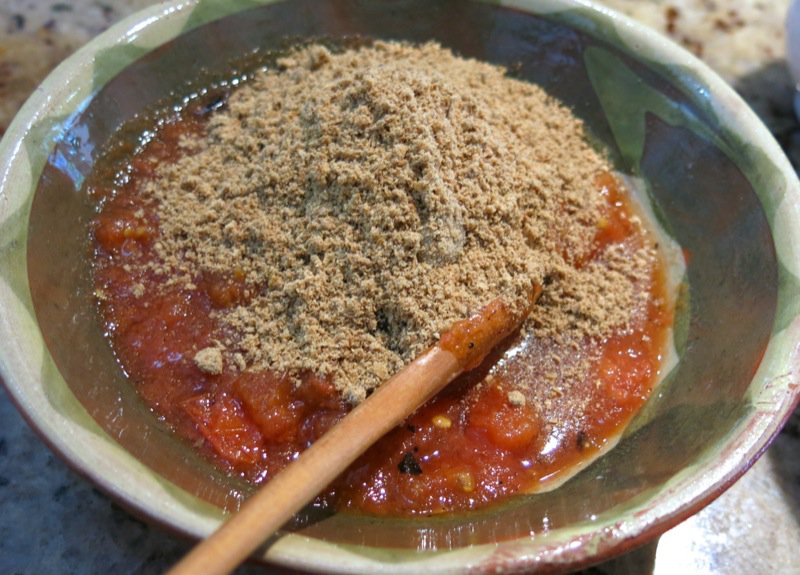 Pepita of Pumpkin Seeds
These seeds are a fundamental aspect of Mexican cuisine and toasted or not toasted, they are ground and added to soups, stocks, stews and sauces as a thickening agent and as a flavourant.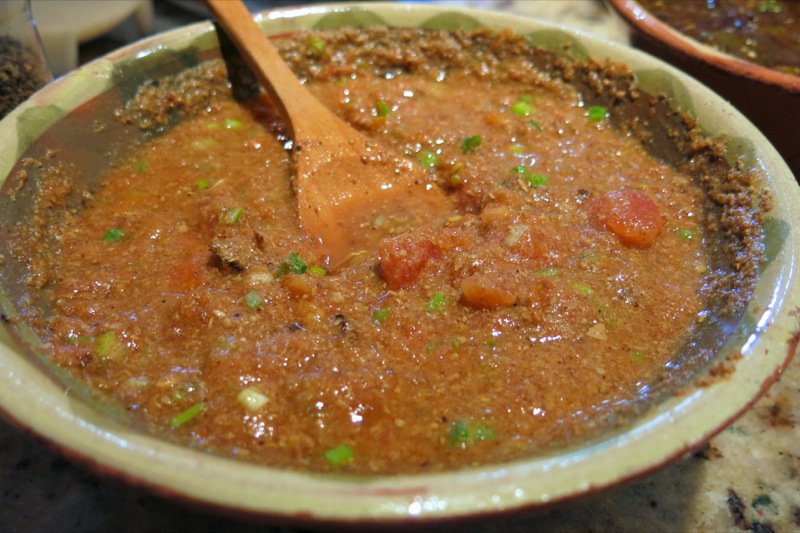 You can see how much thicker the salsa is.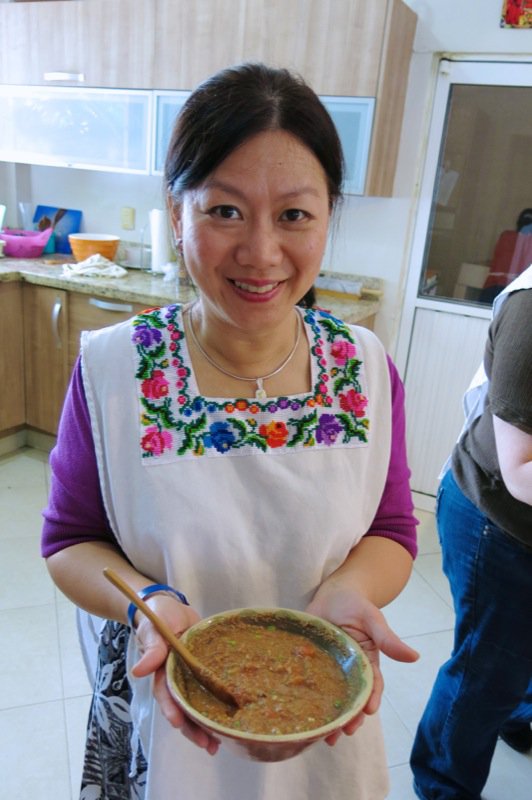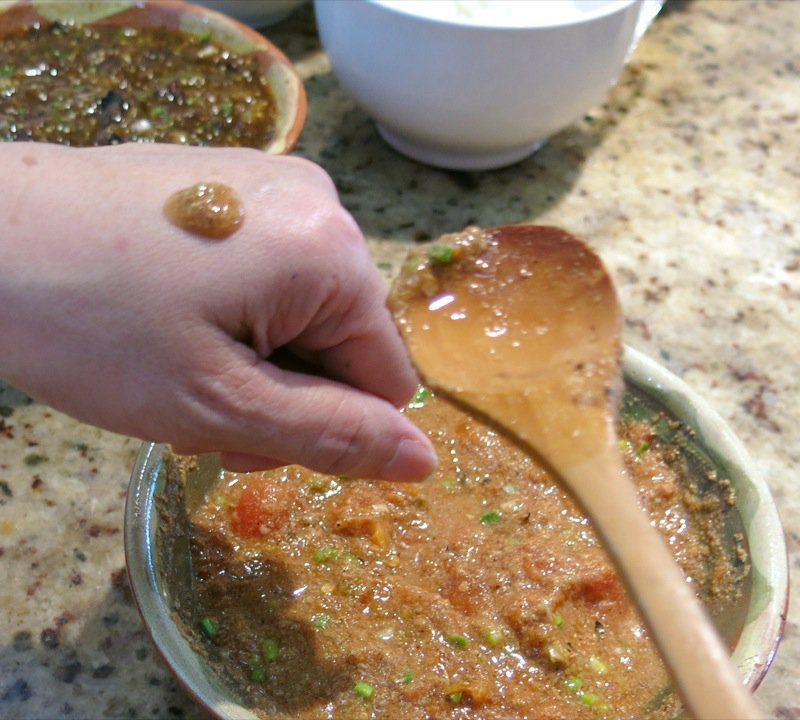 A lesson on how to taste for heat. A little dab on the hand is sometimes too much. Chef Claudia says that a spice burn in the mouth can only be tempered with acid – like lime juice. This is the first time I have heard this. Bread or milk was what we have been taught will diminish the heat in the mouth. Chef Claudia insists the juice of a lime, or sucking on a wedge will take the sting away immediately. (Note to self: always have a lime in pocket when eating in Mexico.)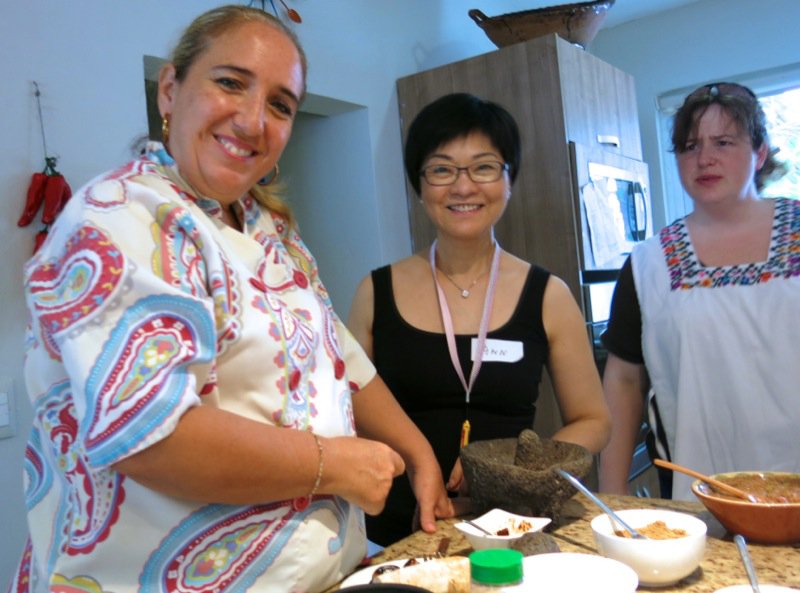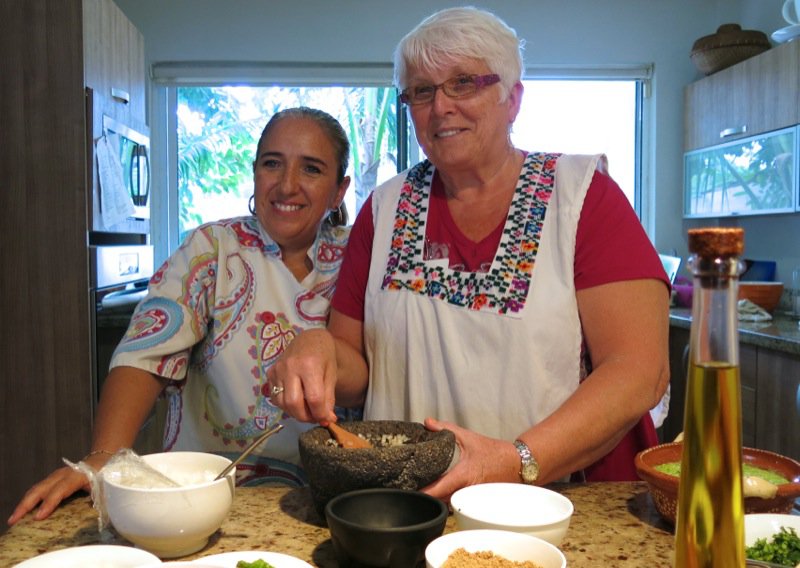 Bunny's turn to make a salsa. She was using Habaneros. Who eats that stuff? Apparently they have a gorgeous flavour under all that heat, but who can taste flavour through the heat?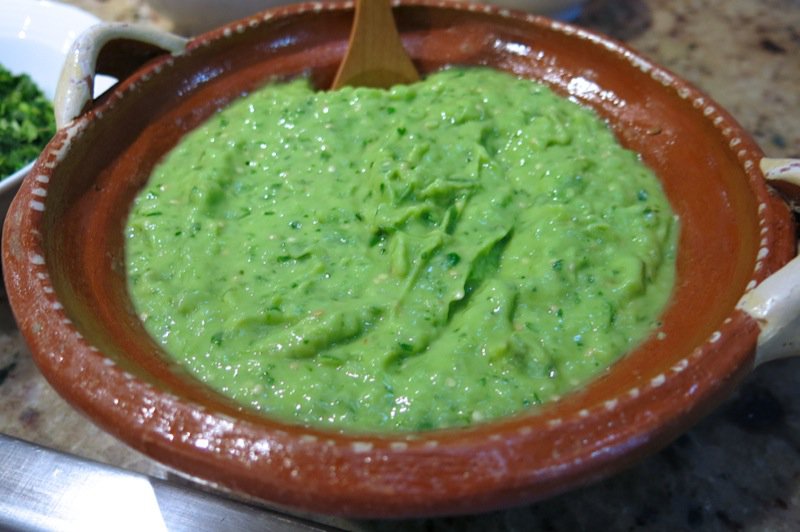 This may look like a guacamole, but it is not. It is Salsa di Albanil or Roasted Tomatillo, Avocado and Queso Fresco Salsa and I have included the recipe for this one at the end of the post as it is easy to make, a little different than our usual guacamole though thick and flavourful and perfect consistency for dipping as I know you will serve it with chips though you now know a true Mexican never would.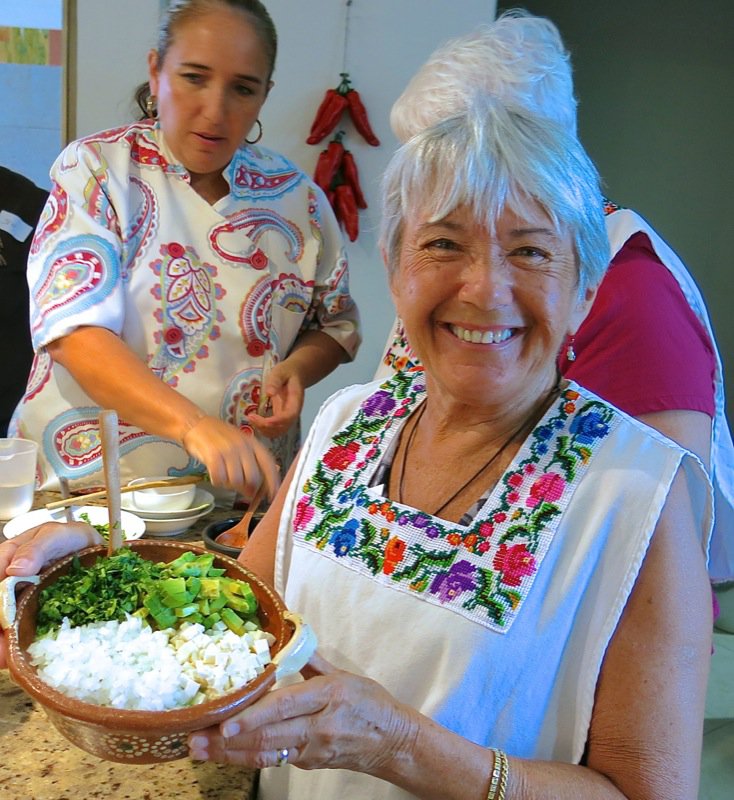 The chunks of flavourful toppings mixed in to the creamy dip make for a fun munching experience.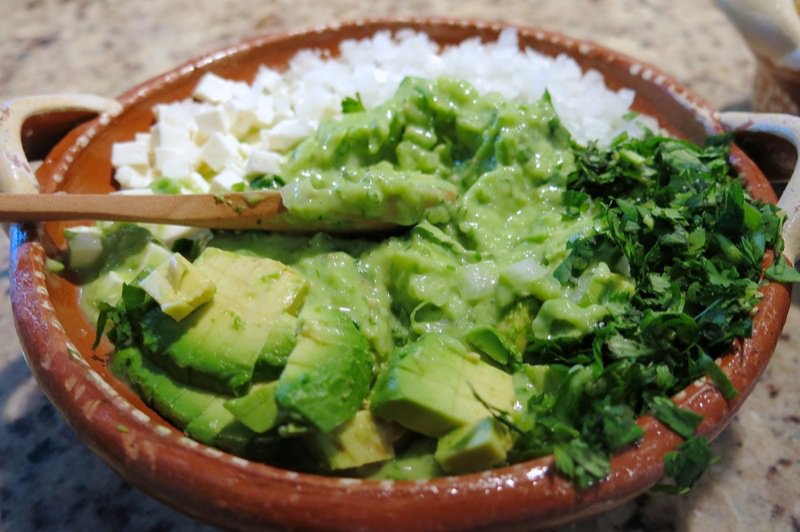 Chef Claudia simply combined the ingredients on the top into the middle of the salsa and left the garnish around the edge for presentation.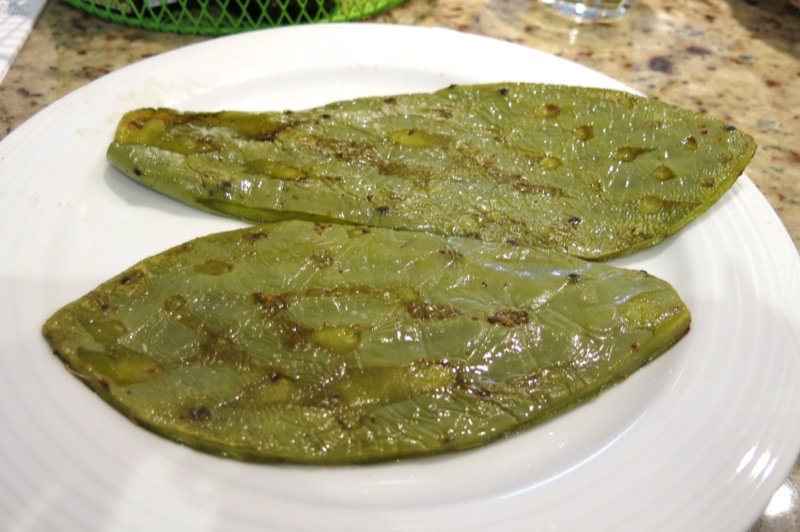 The nopal is fried and looks tasty. It was then diced for the salsa and I could see the okra like slime pull from the pulp of the leaf, yet there wasn't a hint of slime texture when eating the salsa. It had a very subtle green bean-like flavour and a tasty concoction I would eat as a salad, not as a condiment. Ah, we foreigners! But, that is the beauty of fusion food. I love to travel and get scrumptious ideas, come home and meld them within my own cultural culinary frame.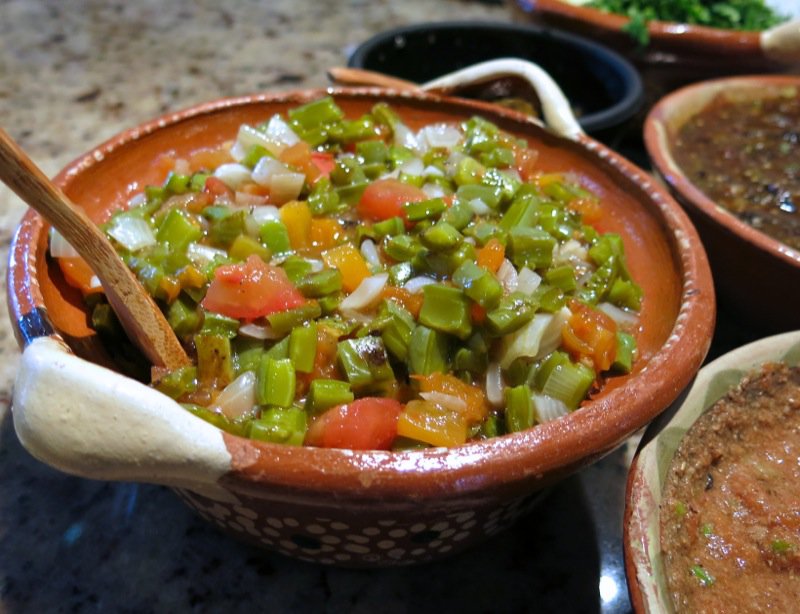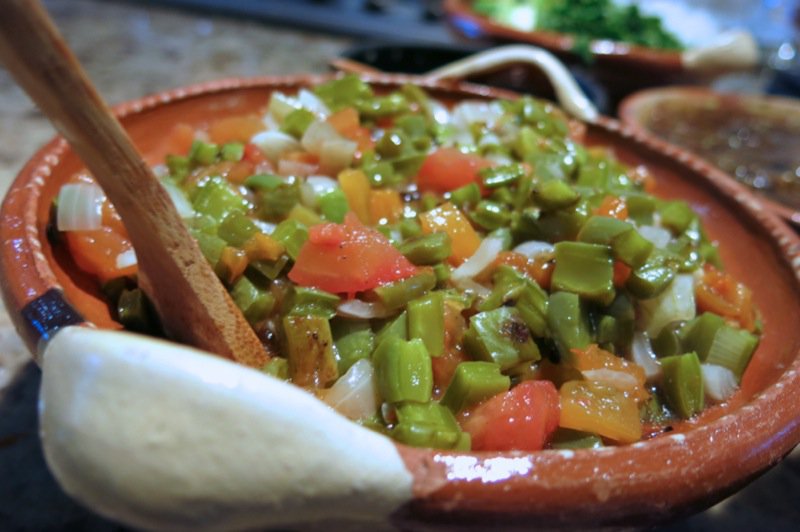 Salsas almost complete, Lorenzo called me outside to see the sweeter-than-pie helpers preparing the enchiladas on the comal with queso fresco, lettuce and Mexican crema.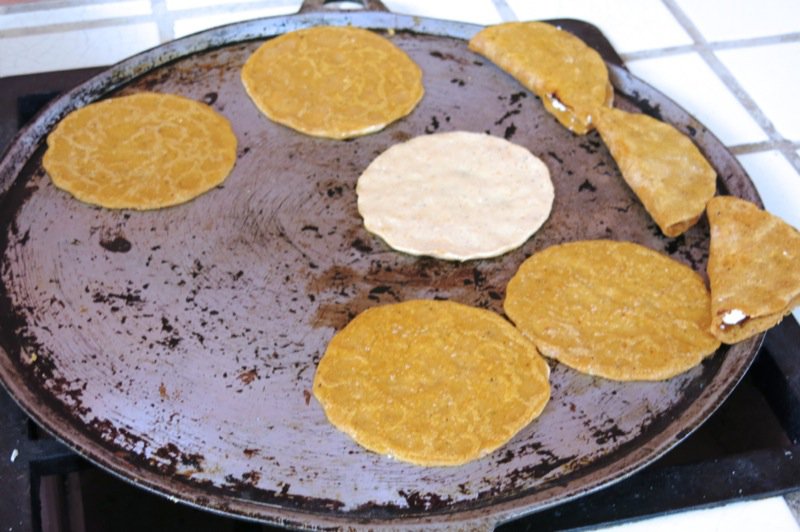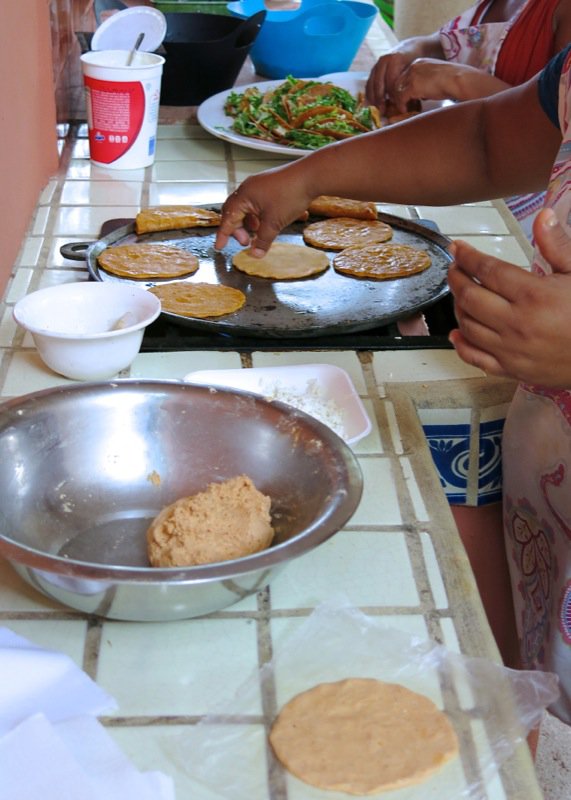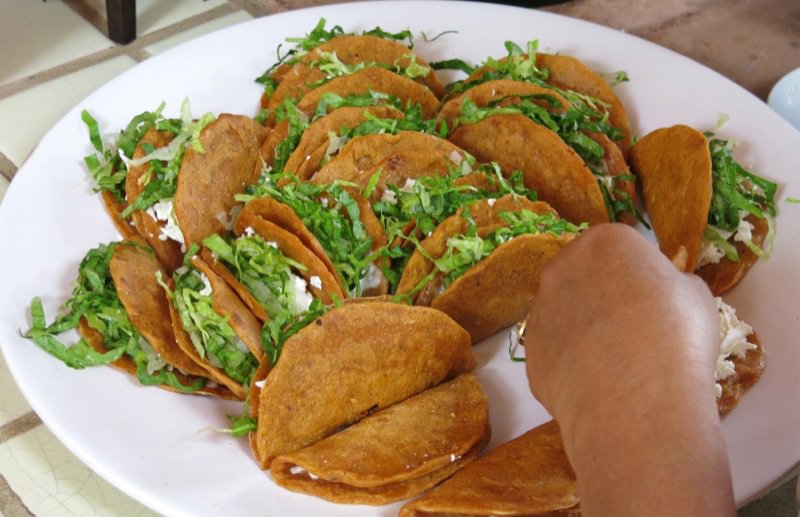 I wish I had remembered to use the video on my camera as this gal could hand make the shell faster than I could blink my eye.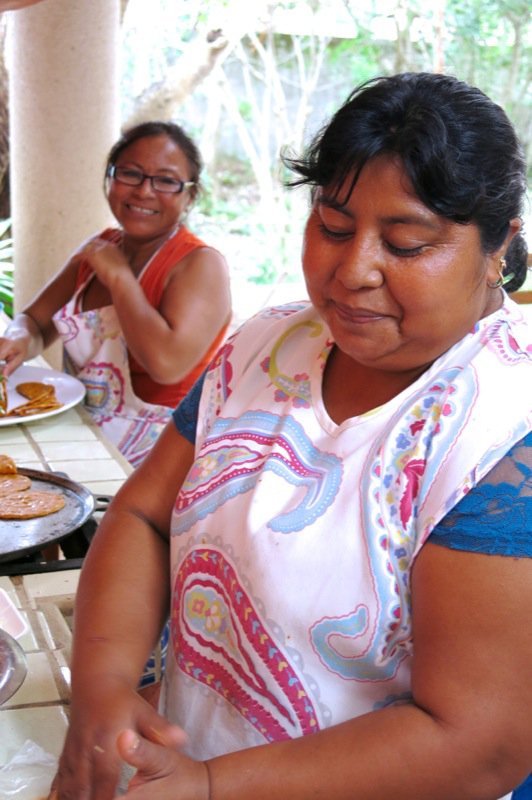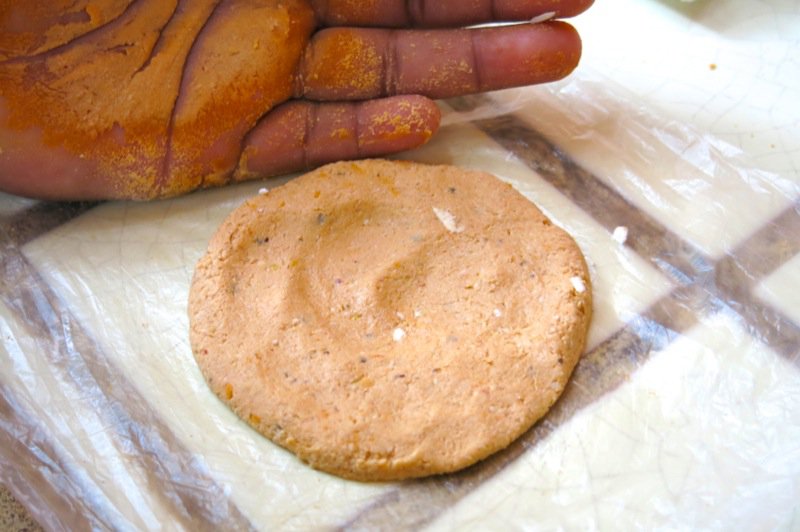 The shells had red achiotte paste added to them for flavour and colour.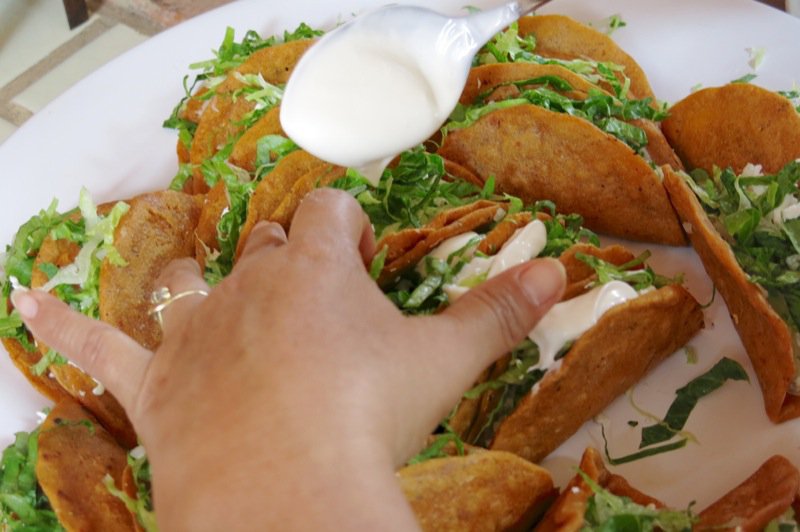 The idea is to use the salsas as condiments to flavour each enchilada differently.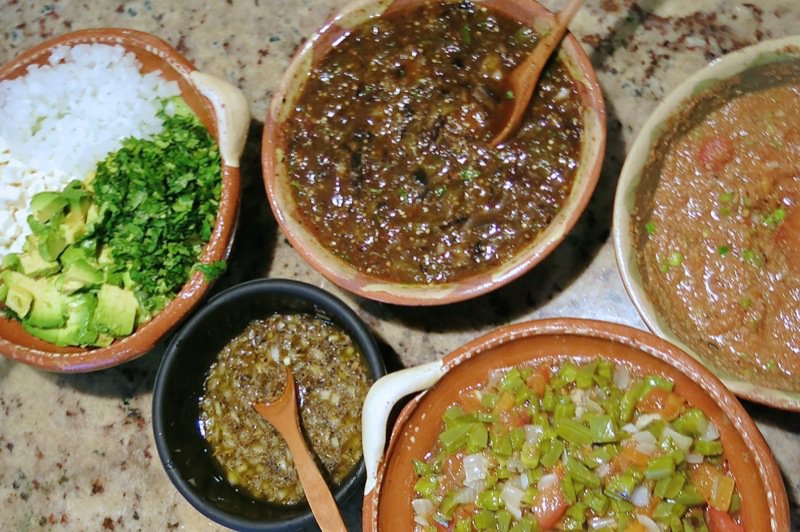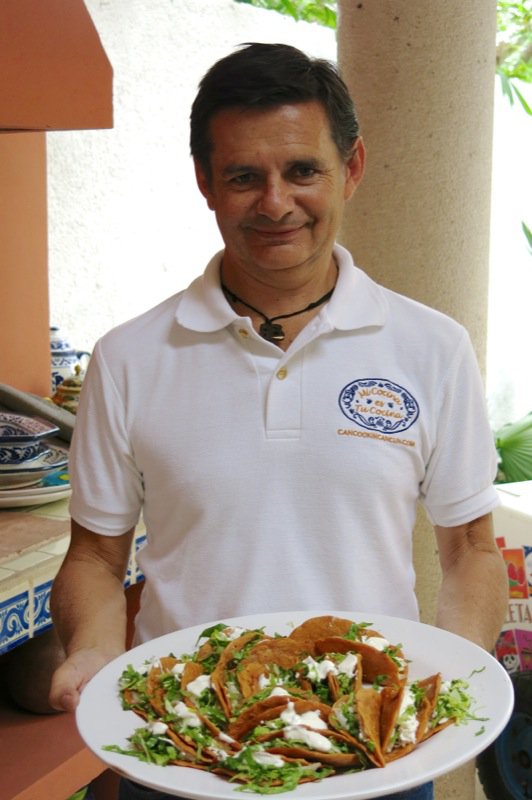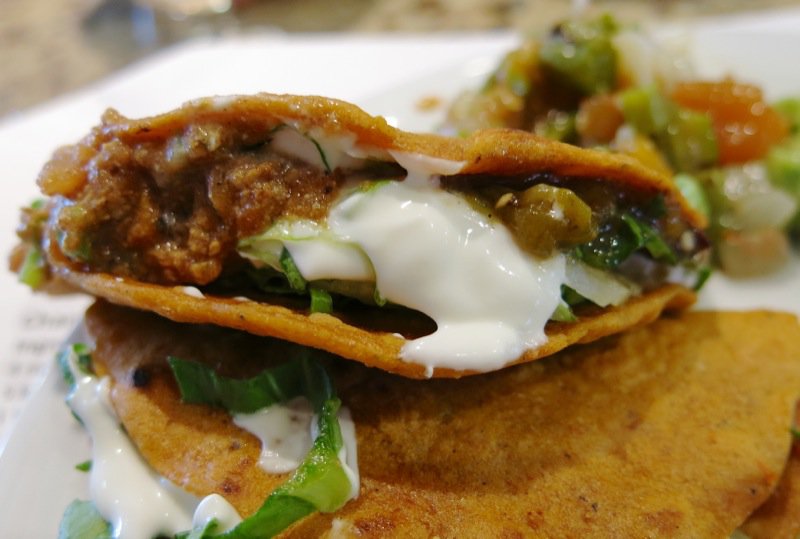 This is not an appetizer to me. This is a meal. Sitting with this freshly made shell, young queso panela with 5 vastly different salsas to play with is my idea of a Mexican party all by myself! And the crema – oh, the crema. I have purchased it from our Mexican store in Edmonton, but that doesn't even resemble the flavour of this delicacy. Only the colour. The crema adds a divine kiss to each enchilada and I was good to go. Enough learning for me. Let me at my own kitchen. But, we had only begun!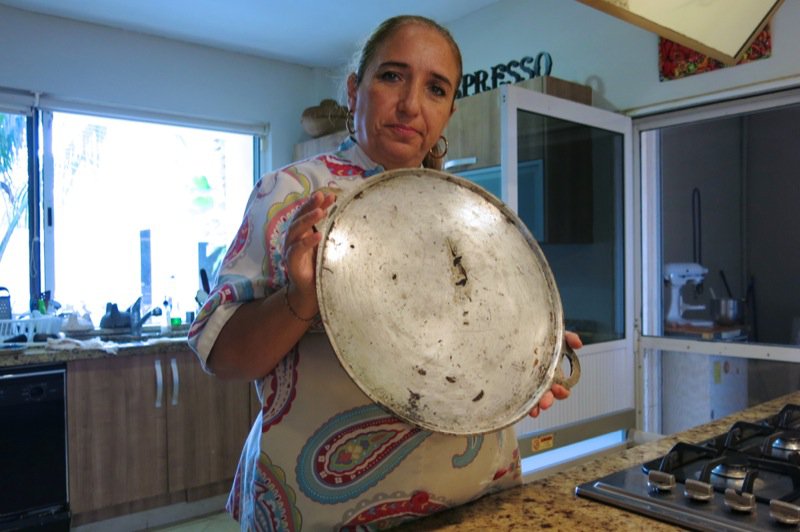 Above, Chef Claudia talks about her comal and below is the mesa for making the tamales.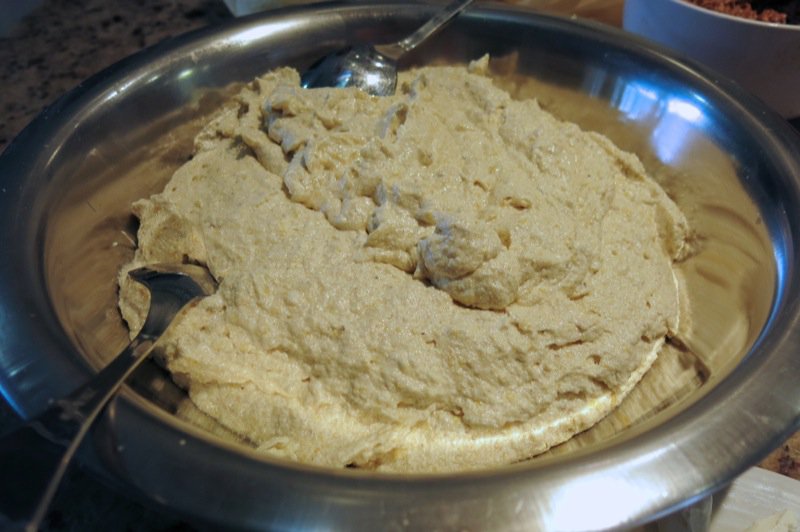 There were two kinds of tamales on our menu: a savory tamale made with shredded meat in a mole sauce wrapped in a banana leaf and a sweet tortilla made with cream cheese and cranberries. Both started with the mesa paste embodying the filling; both were steamed and both delicious. I really enjoy the flavour banana leaf imparts in the mesa and was stunned at how delicious the cream cheese and cranberry was with the cooked mesa filling.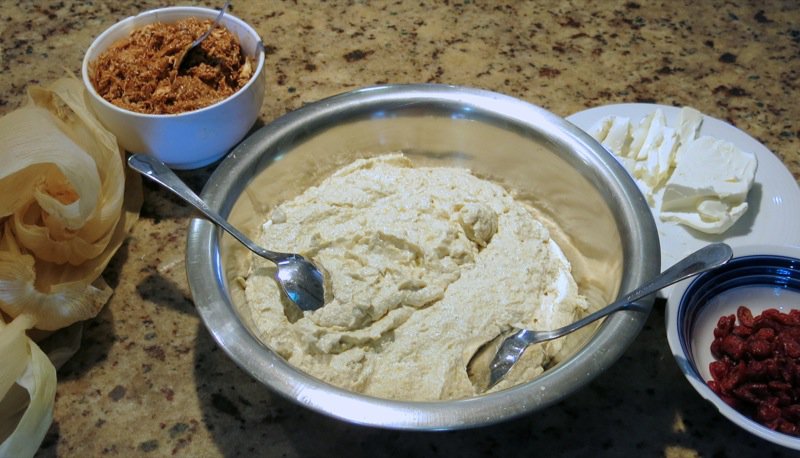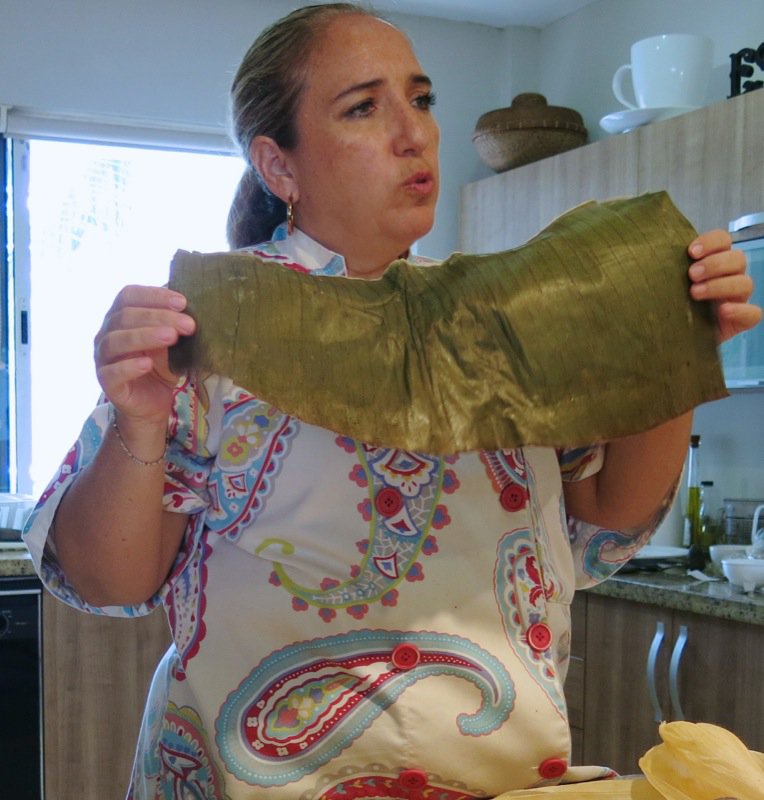 Soak the leaves before using them as a wrap. Such a simple and critical little tip, eh? We each made our own, so this was a little hands on fun.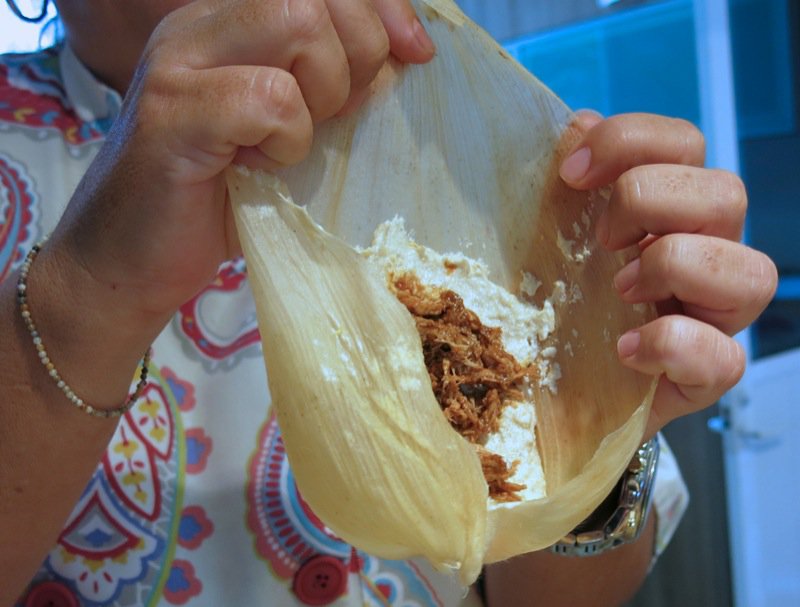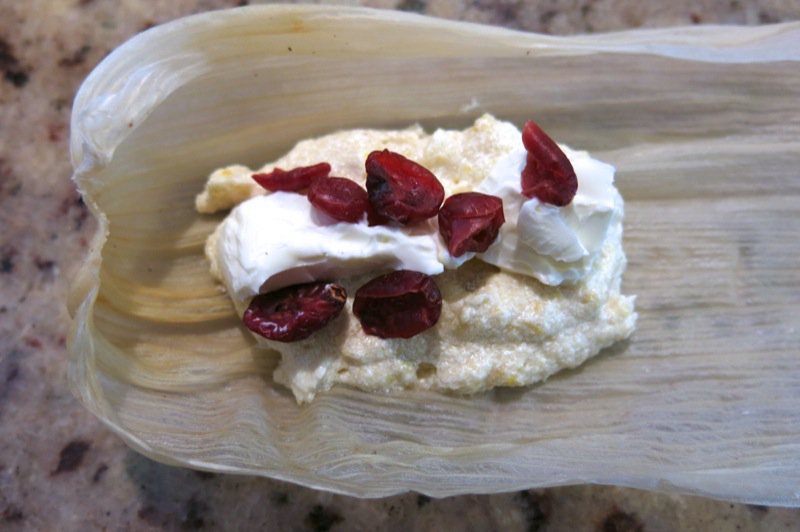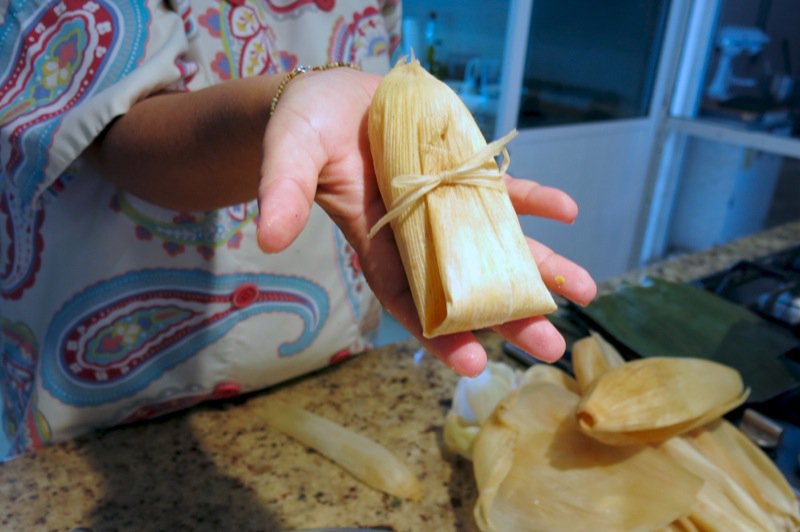 I did take step by step photos of making them for my own use and do not lie when I tell you that mine also looked this perfect!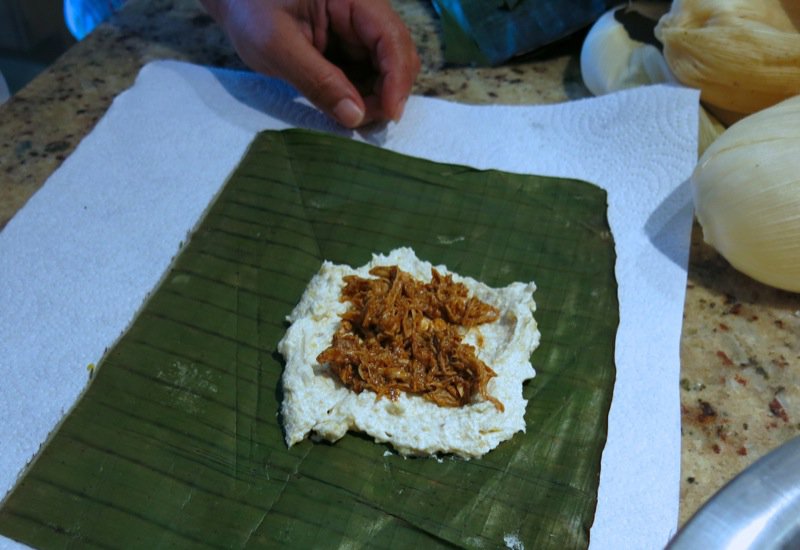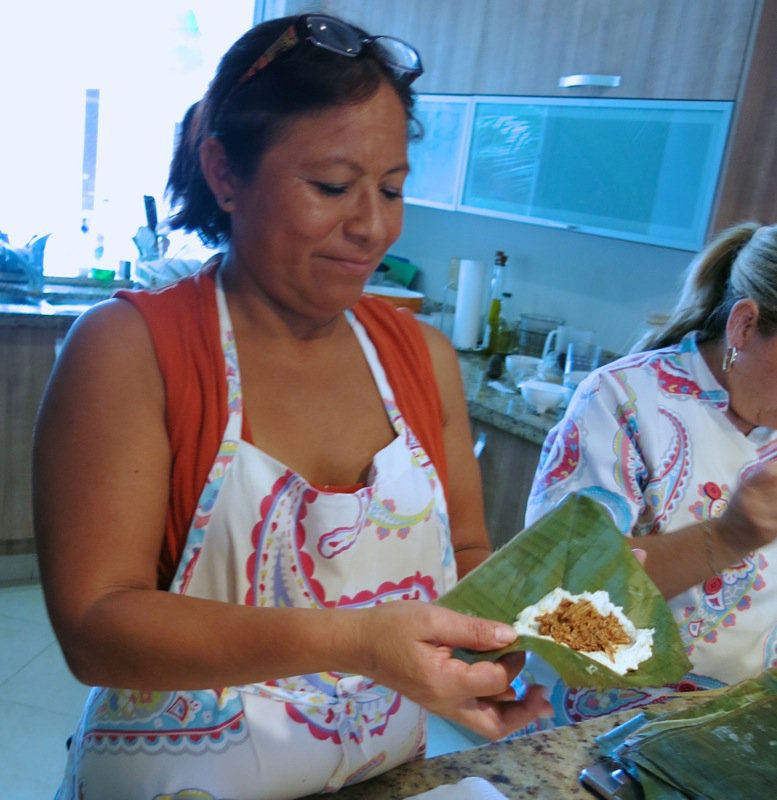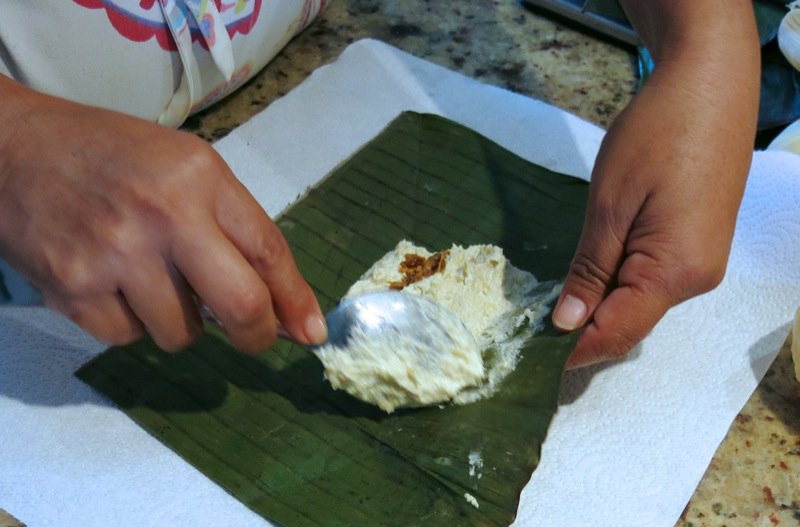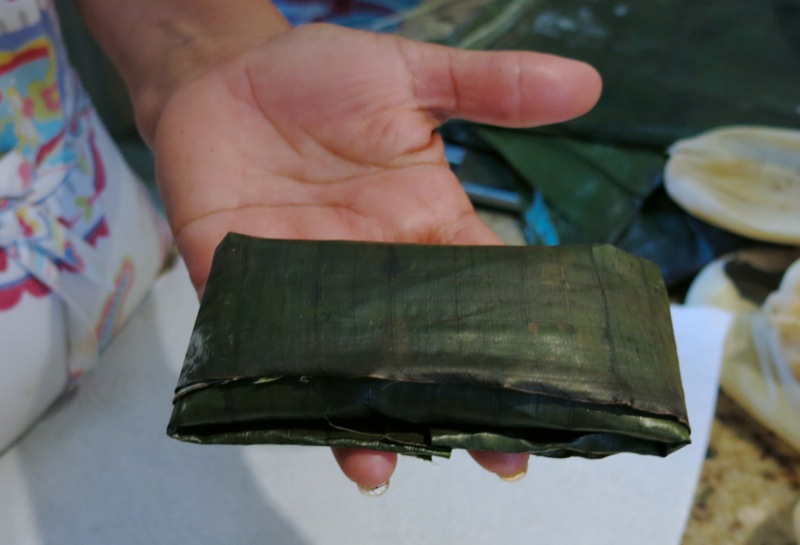 One thing that impressed me this trip was how friendly the locals were that I encountered during my stay. Poverty, yes. An abundance of it. Visually apparent driving down any road seeing the housing and infrastructure of the outlying areas. Yet, no begging. People were spotless and work hard. My heart was warmed consistently and I felt blessed to actually meet real people living in the area through my tours and activities like this.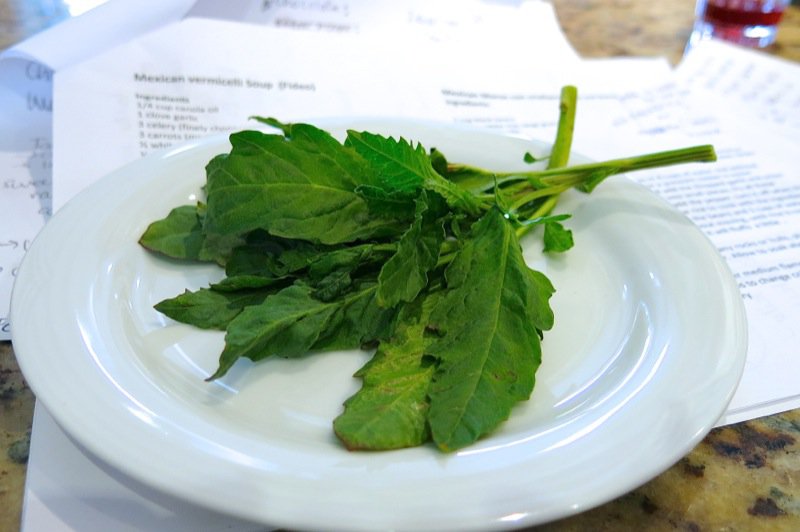 This leaf is actually a common weed that is used often to flavour Mexican stews and soups and concoctions particularly if they contain beans. It is called Epazote and I have purchased it dried in Edmonton at the Mexican store and have lately found it fresh at Superstore.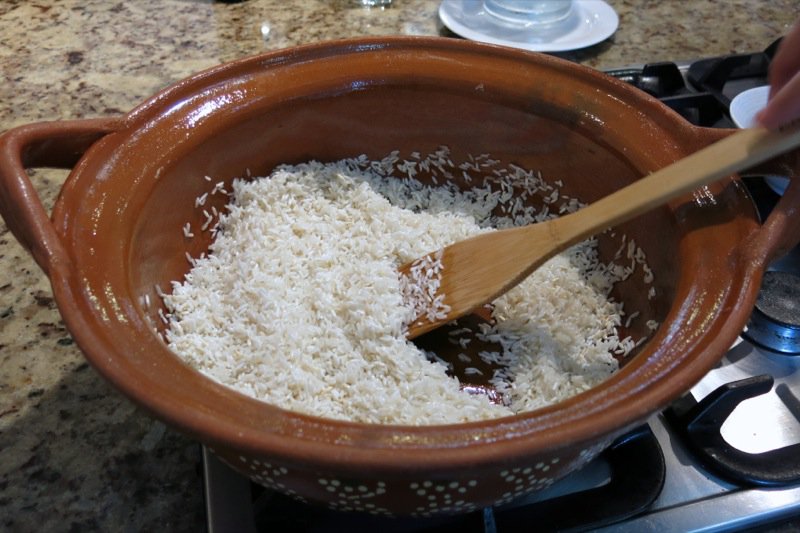 Travelling finds me yearning to do everything the same way the people of the country do them. I wanted to have a set of clay pots. I have no place to put them, but found myself wishing for a clay pot. To ensure the rice grains do not stick together, the rice is fried until golden before used in any recipe. That was a big surprise to me. Had never heard that before.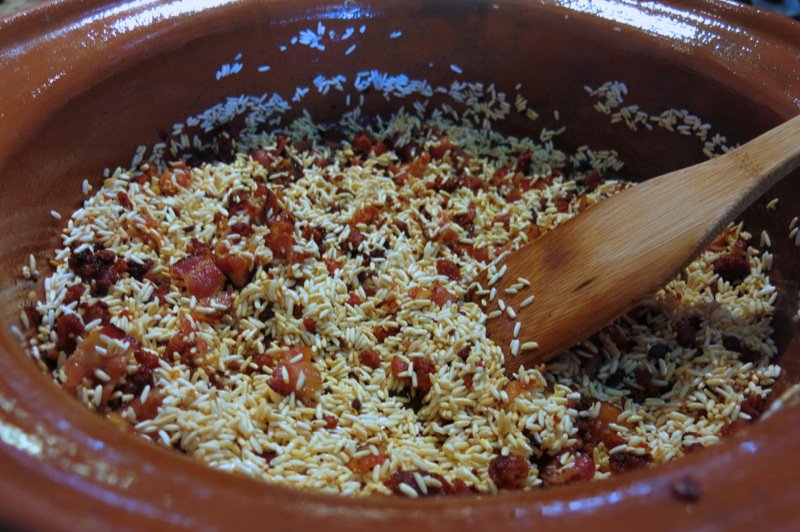 Chorizo and bacon was added for flavour, but the rice was stirred consistently and fried until literally golden brown.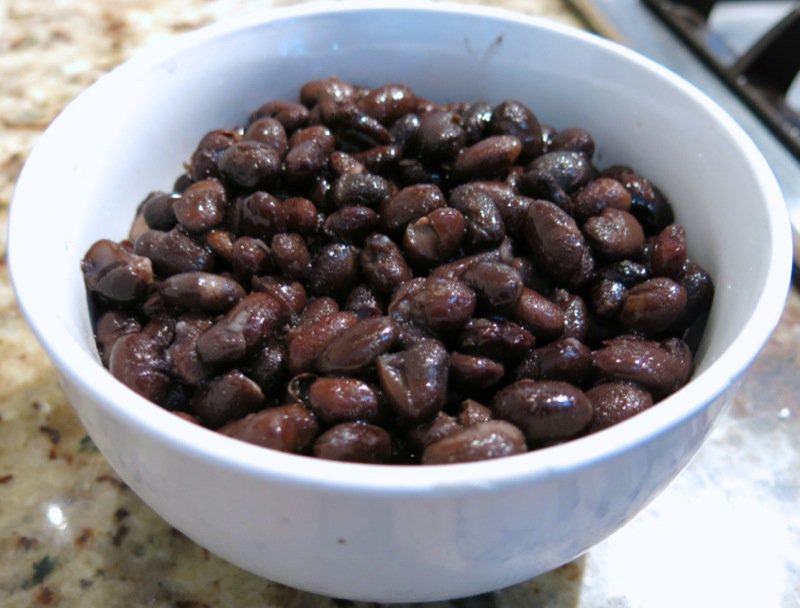 The black beans were cooked before we arrived and the liquid was also added to the recipe, as well as the beans.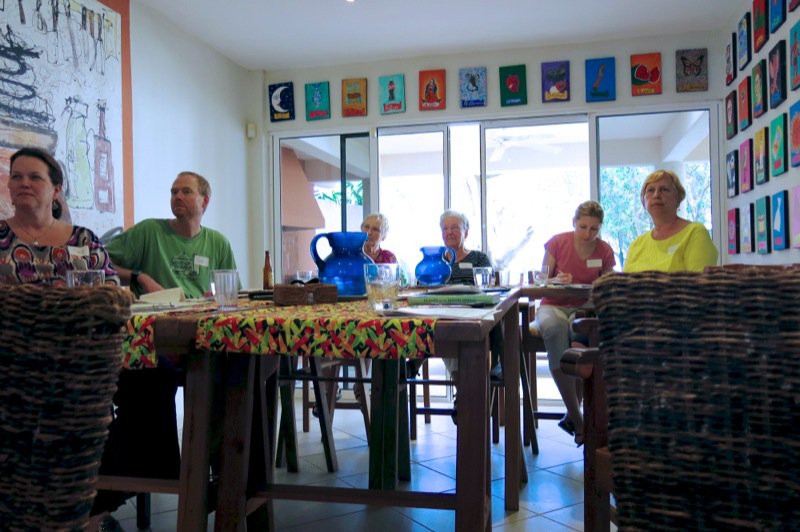 I was perched at the counter, with three others, and behind us on the large table in the kitchen, the remaining 8. You can see the little artistic renderings of the folk art game Chef Claudia painted herself on the walls in this photo.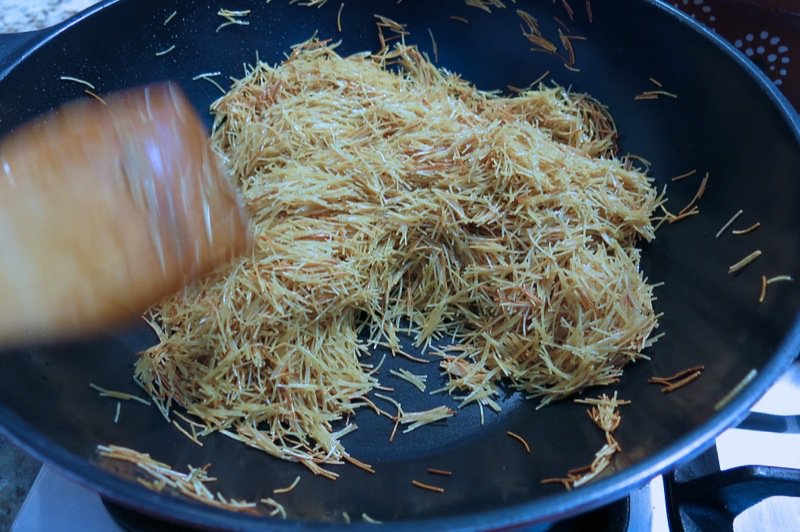 Same technique, different substance. Corn vermicelli is very common and always fried until golden when using to avoid mushiness in recipes. Each strand definitely held its shape in the soup after this lengthy cooking process. Below, you will get a good idea about how brown the rice and vermicelli become when fried.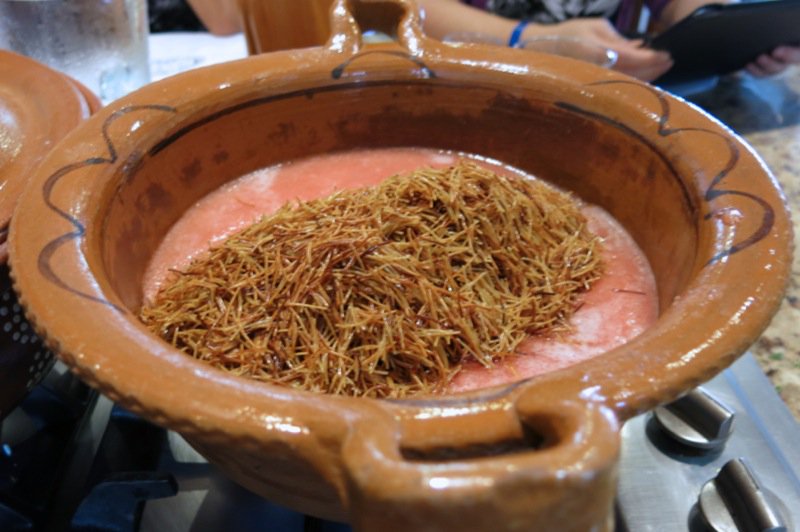 Pablano peppers are available in Canadian grocery stores on occasion. Not often, but I have definitely picked them up here and there. However, every Thursday the Mexican Market brings them in, so phone around to the one closest to you and order them when you need them. The are no more expensive than any other pepper and are a gorgeous, meaty pepper that is not spicy at all, but full bodied and flavourful. Dried, the Pablano becomes the Ancho pepper.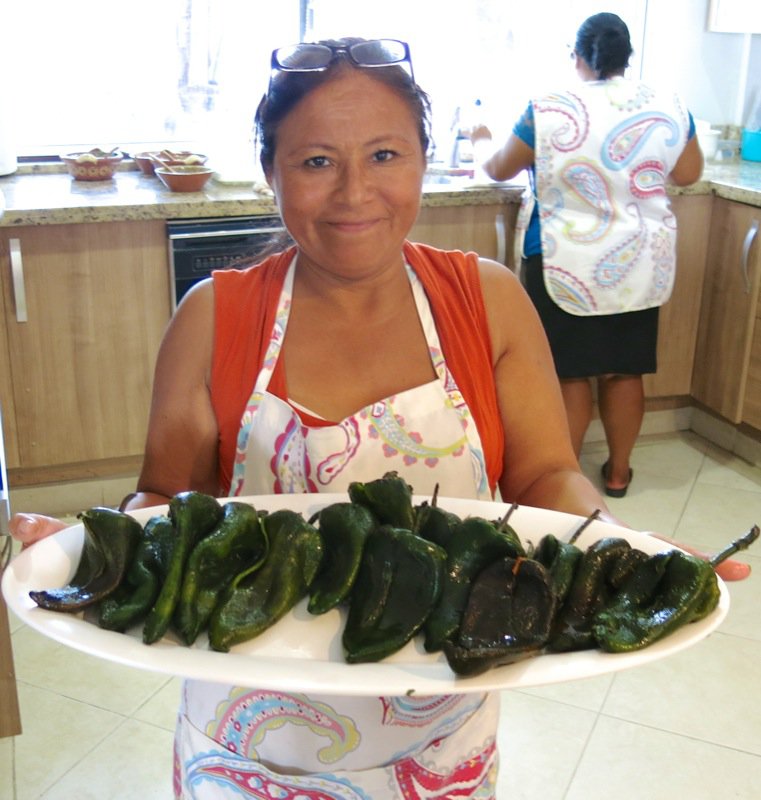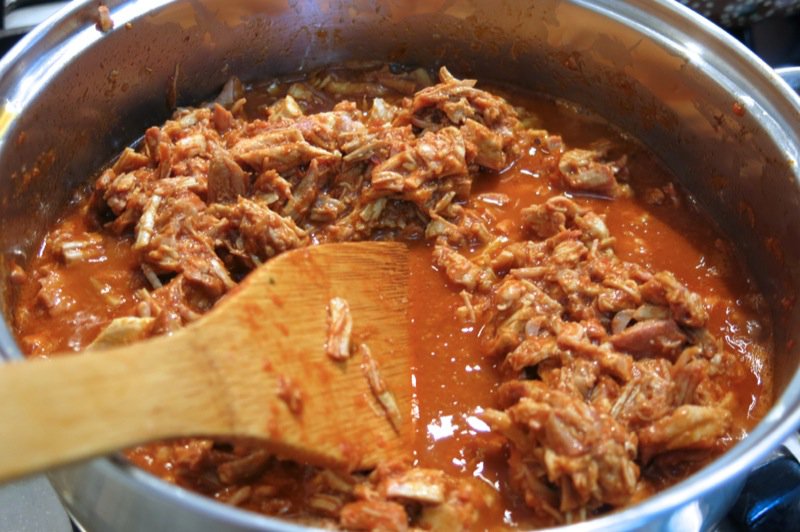 Maria proudly presents her roasted peppers. These are not peeled. Interestingly, and wisely, me thinks, the peppers are grilled before being stuffed. We stuff our peppers raw, then cook them. This is a smarter approach as the peppers usually take much longer to cook and the filling is almost always cooked, anyway. My second observation: a rustic tear is made along the side of the pepper for stuffing, then closed over the stuffing. Makes a lot of sense. I will never be stuffing peppers "my old way" and wonder why I don't think more when I cook. Too much rote work, at times.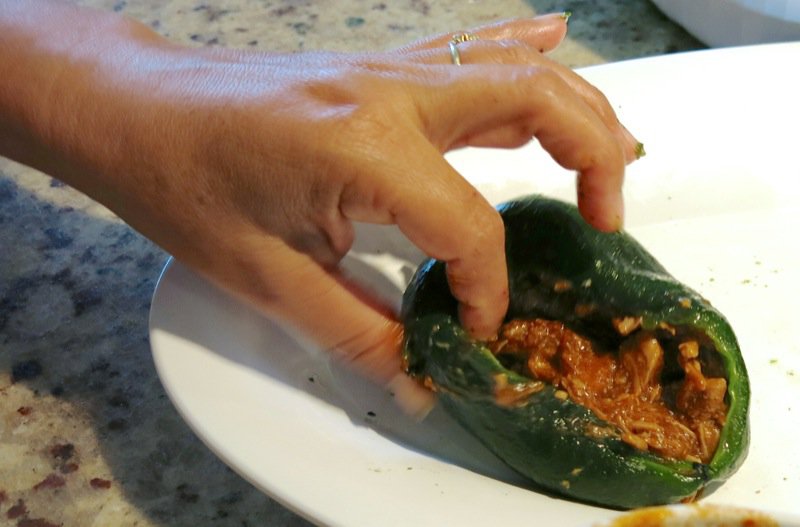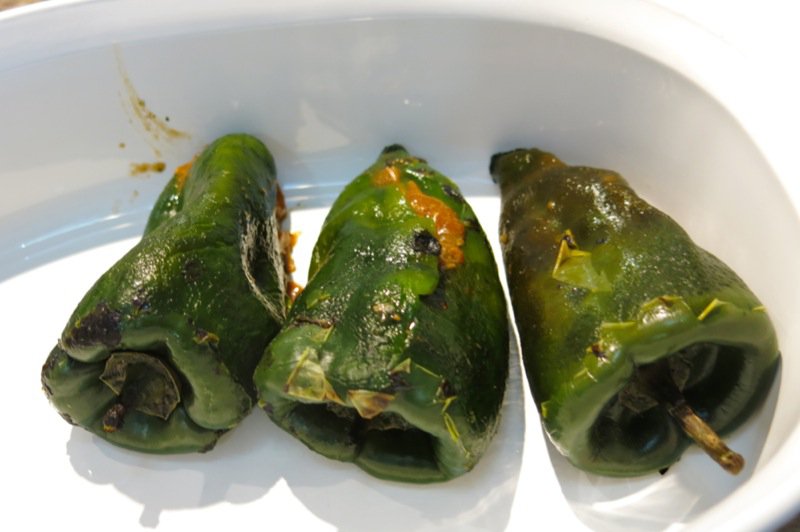 We all thought the deep fried version would be tastier. However, it was not even close. The batter was gorgeous and delicious, but the peppers that were baked with the sauce had a more vibrant flavour and texture. The deep fried peppers were cooked at a higher heat which did change the flavour and texture. I was not alone in this observation, though it is obviously a personal preference.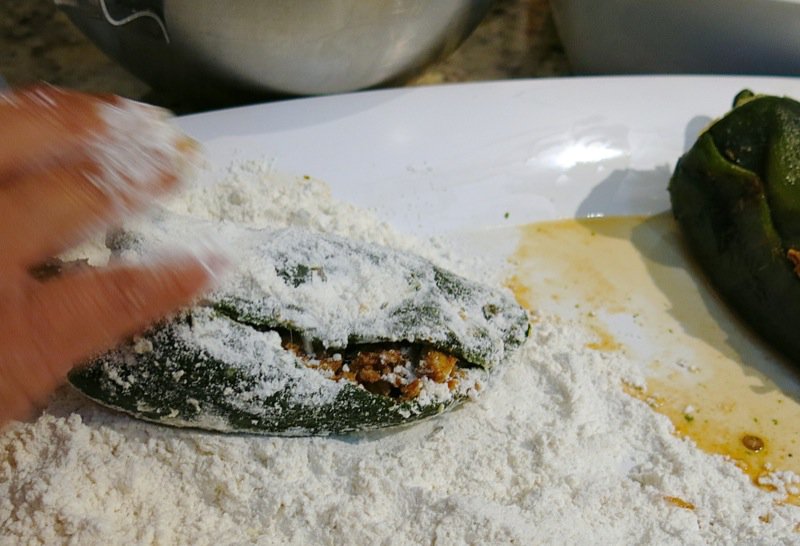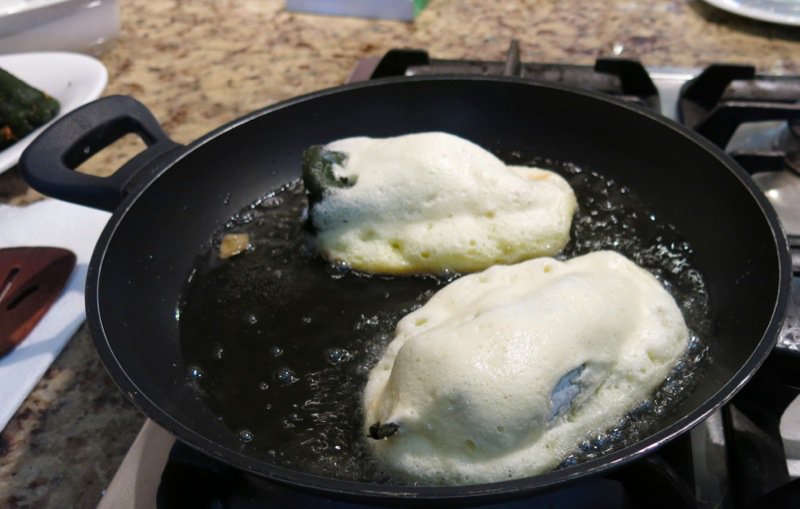 I was surprised to see such a fluffy and loose batter. I did expect a tighter, thicker batter and to see these deep fried, not pan fried. That is why I love cooking classes. Just watching, I learn so much!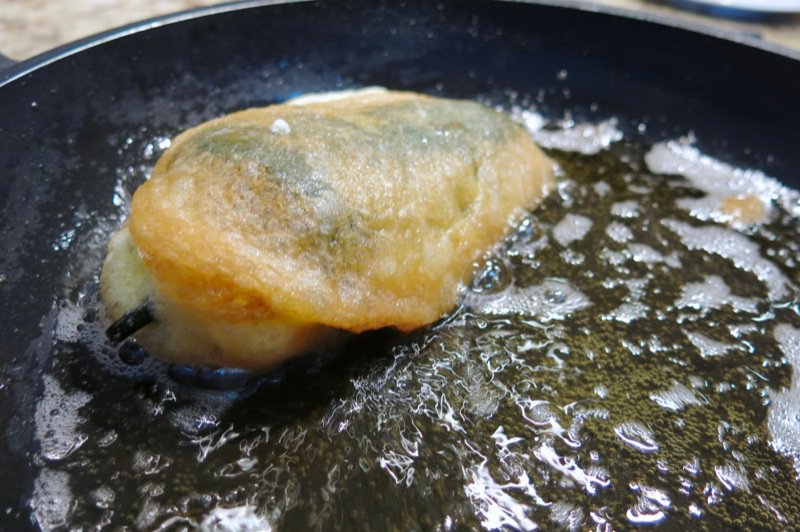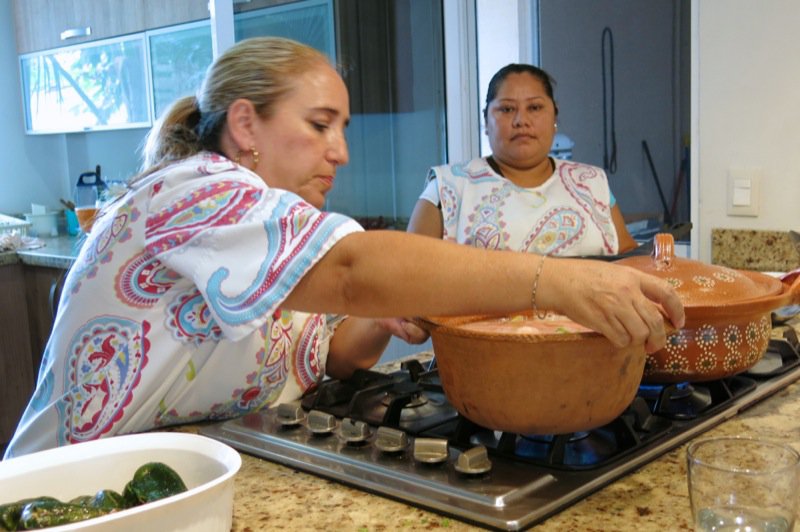 Can you feel me craving clay pots? They are so rustic and real and gorgeous and we could not believe the heat they could tolerate on the stove top. Of course, they must be tempered. Apparently filled with water and left in the oven overnight at about 200F until the water is completely evaporated and then used consistently, or the tempering must be done every month if the pots are not used.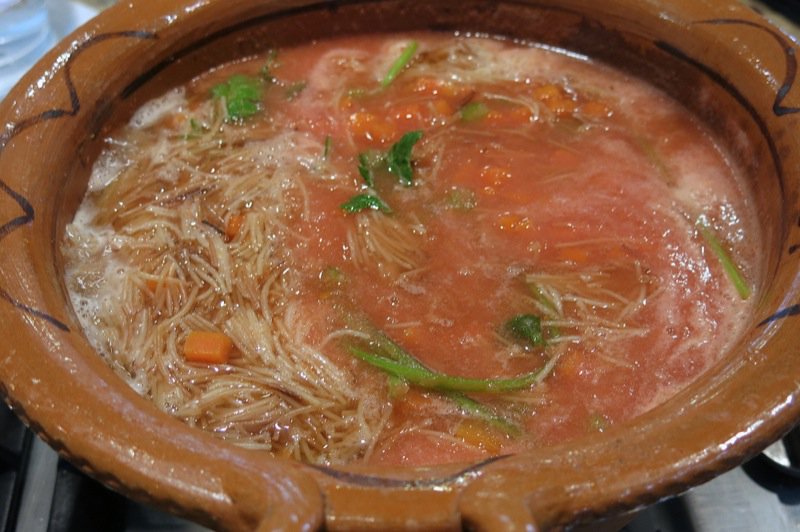 Above, you can see how the dark golden colour of the fried vermicelli has dissipated and how the strands are clearly not mushy in the soup. Below, Chef Claudia has prepared a little fun for all of us with three kinds of tortilla dough: one that was used for the enchilada potosi style made a paste from dried guajillo and ancho peppers for colour and flavour, one with regular MesaCa flour and one with blue corn flour. That was my favourite. Probably because I couldn't find it to bring it home.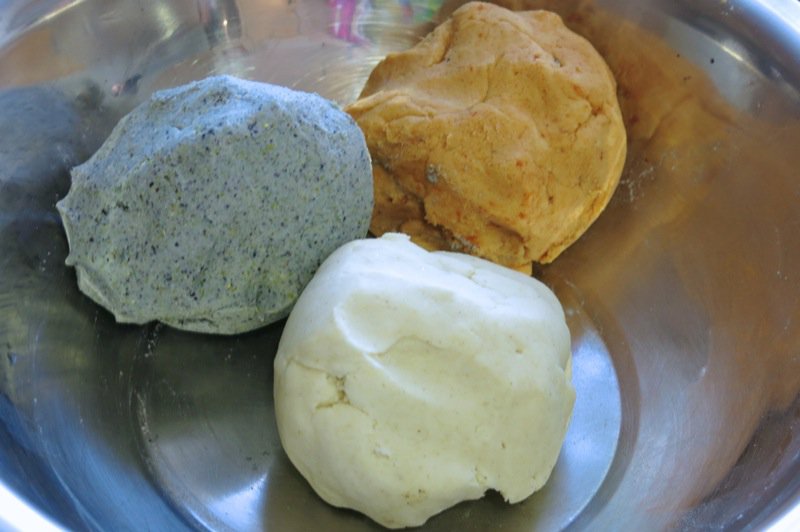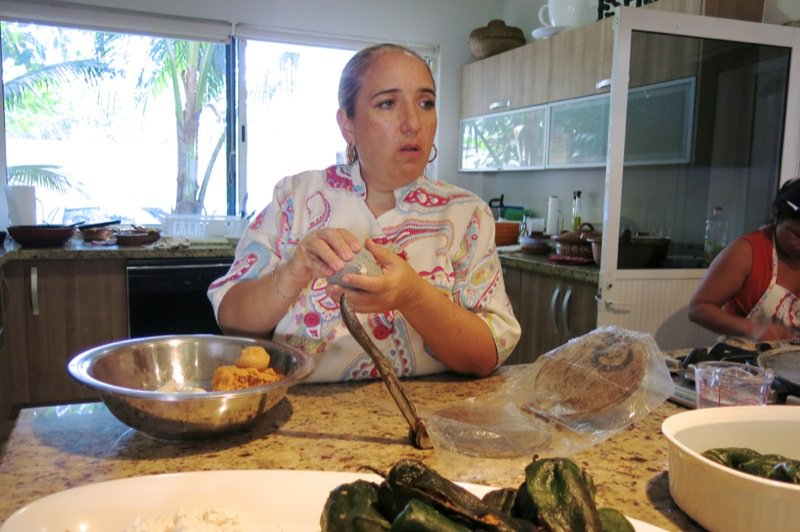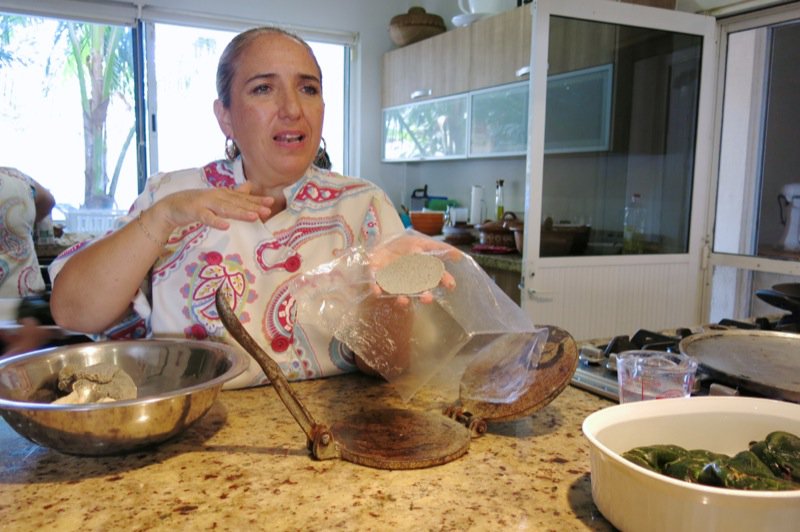 Remember how fast the gals could make their tortillas by hand. Most folks can in their households. But, there is always the tortilla press for those of us not raised with this tradition. That little amount of dough in that bowl made countless – countless tortillas!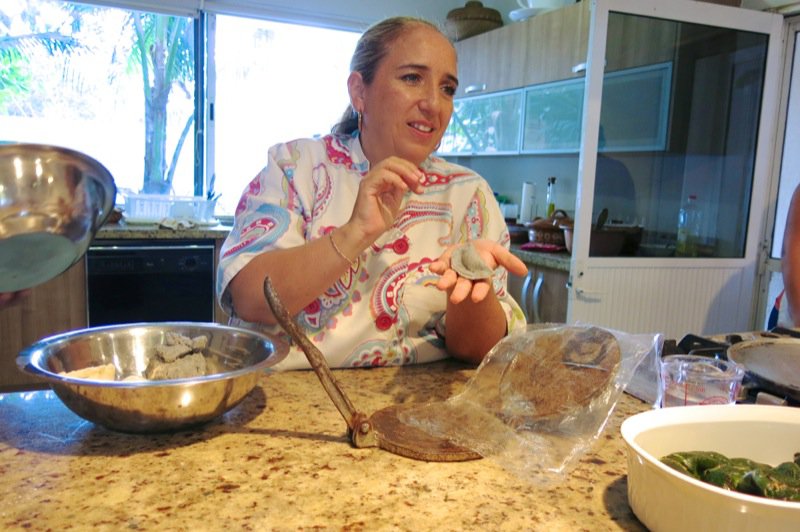 Chef Claudia shows us how to make an empanada with the same dough. Sometimes these are simply baked without oil, or they are just fried – and sometimes, they are battered and then fried. There is a different name for the treat that identifies the cooking process used and I sure hope Chef Claudia or Lorenzo – or someone else – chimes in to identify these names.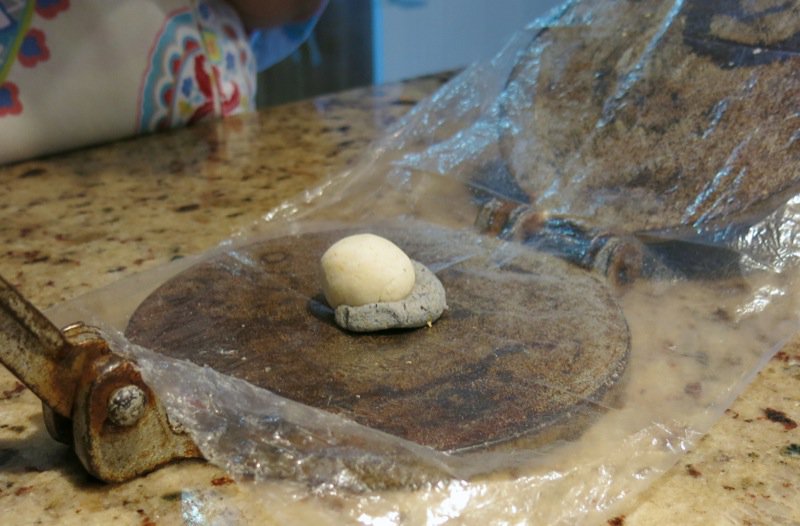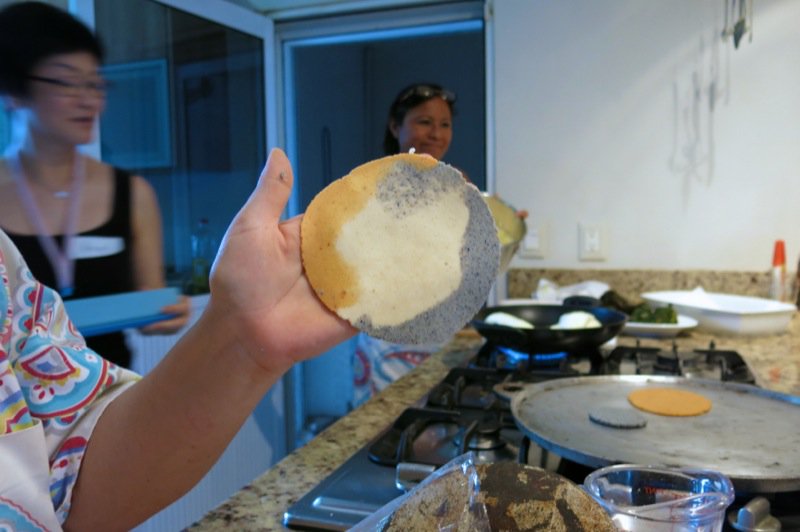 Yup! Just like kids, we had a ball making tri-colour tortillas!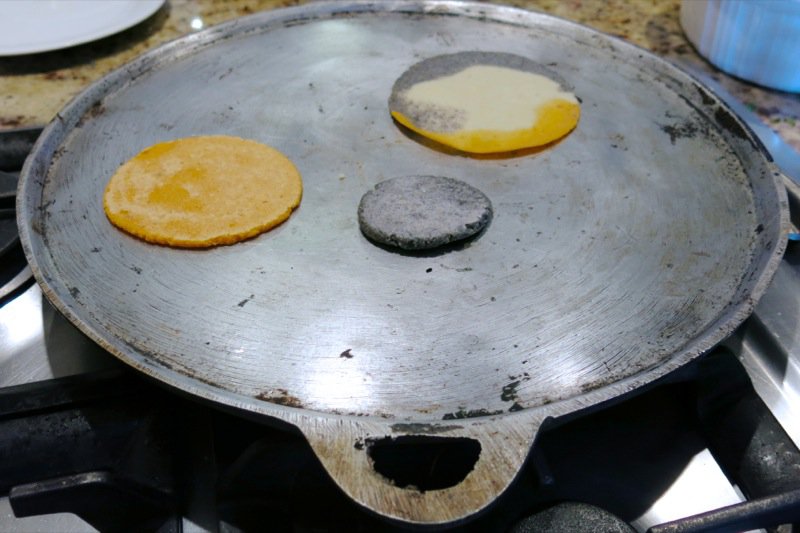 Above, you will see a smaller and thicker round. That is a sope in the making. I had asked what I had for dinner the night before and described it to Chef Claudia and she is making me one. I couldn't even bite into the one the night before. It was as hard as a rock. After this is baked on both sides, below, Chef Claudia pinches edges around the shape which is what makes it a sope – or a little cup to hold fillings.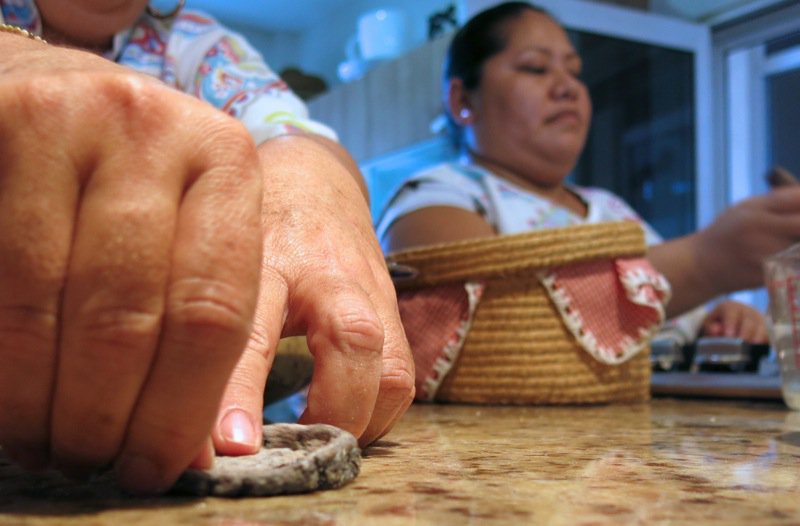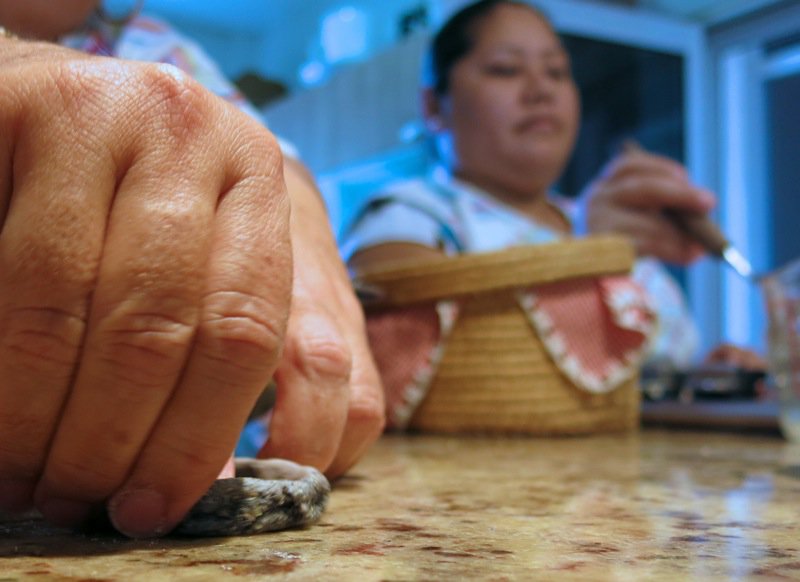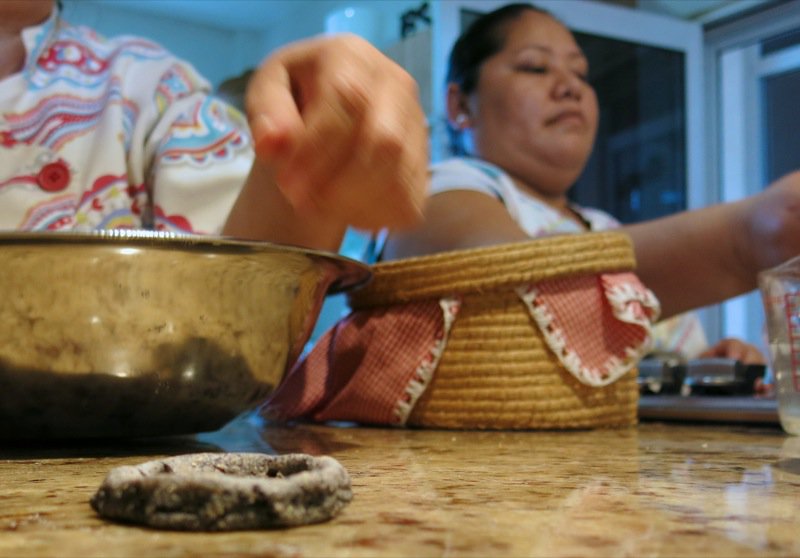 She said it could be filled and eaten just like this, but they are usually fried a bit first.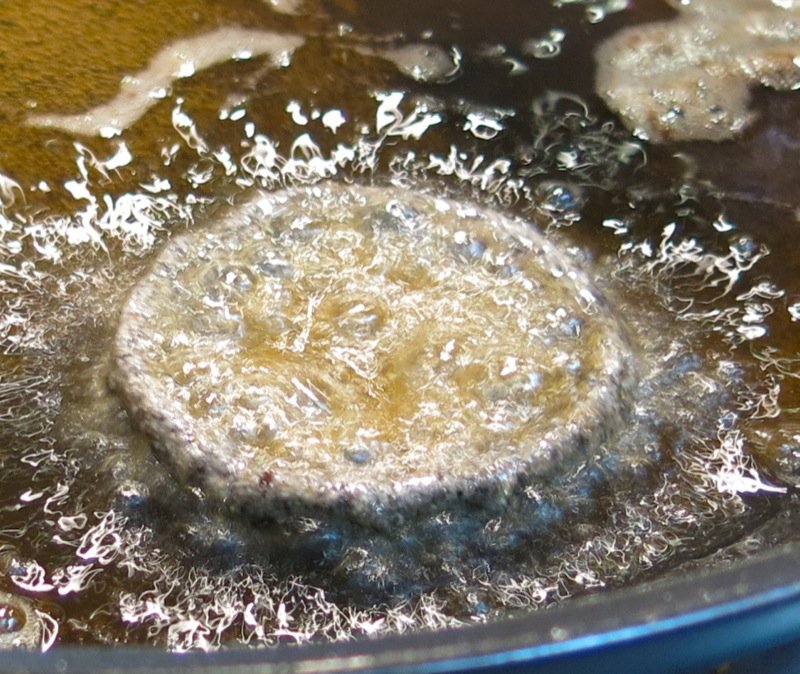 Thirty seconds in the frier, maybe. Certainly, no more, and out it came. "May I taste it?" This is what had me on the hunt for blue flour. Tasting this sope. It was indescribable. Everyone around was breaking little bits off to taste. Eyeballs were rolling all over the floor. This was the best corn anything I had tasted in my living and pre-existent life forms. Vanja has actually sent a text to a colleague visiting her home in Mexico to bring me some. It is that good.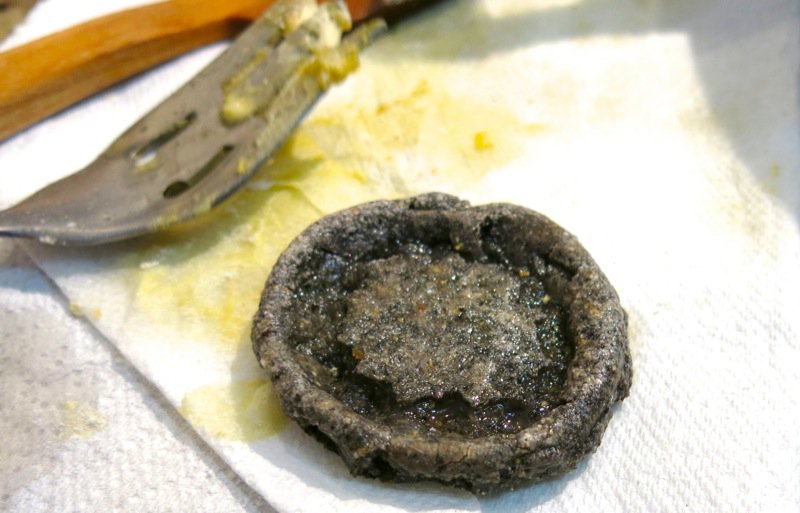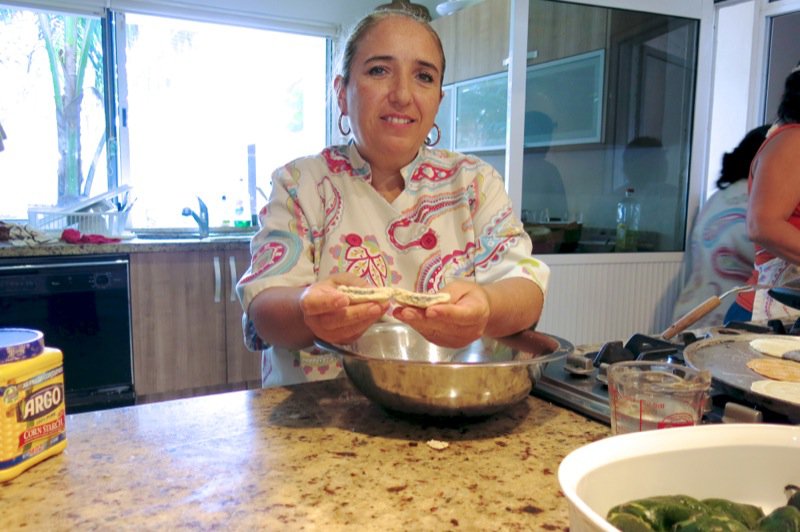 There is a name for the little ditty above, too. The same idea as the empanada, but the filling is rolled between the flour. What is this called? There were a lot of them at the buffet in our resort that were endlessly flavourless. Our food was great. These were not, but Claudia's were mightly tasty. It is all dependent upon them being fresh, hand made, with excellent ingredients and a highly flavourful filling.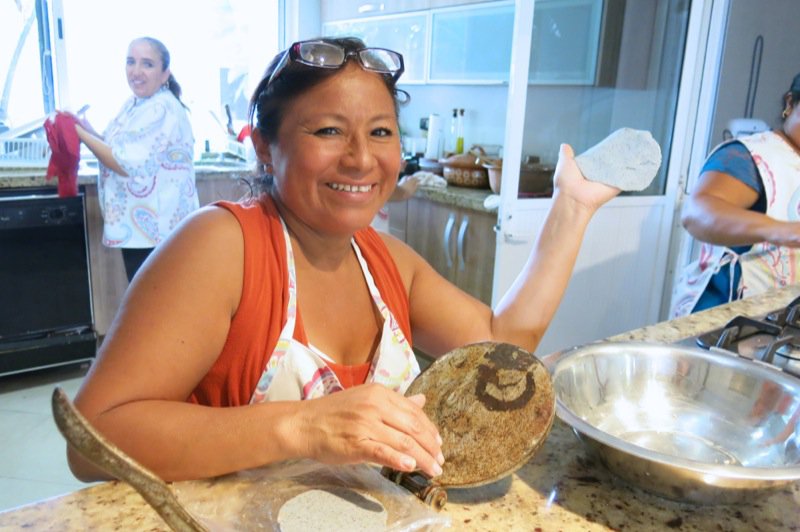 Love this gal. Loved them all, actually. As my husband's family doesn't speak English, I have honed my non-verbal communication. As an educator, we pretty good at it, too. These gals spoke volumes with their eyes and smiles.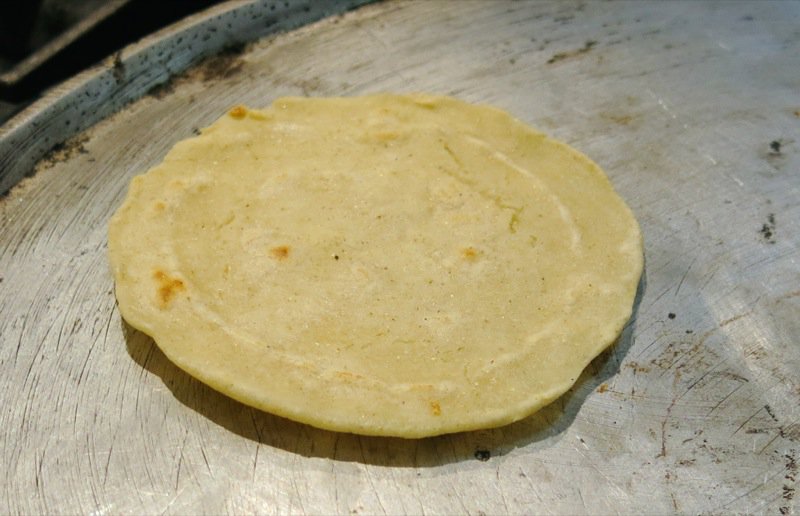 You know you have a tortilla that is cooked when there are brown spots on it. Can you tell how small these are? They are really small. That is the size of an authentic tortilla.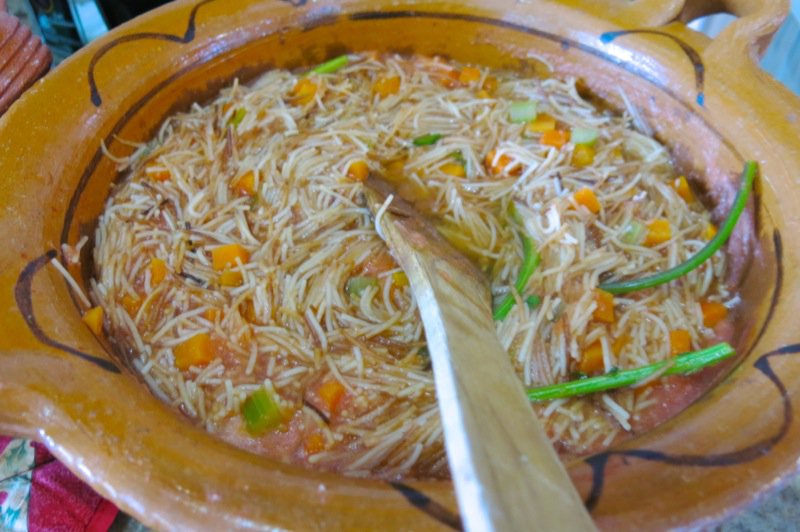 Looks like the noodles have really soaked up the tomato liquid in the soup!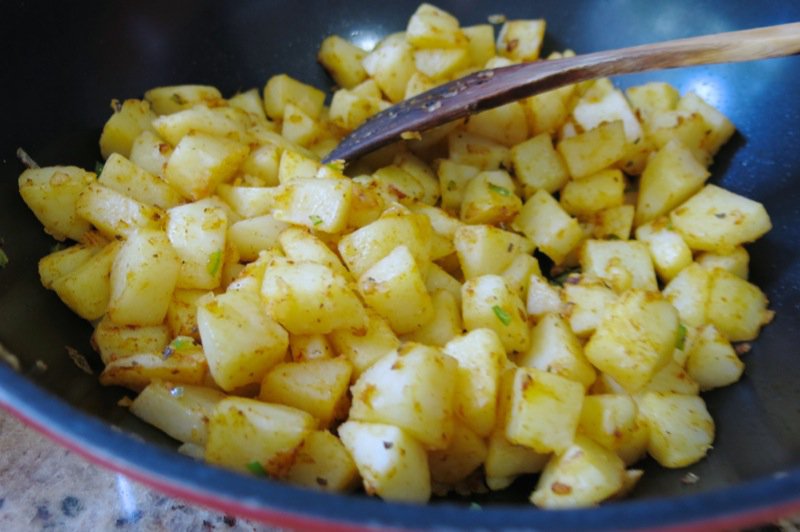 Potatoes are being reheated. We must be getting ready to feast. Yup, I believe so. Beans are done, too. Lorenzo has called all outside for a lesson on tequilla, but I stayed and watched the busy bees in the kitchen prepare the food for the buffet.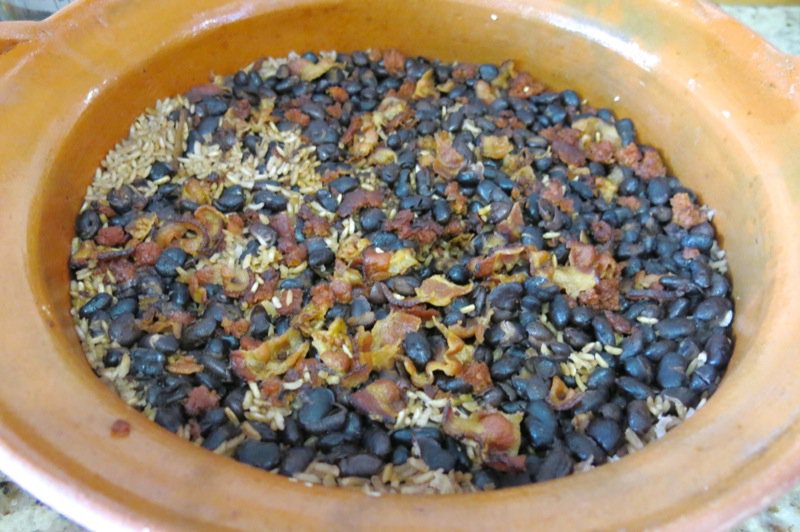 India has dried powdered spice mixes called curries or Marsalas and each of the 5 regions of Mexico has a similar idea for mixing spices, but each regional way is completely different from the other.
Northern Mexico Spice Mixes: Adobo Pastes
Adobo pastes which are made from the dried peppers of the North combined with other local ingredients.
The peppers from the North are completely different than the peppers of any other region within Mexico due to their soil and climate or what some may know as terroir. The flavour profile created by these peppers in the adobe pastes is identifiable as Northern Mexican cuisine.
¼ cup of adobo paste to 1 cup stock is the ratio used to mix adobe paste for use in a recipe
Carne Seca is a dried and salted meat very traditional to Northern Mexican cuisine and is great with eggs and mixed in a variety of soups and stews.
Central or Internal Mexico Spice Mixed: Mole Pastes
Mole pastes are what those in Central Mexico use to flavour their meat and are made from a combination of regional dried peppers, nuts, seeds, sugar, and fruits. An adobe would never have nuts, sugar, seeds or fruit in it as a mole does.
The best moles that you can ever taste can be found for sale throughout Central Mexico. Supermarkets sell them in bulk and smaller villages and towns have a mole maker where people buy their mole from. These moles are second to none and will be the best you can ever imagine. There is no difficulty finding delicious moles in Mexico markets.
Each area of Central Mexico has specific moles that are known to be the best from that specific area. For example, Oaxaca is famous for their black mole and the specific pepper used in that recipe cannot be found anywhere outside of that region in Mexico. Not in the Yucatan peninsula and certainly not in a Mexican Market in Canada. That is what makes each mole particularly unique.
However, the family mole recipe is a very personal and very special culinary tradition for each Central Mexican home. The family mole represents YOU and will contain 25 to 30 different ingredients. That is the mole one makes completely from scratch for a special occasion, party, or celebration to honour his guests. The kind and quality of the peppers, seeds and nuts are the most important part of the family mole recipe. Often the host will make enough of this family recipe to serve at the party and to send a little home with each guest as the most precious gift. "Mine is the best, but you have never tried mine, so you will never know."
¼ cup of mole paste to 1 cup stock is the ratio used to mix a mole for use in a recipe:

add the stock to dissolve the mole
the body of the stock will thicken as the stock begins to boil which is unique to the mole (the sauce thickens due to the mole ingredients)
the meat is added when the sauce starts to thicken
South/South East or Mayan Cuisine: Achiote Pastes
A Mayan paste called Achiote is specific to the Mayan people, Mexican's aboriginal people, and is used within the Mayan food culture.
There are red, yellow/white, green and black achiote pastes.
Annato seeds are used to make the paste as they grow wild in the jungle. (Interestingly, they are also used to colour orange cheeses.)
Once the seeds are soaked in water for one to two days, they create a yellow dye that is used to make a paste to decorate clay pots and faces; Chef Claudia adds: "Everything is tested for eating in the jungle and if you don't die after eating it, it must be good for some recipe."
The red paste makes an excellent marinade and is not dissolved with a stock, but with the juice of the ugly fruit or sour orange:

For 10 people, 2 tablespoons to one cup of sour orange juice is the correct ratio used to mix the achiote for use in a recipe.
If you cannot get sour orange, use 1/3 lime juice, 1/3 grapefruit juice and 1/3 orange juice for a similar taste profile.
Add chopped garlic, salt and olive oil to this mixture and use it to marinate literally anything that moves: it is delicious.
A traditional dish made with this paste is called Cochinita Pibil
The yellow or white paste is made from green peppercorns and recipes made with this paste must be slow cooked

For 10 people, 1 tablespoon to one cup of key lime juice is the correct ratio used to mix the achiote for use in a recipe.
A famous sauce made from this paste is called Escabeche.
Coastal Mexican Cuisine
Seafood and fish cooked with lime known as ceviche is a staple in Mexican coastal communities.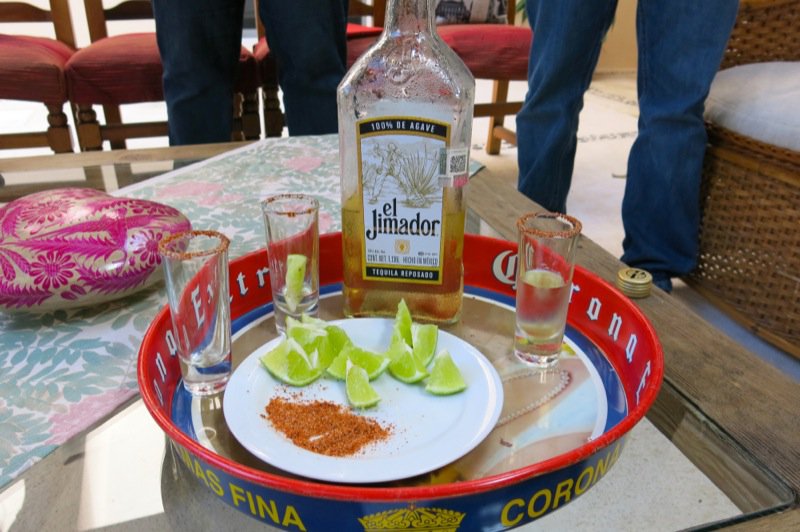 Finally, arriving outside for my lesson on tequilla, I recalled Chef Claudia asking much earlier: What is the number one drink in Mexico?
Go ahead. Think about it. What is your answer? Some said tequilla, some said cocoa, some said fruit punch or exotic juices. The answer to all of our ideas was "NOPE!"
Cocao
Chef Claudia says the Mexicans belive the Gods gave us Vanilla, Cocao and Corn. Cocao beans are found in the husk very similar to lychee seeds and are fermented in the sun. Without the fermentation, there would be no chocolate flavour as we know it. The fermentation process is essential to the development of the flavour. The dried and fermented seeds are then easy to remove from the pod.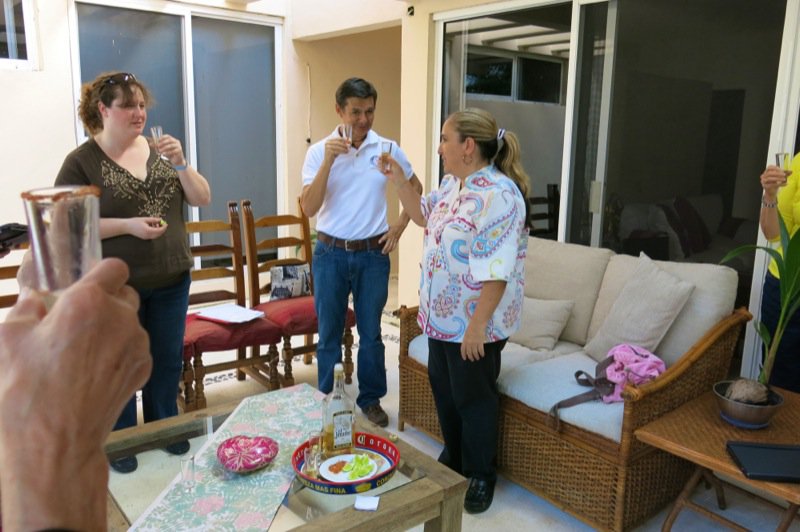 So what is the number one drink in Mexico per capita? Coca-cola. Yup. Sad. True.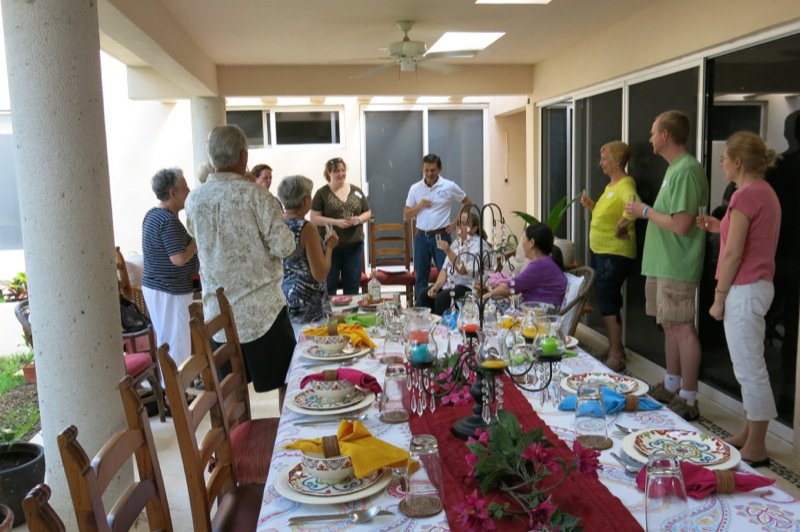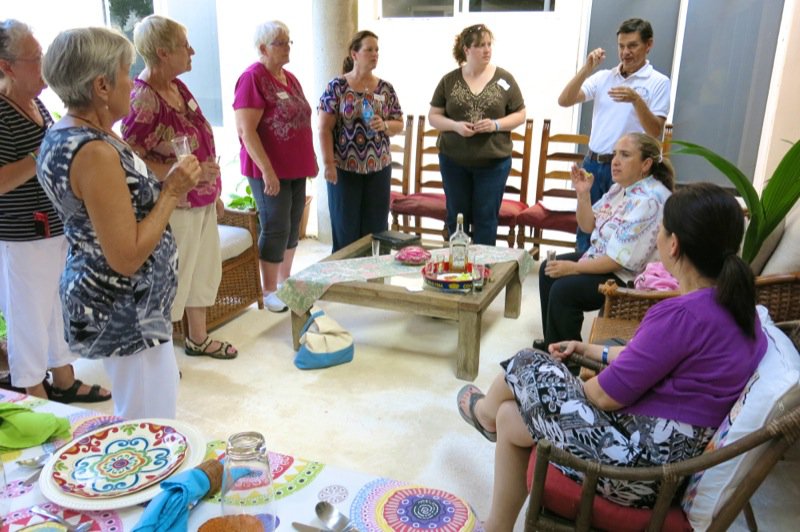 Tequilla is made from the aguave cactus. To be called tequilla, it only has to have 51 percent of aguave in it. However, to be considered "real" tequilla, or a good quality, it must say "100% Aguave" on the bottle. There are many labels and the same standardization process has reached Mexico that all distilleries adhere to for classification purposes. But, Lorenzo said that the lime used to be sucked before drinking the shot to prepare the palate for the burn as the old original home distilled versions were much grittier. One can only imagine. The "new" tequilla is smooth and doesn't require the lime before the shot and people tend to suck on a lime after a shot now. The shot glasses were all lined with a salty spice pepper mix that wasn't hot, but flavourful and delicious, actually. I tasted the tequilla, just a little and it was "OK". Better than I expected. It did not burn at all like the Yugoslav sljiva does. But, then, that is home distilled and only good for brain removing in my opinion. 🙂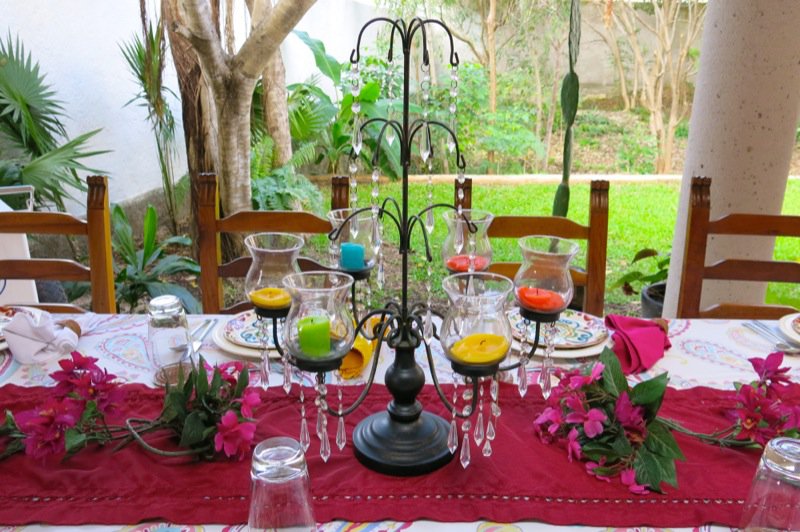 The table setting, indoor and outdoor life style as well as Claudia's personal artistic flair had me yearning for another life, again. One where I could just cook and draw and paint. No one else is in charge of my life, but here I sit, reminiscing and writing a post that has taken me two days to organize and publish. Ah, well. I have plans to cook, and paint and draw, too.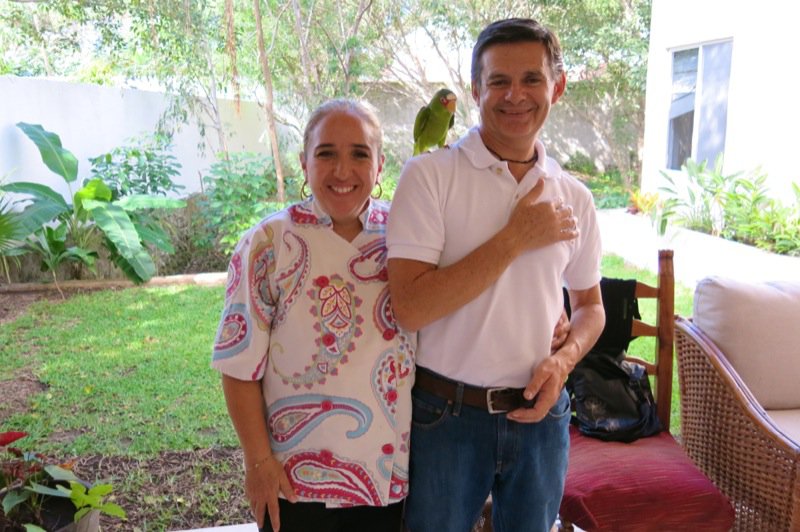 Lorenzo could not resist bringing Polly out to meet the guests. She had probably been cooped up in her cage far too long. A gorgeous family pet.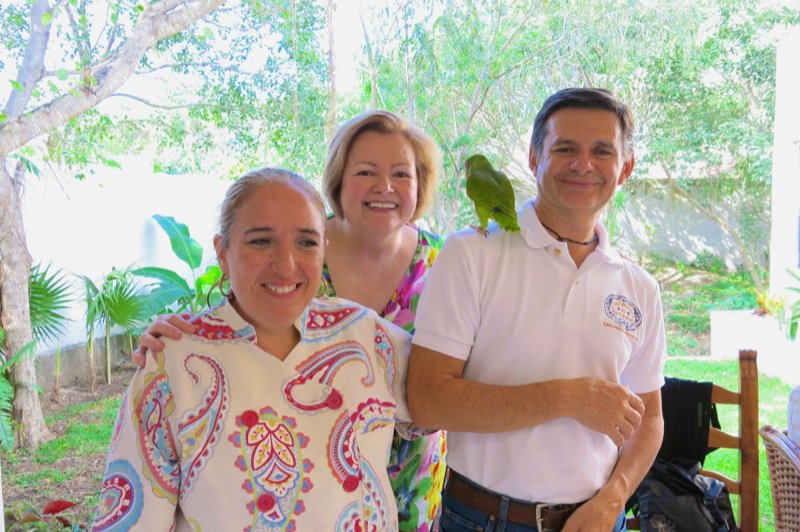 Lorenzo and Claudia, you have significantly changed a corner of my life and cherish this learning experience and my day spent with both of you in your lovely home. Soup is on, getting cold. Time to sit, eat, visit, relax and pinch myself as I really am living this life.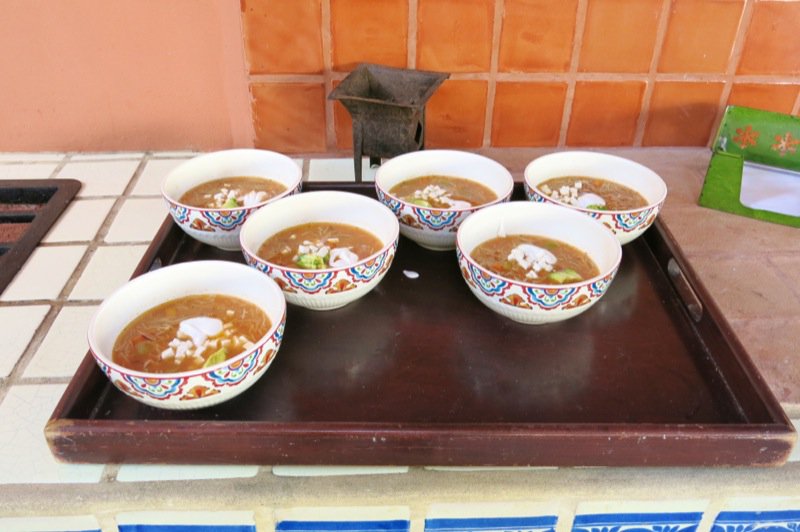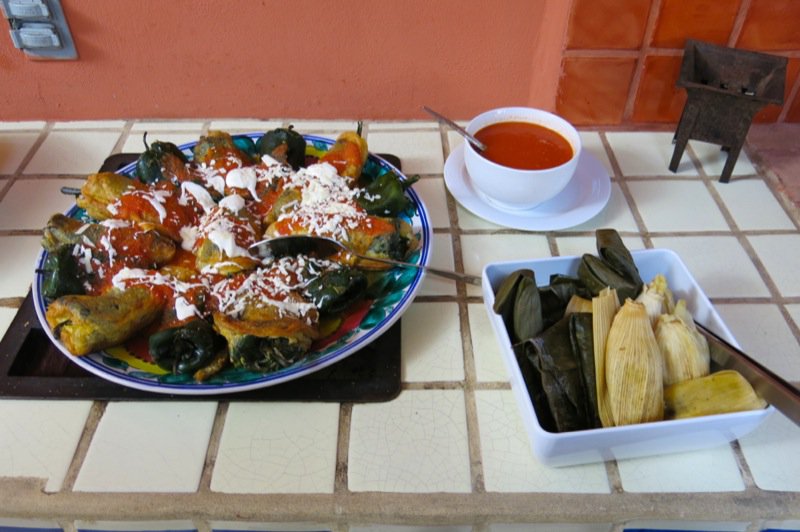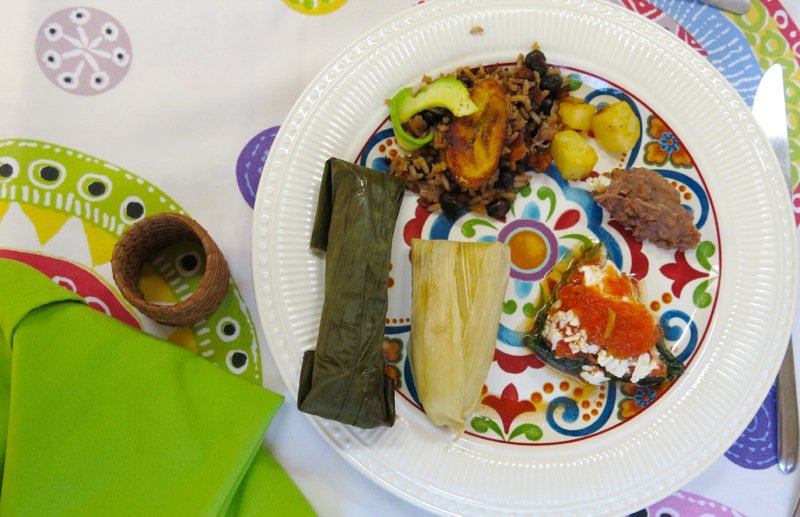 My plate is above with a little of everything on my plate, from 12 o'clock clockwise: beans with rice garnished with crisp fried banana and avocado, classic Mexican potatoes, refried beans, stuffed Pablano pepper, cranberry and cream cheese corn husk tamale, and finally the pulled meat tamale in banana leaf.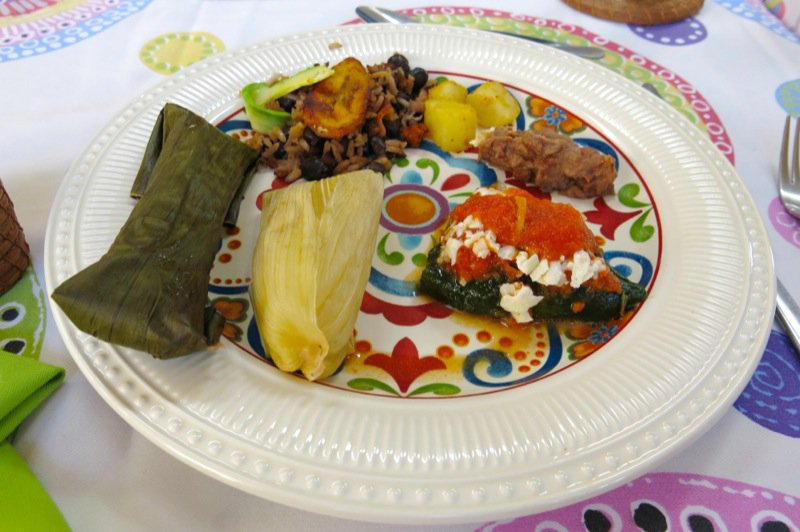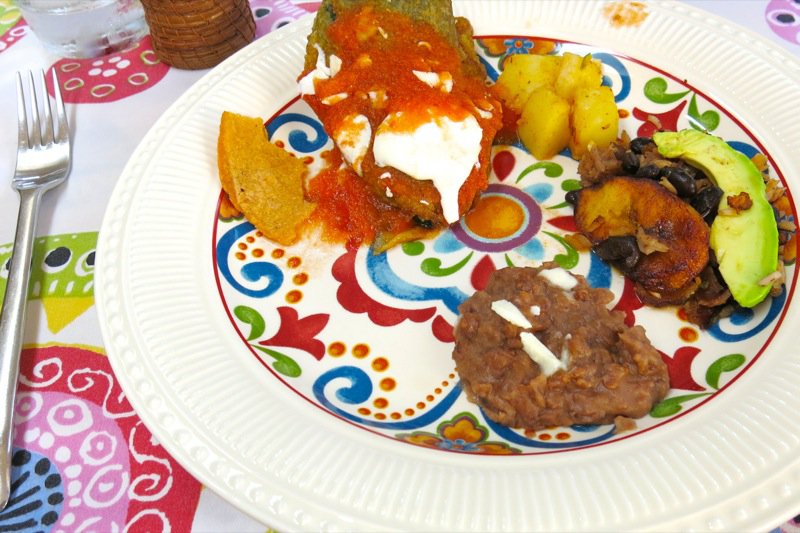 Anne's plate is above as she took a deep fried pepper which we shared for a taste.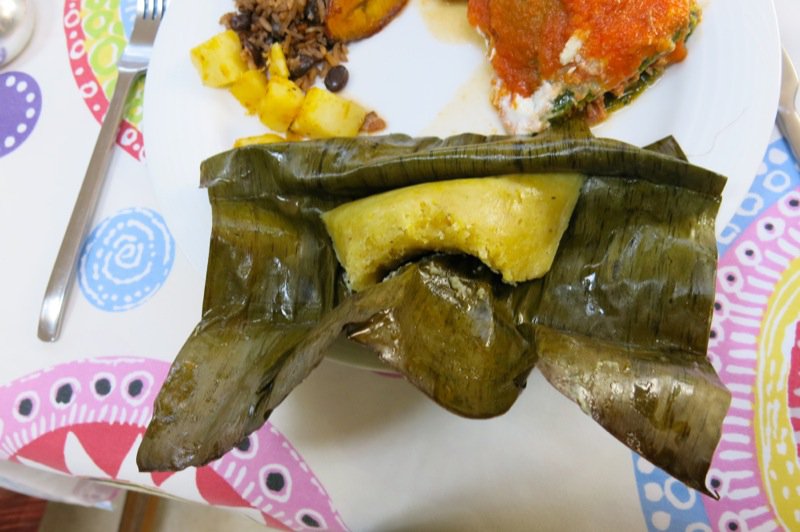 Caught Jenny opening her banana leaf tamale and find discovering the filling amidst the steamed mesa a treasure hunt.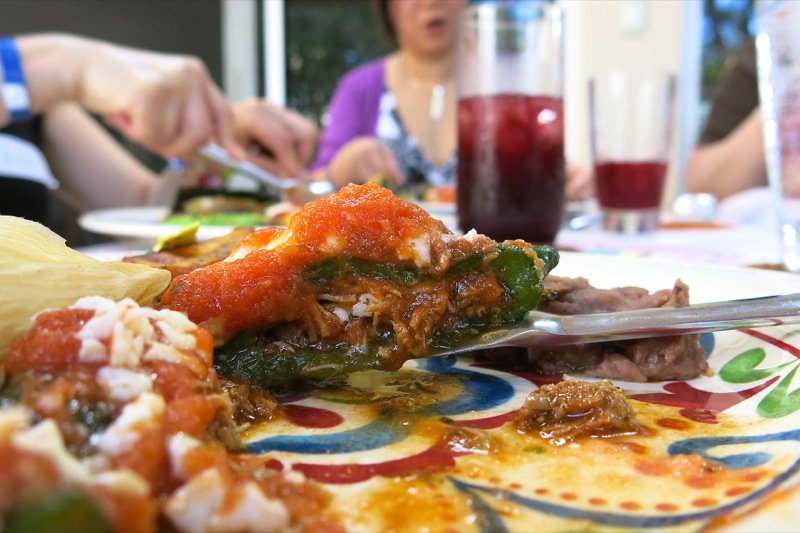 The stuffed Pablano tastes as good as it looked. The sauce and Mexican Crema added to the yum-yum quality, but it was the Pablano that really makes this dish sing. Really enjoy these peppers and can see why they are so revered here. Below, I have opened the corn husk tamale and revealed the cream cheese and cranberry buried in the steamed mesa.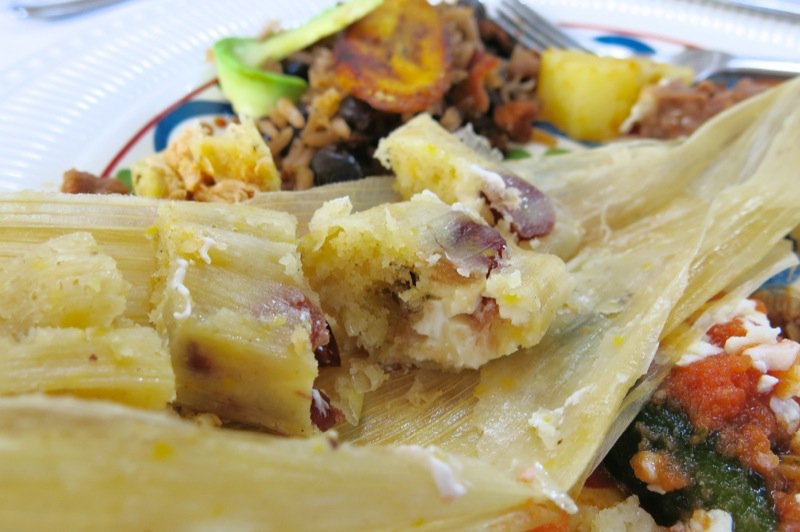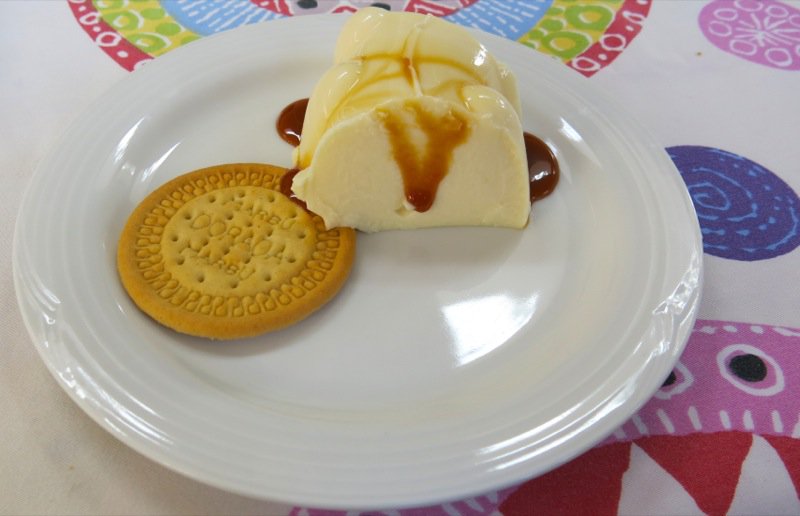 I did not expect dessert. Maybe exotic fruit, if I had been asked, but a Three Milk Mousse or panna cotta was served. There is a traditional Three Milk Mexican Cake that I had elsewhere, and I assume this is a play on that dessert. It was the perfect finale for such a feast and showcased the goat milk caramel sauce called Cajeta perfectly. It was a lip-smacking combination and I confess I ate the entire piece.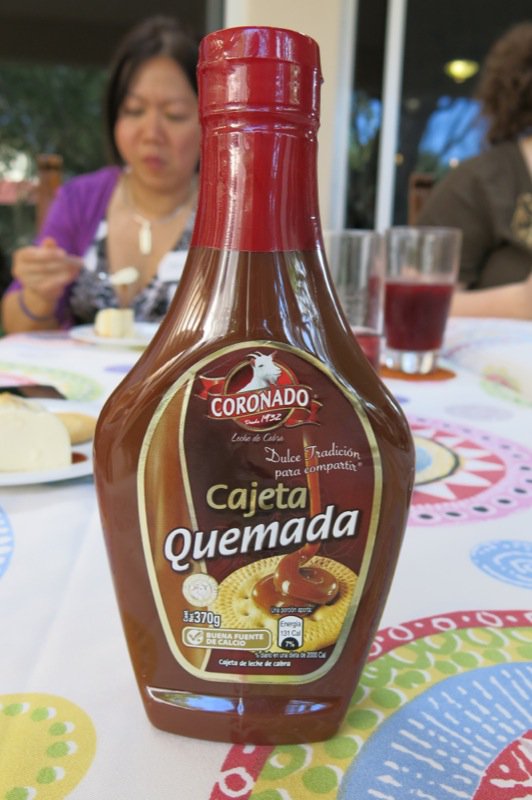 One of their two sons had broken a bone, so Chef Claudia had to slip out just after the dessert was served. Lorenzo presented each of us with an apron and a DVD behind it as a memory of our day. Completely unexpected and quite a treasure! I could not leave the table fast enough, though – as they had a room devoted to products from the class we could buy. This was a brilliant and very much appreciated bonus. Who really has time to find these kind of things in the right places when traveling?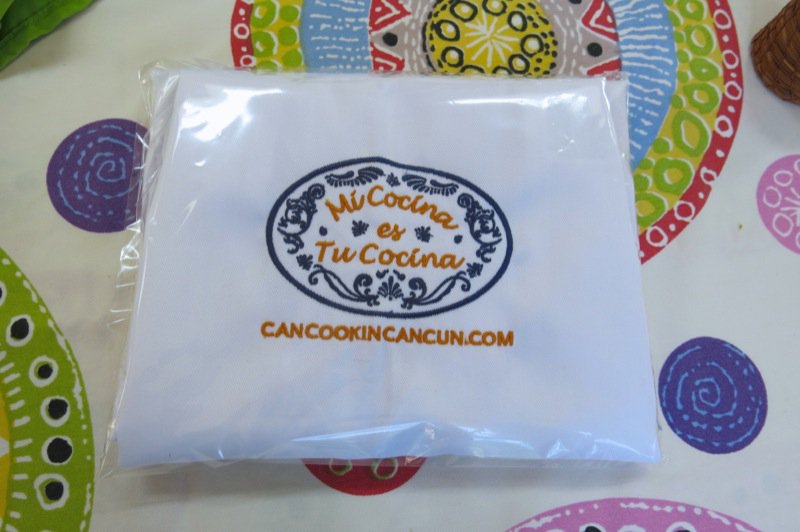 Everyone was long gone except myself and two pals as we shopped til we dropped. Vanja may find it impossible to believe, but my total was the smallest of the three of us as I have been shopping locally for Mexican food and knew what I could buy at home. However, I so wanted the sugar used to make the coffee, real authentic Mexican chocolate that I think you have to get at a private market or from a local. You will never find it in the stores, but it is what is used to make the moles, vanilla and the blue flour. They had everything else and so much more. I bought a delicious black mole in a jar recommended by Chef Claudia that I have since opened and could eat it with a spoon, almost. Whatever she recommends, buy. Nothing is very expensive. I bought the red achiotte paste and have already used it and love it.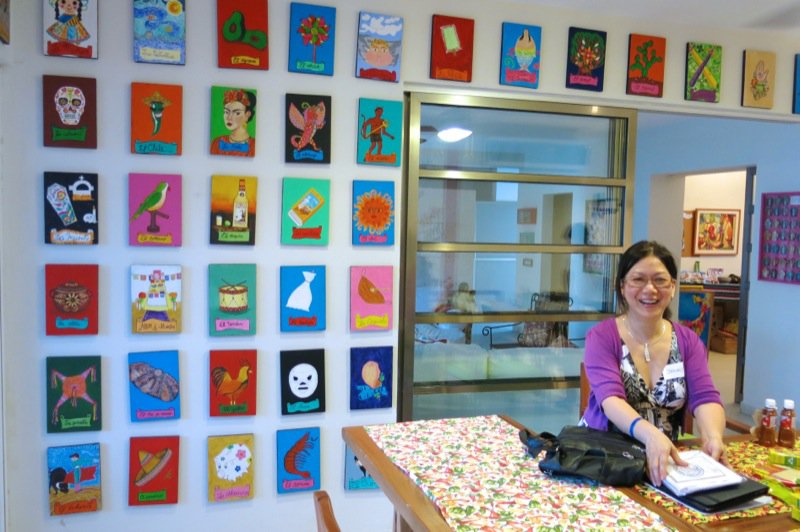 Is this not the most gorgeous folk art kitchen wall? Jenny is piling up her loot. Chef Claudia, I am now going to paid Canadian foods indigenous to Canada or heritage recipes. You have definitely inspired me on many levels.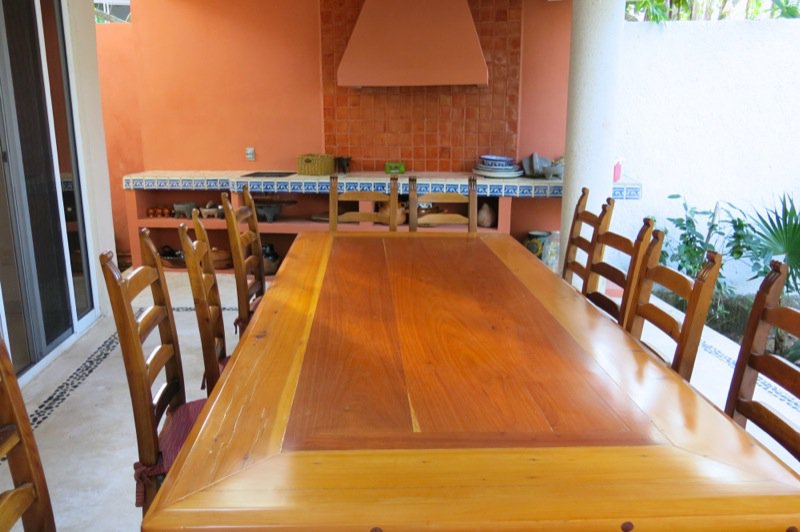 The gorgeous handmade heavy wooden table is now displayed in front of the outdoor kitchen and below, we leave from the front door into the outer courtyard to the awaiting taxi.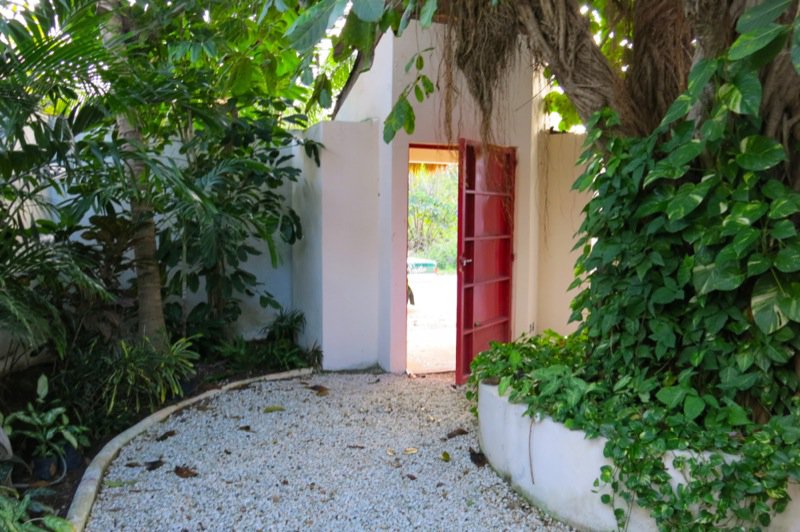 I capture Jenny by the front door alongside these massive clay pots and sigh. What a life this is in this sacred quiet home.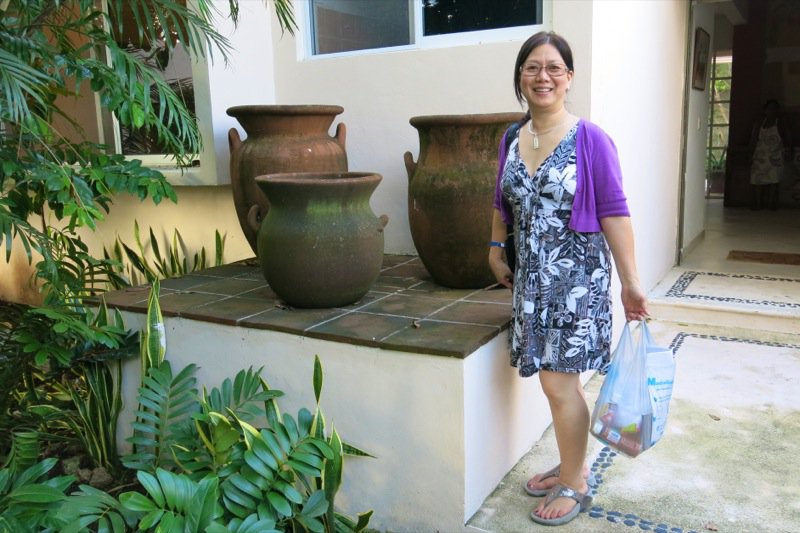 The entry to the front garden is protected with the roof laden with traditional palm leaves.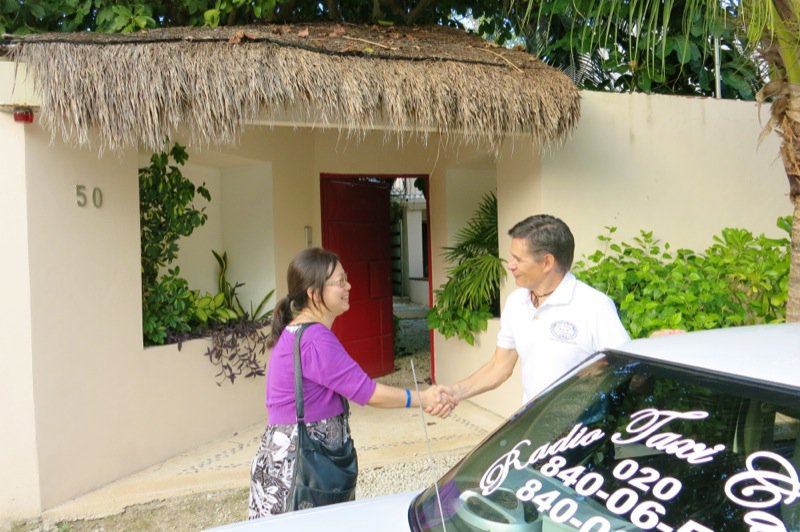 Charm. Magic. Wonder. The Yucatan Peninsula. A corner of paradise that some people actually live in. I hope to share recipes influenced by this cooking class and the flavours of my trip in the near future. Here is the one promised and any recipes that rocked your world from Mexico, please share here!
Whoever actually reads this entire post deserves a medal, a prize, and award! Or, I can recommend my therapist? NO – if you actually read it all, let me know and let's cook Mexican together one day this summer!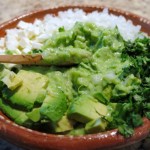 Salsa di Albanil or Tomatillo, Avocado and Queso Fresco Salsa
This recipe is from my Mexican cooking class with Chef Claudia.
Ingredients
8

ounces

tomatillos

, drained

4

cups

water

1/3

cup

plus 2 tablespoons roughly chopped cilantro

1/4

cup

minced white onion

2

Serrano chiles

, stems and seeds removed, minced

1

clove

garlic

, minced

Salt and pepper to taste

4

ounces

queso fresco cut into 12 1/4 inch slices

1

avocado

, peeled and pitted, cut into 12 slices

Warm tortillas for serving with
Instructions
Bring tomatillos and 4 cups water to a boil

Cook until tomatillos are soft (about 5 minutes); drain and cool

Place tomatillos, 1/3 cup cilantro, 2 tablespoons of onion, chiles, garlic and salt in food processor to combine but only until slightly chunky (don't over mix)

Pour into serving dish; layer alternatively with queso fresco and avocado

Sprinkle to garnish with remaining onion and cilantro

OR do what Chef Claudia did and divide the surface into quadrants placing cubes of avocado in one, onions in another cilantro in another and the queso fresco in the last, mixing the middle together for self service