This is THE cookie for the 2014 season: if you make no other, make this one!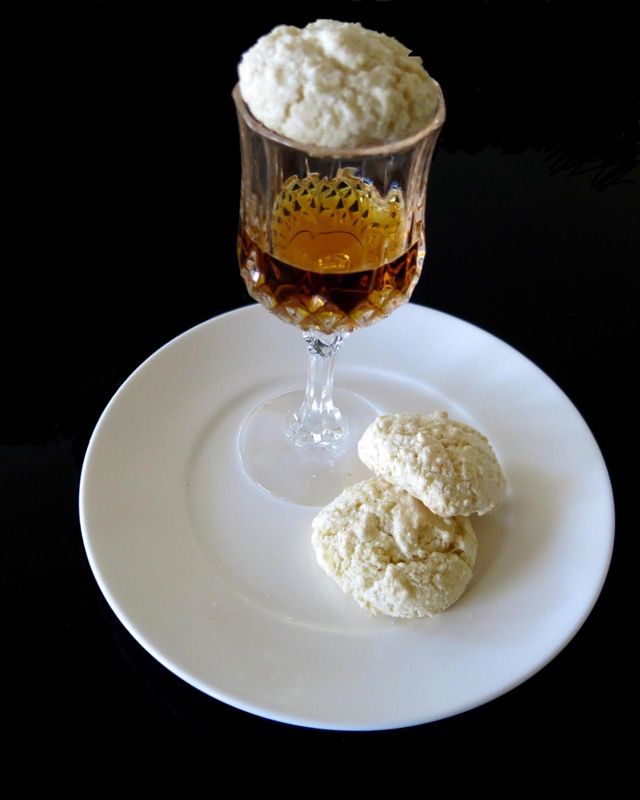 It may not be a pretty little ditty, but this little delicate bite is packed with flavour and unexpected texture! I am sure most have eaten the commercial amaretti cookies that have a pronounced almond flavour, are hard, crunchy and exceedingly sweet. I had no desire to even try to make homemade amaretti cookies until attending Emily Richard and Elizabeth Baird's class, this year, at Christmas in November. These cookies are my new addiction. I now understand the appeal. There is nothing like a homemade amaretti. Absolutely nothing. A little sip of Amaretto with a bite of this cookie defines sublime. The perfect after dinner repass on a cold Winter's eve. As I write, I sip and savor my chewy amaretti.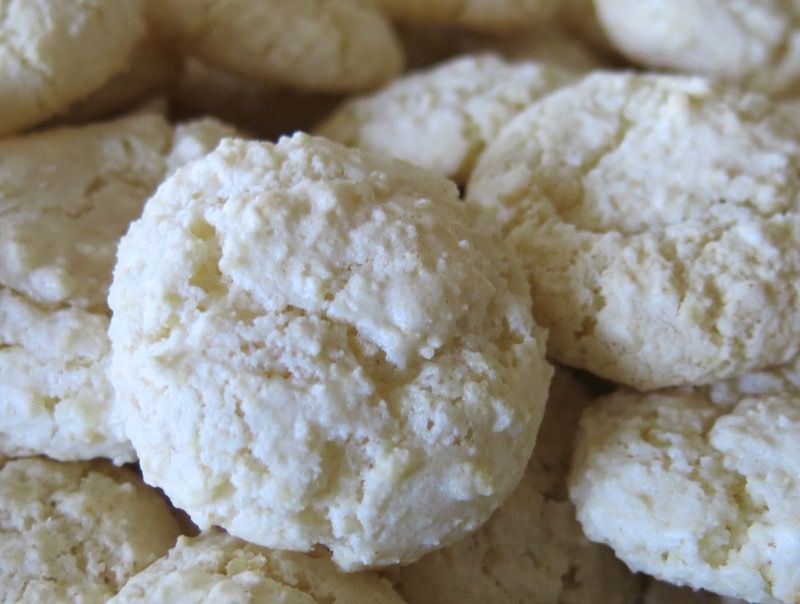 Emily will be celebrating the publication of a new cookbook this Spring titled Per La Famiglia and I am so looking forward to delving into it, elbow deep. This is one of the recipes in her new book and an indication of what is yet to come. She makes this recipe with unblanched almonds: bark on. The crunch is crisp and cookie shards shatter then melt on the tongue when biting into one of Emily's amaretti. There was quite a discussion between Sandra and Emily regarding how to make "the best" amaretti at this Christmas in November session. Sandra likes them chewy and soft. Her mother likes them just like Emily's. "It is simply a matter of preference." Emily responded. Sandra's mother would likely disagree. "This is the perfect amaretti!" she proclaimed after her first bite.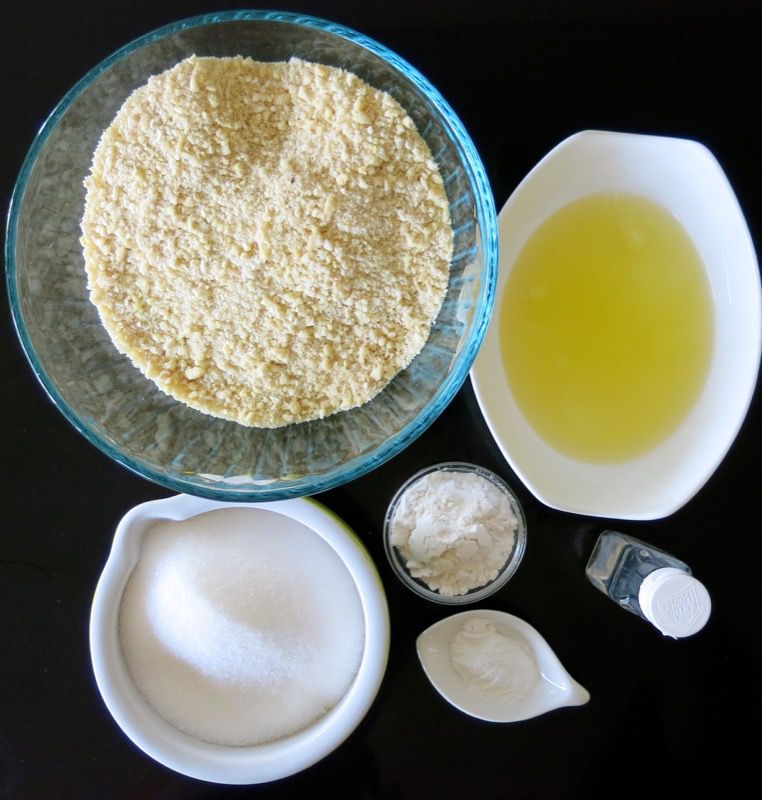 I knew this cookie would find its place on my Christmas Cookie platter this year. And, for many more to come.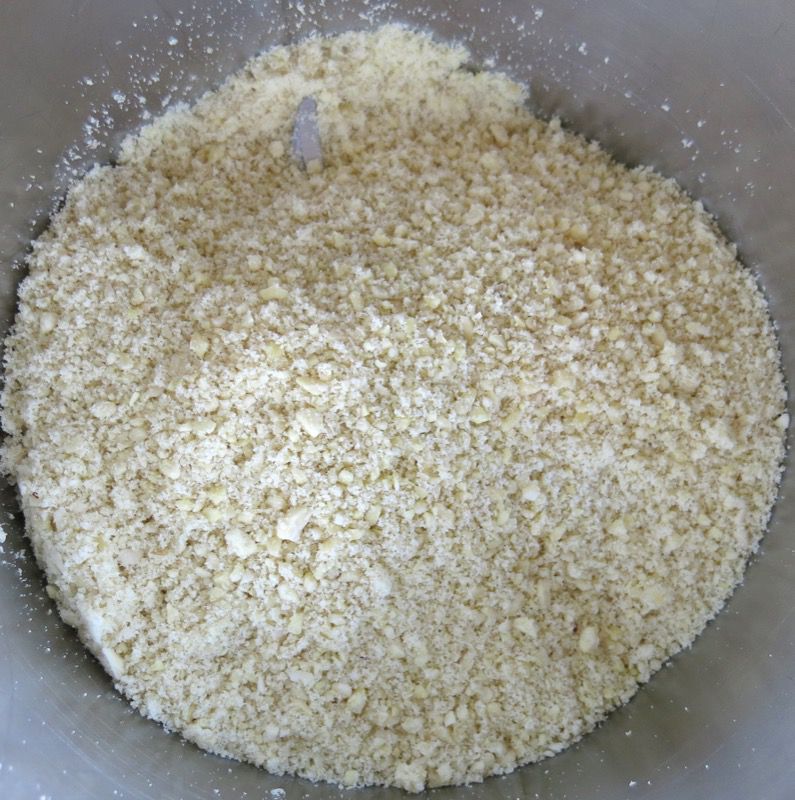 That is one of the many perks of attending Christmas in November at the Fairmont Jasper Park Lodge. I learn so much and get so inspired that I return home refreshed, energized and cannot wait to delve into my new learnings and shower my friends and family with the joy I experienced during my time there.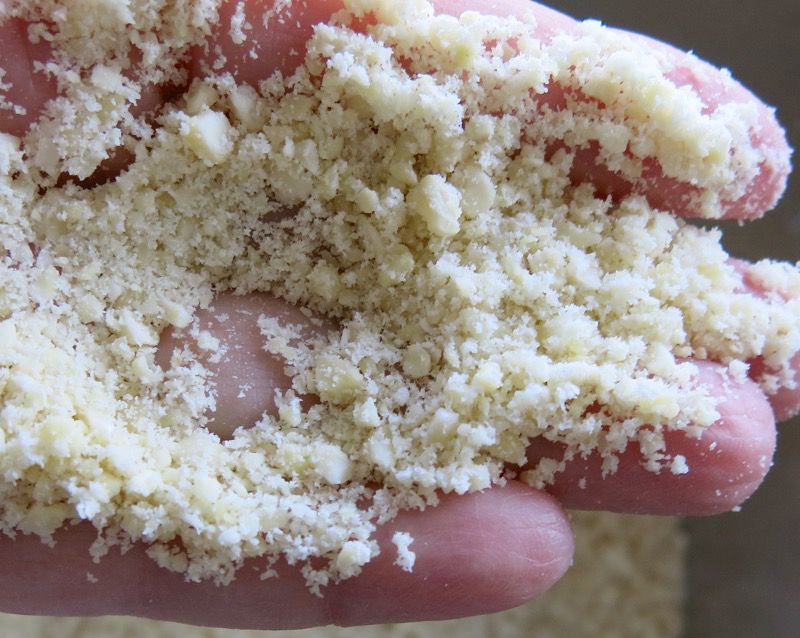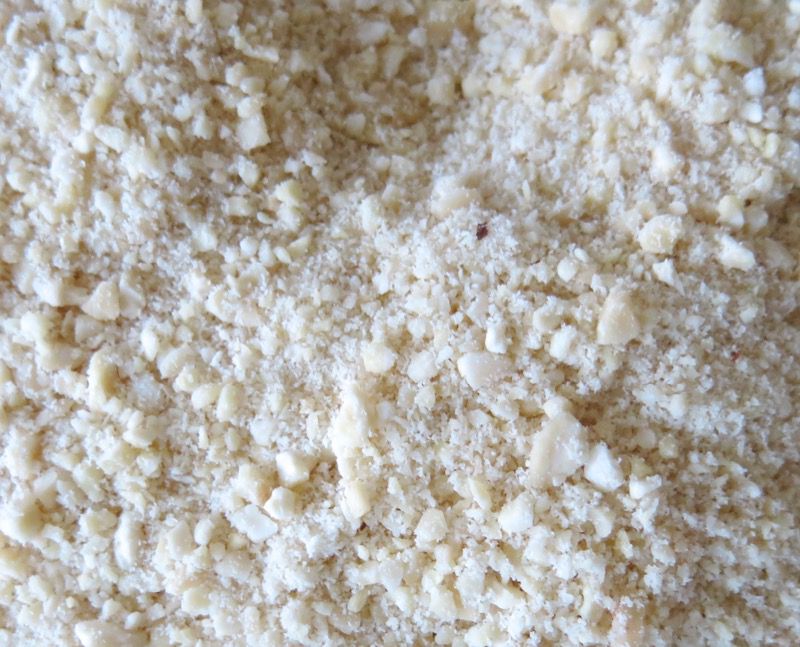 I pulsed the whole almonds for 1 second two times and got this texture. Perfect, no? And yes, only two seconds. (You still have time to buy a Thermomix before Christmas!)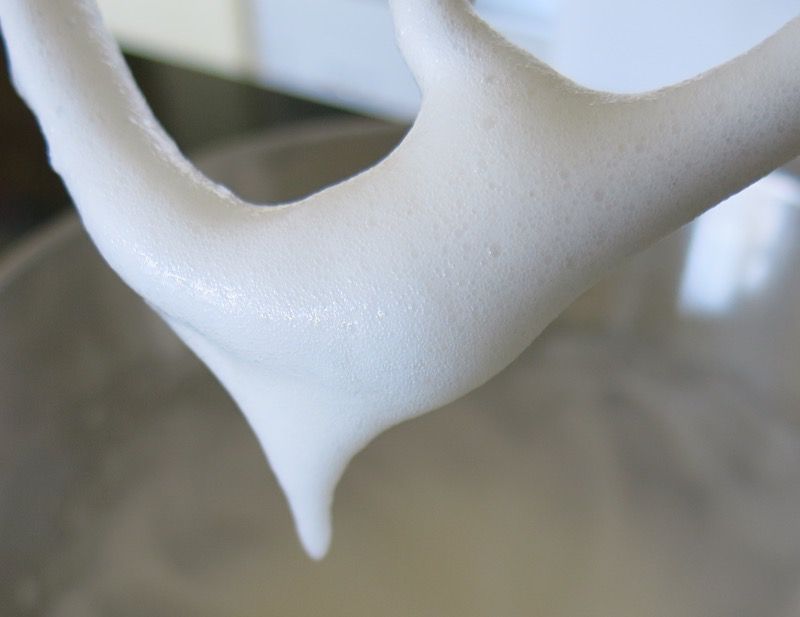 This session was packed with tips and tricks. Emily and Elizabeth are quite the pair: informative, entertaining and the relationship they share is simply endearing to behold. Trick one: beat the egg whites to soft peaks before adding the sugar. This will save you a lot of time once you add the sugar to get the correct consistency.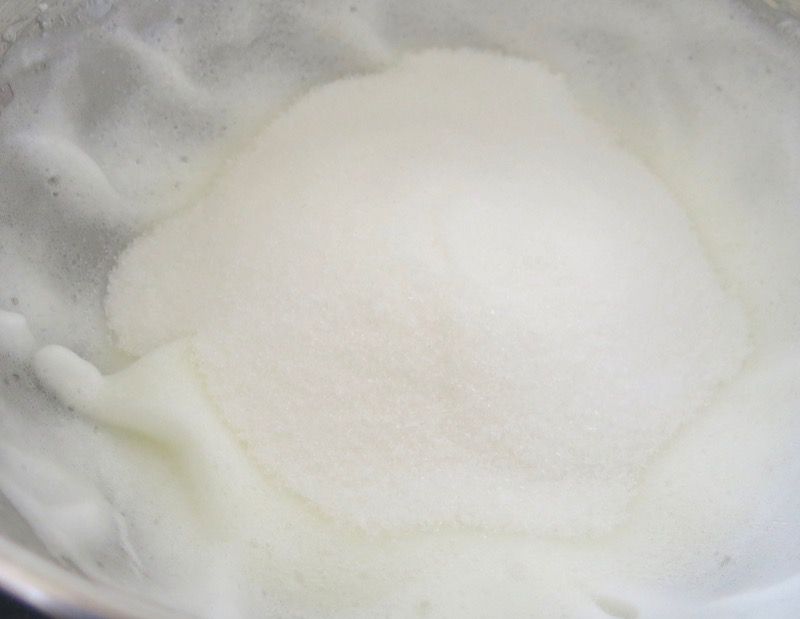 Add the sugar.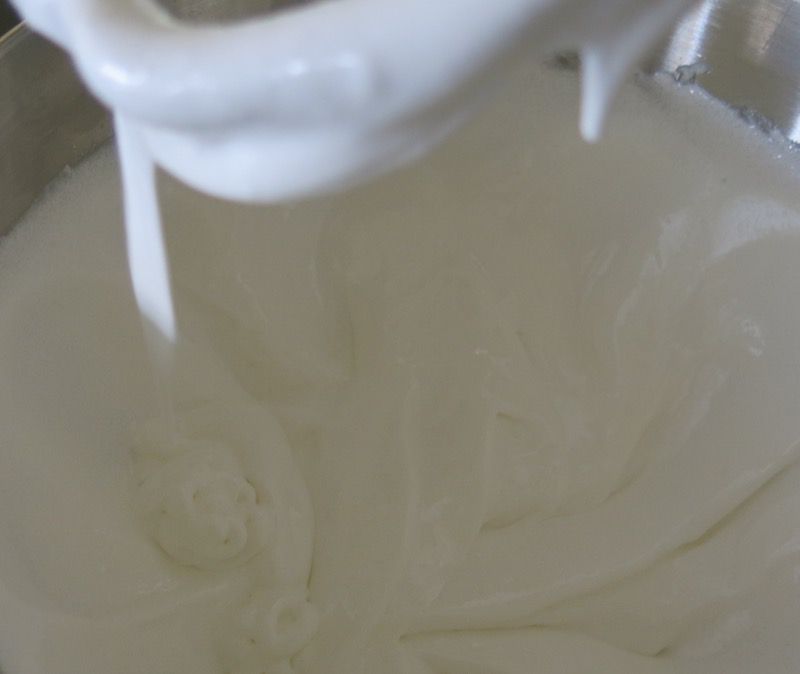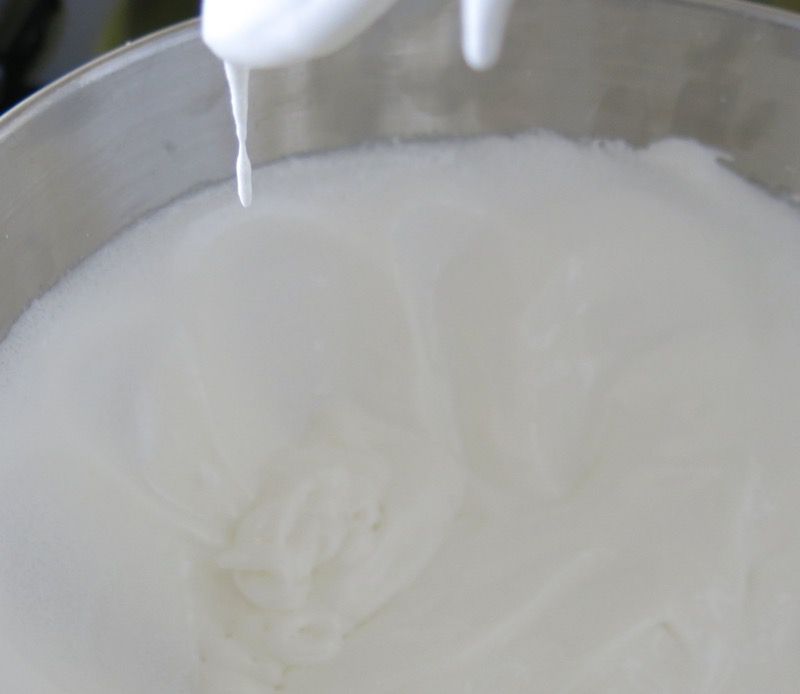 Beat only for 2-3 more minutes until the whites are thick and fall back on themselves. Not stiff peaks at this stage, but just before that. Can you see the mounds of whites as they fall from the beater back into the bowl in ribbons?
Add remaining ingredients.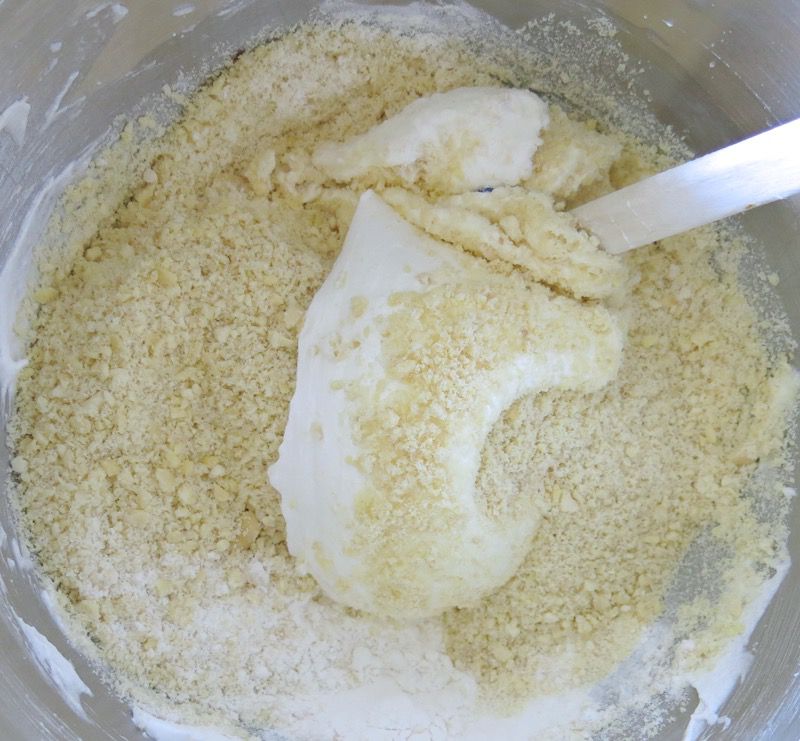 Fold together. Worry not about deflating the whites as the whites are the glue that holds the ingredients together in this recipe.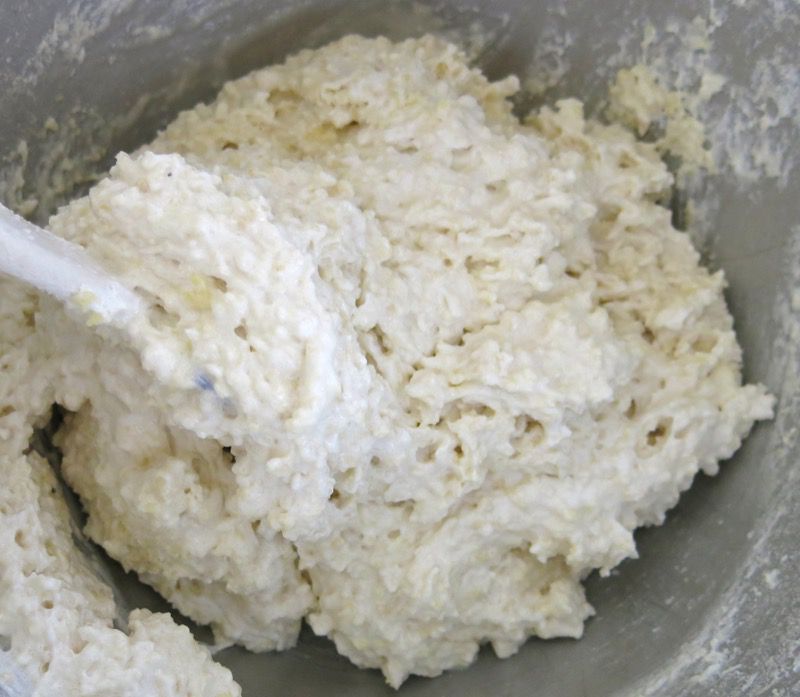 I made this today with my friend Luciana as I knew she would love to share these with the discerning palates of her extended Italian family over the holidays. "However will you get a cookie out of that?" She expressed with a good amount of indignance.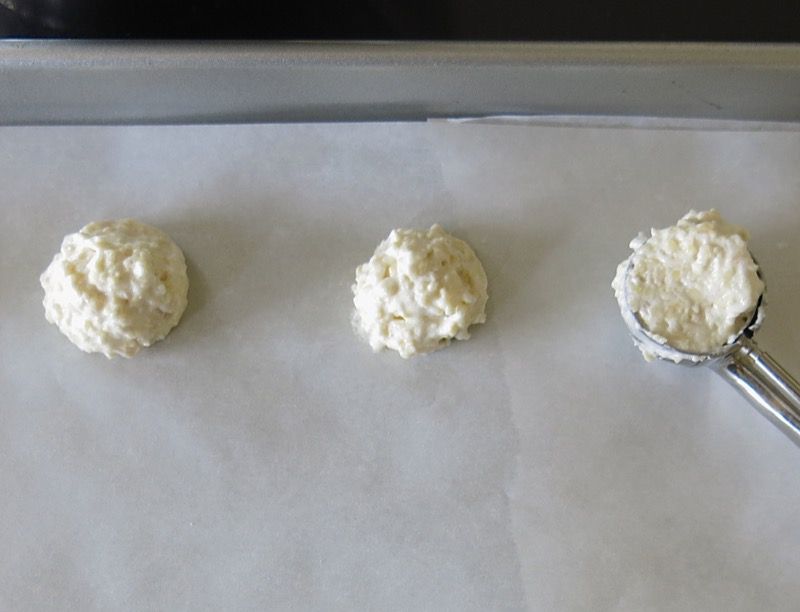 Like this! I used the smallest of my ice cream scoops to measure the cookie dough amount and Luciana scooped each out with perfect precision.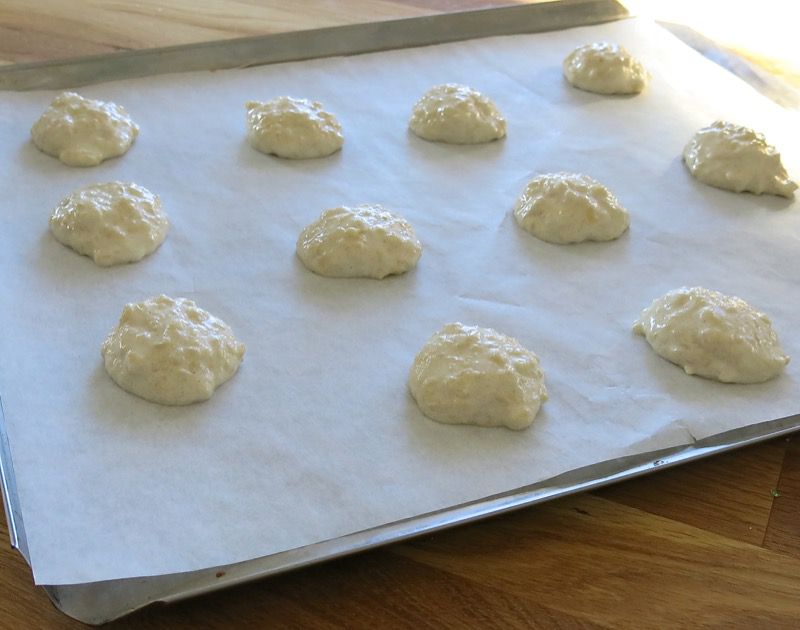 Above, is Emily's tray at Christmas in November. While she used a larger ice cream scoop while we were there, the cookies she brought with her were even smaller than the ones we made. It may appear that her batter is looser, but we did make a couple of ours bigger and they spread like hers, above, as well.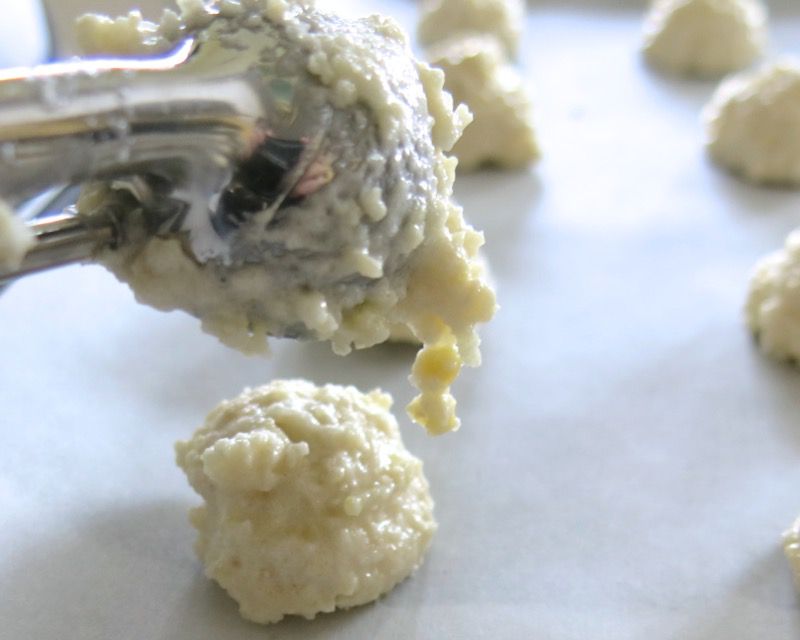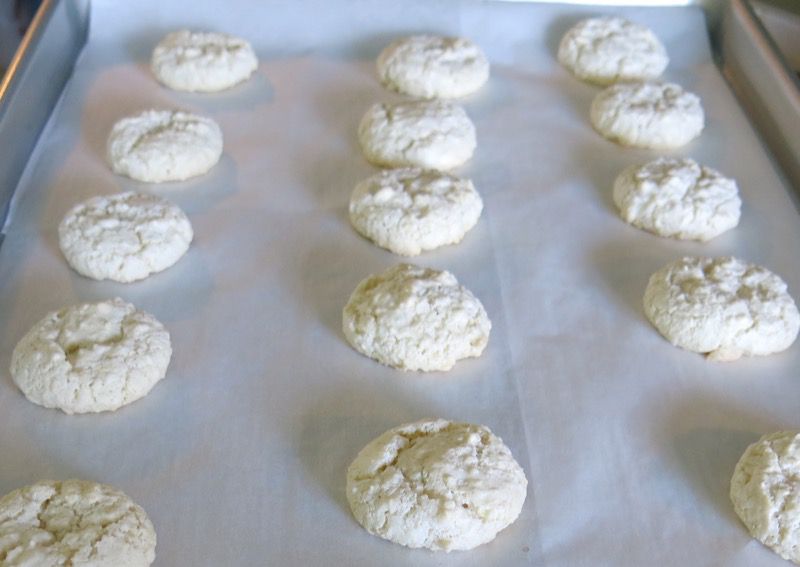 These were hard on top with a little give under the crust. I could have cooked them longer, browned them more and created a cookie that Sandra's mother would have pronounced, "Perfect!" Yes, I like chewy cookies, and the white mounds were gorgeous and delicate, so I chose to make them like this. Luciana and I actually cooked a batch 3 minutes longer, or the 12 minutes prescribed by Emily, and they were toastier in flavour: the almond nut flavour was more pronounced as the extra heat seemed to bring out that flavour bonus. Yet, the texture of the chewier cookie was preferable to me. Both were delicious.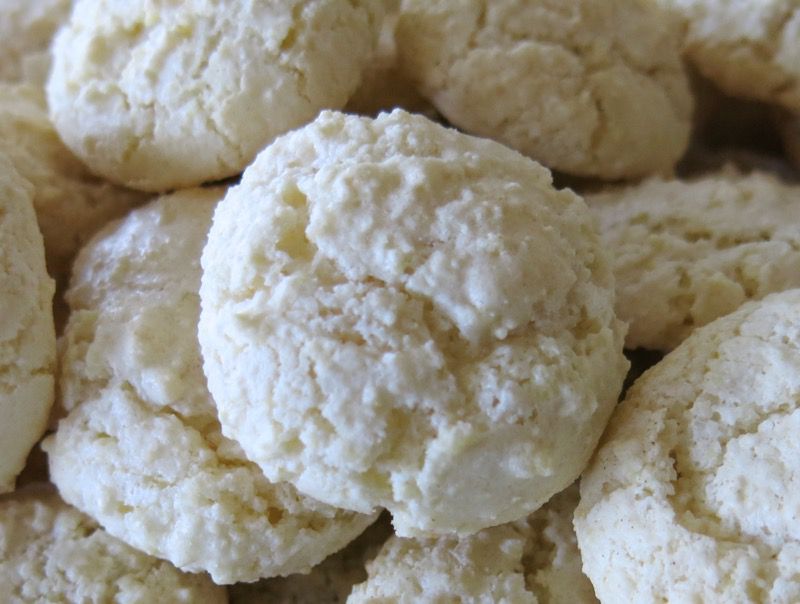 Our Amaretti, above!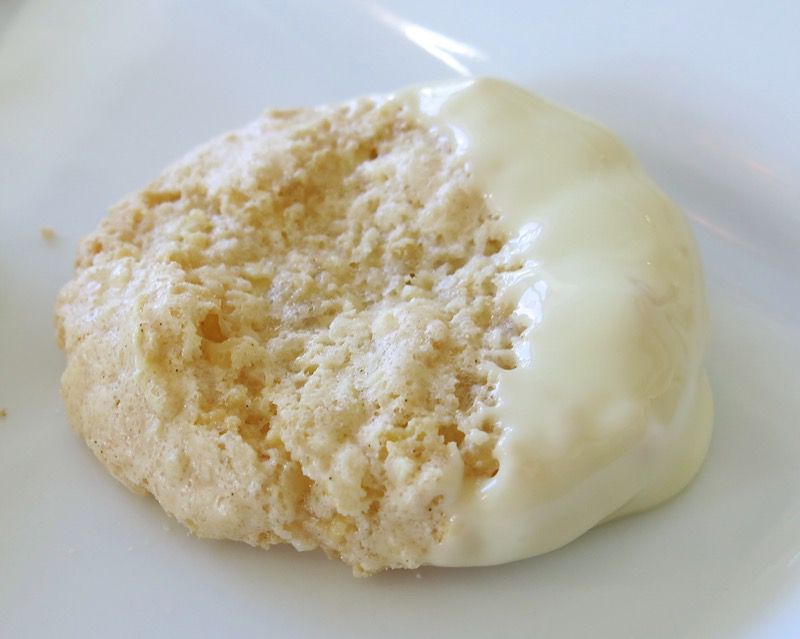 Emily's dipped in white and dark chocolate at Christmas in November. Traditionally, they are plain or dusted with icing sugar.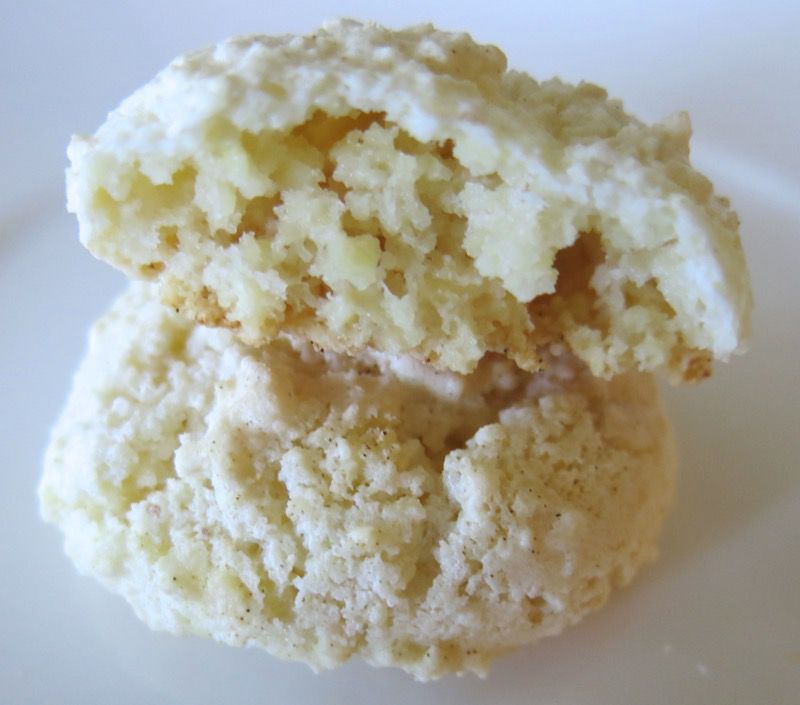 Vanja and my mom both commented, "Are these coconut cookies?" upon first bite. The texture was nutty and chewy as I ground the almonds to have a varied texture, not a powder. I am convinced that if I used the almond powder, there would be another equally delicious confection, but considerably different in texture, yet again.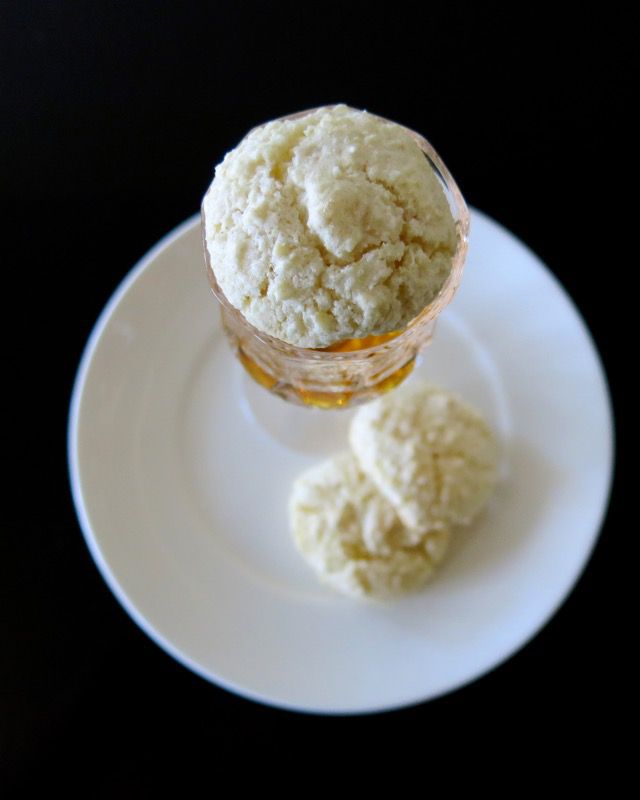 But, the pièce de résistance of this experience is sipping the Amaretto while nibbling a cookie. Sen-sa-tion-al. An unexpected delight that elevated the pleasure of each. You must try it.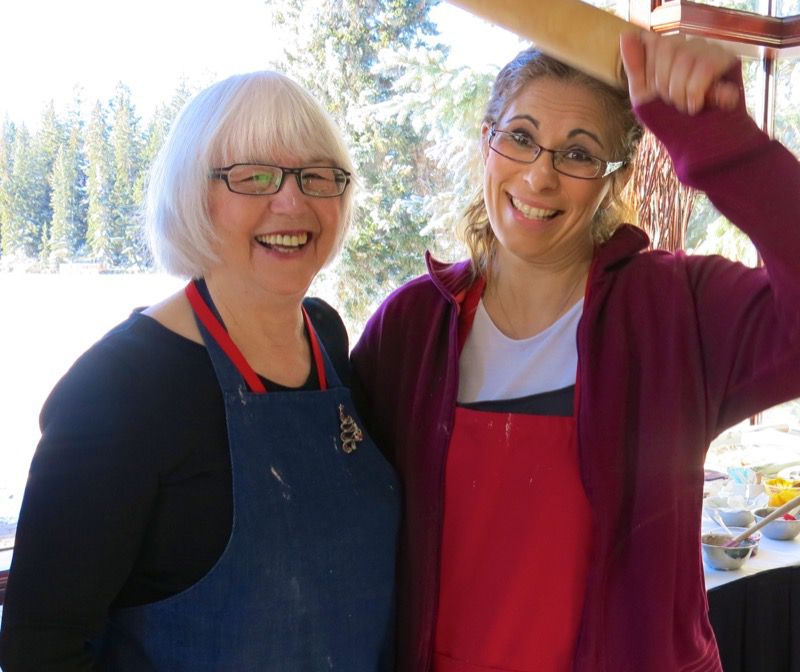 Elizabeth allowed photos only after she decorated Emily with the same amount of flour as she was wearing.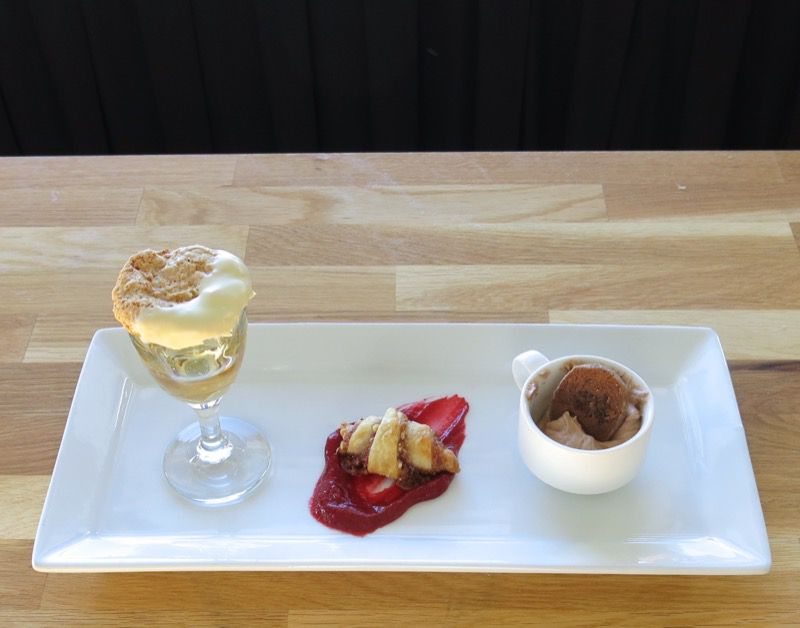 Their dessert trio for a grand finale at the end of a holiday meal. Magnificent! I am going just for the amaretti, right now, please. Tall glass, and tall stack. Thank you, Emily, for sharing your traditional Chrismas cookie. It now lives at my house, too!
Merry! Merry!
Christmas Cookies and Tarts 2012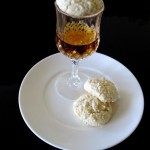 Emily Richard's Amarette or Amaretti Cookies


This is a traditional Italian Christmas Cookie from Emily Richard's new cookbook to be out Spring of 2015 Per La Famiglia with Whitecap Books.
Ingredients
2

cups

or 300g unblanched whole almonds

(I used blanched)

2

egg whites

1

cup

sugar

2

tablespoons

all purpose flour

1

tablespoon

almond extract

1

teaspoon

baking powder

1

teaspoon

icing sugar

(optional)
Instructions
Line baking sheets with parchment paper; set aside

Chop almonds in food processor or Thermomix into small pieces with some powdery granules; set aside

(If grinding in the Thermomix, scale in almonds; chop for 1 full second 2 times only)

In a large bowl, beat egg whiles until soft peaks form; beat in sugar until ribbons fall from beaters when lifted (2-3 minutes)

Stir in almonds, flour, extract and baking powder; don't worry about deflating the egg whites

Preheat oven to 350F

Drop level teaspoons of batter onto prepared baking sheet two inches apart; using fingertips, tap each into tidy circle shape

Bake in center oven for 9 minutes, turning sheet at halfway point, until crisp on top and light brown on the bottom; set pans on cooling rack and cool 2 minutes

Sprinkle with icing sugar, if desired
Recipe Notes
Emily's recipe makes 40 cookies, but the size we made yielded 68 per batch.